How To Thank Someone for Help With College Acceptance
Congrats on being admitted!
You worked hard on your college application, but hopefully, you were not alone, and it is a good idea to properly thank people who provided support in the process.
Depending on the admissions plan and the school, it can take anywhere from a few weeks to a few months for applicants to hear back from colleges.
In this post, I will give you some pointers on how to thank someone for acceptance to college in the form of a letter. Doing it the right way is necessary to get the message across and demonstrate your gratitude.
But before we discuss how a thank-you letter should be written, let's answer this question…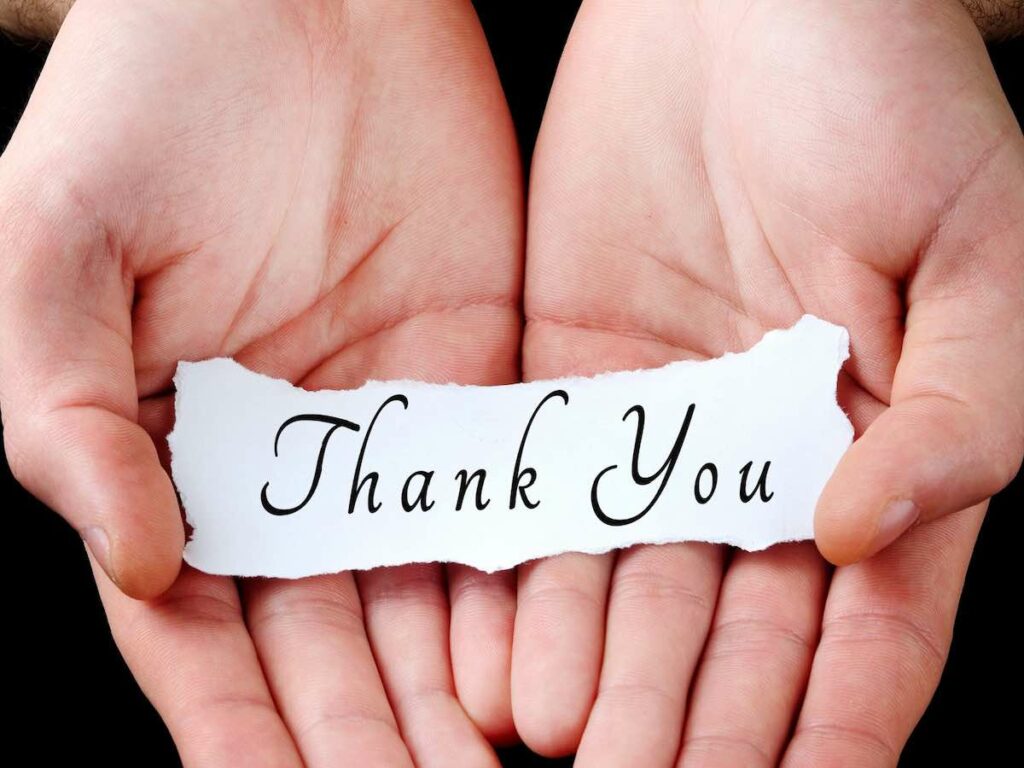 Who Should You Thank for Acceptance to College and Why?
Practically anyone who has provided help and support to degree-seeking teens during the college application process may be sent thank-you letters. They include anywhere from a high school guidance counselor to a college admissions officer. While no student is obliged to do so, showing one's gratitude is polite and civil.
After colleges and universities send acceptance and rejection letters, it's time for college-bound teens to do the same, expressing gratitude to people who have helped them get a much-awaited offer to enroll.
The following are the individuals you should send a thank-you letter to as a result of your college acceptance:
Guidance counselor
Other than junior and senior high school students, a guidance counselor is also one of the busiest people on any high school campus around the college applications season.
He or she is someone who's there to lend an ear and a hand to high school teeners who are excited to attend college as well as those who are doubting whether or not they should pursue postsecondary education.
And, in many instances, it's not just the students a guidance counselor talks with about college-related matters but the parents, too.
A guidance counselor is also the one who fills out high school reports most colleges and universities require. Needless to say, he or she also writes tons and tons of recommendation letters before and during college admissions cycles.
Recommendation letter writers
Speaking of which, more often than not, many other people on a high school campus are approached by college-bound teens to write their letters of recommendation.
Of course, some of them are their teachers who know them inside and outside of classrooms. Athletic coaches, academic advisors and mentors are also commonly requested to write them.
It goes without saying that a guidance counselor is not the only one who deserves to receive a thank-you letter for helping students gain admission to their top-choice institutions of higher education.
But recommendation letter writers can be found outside of the high school campus, too.
Students who have part-time jobs, for instance, may ask their employers or managers to pen their letters of recommendation. It's also possible for them to obtain those from clergy and community organizers.
Admissions counselors
According to Forbes, more than 748,100 students applied to over 840 colleges and universities participating in the Common App last year.
With so many teens dreaming of enrolling in a bachelor's degree program every year, there's no shred of doubt that admissions counselors all over the country are swamped with applications to check out.
Disciplines of study, financial aid, scholarships — these and so many other things keep admissions counselors, high school and college ones alike, extremely busy.
And that is why it's just polite and considerate for students who are accepted to colleges to send them thank-you letters.
Personal essay readers/checkers
Many American colleges and universities require applicants to submit personal essays. They include the vast majority of selective schools and those that adhere to a holistic admissions process.
Admissions officers read personal essays to get to know applicants as well as to evaluate their ability to write and self-reflect.
And because a personal essay can spell the difference between getting an offer to enroll and receiving a rejection letter, it's common practice for college-bound teens to have theirs checked by relatives, teachers, advisers and others before sending them to their top-choice institutions.
Needless to say, these people also deserve to be thanked for their help.
Colleges that accepted your application
With only about 66.7% of all students who apply to 4-year institutions in the US getting accepted, says a report by the National Association for College Admissions Counseling (NACAC), you should certainly be very thankful to any college that sends you an offer to be a part of its student body.
It goes without saying that you should send thank-you letters to schools that have accepted you.
Certainly, it's your hard work throughout high school as well as your special qualities and unique experiences that made you worthy of an acceptance letter, but it wouldn't happen if admissions officers failed to appreciate all of them.
Thanking colleges that have put you on the waitlist should be done, too. After all, they just waitlisted and not rejected you — they found you qualified enough to be an attendee, although they couldn't offer you a spot as of the time being.
On average, says NACAC, about 20% of students who choose to remain on the waitlist get accepted.
A letter may or may not get you off the waitlist, but at least it allows admissions officers to know you're thankful.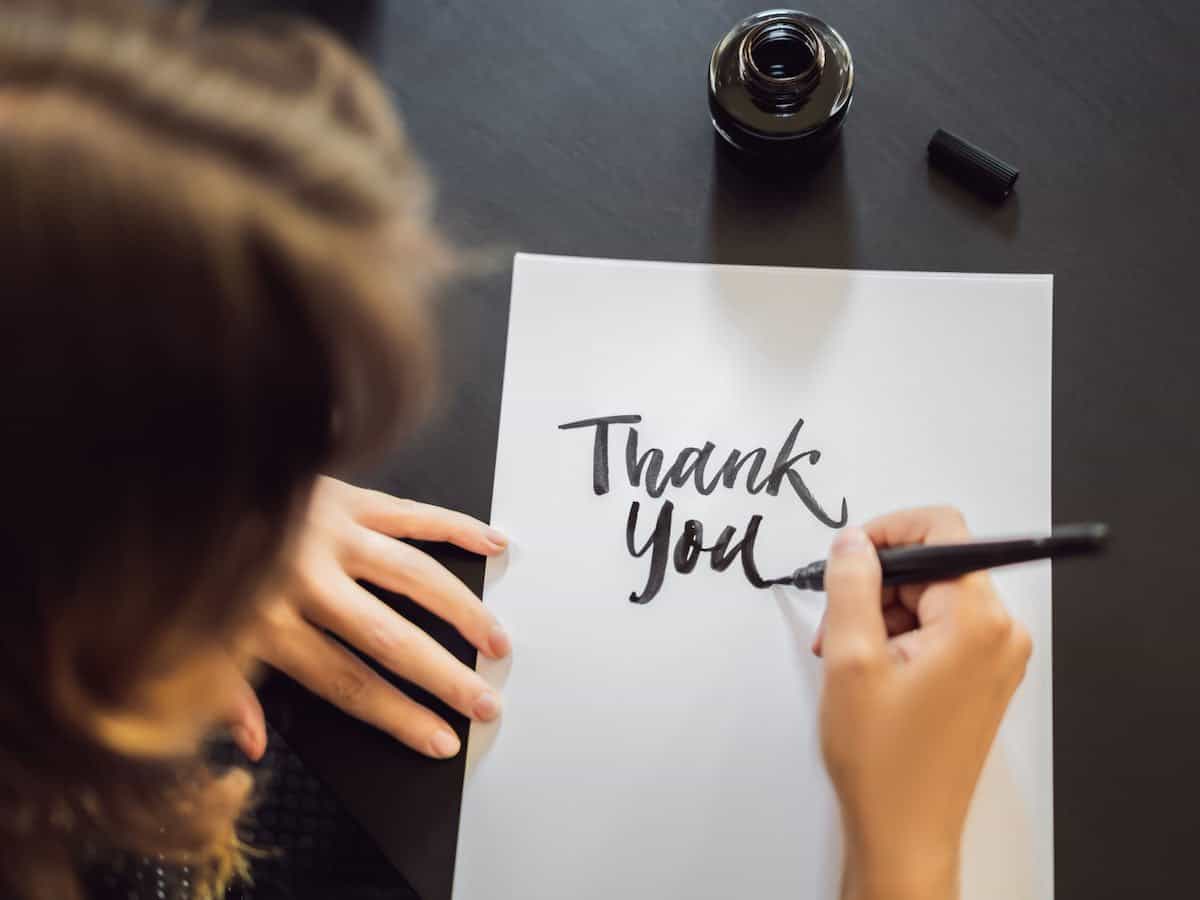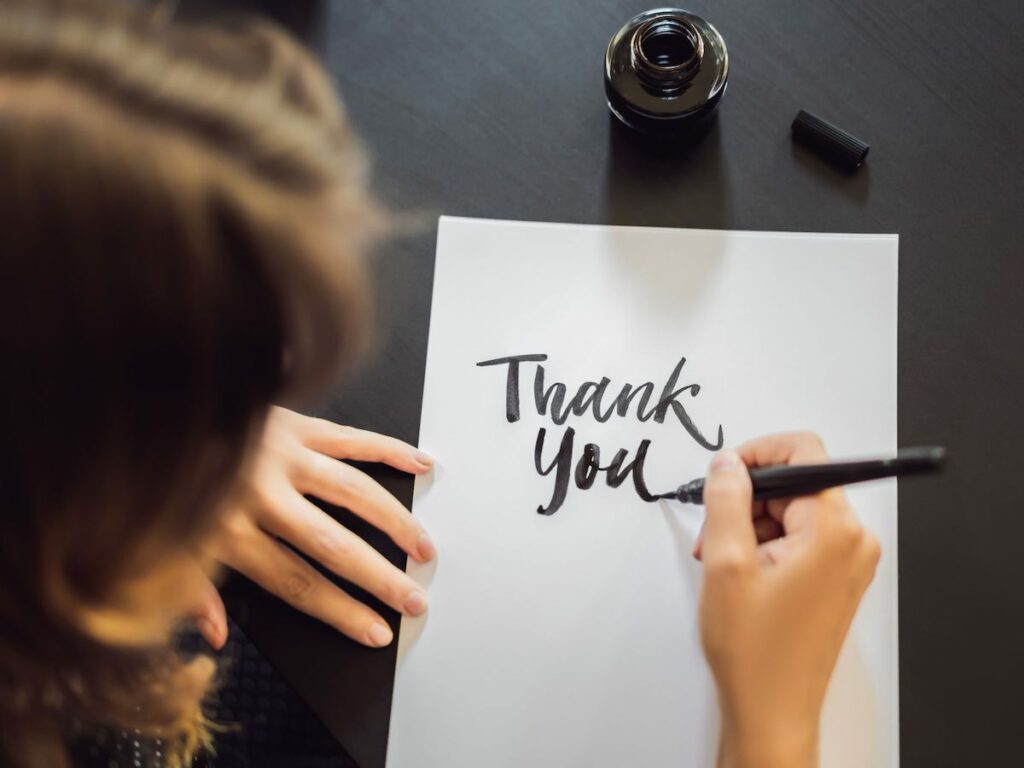 How Do You Write a Thank-You Letter for Acceptance to College?
It's true that a letter of gratitude to someone who has provided some form of help during the college application process or the college itself need not be as lengthy and exciting as a personal essay.
However, since it's about showing your appreciation, the letter still has to be well-written and thoughtful.
In some instances, such as when intended for college admissions officers, it also provides the student who just got an offer to enroll to send any further documents or make any necessary arrangements before attending the school.
So, in other words, a thank-you letter for acceptance to college can be both expressive and functional.
About to write some people letters for their much-appreciated input while you were applying to the entries on your college list? Feel free to use the following tips as your guide to writing a proper thank-you letter:
1. Introduce yourself ASAP
Guidance counselors, teachers, admissions officers and other professionals tend to receive letters all year round, especially after college decisions have gone out.
It's therefore important to let them know who you are without any delay so that they can have an idea of who the sender is, saving them from being confused and wasting precious time.
2. Get to the point
Because recipients of thank-you letters for acceptance to college are some of the busiest people on campus, they will appreciate them even more if they get the intent without any more ado.
3. Mention any specific help extended
Did the recipient carry out something that made the college application process smoother or a success?
Then don't forget to include the matter in the letter so that the recipient can have a much better idea of the reason behind the thank-you letter.
Certainly, you should include specifics such as the date and location to be more particular.
4. Keep things formal
Last but not least, since the letter is not intended for a family member or friend you have known all your life, it's definitely highly recommended for the letter to have a formal tone even if you're extremely happy with your acceptance.
Sample Thank-You Letters for Acceptance to College
Before we wrap things up, I will give you some examples or templates of thank-you letters for someone in your high school or at the college that accepted you, allowing you to show your appreciation for his or her time and effort.
Feel free to remove or add details to personalize any of the following as you deem fit and necessary:
Sample #1: A letter to a high school counselor
Dear (name of recipient),
I am (your name) from (name of your high school). Thank you so much for lending a hand in one of the busiest moments of my high school career, during the recent college admissions cycle.
I am also very happy to inform you that I received an acceptance letter from (name of college), to which my application would have never gone as smoothly without your assistance.
Thank you very much once again!
Sincerely yours,
(your name)
Sample #2: A letter to a recommendation letter writer
Dear (name of recipient),
I am (your name) from (name of your high school). I am writing to express my complete appreciation for you taking the time to write my letter of recommendation.
Despite having a tight schedule, you still managed to lend a hand in the college application process, for which I am truly grateful.
I am also writing to share with you the wonderful news of my acceptance to (name of college).
Once more, thank you very much!
Yours truly,
(your name)
Sample #3: A letter to a college admissions counselor
Dear (name of recipient),
I am (your name) from (name of your high school). I am overjoyed to receive an acceptance letter from (name of college) for the undergraduate program (name of the program).
At first, I was hesitant to apply. However, thanks to your generous assistance as well as that of the rest of the admissions committee at (name of college), the entire application process went smoothly.
Thank you very much once again!
Sincerely,
(your name)
Sample #4: A letter to the accepting college
Dear (name of recipient)
I am (your name) from (name of your high school). I am writing to confirm receipt of a letter notifying my acceptance to (name of college) for the undergraduate program (name of the program) for the academic year (academic year).
I am pleased to accept the offer and excited to begin taking classes in the fall.
I have attached the required documents, including my (name of document types). Again, thank you for reviewing my application and welcoming me to your campus!
Respectfully,
(your name)

Disclaimer: The views and opinions expressed in this article are those of the authors and do not necessarily represent those of the College Reality Check.