Is the University of Alabama a Good School for You?
The University of Alabama is the largest and oldest public academic institution in the Heart of Dixie. Also known as Alabama, Bama or UA, it is the flagship of the University of Alabama System and a party school, too.
Students who prefer to attend a well-known university will find the University of Alabama the perfect addition to their college list. The school is ideal for those who wish to partake in sports and parties while earning a degree. Many college ranking sites consider UA as Alabama's top institution.
But before we talk about some important Bama matters, let's take a look at some quick facts about it:
Location: Tuscaloosa, Alabama
Founding date: 1820
Motto: The Capstone of Higher Education
Campus size: 1,143 acres
Campus type: Suburban
School type: Conservative public research university
Reputation: Party school
Selectivity level: Somewhat selective
Number of majors: 69
Popular majors: Marketing, Finance, Business, Nursing, Mechanical Engineering, Psychology, Accounting
Student body: 37,840 (as per Common Data Set 2020 to 2021)
Students per class: 10 to 19 in most classes
Student-to-faculty ratio: 20:1
Retention rate: 87.2%
Graduation rate: 71.1%
Athletic affiliation: NCAA Division I
Color: Crimson, gray and white
Mascot: Big Al (elephant)
Number of varsity teams: 21
Sports: Basketball, baseball, cross country, football, golf, gymnastics, rowing, soccer, softball, swimming and diving, tennis, track and field, volleyball
Liking what you are reading about the University of Alabama so far, which is why you are considering including it on your college list even more?
Read on.
Below, we will discuss a variety of things about UA, especially admissions-related ones. By the time you reach the end of this article, you will have a better idea of whether or not it's the school for you.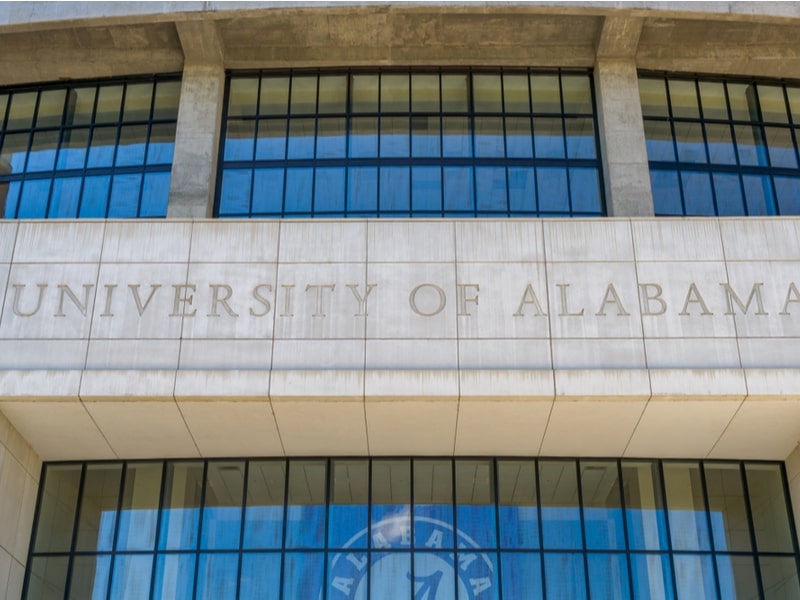 University of Alabama Rankings
The University of Alabama is #67 in Top Public Schools and #148 in National Universities by US News. It is #1 in Best College Campuses in Alabama and #70 in Top Public Universities in America by Niche. UA is #2 in Best Public Colleges in Alabama and Best Value Colleges in Alabama by College Simply.
College rankings should guide you in making a college list, not pick the right school for you.
What's really nice about checking out how the University of Alabama fares in the college ranking game is that it lets you see that it is one of the high-ranking institutions for higher education in the US. As a matter of fact, many college rankers put UA at #1 when ranking public colleges and universities in Alabama.
Like to attend a party school because the adage "all work and no play makes Jack a dull boy" is something you live by?
Putting Bama somewhere near the top of your college list is a wonderful idea.
That's because it's one of the best party schools in the country.
For instance, the University of Alabama is #5 in Top Party Schools in America and #1 in Top Party Schools in Alabama, both by Niche. The well-known college ranker also puts the public research university at #2 in Best Greek Life Colleges in America. Needless to say, having no social life should be the least of your worries as a Bama student.
Refrain from assuming that UA is all about having a blast. It's true that it can make earning a degree fun and exciting. But the degree you will earn from it is also something that employers will respect. Let the following other rankings of the University of Alabama by other college ranking sites do the talking:
#2 in Best College Athletics in America (Niche)
#2 in Best Value Colleges in Alabama (College Simply)
#4 in Best Colleges in Alabama (College Simply)
#12 in Colleges With the Best Student Life in America (Niche)
#50 in the South (Forbes)
#59 in Most Conservative Colleges in America (Niche)
#86 in Best Colleges for Veterans (US News)
#109 in Public Colleges (Forbes)
#132 in Best Value Schools (US News)
#151 in Research Universities (Forbes)
Acceptance Rate at the University of Alabama?
A large majority of applicants get accepted into the University of Alabama. The flagship of the University of Alabama System has a very high acceptance rate of 82.7%. With the average national acceptance rate at US public institutions being 70.3%, UA is a less selective academic institution.
There is a particular data point about a college or university most students take a look at before deciding whether or not it should be included on their college list. It's none other than the acceptance rate.
Bama would make for an excellent match and safety schools for many because a lot of those who apply to it end up receiving an acceptance letter from the admissions office. Still, according to a College Simply ranking, UA is just #20 in Alabama Colleges Ranked by Lowest Acceptance Rate.
Keep in mind that many academic institutions in Alabama have acceptance rates of 100%.
To give you a better idea of the school's selectivity level, here is a list of colleges and universities in Alabama with the lowest acceptance rates:
| | | |
| --- | --- | --- |
| Heritage Christian University | Florence | 24% |
| Stillman College | Tuscaloosa | 33% |
| University of West Alabama | Livingston | 35% |
| Judson College | Marion | 37% |
| University of Mobile | Mobile | 46% |
| Spring Hill College | Mobile | 50% |
| Tuskegee University | Tuskegee | 52% |
| University of Montevallo | Montevallo | 53% |
| Birmingham Southern College | Birmingham | 54% |
| Jacksonville State University | Jacksonville | 55% |
| Marion Military Institute | Marion | 58% |
| Huntingdon College | Montgomery | 59% |
| Oakwood University | Huntsville | 65% |
| University of Alabama – Birmingham | Birmingham | 74% |
| Faulkner University | Montgomery | 78% |
| Herzing University – Birmingham | Birmingham | 78% |
| University of South Alabama | Mobile | 79% |
| Auburn University | Auburn | 81% |
| University of Alabama – Huntsville | Huntsville | 83% |
Does the University of Alabama Offer Early Decision?
The University of Alabama does not offer Early Decision. As a matter of fact, it does not offer any other early decision plan. UA has rolling admissions, which means that it evaluates applications as they are received. Needless to say, it will accept applicants until all available slots are filled.
Applying to Bama is less stressful than applying to most other colleges and universities. That's because it has rolling admissions. So, in other words, there are no application deadlines to beat.
However, there is a downside to applying to a school with rolling admissions you have to bear in mind.
It's none other than the fact that its admissions policy works on a first-come, first-served basis.
This means that you will still have to do your best to apply to the University of Alabama as early as you can. Otherwise, if there are no more slots available, you are likely to get a denial. This is true even if you have a phenomenal application.
The moment you have created a balanced college list that includes UA, it's a good idea to apply to the Tuscaloosa-based institution right away to increase your chances of attending it.
Here are some of the most important dates all Bama aspirants need to remember:
Early October – Housing application opens
October 1 – FAFSA filing opens
December 1 – FAFSA priority deadline
February 1 – Housing application priority date for participation in room selection
Early February – Bama Bound Orientation registration opens
Mid-March – Consolidated scholarship offer released
May 1 – Priority deadline to submit Freshman Enrollment Deposit
GPA You Need to Get Into the University of Alabama
The University of Alabama doesn't have a published minimum GPA requirement for first-year applicants. However, those with a GPA of 3.0 and who do not have test scores are granted conditional regular admission. Those with lower GPAs and without test scores, too, are granted admission into Crimson Edge.
Like many colleges and universities in the US, Bama has a holistic admissions policy. This means that it evaluates applicants based on various academic and non-academic factors.
Proof of the fact that the public research university doesn't have a minimum GPA requirement is that, based on its Common Data Set for the academic year 2020 to 2021, the GPAs of admitted first-year students ranged from 4.0 to 2.49. However, only a very few admits had high school GPAs of below 3.0
Here's a breakdown of the percentage of admits at the UA and the range of their GPAs:
| | |
| --- | --- |
| GPA RANGE | PERCENT |
| 4 | 42% |
| 3.75 to 3.99 | 18% |
| 3.50 to 3.74 | 14% |
| 3.25 to 3.49 | 10% |
| 3.00 to 3.24 | 8% |
| 2.50 to 2.99 | 7% |
| 2.0 to 2.49 | 1% |
| 1.0 to 1.99 | 0% |
| Below 1.0 | 0% |
University of Alabama applicants GPA
A large majority of accepted applicants (86.2%) were in the top 50% of their high school class. Meanwhile, 64.5% of admitted students were in the top 25% and 44.7% were in the top 10% of their high school class. By the way, at UA, class rank is an important admissions factor, as you will learn further in a few.
Since the University of Alabama follows a holistic admissions policy, it takes into account many factors, both academic and non-academic, when evaluating applicants.
These are the academic factors the school's admissions officers consider and their relative importance:
Academic rigor – very important
GPA – very important
Standardized test score – very important
Class rank – important
Application essay – considered
Recommendation letter – considered
And now, here are the considered non-academic factors and the relative importance of each:
Interview – considered
Extracurricular activities – considered
Talent or ability – considered
Personal qualities – considered
First-generation – considered
Alumni member relation – considered
Volunteer work – considered
Work experience – considered
Non-academic factors that the admissions officers at Bama do not care about at all are geographical residence, state residency, religious affiliation, demonstrated interest, and race or ethnicity.
University of Alabama Application Requirements
The University of Alabama requires all incoming first-year students to meet a minimum number of units in order for their applications to be considered. The requirement also applies to some transferees, depending on the number of semester hours they have completed from their previous schools.
Unlike many academic institutions, especially selective ones, UA does not require applicants to submit a lot of things, thus making the process of applying to it a less stressful and exhausting task.
However, everyone who wishes to attend the school has to meet minimum requirements for admission unit-wise. It applies not only to fresh high school graduates but also to some transfer students, in particular those who have completed fewer than 24 semester hours or 36 quarter hours of college-level courses.
The said minimum requirements for admissions are as follow:
| | |
| --- | --- |
| COURSE | NUMBER OF UNITS |
| English | 4 |
| Mathematics | 3 |
| Social Studies | 4 |
| Natural Science | 3 (2 units with a laboratory) |
| Foreign Language | 1 |
| Others | 5 (certain courses are recommended) |
Clearly, the University of Alabama encourages high school students who are considering attending it after graduation to take as many college-level courses as they can pass successfully. That's because it wants to make sure that those who will be welcomed to its campus are all college-ready.
How Much Does It Cost to Attend the University of Alabama
The in-state tuition at the University of Alabama for the academic year 2021 to 2022 costs $10,780. On the other hand, the out-of-state tuition for the same year is $30,250. This brings the total cost of attending Bama for one year to $31,054 (Alabama residents) and $51,398 (non-Alabama residents).
In Alabama, UA is one of the cheapest institutions for higher education by in-state tuition. Unfortunately for graduating high school students who reside elsewhere, the tuition they will have to pay is almost three times higher.
Related Article: 425 Colleges Charging In-State Tuition for Out-of-State Applicants
Check out the breakdown of the estimated cost of attending the University of Alabama for a year:
| | | |
| --- | --- | --- |
| EXPENSES | IN-STATE COST | OUT-OF-STATE COST |
| Tuition | $10,780 | $30,250 |
| Fees | $800 | $800 |
| Room and board | $13,934 | $13,934 |
| Books | $800 | $800 |
| Transportation | $2,206 | $3,080 |
| Miscellaneous | $2,464 | $2,464 |
| Loan fee | $70 | $70 |
| TOTAL | $31,054 | $51,398 |
University of Alabama cost of attendance
Based on online reports, the average need-based scholarship or grant awarded to first-year students at UA amounts to $15,579. Meanwhile, the average non-need-based aid awarded costs $15,545.
The first step to take when applying for financial aid is to complete the FAFSA. Depending on your responses to the FAFSA questions, additional questions may be asked by the University of Alabama for validation purposes. In some instances, further documents may be requested.
Some of them include:
Verification of income
Verification of Social Security information
Verification of previous Federal loan amounts borrowed
Verification of Immigration and Naturalization status
Famous People That Went to the University of Alabama
Many of the University of Alabama's former students went on to become athletes, a large number of whom are professional football players. Some became governors of the state of Alabama and other political figures. UA once admitted writers, journalists, activists, scientists, founders and CEOs.
Earning a degree from the University of Alabama could turn you into a successful individual, just like many well-known personalities who once placed the public institution on their college list.
There are numerous Bama students in the past whose names may be familiar to you, such as:
Richard Shelby – US Senator from Alabama
John Patterson – The 44th Governor of Alabama
George Wallace – The 45th Governor of Alabama
Bob Riley – The 52nd Governor of Alabama
Hugo Black – Associate Justice of the US Supreme Court (1937 to 1971)
Lady Bird Johnson – US First Lady (1963 to 1969) as the wife of President Lyndon B. Johnson
Maud McLure Kelly – First woman to practice law in Alabama
Abraham Woods – Activist who helped coordinate the 1963 March on Washington for Jobs
Gay Talese – Journalist for The New York Times and Esquire magazine in the 60s
Kaitlan Collins – Journalist and Chief White House Correspondent for CNN
Harper Lee – Pulitzer Prize-winning author for her novel To Kill a Mockingbird
E.O. Wilson – Biologist considered the world's leading authority on ants
George Armitage Miller – One of the founders of cognitive psychology and cognitive neuroscience
Robert J. Van de Graaff – Physicist and inventor of the Van de Graaff generator
James M. Kelly – NASA astronaut and a retired colonel of the US Air Force
Jimmy Wales – Co-founder of Wikipedia and Wikia (now Fandom)
Marillyn Hewson – Advisor to the CEO of Lockheed Martin
Winston Groom – Author of the 1986 novel Forrest Gump, which was adapted into a movie in 1994
Marcus Brimage – Mixed martial artist since 2007
Joe Namath – Professional football quarterback who played in the NFL for 13 seasons
Derrick Henry – Football running back for the Tennessee Titans of the NFL
Robert Horry – Former NBA player and current sports commentator
Bobby Bowden – Considered one of the greatest college football coaches of all time
Jim Nabors – Actor and comedian popular for playing Gomer Pyle of The Andy Griffith Show
Fannie Flagg – Actress and comedian who was a semi-regular panelist on Match Game (1973 to 1982)
Just Before You Apply to the University of Alabama
The University of Alabama is the flagship school of the University of Alabama System. Needless to say, the degree you will earn from it will surely be respected by employers.
But before you are able to get your hands on a Bama degree, you will have to get accepted into it first.
It's a good thing that the largest and oldest academic institution in Alabama, which also happens to be one of the top party schools in the US, has a high acceptance rate. With a holistic admissions policy, your application will be evaluated by its admissions officers by checking out not only your GPA but other factors, too.
Read Next: Is the University of Arkansas a Good School for You?

Disclaimer: The views and opinions expressed in this article are those of the authors and do not necessarily represent those of the College Reality Check.