Is the University of Arkansas a Good School for You?
So, many of your classmates have the University of Arkansas on their college list. Also known as U of A, UARK or UA, it's a public school with a high acceptance rate and ranking, too.
The University of Arkansas is a good school for students who consider having a good social life in college a priority. With below-average tuition and fees and an above-average acceptance rate, the U of A makes for an excellent institution for average to above-average high school students on a budget.
Read on before you include the University of Arkansas on your college list.
By the time you get to the end of this article, you will have a much better idea of why it is one of the top public institutions for higher education in the US and whether or not applying to it is a wise decision.
What is the University of Arkansas Known For?
The University of Arkansas is known for being a consistently high-ranking public school in Arkansas and the country. It is the only Tier One research institution in the state, and the Carnegie Foundation classifies UARK among only 3% of US universities with the highest level of research activity.
Located in Fayetteville, Arkansas, the U of A was founded in 1871 by the Arkansas General Assembly. Initially called the Arkansas Industrial University, it soon became the very first state-assisted college in the Natural State.
Nowadays, its 718-acre campus with a city setting houses a total of 10 schools. Applicants can choose from more than 200 academic programs. They include 99 undergraduate majors, 91 master's degree programs, 36 doctoral and specialist programs, and 33 graduate certificate programs.
Not having a good social life should be the least of the worries of graduating high school students planning to attend UARK. That's because it is known for having a superb Greek life and being a party school, too. As a matter of fact, the general consensus is that the institution is the biggest party school in the state of Arkansas.
There are a total of 27,562 students at the University of Arkansas as of the academic year 2020 to 2021. Most classes have fewer than 20 students, and the student-to-faculty ratio is 19:1.
Some of the best majors at the U of A include:
Accounting
Anthropology
Business
Chemistry
Communications
Design
Education
Engineering
Finance
History
Math
Nursing
Physics
Psychology
Sociology
Related Article: 12 Easiest College Science Classes for non-STEM Students
University of Arkansas Rankings
The University of Arkansas is #78 in Top Public Schools and #162 in National Universities by US News. On the other hand, it is #42 in Most Conservative Schools in America and #1 in Top Party Schools in Arkansas by Niche. According to College Simply, the U of A is #1 in Best Public Colleges in Arkansas.
Public colleges and universities tend to place lower in various college rankings than their private counterparts.
Well, not the University of Arkansas! It's one of the few public academic institutions in the US that tend to rank high. It's for this reason exactly why it would make for the perfect addition to the college list of any student from a low-income background seeking a high-quality degree that employers will respect.
Never build a college list based purely on what you see on college ranking sites. However, to give you an idea of how UARK fares against other schools ranking-wise, check out its other rankings by various popular rankers:
#1 in Top Public Universities in Arkansas (Niche)
#3 in Best Colleges in Arkansas (College Factual)
#39 in the South (Forbes)
#43 in Best Greek Life Colleges in America (Niche)
#59 in Best Big Colleges in America (Niche)
#98 in Best Public Colleges in the US (College Simply)
#99 in Best Colleges for Veterans (US News)
#127 in Research Universities (Forbes)
#168 in Best Value Schools (UN News)
Related Article: 18 Best Colleges in the Southeast
Acceptance Rate at the University of Arkansas
Most students who apply to the University of Arkansas get admitted. The U of A has an acceptance rate of 77.1%, which is slightly higher than the national average acceptance rate at US public institutions (70.3%), based on a National Association for College Admission Counseling (NACAC) report.
There are a couple of things that the University of Arkansas proves acceptance rate-wise:
Not all high-ranking colleges and universities are selective and thus hard to get into.
Not all public academic institutions have a 100% acceptance rate.
It's plain to see that your chances of gaining admission into UARK is so much higher than, say, some of the most prestigious schools in the country, many of which have single-digit acceptance rates.
But it doesn't mean that you are guaranteed admission into the public school located in the Natural State — your application should still be able to impress.
Keep reading if you want to know how to turn the odds in your favor. In a few, we will discuss the academic and non-academic factors University of Arkansas admissions officers consider.
Does the University of Arkansas Offer Early Decision?
The University of Arkansas does not offer Early Decision. However, it has what's called Priority Application. Like Early Decision, the deadline for this decision plan, which some schools refer to as Priority Admission, is on November 1. Priority Application is non-binding, unlike Early Decision.
It's not uncommon for graduating high school students to apply early to their top-choice colleges and universities. That's because most of them are sure to attend them should they get accepted.
However, there is usually a catch: accepted students should withdraw their applications from other schools.
Fret not if the University of Arkansas is at the top of your college list, but you are not 100% sure that it's where you would like to earn your degree from. You can apply to the public institution early and also learn about the admissions results ahead of your classmates, and it's by Priority Admission, which is a non-binding decision plan.
According to the admissions officers at the U of A themselves, applying early allows you to take advantage of priority housing, scholarship and other privileges. What's more, it could also increase your chances of gaining admission into it. Online reports, after all, say that the school's early acceptance rate is 86.6%.
Here are the most important dates to remember if you plan to apply to UARK:
| | |
| --- | --- |
| DECISION PLAN | DEADLINE |
| Priority Application | 1-Nov |
| Regular Decision | 1-Aug |
What GPA Do You Need to Get Into the University of Arkansas?
Students applying to the University of Arkansas should have a GPA of 3.0 or higher. However, it doesn't mean that those with GPAs below 3.0 will get denied. Various parts of one's application will be considered, too, when evaluating a student, although the GPA and test score have the most weight.
Most colleges and universities do not publish minimum GPA requirements. The University of Arkansas, on the other hand, does, although the minimum GPA required is the average GPA of high school students in the country.
Worry not if yours is below 3.0. That's because you might still get an acceptance letter.
It's true that many institutions for higher education in the US do not require applicants to have a particular GPA. To have an idea of whether or not your GPA is good enough for the school you are applying to, check out its CDS — the Freshman Profile section, in particular, will show you the GPAs of students admitted into it.
The following is the percentage of admits at the U of A and the range of their high school GPAs:
| | |
| --- | --- |
| GPA RANGE | PERCENT |
| 4 | 29.33% |
| 3.75 to 3.99 | 25.67% |
| 3.50 to 3.74 | 21.05% |
| 3.25 to 3.49 | 13.70% |
| 3.00 to 3.24 | 7.33% |
| 2.50 to 2.99 | 2.82% |
| 2.0 to 2.49 | 0.11% |
| 1.0 to 1.99 | 0% |
| Below 1.0 | 0% |
While the University of Arkansas requires applicants to have GPAs of not lower than 3.0, still, according to the table above, the school admits those with GPAs below 3.0. That's because other things are considered by the school's admissions officers when deciding whether to send an acceptance letter or rejection letter to an applicant.
Like the majority of US institutions, GPAs and standardized test scores are two of the most important academic factors in the admissions process. Others that are considered (but not as much) by the U of A include:
Academic rigor
Class rank
Admissions essay
Recommendation letters
Different non-academic factors are taken into account, too, at UARK.
All of them have a relative importance of "considered" — other options are "very important", "important" and "not considered". The non-academic factors admissions officers at the University of Arkansas check out are:
Extracurricular activities
Talent or ability
Personal qualities
First-generation
Alumni member relation
Geographical residence
State residency
Volunteer work
Work experience
Factors not considered at all include the interview, demonstrated interest, religious affiliation, and race or ethnicity.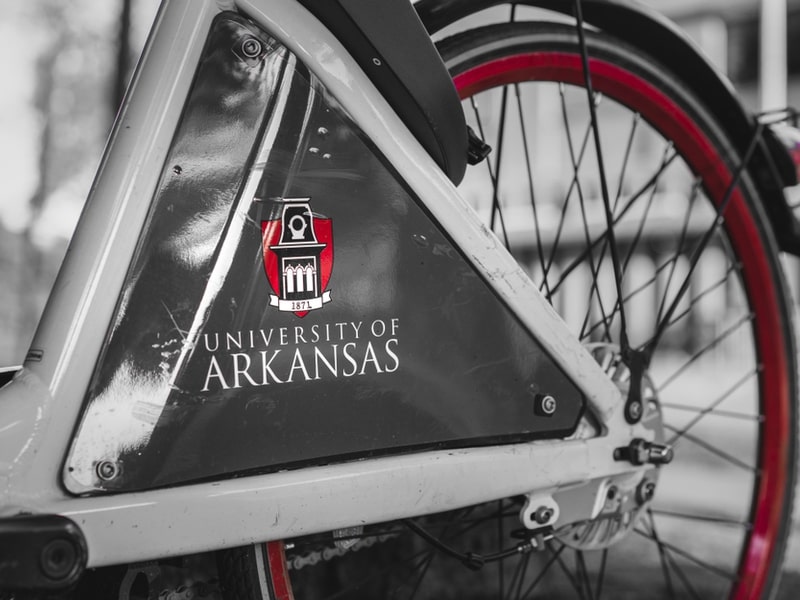 Is the University of Arkansas Test-Optional?
As of this writing, the University of Arkansas has a test-optional policy. This means that it does not require applicants to submit their SAT or ACT scores, although those who wish to submit theirs are free to do so. UARK is also test-flexible, letting students submit other standardized test scores.
Whether you are unhappy with your test score or you failed to take the SAT or ACT, you can still apply to the University of Arkansas without being disadvantaged in the admissions process.
That's because, to date, the public land-grant research university is test-optional.
But if you have taken the SAT or ACT and are happy with your score, it's a good idea to submit your score anyway. Based on the school's CDS itself, for the academic year 2020 to 2021, 24% of admitted first-year students submitted their SAT scores. Meanwhile, 89% of those who got accepted submitted their ACT scores.
Applicants who end up getting an acceptance letter from the U of A have SAT scores that usually range from 1110 to 1270. On the other hand, their ACT scores typically range anywhere from 30 to 36.
Took the SAT or ACT more than once?
Consider submitting all of the scores you obtained from various test dates if you decide to include your standardized test score in your application. That's because the University of Arkansas superscores test scores — its admissions officers take the highest section scores from all test dates and add them up.
Unfortunately, applicants whose high school GPAs are 2.74 or lower are required to submit their SAT or ACT scores.
Besides being test-optional, UARK is test-flexible. It also accepts Next-Generation ACCUPLACER Test scores. Applicants whose high school GPAs range from 3.00 to 3.19 may elect to take it rather than the SAT or ACT.
How Much Does It Cost to Attend the University of Arkansas?
For the academic year 2021 to 2022, the tuition and fees at the University of Arkansas amount to $9,574 for in-state students and $26,390 for out-of-state students. The estimated cost of attendance at the U of A for a year is $26,978 for Arkansas residents and $43,794 for non-residents of Arkansas.
There are many reasons to consider attending a public college or university. Leading the list is that earning a degree from it is cheaper than earning one from a private counterpart.
Budget-conscious families will be happy to know that the tuition and fees at UARK are slightly below the national average tuition and fees for public institutions not only for in-state students but out-of-state students, too.
The average in-state and out-of-state tuition and fees at US public colleges and universities are $10,560 and $27,020, respectively.
Related Article: 425 Colleges Charging In-State Tuition for Out-of-State Applicants
Here's is a breakdown of the estimated cost of attendance at the University of Arkansas for the academic year 2021 to 2022 for both Arkansas and non-Arkansas residents:
| | | |
| --- | --- | --- |
| EXPENSES | IN-STATE COST | OUT-OF-STATE COST |
| Tuition | $7,666 | $24,482 |
| Fees | $1,908 | $1,908 |
| Books | $1,100 | $1,100 |
| Room and board | $11,942 | $11,942 |
| Personal | $2,124 | $2,124 |
| Transportation | $2,238 | $2,238 |
| TOTAL | $26,978 | $43,794 |
According to the U of A website, the Fayetteville, Arkansas-based school offers approximately 90 prestigious scholarships every year. It adds that it annually awards almost $180 million financial aid and scholarships to its students.
How Much Do University of Arkansas Graduates Make?
Graduates of the University of Arkansas make an average of $39,200 per year right after graduation. After 10 years, the average annual salary they receive amounts to $50,400. How much UARK graduates make per year will depend on factors such as degree earned, work experience, industry and location.
One of the reasons why many students go to college after high school is to equip themselves to land their dream jobs and earn their desired salaries. While not having a degree will still enable a person to get employed, being a college graduate can increase one's job market value and open more doors to opportunities.
Having a degree from the University of Arkansas could make you earn more a year than the national median salary after 10 years — $50,400 vs. $34,300.
Let's take a look at the average first-year earnings of UARK bachelor's degree holders by major:
| | |
| --- | --- |
| MAJOR | YEARLY EARNINGS |
| Chemical Engineering | $74,300 |
| Computer Engineering | $68,700 |
| Industrial Engineering | $68,300 |
| Electrical Engineering | $67,700 |
| Communications Engineering | $67,700 |
| Computer and Information Sciences | $63,600 |
| Registered Nursing | $59,000 |
| Nursing Administration | $59,000 |
| Mechanical Engineering | $58,800 |
| Civil Engineering | $55,600 |
| Accounting | $50,800 |
| Business Administration | $48,800 |
| Management | $48,800 |
| Finance | $48,400 |
| Marketing | $45,200 |
| Biomedical Engineering | $42,900 |
| Architecture | $42,000 |
| Economics | $39,900 |
| Human Resources Management | $35,800 |
| Journalism | $33,300 |
| Nutrition | $30,900 |
| Music | $30,900 |
| Sociology | $30,400 |
| Psychology | $29,500 |
| Public Health | $26,400 |
| History | $26,200 |
| Biology | $26,000 |
| Education | $25,700 |
| Anthropology | $18,900 |
Please note that not all majors the U of A offers are included in the table above.
Related Article: 20 Most Employable Degrees (Some of Them Very Hard)
Famous People That Went to the University of Arkansas?
Many of the former students at the University of Arkansas went on to become governors, senators and other political figures. Some of them became founders of companies and owners of businesses. Others who once attended UARK went on to become professional athletes like basketball and football players.
In some instances, it's not just the college or university that is popular to many but also its former students.
There are many University of Arkansas students in the past whose names ring a bell today. Some of those whose names or achievements you may be familiar with include:
Joseph Taylor Robinson – Served as the 23rd Governor of Arkansas
Dale Bumpers – Served as the 38th Governor of Arkansas
David Pryor – Served as the 39th Governor of Arkansas
Mike Beebe – Served as the 45th Governor of Arkansas
Mark Pryor – US Senator from Arkansas (2003 to 2015)
Tim Hutchinson – US Senator from Arkansas (1997 to 2003)
J. William Fulbright – Longest-serving chairman of the Senate Foreign Relations Committee
Wilma Mankiller – First female Principal Chief of the Cherokee Nation
E. Lynn Harris – Author of 10 books that made it to The New York Times Best Seller list consecutively
Louise Thaden – First female aviator to win the Bendix trophy
Jerry Jones – Billionaire owner of the Dallas Cowboys of the NFL
S. Robson Walton – Eldest son of the founder of Walmart, Sam Walton
Tyson Gay – Four-time US track and field sprinter champion in the 100 m
Joe Johnson – Basketball player who played 18 seasons in the NBA
Dan Hampton – Football player who played 12 seasons in the NFL
John Daly – Professional golfer on the PGA Tour
Pat Summerall – TV sportscaster who worked for CBS, ESPN and Fox
Just Before You Apply to the University of Arkansas
The University of Arkansas has a cost of attendance that's lower than most and an acceptance rate that's higher than most. Because of this, it makes for a wonderful match and safety school.
And being a party school with a phenomenal Greek life, having a boring college experience is unlikely.
Make sure that you consider both the pros and cons of applying to and, should you get accepted into it, attending UARK. Above, we talked about various admissions-related things about this public institution. Use everything you just learned about it to make the best possible decision of your life as an incoming college student.

Disclaimer: The views and opinions expressed in this article are those of the authors and do not necessarily represent those of the College Reality Check.