Is the University of Delaware a Good School for You?
The University of Delaware (UD, UDel or Delaware) is a public research university that's located in Newark, Delaware.
Founded in 1743, it's the largest institution in the state — UD has a 1,996-acre suburban campus that's home to 23,257 students, 80% of which are undergraduates.
US News ranks it #89 in National Universities and #38 in Top Public Schools.

Of the more than 80 majors available at the University of Delaware, some of the most popular include engineering, finance, marketing, nursing and liberal arts.
UD has an acceptance rate of 70%, and the average GPA of accepted students is 3.9. It has an R1 designation for its very high research activity.

Still on the fence as to whether or not you should go to the University of Delaware after what you have read?
Check out the following fast facts on the highly-rated school:
Location: Newark, Delaware
Founding date: 1743
Motto: Knowledge is the light of the mind
Campus size: 1,996 acres
Campus type: Suburban
School type: Liberal public land-grant research university
Reputation: Party school
Selectivity level: Moderately selective
Number of majors: 84
Popular majors: Business, Accounting, Finance, Social Sciences, Education, Engineering, Health Professions
Student body: 21,995 (as per Common Data Set 2020 to 2021)
Students per class: 20 to 29 in most classes
Student-to-faculty ratio: 12:1
Retention rate: 88%
Graduation rate: 79%
Athletic affiliation: NCAA Division I
Color: Blue and gold
Mascot: YoUDee
Number of varsity teams: 21
Sports: Baseball, basketball, cross country, field hockey, football, golf, lacrosse, rowing, soccer, softball, swimming and diving, tennis, track and field, volleyball.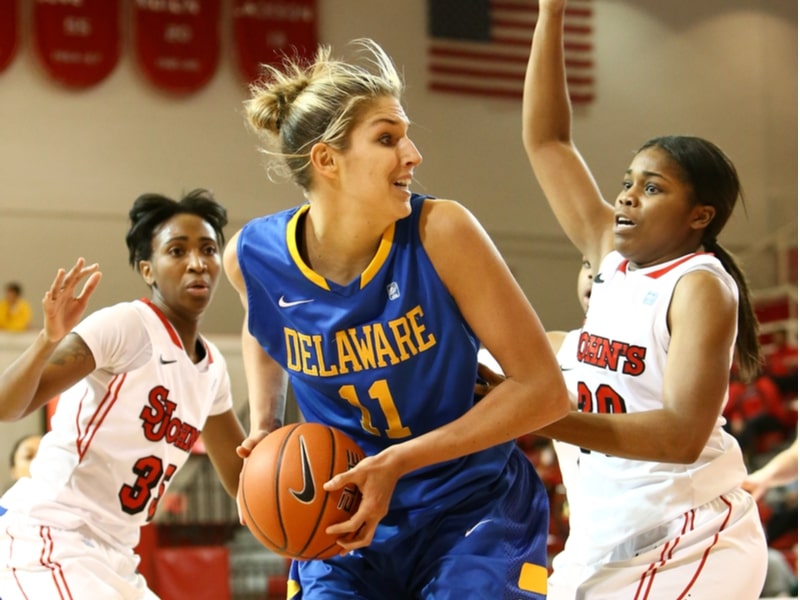 University of Delaware Rankings
The University of Delaware is #38 in Top Public Schools and #93 in National Universities by US News. Meanwhile, it's Delaware's #1 in Most Liberal Colleges and #3 in Most Diverse Colleges by Niche.
UD is #35 in Best Public Colleges in the US and #1 in Best Value Colleges in Delaware by College Simply.
Being a flagship school, it isn't shocking why the University of Delaware shines in various college rankings.
It's not just a valued and respected degree that you can earn from the school.
You can also obtain an excellent social life from it, thanks to its being a party school and having a great Greek life.
As a matter of fact, Udel is #21 in the Top 25 Party Schools in America, according to Newsweek.
Niche, on the other hand, puts it at #16 in Best Greek Life Colleges in America, #21 in Top Party Schools in America.
You should not leave the college list-building tasks to college rankers. However, seeing how the school you like fares against others can help you make a wise choice.
Here are the other rankings of UD by various ranking sites:
#1 in Best Public Colleges in Delaware (College Simply)
#42 in Top Public Universities in America (Niche)
#46 in Public Colleges (Forbes)
#53 in Best Colleges for Veterans (US News)
#58 in Colleges With the Best Student Life in America (Niche)
#76 in Research Universities (Forbes)
#108 in Top Colleges (Forbes)
#125 in Best Value Schools (US News)
Related Article: How Accurate are US News College Rankings?
Acceptance Rate at the University of Delaware
More than half of those who apply to the University of Delaware end up getting admitted as freshmen students.
With a high acceptance rate of 71%, it's a moderately selective public institution. In the state of Delaware, UD is one of the colleges and universities with the highest acceptance rates.
Being a public institution, many assume that it's easy to get into the University of Delaware.
But because it's also a flagship school, many believe that it's not that trouble-free to receive an acceptance letter from it.
The good news is that your chances of getting a thumbs-up from the admissions officers of the school are great because of its high acceptance rate.
However, it doesn't mean that you should no longer try to make your application stand out.
Having a holistic admissions policy, many different parts of your application can impact admissions outcomes.
We will talk about which parts of an application matter the most in a few — so read on!
Meanwhile, here's a table comparing the acceptance rates at various colleges and universities located in Delaware to help you decide whether or not adding Udel to your college list will make it more balanced:
| | | |
| --- | --- | --- |
| NAME | LOCATION | ACCEPTANCE RATE |
| Delaware Technical and Community College – Owens | Georgetown | 100% |
| Delaware Technical and Community College – Terry | Dover | 100% |
| Delaware Technical and Community College – Stanton | Wilmington | 100% |
| Wilmington University | New Castle | 100% |
| Widener University – Delaware | Wilmington | 100% |
| University of Phoenix – Delaware | Wilmington | 100% |
| University of Delaware | Newark | 71% |
| Delaware College of Art and Design | Wilmington | 71% |
| Wesley College | Dover | 61% |
| Goldey-Beacom College | Wilmington | 57% |
| Delaware State University | Dover | 53% |
Getting into the University of Delaware
Unfortunately for students who consider the University of Delaware their top-choice school, the institution does not offer Early Decision.
However, it still gives aspirants the chance to apply earlier than the rest via Early Action, whose deadline is on November 1. UD applications open on August 1.
Some students apply to their dream colleges and universities through Early Decision.
Generally speaking, Early Decision acceptance rates are higher than Regular Decision acceptance rates.
As a matter of fact, according to a survey, the chances of Early Decision applicants getting accepted are 12% higher.
But, as mentioned earlier, Udel doesn't have Early Decision.
What it offers, instead, is Early Action.
It's similar to Early Decision in that it allows applicants to apply and also get admissions results earlier than everybody else.
However, it's non-binding, which means that you can choose to attend a different school if UD gives you an offer.
Early Action, by the way, is a great way to show admissions officers your interest in attending the school.
At Udel, one of the non-academic factors considered when evaluating applicants is demonstrated interest.
Needless to say, it's safe to assume that you can boost your chances of getting accepted just by applying earlier.
Planning to include the University of Delaware on your college list? Then don't forget these important dates:
| | | |
| --- | --- | --- |
| ADMISSION PLAN | DEADLINE | DECISION NOTIFICATION |
| Early Action | 1-Nov | 31-Jan |
| Regular Decision | 15-Jan | 1-Apr |
What GPA Do You Need to Get Into the University of Delaware?
Based on the Common Data Set of the University of Delaware, the average GPA of first-time, first-year students admitted into the highly ranked school is 3.92.
This means that the institution has a preference for applying students who got more A's than B's in their high school classes.
It's true that the acceptance rate at the University of Delaware is high. However, it could mean that all 71% of applicants who get accepted into it have high GPAs.
The website of UD, in particular the First-Year Admissions Requirements page, does not say anything about the need for aspirants to meet a minimum GPA requirement.
However, a quick look at the school's Common Data Set, in particular, the Freshman Profile section, will reveal the fact that most admits have a perfect 4.0 high school GPA.
Just check out percentage of admits at Udel and the range of their GPAs:
| | |
| --- | --- |
| GPA RANGE | PERCENT |
| 4 | 45% |
| 3.75 to 3.99 | 24% |
| 3.50 to 3.74 | 18% |
| 3.25 to 3.49 | 15% |
| 3.00 to 3.24 | 9% |
| 2.50 to 2.99 | 3% |
| 2.0 to 2.49 | 1% |
| 1.0 to 1.99 | 0% |
| Below 1.0 | 0% |
Application Requirements for UDel
Despite being a flagship school, the University of Delaware does not require applicants to submit a lot of requirements.
For the most part, filling out the Common App or Coalition App, writing the required application essay, and submitting one letter of recommendation are enough for consideration.
It's not uncommon for many colleges and universities in the US to ask applicants to meet all sorts of requirements and provide all kinds of documents, which makes the college application process stressful and exhausting.
You will be more than relieved to learn that applying to UD isn't as grueling.
That's because the process of applying to it is surprisingly easy, to the point of being barebones.
For instance, unlike when applying to most institutions for higher education, especially competitive ones, you will only have to come up with one essay — the Common App or Coalition App essay.
There are no further essays or short answer questions.
Want to have a peek at what your college application would be like if you included the University of Delaware on your list? Here's the application checklist from the school's admissions office itself:
Complete the Common App or Coalition App
Pay the non-refundable $75 application fee
Link the Self-Reported Academic Record (SRAR)
Self-report SAT or ACT score if you wish to submit yours
Submit a high school counselor recommendation letter
Transferee and international students will have to apply via the UD Online Application.
How Much Does It Cost to Attend the University of Delaware?
The in-state tuition for the University of Delaware amounts to $7,020 per semester. Meanwhile, out-of-state tuition amounts to $18,840 per semester.
This brings the estimated total cost of attendance for a year to $33,718 for Delaware residents and $57,358 for non-Delaware residents.
One of the most important factors to consider when building a college list is the cost.
Needless to say, attending the University of Delaware is less likely to leave a massive dent in the budget if you are from a low-income family living in the state of Delaware.
Alas, the same cannot be said if you are living elsewhere. That's because you will have to pay nearly three times more tuition than in-state students.
Related Article: 425 Colleges Charging In-State Tuition for Out-of-State Applicants
Before you decide to add Udel to your college list, be it as a match or safety school, check out the breakdown of the estimated cost of attendance at the institution for a year:
| | | |
| --- | --- | --- |
| EXPENSES | IN-STATE COSTS | OUT-OF-STATE COSTS |
| Tuition (semester) | $7,020 | $18,840 |
| Fees | $1,020 | $1,020 |
| Room and board (semester) | $7,419 | $7,419 |
| Semester Total | $15,459 | $27,279 |
| Indirect costs | $2,800 | $2,800 |
| TOTAL | $33,718 | $57,358 |
Udel cost of attendance
UD believes that higher education should be affordable to all Delaware residents.
It's because of this why it has the so-called First State Promise available to in-state full-time undergraduate students.
Basically, it's all about the school taking care of the tuition of in-state students from families that make less than $75,000 a year.
First State Promise may also benefit those whose families generate more than $75,000 a year or have assets amounting to more than $50,000 by receiving grants as a part of their financial aid award.
The first step to take, as expected, is filling out and submitting the FAFSA form.
Related Article: Here's How Hard It Is to Get a Scholarship for College
How Much Do UDel Graduates Make?
The average initial salary of the alumni members of the University of Delaware six years after enrolling at the school is $45,600 a year.
How much they make 10 years from the time they attended UD climbs up to an average of $61,300 a year, which is 79% higher than the national median yearly salary.
According to the Association of Public and Land-Grant Universities, college degree holders make an average of $32,000 more annually than those whose highest degree is a high school diploma.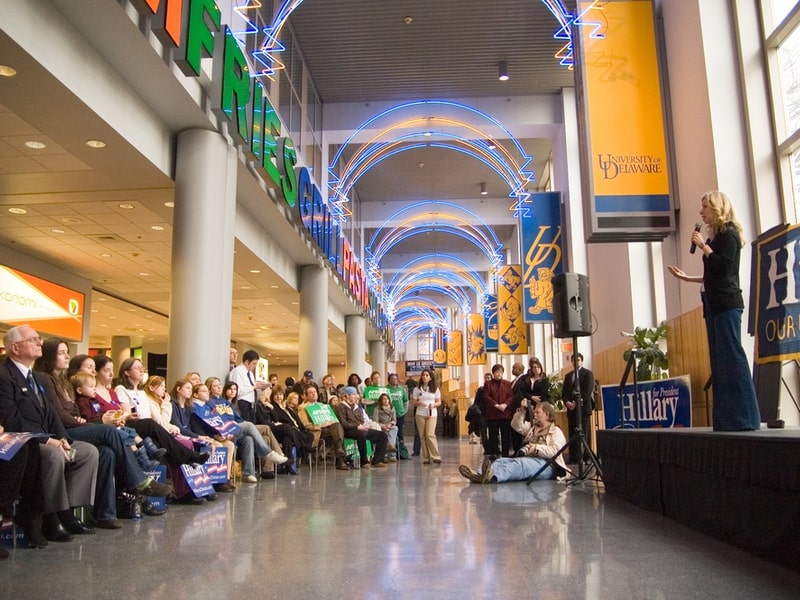 It's due to this why being one of the 79% of students who graduate from the University of Delaware could give you the opportunity to make a bigger paycheck every year than someone who didn't go to or wasn't able to finish college.
How much you could be making will depend on factors such as your major, location and work experience.
Let's take a look at the average first-year earnings of Udel bachelor's degree holders by major:
| | |
| --- | --- |
| MAJOR | YEARLY EARNINGS |
| Registered Nursing | $68,200 |
| Nursing Administration | $68,200 |
| Computer and Information Sciences | $67,600 |
| Chemical Engineering | $65,100 |
| Mechanical Engineering | $62,100 |
| Accounting | $61,600 |
| Civil Engineering | $59,300 |
| Finance | $58,900 |
| Medical Laboratory Science | $58,200 |
| Business Administration | $53,400 |
| Economics | $49,000 |
| Teacher Education | $42,100 |
| Communication | $40,100 |
| Criminology | $36,100 |
| Political Science | $35,600 |
| Biology | $33,600 |
| Human Services | $31,500 |
| Public Health | $27,200 |
| Sociology | $27,100 |
| History | $25,300 |
The table above does not include all majors the University of Delaware offers.
Which Famous People Went to the University of Delaware?
Wondering where a flagship school experience could take you someday?
Check out who among these well-known former students at the University of Delaware you can recognize:
Joe Biden – The 46th US President and the 47th US Vice President
Chris Christie – The 55th Governor of New Jersey
Tom Carper – Senior US Senator from Delaware since 2001
Leonard Stark – Former Chief Judge for the District of Delaware (2014 to 2021)
No Kum-sok – Korean American engineer and aviator who served as a senior lieutenant during the Korean War
Louise Mushikiwabo – The 4th Secretary General of the International Organization of La Francophonie
John P. Costas – Former chairman and CEO UBS Investment Bank
Michael F. Koehler – CEO of Teradata
Dave DeWalt – Co-founder of and chairman at Momentum Cyber
Annie Jump Cannon – Astronomer who classified over 300,000 stars and developed the Harvard spectral system
Daniel Nathans – Co-recipient of the 1978 Nobel Prize in Physiology
Johnny Weir – Multiple medalist figure skater and TV commentator
Tara Lipinski – Youngest competitive figure skater to win a US Nationals, until 2019
Rich Gannon – Football quarterback who played in the NFL for 18 seasons
Robin Miller – Motorsports journalist who wrote for The Indianapolis Star, Autoweek, ESPN and Speed
Susan Stroman – Won numerous Tony Awards for her work in musical theater
Yvette Freeman – Best known for her role as Haleh Adams in the medical drama series ER on NBC
Scott Levy – Known as Raven and one of the most decorated professional wrestlers in history
What Is Udel Known For
Besides being the largest institution in The First State, the University of Delaware (UD or Udel) is also known in the state and across the land as a party school with a phenomenal Greek life.
Offering more than 300 programs, this flagship school with an almost 2,000-acre suburban campus would make for a wonderful addition to one's college list.
The University of Delaware is ideal for students who want to earn a degree and have a blast in the process.
Since it's the state's most prominent institution, 90% of its bachelor's degree graduates are employed or pursuing further education. The initial annual salary of employed ones is $45,600.
Use the information you came across above in deciding whether or not you should send an application to Udel.

Disclaimer: The views and opinions expressed in this article are those of the authors and do not necessarily represent those of the College Reality Check.