Is the University of Kansas a Good School?
The University of Kansas (Kansas or KU) is a public research university whose main campus is located in Lawrence, Kansas.
Founded in 1864, KU is ranked #121 in National Universities and #56 in Top Public Schools by US News.
Tuition and fees amount to $11,166 for in-state students and $28,035 for out-of-state students.

Undergraduate students at the University of Kansas can choose from more than 190 majors, some of the most popular of which include business, finance, journalism, psychology and nursing.
KU's 1,000-acre campus is home to 19,158 undergraduates. It has an acceptance rate of 92% and more than 350,000 alumni members all over the globe.

Loving what you have read about Kansas so far?

I will talk about some of the most important things you need to know about KU.
By the time you are through checking out this article, you will have a much better idea of whether or not it should be at the top of your college list.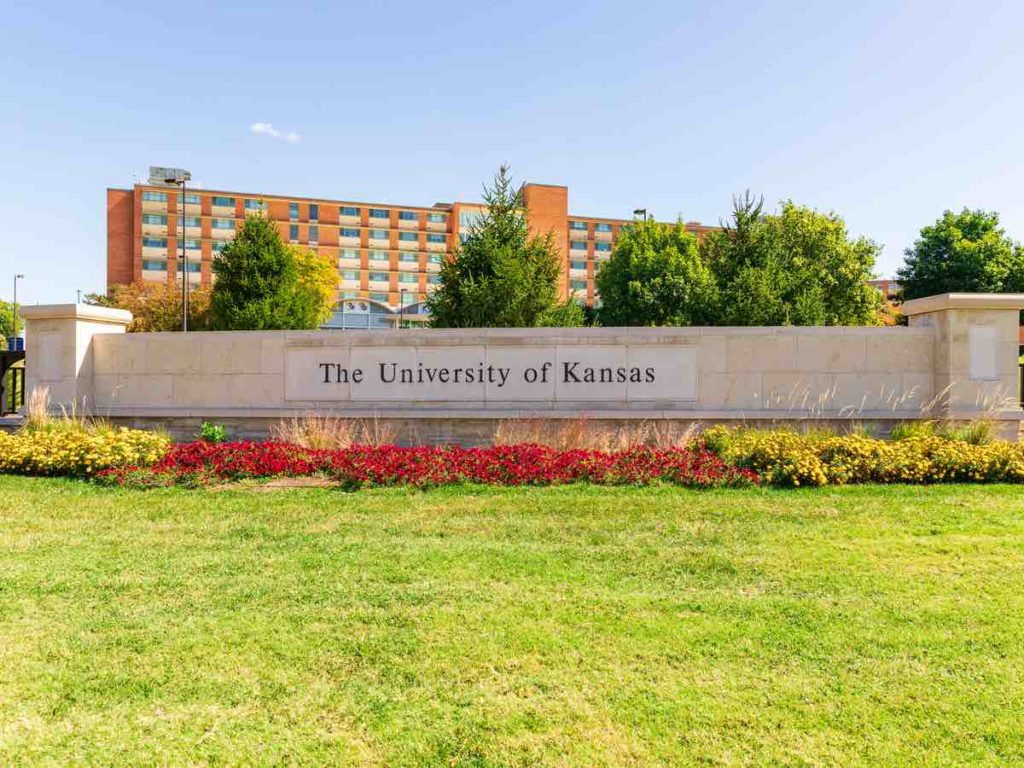 What Makes the University of Kansas a Good School?
With an enrollment of close to 27,000 students each year, it is safe to say that The University of Kansas suits a great number of student's academic needs.
They check the boxes when looking for the avenue to further their education.
Still, you might be wondering if that translates to you.
When considering the University of Kansas as a prospect for furthering your education, there are a few things that you need to know to make a well-rounded, fact-based decision.
Academic Rankings
The first thing you want to know when looking at a potential college or university is where they fall in terms of academics.
Do they have programs that will set you up for success in the career of your choosing?
Different schools will have different strengths depending on their programs and faculty.
The University of Kansas has top rankings in a few academic categories like education or psychology.
They also have some unexpected fields that may give them a leg up against other potential schools.
Keep in mind that these rankings are based on specific studies in the degree programs.
#17 in Best Education Schools
#2 in Special Education
#9 in Best Medical Schools: Primary Care
#14 in Audiology
#21 in Best Schools for Journalism
If you are looking for Graduate programs, the University of Kansas has a few that are highly ranked.
#4 in the 10 Best Paleontology Graduate Programs (2019)
#1 in 20 Best Masters in Behavioral Psychology
#2 in the Top 20 Most Innovative Master's in Special Education Degree Program
Tuition (In-state/Out-of-State)
Once you look into The University of Kansas' degree programs and find one that suits your chosen career path, you might start to wonder what the costs would be to attend, namely tuition costs.
While there are grants, scholarships, and financial aid that can offer an applicant assistance, it is not guaranteed that every student will be approved or awarded. So, it is important to know what you will be responsible for financially if you choose this school.
In-state tuition for The University of Kansas is in the mid-range landing at $11,166. While this is not the most affordable in-state tuition cost, there are some schools with in-state tuition as high as almost $24,000.
That amount is close to what you would be paying at The University of Kansas if you were an out-of-state student, which falls at $28,035.
Other schools nearby, like The University of Missouri or Kansas State University, have comparable in-state/out-of-state tuition costs, with The University of Kansas being only slightly more expensive by less than $1,000 for in-state and less than $2,000 for out-of-state tuition.
The University of Missouri has slightly more expensive out-of-state tuition of $29,005.
Keep in mind that these numbers do not include other costs like room & board, transportation, food, school fees, textbooks, and other school supplies.
Related Article: 425 Colleges Charging In-State Tuition for Out-of-State Applicants
Student Life
Four years is a long time to be spending a good majority of time on a school campus, especially if you've moved to another state and are leaving the comfort of home, family, and starting over with new friendship groups.
It is important to know how other students, like yourself, have fared in the same position.
The University of Kansas ranks #51 in the 'Colleges with the Best Student Life in America'. That ranking covers 1,612 colleges and universities across the country. They boast a beautiful campus with red brick buildings and well-manicured landscaping.
In terms of the party culture, The University of Kansas ranks #34 out of 1,612 colleges and universities across the nation.
As for the state of Kansas, they are #1 in that category.
Part of that culture includes Greek life, which ranks #47 out of 824 other colleges and universities with sororities and fraternities.
Extracurriculars Offered
An integral part of your potential happiness with your college life is staked in what extracurriculars are offered to occupy your time, deepen your studies and explore your passions.
An extracurricular could even set you on a potential career path by establishing important connections for the future or setting up for recruitment.
This is certainly the case when it comes to athletics. The University of Kansas ranks #3 in Men's Basketball and has a reputation for this sport among other colleges and universities. They boast of 3 national championships.
Not only does the University of Kansas have a prestigious athletic department and rich Greek life but 600+ student organizations and clubs. They also have student union activities and recreation services to keep you occupied.
Is KU a Good School
The University of Kansas is best for those who desire a large catalog of courses to choose from, graduate programs or athletics.
It is also ideal for any in-state student since it is a state university.
The University of Kansas also has a top-rated honors program.
Now that you have more information on the University of Kansas, you can decide whether or not the school warrants a deeper look.
If The University of Kansas was already on your radar and you had already begun your research, perhaps this deep dive helped to solidify your decision.
Either way, you are on the path to higher education with a helpful guide.

Disclaimer: The views and opinions expressed in this article are those of the authors and do not necessarily represent those of the College Reality Check.