Is the University of Montana a Good School?
It may not be the largest institution in Montana (that title goes to Montana State University) but the University of Montana is the state's flagship school. As a result of this, you might be wondering if it's a great idea to apply to UM, especially since it has a very high acceptance rate.
Most especially on a local level, the University of Montana is a good school. The flagship institution offers an assortment of academic programs, ranging from liberal arts to deep sciences. UM is suited for degree-seeking students who are after high-quality education, value and lively social life.
Here's an interesting UM fact that will surely make you grow fond of it: the school has a 10-acre farm which is exclusive for growing crops for emergency food shelters.
Get to know the University of Montana more by checking out the following quick stats:
Location: Missoula, Montana
Founding date: 1893
Motto: Lux et veritas (light and truth)
Campus size: 220 acres
Campus type: Urban
School type: Liberal public research university
Reputation: Party school
Selectivity level: Less selective
Number of majors: 77
Popular majors: Business, Communications, Exercise Physiology, Humanities, Marketing, Psychology
Student body: 10,962
Students per class: 10 to 19 in most classes
Student-to-faculty ratio: 17:1
Retention rate: 70%
Graduation rate: 46%
Athletic affiliation: NCAA Division I
Color: Maroon and silver
Mascot: Monte
Number of varsity teams: 15
Sports: Basketball, cross country, football, golf, soccer, softball, tennis, track and field, volleyball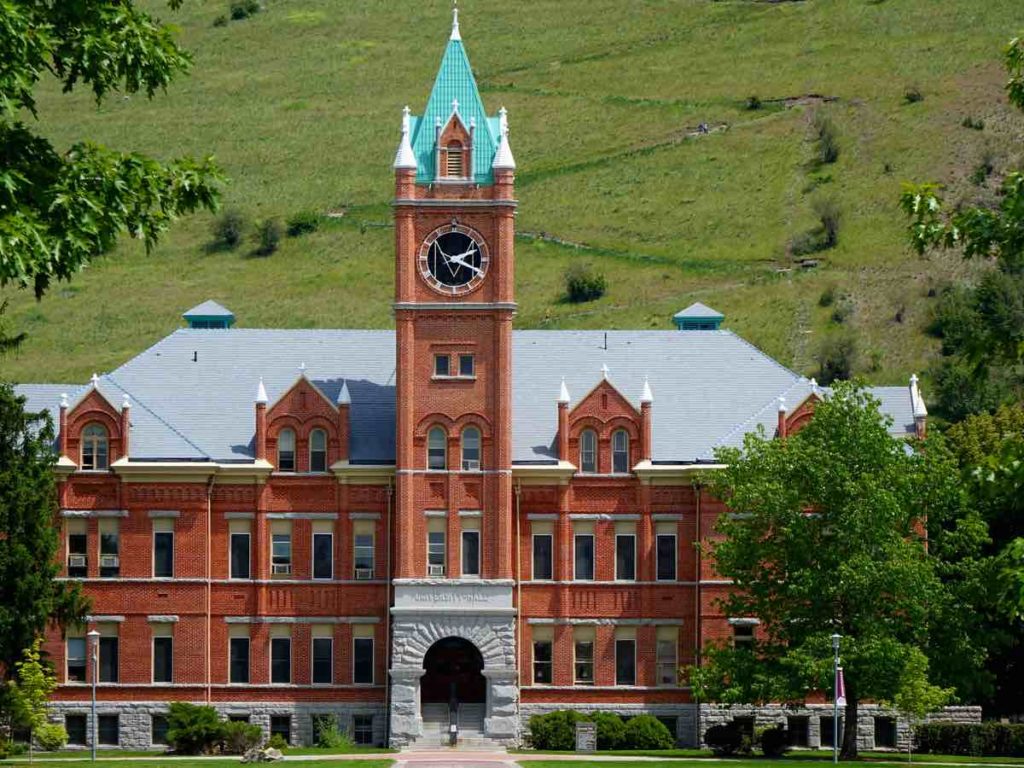 University of Montana College Rankings
As a flagship school, the University of Montana ranks highly on a local or statewide level. Sadly, on a national level, it's not as high ranking as most flagships. For instance, while UM is #3 in Best Public Colleges in Montana by College Simply, it's #277 in National Universities by US News.
The name of the University of Montana appears on most college rankings, which is a good thing.
However, in many instances, particularly in national rankings, UM doesn't rank as highly as most other flagship schools. But the fact that it's the star campus of the University of Montana system and the state of Montana itself makes it desirable in the eyes of many college-bound teens. Besides, college rankings should be taken with a grain of salt.
But just to give you a much better idea of how the University of Montana fares against other institutions for higher education in the Treasure State, here are some of its local rankings by various college rankers:
#1 in Best Colleges and Universities in Montana (College Consensus)
#2 in Best College Locations in Montana (Niche)
#2 in Top Universities in Montana (UniRank)
#4 in Best Colleges in Montana (College Simply)
#4 in Colleges With the Best Professors in Montana (Niche)
#7 in Best Colleges in Montana (College Factual)
#8 in Top 10 Colleges in Montana (Best Colleges)
#119 in the West (Forbes)
What is the University of Montana Known For?
The University of Montana is known for having a campus with its own restaurants, banks, medical facilities and even a police station. The public university, which is Montana's flagship, is also known for being a party school where Greek life and varsity sports are important aspects of its studentry.
In Montana, it's undeniable that UM is one of the best. After all, it's the flagship school not only of the Montana University System but the state of Montana, too.
Most students the University of Montana tends to attract are outdoorsy, laidback and self-confessed hippies.
A lot of them also love to party. It's because of this why the party scene at the school is quite big. As a matter of fact, Niche ranks it #3 in Top Party Schools in Montana.
In terms of disciplines/majors, some of the most popular at UM include:
Anthropology
Business
Communications
Elementary Education
Environmental Science
Exercise Physiology
Humanities
Liberal Arts
Marketing
Psychology
Sociology
Visual and Performing Arts
Wildlife and Fisheries Management
UM students love varsity sports, too. There is no denying that football is the most popular sport on campus. So much so that the University of Montana's football team has, to date, won two national championships.
Acceptance Rate at the University of Montana
Nearly all applicants get an offer to enroll at the University of Montana. With a very high acceptance rate of 94%, the institution is a less selective school. In the state of Montana, colleges and universities have acceptance rates of greater than 50%. The majority have 100% acceptance rates.
The University of Montana would make for an excellent addition to one's college list as a match or safety school. This is especially true since it's not just any flagship school — it's a flagship with a high acceptance rate.
With an acceptance rate of 94%, your chances of getting admitted into it are very good.
According to the Montana University System itself, graduating high school students should have a GPA of at least 2.5. The average GPA of admitted first-year students, based on the school's Common Data Set, is 3.55. Just check out this table showing the percentage of admits at the University of Montana and the range of their GPAs:
| | |
| --- | --- |
| GPA RANGE | PERCENT |
| 3.75 to 4.00 | 29.00% |
| 3.50 to 3.74 | 16.70% |
| 3.25 to 3.49 | 15.10% |
| 3.00 to 3.24 | 14.80% |
| 2.50 to 2.99 | 18.50% |
| 2.0 to 2.49 | 5.20% |
| 1.0 to 1.99 | 0.80% |
| Below 1.0 | 0.00% |
Besides GPA, aspirants should also meet the minimum test score requirement for their applications to be considered. That's 1120 for the SAT and 22 for the ACT.
Admitted first-year students who submitted their SAT scores have composite scores ranging from 1055 to 1245. Meanwhile, fresh high school graduates admitted into UM who submitted their ACT scores have composite scores ranging from 20 to 26. By the way, of all new admits, 31% submitted their SAT scores, while 76% submitted their ACT scores.
How Much Does It Cost to Attend the University of Montana?
The sticker price of the University of Montana for one academic year is $23,292 for in-state students. For non-Montana residents, the cost of attendance is almost two times more expensive — $45,894. The sticker price is closer to in-state cost than out-of-state cost for students from WUE states.
Believe it or not, College Simply ranks the University of Montana #9999 in Best Value Colleges in the US! However, the same college ranking site ranks the school #17 in Best Value Colleges in Montana.
In-state and out-of-state tuition and fees at UM are higher than what's considered average for public institutions located in Montana — $4,789 and $12,005, respectively. Especially if you are a non-Montana resident, make sure that you take into account the cost before applying to the school.
Not from Montana but residing in one of the Western Undergraduate Exchange (WUE) states?
Then you are eligible for a cheaper sticker price. It's not as low as in-state cost, but it's definitely not as high as out-of-state cost. Simply put, WUE is a regional tuition-discount agreement the Western Interstate Commission for Higher Education (WICHE) administers. More than 160 public institutions across 16 states and territories participate in it.
Here's a breakdown of the estimated cost of attending UM for a year, based on the academic year 2022 to 2023 rate:
| | | | |
| --- | --- | --- | --- |
| EXPENSES | IN-STATE COSTS | OUT-OF-STATE COSTS | WUE COSTS |
| Tuition and Fees | $7,720 | $29,622 | $10,734 |
| Loan Fee Allowance | $42 | $42 | $42 |
| Room and Board | $11,740 | $11,740 | $11,740 |
| Books and Supplies | $1,100 | $1,100 | $1,100 |
| Transportation | $1,500 | $2,200 | $2,200 |
| Miscellaneous | $1,190 | $1,190 | $1,190 |
| TOTAL | $23,292 | $45,894 | $27,006 |
Related Article: 425 Colleges Charging In-State Tuition for Out-of-State Applicants
Just Before You Apply to the University of Montana
Loved what you read about the University of Montana? Then feel free to add it to your college list. This is especially true if you want to keep your college application-related stress to a minimum since its acceptance rate is a whopping 94%.
But don't make UM your top-choice school just because getting into it is fairly easy.
Check that practically every aspect of the school is the perfect fit, from the academic programs it offers to its sticker price, to have the best possible college experience and degree, too.
Read Also: Most and Least Racially Diverse US Colleges and Universities

Disclaimer: The views and opinions expressed in this article are those of the authors and do not necessarily represent those of the College Reality Check.