Is the University of Oregon a Good School?
The University of Oregon (UO or Oregon) is a public research university that's located in Eugene, Oregon.
Founded in 1876, it has a 295-acre campus that serves as home to 9 colleges and schools and a total of 22,257 students, 84% of which are undergraduates.
UO is ranked #105 in National Universities and #48 in Top Public Schools by US News.

Undergraduate students at the University of Oregon can choose from more than 50 majors, the most popular of which include advertising, business, psychology, economics and public relations.
Classified as an R1 institution for its very high research activity, UO has an acceptance rate of 93% and its graduates have a median starting salary of $49,800 per year.

Still undecided as to whether or not the University of Oregon should make it to your college list?

Continue reading this article for I will discuss just about everything you need to know about Oregon before you consider applying to it, including its tuition, campus life and admission requirements.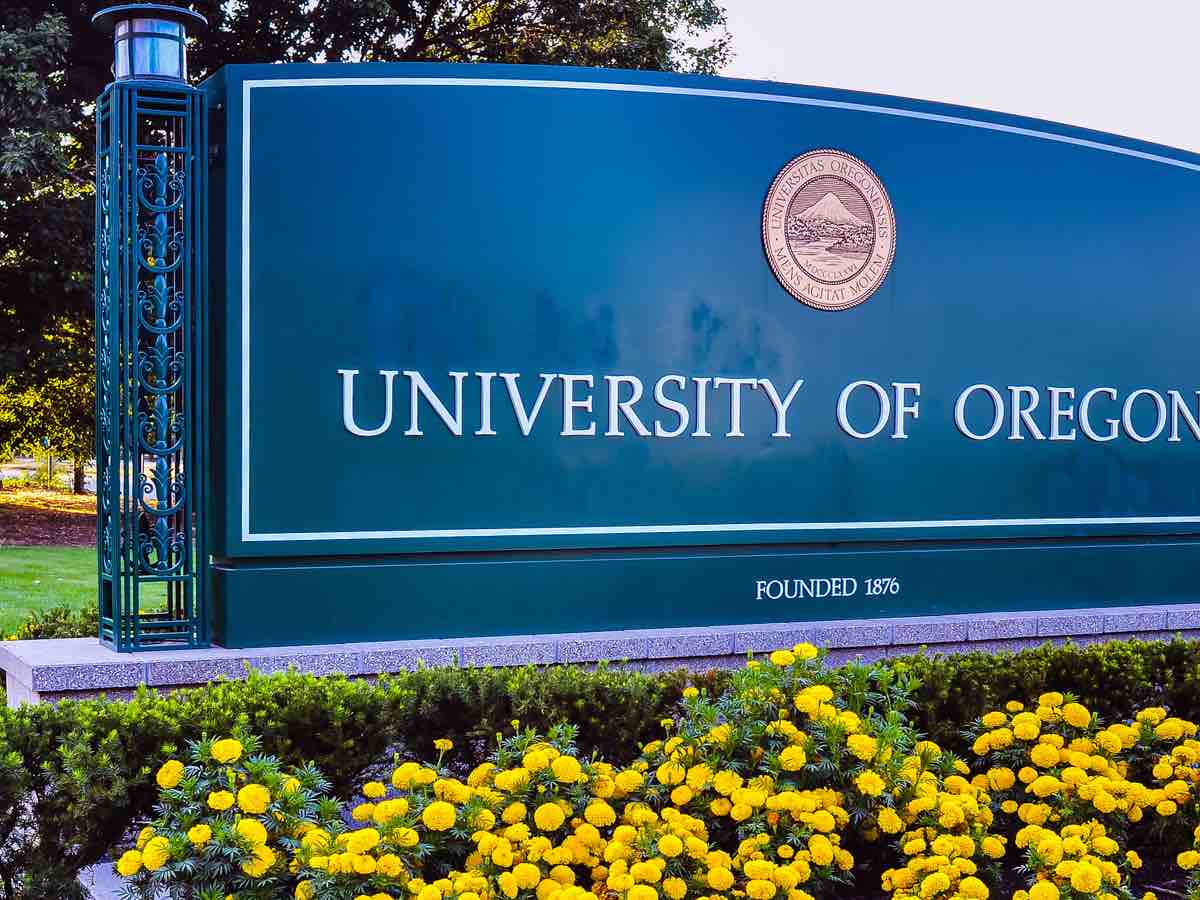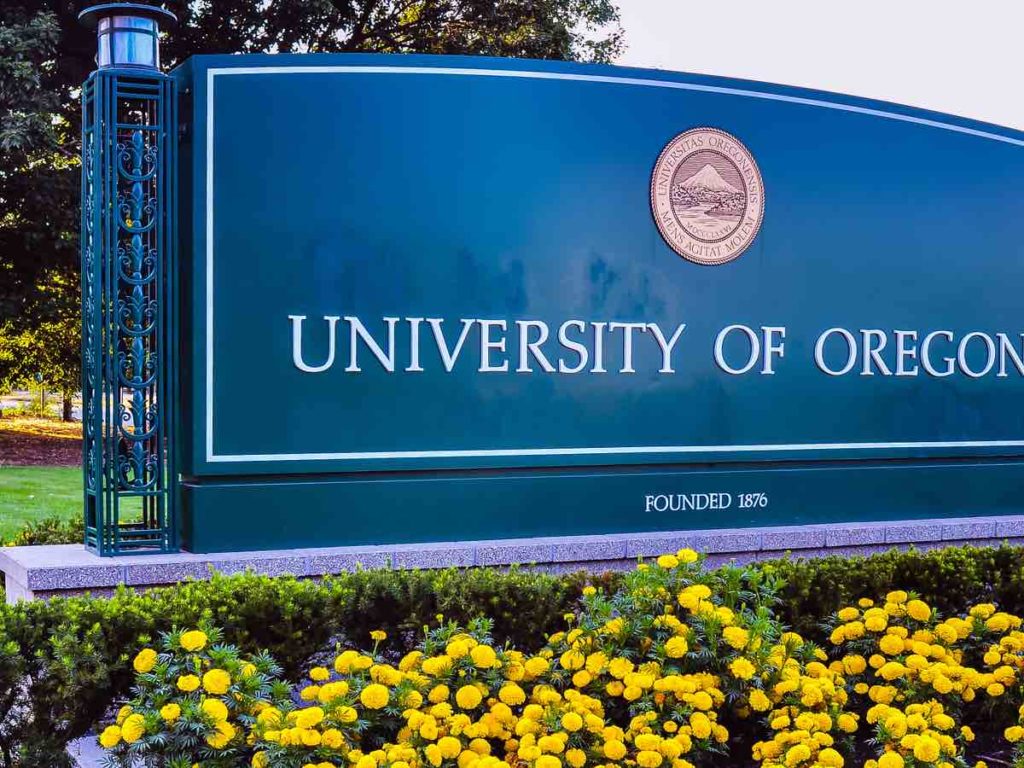 What Major Is University of Oregon Known For
The University of Oregon invented Green Chemistry and has many programs focusing on sustainability and the environment. Additionally, it is a Tier 1 National Public Research University with 73% of students engaged in some form of research activity.
Even though the university offers a broad range of programs within its 21 fields, that doesn't mean that all 79 of these undergraduate degrees have ranked high enough for anyone to take note of.
The following fields of study are the best programs at UO:
| | |
| --- | --- |
| Program | National Ranking |
| Sustainable Design | Number 3 |
| Environmental and Natural Resources Law | Number 8 |
| Education | Top 5% |
| Special Education | Number 3 |
| Creative Writing | Top 20% |
| Landscape Architecture | Top 20% |
| Psychology | Top 20% |
| Sports Marketing | Top 20% |
| Sustainable Business Practices | Top 20% |
Best majors at UO
Additionally, they also have high ranking programs in the following fields:
Anthropology
Biology
Comparative Literature
Geography
Earth Sciences
Physics
These fields do not rank in the top 20% as frequently as some of the others but they are notable enough for the university itself to brag about them.
University of Oregon Ranking
One easy way to determine if a college or university is a good one is to look at their national rankings. These are determined by a variety of factors, each unique to the group doing the awarding. They take into consideration such things as graduation and retention rate, diversity, breadth of programs, and tuition cost.
| | |
| --- | --- |
| Ranking | Awarded From |
| #99 | National Universities |
| #58 | Best Colleges for Veterans |
| #232 | Top Performers on Social Mobility |
| #42 | Top Public Schools |
| #162 | Best Value Schools |
It is important to remember that there are nearly 6,000 colleges in the United States. Therefore, the University of Oregon has some rather stellar numbers across the board.
On top of these national averages, the University of Oregon is ranked as the number one public college in the state of Oregon.
Graduation Rate for the University of Oregon
The University of Oregon offers 79 different undergraduate degrees with 53 major concentrations that are within 21 broad fields of study.
Most colleges report their graduation rates after 6-8 years to account for students that require longer periods of time to graduate.
Taking this into account, 71.3% of undergraduate students complete their degree within 6 years. After an additional two years, this number increases to 72.6%.
First-time/full-time students under the age of 25 are statistically much more likely to graduate within four years.
Those who attend part-time or in non-traditional systems may take longer to graduate. These first-time/full-time students represent 69.1% of all of their bachelor's degree graduations.
First-time/full-time graduations look a little something like this:
| | | |
| --- | --- | --- |
| Length | Graduation Rate at UofO | National Average |
| Four Year | 52.0% | 35.8% |
| Six Year | 71.9% | 46.4% |
| Eight Year | 73.3% | 47.8% |
Therefore, approximately 27.4% were unable to finish their degree within eight years. This equates to 1,730 students who started their program in 2015.
Of these students, 25 were still enrolled and working towards a degree after the census in 2019. 1,148 had transferred to another college. The remaining 556 dropped out without contact.
Tuition and Cost of Attendance
The University of Oregon offers quite a bit of financial aid opportunities for their students. 57% of enrolled undergraduate students receive grants or scholarships with the average amount totaling $9,853.
The 2021 undergraduate tuition and fees of the University of Oregon looks like this:
| | |
| --- | --- |
| Residency | Overall Cost |
| In-State | $13,336 |
| Out of State | $38,255 |
The 2021 graduate tuition and fees of the University of Oregon looks like this:
| | |
| --- | --- |
| Residency | Overall Cost |
| In-State | $17,787 |
| Out of State | $29,991 |
These overall costs will increase should students also need to get books, supplies, and living costs added into their financial aid.
All of these fees and costs are a little higher than the average costs of similar colleges and are very high for their out-of-state students. It does have a very significant difference between its in and out-of-state tuition costs with the in-state being only a little high but the out-of-state being extremely high.
Therefore, it is a better idea for Oregon residents to go to college than out of state unless the prospective student is intending on going to one of their top courses. At least there is always the option of grants, loans, and scholarships to help with the exorbitant costs.
Related Article: 425 Colleges Charging In-State Tuition for Out-of-State Applicants
Class Size at the University of Oregon
The university has a 16:1 student to faculty ratio, which means that classes are typically pretty small all things considered.
It's not going to be a massive lecture hall with one person on a speaker trying to teach to a packed room of people who can hardly see or hear.
These smaller class sizes are beneficial for the individualized learning required in most of the programs. Not to mention there are many accommodations and office hours to get additional assistance from the faculty.
This is part of the reason behind their extremely high graduation rate.
When students can get personalized assistance and plenty of time with their professors, their issues can be addressed much more quickly and efficiently than they would otherwise be.
Is the University of Oregon a Party School?
The University of Oregon has been listed as the 19th on the Princeton Review's annual ranking of the nation's top party schools.
While the school itself tries to hide this fact, it's lack of strictly online programs and high first-time/full-time body of under 25 students opens up a lot of time and space for such activities.
Therefore, the University of Oregon does count as a party school. It's a school with a ton of pride, a massive student body, Greek life, parties, student organizations, and a whole lot of sports enthusiasts.
This does not seem to cause them much issue, however, as it is still a very highly ranked school with quite a bit of positive notation about it.
Campus Life at UO
With such a massive student body, it makes sense that there is a lot going on at the University of Oregon. There are over 250 student groups including Greek life, music, dance, theatre, politics, and environmental, all with plenty of events and people to get to know.
There's also the Erb Memorial Union (EMU) where students can study, eat, relax, or come together for events. It's one of the most important parts of campus life.
Additionally, there are also on-campus living opportunities in a few different options. There are residence halls with their own academic communities, and lounges for studying and eating.
As with many colleges, housing needs to be applied for. Be sure to include any special needs and/or requests for the faculty to take into consideration.
Establishments Near the University of Oregon
The fact of the matter is that nobody wants to stay on campus 24/7/365. Local eateries are prevalent near the University of Oregon.
On top of the typical restaurants that are in every college community, Eugene, Oregon has plenty of other interesting things to do, many of which are free or lower cost for students at the college.
Here are some establishments within only a few miles of the University of Oregon:
Jordan Schnitzer Museum of Art
Hayward Field
Museum of Natural and Cultural History
Autzen Stadium
Smith Family Bookstore
Matthew Knight Arena
Eugene Saturday Market
Hendricks Park
Hult Center for the Performing Arts
Alton Baker Park
Bijou Art Cinemas
Willamette River bike trail
Maude Kerns Art Center
Owen Rose Garden
Cascades Raptor Center
Eugene Public Library
The Better Living Room by Ninkasi Brewing
Skinner Butte Park
16 Tons Beer & Wine
Cuthbert Amphitheater
Eugene Science Center
5th Street Public Market
Riparian Tours
Level Up Arcade
The university itself is in an amazing spot for culture and experience.
It's massive itself and has so much around it to really make the most of any program a little more interesting during that precious free time. Being so close, many of these are also great for simply walking to instead of needing to drive somewhere.
How Good is the Faculty?
A college is nothing without its staff. A professor is going to make or break the experience of all of their students, so it's hopeful that they are staffed with some of the very best. The University of Oregon has many staff who have notable achievements.
Such achievements include:
1 Nobel Prize Winner
1 Macarthur Fellow
2 National Medal of Science Recipients
2 American Cancer Society Fellows
3 Pulitzer Prize Winners
9 National Academy of Sciences Members
41 Guggenheim Fellows
Additionally, many of their alumni have gone on to receive prestigious honors and achievements in their own right including becoming governors, senators, and even US Representatives.
Therefore, it stands to reason that their faculty at least has an idea of what they are talking about and has access to quality sources and good methods for sharing it.
University of Oregon Acceptance Requirements
In order to be considered for acceptance in the University of Oregon requires a minimum of a 3.59 GPA from high school or a transfer from another accredited institution. They look for As, Bs, and very few Cs. This is also expected to be maintained while progressing through the program.
Applicants with only a 2.5 GPA up to 3.59 are highly competitive and difficult to pass the decision process. If the GPA was too low, it can potentially be made up with harder classes such as IB or AP. These harder classes show those making the decision that college can actually be handled successfully.
Additionally, the University of Oregon requires both the SAT and the ACT for first-time college students.
Is Oregon a Good School: Conclusion
The University of Oregon is the number one public school in the state of Oregon, and it is considered a flagship university. Oregon has an above-average graduation and retention rate for the nation, and it employs staff that includes Nobel prize winners.
The university offers 79 undergraduate degrees in 21 fields with 53 major concentrations. It does not offer exclusively online programs, meaning that all courses need at least some time in person on campus.
There is a ton to do both on campus and off to make the most of the experience at the college.
Additionally, it is staffed with some amazing individuals with great achievements, as well as having some notable alumni, including government officials in office.

Disclaimer: The views and opinions expressed in this article are those of the authors and do not necessarily represent those of the College Reality Check.