Getting Into the University of Ottawa from US
Somewhere in Kansas, there's an Ottawa University. But since the plan is to earn a college degree outside of the US, it's probably the University of Ottawa (uOttawa or U of O) that you're interested in getting to know.
Is it a good institution? Is it the right choice for someone like you who wants to have a different style of education?
The University of Ottawa offers courses given in English or French or both. Undergraduate and graduate students have over 500 degree programs to choose from. Despite being selective, many international students apply to uOttawa because of the low tuition costs and bustling campus life and location.
Don't stop reading now if you are thinking about flying after high school to go to an overseas college.
In this post, practically everything you have to know about applying to and attending the University of Ottawa will be discussed, from its rankings, admissions requirements to the cost of attendance, thus allowing you to decide whether or not U of O is the ultimate institution for an American high schooler like you.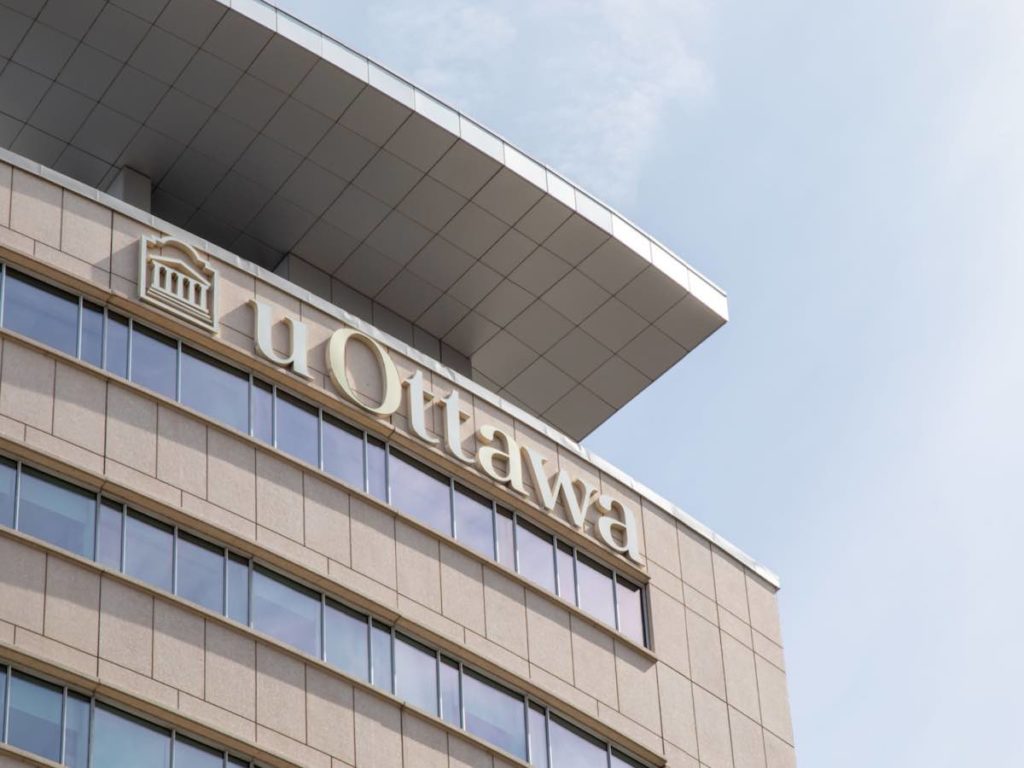 What is the University of Ottawa Known For?
The University of Ottawa is considered the largest bilingual institution of higher education all over the planet. It's so large that it offers over 350 undergraduate programs and more than 200 graduate programs. A little over 20% of the public research university's attendees are international students.
Established in 1848, U of O has three campuses:
Its main campus is in Ottawa, which is 64 acres big and has a rural setting.
The more than 500 undergraduate and graduate degree programs being offered by uOttawa are dispersed across the following 10 faculties:
Faculty of Arts
Faculty of Education
Faculty of Engineering
Faculty of Health Sciences
Faculty of Law – Civil Law Section
Faculty of Law – Common Law Section
Faculty of Medicine
Faculty of Science
Faculty of Social Sciences
Telfer School of Management
The University of Ottawa Rankings
The University of Ottawa is #230 in the QS World University Rankings 2022. It climbed 49 spots from the previous year. Meanwhile, uOttawa is #199 in Best Global Universities and #8 in Best Global Universities in Canada by US News for 2022. The college ranker has also ranked many of the school's programs.
Various things make the University of Ottawa attractive to international students.
One of them is the fact that it's highly ranked by some of the most trusted and popular college ranking sites on the planet, including Washington, DC-based US News.
Here are some of the most highly ranked degree U of O programs by US News:
#19 in Public, Environmental and Occupational Health
#40 in Optics
#74 in Cardiac and Cardiovascular Systems
#74 in Radiology, Nuclear Medicine and Medical Imaging
#98 in Clinical Medicine
#101 in Social Sciences and Public Health
#112 in Psychiatry/Psychology
#120 in Oncology
Is the University of Ottawa a Party School?
While the University of Ottawa is not technically a party school, the public research university has a great party scene nonetheless. That's because it's located in what's considered one of the biggest party cities in all of Canada. There are over 35 festivals, fairs and special events in Ottawa each year.
There is an active Greek life at the University of Ottawa — its fraternities and sororities allow member students to experience personal growth and establish lifelong friendships.
Of course, just like at US colleges and universities, frat and sorority houses hold parties.
Outside of the campus, there are trendy bars and clubs in close proximity to one another, thus allowing U of O students to have a great nightlife. The school is also near Quebec, which is another Canadian party city.
Acceptance Rate at the University of Ottawa
The University of Ottawa has one of the lowest acceptance rates in all of Canada. With an acceptance rate of 13% only, it's a highly selective school. Besides meeting minimum admissions requirements, hopefuls must also have a strong and well-balanced application to increase their chances of getting accepted.
When checking out online listings of some of the hardest Canadian colleges and universities to get into, it's almost always guaranteed that you will come across the University of Ottawa.
It's one of the best schools in Canada as well as one of the most selective.
Having an acceptance rate that's close to being single-digit similar to the acceptance rates of the vast majority of Ivy Leagues and other elite schools in the US, you can be certain that uOttawa admits only the most competitive students. And that is why it tends to end up as a dream school on the college list of most aspiring international students.
GPA You Need to Get Into the University of Ottawa
In order for their applications to be considered for evaluation by the University of Ottawa, they must have an average high school grade of 70% at least. In the US, that's equivalent to a B, which is equivalent to a GPA of 3.0. However, having a 3.0 GPA in high school does not guarantee an acceptance letter.
Similar to most institutions of higher education in the US and elsewhere on the planet, the minimum grade required to gain admission to the University of Ottawa can vary from one degree program to the other.
Let's take a look at some of the minimum average high school grade requirements at U of O:
| | |
| --- | --- |
| PROGRAM | MINIMUM GRADE OR HIGHER |
| Biochemistry | 70% |
| Biomedical science | 78% |
| Chemical engineering | 70% |
| Communication | 63% |
| Computer science and mathematics | 65% |
| Economics | 65% |
| Electrical engineering | 70% |
| Environmental science | 65% |
| Food and nutrition sciences | 70% |
| Geology | 65% |
| Human kinetics | 70% |
| Mathematics | 65% |
| Music | 63% |
| Nursing | 75% |
| Philosophy | 63% |
| Physics | 70% |
| Religious studies | 63% |
| Translational and molecular medicine | 78% |
How Do Students Apply to the University of Ottawa?
Because of the location of the University of Ottawa, applicants, whether domestic or international students, apply online by creating their own Ontario Universities' Application Centre (OUAC) accounts. There are a handful of OUAC accounts, and international students apply using the OUAC 105.
When filling out your OUAC 105 account, you will be asked to provide an email address.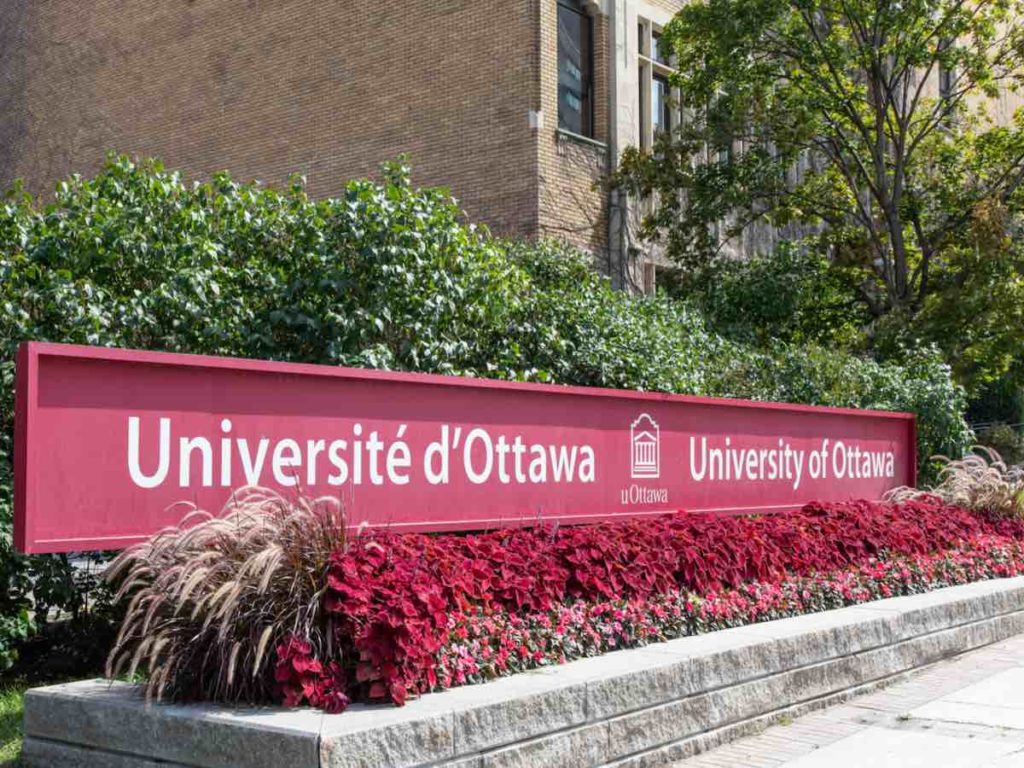 Make sure that the email address you provide is working and accurate. Within one week, you will receive an email from U of O with instructions on how to log in to the uoZone student portal.
Simply put, the uoZone student portal is where you will be able to track the progress of your application. It's also through it that you will submit various supporting documents in order to complete your application. The deadline for application can vary from program to program — most uOttawa programs have an April 30 deadline.
Cost of Attendance
At the University of Ottawa, tuition gets lower the more units are completed and registered by the end of the term. Using the academic year 2021 to 2022 rate, tuition costs at uOttawa for international undergraduate students can range from as low as Can$19,200.88 to as high as Can$26,353.60.
Naturally, tuition for domestic students at the University of Ottawa is significantly lower for international ones — it's lower by anywhere from 84% to 88%, depending on the number of units completed and enrolled.
Despite this, tuition costs at U of O for international students are still lower than at other Canadian schools.
The institution itself says that its scholarship programs for international students are some of the most generous in the land. As a matter of fact, it has numerous scholarships for attendees from overseas.
In the table below, you will come across some of them as well as the value of each one:
Chancellor's Scholarship for International Students – Can$6,500 per year
Faculty of Arts Dean's Merit Scholarship – Can$1,000 per year
Faculty of Engineering Memorial Scholarship – Can$2,000 per year
President's Scholarship for International Students – Can$7,500 per year
Student Mobility Scholarship – Can$2,000 per year
Just Before You Apply to the University of Ottawa
The University of Ottawa is one of the biggest and most selective institutions of higher education outside of the US. If you are planning on putting it on your college list, make sure that your application is something that can impress the public research university's admissions officers.
Remember to carefully weigh the pros and cons of attending it as well as compare it with some of the most prestigious colleges and universities in Canada for the best possible college experience and outcome.
Related Questions
Does the University of Ottawa have online programs?
Like many traditional colleges and universities, the University of Ottawa has online programs. As a matter of fact, they can be completed 100% via the internet. However, as of this writing, there are only three available uOttawa online programs, all of which are graduate programs.
Are there sports activities at the University of Ottawa?
Per semester, there are over 55 sports leagues happening at the University of Ottawa. Intramural leagues include basketball, dodgeball, frisbee, soccer and volleyball. Up to 94% of participants say that intramurals are an important part of their uOttawa campus life.
Read Next: Best Cheap Universities in Canada

Disclaimer: The views and opinions expressed in this article are those of the authors and do not necessarily represent those of the College Reality Check.