UPenn's Transfer Application Process: What You Need to Know
The University of Pennsylvania (Penn or UPenn) is ranked by US News #7 in National Universities and #15 in Best Global Universities.
Other than being a highly-ranked school, it's also an Ivy League — it goes without saying that getting admitted to the institution, which is located in Philadelphia, Pennsylvania, can be extremely challenging.
Well, it's slightly harder for transfer applicants to get in than freshmen applicants.
Continue reading if you are considering turning your associate degree or an incomplete undergraduate degree into a bachelor's degree conferred by Penn — this post is all about matters about transferring to the prestigious postsecondary institution.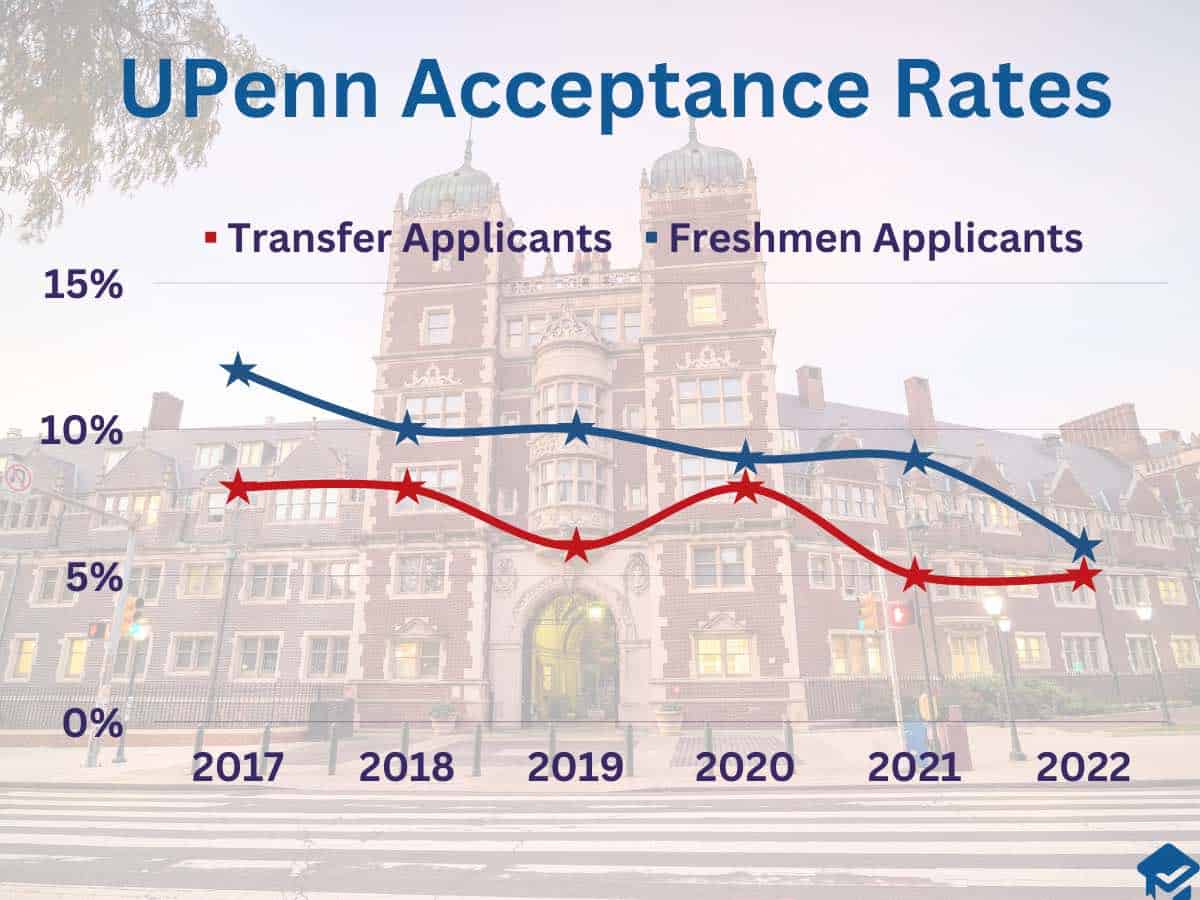 UPenn Acceptance Rates: Freshman vs. Transfer
At the University of Pennsylvania, the acceptance rate for first-time, first-year applicants is 6%. The acceptance rate for transfer students, on the other hand, isn't that considerably lower: 5%. In 2022, a total of 3,516 students applied as transferees to UPenn. However, only 161 were admitted. Among those, only 118 enrolled, resulting in a yield rate of 73%.
The more selective an institution is, the fewer freshmen applicants are accepted. And, generally speaking, fewer transfer applicants are accepted than freshmen ones.
Being an Ivy League school, it isn't surprising that Penn follows the said rule of thumb.
Year after year, the acceptance rate for transfer applicants to the prestigious institution is consistently lower than the acceptance rate for applicants fresh from getting their high school diplomas.
And because transferees can apply to Penn in the fall only, available slots can be given to only a very small fraction of all applicants.
Let's take a look at the acceptance rates for transfer and freshmen applicants at Penn from 2017 to 2020:
| Year | Transfer Applicants | Freshmen Applicants |
| --- | --- | --- |
| 2017 | 8% | 12% |
| 2018 | 8% | 10% |
| 2019 | 6% | 10% |
| 2020 | 8% | 9% |
| 2021 | 5% | 9% |
| 2022 | 5% | 6% |
UPenn acceptance rates
Is It Possible to Transfer to Penn From a Community College?
The University of Pennsylvania accepts transfer students from community colleges. As a matter of fact, the Ivy League has a strong reputation for accepting attendees and graduates of local community colleges.
In 2015, for instance, Penn welcomed a total of 4 students from the Community College of Philadelphia (CCP), each one of them having a different academic background.
Being attended by 4,276 undergraduate students, CCP has a 100% acceptance rate.
Every year, it sends several of its students to some of the most prestigious 4-year institutions in the country. So much so that from 2005 to 2013, 260 of its students successfully transferred to Ivy League schools.
The vast majority of the said CCP students — 235 all in all — were admitted to UPenn. And just like what's mentioned above, 4 CCP students made the transition from the community college to the prominent school back in 2015.
Through the years, some CCP undergrads, on the other hand, ended up in top-tier schools such as New York University and Bryn Mawr College.
However, while UPenn accepts students from community colleges, it's not all the time that it awards transfer credits for courses completed at community colleges, in particular those that are not regionally accredited.
We will talk about this very important matter in a few, so don't stop reading now!
Who Has the Best Chances to Get Admitted to UPenn?
There is no minimum GPA requirement transfer applicants to the University of Pennsylvania must meet. But based on various online data, most admitted transferees have GPAs ranging from 3.75 to 3.95.
Different schools within Penn that transferees may apply to have different requirements and policies, including courses to complete at one's current school.
In order to be eligible to apply to Penn as a transfer student, you will need to have completed at least 1 year of college to a maximum of 2 years of college by the time you get admitted to the highly-ranked institution.
Transfer applicants can apply to any of the 4 undergraduate schools the Ivy League has:
College of Arts and Sciences
Penn Engineering
School of Nursing
Wharton School
Each one of the said schools is just as academically rigorous as the other. In addition, every school has its own set of admission requirements and policies, which is why it's a must for any transfer applicant to check them out carefully.
Transfer students who wish to study the natural sciences or economics at the College of Arts and Sciences, for instance, should have adequate preparation in college-level calculus.
Meanwhile, those who are interested in attending the School of Nursing should have completed a minimum of 8 transferable college courses, including prerequisites such as:
Introduction to chemistry with lab
Introduction to biology with lab
Introduction to anatomy and physiology with lab
Introduction to microbiology with lab
Introduction to nutrition
Introduction to statistics
Like many competitive schools, UPenn has a holistic admissions policy.
As such, its admissions officers consider many things other than the GPAs and standardized test scores (if submitted) of transfer applicants. And some of those that they take into account are extracurricular activities.
According to the highly-ranked school itself, it seeks transferees who are involved in and active members of the community.
Because of this, you can increase your chances of receiving an acceptance letter from the Ivy League by highlighting any leadership roles you have held as well as various other meaningful and productive extracurriculars.
But to give you an idea of the fact that UPenn is on the hunt for competitive applicants, check out the following:
Up to 52% of admitted first-time, first-year students have GPAs of 4.0
Around 93% graduated in the top 10% of their high school class
The average SAT scores of admits range from 1480 to 1570
The average ACT scores of admits range from 33 to 35
University of Pennsylvania Credit Transfer Policy
The maximum allowable number of transfer credits at the University of Pennsylvania is 15 course units, which is equivalent to 60 credit hours.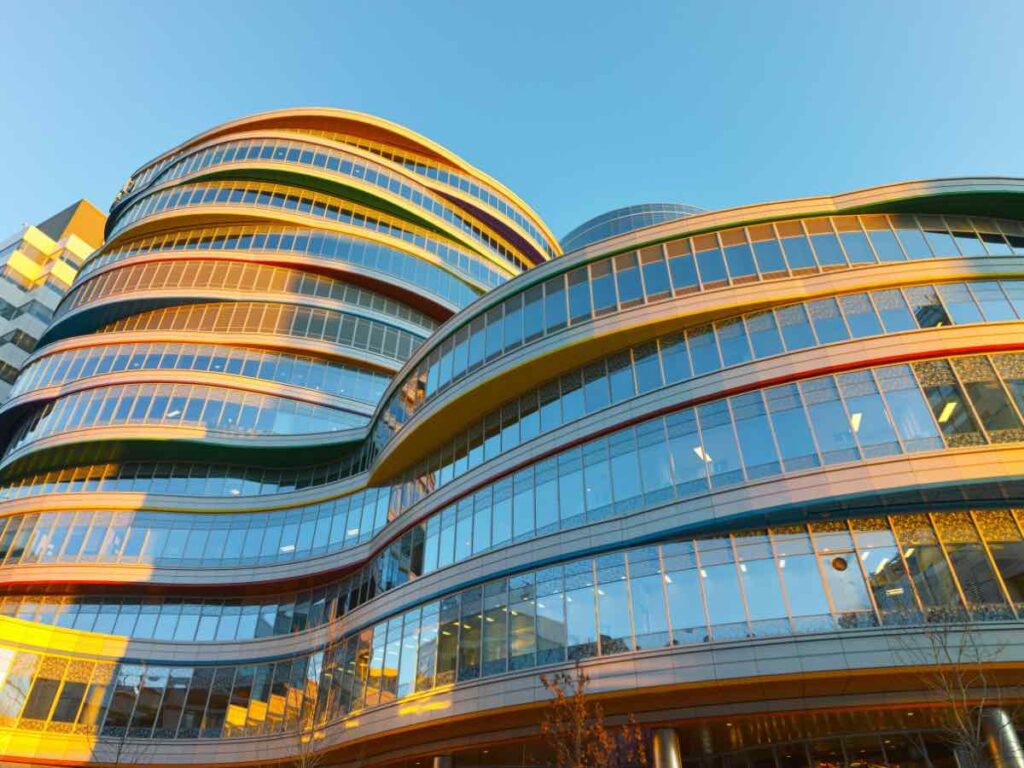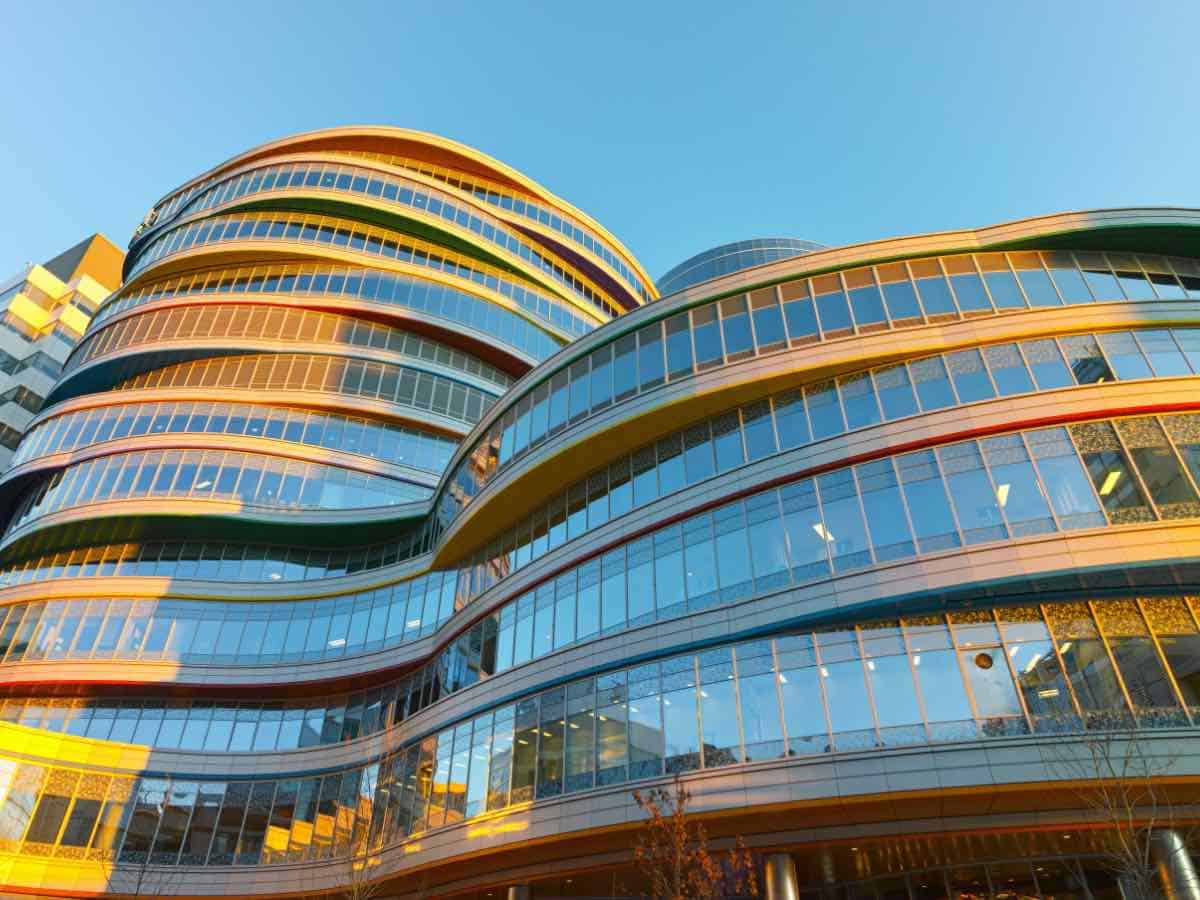 So, in other words, a transfer student with an associate degree may already be halfway to a bachelor's degree upon admission to Penn. But, as expected, there are requirements to meet in terms of transfer credit awarding.
Before anything else, it's important to note that a bachelor's degree at Penn consists of 32 to 36 course units.
Simply put, 1 course unit is equivalent to 3 to 4 credit hours. At the Ivy League, a normal course load consists of about 5 course units — freshmen are not allowed to enroll more than 5.5 course units during the first semester.
As mentioned above, it's possible for a transfer student to enter UPenn earning up to 15 course units. Needless to say, he or she only needs to work on a little more than 15 course units at the elite institution to earn a bachelor's degree. However, it doesn't always mean that Penn will give credits to courses completed at another college.
Here are the things to meet for Penn to award transfer credits:
Courses must be taken from a regionally accredited institution of higher education
Courses taken must have a passing grade of C or better
Courses completed must be similar in content and instructional time to courses taught at Penn
Regionally accredited — make sure that the institution you are currently attending, whether a community college or otherwise, has this type of accreditation. Otherwise, Penn will not award credit to completed courses.
The Wharton School of the University of Pennsylvania, which is the business school of the prominent institution, says that it does not accept transfer courses from any community college. It adds that it also does not accept those from 2-year institutions.
At Penn, whether or not a particular course is eligible for transfer credit depends on the academic department.
It's true that credits transferred from other postsecondary institutions become a part of the official record of the transfer student admitted to UPenn. However, they will not appear on the transcript.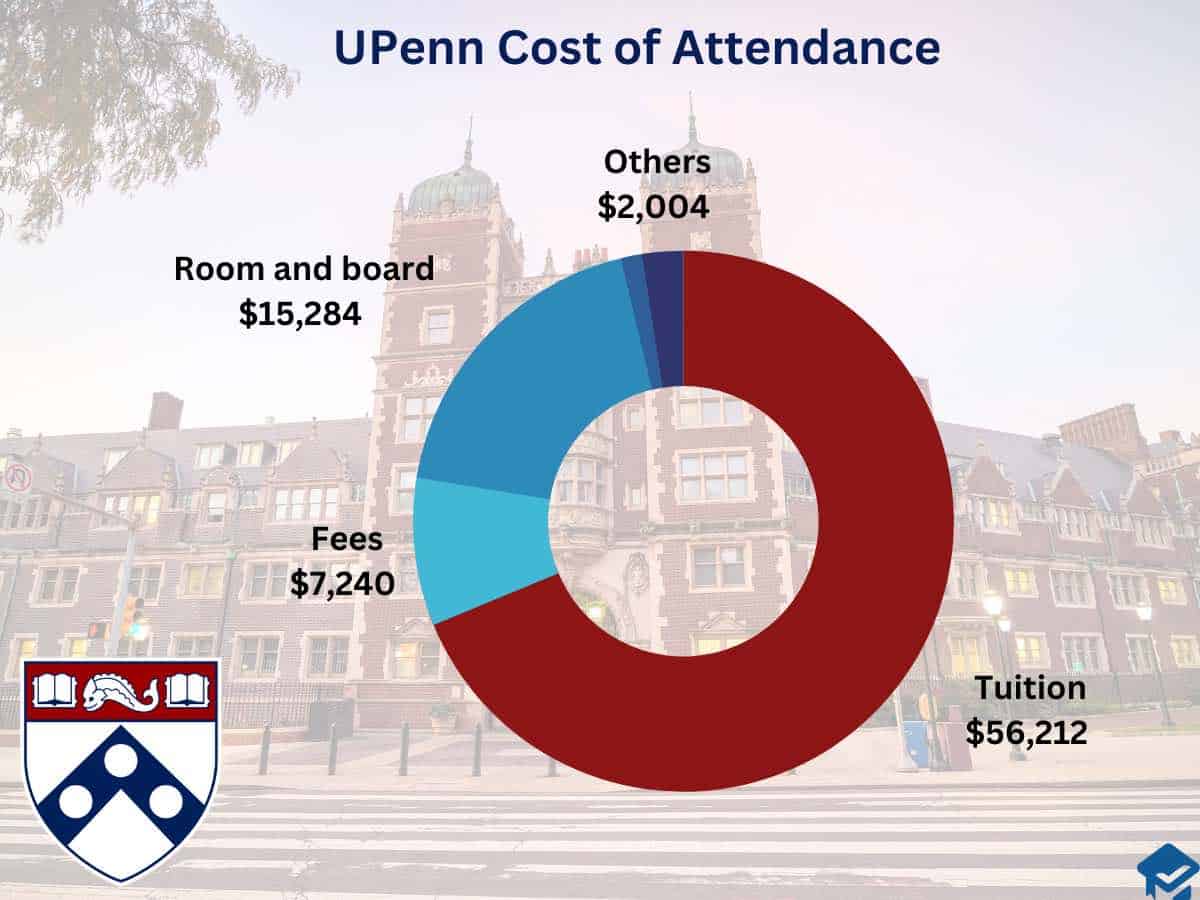 Penn Transfer Costs
At the University of Pennsylvania, the application fees for transfer applicants and freshmen applicants are the same: $75. Tuition and fees at the Ivy League amount to $63,452. Up to 46% of Penn's undergraduates receive institutional aid, each one getting an average award of $61,326 per year.
The following is the breakdown of the estimated cost of attending UPenn as an undergraduate student:
| | |
| --- | --- |
| Expenses | Cost |
| Tuition | $56,212 |
| Fees | $7,240 |
| Room and board | $15,284 |
| Transportation | $1,036 |
| Others | $2,004 |
| Total | $81,776 |
UPenn cost of attendance
Whether or not a student transferring to the top-tier school should consider room and board when budgeting will depend on certain factors, such as his or her standing upon admission to Penn as an undergraduate.
UPenn requires all undergraduate students to live in on-campus housing for their first 4 semesters at the prestigious schools. So, in other words, they have to do so until they are through with their sophomore year. Such is the residency requirement by the institution's College Houses, where the vast majority of undergrads live.
In terms of housing requirements, there are a couple of additional rules for transfer students to remember:
Those who transfer from another institution and get admitted with junior standing must live in on-campus housing for their first 2 semesters at UPenn.
Those who transfer from another institution with second-year standing and who lived in on-campus housing during their first year at their previous school may count those semesters toward the Penn housing residency requirement.
Like other Ivy Leagues and prestigious institutions of higher education, Penn awards institutional aid that's entirely need-based. Besides freshmen applicants, transfer applicants are eligible to apply for need-based aid, too.
And that's a good thing since not all scholarships from one school transfer to another to follow students when they switch colleges.
As mentioned above, up to 46% of all undergraduate students at UPenn receive aid.
Penn Transfer Deadlines
The University of Pennsylvania accepts transfer applications once a year only, offering admission for the fall semester. March 15 is the deadline transfer applicants need to beat. Requirements they need to submit include supplemental essays, official transcripts, college and midterm reports, recommendation letters and optional SAT or ACT scores.
Below are the most important dates to remember for anyone who is applying to Penn as a transferee:
March 15 – Deadline for transfer application
March 20 – Deadline for the submission of some supplementary materials
May – Release of transfer admissions decisions
June – Deadline for reply for admitted transfer students
It's not enough that you beat the deadline — it's also a must that you hand in the various required documents and materials on or before the deadline set by the Philadelphia, Pennsylvania-based private research university.
How To Transfer to UPenn in 8 Steps
Here are the different things to submit to UPenn as transfer applicants:
Complete the Common Application or Coalition Application
It's not uncommon for some institutions to require transfer applicants to apply via either the Common App or Coalition App. At Penn, however, students who are interested in transferring may apply using either platform.
Answering the Penn-specific essays is an important step to take when filling out the application of choice.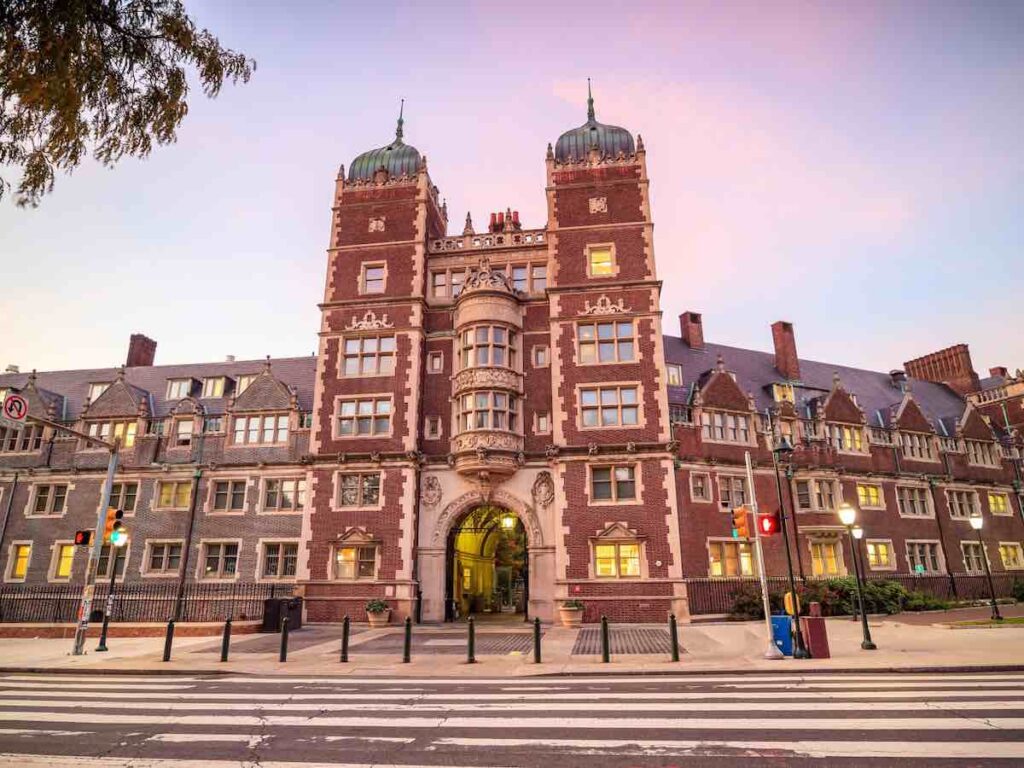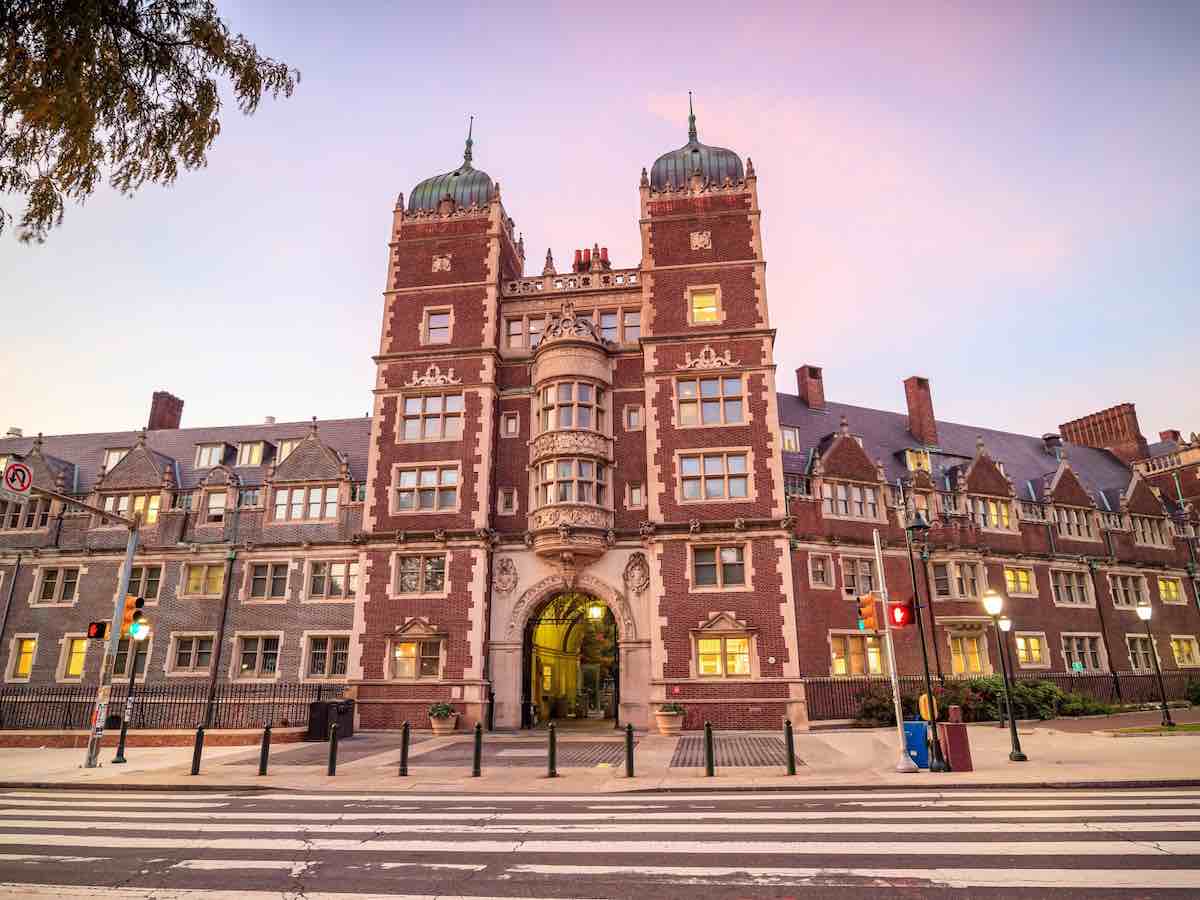 Submit high school and college transcripts
Postsecondary experience — this is what separates transfer applicants from freshmen applicants.
And that is why the University of Pennsylvania requires the submission of official transcripts from both high school and college currently being attended. This is especially true for admitted ones who are planning on actually enrolling. In order to avoid problems when transferring to Penn, students should request for their transcripts ASAP.
Submit your college report
Simply put, the college report, whose form is available on the website of the Common App, collects information about your academic and disciplinary standing at your current institution.
Just about any official who has access to your records can fill out the college report form. In some instances, information can come from more than one official, such as the registrar, advisor or dean.
After completion, the college report may be submitted via the Penn Applicant Portal, which becomes accessible to a transfer student after applying.
Submit your midterm report
Penn's admissions officers also want to check out information on the courses a transfer applicant is currently taking. And that is why one of the requirements is the printing of the midterm report form, which is downloadable from the Common App's website, and asking each professor to provide the current grade of the student in the course being taught.
But it's important to note that the midterm report is required only for those who will enter UPenn as sophomores.
Submit two letters of recommendation
When it comes to submitting letters or recommendations, transfer applicants to Penn have 2 options:
Submit 2 academic recommendations
Submit 1 academic recommendation and 1 non-academic recommendation
According to the Ivy League itself, you should consider obtaining a recommendation letter from a professor in your area of academic interest. It does, however, discourage submitting letters from instructors from the same disciplines. Needless to say, the best recommendations can come from professors who know you well.
On the other hand, Penn says to get your hands on a non-academic recommendation from someone who would be able to add information not captured elsewhere on your application.
Submit your SAT or ACT scores (optional)
Due to its test-optional admissions policy for both freshmen applicants and transfer applicants, college students looking to transfer to UPenn may or may not submit their SAT or ACT scores — those who choose not to or are unable to submit theirs will not be disadvantaged in the transfer admissions process.
It's a must to keep in mind that Penn will only accept standardized test scores taken within the past 5 years.
Submit supplementary materials
Besides the things mentioned above, the University of Pennsylvania also accepts supplementary materials from transfer applicants, some of which may be required, while others may be optional.
Those who have exceptional talent in visual arts or music, for instance, may choose to submit an art or music sample. In some instances, a portfolio may be a requirement, such as for those who are enrolling in Penn's architecture program as sophomores.
An additional recommendation letter may also be submitted by those who want the elite school to know them better.
Pay the application fee
As mentioned earlier, the application fee is $75.
Penn Transfer FAQs
We're nearing the end of this post. But before that, let's answer some really burning questions about transferring to UPenn:
Does Penn superscore SAT or ACT scores?
The University of Pennsylvania superscores SAT or ACT scores. Transfer applicants who choose to submit theirs because they believe that they reflect their academic abilities or achievements are recommended to self-report all test scores obtained across all testing dates if they sat for the SAT or ACT more than once — Penn will consider the highest scores obtained.
Does Penn interview transfer applicants?
Alumni interviews are offered by the University of Pennsylvania to first-time, first-year applicants.
As a matter of fact, it's offered to more than 90% of freshmen applicants. On the other hand, the Ivy League typically does not offer transfer applicants alumni interviews. Requesting for it is a no-no since it's UPenn's policy that applicants can't request admissions interviews.
Can denied transfer applicants reapply to Penn?
All first-time, first-year applicants are allowed to apply to the University of Pennsylvania only once per admissions cycle. All transfer applicants, on the other hand, only have a single chance to apply per year, which is for the fall semester.
Denied transfer applicants may reapply to Penn the following year, although they will need to have a better application by that time.
Recap: How to Apply As a Transfer Student to Penn
The University of Pennsylvania admits transfer students for the fall semester of each year. Application for students who have completed at least 1 year of college starts with filling out either the Common App or Coalition App and submitting it on or before March 15 — it's in May when decision notifications for transfer applicants are released.
Besides the completed application form, transfer applicants must also submit Penn-specific essays, high school and college transcripts, college report, midterm report and recommendation letters.
It's completely up to them whether or not they will submit their composite SAT or ACT scores.
Different undergraduate schools within UPenn have different sets of admissions requirements and policies for transfer students. But in order to increase one's admissions chances, however, having a GPA of at least 3.75, completing the required courses prior to transferring and having had leadership roles can help significantly.
Other Colleges Worth Transferring:

Disclaimer: The views and opinions expressed in this article are those of the authors and do not necessarily represent those of the College Reality Check.