How to Get Into Wellesley College: Ultimate Guide
Wellesley College (Wellesley) is a private liberal arts college that's located in Wellesley, Massachusetts.
Founded in 1870, Wellesley accepts women only, which isn't surprising given that it was established as a female seminary.
It is ranked #5 in National Liberal Arts Colleges and #6 in Best Value Schools by US News.

Having an acceptance rate of only 16%, Wellesley College is a highly selective school. The most successful female applicants have a minimum GPA of 3.97 and SAT and ACT scores that range from 1400 to 1540 and 31 and 35, respectively.
According to Wellesley itself, it prefers hardworking and high-performing students who also look for a lifelong community.

Decided that you want to go to an all-female college?
Wondering if Wellesley College is the right women's college for you?
Then check out the entirety of this post to get to know this liberal arts school more.
What Is Wellesley Known For
Wellesley College was founded in 1870 by couple Henry Fowle Durant and Pauline Fowle Durant, both of whom were passionate about offering higher education for women.
The school's very first batch of students amounted to 314 — all of them women, needless to say.
They began classes in 1875. From that batch, a total of 18 graduated in 1879. Wellesley's very first president was, as expected, a woman: she's Ada Howard, a graduate of Mount Holyoke College, which is another women's college.
Almost all of the school's early administrators and educators were women.
In 1915, four women's colleges met and decided to form an alliance: Wellesley College, Mount Holyoke College, Smith College, and Vassar College.
They called themselves the "Four College Conference", and the consortium's objective was to give women education that's more equal to what was offered to men exclusively back then.
However, the group invited a few more single-gender schools in 1926. They were Barnard College, Bryn Mawr College, and Radcliffe College.
And, in the following year, they became collectively referred to as the "Seven Sisters".
The mission was simple: to become elite all-women schools parallel to traditionally male Ivy League schools.
Wellesley remains unchanged until now, despite the fact that Vassar College became a co-ed school in the late 1960s and Radcliffe College has ceased to exist since it became a part of Harvard University in the late 1990s.
From then on, the school has called itself the "Radcliffe Institute for Advanced Study".
Now that you know the school's history, let's check out some quick facts about it…
Nickname: The Blue
Color: Blue
Location: Wellesley, Massachusetts
Education system: Liberal
School type: Private, non-profit liberal arts college for women
Reputation: Non-party school
Number of majors: 50+
Best majors: Psychology, Economics, Social Sciences, Biomedical Sciences
Selectivity: Highly selective
Average class size: 17 to 20 students
Student-to-faculty ratio: 8:1
Retention rate: 96%
Graduation rate: 91%
Mascot: The Blue
Number of varsity teams: 13
Sports: Basketball, volleyball, crew, cross country, fencing, field hockey, golf, lacrosse, soccer, softball, swimming, tennis, and track and field
Wellesley College Acceptance Rate
The acceptance rate at Wellesley is 21.6%. As a matter of fact, in Massachusetts, Wellesley is the eleventh school with the lowest acceptance rate. Out of the 6,395 applicants, only a total of 1,379 were admitted into the women's college.
Needless to say, Wellesley is highly selective.
When applying to colleges and universities, the acceptance rate is one of the most urgent considerations. That's because it can give students a clue as to their chances of getting acceptance letters.
As a general rule, the higher the school's acceptance rate, the better chances of gaining admission.
Wellesley College, based on the acceptance rate details mentioned above, is a highly selective school.
It doesn't come as a surprise since the women's college, like the rest of the Seven Sisters, serves as a single-gender counterpart of the Ivy Leagues.
Everyone knows that Ivy League schools are some of the most selective on the face of the planet.
It's because of being highly selective why many are apprehensive about applying to Wellesley.
But if you have an impressive GPA and test score and a strong overall application, there is no need to worry.
And this brings us to a critical question that needs an answer…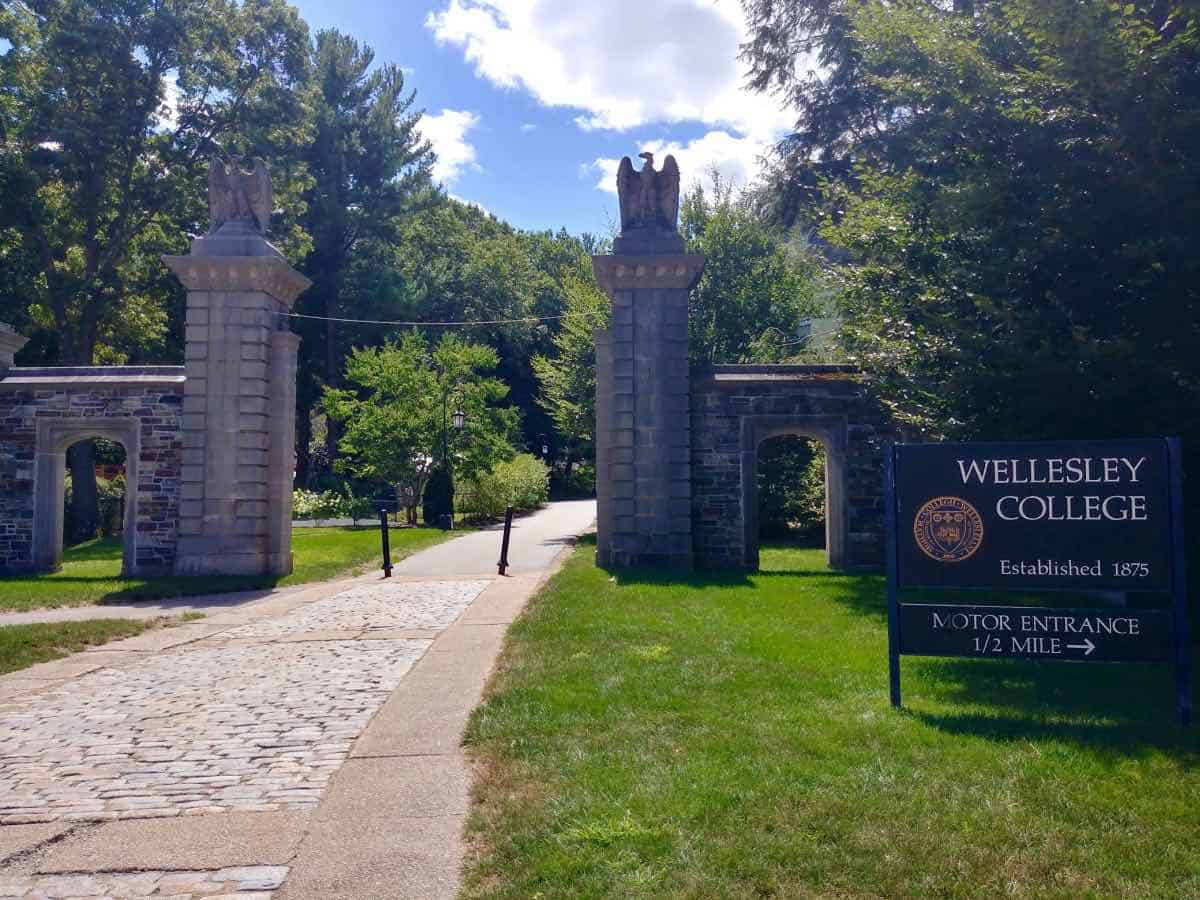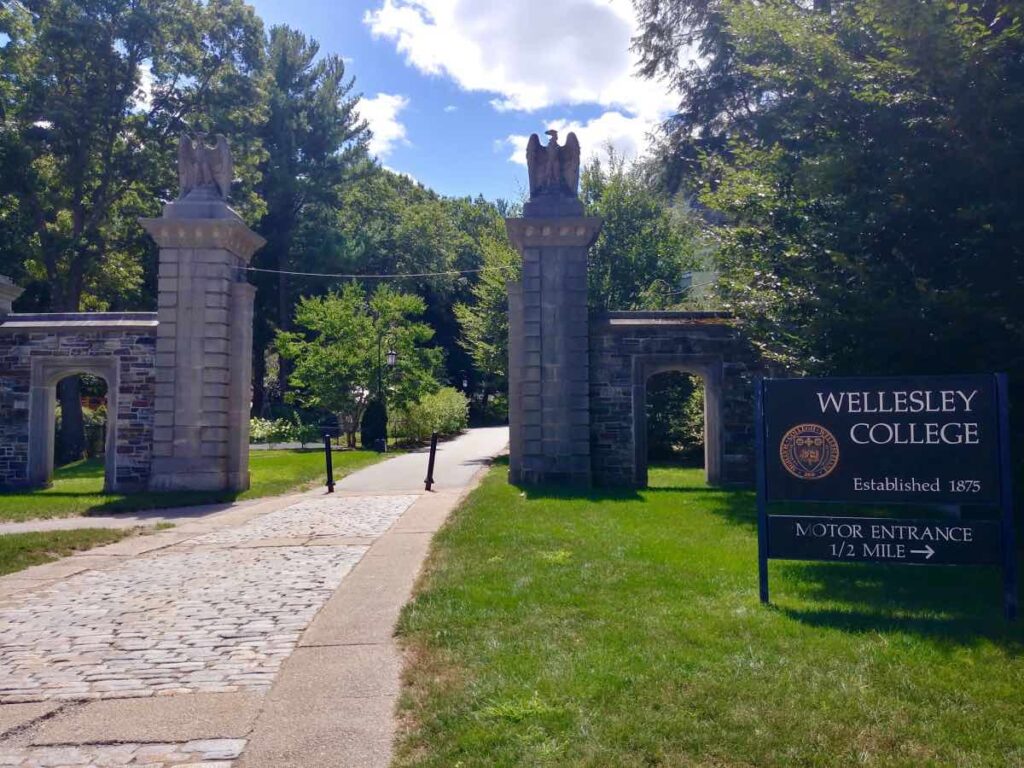 GPA You Need to Get Into Wellesley
To get into Wellesley, one needs to have a GPA of at least 3.97, which means that being at the top of the class is of utmost importance.
However, it's not just the GPA that the school takes into account.
Besides academic performance, also considered are interests, personality traits and values.
One of the reasons why Wellesley College has a low acceptance rate is that its admissions officers look for top-performing applicants whose GPAs are high enough for the school's standards.
As a matter of fact, according to a list of colleges and universities in Massachusetts with the highest average GPA for incoming freshmen, Wellesley is the 11th school with the highest minimum GPA requirement.
The said list is spearheaded by Harvard, with a 4.04 average GPA requirement.
But then again, it's not just your GPA that will be placed under the spotlight. If you want to increase your chances of gaining admission into Wellesley College, see to it that you take challenging AP or IB courses.
Fret not if your high school does not offer them.
That's because the women's college won't hold it against you.
Besides having a high GPA, it's also important to have high test scores to be admitted into Wellesley College. And this takes us to a question many students are too embarrassed to ask…
Test Scores You Need to Get Into Wellesley
For admission into Wellesley, applicants need to have an SAT score of at least 1330. However, the majority of accepted students have SAT scores ranging anywhere from 1360 to 1530.
On the other hand, applicants need to have an ACT score of not less than 32 in order to gain admission into Wellesley.
Because Wellesley College is a highly selective school, it's perfectly understandable why it accepts only applicants whose test scores are higher than most others.
Typically, the women's college prefers those in the top seven percent of all SAT test-takers and the top five percent of all ACT test-takers.
On the other hand, not everyone who applied for Wellesley included their standardized test scores because, presently, Wellesley is a test-optional school.
So, in other words, the school allows the applicants to decide whether or not to submit their test scores, which is to the delight of those unhappy with their SAT or ACT scores.
However, if you decide not to submit any of your test scores, make sure that the rest of your application can amaze, as the admissions officers will certainly take a look at them.
Does Wellesley College Offer Early Decision?
Wellesley offers Early Decision I (ED I) and Early Decision II (ED II) decision plans. Both plans are binding. In other words, if applicants are admitted into Wellesley College under any of the two decision plans, they are required to withdraw their applications from other colleges and universities.
The main difference between ED I and ED II is the timing. It includes the application date and the notification date. As the name suggests, ED I has an earlier deadline and notification date than ED II.
Let's compare the two decision plan's key dates:
| DECISION PLAN | APPLICATION DUE | NOTIFICATION | REPLY DUE |
| --- | --- | --- | --- |
| ED I | 1-Nov | Mid-December | Early January |
| ED II | 1-Jan | Mid-February | Late February |
* Always check the college website for the latest dates
What's so nice about applying ED I or ED II to Wellesley is that you have increased chances of getting into the women's school. The same is true when applying to any other school.
Besides ED I and ED II, Wellesley has other decision plans. They are:
Regular Decision (RD). Most colleges and universities in the US require RD applicants to submit their applications by January 15. At Wellesley College, RD applicants should submit their applications by January 8. RD applicants learn whether or not they are admitted by late March.
RD with Early Evaluation option. RD applicants who like to use the Early Evaluation option should submit their application on or before December 15. It's late February when RD applicants with the Early Evaluation option receive a notification from Wellesley, indicating if they are accepted or rejected.
Now that you know Wellesley College's decision plans, it's time to answer a money-related question…
How Much Does It Cost to Go to Wellesley?
For the academic year 2020 to 2021, the cost of attendance (COA) at Wellesley College amounts to $79,040. Compared with the national average cost of tuition and fees at private colleges ($41,411) and state colleges ($11,171 in-state and $26,809 out-of-state), going to Wellesley is more expensive.
Earlier, we established the fact that Wellesley College is a highly selective school.
There is a certain prestige that comes with attending selective schools. However, besides low acceptance rates, there is one more challenge applicants need to face.
And it's none other than exorbitant tuition and fees. Generally speaking, highly selective schools charge more than other colleges and universities.
It's because of this why you should be financially prepared when applying to Wellesley. As mentioned earlier, per academic year, you will have to shell out almost $80,000.
Let's take a look at the breakdown of the cost of attending Wellesley College for a year:
| FEES | COST |
| --- | --- |
| Tuition | $60,424 |
| Student activity | $328 |
| Room | $9,704 |
| Meal plan | $8,584 |
| TOTAL | $79,040 |
Keep in mind that you will have to pay more than the stated total. That's because other costs associated with attending Wellesley, such as books and personal expenses, are not yet included.
The good news is that there are scholarships that can help make going to Wellesley easier on the pocket. According to the women's college itself, nearly 60% of its students receive financial aid. The school adds that it has a financial aid budget amounting to $74 million.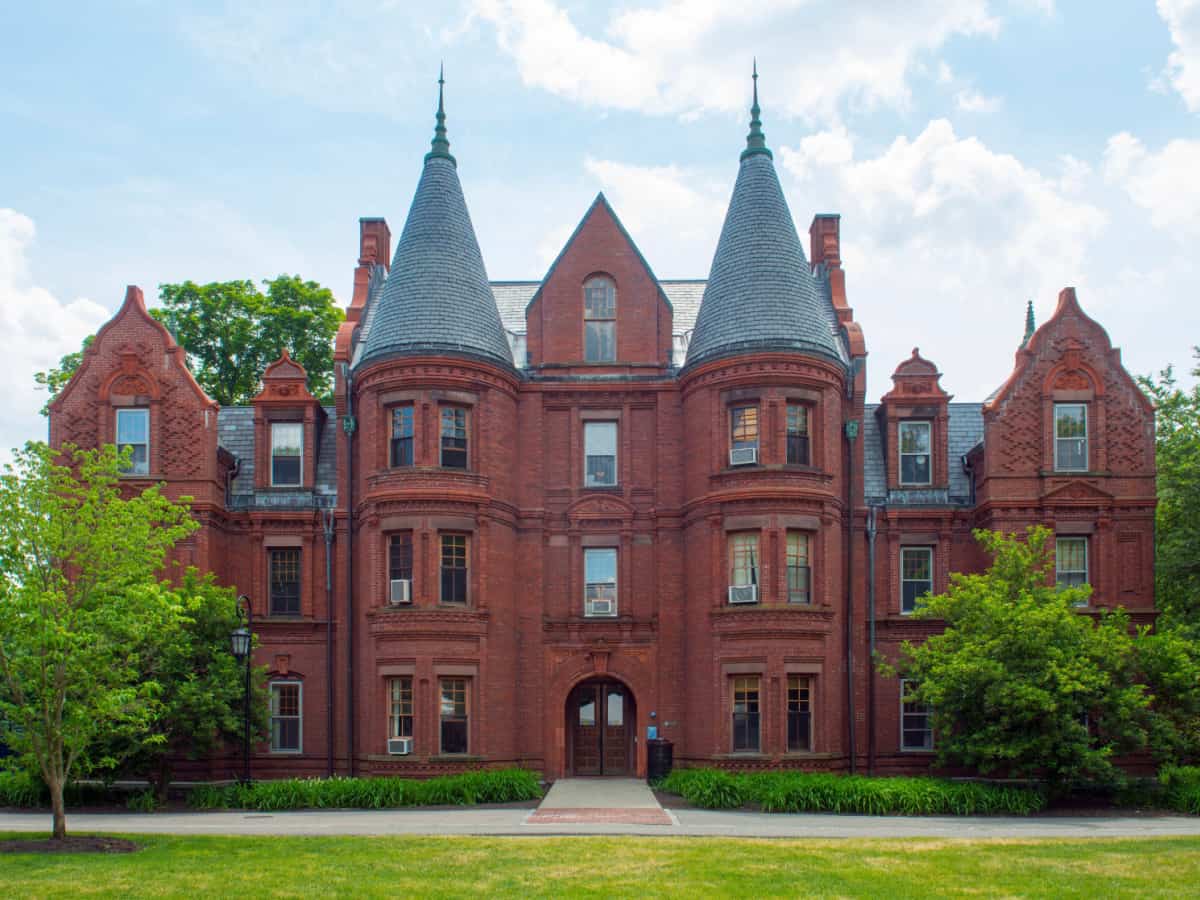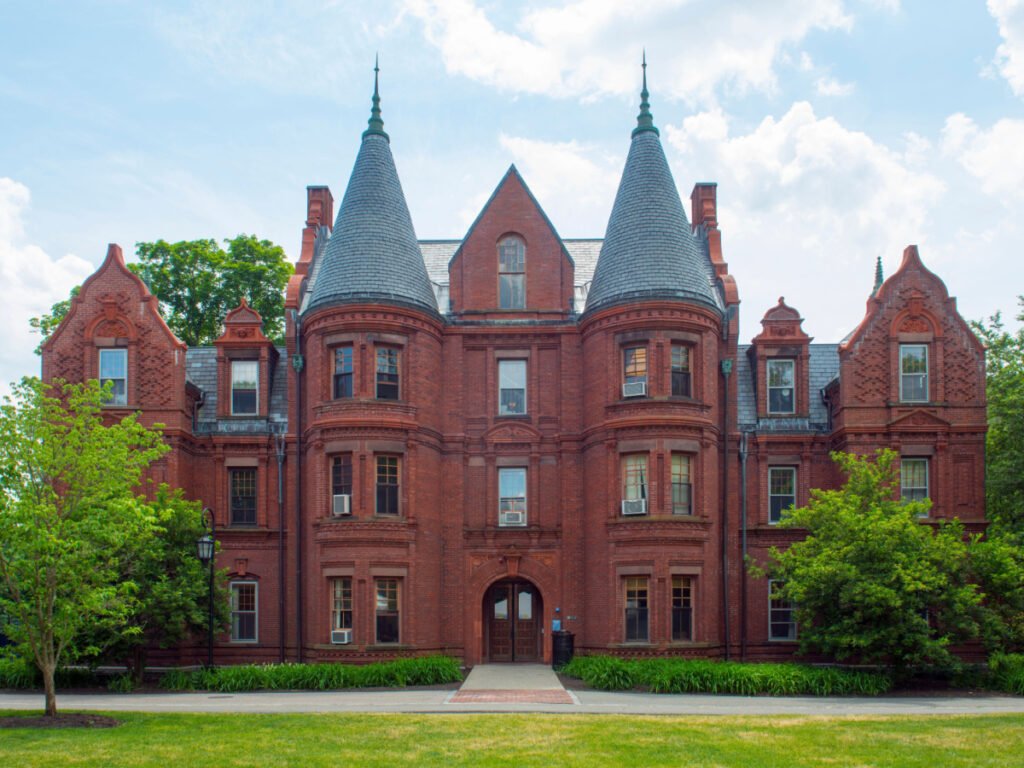 Wellesley College Notable Alumni
Some of the things that make colleges and universities popular are their notable alumni.
Of all the female college graduates in the US, only 2% attended women's colleges. Despite this, many women whose names most people recognize are from these schools.
As a matter of fact, a lot of them were once Wellesley students, and it's very much likely that you know the majority of them.
Here are some of the most notable alumni of Wellesley College:
Hillary Clinton. From 1993 to 2001, Hilary Clinton was the First Lady of the United States. Also a lawyer, she then went on to become the US Secretary of State and a US Senator from New York. In 2008, she was a leading candidate for the Democratic Presidential nomination.
Madeleine Albright. Under President Bill Clinton, Madeleine Albright served as the first-ever female US Secretary of State. She held the position from 1997 to 2001. When she was 11 years old, her family, which is from Czechoslovakia, was given political asylum in the US.
Diane Sawyer. An American television broadcast journalist, Diane Sawyer served as the anchor of ABC World News from 2009 to 2014. She also served as an anchor for other popular TV shows. They include 20/20, Good Morning America, and the news magazine Primetime.
Pamela Melroy. Before leaving NASA in 2009, Pamela Melroy, an astronaut, piloted Space Shuttle missions STS-92 and STS-112. She also commanded mission STS-120. By the way, before becoming an astronaut, she served the country by being a US Air Force officer.
Ophelia Dahl. A British-American advocate of social justice and health care, Ophelia Dahl co-founded Partners in Health. Based in Boston, Massachusetts, it's a non-profit health care organization designed to give the poor preferential option. She served as its executive director for 16 years.
Nora Ephron. Journalist, writer and filmmaker Nora Ephron was nominated for the Academy Award for Best Writing not once, not twice, but three times. Her nominations were for the films Silkwood (1983), When Harry Met Sally (1989), and Sleepless in Seattle (1993).
Ali MacGraw. It was her role in the 1969 romantic comedy-drama film Goodbye, Columbus that made Ali MacGraw a household name. For that movie, she won the Golden Globe Award for Most Promising Newcomer. By the way, besides being an actress, she is also an activist.
Wellesley vs. Smith, Barnard and Other Women Colleges
Comparing Wellesley with co-ed schools is like comparing apples and oranges since it's an all-women school, although 2% of its population are males due to its partnership with neighboring colleges and universities.
However, Wellesley is often compared with women's colleges and Seven Sisters schools.
Because both single-gender schools and co-ed schools have their own set of pros and cons, comparing them with one another is not only unfair but pointless, too.
This is why, if you would like to check how Wellesley College fares against other institutions, it's a good idea to compare it with schools that also accept women only.
And because it's one of the various Seven Sisters schools, one cannot help but compare it with the members of the consortium.
Let's quickly compare Wellesley with some schools it's comparable to:
Is Wellesley Better Than Smith College? On its list of the top US colleges, the Wall Street Journal placed Wellesley College at number 24. On the other hand, Smith College, a member of the Seven Sisters schools similar to Wellesley, is at number 42 on the same list.
Is Wellesley Better Than Barnard College? Wellesley tends to attract more competitive and accomplished students than Barnard College, another all-women school. It's due to this why, on various college rankings, Wellesley College tends to rank higher than Barnard College.
Is Wellesley Better Than Bryn Mawr College? Cost-wise, Wellesley is better than Bryn Mawr College as it's slightly cheaper. Acceptance rate-wise, Bryn Mawr is less selective than Wellesley, which means that one has higher chances of getting admitted into it.
Is Wellesley Better Than Vassar College? Compared with Wellesley, Vassar College has a higher acceptance rate. Despite this, Vassar has slightly fewer students. Unlike Wellesley, Vassar accepts both male and female applicants, despite being a part of the Seven Sisters.
Is Wellesley Better Than Mount Holyoke College? Wellesley has a higher COA for both in-state students and out-of-state students than Mount Holyoke College. It also has a lower acceptance rate, which means that applicants are more likely to get acceptance letters from Mount Holyoke.
How to Get Into Wellesley: Conclusion
Wellesley looks for dedicated and hardworking students, as evidenced by a GPA of at least 3.97 and a 1330+ SAT score or a 32+ ACT score.
Wellesley also looks for students who know their strengths and weaknesses, want to be a part of the school, and can contribute to the campus community.
Some may think that women's colleges are outdated and unnecessary. But the fact that they are still in existence, albeit only more than 30 of them are around, means that they are as relevant and indispensable as before.
Take your time when weighing the pros and cons of going to the women's college and comparing it with other schools. In the end, the school that you personally like is the right one for you.
This article is a part of series about Seven Sisters colleges.
Next Article: What Vassar College is Known For

Disclaimer: The views and opinions expressed in this article are those of the authors and do not necessarily represent those of the College Reality Check.