Is Western Governors University a Diploma Mill?
You are tempted to apply to Western Governors University (WGU) as it offers online degrees that are so much more convenient to earn than traditional degrees. However, you heard that the school offers classes via the internet exclusively, which is why it doesn't have a physical campus.
And now you fear that it could be a diploma mill.
Western Governors University is not a diploma mill. The non-profit online school is regionally accredited, and its employment rate after graduation is 81%, which is higher than the national average of 74%. Millcreek, Utah-based WGU also appears on various college rankings by legit ranking sites.
Online degrees are wonderful options for busy adults who cannot step foot on campuses on a daily basis.
Some of them, however, can come from diploma mills that accredited colleges and universities and, more importantly, employers do not take seriously.
Falling victim to a diploma mill does not only flush your money down the drain but also wastes your time. Due to this, utmost caution is a must when applying to earn a degree online.
We will answer practically every pressing question about Western Governors University in everyone's mind below. Don't stop reading now if you are planning to send an application to the online school.
Related Post: How to Know If a College is a Diploma Mill [10 Signs]
Is Western Governors University Accredited?
Western Governors University is an accredited online school. Its accreditation is given by the Northwest Commission on Colleges and Universities (NWCCU). The agency has been recognized by the US Department of Education (USDE) since 1952. NWCCU accredits colleges and universities in seven US states.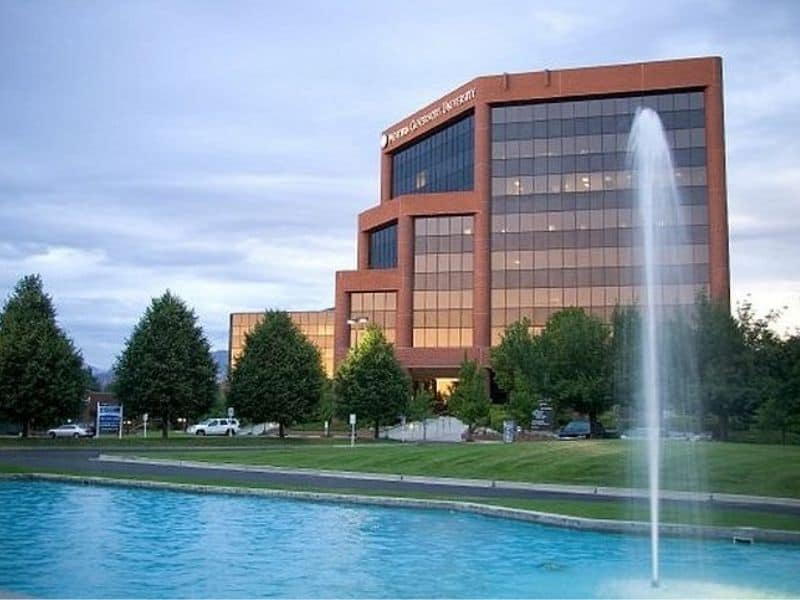 The importance of making sure that a school is accredited before you apply to it cannot be stressed enough.
Many reasons exist why it's a terrible idea to get a degree from a non-accredited institution, traditional or online.
First, you will not be able to transfer earned credits to another school.
Second, you will not be eligible for federal financial aid.
Third, employers may not consider the degree you have legit and worthy of something.
Related Article: Is Western Governors University Respected by Employers?
WGU has had accreditation from NWCCU since 2003. NWCCU is also the agency that has accredited schools such as Alaska Pacific University, Bates Technical College, Central Washington University, and Oregon State University.
Is Western Governors University Regionally or Nationally Accredited?
Western Governors University has regional accreditation. This means that credits earned from the online school are transferable to other regionally accredited institutions. Similarly, credits earned from regionally accredited schools are accepted at WGU. However, prior evaluation applies.
It was mentioned earlier that Western Governors University is accredited. But it's not just any accreditation that the online school based in Millcreek, Utah has. What it has is regional accreditation.
Unless you are after a technical or vocational course, check that the school you plan to apply to has regional accreditation.
This will make it easier to transfer your credits to another institution should you decide to switch schools. What's more, numerous employers prefer to hire applicants with degrees from regionally accredited colleges and universities.
The agency that has granted WGU its accreditation, NWCCU, is a regional accrediting body. It's because of this why the online school is a regionally accredited institution.
What is Western Governors University Known For?
Western Governors University is known for being founded by the governors of 19 US states. A non-profit, private online school, it offers 55 undergraduate and graduate online degree programs. Some of WGU's most popular online degrees are Business, Information Technology, and Nursing and Healthcare.
One of the reasons why some students prefer to earn degrees online rather than via the traditional means is that it makes it possible for them to go to school despite their hectic everyday schedules.
What's so nice about the online degrees offered by Western Governors University is that they can be completed at your own pace.
So, in other words, you can earn them at a speed that meets your knowledge level and learning style. Although you can go as fast as you can, you cannot go very slowly as certain units have to be completed per term.
Some online schools, on the other hand, have synchronous classes, which means that students have to be online at predetermined times to participate in real-time discussions and various course activities.
When was Western Governors University Established?
Western Governors University was established in 1997. It all started when the different governors of different US states met and decided to ensure that more of their residents will have greater access to a college education that fits their daily schedule. Back then, the internet was on the rise.
The establishment of WGU was first proposed in 1995. It was by then-governor of the state of Utah, Mike Leavitt, during the annual meeting of the Western Governors Association.
One of the goals for the founding of Western Governors University was to make college degrees accessible to Western residents, the majority of whom live in wide-open spaces where brick-and-mortar colleges and universities are several miles away. These days, WGU accepts students residing anywhere in the nation.
Each of the founding state governors committed $100,000 toward the launching of WGU. Because the initial funding of the school was from government sources, it's easy to assume that the institution is a state university. However, Western Governors University is a self-supporting private, non-profit school.
Acceptance Rate at Western Governors University
The acceptance rate at Western Governors University is 100%. So, in other words, every student that applies, provided that he or she meets the minimum admission requirements, is accepted into the Millcreek, Utah-based online school. Being a non-selective school, it's easy to gain admission into it.
During the search for colleges and universities to apply to, most students take a look at a school's acceptance rate. The higher the number they see, the better their chances of getting an acceptance letter.
Since Western Governors University has a 100% acceptance rate, you can rest assured that you will be accepted into it. But just like when applying to any other school, whether traditional or online, there are requirements to meet and supporting documents to submit. Otherwise, your application will be disregarded.
In the case of WGU, the admission process is rather simple and straightforward.
Here are the steps to take:
Complete the application form.
Submit official high school or college transcripts.
Get in touch with the enrollment counselor.
Complete the Free Application for Federal Student Aid (FAFSA) form, if desired.
GPA Needed to Get Into Western Governors University?
Western Governors University does not require students to meet a minimum GPA to be accepted. Since a 2.0 GPA is the requirement for students to graduate from high school, it's safe to assume that WGU will admit students with that GPA. However, some students graduate from high school with a 1.0 GPA.
As a general rule, the higher the minimum GPA requirement of a college or university, the more selective the school is. And, more often than not, the lower its acceptance rate.
Because Western Governors University will accept applicants no matter their GPAs, it doesn't come as a surprise why, as mentioned earlier, it has an acceptance rate of 100%. When applying, having a GPA that isn't impressive enough should be the least of your worries.
But, according to 2020 data, the average GPA of students admitted into WGU is 3.15.
In the US, the average GPA of high school students is 3.0, which accounts for about 35% of high school graduates who do not end up applying to colleges and universities.
Does Western Governors University Require SAT or ACT Scores?
Western Governors University has a test-free admissions policy. This means that it doesn't require applicants to submit their SAT or ACT scores. Even if students submit their test scores, the school's admissions officers will not consider them. WGU's goal is to make pursuing higher education easier.
It's common knowledge that many of today's US colleges and universities are test-optional, which means that they allow applicants to decide whether or not they will include their SAT or ACT scores in their application.
When applying to Western Governors University, you no longer have to think if you will submit your test score or not.
There is only one option: keep it to yourself. That's because the admissions officers at WGU do not consider SAT or ACT scores part of the admission process. So, even if you have the highest test score in the country, it doesn't matter.
A test-free admissions policy is so much rarer than a test-optional admissions policy.
Some institutions known to be test-free schools are Loyola University New Orleans, Northern Illinois University, Plymouth State University, Wells College, and the University of California system. At Cornell University, three colleges are test-free.
How Much Does It Cost to Go to Western Governors University?
At Western Governors University, the cost of bachelor's tuition for one academic year amounts to $7,290. On the other hand, the cost of master's tuition for one academic year equals $7,570. Both bachelor's and master's tuition costs at WGU are considerably lower than the national tuition average.
One of the main reasons why some students fail to get their hands on degrees is the steep cost of college.
Luckily, earning a degree from a legit and respected school doesn't have to break the bank. As stated above, the tuition at Western Governors University is so much lower than what students attending other US colleges and universities pay for annually.
To make getting an online degree more affordable, WGU charges per term rather than by credit hours.
The cost of studying at Western Governors University is so low that many students can't help but think that it offers phony degrees.
However, the fact is that WGU can keep the costs very low because of lower overhead — it doesn't maintain classrooms and other facilities. Since the school is paying less, its students do so, too.
What Famous People Went to Western Governors University?
Numerous individuals whose names are familiar to a lot of people used to attend Western Governors University. The majority of them are in politics — one of them even ran for US president in 2012. Some other notable alumni of WGU are CEOs, businesspersons, athletes, race car drivers and musicians.
If you want to have an idea of where a Western Governors University experience could take you, check out some of the online school's most well-known former students or graduates.
Without further ado, let's take a quick look at some of WGU's most notable alumni members:
Michael Capps. Born in Wichita, Kansas, Michael Capps was a member of the Kansas House of Representatives for the 85th district. In 2007, he completed his Bachelor of Science degree in Business Administration from Western Governors University before going to the Community College of the Air Force.
Paul Ray. A businessman and former law enforcement officer, Paul Ray is a member of the Utah House of Representatives for the 13th district. Nine of his 16 bills, which were introduced in the 2016 session, were passed. He completed his Business Administration and Management program from WGU in 2017.
Amy Summers. Representing the 49th district, Amy Summers became a member of the West Virginia House of Delegates. Her current term will end on November 30, 2022. It's from Western Governors University where she earned her master's degree in Nursing, Leadership and Management.
Tiffiny Mitchell. Before being a member of the Oregon House of Representatives (32nd district), Tiffiny Mitchell used to work for the Oregon Department of Human Services (ODHS). After attending the University of Utah, she went to WGU and earned her Master of Arts degree in Business Administration.
Andre Barnett. The founder of WiseDome Inc., an information technology (IT) company, Andre Barnett was a candidate for President of the United States as the 2012 nominee of the Reform Party of the United States of America (RPUSA). It was from Western Governors University where he completed his IT program.
Chaunte Lowe. An NCAA Inspiration Award winner in 2021 for raising awareness and hope for women with breast cancer, Chanute Lowe is a four-time Olympian (2004, 2008, 2012 and 2016) who competes in high jump. She completed her master's degree in Mathematics Education from WGU.
Sarah Fisher. Retired professional race car driver Sarah Fisher competed in the IndyCar Series (formerly Indy Racing League or IRL) from 1999 to 2019. She also participated in the NASCAR West Series in 2004 and 2005. In 2013, she enrolled at Western Governors University's business school to earn a bachelor's degree.
Lydia Tremaine. Hailing from Kendallville, Indiana. Lydia Tremaine was crowned Miss Indiana in 2018. The following year, she competed in the Miss America pageant, which was held in Atlantic City, New Jersey. When she participated in the said pageant, she was an Education major student at WGU.
Gregg Hale. A recording engineer and record producer, Gregg Hale is best known for being a guitar player for Spiritualized, a British space rock band formed in 1990 in Rugby, Warwickshire. The band has a total of eight studio albums. Hale is one of Western Governors University's most notable alumni in the music industry.
How Does Western Governors University Fare Compared to Others?
When it comes to the acceptance rate, Western Governors University is better than many online schools. However, with a low selectivity level, it doesn't look as prestigious as its various counterparts. Cost-wise, it's apparent that WGU is one of the colleges and universities with the lowest tuition.
The importance of taking your time when shortlisting schools to apply to cannot be stressed enough. Before sending out applications, it's a must that you compare various institutions with one another.
Let's see how Western Governors University fares against some online schools to help you decide smarter:
WGU vs. Liberty University. Both Western Governors University and Liberty University are regionally accredited institutions. These schools offer various online degrees, although Liberty University offers traditional degrees, too. Since Liberty University's acceptance rate is only 51%, gaining admission into WGU is easier.
WGU vs. Capella University. There is one thing that makes Capella University better than WGU: it offers both online and traditional degrees. However, there are two things that make Western Governors University better than Capella University: it's non-profit and has way lower tuition costs — $7,570 vs. $14,540.
WGU vs. Strayer University. Western Governors University's retention rate is 84%. Strayer University's retention rate, on the other hand, is 45%. Since a school's retention rate can give a hint on the college experience of its first-year students, it's safe to assume that more students are happy going to WGU.
WGU vs. Purdue University Global. There are three things that Western Governors University and Purdue University Global share in common. First, they are both regionally accredited schools. Second, both of them offer online degrees only. Third, their acceptance rates are both 100%.
WGU vs. Southern New Hampshire University. Like Western Governors University, SNHU also offers online degrees. However, it offers traditional degrees, too. While both schools have very high acceptance rates (100% and 92.9%, respectively), it's so much easier on the pocket to go to WGU than SNHU.
WGU vs. LeTourneau University. When it comes to ranking, there is no denying that LeTourneau University ranks higher than Western Governors University. However, it's easier to gain admission into WGU. Attending it is cheaper, too, since the tuition at LeTourneau University ranges from $9,585 to $12,825.
Conclusion
Although it offers various degrees via the internet only and has no physical campus, Western Governors University is not a diploma mill. As a matter of fact, it's a regionally accredited school.
Because of this, you can rest assured that the degree you will earn from the Millcreek, Utah-based school will be seen as legit and valuable by potential employers.
Getting a rejection letter from WGU should be the least of your fears as it has a 100% acceptance rate. You also don't have to worry about having a low GPA and test scores, too — the school is test-blind.
Ending up knee-deep in college debt after earning your degree should also be the least of your concerns as Western Governors University has some of the lowest tuition costs in the country.
And since WGU charges per term rather than by credit hours, the tuition stays the same no matter how many courses you intend to finish in one term.

Disclaimer: The views and opinions expressed in this article are those of the authors and do not necessarily represent those of the College Reality Check.