What Counts as Extracurricular Activities?
I remember meeting a boy, a high school freshman, in the local library. He was a volunteer.
When I asked him if he enjoyed his activity, he said he found his new job boring. But, he added, he was going to stick with it because he thought it would help him with the college application process in the future.
I don't know how many kids do the same as this boy, but I am sure the number is pretty high, especially in very competitive public or private high schools.
And this is a shame because kids, instead of spending time on things that matter to them, opt to be involved in activities that they believe will boost their chances of being admitted to selective colleges.
I think it's happening because not too many college-bound high schoolers know what counts as extracurricular activities.
In fact, almost any activity that isn't a part of the regular high school curriculum and is structured around a goal or purpose counts as an extracurricular activity.
Extracurricular or extraacademic activity, it's something that can be associated with the high school or the community outside of the campus.
Whether you are about to fill out your college application form or you just started high school and you want to prepare for the college application season as early as now, read on.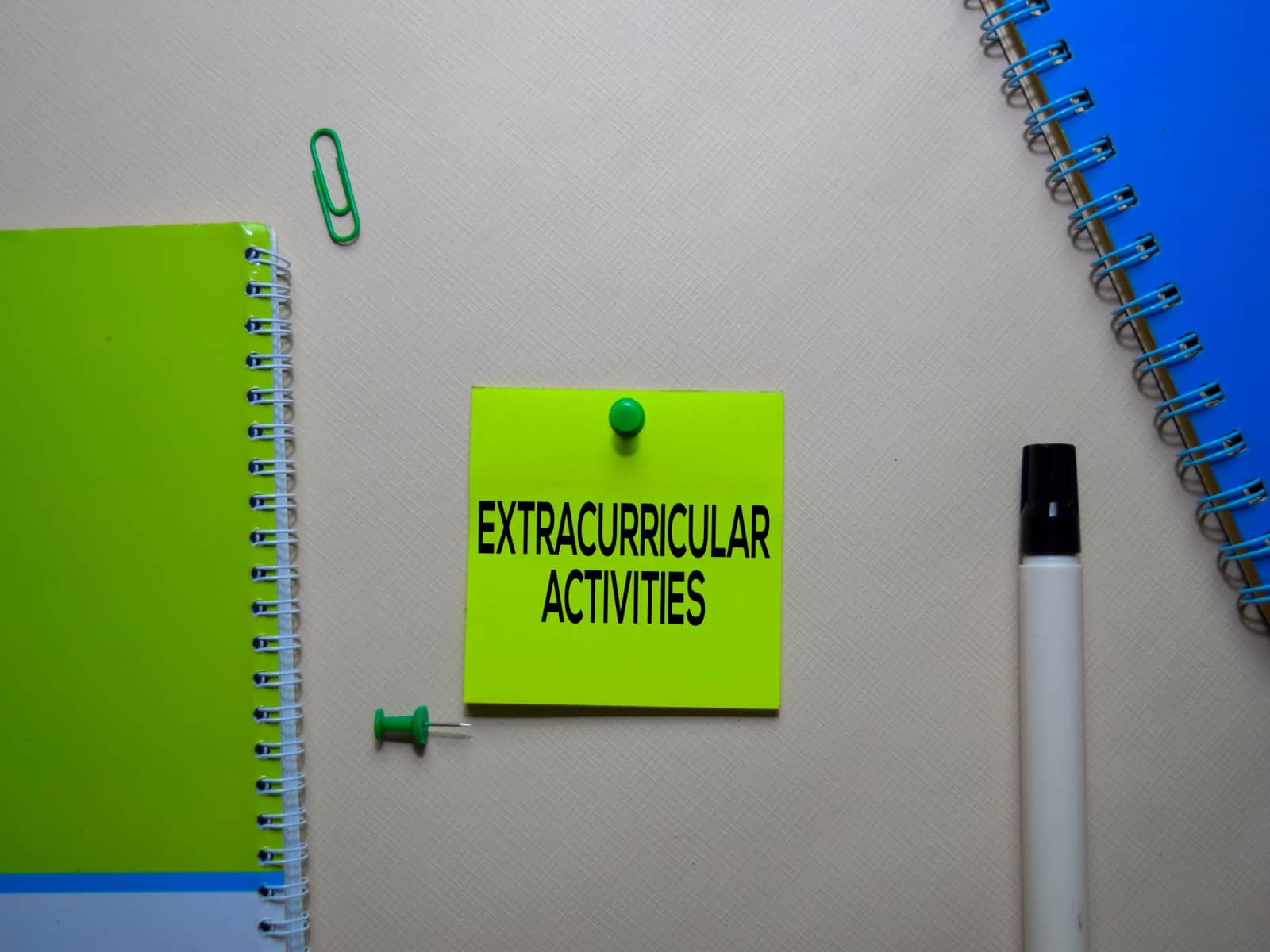 Key Characteristics of Extracurricular Activities
Extracurricular activities, first and foremost, do not allow students to earn credits for they don't fall within the academic curriculum. They allow members to engage in pursuits in an official and organized manner or otherwise. EAs have to be activities that students participate in regularly and over a period of time.
Although it's very much possible for an extracurricular of yours in high school to be your hobby as well, it's not always that a hobby you have can be considered an EA.
So, in other words, a hobby you have may not be suitable to be added as an EA on your college application.
There is one very important characteristic of an extracurricular activity: it's not a part of your high school curriculum.
It goes without saying that students partake in it not because they are required by their teachers to do so in order to get a grade but simply because they find it an interesting and worthwhile pursuit.
But just because an EA won't give you school credit doesn't necessarily mean you won't learn anything from it.
One of the things that make extracurricular participation highly recommended for high schoolers is that it allows them to learn an assortment of valuable skills, from leadership, communication, organization to teamwork skills.
It's the various essential skills they learn from participation that make EAs an important college admissions factor.
You may find it a good idea to engage in one because it's all about something that you are fascinated with or may help you unwind after classes and meet new people, too.
Besides meeting new people, EAs may also help you touch people's lives, in particular if they have a service-oriented element to it — in a few, I will discuss how adding a community aspect can turn a hobby of yours into an extracurricular that can help make your college application stronger, so don't stop reading now!
EAs can be official and organized, such as academic clubs like science club, math club or psychology club.
However, they can be not registered with the high school and structured and still count as extracurriculars. Some examples are wall climbing, building a desktop computer or volunteering at a local animal shelter.
Of course, it's important that you spend plenty of quality time on the EA. Fret not if you participate in only 1 or 2 EAs — if you are passionate about the activity and thereby spend a lot of your free time partaking in it, college admissions officers will find your application better than one with 10 EAs and not truly invested in any of them.
Are Hobbies Extracurricular Activities?
Some extracurricular activities are hobbies.
However, not all hobbies qualify as EAs or make for EAs that can help strengthen a student's college application.
In order for a hobby to count as an extracurricular, the leisure pursuit has to be done beyond the purpose of one deriving pleasure and relaxation for it.
There are only as many extracurriculars a high school campus can offer and high schoolers can establish.
In case it seems like none of the available ones suit your personal interests and future college major and career, you can always turn to some of your hobbies.
But be warned: not all hobbies out there can be impressive extracurricular activities.
If you want a particular hobby of yours a welcome addition to your college application, you will have to do some work in turning it from an everyday recreational activity to a worthwhile interest that others could benefit from.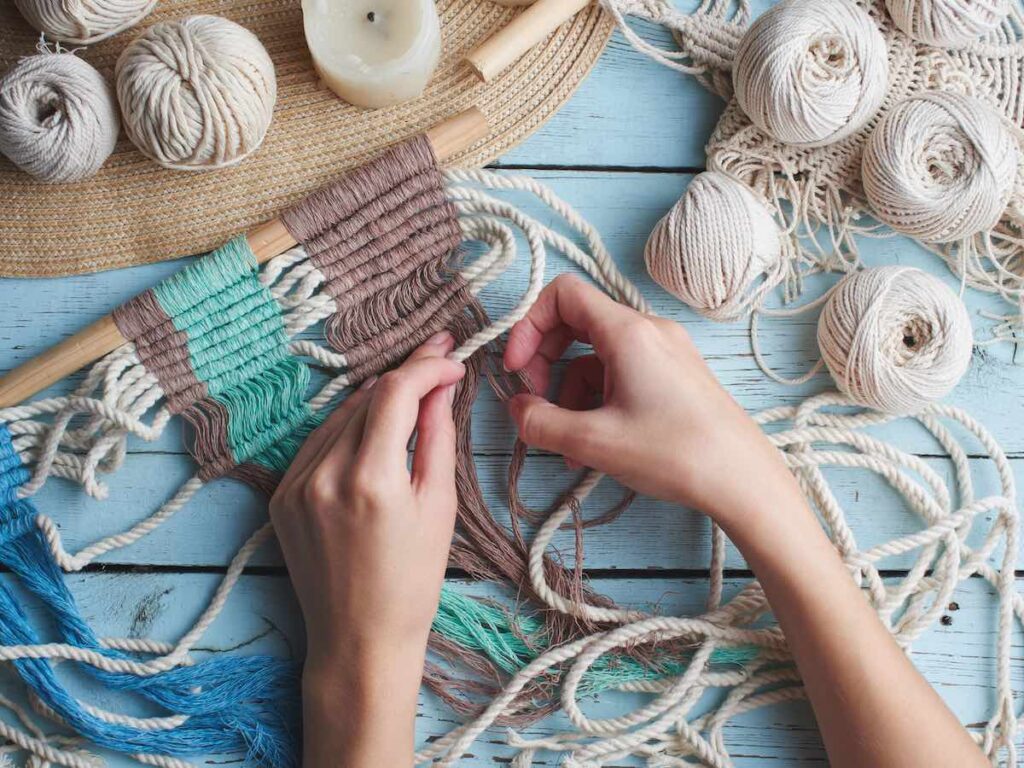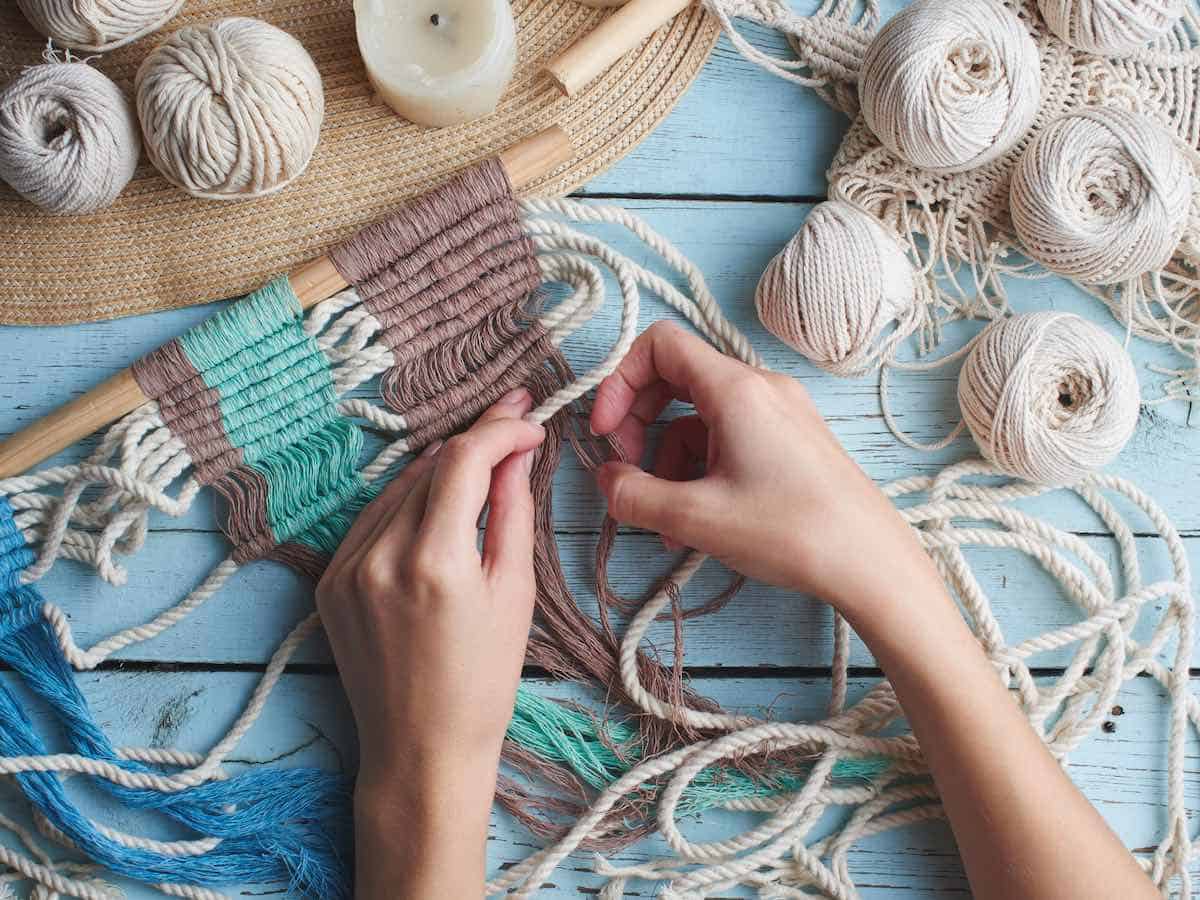 How Do You Turn a Hobby Into an Extracurricular Activity?
Being engaged with and passionate about a hobby is not enough for it to count as an extracurricular activity. It has to involve other people, both those who partake in it and those who benefit from it. For a hobby to become an EA, both work and progress need to be quantifiable, also exhibiting a service element.
There are four types of hobbies: physical, cerebral, creative or service-oriented.
Under each one, there are hundreds and hundreds of options. But it doesn't necessarily mean that any one of them can be added to your college application as an extracurricular.
Not happy with the EAs available on your high school campus or the community?
Fret not — you can turn a hobby you're invested in into one. The goal is to make it enjoyable and beneficial not only to you but others, too. Of course, it's of utmost importance that you commit to it just as you would if it's just a mere interest of yours.
Here are some of the things to do to make an extracurricular out of a hobby:
1. Let others in
Finding like-minded individuals and asking them to hop in is the first step to take if you want that hobby to evolve into an EA you can confidently and proudly indicate on the Common App or Coalition App.
Having others to share your hobby with allows everyone to grow and even become more impassioned with it.
And because you are no longer alone in the pursuit, you will be encouraged and inspired to commit to it even more — when it comes to impressing college admissions officers with extracurriculars, commitment is key.
2. Register it as a club
Got a hobby so unique that none of the clubs in your high school cater to students like you who are pursuing it? Then make it official by registering it with your high school — ask a teacher or your academic advisor how to go about starting a high school club that the institution and students alike will recognize.
Usually, the registration process begins with coming up with objectives and goals.
College admissions officers love students who establish clubs. That's because it speaks volumes about them, demonstrating drive, initiative, ambition and other traits that are most welcome on a college campus.
3. Give it some structure
Speaking of traits, nothing can be more striking about a college applicant than possessing leadership skills.
Due to the fact that you started the club, it makes perfect sense for you to serve as its first president. But just like any other organization, it will be able to run smoothly and meet its objectives better if there are other officers.
Having your club registered makes it official — it having a set of officers can make it even more official. In addition, the officers will be able to hone numerous skills, from leadership, communication to teamwork, that can come in handy not only in high school but also beyond it, such as in college and in their professional careers.
4. Make it impactful
Earlier, I mentioned that one of the types of hobbies is service-oriented.
Show college admissions officers you have the promise of changing the lives of others by adding a community element to your club — it doesn't really matter if it's about the campus community or the community outside of the campus or both.
If the club is about breeding flowers, consider coordinating with the local community in order to set up a beautification drive where the members will engage in planting flowering plants at the park, playground and other public areas.
Uploading video tutorials may be done if the club is all about computer coding.
Do Sports Count as Extracurricular Activities?
Sports conducted on-campus and off-campus are considered extracurricular activities. Those that are casually played, however, are very much unlikely to count as good EAs.
Other than physical sports, other types of sports can also make for excellent extracurriculars, including mind and model sports.
Participation in sports is good for the well-being of teens. It offers high schoolers numerous physical and mental benefits, ranging from maintaining a healthy weight, boosting self-esteem to reducing stress.
It can also increase an adolescent's chances of getting into a college with a holistic admissions policy.
Needless to say, being a member of a high school's varsity team can be included as an EA on your college application — it can help you shine even more if you have won trophies or medals.
Being your high school's star athlete can boost your admissions chances not only by making your college application look awesome but also by being an athletic recruit.
But it's not just partaking in physical sports that count as an extracurricular but also engaging in other types, including mind sports such as board games, card games and esports as well as model sports like remote control car making and racing.
Establishing a sports club, needless to say, is an outstanding kind of EA.
Refrain from assuming that sports held within the campus are the only ones that can serve as EAs.
Being an active participant in community sports is also an extracurricular that will look good on your college application. This is true whether you are playing for a team or coaching a youth team.
Do Clubs Count as Extracurricular Activities?
High school clubs count as extracurricular activities. This is true no matter if they are academic, cultural, performance art, religious or social activism in nature. Being a part of community clubs, such as church, youth, volunteer and support groups, can also be included on one's college application as an EA.
The best time to join high school clubs is the minute you step foot in your high school for the first time — the start of your freshman year.
Consider giving 8 to 10 clubs a chance. However, don't fully commit to any of the clubs yet.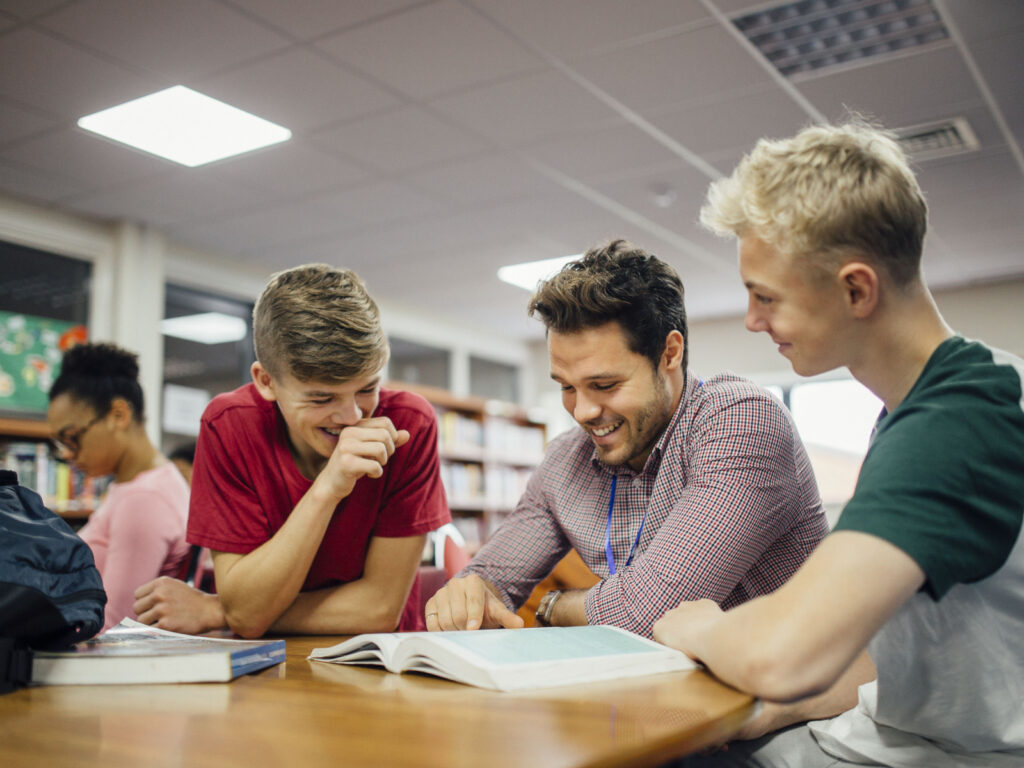 What you need to do is check which of them you find fun and interesting and suit your specific needs. Stick to the ones you like and drop the ones that you don't like.
Don't be too scared to try something new, including the kind you feel you won't grow fond of or find intimidating — you never know what could become a passion or career path!
Instead of picking clubs that you feel the admissions officers at your dream college will like, opt for those that you will like.
That's because you will find it easier to commit to them, which is what can impress those admissions officers.
Can't seem to find a high school club that fits you to a t?
Armed with the name of a club and its purpose and goals plus a handful of interested students, register your self-created club with your high school — the name of a club you created yourself will look great on your college application.
Does Student Council Count as an Extracurricular Activity?
Student council is one of the various extracurricular activities available for high school students. As a matter of fact, any form of student government association (SGA) or simply student government is a form of EA.
Some popular examples include the student diversity committee and homecoming committee.
When reviewing college applications, admissions officers determine whether or not applicants have sufficient leadership skills whenever it's time for them to check extracurriculars.
Nothing can encourage high schoolers to become good leaders more than being a part of the student council.
A student council, of course, represents the students. It stands for their interests and shares their ideas and concerns with the principal and teachers.
They are also usually tasked with organizing and coordinating an assortment of activities and events, ranging from dances, school reforms, fundraising to community outreach.
Members of the student council have different positions and duties, and responsibilities. There's a president, vice president, secretary, treasurer, sergeant of arms, and others.
Due to the fact that being a member of your high school's student council allows you to foster skills such as leadership, teamwork, communication, public speaking, and organization, it isn't surprising why it makes for a phenomenal EA.
So much so that your college application will still look fantastic, even if it's just the one extracurricular you have.
Does Work Count as an Extracurricular Activity?
Whether a job is full-time or part-time, it can be included on one's college application as an extracurricular activity. As a matter of fact, having work can impress admissions officers because it demonstrates skills like communication, teamwork, and money handling, all of which are vital for success in college and beyond.
According to the latest data, just under 30% of all high schoolers in the US have jobs. The number of high school students working climbs to almost 31% during summertime.
One of those students and have very little to no time to join a lot of on-campus clubs or organizations?
No worries!
You can add your job to the list of EAs on your college application. Don't feel too embarrassed to indicate you work as a waiter, dishwasher, cashier, dog walker or newspaper deliverer.
No college admissions officer will expect high schoolers to be mechanical engineers, financial advisors or medical assistants.
Refrain from assuming that it's just paid work that you can add to your college application as an EA.
Did you know that volunteering is just like formal employment in that it's also regarded as an extracurricular activity?
What's so nice about working without earning is that it allows college admissions officers to see that you are someone who is passionate and committed and good at working as a member of a team and managing time.
Volunteering at a soup kitchen or local hospital or joining Habitat for Humanity or the Red Cross — such is a phenomenal EA.
Feel free to include any unpaid task at home, such as babysitting your little siblings or taking care of a sick parent.
Is Extracurricular Outside of School?
Extracurricular activities can be activities conducted outside of school. Volunteering and having a job are some popular examples. But just because something is done inside of school doesn't mean it's not an EA.
An extracurricular can be something that's done outside of the classroom but on campus.
When it comes to determining whether or not an activity or group you wish to partake in is an extracurricular activity, there is one very important thing to keep in mind: it falls outside of the normal high school curriculum.
So, in other words, it's not something that will let you get your hands on a higher grade or extra credit.
Definitely, however, EAs can help you get an offer to enroll at your top-choice college.
This is particularly true if your chosen institution of higher education has a holistic admissions policy and extracurriculars are some of the most important non-academic factors considered during the admissions process.
Just about anything that helps you grow and teaches you valuable skills and is done outside the classroom and after classes can count as an extracurricular. It can be something that takes place either on campus or off campus.
Refrain from assuming that you can add an activity to your college application as an EA simply because you do it outside of the classroom or campus.
If it's a leisurely activity that benefits no one but you by making you happy and relaxed, it's a good idea to leave it out of your list of extracurriculars.
But it's a different thing if it's carried out within the context of a high school club or a community activity — chances are that it counts as an EA that can help increase your college admissions chances.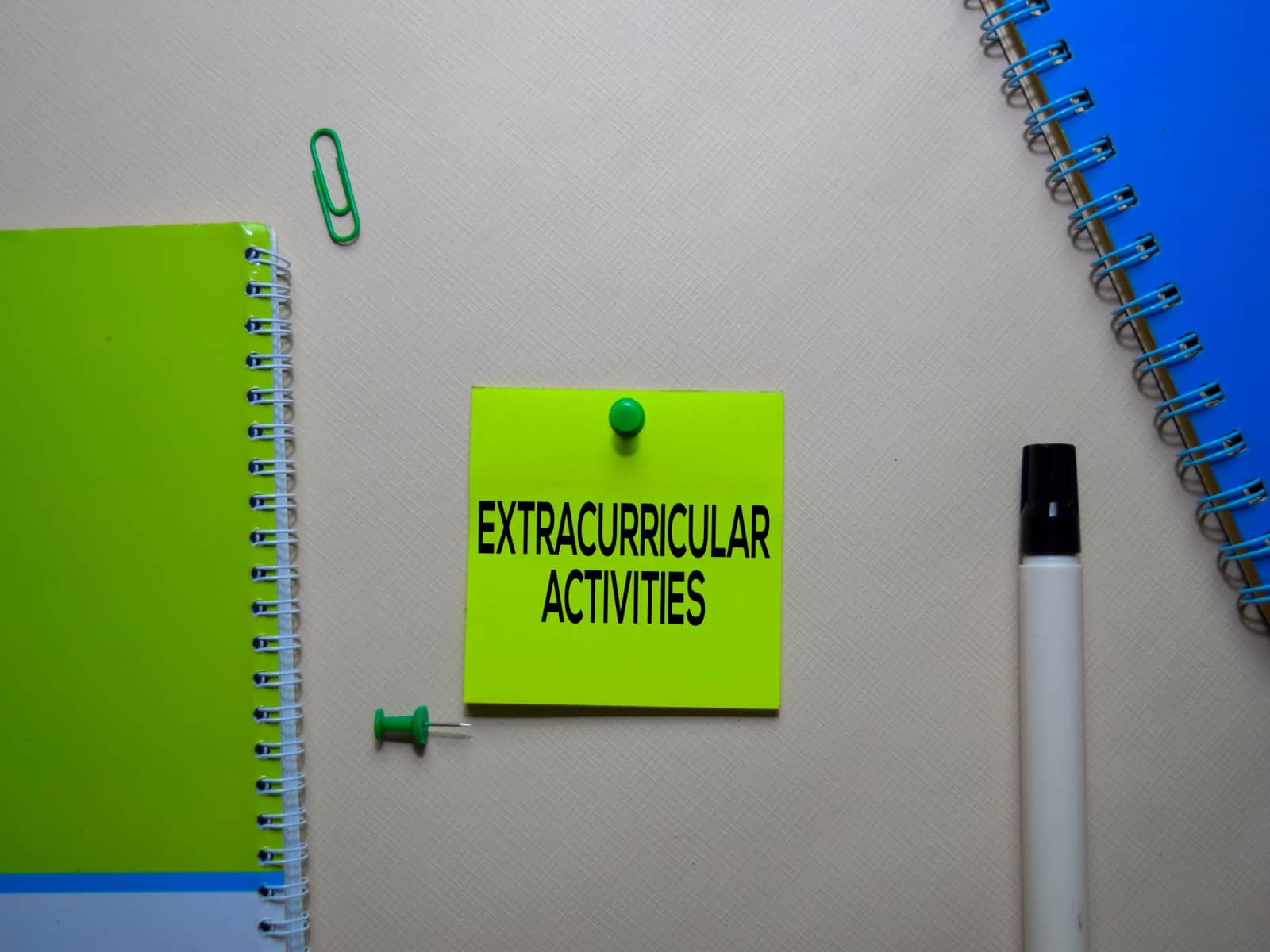 Different Types of Extracurricular Activities
There are hundreds of extracurricular activities high schoolers can choose from. However, when filling out their college application forms, they can only name a maximum of 10 extracurriculars in the Common App.
It doesn't necessarily mean, however, that students need to have 10 or indicate 10 EAs.
It's important to opt for extracurriculars that you are interested in.
It's also a must to invest plenty of your resources into it, especially if the goal is to grow and learn and impress admissions officers at your dream college.
Below, you will come across some popular examples of extracurriculars divided into several groups.
Academic
Archaeology club
Architecture club
Art history club
Astronomy club
Biology club
Calculus club
Chemistry club
Computer science club
Engineering club
English club
Environmental science club
European history club
Forensics club
Geography club
History club
Humanities club
Literature club
Math club
Music theory club
Poetry club
Physical education club
Physics club
Psychology club
Robotics club
Social science club
Social studies club
US history club
World history club
Competitive team
Academic decathlon
Academic triathlon
Chemistry team
Cyber patriot
Debate team
History bee
Math league
Science bowl
Science olympiad
Spelling bee
STEM competition
Cultural and language
Asian club
Canadian club
French club
German club
Japanese language and culture
Latin club
Pacific Islander club
Sign language
Spanish club
International food club
Community
Cleanup drive
Community government
Food drive
Fundraising
Habitat for humanity
Outreach programs
Tree planting
Tutoring
Paid job
Babysitting
Barista
Call center representative
Camp counselor
Cashier
Dishwasher
Dog walking
Ice cream scooper
Fast food associate
Graphic designer
Library shelver
Lifeguard
Pet groomer
Pet sitter
Prep cook
Receptionist
Social media manager
Theme park attendant
Tourist guide
Tutor
Usher
Virtual assistant
Media
Local radio station
Local TV station
Local website
Magazine
Newspaper
Yearbook committee
Military
Civil air patrol
Junior reserve officers' training corps (JROTC)
Performance arts
Choreography club
Chorus
Community theater group
Dance
High school theater group
Jazz band
Marching band
Miming
Puppetry
Stand-up comedy
Religion
Christian fellowship
Jewish union
Missionary club
Social activism
Animal rights
Breast cancer awareness
Civil rights
Environmental club
Fair trade club
Gay straight transgender alliance
Special interest
Animal fostering
App coding
Baseball cards
Bird watching
Coin collecting
Comic books
Costume designing
Culinary arts
Dried flowers
Fountain pens
Horticulture club
Jewelry designing
Model cars
Model railroads
Old photographs
Pet sitting
Postcards
Quiltmaking
Stamp collecting
Website designing
Sports
Arm wrestling
Basketball
Bodybuilding
Cheerleading
Chess
Diving
Fencing
Football
Frisbee
Golf
Gymnastics
Martial arts
Ping pong
Skiing
Soccer
Swimming
Track and field
Trampolining
Volleyball
Wall climbing
Water polo
Wrestling
Student government
Mock trial
Model UN
Student council
Visual arts
Animation
Anime
Cartooning
Ceramics
Doodling
Drawing
Fashion design
Painting
Photography
Sculpture
Sketching
Weaving
Woodworking

Disclaimer: The views and opinions expressed in this article are those of the authors and do not necessarily represent those of the College Reality Check.