Your Questions About Online Degrees Answered
Some online schools sound like they are respected and celebrated institutions. But in reality, they are unaccredited diploma mills that confer totally worthless degrees — degrees that won't help their holders secure their dream jobs or gain admission to their preferred graduate schools.
Due to this, you may be wondering if the online degree you are planning to work on is recognized.
An online degree is recognized if it's from a school operating on the web that's accredited by a recognized accrediting agency. A recognized online degree is just as valuable as a traditional or on-campus degree. Individuals with a legitimate online degree can apply for jobs or further their education.
Read on if you are about to apply to an online college but have some doubts or hesitations. In this post, we will dispel some of the most common myths associated with online degrees.
By the time you're through checking this out, you will be able to enroll with confidence and peace of mind.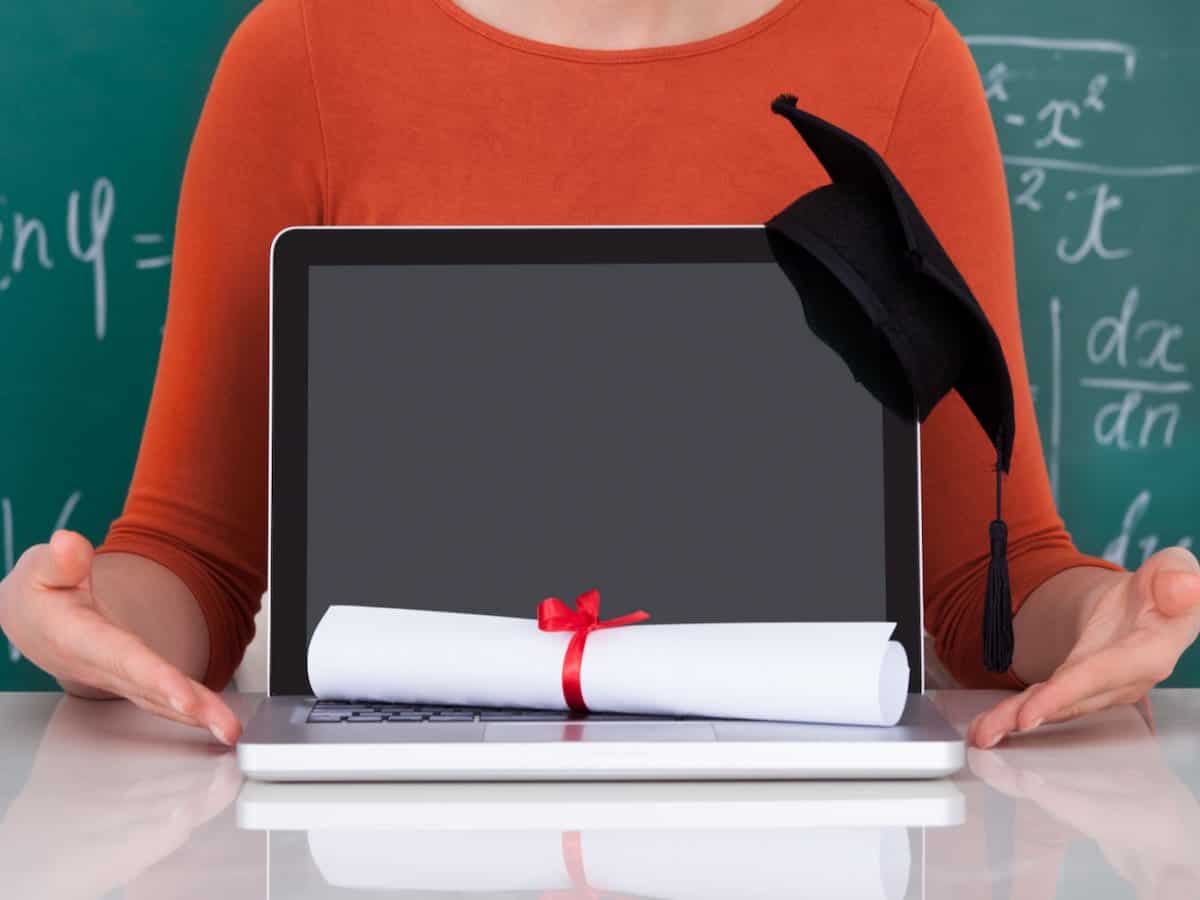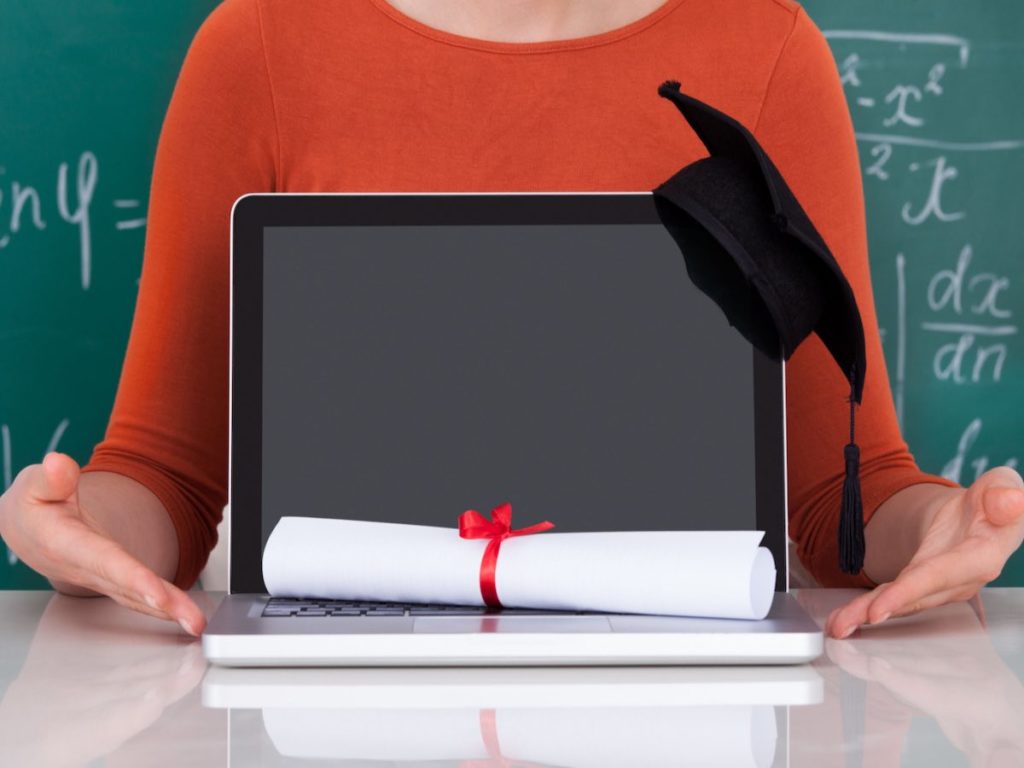 Are Online College Degrees Legitimate?
Online degrees are legitimate if they are awarded by accredited colleges or universities on the internet. On the other hand, online degrees coming from diploma mills, which have no legitimate accreditation, have zero value, which is why employers and graduate schools will not honor and recognize them.
It's no secret that, generally speaking, online degrees are cheaper than their traditional counterparts. They are also typically easier to earn for busy individuals, thanks to flexible class schedules.
Because of these perks, many can't help but wonder if college degrees that can be earned online are real and legit.
For as long as a college degree is earned from a legitimate online school, it's almost always 100% certain that employers and graduate schools will accept them. As a matter of fact, many online degrees can come from actual colleges and universities with online campuses such as Florida State University and the University of Minnesota – Twin Cities.
In order to make sure that a legitimate degree will result from the online program you are about to enroll in, check that the online school is accredited by a recognized accrediting agency.
Related Article: 11 Factors to Consider When Choosing an Online College
Are Online Colleges Respected?
Online colleges with accreditation are respected. This is especially true for those with regional accreditation, which is considered more prestigious than national accreditation. Nationally accredited online colleges are respected, too, and so are vocational, technical or career schools with the same kind of accreditation.
Gone are the days when it can be extremely challenging to determine whether an online school is a diploma mill or a legitimate institution, thanks to the many different sources of information on the web.
In most instances, it only takes a few keystrokes to find the answer to a pressing online school-related query.
Besides, many online colleges are highly ranked by some of the most popular and trusted online college rankers, such as US News, which is why students and employers alike respect schools offering online degrees.
Some of the best online bachelor's programs, US News says, are offered by the following online schools:
Embry-Riddle Aeronautical University – Worldwide
University of Florida
Medical University of South Carolina
University of Illinois – Chicago
Oregon State University
Arizona State University
Ohio State University – Columbus
University of Arizona
University of Central Florida
CUNY School of Professional Studies
North Carolina State University
University of North Carolina – Charlotte
Colorado State University – Global
George Washington University
Utah State University
Pennsylvania State University – World Campus
University of Georgia
University of Oklahoma
Creighton University
Illinois State University
This does not mean, however, that non-ranked online colleges and universities are not respected and thus should not be shortlisted by non-traditional looking for the best degrees available in cyberspace.
Are Online Colleges Worth It?
Enrolling in online colleges is worth it because, generally speaking, they have lower costs of attendance and flexible schedules, too. Many also offer accelerated online programs that can make earning a college degree faster, especially for transferees with credits or those with fully completed degrees.
There are many reasons why attending online schools has become so popular.
For one, more and more students, including especially non-traditional ones such as working adults and parents, have discovered the convenience and flexibility of earning an online degree.
Compared to several or even a few years ago, the quality of online learning has improved in terms of programs, mode of instruction and technologies, which attracts even more degree- or certificate-seeking people to give going to online colleges a try. And now, around 7 million people are taking online classes exclusively.
Are Online Colleges That are Legit Easy to Spot?
With a little research, one can determine whether or not an online college is legitimate. Other than visiting the institution's website in order to check accreditation and other related matters, reading reviews in cyberspace may be done as well. Forum sites and the BBB's website are all review sources.
Making sure that the online degree you are planning to work on is from a legitimate online school is a must.
If not, you may end up with a completely valueless degree, thereby flushing your time and money down the drain. In many instances, finding out whether or not an online college has accreditation is more than enough.
But take note that some unaccredited online schools may still be considered legit.
Besides checking out the website of the online college you are eyeing and doing a background check of its accreditor, there are a few other steps that you may take in order to determine whether or not the institution is legit:
Check out comments on forum sites for students such as College Confidential, Top Universities and the Student Room. You may also give Quora, Reddit and Answers.com a try.
Pay the website of the Better Business Bureau a visit and take a look at what students with firsthand experience have to say. The BBB's website, by the way, has a listing of accredited online schools.
Access LinkedIn and use the alumni tool in order to come across the profiles of those who graduated from a particular online college and check where their online degrees have taken them.
Are Online Degrees Credible?
Online degrees conferred by accredited online colleges and universities are considered credible. However, based on a Society for Human Resource Management (SHRM) study, only a little over 40% of employers would consider applicants with college degrees from schools operating solely on the internet.
Many degree-seeking students who are thinking about going to online schools fear that they might end up with degrees that are completely worthless and thus cannot be used for employment or educational purposes.
For as long as they enroll in a legitimate online college, that should be the least of their worries.
But still, it's important to consider the fact that, according to the SHRM study mentioned above, less than half of all employers would favor online degrees from schools with no physical campuses. On the other hand, up to 92% of employers would consider online degrees from schools with physical campuses, too.
In order to be sure, taking into account only the findings of the said study, you might want to consider attending the online campus of a traditional college or university, preferably one whose name is familiar to many or all.
Are Online Degrees Taken Seriously?
Especially in this day and age, online degrees are taken seriously by many employers. They are accepted, too, by many graduate schools. But before attending an online school, it's a good idea for students to research the stance of their preferred companies or graduate schools on online degrees beforehand.
In order to make sure that the online degree you are thinking about working on will be taken seriously, check that the school conferring it is accredited, which is a telltale sign that it's legit.
You may also research whether or not the degree of your choice has programmatic accreditation.
Thinking about enrolling in, say, an online engineering program? To have complete peace of mind that you will end up with a valuable engineering degree, see whether or not it's accredited by the Accreditation Board for Engineering and Technology (ABET), which accredits many engineering programs offered by US colleges and universities.
Besides opting for a legitimate online degree, it's also a good idea to earn good grades in your online courses. For many employers, an applicant's performance in college is more important than the college he or she attended.
Just Before You Enroll in an Online Degree Program
Online degree programs can come from not only schools operating solely online but also from traditional colleges and universities with both physical and online campuses. No matter which online degree program you are planning on enrolling in, make sure that it's from a legitimate online school with full accreditation.
Read Next: Do Online Colleges Accept Anyone?
Related Questions
Are there free online degree programs?
Some colleges and universities, traditional and/or completely online alike, offer free degree programs via the internet in that they are tuition-free. The very first fully accredited online school to offer free online degree programs such as computer science and health science is the University of the People (UoPeople).
Which online degrees are likely to get me a job?
Considering certain data points provided by the US Bureau of Labor and Statistics (BLS), some of the most employable online degrees these days include home health, physician assistant, nurse practitioner, mathematics, statistics, software development and information security analysts.

Disclaimer: The views and opinions expressed in this article are those of the authors and do not necessarily represent those of the College Reality Check.