Can You Pay Someone to Write College Essay?
A college essay gives you the opportunity to let admissions officers know things about you that your high school GPA, test scores and class rank keep hidden from plain view. It allows you to share with them your unique life experiences and circumstances as well as the things you could potentially contribute to the college culture.
However, some people are simply so much better at writing essays, and some of them do it for a living, too.
College-bound teens can choose to utilize paid college essay services. Depending on the provider, it allows them to get their hands on original and professionally written essays. However, the submission of a paid essay may result in a well-deserved rejection or an acceptance letter that another applicant deserves.
Enticed to give an online essay-writing service a try?
In this post, I will discuss some of the most important matters you need to know about paying someone to write you your college essay. By the time you reach the end, hopefully, you will have an idea of the right thing to do.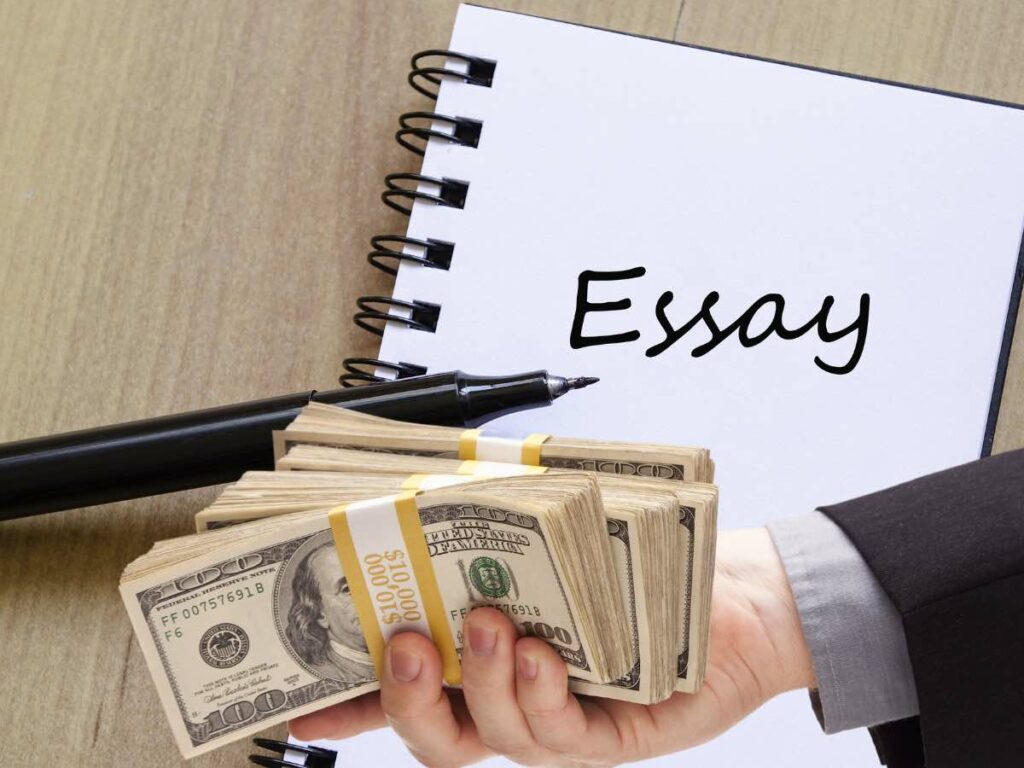 What are the Pros and Cons of Paying for Your College Essay?
Perhaps no pros of paying for college essay is as noteworthy as being able to submit a high-quality application essay, provided, of course, that the service provider is one of the best in the industry. Meanwhile, the most striking cons include getting an acceptance letter the student doesn't deserve and getting denied for being found out.
For most college-bound teens, the Common App essay is one of the things that make the college application process exhausting and nerve-racking for it takes a lot of time and energy.
Needless to say, it can also have an impact on one's chances of getting admitted.
Fortunately for students who are bad at essay writing or have no time or motivation to write a good one, there are online essay writing services.
It goes without saying that, in exchange for a certain amount, it makes the process of applying to a college time- and energy-saving, especially when applying to several different institutions.
But there are cons, too. And leading the list is the risk of submitting a poor quality or plagiarized essay, which could cost a student his or her getting an acceptance letter.
It's also no secret that the internet is a playground for crooks — getting the service of a fraudulent service provider could result in you not getting an essay and your personal information stolen, too.
By the way, some applicants may decide to try to use AI to help them with writing samples.
Are College Essay Writing Companies Legal?
Most essay writing services operating on the internet are legal. This is especially true for those that provide high-quality work and do not offer plagiarized content and engage in other fraudulent activities. Although it's not illegal for a student to pay to have his or her college essay written, it's a totally questionable and dishonest move.
Depending on the country or state, online service providers that write essays may need to register like traditional businesses.
It goes without saying that hiring a licensed essay writing company on the web and paying for the work provided to you doesn't break any law. But it's a completely different thing when the resulting product is submitted to college admissions officers.
Here's a suggestion: instead of hiring someone to write your college essay, consider writing your essay and having a professional on the web edit your work so that you can submit something that's polished and error-free.
And if grammar isn't your strongest suit, there are free grammar checkers on the web.
Is Online College Essay Writing Safe?
For as long as the provider is operating legally and does not steal personal information, it's perfectly safe for a student to opt for an online college essay writing service. What's at risk, however, is his or her admission chances as a result of a poorly written essay or the submission of plagiarized work, or an obviously paid essay.
There are many ways to check whether or not you can trust a particular essay writing company on the web.
Checking out customer reviews and comments on forum sites such as Reddit and Quora are some ways to determine if the service provider you are eyeing can be trusted.
But while it's safe to conduct a transaction with an essay writer online, the same cannot be said about your college application.
For instance, submitting a plagiarized composition or something that college admissions officers have already come across before is very much likely to result in you getting denied even if you have an impressive GPA or test scores.
Is Paying Someone to Write Your College Essay Ethical?
Technically speaking, it's ethical for a student to pay someone to write his or her essay — in this sense, what's unethical is using the finished essay without paying. However, as far as the college applications process goes, it's morally wrong and unwise and, depending on the service provider, could result in plagiarism.
Of course, a stellar college essay alone is unlikely to gain you admission to the selective college of your choosing. Various other academic factors such as your GPA and test scores tend to have the most weight in the review process.
But a spanking essay, needless to say, can make a strong application even stronger.
This is when the question of the virtue of paying someone to make you your college essay steps into the scene.
Would you be able to face yourself in the mirror with confidence and respect and be devoid of any guilt, knowing that you got in with the help of an application essay you didn't write?
Would you be proud of the degree you will later on, earn as a result?
How Much Do Online College Essay Writing Services Cost?
On average, online essay-writing providers charge clients anywhere from $10 to $50 per page. The cost, however, can vary according to factors such as the length, difficulty level, degree of writing and deadline. As a general rule of thumb, the more challenging the college essay to write and the sooner it's needed, the steeper the cost.
Before anything else, let's get one thing straight: the cheaper the cost of an online essay writing service, the higher you should raise your eyebrows — as always, you may get what you pay for.
It goes without saying that some of the most reliable writers out there charge more than unreliable ones.
Whether cheap or expensive, always ask yourself if the amount of money you will shell out is worth the risk of getting rejected by your dream college for plagiarism and provision of false information or getting an offer to enroll knowing that the application essay you submitted was the brainchild of an anonymous person that you paid to do the task for you.
What's the Process Like to Have Your College Essay Written?
Having a college essay written online typically starts with filling out a form. Providing details such as the length, degree of writing and, of course, topic is the most important part of the process. In some instances, students who pay for their essays may select a writer and choose from among a selection of add-ons.
Since there are many essay writing services online that charge peanuts, it's easier now more than ever to have your college essay written by someone who makes a living dishing our written compositions.
Typically, it can take an essay writing service to complete the job in a couple of weeks.
Your college essay, however, may be ready sooner or later than the said time frame, depending on the length and difficulty level of the essay as well as how many commissioned projects the writer has and how fast he or she writes.
Be cautious of any service provider that promises to deliver the product in a matter of hours!
What Would Happen If a College Learned You Paid for Your Essay?
Upon the detection of a paid college essay, admissions officers may notify the applicant and give the right to appeal. If proven guilty, the student may be barred from applying to the same college for a specified length of time. In many instances, plagiarized essays could result in the failure of satisfying admissions requirements.
Admissions officers may or may not suspect that an essay was obtained via a paid writing service.
If the 650-word Common App essay, for instance, seems to be incoherent with short-answer essays and the rest of the college application, it may raise suspicions.
The same is true if another applicant submitted the same work, whether in the same admissions cycle or in a previous one.
So, in other words, paying to get your essay written is a risky move.
Especially if the essay is one of the most important academic factors in the admissions process at your chosen college, something that's proven to be not written by you could cost you your chances of getting an offer to enroll.
So, Should You or Should You Not Pay for College Essay Writing?
While it's true that many paid essay-writing companies on the internet are operating legally and availing their services isn't breaking any law, having a professional essay writer compose your college essay is outright dishonesty and deception.
Paid essay writing is one of those things that just because you could doesn't mean you should.
Getting an acceptance letter from your top-choice school could be the start of a wonderful college career and, ultimately, a prolific professional life.
Do you really want to start it with a lie in the form of a paid application essay?
Everything, in a sense, would be a lie from thereon — from your college degree to your job position.

Disclaimer: The views and opinions expressed in this article are those of the authors and do not necessarily represent those of the College Reality Check.