Traditional Student vs. Non-Traditional: How to Know the Difference
Once the high school students and their parents find out how much the college costs these days, they start looking for possible ways to reduce the tuition.
Eventually, they find out about the non-traditional student concept, and since most of them file as independent students, families tend to think that it could be beneficial to "switch" and save on higher education. Unfortunately, this is not so straightforward.
Non-traditional students, who are also sometimes referred to as adult learners, are usually 24 years old or older and often have children and full or part-time jobs. Traditional students, on the other hand, are conventional students who go to college after high school.
But before anything else, check out the table below — it contrasts traditional and non-traditional students against each other using a number of factors, thus allowing you to compare them quickly.
| | | |
| --- | --- | --- |
| Factors | Traditional Student | Non-Traditional Student |
| Age | 18 to 23 | 24 and older |
| Civil status | Single | Single, married or living together |
| Parental status | No kids | May have kids |
| Financial status | Dependent | Independent |
| Employment status | Unemployed | Employed part-time or full-time |
| Previous credential | High school diploma | Equivalent to a high school diploma |
| Enrollment time | Right after high school | Delayed after high school |
| Enrollment type | Full-time | Part-time |
| Career path | Uncertain or certain | Certain |
| Academic program | Undergraduate degree | Short courses, certificates, accelerated programs |
| Living situation | On-campus or commuter | On-campus or commuter |
| Extracurriculars | Active | Less- or non-active |
Traditional vs. non-traditional students
But keep in mind that the table above relies on general consensus.
That's because while some institutions of higher education define traditional and non-traditional students only by means of their age or their credentials prior to enrollment, others consider a number of other factors, too, ranging from financial status to the type of academic program they are enrolled in.
Traditional Student vs. Non-Traditional: Differences
So, in other words, whether you are a traditional student or a non-traditional one may vary depending on where you are working on your associate degree program or bachelor's degree program or a certificate or short course.
And now, let's talk about each of the factors taken into account in the above-given table.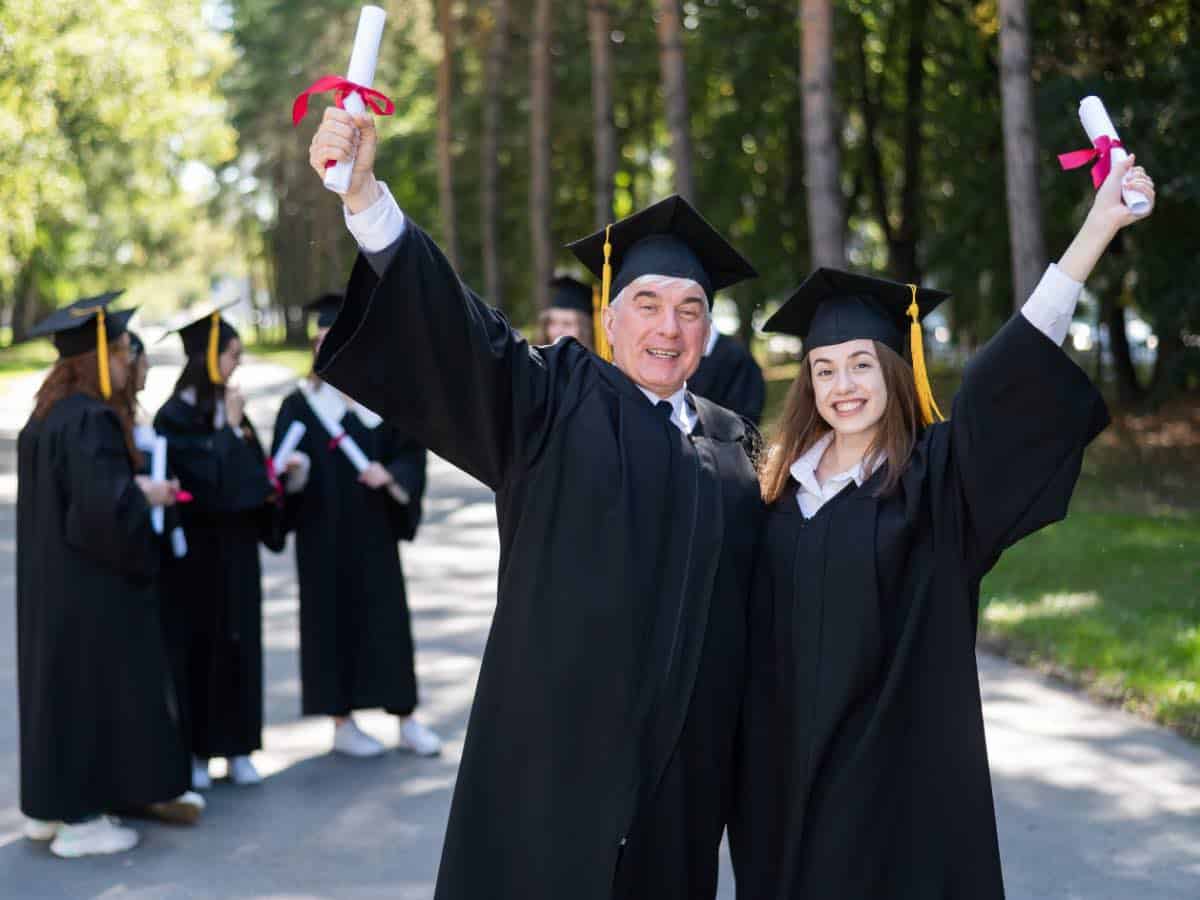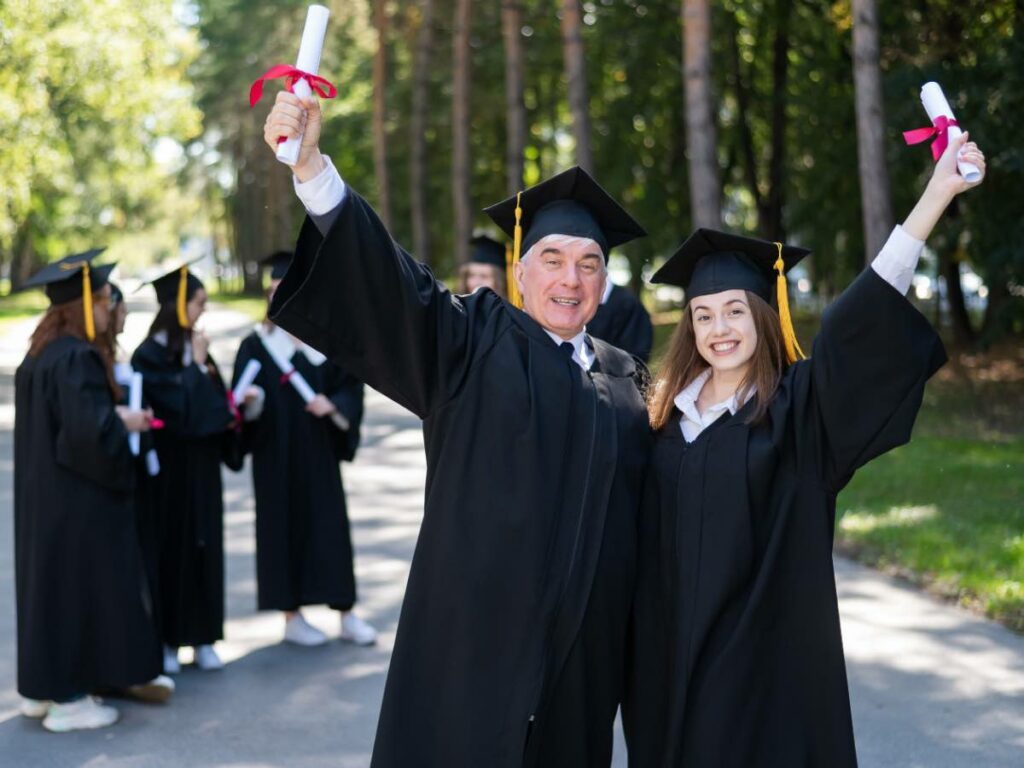 Age
Something that quickly sets traditional and non-traditional students apart is their age. Because traditional students head to college right after graduating from high school, they tend to be some of the youngest on campus — below 23 years old.
On the other hand, non-traditional students are older, typically at least 24 years old, which is why they are also known as adult learners.
Civil Status
Students who have already tied the knot or are living with their partners are considered non-traditional students straightaway. But it doesn't necessarily mean that being unmarried or single makes a student traditional.
No matter the civil status, a college student is a part of the non-traditional demographic if he or she meets the other qualities of a non-traditional student.
Parental Status
Got kids?
Then you are more of a non-traditional than a traditional college student. According to an estimation by the National Center for Education Statistics (NCES), over 25% of all college students are student parents.
The agency, which is a part of the US Department of Education (USDE), adds that student parents are more likely to be students of color, too.
Financial Status
Over 60% of college students receive some financial help from their parents to pay for tuition, room, transportation and others — the average amount they get is about $7,500 per year.
On the other hand, non-traditional students are financially independent from their parents, which is why some of them have part-time jobs while most have full-time jobs.
Employment Status
Most college students of today are working.
However, the amount and type of work they do can vary greatly from one college attendee to the next. Needless to say, the vast majority of non-traditional students are employed either full-time or part-time.
But it's also important to note that many low-income traditional students are enrolled in the federal work-study (FWS) program.
Previous Credentials
Traditional students present traditional credentials when applying to college: a high school diploma.
On the other hand, while it's also not uncommon for non-traditional students to hand in the very same type of credential, many of them have a high school equivalency certificate like the General Educational Development (GED) or Adult Basic Education (ABE) instead.
Enrollment Time
There's no other step for traditional students to take after high school but to go to college to complete an undergraduate degree program.
Meanwhile, it's not uncommon for non-traditional students to delay their college enrollment. It can be for many different reasons, ranging from having to enter the workforce to taking a gap year to figure out what they want to do.
Enrollment Type
At most institutions of higher education, undergraduate students are considered the traditional kind if they are enrolled full-time.
This means that they are taking at least 12 credits per semester — equivalent to a total of 4 classes, each having 3 credits. Students who are enrolled part-time, meanwhile, are immediately considered non-traditional students.
Career Path
Traditional students are usually required to declare a major before their junior year of college — before that, they have 2 years to figure out a career path by exploring extracurriculars and even electives and internships.
Most non-traditional students, on the other hand, usually know what they want to do. As a matter of fact, some of them have already begun doing it while studying.
Academic Program
While there are also many non-traditional students who are also working on traditional degrees like traditional students, it's not uncommon for most of them to be completing other types of programs, such as certificates or short courses.
Some are completing online programs, although it's important to point out that many traditional students nowadays also take some classes online.
Living Situation
Nearly 60% of students attending private non-profit 4-year institutions full-time live on campus. It doesn't necessarily mean, however, that those who don't are non-traditional students.
For instance, most or all community and public college students are commuter students. Similarly, some non-traditional students may choose to live in college-owned housing.
Extracurriculars
By now, we have established the fact that non-traditional students usually have more on their plate than traditional students. It's exactly because of this why many of them do not have time for extracurricular participation — after their classes, most of them would need to go home to take care of their little ones or would have to head to the workplace.
Are You a Traditional or a Non-Traditional Student?
Most of the time, the line that separates traditional and non-traditional students is clearly defined.
But there are instances, too, when their respective characteristics bleed into each other — at times subtly, while other times substantially. As a result of this, the definition of these kinds of students can vary from one postsecondary institution to the other.
Whether you are a traditional or non-traditional student can have an impact on your college experience.
For instance, while it's true that traditional students may have to overcome more hurdles than non-traditional students because they have a lot of things to balance with their educational pursuit, from their full-time jobs to their kids, they are usually happier in the college environment than their traditional counterparts.
Knowing the kind of student you are — traditional vs. non-traditional — may be able to help you define your priorities so much better so that you can reap college success as well as success in other aspects of your life.
Are non-traditional students eligible for scholarships?
Like traditional students, non-traditional students may apply for the same financial resources as more conventional learners, even filling out the same form such as the FAFSA. As a matter of fact, there are some scholarships, usually the non-institutional kinds, available for non-traditional college students.
Do traditional students graduate more on time?
Because most traditional students do not have jobs and kids to take care of, it's not unlikely for them to complete their degree programs on time, either within 4 or 6 years. Meanwhile, many non-traditional students fail to graduate on time, with up to only a third of them seeing the completion of their respective academic programs.

Disclaimer: The views and opinions expressed in this article are those of the authors and do not necessarily represent those of the College Reality Check.