Is a Cheap MBA Worth It? How to Supercharge Your Career
The average cost of a Master of Business Administration (MBA) is $61,800. Some MBAs can go higher than $100,000 — a 2-year full-time MBA program from Harvard Business School, for instance, costs a total of $112,760.
Fortunately, there are cheap MBAs available. But are they worth earning?
In short, here's what I think.
Whether or not a cheap MBA is worth it depends on factors such as one's overall career goals and which institution confers it. Although it's true that a graduate degree can increase the potential for earning more and getting promoted, in some instances, building real-world experience is a better alternative.
Before we proceed, let me give you two real-world examples of successful people who obtained inexpensive online MBAs.
One is my neighbor who had an undergraduate degree in Agriculture from the University of Cincinnati and who landed a job as an accountant in one of the branches of the Social Security Administration.
He got his MBA degree from the University of Phoenix, and when the position of chief accountant became available, he applied and was promoted.
Another example is the CIO of a multi-billion dollar company in Maryland who obtained a graduate business degree from the University of Maryland Global Campus.
Will an MBA Increase Earning Potential?
According to the National Center for Education Statistics (NCES), the median annual salary of individuals whose highest educational attainment is a master's degree or higher is $65,000 per year. On the other hand, that's $54,700 per year for those whose highest educational attainment is a bachelor's degree.
While an MBA will allow you to make more money per year than you would if you only had an undergraduate degree, you will have to work hard on it as well as shell out an exorbitant amount of money beforehand.
Just like what's mentioned earlier, it can cost higher than $60,000 and, sometimes, even higher than $100,000.
It's so expensive that the average debt among master's degree holders amounts to $80,494, says 2022 data provided by the Education Data Initiative. Meanwhile, the average debt among those with a bachelor's degree amounts to $37,651.
Given that an MBA can be completed in just 1 to 2 years instead of 4 to 6 years, there's no denying that it's costlier.
Fortunately, while MBA programs are generally more expensive than bachelor's degree programs, some universities have cost-effective options for students from low-income backgrounds.
OnlineMBA says that the following are the cheapest MBAs:
| University | MBA Tuition |
| --- | --- |
| Parker University | $755 per credit hour |
| Rice University | $2,100 per credit hour |
| Western Governors University | $4,530 per term |
| Texas A&M International University | $11,000 to $31,000 |
| University of Florida | $49,000 to $60,000 |
Cheapest MBA programs
Are Online MBA Programs Legit?
These days, more and more MBA-seeking students are turning to the internet.
As a matter of fact, based on a report by Franklin University, the number of online MBA programs doubled between 2014 and 2018.
Mentioned, too, was that the Graduate Management Admission Council (GMAC) said that around 50% of MBA programs available on the internet saw an increase in applications in 2019.
Meanwhile, only about 21% of traditional MBA programs could say the same, added by the international non-profit organization of business schools report.
Of course, it's no secret that online learning is more affordable than its traditional counterpart. Online MBA programs, needless to say, are suitable for students who are not only on a time crunch but also on a tight budget.
But it's important to note that not all online MBA programs are cut from the same cloth as far as cost goes — while some MBA programs administered via the web are cheap, others cost the same as on-campus ones.
So, in other words, shopping around is a must as some of them are the same as traditional MBAs in terms of price, albeit more convenient to earn.
The following are some cheap online MBA programs worth considering, as compiled by Fortune:
| | |
| --- | --- |
| Name | Tuition |
| Louisiana Tech University | $8,977.50 |
| University of Texas of the Permian Basin | $10,679.70 |
| Southeast Missouri State University – Harrison | $12,738.00 |
| The University of Louisiana – Lafayette | $12,800.04 |
| West Texas A&M University | $12,888.25 |
| University of Southern Indiana | $12,900.00 |
| Texas A&M University – Kingsville | $12,999.90 |
| Missouri State University College of Business | $13,324.97 |
| Delta State University | $14,070.00 |
| Troy University | $14,725.00 |
| University of Louisiana – Monroe | $15,000.00 |
| Dakota Wesleyan University | $15,300.00 |
| Auburn University – Montgomery | $15,390.00 |
| Shippensburg University of Pennsylvania | $15,480.00 |
| Southern Utah University | $16,005.00 |
| University of Central Missouri | $16,434.00 |
| University of Alabama, Birmingham | $16,488.00 |
| Morehead State University | $17,100.00 |
| University of Southern Mississippi | $17,130.96 |
| Campbellsville University | $17,244.00 |
Cheap online MBA schools
Three Cheap Alternatives to a Business Degree
If truth be told, having a college degree does not guarantee career success.
Still, the fact remains that some professions require candidates to have gone to college — some find a bachelor's degree more than enough, while others require no less than a master's degree.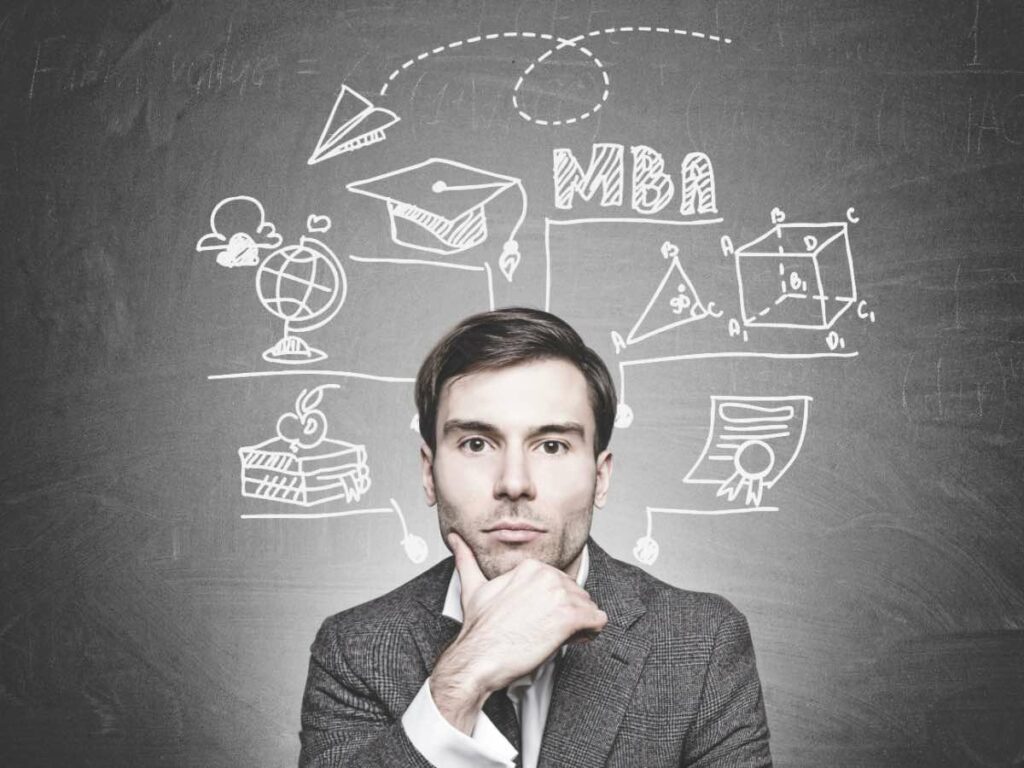 Because some employers have a preference for job seekers who display a commitment to learning and advancing their knowledge and skills, there are instances where value alternatives to an MBA are enough to make their resumes stand out.
Luckily, there are educational credentials that are not as expensive and time-consuming to complete as traditional MBA programs.
Here are some of those that you might want to consider:
Mini-MBAs
While full-fledged MBAs usually take anywhere from 1 to 2 years to complete, mini-MBAs usually come in 4- to 12-week programs.
It's also not uncommon for them to only comprise of 35 to 40 credits — traditional MBAs are typically made up of 60 credits. Because they explore key concepts only, it's no wonder why mini-MBAs are shorter and cheaper.
And speaking of which, let's take a look at the estimated cost of mini-MBAs from various institutions:
Rutgers University – $3,995
Columbia Business School – $5,000
Boston University Questrom School of Business – $5,995
Kellogg School of Management – $6,800
Duke University – $7,495
Wharton Executive Education – $9,900
Just like actual MBAs, there are also mini-MBAs available online. Needless to say, they are more convenient for working adults to earn and, in most instances, more affordable.
The following are some online mini-MBA programs and the estimated cost of each:
MindEdge – $1,295
AMA – $2,695
Harvard Business School – $4,950
MBA certificate
A wonderful alternative to an MBA without fully committing to working on it for up to 2 years is an MBA certificate. What's really nice about it is that credits earned may be applied toward a full MBA.
There are a couple of types of MBA certificates to choose from:
Pre-MBA. Simply put, pre-MBA certificates are suited for new business professionals who are looking to learn fundamental business concepts, ranging from finance to business analytics. In most instances, those who work on pre-MBA certificates are interested in enrolling in full MBA programs sooner or later.
Post-MBA. Individuals who have already earned their master's degrees but are interested in mastering certain areas of business may consider enrolling in a post-MBA program. Basically, people who pursue post-MBA certificates are those who are after being more competitive in the job market.
How much money you will have to shell out to enroll in an MBA certificate program can vary greatly, depending on the institution offering it. For instance, at UTRGV, it costs $5,666.64 ($472.22 per credit hour). On the other hand, earning an MBA certificate from UCLA extension will cost you $12,000.
MOOCs
Short for massive open online courses, MOOCs make courses available online to a very large number of learners, usually without any admissions requirements and at no cost.
And although it's true that most of them come free of charge, the optional certificates come with a price.
On the edX platform, for instance, they can cost anywhere from $50 to $300.
A lot of colleges and universities create MBA MOOCs. However, it's not uncommon for learners to take the courses by means of delivery platforms offered by organizations that are independent of the course providers.
Like many online classes, MOOCs are perfect for individuals who prefer to learn at a pace that works for them.
Is a Cheap MBA Worth It: My Opinion
I remember when I worked at Oracle and was considering whether to invest in a business degree in order to move to the management track, I asked a colleague of mine why he was doing his MBA (he took a substantial loan to do it).
He told me that as a minority he will always be at disadvantage, so in order for him to move up the corporate ladder, he had to have more credentials than his non-minority peers. I don't know if this is true or not, but he later became a tech executive in a big company.
So, in conclusion, I want to state the following.
If your goal is to get a job on Wall Street, then getting a degree from an expensive business school, such as Harvard or Wharton is a must. On the other hand, if the degree is just a formal requirement in order to move up in career ladder, then it's best to stick with an affordable MBA option.
However, it's important to make sure that it's going to come from an accredited institution. Otherwise, it's likely for employers to not accept it.
There are also MBA alternatives worth considering, many of which are more than enough for meeting certain professional career goals.
I should also note that there is a trend for employers to lower their expectations about degrees. For example, many states, including Alaska and Maryland, removed college requirements for most of the state jobs, so it is possible that college is not as necessary as industry expertise.
Read Next: Is Business Administration a Good Degree?

Disclaimer: The views and opinions expressed in this article are those of the authors and do not necessarily represent those of the College Reality Check.