What is Demonstrated Interest and 12 Ways to Show It
Every year I hear stories about how a straight A-student gets denied from his or her safety college and if you think about there are good reasons for such denials.
Most colleges, especially those that enroll mostly B and C students, are aware that some high achieving students consider them as backup schools and most likely will not enroll when admitted.
When too many applicants fail to matriculate after being admitted the college rankings go down and colleges try to prevent such things. It's also called yield protection.
So, what should the students do in order to avoid being denied by the colleges for reasons other than academics? The applicants must signal their interest in the school they apply to and it's called a demonstrated interest.
Some colleges use demonstrated interest in determining just how serious applicants are in attending. Students can show their interest in enrolling in many different ways, ranging from signing up for newsletters, touring the campus, and applying early to agreeing to an optional college interview.
According to a National Association of College Admission Counseling (NACAC) survey, as much as 16.9% of colleges and universities say that demonstrated interest has considerable importance in the admissions process.
On the other hand, 22.9% of the responding institutions say that it's of no importance at all.
Continue reading if you would like to increase your admissions chances by showing your utmost interest in going to the school of your preference.
How Do Colleges Track Demonstrated Interest?
Colleges track demonstrated interest by means of online profiles students have to create when applying, submitting requirements, signing up for events and/or registering for campus tours. Some institutions also use proprietary software programs to keep an eye on applicants' online activities.
For schools that consider demonstrated interest an important factor when reviewing applications, it's a must to determine whether or not students will attend in case they are given an offer to do so.
Many of them will do anything and everything necessary to know which hopefuls are serious about enrolling.
There are numerous ways for college-bound teens to show just how interested they are in earning a degree from their preferred schools. Similarly, there are various ways for colleges to figure out just how interested applicants are in attending to make sure that their yield rate will look good, among other things.
Below, I will list some of the things that admissions officers do to gauge the interest levels of applicants — try to guess which of these your top-choice school is probably doing now to track how you are showing your interest:
Mailing list
It's not uncommon for some colleges to ask aspirants if they would like to sign up to receive free newsletters on a regular basis. As soon as they agree to do so, it's very much possible for institutions to be able to track whether or not the receivers open emails, which can speak volumes about how eager they are to hear from the admissions office.
Inbound links
Sometimes, free newsletters sent to subscribers — current and soon-to-be applicants — can be accessed by clicking on a link within the email. And the simple act of clicking the link lets the sender determine when it was clicked and who clicked it. Zero to a very few clicks might make the college think twice about sending an acceptance letter.
Online registrations
There are many application- or college-related activities that require online registration beforehand. Some of them include on- and off-campus fairs and campus tours, in-person and virtual alike. How often you register via the internet for such events and others can give a college's admissions officers an idea of just how invested you are in attending.
Social media activity
Although fewer and fewer are doing it, colleges check out social media accounts and activities as a part of the admissions process. In fact, in some instances, they use special monitoring tools.
But it's also very much possible for the college of your liking to simply consider how much of an active participant you are on its own social media account.
Related Article: Can Colleges See Your Snapchat, Instagram, TikTok?
Supplemental Essays
Many colleges require applicants to submit essays so that they can have a different perspective of aspirants beyond their GPAs and test scores. It also allows admissions officers at institutions that track demonstrated interest to have the opportunity to see just how much an applicant knows about the school through research.
Related Article: Is Main Essay More Important Than Supplements?
Alumni interviews
Very few colleges conduct optional interviews as a part of the admissions process. If your dream school is one of them and you're offered one, grab it — it will give you the chance to show your personality and demonstrate your interest to attend. Show how much you know about the institution and how much more you want to know about it, and you're golden!
Early Decision or Early Action
It's no secret that early decision and early action have higher acceptance rates than regular decision. A reason for this is that early applicants tend to have higher GPAs and test scores and stronger overall applications.
It also makes colleges assume that they are the top pick of applicants, which means they are likely to enroll if accepted.
Related Article: Can You Reapply in Regular Round If Denied Early?
Which Colleges Track Demonstrated Interest?
Many colleges consider demonstrated interest a non-academic admissions factor, although its relative importance may vary from one institution to the other. The vast majority of prestigious schools, including the Ivy Leagues and those with Ivy League-like statuses, however, do not track demonstrated interest.
Before you start demonstrating your interest in attending a particular college, it's a must to determine first whether it's something that can help boost your chances of getting admitted or not.
If your top-choice school does not take it into account, a display of your interest won't mean anything.
Not all colleges and universities in the US care about demonstrated interest. Some of those who do not track it are elite and competitive schools for they know that anyone who dares apply to them is 100% committed. Knowing which ones consider demonstrated interest and which ones don't, unfortunately, isn't always that easy.
Allow me to make things easier for you by giving you a list of schools that take demonstrated interest into account. And let me share with you, too, just how much weight demonstrated interest has in their admissions process.
See if the institution you would like to put at the top of your college list is here:
Demonstrated interest is very important:
American University
Cooper Union
Dickinson College
Hampshire College
Ithaca College
Morehouse College
Quinnipiac University
Syracuse University
Thomas Aquinas College
United States Air Force Academy
United States Naval Academy
Demonstrated Interest is important:
Allegheny College
Auburn University
Bates College
Bentley University
Butler University
DePaul University
Eckerd College
Elon University
Fairfield University
Florida Institute of Technology
High Point University
Kenyon College
Lehigh University
Loyola University Chicago
Michigan State University
Oglethorpe University
Reed College
Rensselaer Polytechnic Institute
Roanoke College
Seattle University
Seton Hall University
Skidmore College
The College of Wooster
Trinity College
United States Merchant Marine Academy
United States Military Academy
University of Arizona
University of Massachusetts Amherst
Wheaton College
Demonstrated interest is considered:
Agnes Scott College
Babson College
Bard College
Barnard College
Baylor University
Beloit College
Berea College
Binghamton University – SUNY
Boston University
Bradley University
Brandeis University
Brigham Young University
Case Western Reserve University
Catholic University
Chapman University
Clark University
Colby College
College of Charleston
College of the Holy Cross
Colorado College
Colorado School of Mines
Connecticut College
Cornell College
Dartmouth College
Davidson College
Denison University
DePauw University
Drew University
Drexel University
Duke University
Fordham University
Franklin & Marshall College
Furman University
George Mason University
George Washington University
Georgia Institute of Technology
Gettysburg College
Gonzaga University
Goucher College
Grinnell College
Hamilton College
Haverford College
Hobart and William Smith Colleges
Hofstra University
Howard University
Juniata College
Kalamazoo College
Knox College
Lafayette College
Lake Forest College
Lawrence University
Lewis & Clark College
Loyola University Maryland
Marietta College
Marist College
Marquette University
Middlebury College
Mount Holyoke College
Muhlenberg College
New York University
Northeastern University
Northwestern University
Oberlin College
Occidental College
Oregon State University
Pitzer College
Providence College
Purdue University
Rhodes College
Rice University
Rochester Institute of Technology
Saint Joseph's University
Saint Louis University
Saint Mary's College, Notre Dame
Santa Clara University
Sarah Lawrence College
Sewanee: University of the South
Simmons College
Southern Methodist University
Southwestern University
Spelman College
St. Olaf College
Stevens Institute of Technology
Stony Brook University – SUNY
Swarthmore College
Texas A&M University
Trinity University
Tufts University
Tulane University
Union College
United States Coast Guard Academy
University of Central Florida
University of Chicago
University of Colorado Boulder
University of Delaware
University of Denver
University of Florida
University of Miami
University of Michigan
University of Missouri, Columbia
University of North Carolina – Charlotte
University of North Carolina – Wilmington
University of North Texas
University of Notre Dame
University of Oklahoma
University of Pennsylvania
University of Pittsburgh
University of Portland
University of Puget Sound
University of Rhode Island
University of Richmond
University of Rochester
University of San Diego
University of Texas at Austin
University of Vermont
University of Wisconsin
Ursinus College
Villanova University
Virginia Tech
Wake Forest University
Washington & Jefferson College
Washington and Lee University
Washington University in St. Louis
Wellesley College
Wentworth Institute of Technology
Wheaton College
Whitman College
Whittier College
William & Mary
Worcester Polytechnic Institute
Xavier University
Yeshiva University
If the name of the college of your liking isn't in the listings above, it's either it doesn't care at all about demonstrated interest or I haven't found enough details about the admissions factors it considers.
Should You Demonstrate Interest if it's Not Important for the School?
Demonstrating interest consumes time and, in some instances, money.
It's because of this why some students may focus more of their effort on other parts of their application and less energy on establishing the fact that the institution they are applying to is their ultimate choice.
However, no matter if the school's website or Common Data Set shows that demonstrated interest is very important, important or considered, make sure that you let its admissions officers know that you will enroll if you receive from it an acceptance letter, which is something that not all applicants will get.
This is especially true if there are only a few slots available, and your application is almost the same as the applications of other deserving students — it will all boil down to who is more likely to grab the opportunity to attend the school.
Again, it has partly something to do with keeping the yield rate high and maintaining a prestigious image.
How To Know If a College Cares About DI
Colleges that track demonstrated interest are likely to have the essay prompt "why us?" Most of the time, the best way to determine whether or not a school cares about demonstrated interest is to access its Common Data Set (CDS) and check out the relative importance of various admissions factors.
If only the websites of institutions of higher education indicated if demonstrating one's interest is important or not, college applications would be so much easier for graduating high schoolers.
Alas, it's very much unlikely for schools to publicize each non-academic admissions factor they consider.
But there are a couple of steps that you may take to have an idea of whether you should start flaunting your interest in attending the school of your preference in every possible way you can or simply devote your time and energy to creating a strong overall application for better admissions chances.
Take a look at the essay prompts
Nothing can allow you to blatantly demonstrate your interest in enrolling in a particular college more than talking about the reasons why you would like to attend it in one of your admissions essays.
"Why college X?" — it's not uncommon for this to be an essay prompt for students to write about.
If it's one of the essay prompts you encounter when applying to your top college choice, then it's possible that the school takes demonstrated interest into account when reviewing applications. It's practically trying to obtain straight from you just how eager you are to spend the next 4 years of your academic life in the school.
However, refrain from assuming that all institutions with a "why us?" essay prompt care about demonstrated interest — some of them just want to know you better, not necessarily why you want to go there.
As mentioned earlier, all Ivy Leagues and many other elite schools do not track demonstrated interest.
But many of them still have essay prompts asking applicants to write why they would like to attend them. And this is why many are wondering as to whether or not showing one's interest in enrolling really matters — why would an institution ask applicants to discuss why they would love to go there if demonstrated interest isn't important?
Examine the Common Data Set
Higher education data providers and publishers obtain comparable information from colleges and universities through the Common Data Set, which first came into being back in 1997.
The CDS is also something that college-bound teeners can use to know some of the most important things about the schools they would like to shortlist, ranging from the cost of attendance (COA), total of all attendees, student-to-faculty ratio, class sizes to the GPAs and standardized test scores of accepted students.
Checking it out also can also allow you to know if demonstrated interest is an important admissions factor.
Follow these simple steps on determining whether or not demonstrated interest is important:
Note that the Common Data Set is composed of 10 different sections, from letters A to J.
Scroll down all the way to section C, which is "First-Time, First-Year (Freshman) Admission".
Look for section C7 — it has a table of the different academic and non-academic factors.
Focus on the "Level of applicant's interest" in the non-academic part.
Check if the institution has marked it very important, important, considered or not considered.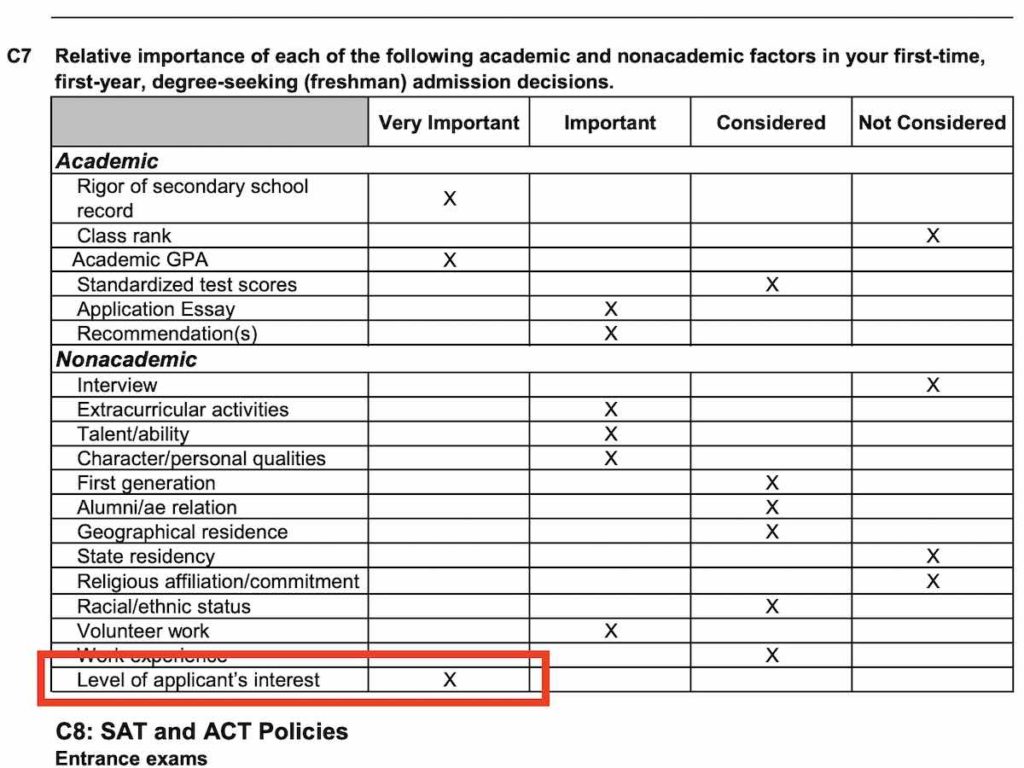 Needless to say, the more important DI is to the college, the more you should show your interest in attending it. On the other hand, demonstrating your interest all the time in all possible ways is pointless if the CDS indicates that demonstrated interest is not a part of the admissions process.
Top 12 Demonstrated Interest Hacks
While it may sound unethical to do the things that may leave the impression that you will go to college in which you don't have a strong interest, I believe that schools are being unethical too when they track each click you do on their websites.
That's why the following "hacks" are a fair game in college admissions process when cards stacked against you.
So, without further ado, here are some demonstrated interest hacks for you to try:
Sign up for college newsletters
While paying the school's website a visit, it's not unlikely for you to come across a link that allows you to request to receive newsletters from the institution on a regular basis.
The mere fact that you are willing to get scoops, reports, announcements and others shows that you are eager to become one of its students for the coming academic year or semester.
However, refrain from assuming that a college is interested in you when it sends you a newsletter. It's always the other way around — you are interested in it.
Showing that you are interested is a great way to win the heart of the school's admissions officers.
It's not enough that you agree to receive newsletters in your inbox. There is one very important step you need to take to show demonstrated interest via joining the school's
Open college emails ASAP
No sooner than you receive them, check out emails sent to you by the college. This is a great way to show its admissions officers that you are constantly awaiting just about any news on the institution and your application. Ignoring college emails might cause you to receive a small envelope containing the school's decision instead of a large one.
Click on links in college emails
Besides reading college emails without delay, it's also a must that you click on each and every link in the email because college can tell whether or not you have accessed them.
Just make sure, however, that an email is actually from the school of your dreams and not a questionable source to keep your computer as well as personal information out of harm's way.
Visit college websites and hang around
Refrain from assuming that dropping by the website of the school of your liking is enough. While that's a form of demonstrated interest, you can further show your interest in attending.
Because the school is likely to be examining how long you stay on its site, it's a good idea to linger for 2 to 3 minutes or even longer.
Again click on multiple links – remember everything is being tracked on college sites.
Request information
While you're on the website of the college you love, check if there's a "request info" page. And if you want to demonstrate your interest, fill out the form.
Don't worry as you will not be asked to submit your GPA and test scores or compose an essay — you will have to provide basic details only, like your name, birthday, current high school and email.
Be very visible on social media
Don't just head to the social media site of your first-choice college — make sure you make your presence there known.
Hit the like button.
Leave comments.
Participate in discussions.
Just make sure that your social media handle is your actual name to let the college's admissions officers know that one of the most active participants is none other than you.
Take virtual college tours
It may not be able to completely replace an in-person visit alright, but a virtual college tour still counts as demonstrated interest.
Whether or not you have already done a traditional college tour, taking one via the web shows that neither distance nor money can keep you from checking out the campus you would like to attend one day.
Get in touch with an Admissions Officer
A physical campus tour allows you to meet with arguably the most important personality in the entire college application process. And it's none other than the college or university's admissions officer.
However, as emphasized earlier, it's perfectly fine if going to the school in person is not an option.
You can always pair your virtual campus tour with a one-to-one with an admissions officer through email or chat.
Either way, it gives you the opportunity to introduce yourself and talk about your interest in the institution. Meeting with the admissions officer virtually also gives you the chance to ask questions the school's website does not answer.
Participate in admissions interviews
Some colleges and universities interview only a small fraction of applicants. On the other hand, some interview many. The University of Pennsylvania, for instance, offers an interview to more than 90% of its applicants.
Whether the institution you are applying to interviews a few or a lot, make sure that you participate in an interview if you are offered one.
That's because it is a fantastic opportunity for you to show demonstrated interest. By giving the right answers and asking the right questions, you can prove that you already know much and want to know more.
Instead of waiting for an offer, you may also ask the school if an interview is possible.
There is no denying that an interview is one of the most nerve-racking parts of the college application process. But by seeing it as a friendly conversation between you and an alumni member, there is nothing to worry about.
Attend fairs and sign up at the booth
Especially if the objective is to demonstrate your sheer interest, there is no point in showing up at off-campus college fairs if you will not establish your attendance by signing up at the booth.
As soon as you arrive at the scene, scan the venue to search for where you can leave your name for the college to know about your participation.
Don't be too embarrassed to ask questions
Asking questions about the campus and/or programs that the school's website does not answer can help you express your interest and at the same time get your hands on responses that can help you gear up for college.
But keep in mind that there's a difference between being inquisitive and spamming the admissions office with a series of senseless emails.
Choose a binding application plan: EDI, EDII, EA
To date, there is only one college application plan that's binding — the rest are all non-binding. And it's none other than early decision.
Needless to say, applying early decision is like telling your preferred college you are 100% guaranteed to go there, and a much-coveted acceptance letter is the only thing that's keeping that from happening.
Read Next: Is Early Decision Worth It? All Pros and Cons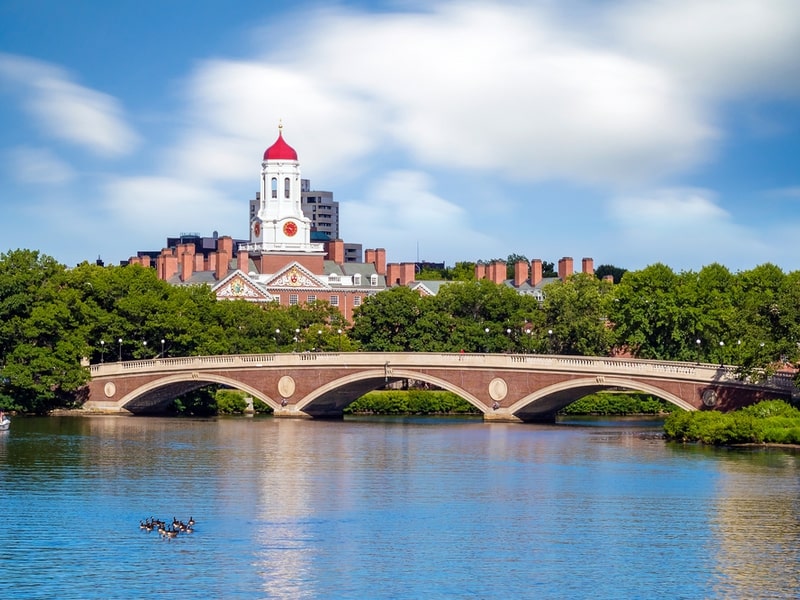 Do Prestigious Schools Consider Demonstrated Interest?
Because different schools consider different admissions factors, you can rest assured that not every institution on your college list takes demonstrated interest into account.
It's not uncommon for massive public universities or state colleges to disregard demonstrated interest.
That's because they are well-aware of the fact that all available slots will be filled given that the majority of degree-seeking students in the country opt for them.
As a matter of fact, according to data from EducationData.org, 79% of all undergraduate students and 60% of all graduate students in the US attend public schools.
Besides four-year public institutions that get a lot of applicants per year, many top-notch colleges and universities do not care at all about demonstrated interest, too.
The reason for this is simple: prestigious schools, which tend to have some of the lowest acceptance rates in the land, assume that students who apply to them are interested in attending. Because of their high selectivity level, chances are that those who dare apply to them despite the risk of getting rejected are willing to commit.
However, as mentioned earlier, there are always exceptions to the rule.
It's no secret that some of the most elite and selective colleges and universities in the country are the Ivy Leagues. But if you believe that all of these schools disregard demonstrated interest in the admissions process, think again.
While some Ivy Leagues do not care about demonstrated interest at all, others do.
This means that their admissions officers have a penchant for applicants who not only have strong overall applications, especially academic profile-wise, but also demonstrate in one or more ways that they are interested in earning a degree from them.
Let's take a look at the different Ivy Leagues and the relative importance of demonstrated interest in their respective admissions process, based on their most recent Common Data Sets:
| | |
| --- | --- |
| NAME | RELATIVE IMPORTANCE |
| Brown University | Not considered |
| Cornell University | Not considered |
| Columbia University | Not considered |
| Dartmouth College | Considered |
| Harvard University | Not considered |
| Princeton University | Considered |
| University of Pennsylvania | Considered |
| Yale University | Not Considered |
Can You Demonstrate Interest After Applying?
There are many ways through which college-bound teens can demonstrate their interest in colleges and universities, and we will talk about them in a few — so don't stop reading now.
It's true that showing one's interest in attending a school is best done before applying to it.
However, the demonstration of your willingness to commit to your top-choice institution doesn't have to start and end before sending in that application.
You can keep establishing your interest even after applying. As a matter of fact, demonstrating interest is still possible even after receiving an admissions decision!
One very good example of demonstrating your interest in a school is participating in the admissions interview if invited. It's a fantastic opportunity for you to express how much you want to go to the institution as well as prove to the college or university that you are the freshman student it's looking for exactly.
As mentioned earlier, you can also demonstrate your interest after receiving a letter from the school.
Told that you got waitlisted?
Instead of feeling like it's the end of the world, take it as an opportunity to demonstrate your interest.
For instance, you may get in touch with the school and inform its admissions officers that you are still committed to attend if given the chance. Or you may also ask if the institution ranks its waitlist.
But, of course, the best time to show your utmost interest in attending a college or university is before you apply to it. The goal is to keep yourself from being considered a stealth applicant.
No, a stealth applicant is not someone who is secretly applying to the school.
Simply put, you are a stealth applicant if the first time the institution has any history of interacting with you is when it gets hold of your application. There is absolutely nothing wrong with being a stealth applicant.
However, it can be a cause of concern for any graduating high school student applying to where demonstrated interest counts.
Just Before You Show a College Your Interest in It
Showing your interest in enrolling may or may not help increase your chances of getting admitted to your dream school — it will all depend on whether or not the institution tracks demonstrated interest. It counts if the school prefers to accept students who are committed to enrolling, which is something that can boost the yield rate.
Keep in mind everything that you have read above about exhibiting your interest to attend. Take the necessary steps correctly if applicable and demonstrated interest may just work in your favor.

Disclaimer: The views and opinions expressed in this article are those of the authors and do not necessarily represent those of the College Reality Check.