Is Purdue University a Good School?
One of the most highly ranked public institutions in Indiana and the entire country is Purdue University. So, does this mean it should be your top-choice school if you want to enjoy the best possible degree and college experience?
Purdue University is ideal for students who like to earn a highly ranked degree at the fraction of the cost of going to an elite private school. It's particularly good for those interested in the STEM fields, especially engineering. Purdue is great for students who wish to have a college city life.
Here's a fact about the school that tends to fly under the radar of many: Purdue has its very own airport — the Purdue University Airport is the first university-owned airport in the US!
Not a fan of flying? Then these quick stats might make Purdue University land at the top of your college list:
Location: West Lafayette, Indiana
Founding date: 1869
Motto: We are Purdue. Makers, all.
Campus size: 2,307 acres
Campus type: City
School type: Conservative public land-grant research university
Reputation: Non-party school
Selectivity level: Less selective
Number of majors: Over 200
Popular majors: Business, Computer Science, Education, Information Technology, Mechanical Engineering
Student body: 45,869 (as per Common Data Set 2020 to 2021)
Students per class: 10 to 19 in most classes
Student-to-faculty ratio: 13:1
Retention rate: 94%
Graduation rate: 74%
Athletic affiliation: NCAA Division I
Color: Gold and black
Mascot: Purdue Pete
Number of varsity teams: 18
Sports: Baseball, basketball, cross country, football, golf, soccer, softball, swimming and diving, tennis, track and field, volleyball, wrestling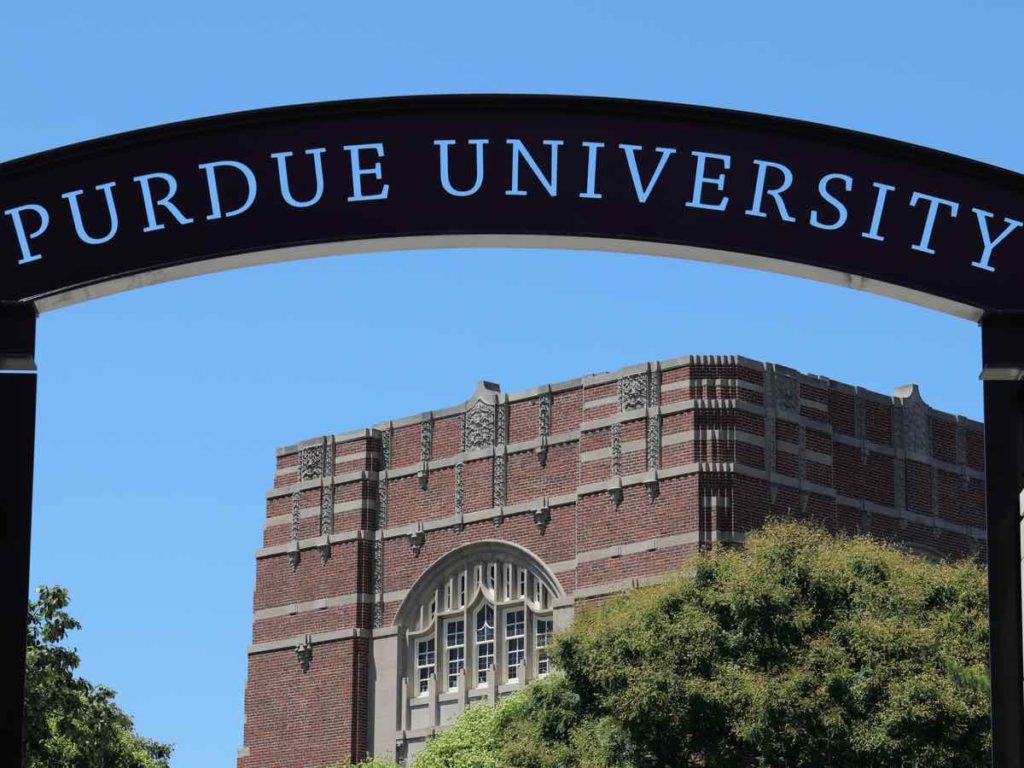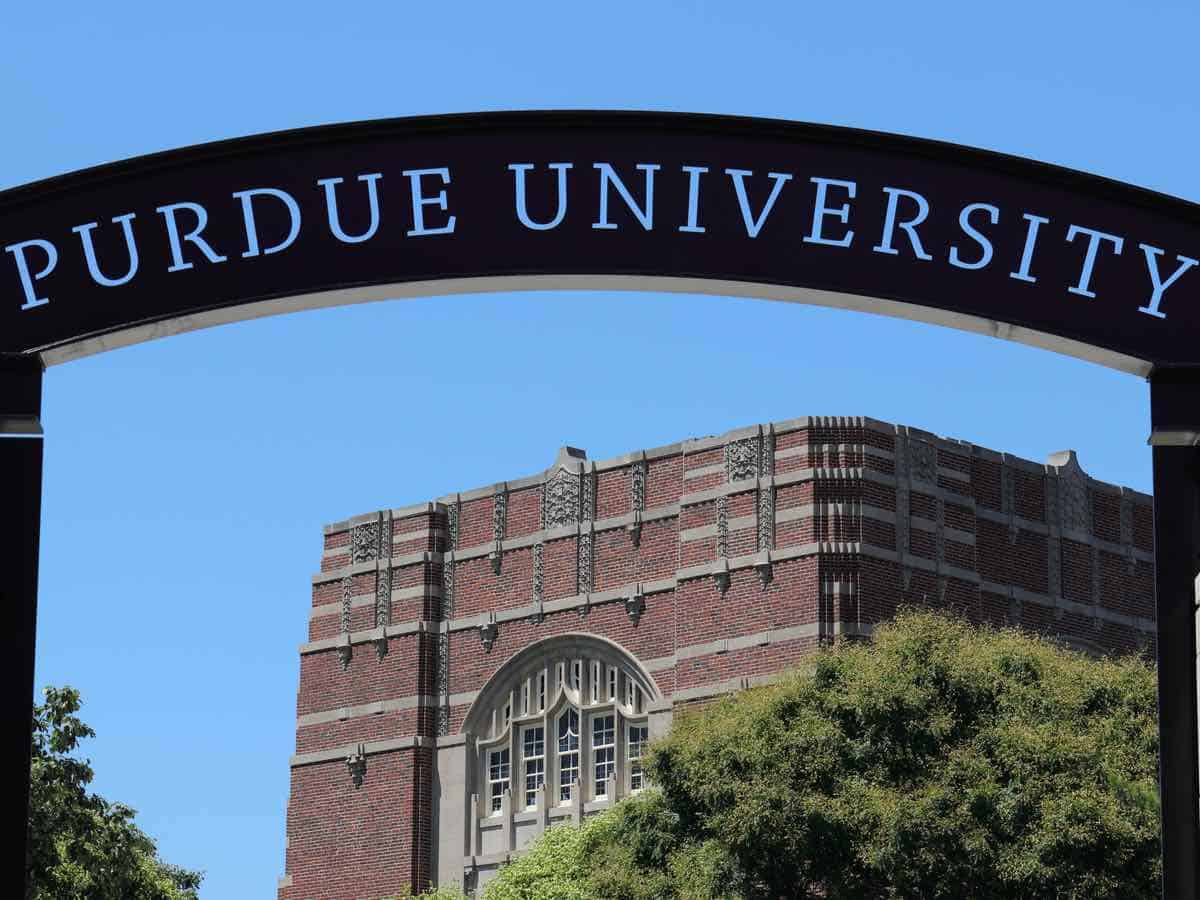 Purdue University Rankings
Purdue University is a highly ranked school nationally and statewide, too. For instance, it's #17 in Top Public Schools and #49 in National Universities by US News. Niche, meanwhile, ranks it #1 in Top Public Universities in Indiana. Purdue is #1 in Best Public Colleges in Indiana by College Simply.
Some of the benefits of earning a degree from a high-ranking college or university include:
Receipt of high-quality education
Access to top-notch facilities
Opportunity to build a strong network
Increased employment opportunities
The fact that Purdue University is recognized by many different college rankers means it's one of the best. However, keep in mind that just because Purdue ranks highly doesn't mean right away that it's the perfect fit. Keep reading — by the time you get to the end of this article, you will have a better idea of whether or not it's the best for you.
As mentioned earlier, the school tends to dominate not only national rankings but local ones, too. So, in other words, it ranks higher than many public universities across the US as well as in Indiana.
Here are some of the local rankings of Purdue by various college rankers:
#1 in Best Big Colleges in Indiana (Niche)
#1 in Best Public Colleges and Universities in Indiana (Academic Influence)
#1 in Best Public Colleges in Indiana (Prepler)
#2 in Best Colleges in Indiana (US News)
#2 in Best Value Colleges in Indiana (College Simply)
#3 in Best Value Colleges in Indiana (Niche)
#8 in the Midwest (Forbes)
Related Article: How Good Is Purdue Global? Is It Worth The Money?
What is Purdue University Known For?
Purdue University is known for being a highly ranked engineering school. It is also known for having lots of international and professional attendees, making up 36% of its student body. Many reputable college ranking sites consider Purdue the leading public institution for higher education in Indiana.
Lots of graduating high school students who wish to get their hands on an engineering degree apply to Purdue.
That's because some of the best engineering programs in Indiana and across the US, too, are offered by it. As a matter of fact, many engineering graduates from Purdue University are some of those that receive the highest annual salaries — keep reading to know how much the school's alumni members make per year according to major.
And speaking of which, some of the top majors at the school include:
Accounting
Aerospace Engineering
Agricultural Sciences
Biological Sciences
Chemical Engineering
Civil Engineering
Computer and Information Sciences
Education
Electrical Engineering
Finance
Industrial Engineering
Information Technology
Mathematics
Mechanical Engineering
Nursing
Sociology
All in all, Purdue has won three NCAA championships: for basketball and men's and women's golf.
Is Purdue University a Party School?
Although Purdue University is not a party school, partying is always an option, especially from Wednesday to Saturday, says a Niche poll. Many of the participating Boilermakers (what Purdue students call themselves) say that there are decent frat and house parties, albeit mostly on weekends only.
Studying is always a priority at Purdue. However, when the schoolwork is complete, parties come aplenty.
It isn't surprising since fraternities and sororities are sort of big at the public research university — 18% of male students are in fraternities and 22% of female students are in sororities. As a matter of fact, Niche ranks Purdue as #7 in Best Greek Life Colleges in Indiana.
Some of the most popular on-campus events and traditions at Purdue include:
Christmas parties
Fountain runs
Grand Prix
Halloween parties
Homecoming
Sledding down Slater Hills
In addition, there are more than 1,000 registered clubs and organizations at Purdue University. According to the school itself, each one of them was created and is led by its students.
What is the Size and Type of Purdue University Campus?
The Purdue University campus, which measures 2,307 acres, has a city setting. The school's location, West Lafayette, is the most densely populated city in the state of Indiana. Niche ranks Purdue #1 in Best Big Colleges in Indiana and #7 in Best College Campuses in Indiana.
Purdue's massive campus is home to a total of 377 buildings, 157 of which are considered principals.
It's also home to three women's halls, four men's halls, and 16 co-ed halls and apartments. Up to 36% of the students live in housing affiliated with or owned or operated by the school.
West Lafayette and its twin city, Lafayette, which are separated by the Wabash River, offer an assortment of family-friendly adventures for when loved ones pay in-state students a visit. Night owls have all sorts of restaurants, grills, bars, pubs and lounges to visit after their schoolwork is completed.
Some of the major cities closest to Purdue University include:
Lafayette
Indianapolis
Fort Wayne
Chicago
Cincinnati
Louisville
Milwaukee
Toledo
Columbus
Saint Louis
In terms of safety, you and your family and friends will be more than glad to learn that West Lafayette is one of the top five safest cities in Indiana. As a matter of fact, its crime rate has decreased in 2021.
Schools are Similar to Purdue University
Purdue University is often compared with many highly ranked private and public institutions in and outside Indiana. Leading the list are institutions located in the state, too, such as the University of Notre Dame, Indiana University – Bloomington, Ball State University and Valparaiso University.
Convinced that a Purdue experience is what you need for the best possible college, degree and career path?
Then you will be more than happy to learn that you can fill your college list with institutions similar to your top-choice school. Many of them are located in the Hoosier State, too. But then there are also those elsewhere in the country, some of which are public while others are private.
Without further ado, let's take a peek at some colleges and universities many Purdue aspirants also tend to apply to:
Ball State University. Besides traditional programs, Ball State University also offers online programs. Niche ranks it #1 in Best in Online Colleges in Indiana and #27 in Best in Online Colleges in America.
Indiana University – Bloomington. In the US, Indiana University – Bloomington is considered the first informatics school. It offers informatics degrees ranging from artificial intelligence to sports analytics.
Miami University. Considered a Public Ivy, Miami University offers more than 180 majors. The public research university in Oxford, Ohio has an acceptance rate of 80% and a graduation rate of 79%.
Truman State University. Because Truman State University, which is named after US President Harry Truman, is so prestigious, many refer to it as the "Harvard of the Midwest" or the "Princeton of the Prairie".
University of Michigan – Ann Arbor. A Public Ivy, the University of Michigan – Ann Arbor, which is the flagship school of the University of Michigan System, has an acceptance rate of 23%, making it very selective.
University of Notre Dame. Located in Notre Dame, Indiana, the University of Notre Dame is a highly ranked school. As a matter of fact, US News ranks it #19 in National Universities.
Valparaiso University. Despite being a Lutheran school, Valparaiso University has students from various faiths — 26 percent Lutheran, 26 percent Catholic, 32 percent other Christian faiths, 16 percent other.
Acceptance Rate at Purdue University
Around 60% of all applicants at Purdue University end up getting an offer to enroll. This makes the school less selective. However, due to the fact that many colleges and universities in Indiana have acceptance rates of 100%, Purdue is one of the most selective academic institutions in the state.
One of the nicest things about Purdue University is that getting into it is not that difficult despite being a highly ranked flagship of Indiana's system of public schools.
It's true that Purdue's 60% acceptance rate is higher than the acceptance rate at many selective institutions in the US. But in Indiana alone, this is one of the lowest. As a matter of fact, Purdue University, despite accepting the majority of applicants, is one of the most selective in the Hoosier State.
Let's take a look at the various Indiana colleges and universities with the lowest acceptance rates:
| | | |
| --- | --- | --- |
| NAME | LOCATION | ACCEPTANCE RATE |
| University of Notre Dame | Notre Dame | 16% |
| Trine University Regional | Fort Wayne | 24% |
| Purdue University – North Central | Westville | 50% |
| Oakland City University | Oakland City | 55% |
| Manchester University | North Manchester | 56% |
| Purdue University – Calumet | Hammond | 59% |
| Indiana Institute of Technology | Fort Wayne | 60% |
| Purdue University – West Lafayette | West Lafayette | 60% |
| Marian University | Indianapolis | 62% |
| Anderson University | Anderson | 63% |
| Earlham College | Richmond | 63% |
| Goshen College | Goshen | 63% |
| Indiana University East | Richmond | 63% |
| DePauw University | Greencastle | 64% |
| Wabash College | Crawfordsville | 64% |
| Hanover College | Hanover | 65% |
| Indiana Wesleyan University | Marion | 67% |
| Saint Mary of the Woods College | Saint Mary of the Woods | 67% |
| Taylor University | Upland | 68% |
| University of Evansville | Evansville | 71% |
| Ancilla College | Donaldson | 72% |
| Butler University | Indianapolis | 73% |
| Indiana University Kokomo | Kokomo | 74% |
| International Business College | Fort Wayne | 74% |
| Rose Hulman Institute of Technology | Terre Haute | 74% |
| Huntington University | Huntington | 75% |
| Indiana University Northwest | Gary | 75% |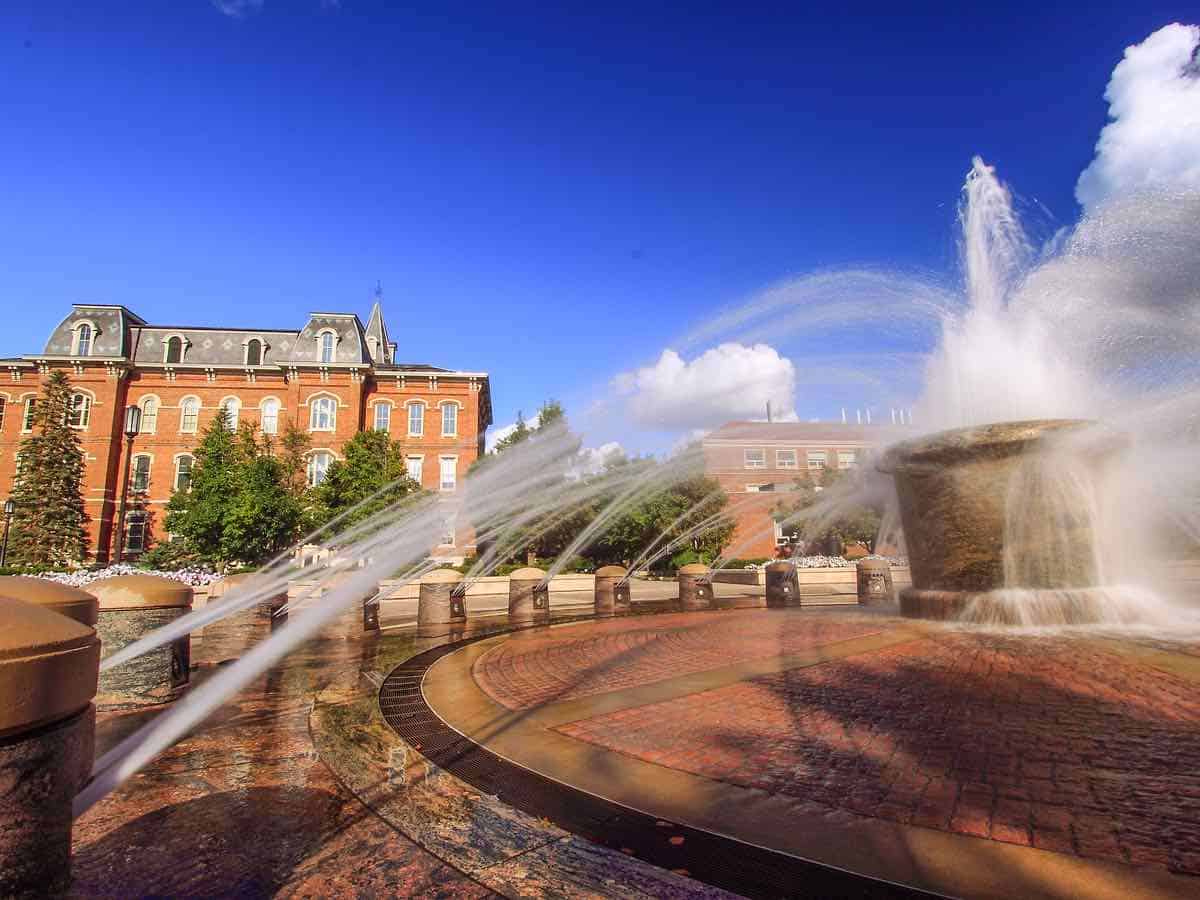 Early Admissions at Purdue University
Purdue University does not offer Early Decision. What the school offers, in addition to Regular Decision, is Early Action. Early Action deadline is, like Early Decision deadline at many colleges and universities, November 1. Unlike Early Decision, Purdue's Early Action is non-binding.
Got Purdue's name written at the top of your college list and willing to commit to it if accepted?
Unfortunately, the school does not offer Early Decision, which is a great admission plan for one's top-choice school. But the good news is that Purdue University offers Early Action. Some of the nicest things about Early Action is that you can apply to multiple schools early and that you don't have to commit to the ones that send you an acceptance letter.
However, you will have to complete your application and gather the necessary materials faster than everybody else. Also, you will not be able to use your senior grades or later test scores to boost your application.
The following are the most important dates to remember for Purdue University aspirants:
| | | |
| --- | --- | --- |
| ADMISSION PLAN | APPLICATION DEADLINE | DECISION NOTIFICATION |
| Early Action | 1-Nov | 15-Jan |
| Regular Decision | 15-Jan | 31-Mar |
Interested in getting your hands on a comprehensive scholarship or being a part of the school's Honors College?
Then make sure that your application is in the admissions office on or before November 1, which is the same deadline for Early Action. It's a must if you want to be considered for Purdue's full range of scholarships and the Honors College.
How Much Does It Cost to Attend Purdue University?
The estimated cost of attending Purdue University for one year, based on the academic year 2022 to 2023 rate, is $22,812 for in-state students. The amount climbs to $41,614 for non-Indiana residents. Around 44% of first-time students at Purdue get some form of aid such as scholarships and grants.
As of this writing, the average tuition and fees for public colleges and universities in Indiana are $8,505 for in-state students and $21,977 for out-of-state students.
Both are higher than the national average.
What's more, the tuition and fees for in-state students and out-of-state students at Purdue are higher than what's considered average locally and nationally: $9,992 and $28,794, respectively.
Related Article: 425 Colleges Charging In-State Tuition for Out-of-State Applicants
So, if you are on a tight budget, make sure that you carefully weigh the pros and cons of attending Purdue beforehand.
Let's take a look at the breakdown of the estimated cost of going to Purdue University for one year for both Indiana and non-Indiana residents, based on the academic year 2022 to 2023 rate:
| | | |
| --- | --- | --- |
| EXPENSES | IN-STATE COSTS | OUT-OF-STATE COSTS |
| Tuition and fees | $9,992 | $28,794 |
| Room and board | $10,030 | $10,030 |
| Books and supplies | $1,010 | $1,010 |
| Transportation | $250 | $250 |
| Miscellaneous | $1,530 | $1,530 |
| TOTAL | $22,812 | $41,614 |
At Purdue, some programs have additional fees, such as:
Computer Science – $2,050
Data Science – $2,050
Engineering – $2,050
Agricultural & Biological Engineering – $2,050
Management – $1,436
Purdue Polytechnic – $572
Honors College – $200
Earlier, we mentioned that 44% of new students at the school receive some form of aid, the majority of which come as scholarships and grants.
No matter the type of financial assistant you would like to opt for, federal, state or Purdue University-based student aid programs, the initial step to take remains the same: fill out the FAFSA.
Submitting the FAFSA can be done as early as October 1. To enjoy priority consideration for financial aid, make sure that your FAFSA is in no later than April 15.
How Much Do Purdue University Graduates Make?
Six years after initial enrollment, employed Purdue University alumni members tend to make around $47,200 per year. Their annual salary climbs to about $61,200 ten years after attending Purdue for the first time. The said amount is 78% higher than $34,300, which is considered the national median.
We mentioned earlier that increased employment opportunities is one of the perks that come with attending a highly ranked institution like Purdue University.
Naturally, it also allows holders of degrees from those schools access to higher annual salaries.
It's for this very reason why, more often than not, alumni members of Purdue tend to earn considerably more than most others across all professions ten years from stepping foot on its campus as first-year students. However, other factors contribute, too. Some of them include the location, industry, work experience, position and employer.
Another contributor to how much money a college graduate can make is his or her major. And this takes us to this table demonstrating the average initial yearly salaries of Purdue graduates by major:
| | |
| --- | --- |
| MAJOR | YEARLY EARNINGS |
| Computer Science | $84,800 |
| Computer Engineering | $71,600 |
| Mechanical Engineering | $69,200 |
| Industrial Engineering | $68,900 |
| Chemical Engineering | $68,300 |
| Electrical Engineering | $65,900 |
| Communications Engineering | $65,900 |
| Civil Engineering | $62,000 |
| Accounting and Related Services | $56,300 |
| Registered Nursing | $56,000 |
| Nursing Administration | $56,000 |
| Statistics | $52,600 |
| Economics | $46,900 |
| Political Science | $41,300 |
| Air Transportation | $40,300 |
| Design and Applied Arts | $37,600 |
| Communication and Media Studies | $36,100 |
| Sociology | $35,900 |
| Clinical Nutrition | $33,800 |
| Biology | $33,500 |
| Animal Sciences | $32,800 |
| Psychology | $28,700 |
| Health and Physical Education | $24,200 |
Just Before You Apply to Purdue University
Purdue University is a staple in many college rankings of not only Indiana schools but national institutions, too. It's because of this why many graduating high school students think about having it as their top-choice school, most especially those who want nothing but a degree that employers will recognize and respect.
Liked what you have learned about Purdue based on all the information above?
Make sure that you consider the pros and cons of choosing it over other colleges and universities. And don't forget the application deadline: November 1 for Early Action and January 15 for Regular Decision.

Disclaimer: The views and opinions expressed in this article are those of the authors and do not necessarily represent those of the College Reality Check.