Why is Student Debt a Problem And How You Can Avoid It
Student loan debt is a problem because borrowers accumulate a huge amount of debt due to the rising cost of higher education in the United States.
High interest rates of college loans and limited affordable repayment options worsen the financial strain on individuals with student loan debt.
As such, it also impacts both borrowers and the American economy.
According to a US News report, more than 60% of college graduates in 2023 have student loans to repay.
Read on if you are planning on going to college and borrowing money to pay for it but fear that you might end up spending most of your working life paying off your student debt.
Why is Student Debt So High?
Student debt is so high because of 4 different things, and they are as follows: an increase in the number of borrowers, a higher amount of borrowed money, a low repayment rate, and changes in the schools attended.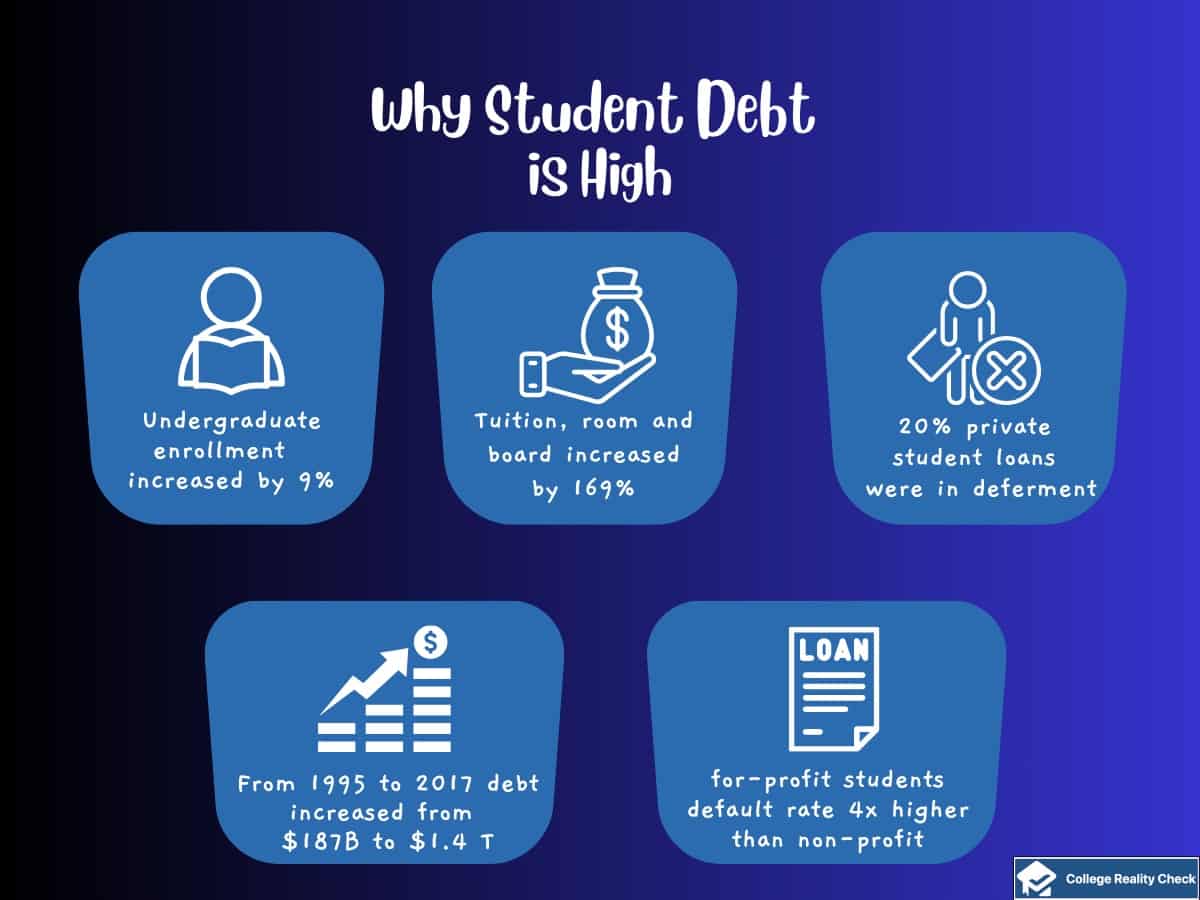 According to a report by CNBC, it's possible for outstanding student loan debt to hit the $3 trillion mark by the year 2035.
Federal student loan debt increased 7 times from 1995 to 2017, from $187 billion to $1.4 trillion.
And, as mentioned earlier, the current student loan debt could more than double in a little more than over a decade from now.
There are different reasons why student debt keeps rising, and let's take a look at them:
An Increase in the Number of Borrowers
Joint research by Public Agenda and USA Today said that 86% of Americans agree that a college degree is important for career advancement, and 64% of them believe that those with a high school diploma would earn more if they went to college.
That is why the National Center for Education Statistics (NCES) says that the total undergraduate enrollment in the US is projected to increase by 9% (from 15.4 million to 16.8 million students) between 2021 and 2031.
Higher Amount of Loan Borrowed
It's common knowledge that tuition prices are getting higher and higher — the average cost of tuition, fees and room and board for undergraduate students between 1980 and 2020 increased by 169%, Forbes said.
Because of this, it isn't surprising that college students of today have to borrow more loan money than undergraduates from many years ago to be able to pay for and stay in higher education.
Low Repayment Rate
Having a college degree helps increase one's earning potential.
The Association of Public & Land-Grant Universities (APLU), as a matter of fact, says that bachelor's degree holders typically make 84% more money than those with a high school diploma.
Unfortunately, while some college graduates end up having high-paying careers that make them well-equipped to pay off their student loan debts, others end up in fields with poor payoffs, thus causing them to struggle to repay their loans.
Changes in the Types of College Attended
There are public colleges and there are private colleges. And among private colleges, there are non-profit and for-profit institutions.
A Higher Ed Dive report says that there's a 5.3% increase in enrolment at 4-year for-profit colleges every year.
Here's the problem: higher sticker prices at for-profit schools drive attendees to borrow more money.
So much so that the default rate among for-profit students is almost 4 times than students at other college types.
Certain Demographics Have Higher Student Debt
Contrary to popular belief, the poorest students in America do not necessarily carry the most student loan debt.
While it's true that economic status can impact debt, lower middle-income students tend to have the greatest debt.
Other factors that affect student loan debt include the type of college attended, gender, race and ethnicity.
The following individuals have some of the highest student loan debt in America, various studies say:
According to a report by the Education Data Initiative, African-American college graduates have an average of $25,000 more in debt compared to Caucasian college graduates.
According to the same report, 4 years after graduating from college, Blacks owe an average of 188% more in total educational debt than Whites.
African American students are also the ones who are most likely to struggle financially as a result of debt, shelling out $250 in monthly student loan payments — the Education Data Initiative says that the average monthly student loan repayment for bachelor's degree holders based on median average salaries amounts to $503.
The same source confirms that women hold up to 66% of all student loan debt, with African American women having the highest amount of debt — about 41% of female undergraduates take out student loans compared to only 35% of male undergraduates.
The Center for Analysis of Postsecondary Education and Employment (CAPSEE) says that for-profit college graduates take on more student debt than other students — around 78% of bachelor's degree holders who graduated from for-profit schools have a debt of $20,000 or more compared to only 53% of bachelor's degree holders from private non-profits.
Based on an NBS News report, on average, students from the lower middle-income sector tend to carry more student loan debt compared to students from other economic brackets.
Effects of Student Loan Debt on Students
Student loan debt can affect students in more ways than one.
Postponement of important purchases or delaying milestones are just some of the most significant impacts of having to pay off educational debt, which can take an average of 20 years to be completely repaid — some graduate degree holders take up to 45 years to repay student loans fully.
Because student loans are nothing like scholarships and grants, they are essentially gifts, they need to be paid back.
As a result of having to repay borrowed money for several years, it's quite common for a lot of individuals with debt to delay purchasing homes for the first time, getting married, having kids and even retiring!
Here are the key findings of the National Association of Realtors (NAR) on the impact of student debt on borrowers:
14% said that it's stopping them from starting their own family
29% said that it impacts their decision to buy a home
31% said that their debt is stopping them from purchasing a car
33% said that it's preventing them from pursuing further education
35% said that it's keeping them from having their dream vacation
How Does Student Debt Affect the Perceived Value of College?
Americans with student debt are so much less likely to believe that the perks of getting a college degree outweigh the steep cost of higher education than their peers without college debt.
This is especially true for individuals who dropped out of college before earning their undergraduate degree, such as those who realized they borrowed too much money.
To have a much better idea of the impact of student debt on the self-assessed value of college, let's take a look at the findings by the Economic Well-Being of US Households in 2021 of the Board of Governors of the Federal Reserve System:
Up to 72% of individuals with a bachelor's degree or higher who never had educational debt said that the benefits of going to college outweighed the cost of higher education.
Meanwhile, around 74% of individuals with a bachelor's degree or higher who had student debt but have repaid it said that higher education's benefits outweighed college costs.
About 38% of individuals with some college but no undergraduate degree and who had student debt said that the financial costs of college did not outweigh the lifetime benefits of higher education.
On the other hand, only up to 22% of individuals with some college but no degree and who had no college debt said that having higher education said that the cost of college was not worth it.
However, it doesn't necessarily mean that those with a college degree and had no student debt or repaid theirs are totally happy with their educational decisions. From the same research, here are some interesting figures:
Around 10% of individuals with a bachelor's degree or higher who never had student debt said that the benefits of going to college failed to outweigh the exorbitant cost of higher education.
In contrast, about 12% of individuals with a bachelor's degree or higher who had student debt but have repaid it said that the cost of college failed to outweigh the perks.
Please take note that some of the surveyed individuals agreed that the cost and benefits were about the same.
How Does Student Debt Affect the Economy?
Student debt affects the economy in that it reduces the spending power of individuals who are paying off borrowed money as well as undermining their savings which they can use to survive considerable financial events, including retirement and economic recessions.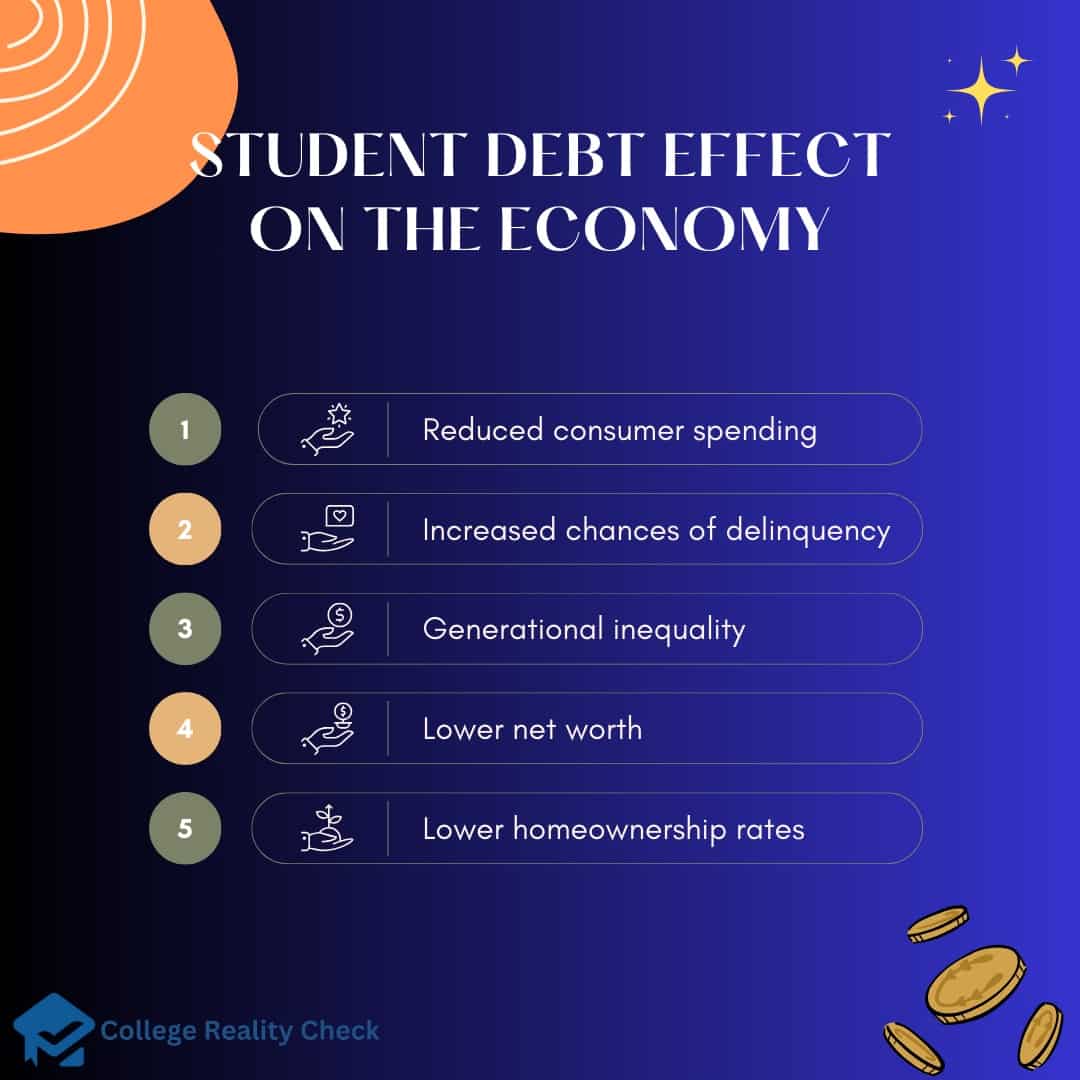 There's also delinquency that keeps the federal government from getting back money loaned to students.
If you think that it's just the pocket of the person with student loan debt that suffers, think again.
While there are many different positive effects of higher education, there are also certain negative implications, particularly where educational debt is concerned, and some of them can get in the way of economic growth.
Below are some of the ways that the economy can be affected by student debt:
Reduced consumer spending
Decrease in new business establishment
Increased chances of delinquency
Lower net worth
Lower homeownership rates
Increased challenge in saving for the future
Increased strain on social safety net programs
Generational inequality
11 Steps to Reduce Student Loan Debt
To avoid or reduce student loan debt, a number of steps may be taken, all of which point to keeping college and college-related costs to a minimum.
Choosing the right school and applying for scholarships and grants can help in lowering the amount of borrowed money or preventing the need to take out student loans.
Essentially, learning how to borrow money for college is the key to saving yourself from graduating with a lot of student debt and having a huge chunk of your monthly salary used for repayment purposes.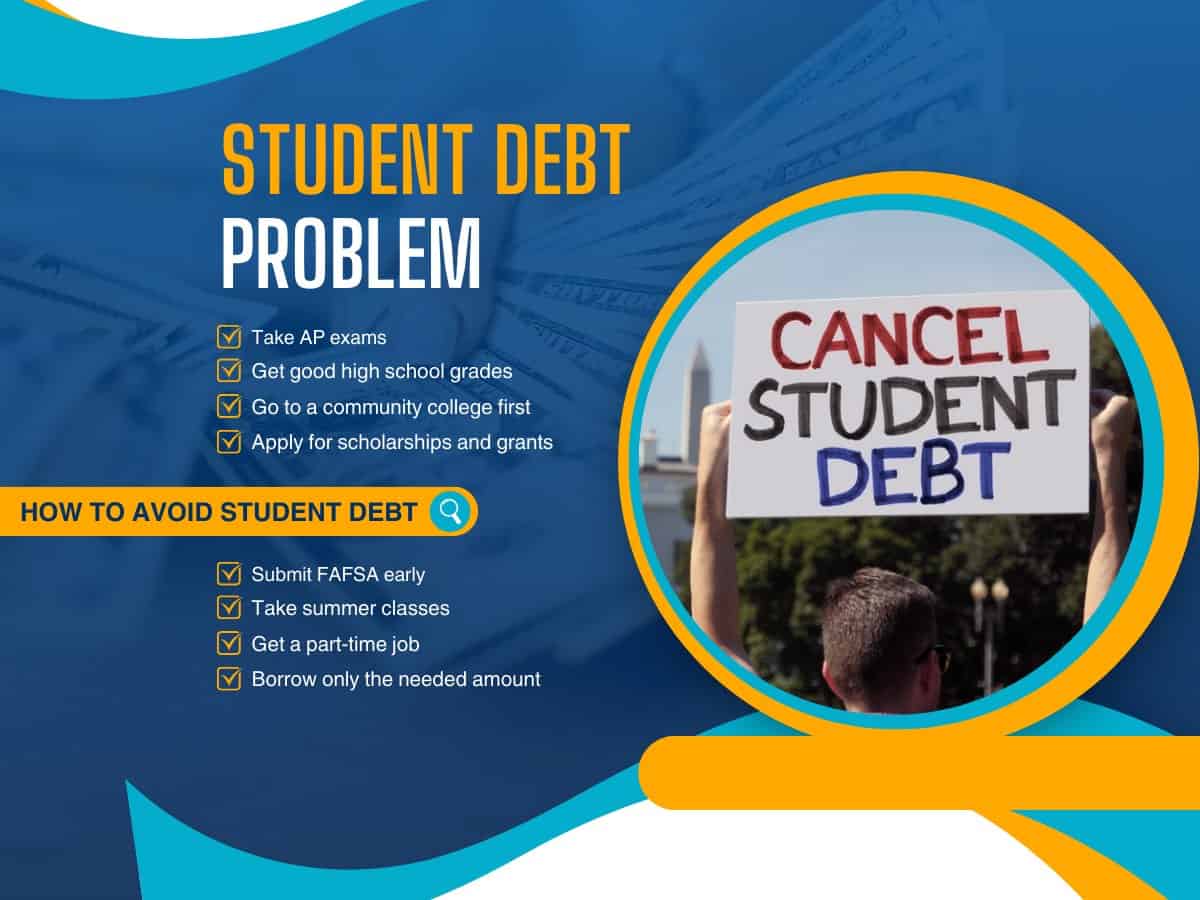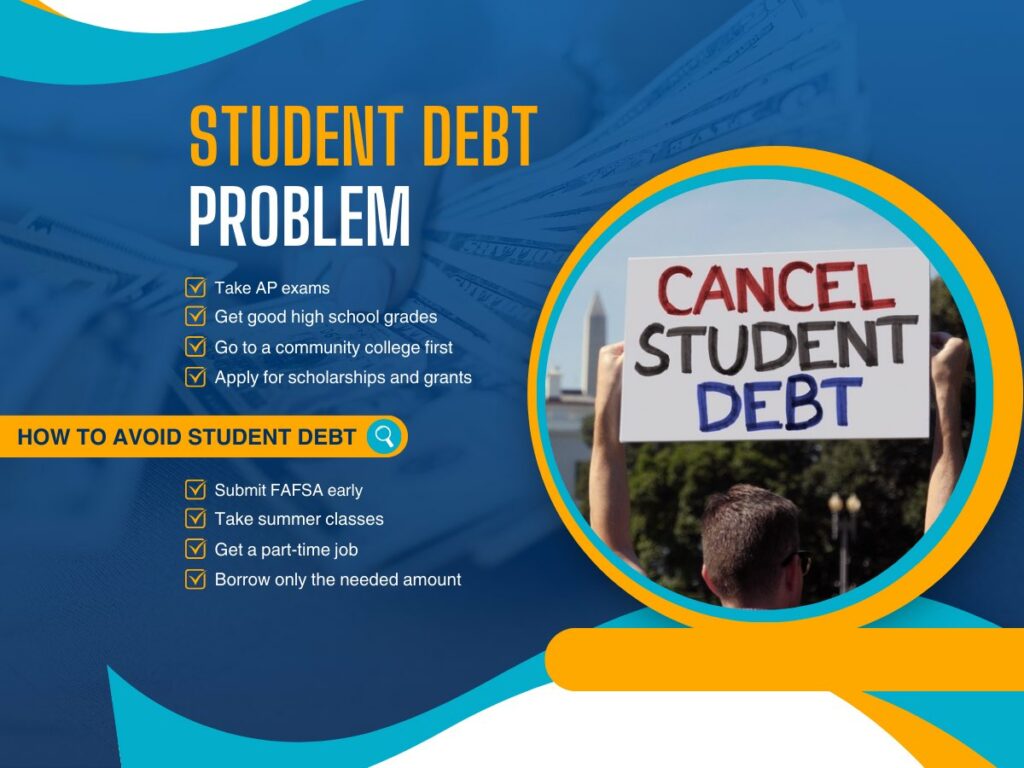 In this part of the article, I will give you 11 tips on how to minimize or even prevent student loan debt:
1. Take AP exams in high school
Did you know that you can enter college with up to around 25% of all bachelor's degree credits (120) under your belt by taking AP exams?
At Binghamton University, for instance, you can receive a maximum of 32 credits for having AP exam scores of at least 3.
Meanwhile, at McGill University in Canada, you can earn up to 30 credits for AP exam scores of 4 or 5.
This year, my daughter was able to earn 30 credits towards her BS degree at the University of Maryland (she only had 4s and 5s on AP exams), and she plans to graduate in 3 years instead of 4.
2. Get good high school grades
High school graduates with high GPAs tend to win more scholarships, particularly the merit-based kinds.
Getting high grades also increases your chances of getting into your top-choice selective school whose asking price fits the family income.
3. Attend a community college first
Here's what many degree-seeking students do to lower college costs and student loan debt: earn an associate degree at a community college and move to a 4-year institution with transfer credits.
According to a report by the College Investor, you can save more than $13,000 if you spend the first 2 years of your undergraduate career at a community college.
4. Apply for scholarships and grants
Unlike student loans, federal and public alike, scholarships and grants do not have to be paid back — they are free money. It will help if you go to a college with a generous offer as well as explore external or opportunities, too.
5. Submit FAFSA early
Most financial aid types, including federal and state aid, are usually limited and thus offered on a first-come, first-served basis.
Because of this, the importance of submitting the FAFSA form as early as possible cannot be stressed enough.
It's also not uncommon for some institutional aid to be limited, so springing into action quickly is a must.
6. Consider taking online classes
Tuition and fees for online classes are usually lower than for traditional classes. In addition, taking online classes eliminates certain college-related expenses, including transportation, meals and course materials.
7. Take summer classes
Generally speaking, summer classes are cheaper than classes offered by colleges and universities in the fall and spring.
Believe it or not, you can complete up to a quarter of all the 120 credits necessary for you to earn a bachelor's degree via summer classes.
For instance, at UC Santa Cruz, the maximum number of credits for the entire summer is 30.
8. Get a part-time job or have a side business
In this day and age, according to Education Loan Finance, it's impractical for college students to not have jobs.
Other than being employed, you may also leverage your skills or interests to establish a business.
9. Become a resident assistant or resident advisor (RA)
The average cost of room and board per year amounts to $11,900 at 4-year public institutions and $13,600 at 4-year private non-profit institutions, says Research.com.
Given that the average cost of college in the US is $36,436, room and board are 33% to 37% of the total cost of attendance. Many colleges give free or discounted room and board to RAs.
But you need to start the process as soon as you get into college. My daughter already signed up to all info sessions required for future RAs in September of freshman year.
10. Borrow only the needed amount
As mentioned earlier, student loans have to be paid back — they aren't free money like scholarships and grants. And that is why you should think about educational debt after graduation before agreeing to any excess loans.
11. Pay off student loan debt while still in college
Even if the default is that students have to start making loan payments 6 months after graduating from college, you can actually start repaying borrowed money while still working on your undergraduate degree.
The biggest advantage of doing such?
Lowered interest.
It also helps make post-college payments more manageable and lets you build credit, too.
Student Debt Crisis Facts
Basically, student loan debt is in crisis because there's a steep rise in average educational debt and a decline in the average value of the wage.
So, in other words, individuals who borrowed money for their postsecondary careers, college graduates and non-graduates alike, are unable to pay the money they owe the federal government and private lenders.
Failure to repay student loans creates a circle that's too vicious for many indebted people to escape — unpaid debts keep accumulating interest, and repayment becomes less likely the more interest is accrued.
That being said, let's take a look at some mind-blowing student debt crisis facts:
16.8% of borrowers fail to repay their student loans according to terms and conditions
93.1% of all student loan debt was federal in the 2nd quarter of 2023
$500 billion (almost) is the amount of federal student loan debt of borrowers aged 25 to 34
10% of individuals with outstanding college debt owe $100,000 or more
$1.78 trillion was the total amount of student loan debt in the 1st quarter of 2023
1.25% is the increase in student loan debt from the 2nd quarter of 2022
55% of students from public 4-year institutions have student loans
57% of students from private 4-year institutions have student loans
$40,000 (almost) is the amount of debt that the average student has after college
3 million senior citizens are still paying off their educational debt
What Does the Government Do About Student Loan Debt?
In 2022, President Biden announced a 3-part plan to deal with the growing cost of college and make the educational loan system more manageable for most American families.
The said plan consists of the following: cancellation of debt, making borrowing college money more realistic for borrowers, and reducing the cost of attending college.
The President of the US himself believes that postsecondary education is the key to a middle-class life. He is also well aware that the cost of borrowing money for college is a lifelong burden for borrowers that can keep that from happening.
As such, the Biden Administration has followed through on the promise of the President to provide student debt relief during the campaign period through, as mentioned above, a 3-part plan:
Debt relief. The Department of Education will provide debt cancellation of up to $20,000 to Pell Grant recipients and up to $10,000 to non-Pell Grant recipients.
A manageable student loan system. The monthly payments will be cut by 50% for undergraduate loans and the Public Service Loan Forgiveness (PSLF) will be improved.
Reduced college cost. This part of the plan consists of doubling the Pell Grant maximum and making community college free as well as penalizing schools for hiking up tuition costs.

Disclaimer: The views and opinions expressed in this article are those of the authors and do not necessarily represent those of the College Reality Check.