What Does Tuition-Free Mean?
Tuition is one of the things that make earning a degree expensive. As a matter of fact, more than 50% of all American students dodge paying exorbitant tuition costs by attending community colleges first and then, after getting their hands on an associate degree, moving to a four-year university to obtain a bachelor's degree.
Some also choose to attend colleges and universities with free-tuition programs. But is it too good to be true?
As the name suggests, tuition-free means that students pay zero tuition costs. But it doesn't mean going to college at no cost. Although tuition is free at tuition-free schools, other expenses aren't — students still have to pay for processing fees, textbooks, supplies, room and board and others.
Thinking about shortlisting some tuition-free institutions? Read on!
Below, I will mention some schools where eligible students can attend paying zero tuition. I will also briefly talk about free courses available online that can make learning a new skill cost-free — well, almost.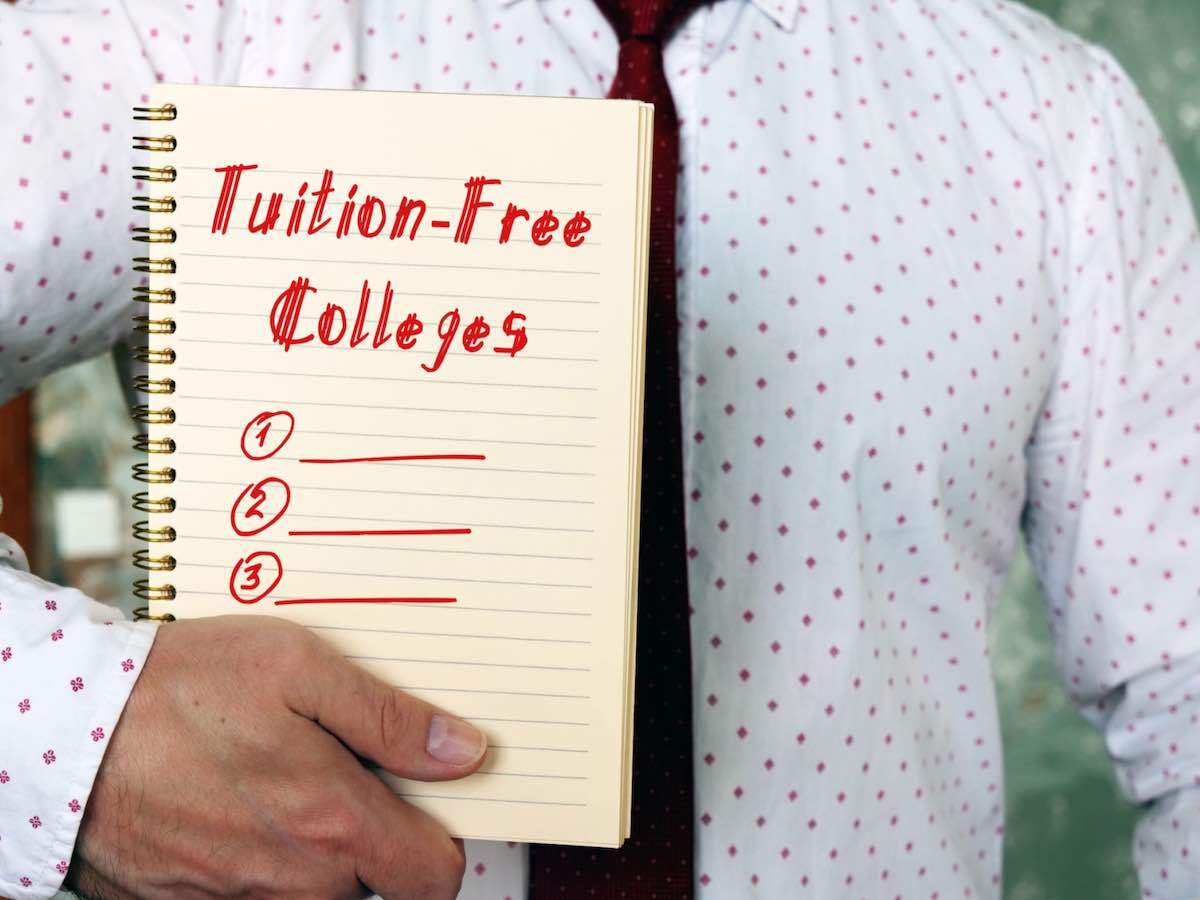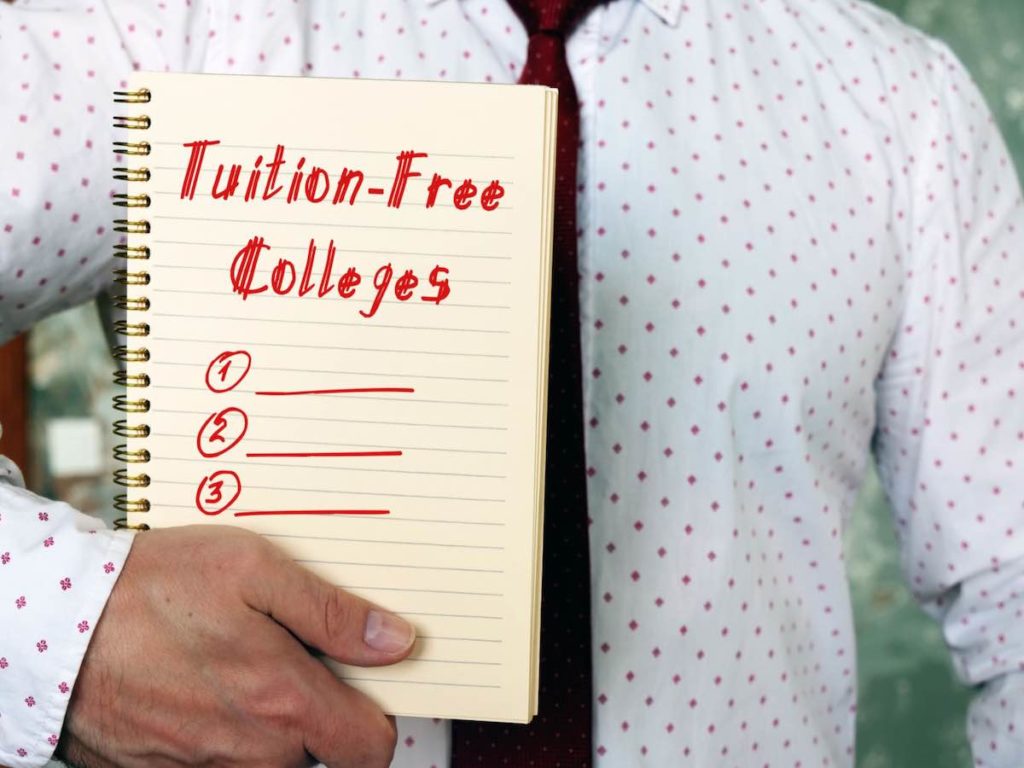 Are There Prestigious Tuition-Free Institutions?
Many prestigious colleges and universities are tuition-free. As a matter of fact, some of them are Ivy Leagues that lots of students avoid due to the steep costs associated with them. However, elite institutions provide tuition-free education only to low-income students who meet annual income prerequisites.
Highly ranked schools are almost always synonymous with exorbitant college costs.
If you consider the sticker price alone, it will surely appear that attending them is unfeasible for students from low-income families. However, after taking into account financial aid, the cost can become less startling.
Dreaming of attending an Ivy League or an institution with an Ivy-like status but your parents are not making enough a year? Then you will be more than happy to learn that there are many prominent colleges and universities that offer tuition-free programs for low-income students who are eligible for them.
Let's take a quick look at some of these prestigious schools with zero tuition for qualified attendees:
Brown University
Students from families making $125,000 per year or less and with assets typical of that income level can attend the Ivy League without paying any tuition. What's more, attendees from backgrounds making less than $60,000 per year will receive a financial aid package that covers everything from tuition, books to room and board.
Columbia University
According to the New York City-based Ivy League, undergraduate students who are from families making less than $150,000 and with assets typical of the said income level will be able to attend absolutely tuition-free. Every year, Columbia doles out a whopping $177 million in scholarships and grants.
Cornell University
Besides being the Ivy League with the highest acceptance rate, Cornell also offers full-ride scholarships to eligible students whose families make less than $60,000 per year and with assets typical of that income level. This means that they do not have to pay for tuition and on-campus housing.
Duke University
The private research university grants financial aid awards, which cover not only tuition and fees but also room and board, to students whose families generate $60,000 or less per year. Loan-free financial aid packages are also awarded to undergraduates from first-generation low-income backgrounds.
Harvard University
At Harvard, students whose families earn less than $75,000 per year can attend without shelling out money for tuition. Those whose families make more than $150,000 per year should fret not because they may still qualify for financial aid in order to bring down the overall cost of attendance.
Princeton University
The New Jersey-based Ivy League takes care of the full tuition and a portion of room and board costs for students from families earning up to $140,000 a year. On the other hand, it covers all tuition costs for low-income students from families making between $140,000 and $160,000 a year.
Stanford University
Students whose families make less than $150,000 a year with assets typical of that income level are not required to pay tuition at Stanford. Similarly, those whose families make less than $75,000 a year with assets typical of that income level pay zero tuition as well as room and board.
Yale University
Some programs at Yale are tuition-free. For instance, students attending Yale Law School and whose family income is below the federal poverty guidelines and whose assets are less than $150,000 do not have to pay tuition. All full-time students attending the David Geffen School of Drama at Yale, meanwhile, pay zero tuition.
Besides the ones mentioned above, you might also want to check these other colleges and universities known to have tuition-free programs for qualified students:
Alice Lloyd College
Antioch College
Barclay College
Berea College
Blackburn College
Central Christian College of the Bible
City College of San Francisco
College of the Ozarks
Curtis Institute of Music
Dartmouth College
Deep Springs College
Haskell Indian Nations University
Sterling College – Vermont
The Apprentice School
United States Air Force Academy
United States Coast Guard Academy
United States Merchant Marine Academy
United States Military Academy – West Point
United States Naval Academy
University of North Carolina – Chapel Hill
University of Pennsylvania
University of the People
Vanderbilt University
Warren Wilson College
Williamson College of the Trades
Williamson E. Macaulay Honors College at CUNY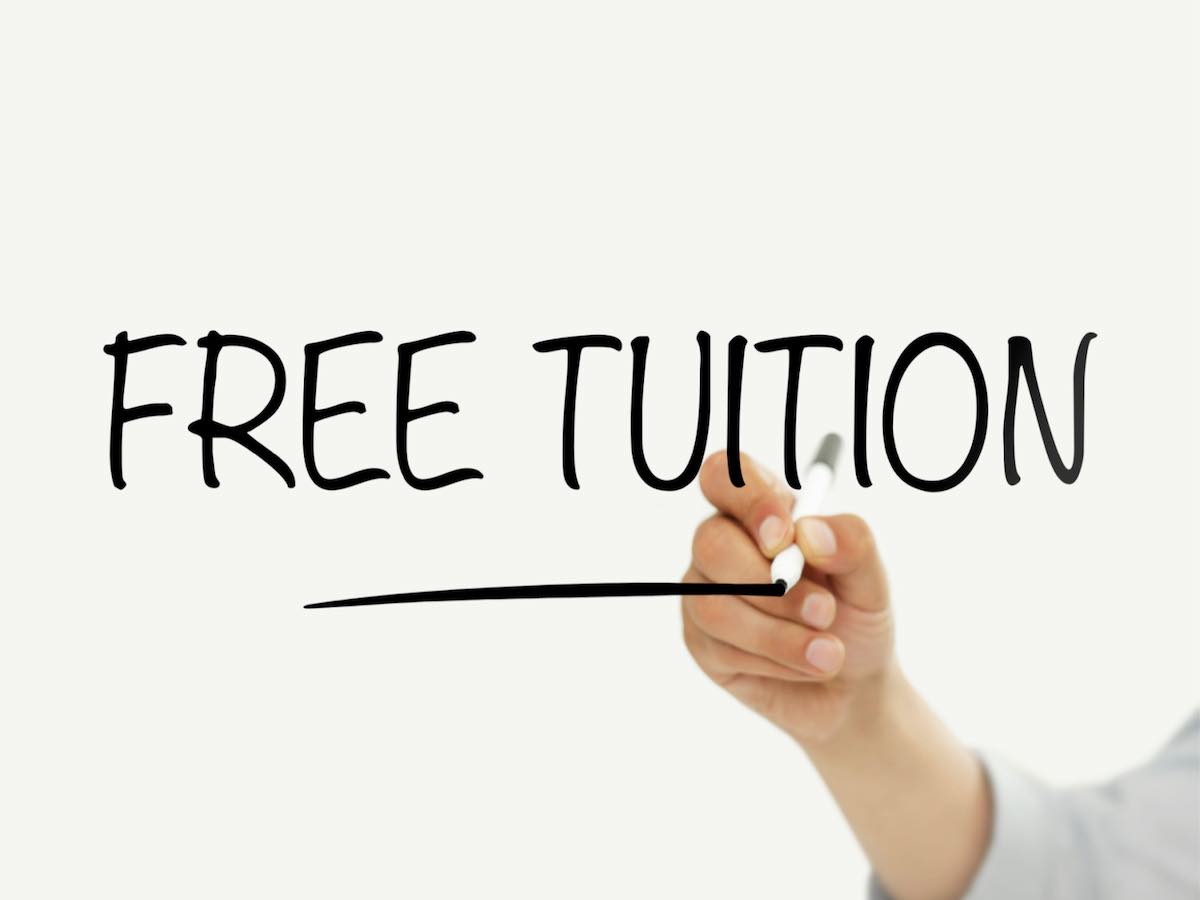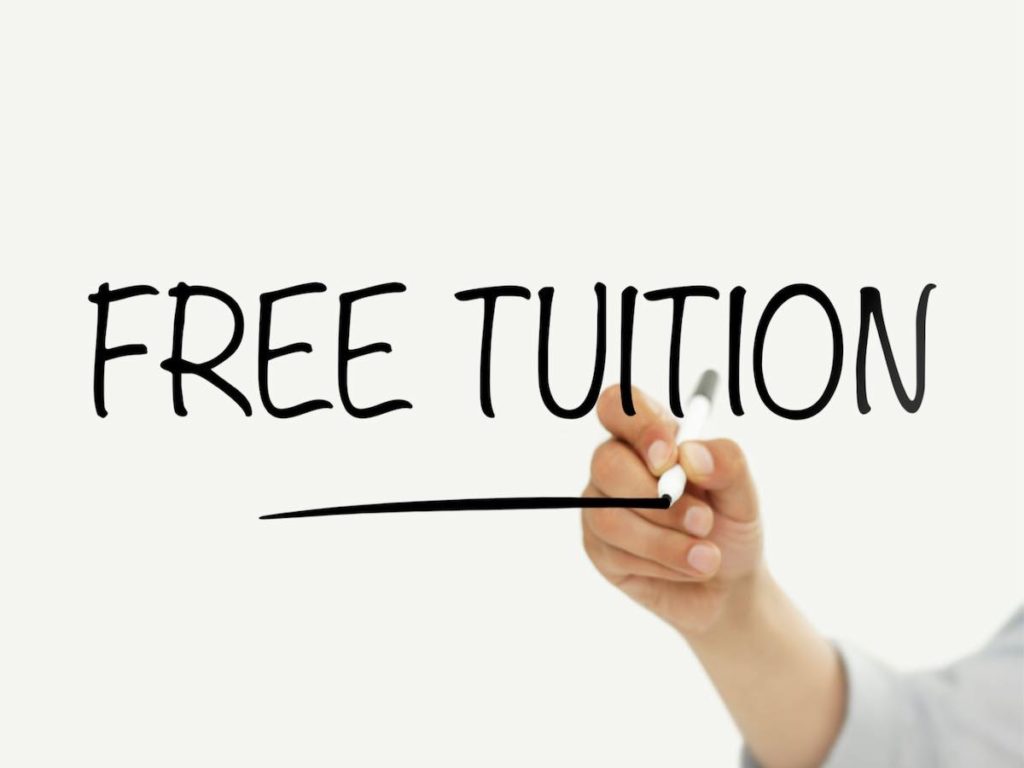 Are There Tuition-Free Online Schools?
Tuition-free online schools can be traditional colleges and universities with online programs. In most instances, attending them becomes free of tuition as a result of scholarships. But then there are also the so-called Massive Open Online Courses (MOOCs), the vast majority of which are free of charge.
Scouring the web to look for online courses, chances are you will come across MOOCs.
Simply put, MOOCs allow individuals to learn new skills and advance their careers. One of the things that make MOOCs grab a lot of attention is the fact that most of them are free for you to take.
But, of course, there's a catch — the optional certificate, which serves as proof that one has completed a course in a certain field and is highly skilled in it, comes with a price tag. The cost can vary tremendously, depending on the course and provider. One MOOC provider, for instance, charges learners anywhere from $540 to $1,500 for a certificate.
It can be tempting to take an online course for zero dollars and pay for a certificate afterward in order to climb up the career ladder. But before you do so, make sure that the course and certificate are both verified.
Earlier, we talked about tuition-free colleges and universities. Many of these traditional institutions have online campuses, too, which makes it very convenient for non-traditional students to obtain a diploma from the school of their liking or complete a degree that none of the in-state schools offer.
Attending a physical college without paying tuition and planning on switching online? Be wary!
Students at some traditional colleges and universities tuition-free may wind up paying tuition after going from an on-campus program to an online one.
For instance, at Arizona State University (ASU), students who attend tuition-free due to the Barack Obama Scholars Program will be removed from the said program and thus pay tuition, the amount of which depending on the attendance cost after aid adjustment, should they switch online. Similarly, students applying to ASU online are not eligible for it.
Just Before You Apply to a Tuition-Free University
At tuition-free colleges and universities, tuition is the only thing that's free — the rest, such as textbooks, school supplies and room and board, must still be paid by the students out of pocket.
What's more, before you get to enjoy tuition-free education without paying any tuition, you should meet the requirements first. Since tuition-free programs are obviously designed primarily for students who cannot afford to go to college, you should be from a family whose annual income is lower than what's specified by the institution.
Related Questions
Where does the college tuition fee go?
Institutions of higher education use tuition fees for a variety of purposes. However, typically, a huge portion of the money shelled out by students for tuition goes to direct education costs. Some of them are academic support such as library books and internet and the salaries of faculty and staff members.
What are the biggest expenses of going to college?
At the top of the list of the biggest college-related costs are tuition and fees. There are many reasons behind such, ranging from increasing demand for education and rising financial aid requirements. Room and board as well as living and lifestyle costs are also other steep college expenses.
Read Next: Reasons Why College Should Not be Free and Reasons Why It Should

Disclaimer: The views and opinions expressed in this article are those of the authors and do not necessarily represent those of the College Reality Check.