Is Dental School Worth It?
Data from the American Dental Association (ADA) says that there are 202,536 active dentists in the United States as of 2022, which means that there are 60.77 dentists per 100,000 Americans.
Going to dental school should be an academic goal to become one of those professionals.
The mean salary of dentists ranges from $180,830 to $237,990 per year.
But it's important to note that one must spend 8 years in dental school before being paid that much.
Individuals who attend private dental schools are said to graduate with an average educational debt of $200,000 and $800,000.
Still considering becoming a dentist after everything you have read so far?
Please keep reading to know more about going to dental school, including the requirements and whether or not it's hard.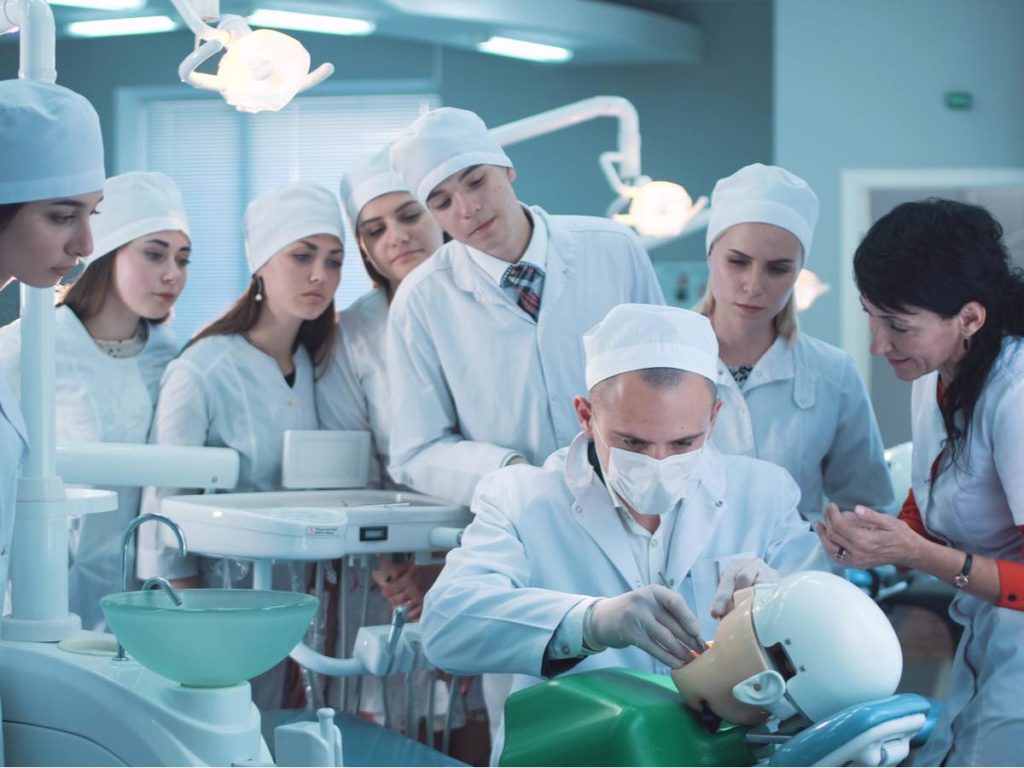 How Much Do Dentists Make?
In the US, dentists make anywhere from $180,830 to $237,990 per year, or between $86.9 and $114.4 per hour.
The annual salary dentists get depends on an assortment of factors, including, most especially, the type of practice.
For instance, oral and maxillofacial surgeons make 130% more money yearly than general dentists.
By now, we have already established the fact that getting into dental school and becoming a dentist is not that easy.
But that's okay because the hard work and perseverance will be compensated very well after graduation.
Dentists are some of the highest-paid medical professionals in the country.
Related Article: Why are Dental Hygienists Paid So Much?
Dental specialists, as well as those who own their own practice or clinic, tend to make more money than the rest. In the field of dentistry, some of those who earn the highest include orthodontists and oral and maxillofacial surgeons.
Prosthodontists are paid well, too, making more than $200,000 annually.
Meanwhile, general dentists make the least money per year, amounting to an average of $180,830.
However, compared to the mean annual salary of all occupations in the US, which is equivalent to $56,310, the amount general dentists get per year is 321% higher.
The following is a table demonstrating the mean hourly salary and mean annual salary of dentists according to the type of practice, based on data provided by the US Bureau of Labor Statistics (BLS):
| JOB TITLE | MEAN HOURLY SALARY | MEAN ANNUAL SALARY |
| --- | --- | --- |
| Orthodontist | $114.42 | $237,990 |
| Oral and Maxillofacial Surgeon | $112.98 | $234,990 |
| Prosthodontist | $103.30 | $214,870 |
| Dentists (Others) | $93.72 | $194,930 |
| General Dentist | $86.94 | $180,830 |
Dentists Salaries
Is Dental School Hard to Get Into?
Getting into dental school is not that easy. The average acceptance rate for all dental schools in the US is 7.3% only.
Besides having at least three years of undergraduate education or a bachelor's degree, dental schools also require applicants to have dental experience and pre-dental extracurriculars.
When building a college list, graduating high school students consider their GPA.
Although it's true that many colleges and universities do not have any published minimum GPA requirement, it is an unwritten rule that the higher the GPA, the better the chances of getting an acceptance letter.
Well, those who are interested in attending dental school need not worry about their high school GPAs. That's for the fact that dental schools do not care about those.
What they care about are college GPAs — dental schools only accept those with bachelor's degrees, although some will accept those with at least three undergraduate years.
The minimum GPA preferred by dental schools can vary from one institution to the other.
However, the general consensus is that a 3.0 GPA is the minimum you will need to be considered by a dental school.
But to have better chances of getting accepted, especially into a competitive dental school or dental program, having a minimum of 3.2 to 3.5 GPA in college is highly recommended.
But it's not just having a high GPA that matters if you want to attend a dental school. One of the things that makes getting into dental school difficult is that there are simply too many requirements to meet.
Dental School Requirements
The requirements to get into a dental program vary from one dental school to the other. However, all dental schools require applicants to take the Dental Admission Test (DAT).
Dental schools also require a bachelor's degree, although some have a minimum requirement of three years of undergraduate education.
The good news is that you can go for just about any bachelor's degree that you like, and the dental school of your liking will still consider your application.
A graduate degree is welcomed, too.
But it's important to bear in mind that certain dental programs require eight credit hours of general chemistry, organic chemistry, biology and physics.
As a general rule of thumb, completing a pre-med degree may help you take fewer courses in dental schools.
Additionally the majority of them have the following prerequisites:
Job shadow dentists. Simply put, this requirement is a type of on-the-job training that involves following and closely observing dentists as they carry out their professional roles. Most dental programs require applicants to have at least 100 hours of job shadowing multiple dentists.
Pre-dental or health-related extracurriculars. High school students can increase their chances of getting accepted into competitive colleges by having meaningful and skill-building extracurriculars.
Take the DAT. Dental schools in the US and many in Canada, too, require aspiring dentists to take the DAT. Unlike the SAT or ACT, however, you can take the DAT thrice only, unless you obtain special permission from the American Dental Association (ADA). In a few, we will talk about the DAT more — so keep reading!
Have a competitive application. It's not just high school students who wish to get accepted into competitive colleges that should build an impressive application but also those who wish to gain admission into dental schools. A dental school application includes the usual, such as essays and recommendations.
Ace the interview. Many dental schools interview applicants using the multiple mini interview (MMI) format in which there are various interview stations where applicants spend about 10 minutes being interviewed in each one. Some dental schools in the country also conduct group interviews.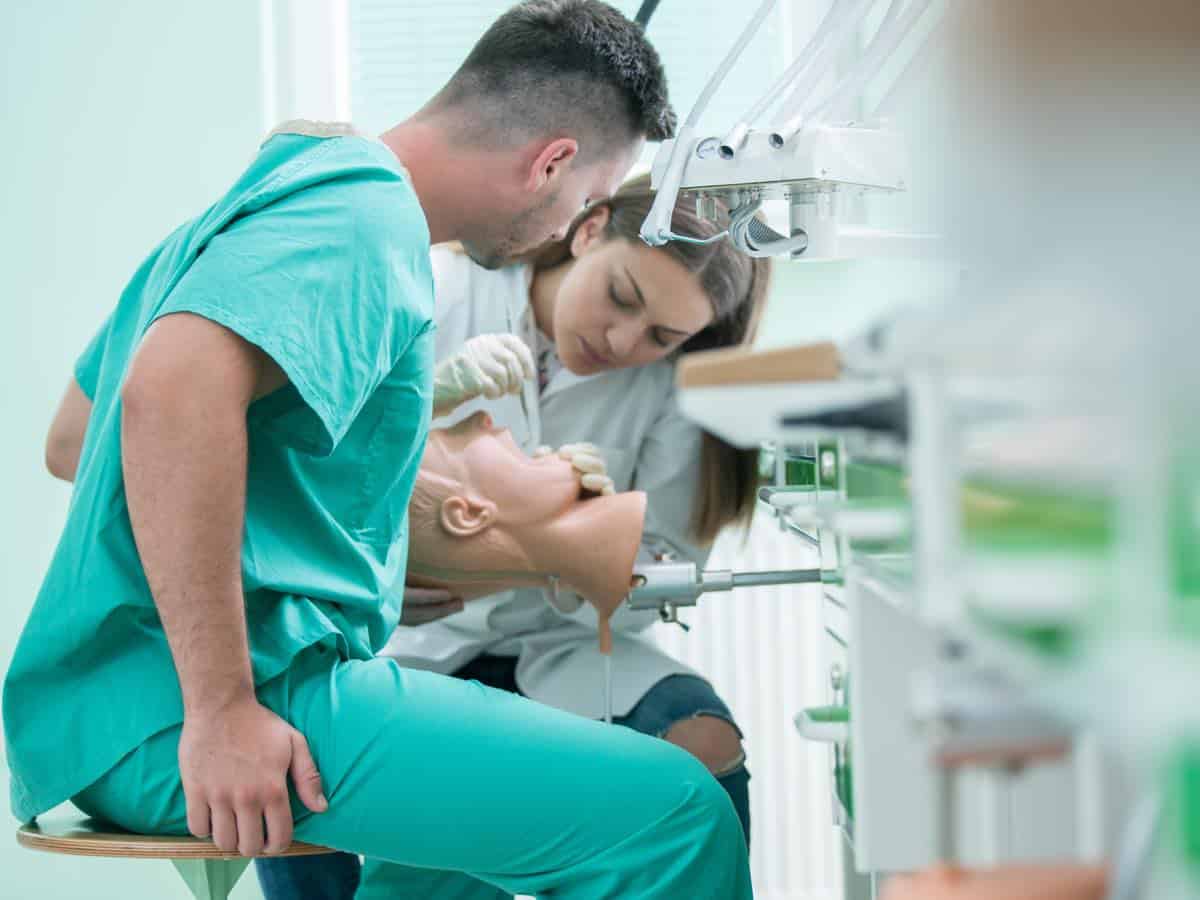 Is Dental School Hard?
Dental school is hard because it consists of academically demanding programs, which involve a vast amount of studying.
The heavy workload aims to arm dentistry students with theoretical and practical knowledge and skills.
Many students agree that the first two years of dental school are the hardest.
One more reason why dental school is hard is that it requires students to attend college twice.
First, to earn a bachelor's degree.
Second, to complete the dental program — a traditional dental program takes four years to complete.
In the first two years of dental school, you will devote much of your time to studying biological sciences and learning the body's structure and function as well as the diseases that can affect it.
Courses during the first two years include Anatomy, Physiology, Microbiology, Biochemistry, and Pharmacology.
Meanwhile, the last two years of dental school mostly entail clinical study — direct or hands-on patient care.
It's not uncommon for dental students to rotate through various hospitals, clinics and community settings.
So, in other words, you will have to be in school for at least eight years to become a dentist.
Naturally, the more time you spend in college, the more money you have to shell out. And this takes us to another thing that makes dental school hard: the steep cost.
Below, we will check out the estimated cost of attending some of the finest dental schools in the US.
But the challenge does not begin and end with attending dental school.
After graduating, you will have to pass a rigorous national written exam as well as a state or regional clinical licensing exam in order for you to be able to practice as a dentist.
And to be able to maintain your professional license, continuing education throughout your career is a must.
What is the Dental Admission Test?
The DAT is a standardized test all US dental schools require their applicants to take.
So, in other words, it's a part of the admission process. It is recommended for undergraduate students to take the DAT at least one year before they apply to their preferred dental schools.
It was in 1945 when the DAT first came into being, created in order for dental schools to be able to skip relying on high school records since many applicants back then were already working professionals.
The DAT is just like the SAT or ACT.
However, it is taken by bachelor's degree holders or those who have already spent at least three years in college — there are some dental schools in the US that accept students with at least three years of undergraduate education.
Unlike the SAT or ACT, however, the DAT isn't optional. This means that you will have to take it if your goal is to attend a dental school in the US. The same is true if you are planning to attend a Canadian dental school.
But there is something that the DAT and SAT or ACT share in common: there are no passing or failing scores.
Scores for the DAT range anywhere from 1 to 30. Different dental schools have different criteria in determining how to weigh DAT scores as part of the admissions process. Needless to say, one dental school may admit applicants with higher DAT scores, while another may accept applicants with lower DAT scores.
On a national basis, a DAT score of 17 is considered the average.
But if the goal is to get into a competitive dental school, don't just settle with a 17 DAT score.
The average DAT score of students who got accepted into dental schools was 20.2. Their average GPA, meanwhile, was 3.55.
Is the Dental Admission Test Hard?
The DAT is a reasonably difficult exam. The entire test takes four hours and 30 minutes to complete, excluding optional but highly recommended breaks.
The DAT is a computer-based, multiple-choice exam that consists of four sections. It is recommended to spend three to four months preparing for the DAT.
Here are the four sections of the DAT:
Survey of the Natural Sciences (100 questions). This section of the DAT is subdivided into different sections: Biology (40 questions), General Chemistry (30 questions) and Organic Chemistry (30 questions). For some test-takers, the most difficult is Biology. For others, however, it's Organic Chemistry that's the hardest.
Perceptual Ability (90 questions). Simply put, the goal of this section of the DAT is to assess the spatial visualization skills of the test-takers. This includes tests such as view recognition, angle discrimination, cube counting, and interpretation of two-dimensional representations of three-dimensional objects.
Reading Comprehension (50 questions). As the name of the DAT section suggests, it tests the ability of the test-taker to comprehend passages and analyze scientific content. Reading Comprehension involves three reading passages with complicated language, which may have scientific and technical topics.
Quantitative Reasoning (40 questions). There are various problems a test-taker needs to solve in this section of the DAT. They include conversions, basic math, algebra, geometry, and probability and statistics. For this section, an on-screen calculator is available for the test-taker to use.
Because the DAT is difficult, as mentioned earlier, it's recommended to devote three to four months of your time to gear up for it, or around 200 to 250 study hours.
The said amount of preparation time is recommended by the ADA itself, which administers the DAT.
DDS vs. DMD: What's the Difference?
Dental programs DDS (Doctor of Dental Surgery) and DMD (Doctor of Medicine in Dentistry or Doctor of Dental Medicine) are actually the same degrees.
Both DDS and DMD programs represent the same education. Some dental schools prefer to award DDS, while other dental schools choose to award DMD.
Refrain from wasting precious time thinking about whether it's a DDS or DMD degree you should go for.
It all depends on the dental school you wish to attend — it will offer either one of the two. That's because, believe it or not, even though the dental programs have different names, they are one and the same.
The degree will prepare you to become a general dentist whether DDS or DMD.
Only the DDS degree existed in the beginning. The very first dental school in the US to award it was the Baltimore College of Dental Surgery in 1840.
In 1867, Harvard University opened its dental school.
Back then, the Ivy League school used Latin names for the degrees it awarded — the institution referred to its dental degree as Dentariae Medicinae Doctorate (Doctor of Medicine in Dentistry).
Many dental schools that opened subsequently referred to their dental degrees as DMD, too.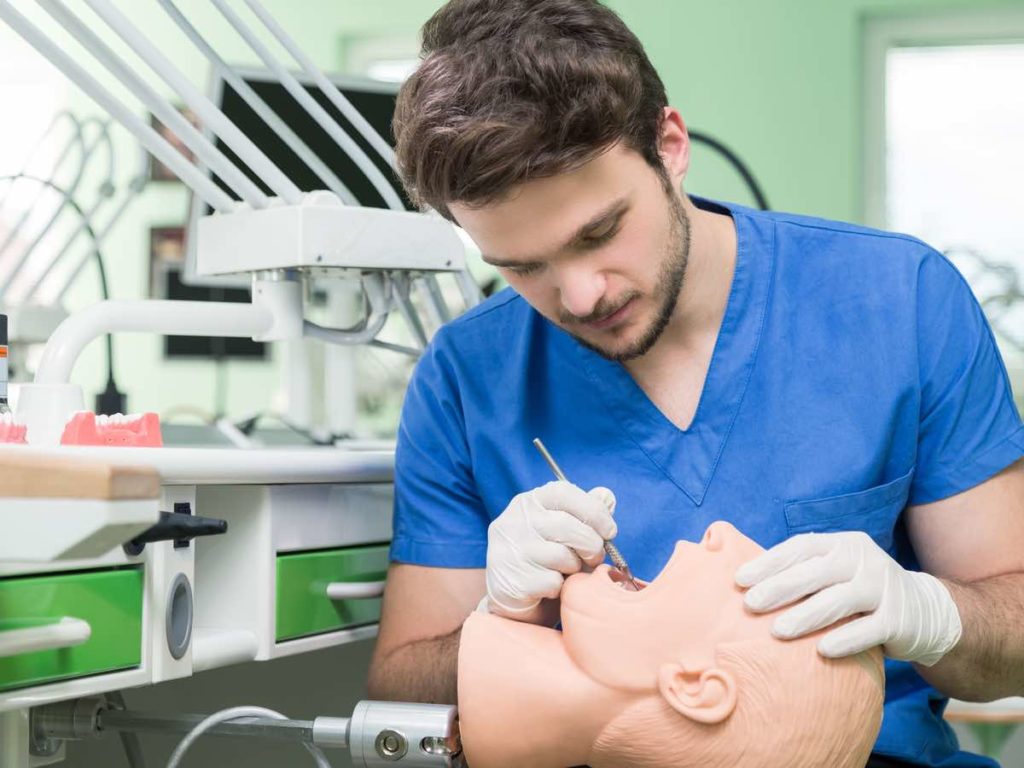 Top Dental Schools and Rankings
Some of the best dental schools in the US are Harvard University, the University of Michigan – Ann Arbor, the University of North Carolina – Chapel Hill, the University of Washington and UCLA.
The following is a table demonstrating some of the top dental schools in the country and the estimated cost of their respective dental degrees for one academic year:
| DENTAL SCHOOL | ACCEPTANCE RATE | COST OF ATTENDANCE |
| --- | --- | --- |
| Harvard University | 3% | $101,659 |
| University of Michigan – Ann Arbor | 5% | $84,567 to $100,020 |
| University of North Carolina – Chapel Hill | 5% | $189,845 |
| University of Washington | 6% | $93,468 to $122,972 |
| University of California – Los Angeles | 5% | $85,428 to $96,267 |
| University of California – San Francisco | 5% | $50,420 to $62,665 |
| University of Pennsylvania | 5% | $128,909 |
| New York University | 7% | $144,465 |
| Columbia University | 3% | $97,027 |
| University of Minnesota – Twin Cities | 9% | $38,479 to $71,284 |
| University of Iowa | 8% | $78,996 to $103,216 |
| University of Southern California | 6% | $153,555 |
| Loma Linda University | 5% | $88,840 |
| University of the Pacific | 5% | $119,360 |
| Western University of Health Sciences | 3% | $117,611 |
Top Dental School Cost of Attendance
Should You Become a Dentist?
Dental school is worth it for those who wish to spend a total of eight years in college to become a professional and make a mean annual salary ranging anywhere from $180,830 to $237,990.
In exchange for the very steep cost of attending dental school, it is a lucrative and noble professional career.
It is said that students at private dental schools graduate with an average educational debt of between $200,000 and $800,000.
Dental school is not only expensive but also difficult.
But if you are willing to spend a lot of time, effort, and money (being a dentist requires three to four years of college and another four years of dental school) in order to be able to become a highly-paid medical professional one day, then attending a dental school is worth the debt.
Read Also: Why Do Nurses Get Paid So Much?

Disclaimer: The views and opinions expressed in this article are those of the authors and do not necessarily represent those of the College Reality Check.