Dartmouth College is an Ivy League school. It's no secret that getting into the Ivy Leagues is no easy feat.
True enough, the acceptance rate at the prestigious institution is only 6%.
Definitely, it's a must to have an application that's a complete standout if you want to receive a letter that welcomes you to its campus instead of one that asks you to apply elsewhere.
Making your application competitive enough for Dartmouth's admissions officers, fortunately, can be done in various ways, many of which should be implemented as early in your high school career as possible.
The following are the 11 admissions tips we will talk about that can help boost your admissions chances:
Achieve a 3.80 GPA
Pass SAT with a 1560 or ACT with a 35 score
Take 7 to 12 AP classes in high school
Write your best Common App essay
Nail Dartmouth-specific supplementals
Showcase your extracurriculars
Obtain 3 glowing recommendations
Demonstrate interest in Dartmouth
Take optional interview
Apply early
Relax and wait for decision
What Dartmouth Looks For
Before we discuss the various things that you may do to boost your chances of getting an offer to enroll at Dartmouth College, let's check out what the Ivy League's admissions officers look at during the review process.
Dartmouth GPA Requirements
Like most other competitive schools, Dartmouth College has a penchant for above-average students. Despite this, it doesn't have any published minimum GPA requirement that candidates have to meet.
GPA is a very important admissions factor at Dartmouth — its common data set (CDS) says so.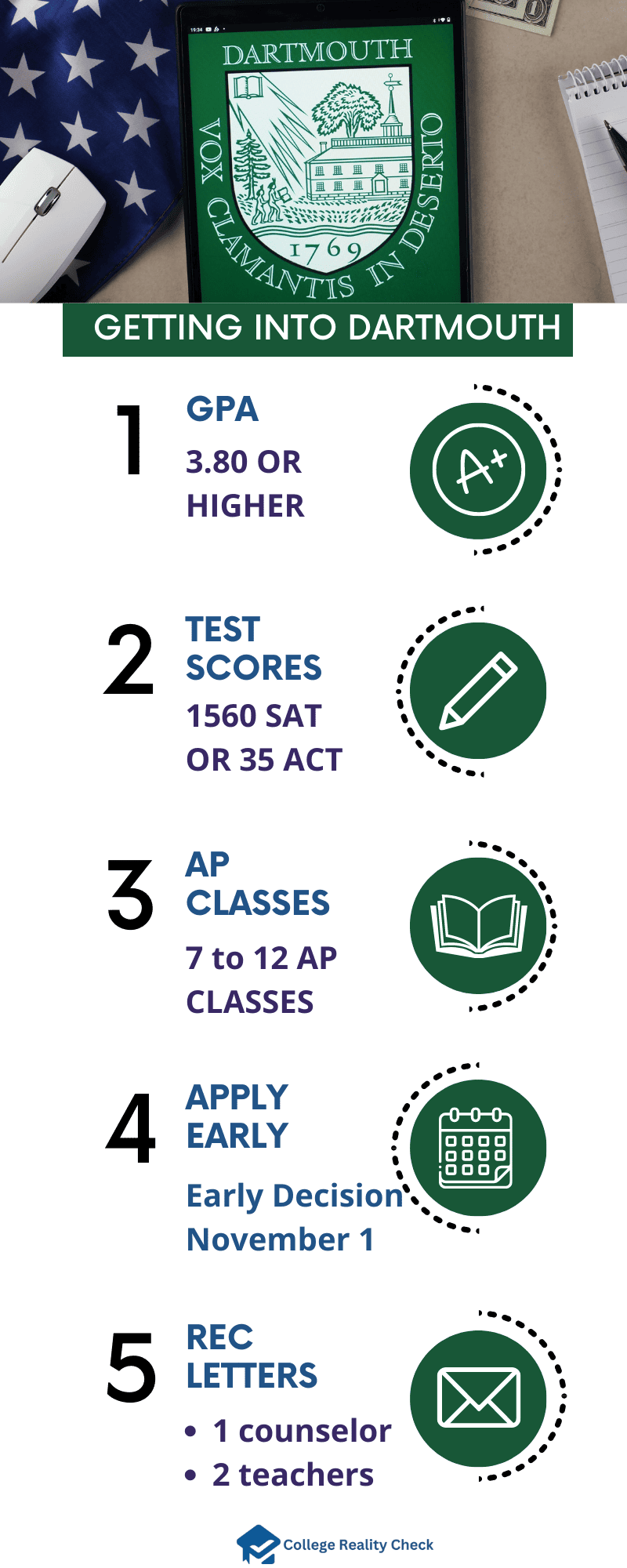 It goes without saying that you need to have a very high GPA to have high chances of getting into the Ivy League.
How high your GPA should be can vary from one source to the other. Later in this article, we will talk about the GPA you should aim for if the mission is to be a part of the small percentage of applicants that get into Dartmouth.
Academic Rigor
The level of difficulty of the curriculum and depth of learning in an educational setting — this is what academic rigor is.
Given that Dartmouth College is a selective school, its admissions officers check out the rigor level of the high school record of freshmen applicants to determine which of them push themselves to the best of their abilities.
As a matter of fact, the Ivy League's CDS makes it clear that academic rigor, just like high school GPA, is a very important academic factor considered in the admissions process.
However, the elite school wants you to know that a difficult curriculum simply won't do.
Although it's nice that you have taken college-level courses to have a more rigorous high school record, it also matters that you have done well in those difficult classes.
On its website, Dartmouth says that it's completely up to you to take the necessary steps to balance course rigor versus academic performance, both of which are factored in during the review process.
What Classes Do I Need to Take in High School to Get Into Dartmouth?
Admissions officers at Dartmouth College expect applicants to have pursued the most demanding curriculum (and must have succeeded in doing so, too) offered by the high schools they attended.
Actually, it requires aspirants to have taken all 5 major subjects every year or most years of their secondary school careers.
Below is a list of the said subjects as well as the minimum number of years applicants should have taken them:
English – 4 years (including writing-intensive literature courses)
Math – 4 years (including calculus for engineering and STEM students)
History and social studies – 3 years
Science – 3 years (including lab and with 4 years including physics for engineering students)
Foreign language: 3 years (in a single foreign language, although 4 years is preferred)
Does Dartmouth Accept AP Credits?
Dartmouth College accepts AP credits. However, it's important for first-time, first-year applicants with AP exam scores of 4 and 5 under their belt to note that the Ivy League accepts AP credits in a different manner.
Rather than course credit, Dartmouth gives credit on entrance.
Simply put, credit on entrance means credit recognized by the institution prior to matriculation.
This AP credit policy started in 2014, and any credit earned by a successful applicant does not count toward the 35 credits required for graduation.
Instead, AP exam scores of 4 and 5 allow admitted students to opt out of lower-level courses.
So, in other words, the elite school uses AP exams for placement only — credit earners can immediately proceed with taking higher-level classes, making sure that they complete all 35 credits required by the major of their choosing.
SAT/ACT Requirements
Standardized test scores are considered by Dartmouth College's admissions officers in the review process, but only if they are voluntarily submitted by applicants — they won't ask for them if they are not included in the application.
Let's talk about some of the most important things about the SAT or ACT Dartmouth applicants need to know.
Does Dartmouth Superscore SAT or ACT Scores?
Dartmouth College participates in the superscoring of SAT or ACT scores. This means that its admissions officers look at the highest section scores in either standardized test.
When superscoring test scores, the Ivy League completely disregards dates — by selecting and combining the highest individual section scores from various test dates,
Dartmouth comes up with a composite score that's higher than any of the applicant's actual composite scores from different times that he or she took the SAT or ACT.
However, Dartmouth discourages excessive testing since the SAT or ACT is not the ultimate admissions factor.
Is Dartmouth Test-Optional?
Like many Ivy Leagues and other competitive as well as not-so-competitive institutions, Dartmouth College has a test-optional admissions policy. So, in other words, applicants may or may not submit their SAT or ACT scores.
It was in 2020 when the Hanover, New Hampshire-based private school became test-optional.
Prior to that, needless to say, it required applicants to submit their SAT or ACT scores.
Since then, the decision of students as far as test score submission goes is honored by Dartmouth without any prejudice.
So much so that the school actually states that each application will be reviewed based on what is in the file instead of what's missing from it.
Should You Submit Your Scores to Dartmouth?
Whether or not you should submit your SAT or ACT scores to Dartmouth College is a totally personal choice.
Of course, you need to be strategic about it, considering if your standardized test score is an accurate reflection of your academic capabilities and achievements and can contribute to your application in a positive way.
If you have taken the SAT or ACT, Dartmouth encourages you to submit your test scores no matter how they compare to the test scores of the Ivy League's usual class profile.
However, to be on the safe side, I recommend to send scores to Dartmouth only if your SAT is 1550 or higher or your ACT is 34 or higher.
Applications With Personality
Dartmouth College itself says that every student they welcome to its campus brings something new and different to the community.
By means of its holistic selection process, the selective institution is able to find degree-seeking individuals who have with them a combination of qualities, experiences and perspectives that aren't duplicated by each other.
Because of this, it's a great idea to showcase your unique personality and background by means of various admissions requirements such as supplemental essays and recommendation letters.
How to Write Why Dartmouth Essay
In writing the Why Dartmouth supplemental essay, applicants should research Dartmouth College beforehand and determine why the Ivy League is the best-fit school for them.
They should also provide specific details as well as examples as to how, thus demonstrating a sense of passion and enthusiasm throughout the essay.
Writing a single essay and then sending it to several different colleges to save time is a complete no-no!
College admissions officers can easily tell if the submission is a general essay, and it can cause them to feel that the applicant has failed to make an effort, which could cause him or her a dreaded rejection.
Peer Recommendation
A peer recommendation is similar to a teacher recommendation in that it provides support for an individual's college application, although it's written by someone that the student considers a peer.
Here are some examples of a peer who could write a peer recommendation:
Classmate
Lab partner
Club co-member
Co-worker
Friend
Brother
Sister
While a peer recommendation is not a requirement, it's strongly encouraged by Dartmouth College — in selective school lingo, that's almost always synonymous with "you should submit it".
There are a couple of ways to submit the peer recommendation: through the Common App by assigning and inviting the recommender and through the Application Portal of Dartmouth, which will be accessible to an applicant after the completion and submission of his or her Common App.
The Ivy League says that the peer recommendation should be in within 10 days of the application deadline.
Dartmouth Peer Recommendations Examples
The following are 2 examples of peer recommendations, the submission of which Dartmouth College strongly recommends:
Example #1 – From a friend:
Dear Sir/Ma'am (admissions officer),

I am writing this to reference (Dartmouth applicant). We have known each other since we were young kids, meeting for the first time through a youth group. From then on, (Dartmouth applicant) has always exhibited a determined and hardworking nature. And I, as a good friend, have been astonished by his/her personal accomplishments.

(Dartmouth applicant) has always been proactive in community service and reaching out to those who are in need. It demonstrates his empathetic nature as well as displays how much he can care for others. There were even instances back in high school when he/she was far more involved in our local community than any of his/her friends.

As a result, (Dartmouth applicant) received multiple awards from the city for his deeds.

I believe that (Dartmouth applicant) would make for an excellent addition to your college simply because of his/her drive to get behind a cause. He/she truly wants to make a difference in the community, and I believe he/she could do even more feats from the support and nurturing that your college can offer.

Please get in touch with me if you have any further questions.

Sincerely,

(Peer recommender)
Example #2 – From a co-worker:
Dear Sir/Ma'am (admissions officer),

It's my pleasure to recommend (Dartmouth applicant) and vouch for his/her skills and achievements in the workplace.

I am (peer recommender), a (job position) at (company name). I have (years of experience) working as a (job position), and I have come across many different co-workers. Needless to say, (Dartmouth applicant) is one of them.

During our time together as (company name) employees, (Dartmouth applicant) displayed top-notch talents and proficiencies. When we first met, as a matter of fact, I, together with many of our co-workers, was immediately impressed with his/her work ethic as well as diligence and relevant technical and practical know-how in the field.

However, it's not just his/her skills and values and also principles in the workplace that were impressive — I also found working with (Dartmouth applicant) a delight due to his/her positive attitude as well as the willingness to lend a hand and share work-related knowledge for the benefit of his/her co-workers.

If you need more information, feel free to contact me.

Best regards,

(Peer recommender)
How Hard is It to Get Into Dartmouth?
Being an Ivy League school, it isn't surprising that Dartmouth College is hard to get into.
As of this writing, the private institution has a single-digit acceptance rate for freshmen applicants.
There were certain admissions cycles in the past when the school accepted a little more than 10% of all applicants.
In a few, we will discuss some of the steps you may take to help increase your chances of receiving an acceptance letter from the elite institution, although you will have to be willing to do everything you can to make your application pop.
Dartmouth's Acceptance Rate
The acceptance rate for first-time, first-year applicants at Dartmouth College is 6% only. In the academic year 2021 to 2022, only 1,750 of the 28,356 freshmen applicants received an acceptance letter from the top-tier institution.
As such, it's extremely hard for those whose applications do not stand out to get into Dartmouth.
Below is a table of the acceptance rates at the Ivy League school in the past 10 years, from 2013 to 2023. It's important to bear in mind, though, that the said acceptance rates were for freshmen applicants only.
| Academic Year | Applicants | Admits | Acceptance Rate |
| --- | --- | --- | --- |
| 2022 to 2023 | 28,336 | 1,808 | 6.38% |
| 2021 to 2022 | 28,356 | 1,750 | 6.17% |
| 2020 to 2021 | 21,392 | 1,972 | 9.21% |
| 2019 to 2020 | 23,650 | 1,875 | 7.92% |
| 2018 to 2019 | 22,033 | 1,925 | 8.73% |
| 2017 to 2018 | 20,035 | 2,093 | 10.44% |
| 2016 to 2017 | 20,675 | 2,190 | 10.59% |
| 2015 to 2016 | 20,507 | 2,250 | 10.97% |
| 2014 to 2015 | 19,296 | 2,220 | 11.50% |
| 2013 to 2014 | 22,428 | 2,337 | 10.42% |
Dartmouth Acceptance Rates
How to Increase Your Chances of Getting Into Dartmouth
And now, we have arrived at the core of this post: the steps to take for increased chances of getting accepted to Dartmouth University. Below, you will come across 10 different things that can help make it happen.
1. Achieve a 3.80 GPA
Dartmouth College itself says that its admissions officers review each and every application holistically, no matter the GPA.
It adds, however, that a strong high school GPA serves as an indicator that an applicant will also do well in his or her pursuit of an undergraduate degree. Needless to say, having a high GPA counts in the admissions process.
As explained earlier, applicants need not meet a minimum GPA requirement to be eligible to apply. But there's no need to guess, either, whether or not yours is good enough to help you get in.
Based on its algorithm, College Simply says that 3.9 is the average GPA of Dartmouth admits.
On the other hand, Crimson Education says that 3.8 to 4.0 is the range of GPAs of successful applicants.
However, always remember that Dartmouth has a holistic admissions policy, and its admissions officers will look at many things other than your GPA.
2. Pass SAT With a 1560 or ACT With a 35 Score
It's true that Dartmouth College is a test-optional school.
However, as mentioned earlier, the Ivy League suggests that applicants submit their SAT and ACT scores if they took either of the said standardized tests regardless of the scores obtained by the most recently admitted freshmen.
As a matter of fact, in Dartmouth's CDS, it skipped section C9 altogether, which is the testing profile of admits.
But to give you an idea of what sort of students get accepted to Dartmouth standardized test-wise, the following are the SAT and ACT composite score ranges of admits in 2020, back when SAT or ACT score submission was still mandatory:
SAT – 1440 to 1560
ACT – 32 to 35
To considerably increase your chances of getting an acceptance letter, of course, it's a good idea to have an SAT or ACT score at or close to the upper range in the figures given above.
3. Take 7 to 12 AP Classes in High School
While having high AP exam scores won't cause you to earn credit at Dartmouth College, as explained earlier, it can give you the opportunity to skip introductory courses and go straight to some higher-level ones.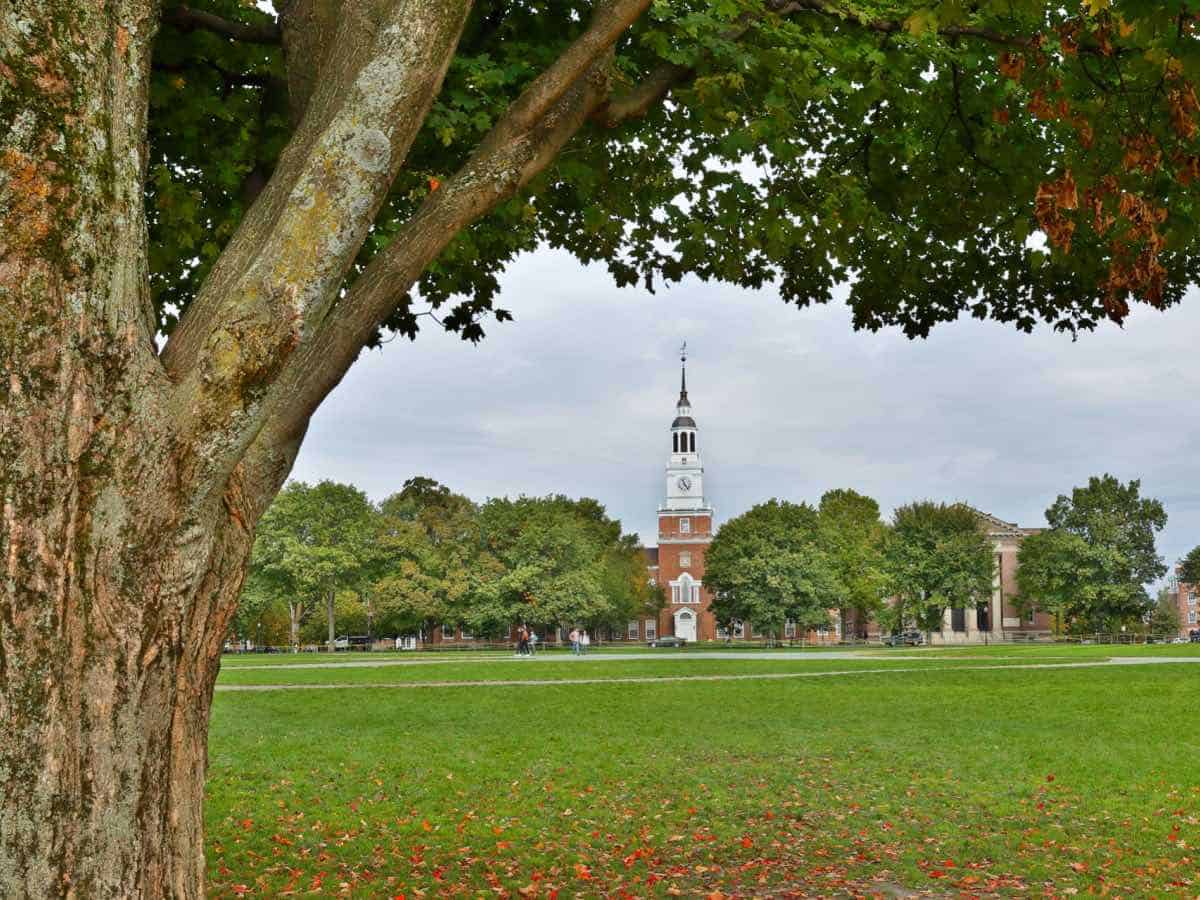 On the other hand, taking AP classes can help increase your chances of getting into the Ivy League.
Rigor of secondary school record — it's a very important admissions factor, and Dartmouth's CDS says so.
Taking some of the most challenging AP classes is good for your application in that it makes it a complete standout.
But see to it that you also get a high grade in each of them to show admissions officers that you truly are a college-ready applicant.
While the general consensus is that prestigious schools want to see 7 to 12 AP classes, it's a much better idea to have a few challenging AP classes than several different easy classes that seem randomly picked.
Also, Dartmouth will not take it against you if you only took, say, 2 to 3 difficult AP classes because your high school doesn't offer a lot of options.
What's important is that you made the most out of what your school offers. And like many colleges, Dartmouth accepts IB courses and exams, too, not just AP.
4. Write Your Best Common App Essay
Dartmouth College takes the Common App essay seriously.
As a matter of fact, it tells applicants that they should write essays that will help admissions officers understand intangible things that cannot be easily communicated by their applications.
The school adds that it reads every Common App essay word to envision what applicants can bring to the table.
Of course, it's important that your Common App essay is grammatically correct, meaningful, introspective and well-written.
This top school, however, wants to see stuff such as your sense of humor and passion as well as a mix of your intellectual curiosity and social awareness and self-awareness, as disclosed by its website.
5. Nail Dartmouth-Specific Supplementals
Other than the Common App essay that all colleges a student applies to will be able to read, Dartmouth College also requires applicants to write and submit additional essays.
But before anything else, let's bring this matter to light: Dartmouth says to show your personality!
Applicants need to come up with a total of 4 college- or school-specific essays to show Dartmouth's admissions officers that they are worthy of being given available slots.
The personal statement is the longest of all supplemental essays, while the 3 brief writing supplements are some of the shortest, each ranging anywhere from 100 words or fewer to 250 words or fewer.
Make sure that you give plenty of thought and care to your supplementals because, according to the Ivy League's website itself, they allow admissions officers to have a better sense of how you may be a good fit for Dartmouth.
6. Showcase Your Extracurricular Activities
Among the various non-academic factors taken into account by Dartmouth College in the admissions process, only 2 are considered very important: character or personal qualities and extracurricular activities.
Needless to say, the Activities section of the Common App is a vital component of your application.
Enumerate EAs according to importance — the most meaningful activities to you and thus took up most of your time and attention in high school go on top.
And when providing a description for each, remember to use action verbs and numerical values as quantitative descriptions offer concrete proofs of your EA success and experience.
What Extracurricular Activities Do I Need to Get Into Dartmouth?
Activities that involve leadership roles are EAs that can help improve your application to Dartmouth College by substantial amounts.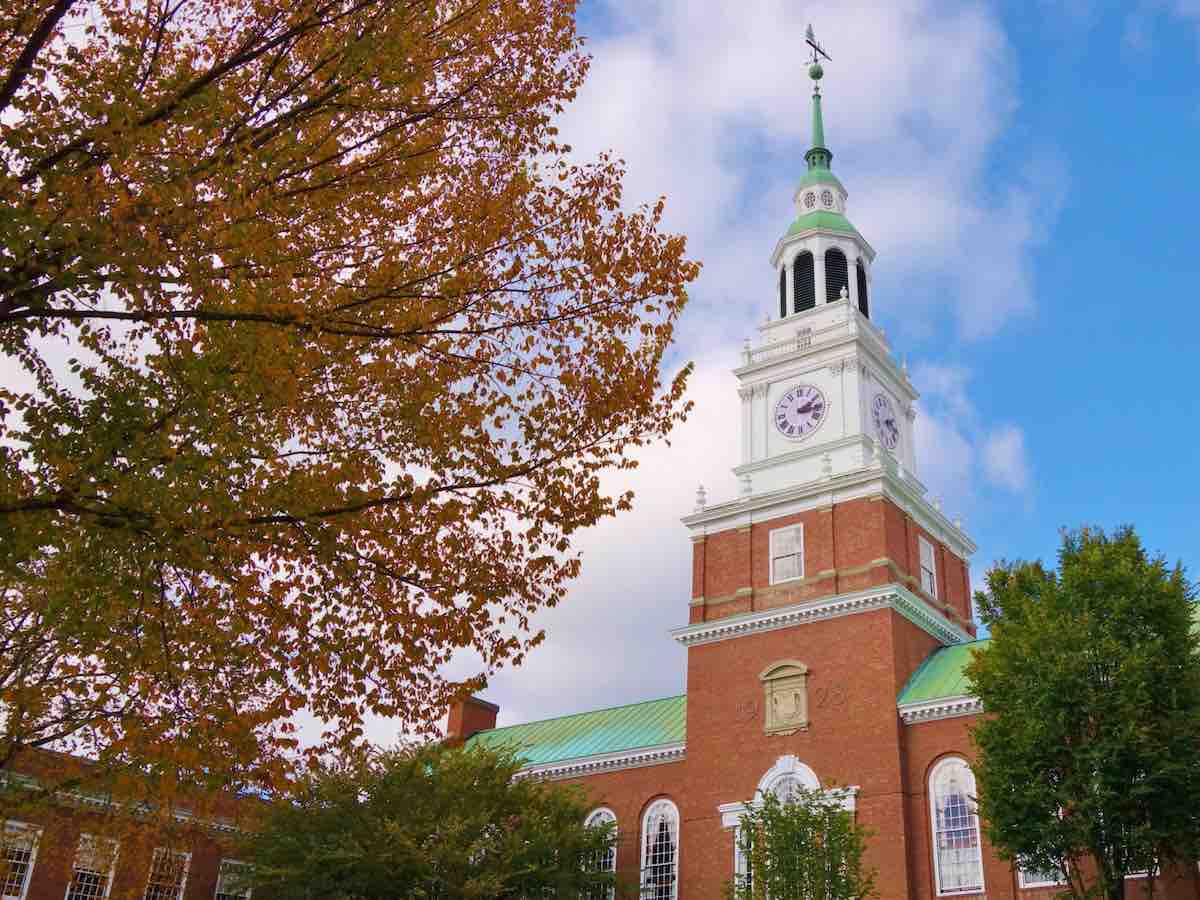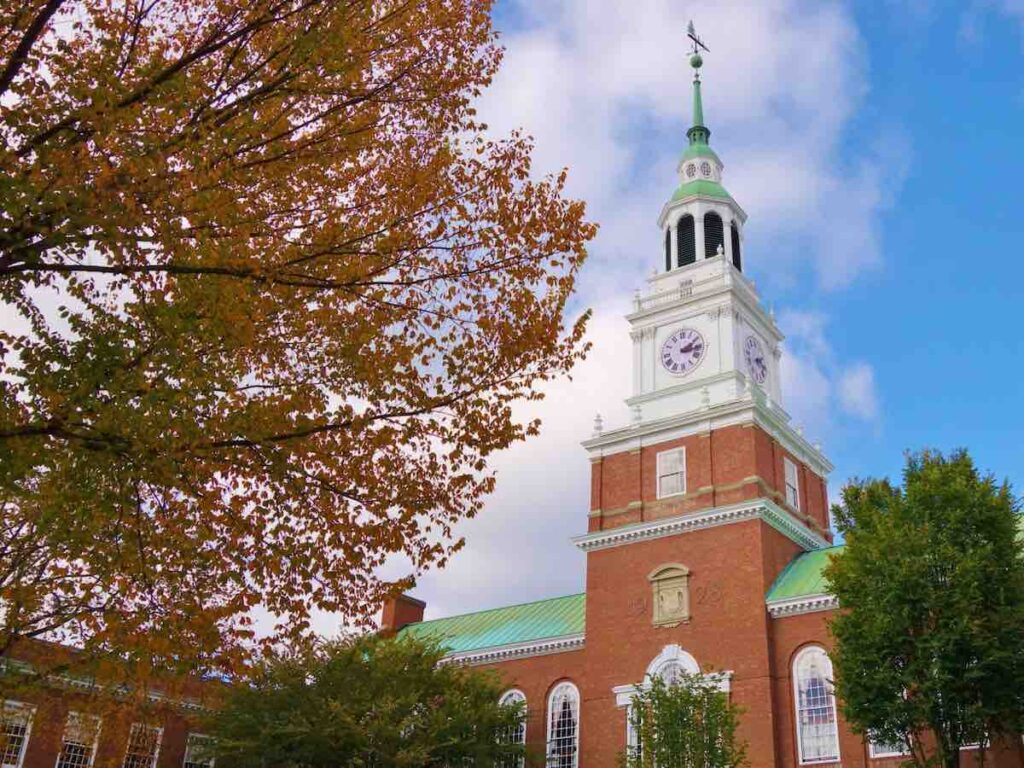 It's also impressive for admissions officers at the elite school to see participation in extracurriculars that sharpen a student's communication, team playing, critical thinking and problem-solving skills.
Don't be too shy to include some family responsibilities — many college-bound teens have no idea that those activities matter, especially as Dartmouth applicants.
In a nutshell, the selective institution wants to see students who expanded themselves in high school as they are also likely to grab the opportunity to involve themselves in the rich range of 160+ student clubs and activities at Dartmouth.
7. Obtain 3 Glowing Recommendations
Recommendation letters allow Dartmouth College's admissions officers to understand an applicant's personality and achievements from various perspectives.
That's why it requires those who are interested in attending to submit a total of 3 letters of recommendation, not to mention the highly recommended peer recommendation we talked about earlier.
Here are some of the most important things to keep in mind as far as evaluations go:
1 counselor recommendation – This particular evaluation is a statement written by either the school counselor or school official, and it talks about the applicant's academic performance, extracurriculars and character. The counselor evaluation is submitted to Dartmouth as a component of the secondary school report.
2 teacher recommendations – Unlike most other selective colleges that require the submission of evaluations, Dartmouth isn't that particular as to which teachers should write an applicant's teacher recommendations. As a matter of fact, the Ivy League considers online teachers to be valid sources of letters of recommendation.
8. Demonstrate Interest in Dartmouth
According to the CDS of Dartmouth College, the level of applicant's interest is considered a non-academic admissions factor.
So, in other words, it matters to the institution's admissions officers that applicants really intend to attend.
However, Dartmouth makes it clear that it doesn't track an applicant's activities.
What the Ivy League does to determine whether or not there's enough level of interest is looking into how applicants are able to articulate how they could benefit from being a Dartmouth student as well as how they would contribute to the unique campus community.
Also, the university has early decision application plan, which is the highest demonstrated interest indication. After all, you can only apply to one college in early decision.
9. Take Interview
Dartmouth College only conducts alumni interviews. As such, the Ivy League cannot offer interviews to all applicants due to alumni availability and geography, too.
Students do not have to arrange for an interview — volunteer alumni interviewers are the ones who get in touch with select applicants based on the information on their applications.
ED interviews are usually scheduled in November. RD interviews, on the other hand, are usually scheduled from early December to mid-February.
Agreeing to an interview allows you to know more about Dartmouth as you are allowed to ask your alumni interviewer. Similarly, the school can get to know you more through the questions asked by the alumni member.
Does Dartmouth Require an Interview?
Interviews are not an admissions requirement at Dartmouth College.
Applicants who are asked for an alumni interview, as a matter of fact, may choose to decline the invitation.
However, the prestigious school requests that those who wish to turn down the interview should inform alumni members ASAP so that the offer could be given to other aspirants.
Before we proceed to another step that you may take to boost your chances of getting into Dartmouth, let's point out the fact that interviews are not available for transfer applicants.
10. Apply Early
In the last admissions cycle, a total of 3,009 students applied to Dartmouth ED, which was a record-breaker.
Of those, only 578 got an acceptance letter. This brings the acceptance rate for early applicants to 19%.
According to Dartmouth itself, that's an all-time low early acceptance rate.
So, in other words, the acceptance rates for early applicants were higher in previous admissions seasons.
Despite this, the fact remains that the top-tier institution located in Hanover, New Hampshire accepts more early applicants than regular decision applicants — the 6% acceptance rate mentioned earlier refers to RD applicants.
However, do keep in mind that Dartmouth is one of the most selective schools in the land, which is why as an ED applicant you will also need to have a strong application if you want to enjoy increased admissions chances.
What Are Dartmouth's Application Deadlines?
Dartmouth College has only 2 application deadlines: early decision and regular decision.
It's both a good thing and a bad thing — there are fewer deadlines to remember, thereby making the entire college application process less stressful and confusing, but it also means that you have very limited admission plan options.
The following are the application deadlines at Dartmouth you need to remember:
| | |
| --- | --- |
| Admission Plan | Deadline |
| Early decision | 1-Nov |
| Regular decision | 2-Jan |
11. Relax and Wait for Decision
After submitting your application and other requirements to Dartmouth College, it's time to wait for admissions decisions — by mid-December for ED applicants and by late March or early April for RD applicants.
However, refrain from thinking too much about it. After all, you still have to prepare for the RD round of other schools on your college list as well as end your high school career on a high note.
You should definitely avoid suffering from senioritis at all costs as your admissions offer might be on the line.
Is Dartmouth a Good School for You?
Applying to Dartmouth College just because it's a well-known institution or what many of your peers are doing should be avoided at all costs.
Instead, you should apply to the Ivy League school because it's a good fit for you.
Knowing whether or not Dartmouth is the right one begins with researching it as well as establishing the degree program and overall college experience of your liking.
It's also important to take your prospective career path into account.
So, in other words, before you shortlist Dartmouth, get to know it and your plans, too, very well.
What Dartmouth is Known For
Dartmouth College is primarily known for its strong academics, with a special commitment to research and liberal arts studies.
It draws in many degree-seeking individuals, including those who want the full Ivy League college experience, for the institution's robust athletics, Greek life as well as culture and traditions.
It's also revered for having a large campus and a small population (its current undergraduate enrolment is 4,556), which is why the elite school's attendees enjoy small classes and an impressive student-to-faculty ratio of 7:1.
Among the more than 60 majors offered by Dartmouth, the following are some of the most popular:
Economics
Political science and government
Computer science
Mathematics
Engineering
Biology
English
History
Psychology
Schools Like Dartmouth, But Less Competitive
Dartmouth College receives more than 28,000 applications per year.
This prestigious school would probably be flooded with applications every admissions cycle if it weren't for its very low acceptance rate.
Fortunately for college-bound teens who like to get the Dartmouth experience, there are other institutions they can add to their college list that tend to welcome more applicants each time.
Many of them have Ivy League-like statuses, which means that getting some of the most competitive and reputable undergraduate degrees is possible.
The following are 15 colleges and universities that are similar to Dartmouth but easier to get into:
| Institution | Acceptance Rate | US News Ranking |
| --- | --- | --- |
| Amherst College | 9% | #2 in National Liberal Arts Colleges |
| Colby College | 9% | #16 in Most Innovative Schools |
| Williams College | 9% | #1 in National Liberal Arts Colleges |
| Tufts University | 11% | #32 in National Universities |
| Emory University | 13% | #22 in National Universities |
| Middlebury College | 13% | #11 in National Liberal Arts Colleges |
| New York University | 13% | #25 in National Universities |
| Hamilton College | 14% | #15 in National Liberal Arts Colleges |
| Colgate University | 17% | #18 in National Liberal Arts Colleges |
| Carleton College | 18% | #6 in National Liberal Arts Colleges |
| Northeastern University | 18% | #44 in National Universities |
| Boston College | 19% | #36 in National Universities |
| Vassar College | 20% | #13 in National Liberal Arts Colleges |
| Bucknell University | 35% | #37 in National Liberal Arts Colleges |
| Kenyon College | 37% | #31 in National Liberal Arts Colleges |
Dartmouth Transfer Requirements
To be eligible as a transfer applicant to Dartmouth College, students must have previously matriculated at a college and have also completed 2 years or less of college coursework at the date of handing in their applications to the Ivy League.
Unfortunately for individuals who have already earned a bachelor's degree or an equivalent qualification, they are not eligible for admission to Dartmouth.
On the other hand, those who are not currently enrolled and/or whose education has been interrupted are welcome to apply, using the "Additional Information" on Dartmouth's Transfer Application to provide context.
Similar to first-time, first-year applicants, transfer applicants need not meet a minimum GPA requirement to be eligible to apply to Dartmouth.
However, for reference purposes, most admitted transferees have a 3.7 GPA or above.
The following are Dartmouth's requirements for transfer applicants:
Application fee or a fee waiver
Completed online Transfer Application form with essays
Final secondary school report
College official's report
High school and college transcripts
Evaluations from college instructors (2)
Successful transfer applicants must submit not only their year-end college transcript but also course syllabi for all completed college courses for the determination of transfer credit.
Read Next: How to get into Brown University