Many high school students dream of going to Harvard University.
Unfortunately for the vast majority of them, which is over 90%, they will receive a rejection letter in the mail as the Ivy League is highly selective.
Great news: Harvard does not review applicants based on their GPAs and test scores alone.
The fact that the prestigious institution in Cambridge, Massachusetts also considers extracurriculars, supplemental essays and many other factors means that you have lots of opportunities to prove that you are what Harvard is looking for.
Read on to know some of the steps to take to boost your chances of getting into Harvard.
Who Gets into Harvard University
Simply put, Harvard University is looking for bright students who are very much likely to succeed academically in a higher education environment as well as contribute something to their peers and the community in the process.
To help the Ivy League do so, a number of academic and non-academic matters are considered in the admissions process.
In this part of the post, let's take a quick look at those with the most impact on the admissions decision.
1. GPA of 3.9 or Higher
Make no mistake: having a high GPA is important for any college-bound teen to get into a competitive school, especially a highly selective one such as Harvard University.
However, according to the Ivy League itself, there is no minimum GPA requirement candidates need to have for their applications to be considered by the institution's admissions officers.
As such, you can fill out the Common App or Coalition App and apply to the top-tier school no matter your GPA.
But it's no secret that high-performing students tend to be the most successful applicants at Harvard, and what they share in common are above-average high school grades.
To have an idea of how high or low your chances of getting into Harvard are, take a look at the average GPAs of first-time, first-year students accepted by the Ivy League.
According to US News, their average GPA was 3.9, which means that you should certainly be at or very near the top of your graduating high school class.
Let's check out section C11 of the common data set (CDS) of Harvard University, which indicates the percentage of all enrolled freshmen students, to see just how high the GPAs are of candidates that tend to get in:
2. Academic Rigor
Based on Harvard University's CDS, the rigor of secondary school record is an academic factor that's considered in the admissions process.
So, in other words, the admissions officers at the top-tier institution take into account the difficulty level of the high school curricula of applicants in deciding whether or not to send them an acceptance letter.
Such is done to determine if candidates have pushed themselves in high school as well as succeeded in the process, which is telling of their readiness to take on the challenges that college poses.
To increase your academic rigor, you need to take certain classes, including core and college-level courses.
What Classes Do I Need to Take in High School to Get Into Harvard?
Harvard University does not expect applicants to have taken a particular academic path in their high school careers.
However, the exceptionally competitive institution stresses that the most successful candidates tend to be those who have the most rigorous secondary school curricula their high schools have made available to them.
So, in other words, academic rigor counts, and Harvard's CDS confirms that it's considered in the review process.
While it's true that Harvard does not require you to take specific courses in high school, it recommends that you take the following core courses to increase your chances of getting in:
4 years of English (with extensive practice in writing)
4 years of math (courses that correspond to one's educational interests)
4 years of science (including biology, chemistry, physics and an advanced course in any of them)
4 years of foreign language (in a single language)
3 years of history (including American and European history)
Does Harvard Accept AP Credits?
AP credits are accepted by Harvard University.
However, it's important to point out that the elite institution only gives credit to AP exam scores of 5, unlike other institutions of higher education that accept AP exam scores of 4 or even 3.
How much credit a student can get depends on the AP exam, but it usually ranges anywhere from 4 to 8 units.
There are a total of 38 AP exams.
However, Harvard accepts only 23 of them.
So, in other words, high school students should research them before registering for any AP exam if the goal is to win credit.
You can also use your high AP exam scores to get out of some lower-level courses.
3. Exceptional SAT/ACT Scores if Submitted
Both the SAT and ACT are used by Harvard University and many other postsecondary institutions in gauging the college readiness of applicants, which is why test scores impact admissions decisions, but they're not the only ones that do so.
Various academic factors are considered by Harvard in the admissions process, and they include standardized test scores.
However, it will do so only if they are available — like many of today's colleges, the Ivy League leaves it up to applicants to decide for themselves whether or not they will include their SAT or ACT scores in their applications.
Does Harvard Superscore SAT or ACT Scores?
Harvard University does not superscore SAT or ACT scores.
For submitted SAT scores, its admissions officers consider the highest test scores in each section across different test dates.
On the other hand, for submitted ACT scores, they take into account an applicant's strongest sitting for the ACT.
Candidates who took the ACT, however, may choose to send their superscores to the Ivy League.
While it's true that Harvard checks out the best possible scores of applicants, it says that taking the SAT or ACT more than 2 times comes with diminishing returns based on general experience.
Is Harvard Test-Optional?
Harvard University is a test-optional school.
This means that applicants may or may not submit their standardized test scores, which is advantageous for those who failed to take the SAT or ACT or are unhappy with what they got.
Like many competitive postsecondary institutions, Harvard used to require candidates, freshmen applicants and transfer applicants alike, to submit their standardized test scores.
However, in 2020, the Ivy League school effected a test-optional policy. As of this writing, Harvard says that SAT and ACT scores won't be required through 2026.
Applicants who wish to submit their standardized test scores, on the other hand, may do so.
As a matter of fact, Harvard says that they may self-report their SAT or ACT scores, although their official test scores must be submitted if they get accepted and choose to attend.
Should You Submit Your Scores to Harvard?
Whether or not you should submit your standardized test scores is totally a personal decision, Harvard University says.
Also, it acknowledges that there are different reasons why a student may choose to not submit his or her SAT or ACT scores, such as them not giving a true reflection of the candidate's strengths due to a lack of high school resources.
The reason behind such could be noted in the application to give context to his or her decision on the matter.
Thinking about submitting yours?
Then you will be happy to learn that there are no standardized test score cut-offs at Harvard, which means that you don't have to meet a minimum SAT or ACT score.
But to see how your scores fare against the score of those who get in, the following are the ranges:
SAT – 1480 to 1580
ACT – 33 to 36
4. Applications With Personality
Fortunately for college-bound high schoolers who are considering putting Harvard University at the top of their college list, there is no such thing as a standard Harvard student, the Ivy League school itself says so.
The institution, however, is on the hunt for students who will best serve as educators of one another as well as their professors themselves.
So, in other words, individuals who will inspire everyone around them throughout their college careers as well as after earning their respective undergraduate degrees are what Harvard wants.
To find them, Harvard's admissions officers require candidates to submit a number of requirements.
Common App and Coalition App essays and supplementals, for instance, allow the Ivy League to learn more things about hopefuls that their GPAs and SAT or ACT scores cannot divulge.
Similarly, particularly college-specific essays, they give candidates a platform to talk about what they can contribute to the campus and why they and Harvard are a good fit for each other.
Meanwhile, their extracurriculars give insight into the skills they developed in high school as well as their interests and commitments and whether or not they have taken full advantage of the opportunities available to them.
So, if you are seeing yourself attending Harvard one day, don't just focus on getting a high GPA.
From the get-go, engage in activities and take classes that can help increase your chances of gaining admission to the Ivy League school, and make sure that you highlight them in your application when it's time to turn that dream into a reality.
How Hard is It to Get Into Harvard?
Other than being one of the best universities in the US and all over the world, too, it's also no secret that not a lot of students who wish to earn an undergraduate degree get into Harvard University.
With a very low acceptance rate, you will have to work hard from the start of your high school year — or even in middle school! — to get an offer to enroll in it.
In this part of the post, let's put the spotlight on the fact that it's hard to gain admission to the Ivy League.
Harvard's Acceptance Rate
In the last admissions cycle, Harvard University accepted only 4% of the more than 57,780 applicants.
As a result, the school is known not only for being highly prestigious but also for being extremely selective. To increase admissions chances, a college-bound teen should be an above-average student.
True enough, up to 93% of students accepted to Harvard graduated in the top 10% of their high school class, says its CDS, although it's important to note that class rank isn't considered in the admissions process.
Besides, it cannot be stressed enough that the elite institution has a holistic admissions policy.
The table below shows the acceptance rate for first-time, first-year applicants at Harvard in the past 10 years, from 2012 to 2022, giving you an idea of just how the Ivy League consistently admits only a very small fraction of all candidates.
| Academic Year | Applicants | Admits | Acceptance Rate |
| --- | --- | --- | --- |
| 2021 to 2022 | 57,786 | 2,318 | 4.01% |
| 2020 to 2021 | 40,248 | 2,015 | 5.00% |
| 2019 to 2020 | 43,330 | 2,009 | 4.63% |
| 2018 to 2019 | 42,749 | 2,024 | 4.73% |
| 2017 to 2018 | 39,506 | 2,037 | 5.15% |
| 2016 to 2017 | 39,041 | 2,110 | 5.40% |
| 2015 to 2016 | 37,307 | 2,080 | 5.57% |
| 2014 to 2015 | 34,919 | 1,944 | 5.56% |
| 2013 to 2014 | 35,023 | 2,047 | 5.84% |
| 2012 to 2013 | 34,303 | 2,076 | 6.05% |
How to Get into Harvard
Getting a high GPA, obtaining high standardized test scores, graduating at the top of your high school class, handing in first-rate supplemental essays, submitting persuasive recommendation letters is necessary to get into Harvard.
But everyone knows that already. For example, according to Daily Beast, high school valedictorians have only 25% chance of being admitted into the university.
So, what else can you do to get into Harvard that other applicants may fail to give attention to?
Following are the groups of people who have higher chances of getting in.
1. Live the Life of a Privileged Poor
The term "The Privileged Poor" was coined by Anthony Abraham Jack in his book.
While the book focuses on struggles of poor students in elite institutions, it is also true that poor but bright students have chances of getting in and afford the tuition.
Harvard University is highly accessible to poor students.
It starts with the fact that the prestigious school's admissions process is totally need-blind — the ability of applicants to pay for college will not be a factor considered by admissions officers when deciding whether or not to send an acceptance letter.
The university recently has decided to expand financial aid, all of which are need-based, for low- and middle-income families, covering not only tuition but also room and board and all other fees.
So, in other words, attending the Ivy League will be free for students from families whose annual incomes are under $75,000.
Besides making attending it cost-free for some, Harvard also makes it easy for low-income students to get in.
So much so that up to 50% of poor students at Harvard and other prestigious institutions are the so-called privileged poor, or students from low-income backgrounds who attended wealthy high schools on scholarship.
From Harvard's perspective, poor students from expensive high schools are a safer bet because they tend to have an easier time maintaining a high GPA on a college campus and thus thriving academically.
As a result of this, the Ivy League is able to flex its socioeconomic diversity sans worrying about poor students failing.
2. Be a Superstar Athlete
Did you know that around 20% of Harvard University's student body are members of the school's 42 varsity teams?
So, in other words, 1 out of every 5 people you see on campus is playing for Harvard.
It's no secret that, among the Ivy Leagues, Harvard has the lowest acceptance rate: 4%.
Well, it depends on which admitted student profile you're looking at — you will be surprised to learn that the acceptance rate for recruited athletes is nearly 90% of the time.
It's true that athletes make up only approximately 1% of Harvard's applicant pool alight, but over 10% of the admitted class is comprised of them.
There is no questioning that a 90% acceptance rate for recruited athletes is very high, especially for an extremely selective school such as Harvard. But it also means that there's a 10% chance that an athlete-student will get denied.
If you want to increase your admissions chances, be a superstar basketball or football athlete.
According to Harvard itself, most of its basketball and football players receive aid together with the rest of the 55% of the student body that does so as well.
This only goes to prove just how the top-tier institution treasures star athletes.
At Harvard University, not only will you get admitted easily as a recruited athlete but also earn your bachelor's degree without debt.
But because of the 2019 admissions scandal, the Ivy League has decided to require coaches to hand in proof of the abilities of recruited athletes before they are welcomed to its campus.
Winning an Olympic medal, by the way, may also make you more attractive to Harvard and the rest of the Ivies.
3. Get Born to a Harvard Graduate or a Teacher
With the exception of demonstrated interest, state residency and religious affiliation, Harvard University, like many other selective postsecondary institutions, considers many different non-academic factors in the admissions process.
And being related to alumni members is included — the Ivy League gives it a relative importance of "considered".
Having someone in your family, usually a parent of yours, who is a graduate of Harvard makes you a legacy student, which can increase your chances of getting in.
As a matter of fact, it is said that anywhere from 25% to 35% of students attending the prestigious school come from families with a legacy status.
According to a 2022 report by Forbes, legacy applicants are 3 times more likely to gain admission to highly selective colleges and universities than equally qualified non-legacy hopefuls.
If truth be told, it's not uncommon for numerous elite institutions to reserve 10% to 25% of admits to legacy students.
It adds that Harvard is 6 times more likely to admit legacy applicants compared to non-legacy and non-athlete ones.
There are a couple of reasons why many prominent schools have a penchant for legacy students.
First, college graduates' kids are more likely to complete their degree programs.
Second, it can raise more private donations from alumni.
Fret not if none of your parents or other family members went to Harvard at some point in their lives.
That's because being a legacy student is not the only thing that can boost your chances of getting accepted by the Ivy League — being the child of a faculty member can also make your application more appealing to the school's admissions officers.
The former director of admissions at Harvard (1970 to 1973) admits that around 12 to 20 children of faculty apply to the Ivy League per year and are accepted at a considerably higher rate than usual.
So much so that around 43% of white students at Harvard are the kids of faculty and staff members, according to NBC News.
4. Get Born With a Silver Spoon in Your Mouth
You can enjoy increased chances of getting admitted to Harvard in different ways if you're rich.
First, students from rich backgrounds have easy access to high-quality education, thus allowing them to get all the preparation they will need to apply and also get accepted to Harvard.
Based on studies, as a matter of fact, wealthy students tend to get higher SAT scores compared to their low-income counterparts.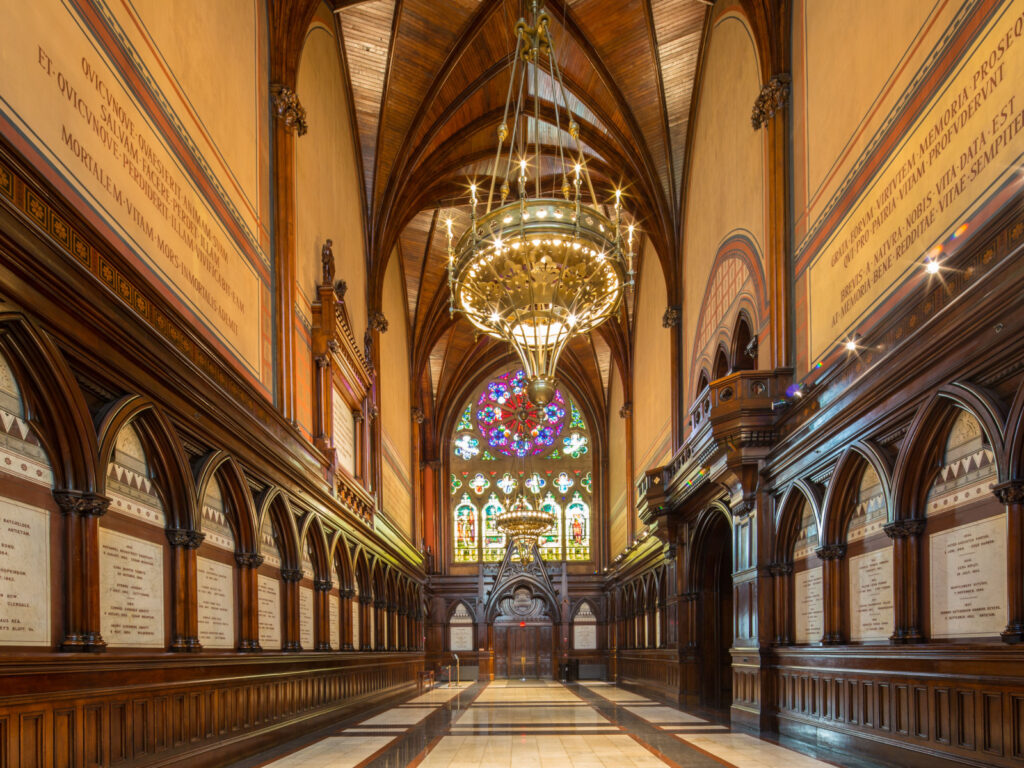 Additionally, the difference in SAT scores between high-income and low-income students is usually 2 times as large as among black students compared to white students.
A number of reasons exist why rich kids tend to ace the SAT better than poor ones.
Being able to pay for costly SAT prep programs, for instance, allows them to sit for the standardized exam fully primed and confident.
What's more, they have enough money to retake the SAT, which costs $60 each time, as many times as they want until they are happy with their scores.
Second, prestigious schools such as Harvard and the rest of the Ivy Leagues have a liking for the rich.
The Harvard Crimson itself agrees by reporting that every single class at Harvard University is unsurprisingly and disproportionately wealthy.
It adds that, according to a survey it conducted itself, more than a quarter of freshmen students are from families richer than 94% of all Americans — and nearly 50% have folks that make double the national average.
In the 2006 book called The Price of Admission: How America's Ruling Class Buys Its Way into Elite Colleges, it was revealed that among the 400 biggest donors to Harvard, 50% had kids attending the Ivy League.
5. Serve the Country
In the last academic year, there were only 59 former service members attending Harvard University — they made up less than 1% of the entire population of the Ivy League institution.
Fantastic news for those who are serving or have served in the military: in recent years, Harvard has increased its efforts in recruiting them, thereby more than doubling the number of veteran students since 2019.
The prominent school has done so by means of working with different groups that are associated with the Department of Defense.
In 2017, for instance, the Cambridge, Massachusetts-based school joined VetLink.
Simply put, VetLink is a partnership between Service to School (S2S), which is a non-profit organization that provides free college and graduate school application counseling to US military veterans and service members, and select colleges and universities committed to boosting veteran enrollment on their campuses.
S2S, like the Common App, asks Harvard applicants to talk about their unique experiences in their essays. However, this time around, they are allowed to focus more on their military experience and appraise it for admissions purposes.
Harvard also has started scouting the nation for veterans by having recruiters head to bases and community colleges and junior colleges where they are likely to be found.
As a result of this, in 2019, more than 50% of all transfer students (7 of the 12 individuals) that got into Harvard were veterans.
According to Harvard's admissions officers themselves, the school appreciates the unique perspective veterans can bring to the campus as a result of their interest in serving the country and living in various parts of the nation and the world.
6. Be Involved in the Community
Fighting for the country simply too much for you?
Fret not because community involvement is a wonderful alternative to being military personnel and giving you an edge in the admissions process at Harvard.
Volunteer work is one of the various non-academic factors the elite institution's admissions officers check out when evaluating tens of thousands of applications every admissions cycle.
What's so nice about getting involved in the community to genuinely help and make your college application look more attractive and stronger in the process is that your options are practically endless.
Anything as simple as mowing your neighbor's lawn to something as life-saving as teaching CPR after getting certified counts as community service that can suggest you are capable of doing more that can positively impact more people after you have successfully completed the Harvard degree program of your choosing.
In 2018, more than 260 college admissions leaders were surveyed.
And it was revealed that up to 53% of them agreed that community service gave students an advantage over other applicants with similar academic qualifications.
The figure climbed to 61% when only those from private colleges and universities were asked.
As a matter of fact, in some instances, involvement in the community can serve as a tie-breaker.
7. Discover a Cure for Cancer
Harvard University itself says that there's no such thing as a typical Harvard student.
As a matter of fact, there are many different things its admissions officers keep in mind each time they review applications.
To search for who they are looking for exactly, things considered by the Ivy League range anywhere from growth and potential, interests and activities, personal character to possible contributions to the Harvard community.
And under interests and activities, the following is used as a guideline:
What have you learned from your interests?
What have you done with your interests?
How have you achieved results?
With what success or failure?
What have you learned as a result?
Undeniably, coming up with a cure for cancer speaks a lot about how passionate you are about your interest in making the planet a cancer-free place for all and how successful you have become in attaining your objective and goal through hard work.
Dedication and perseverance, are just some of the positive qualities that Harvard looks for in prospective students.
But here's the deal: you don't really have to discover a cure for cancer to get an acceptance letter.
Just about anything you do that you're passionate about and brings productivity in your life and, preferably, impacts the lives of others may help increase your chances to a highly selective school like Harvard.
There's no right or wrong kind of extracurricular activity for the prestigious school.
Analyze your strengths and other things that make you unique and focus on them. Remember to opt for pursuits that also bring joy and happiness to your life.
What's important is you building a distinctive identity or achievement that would make for a wonderful addition to Harvard's student body.
8. Be a Famous Celebrity
Earlier while talking about how getting born to a Harvard University graduate or a teacher can help you get into the prestigious institution, I mentioned that having alumni relations is a non-academic factor in the school's admissions process.
Well, there's another that can spell the difference between being accepted and being rejected: talent.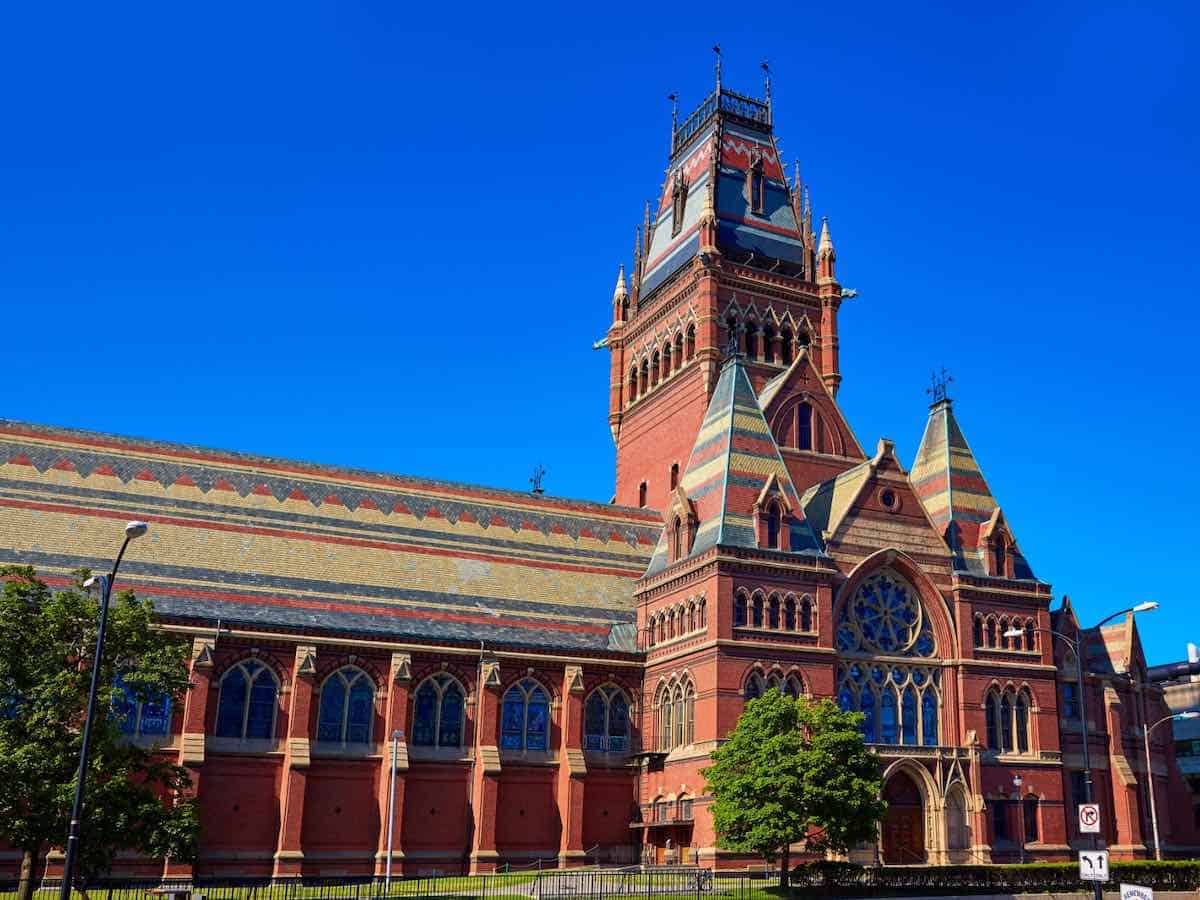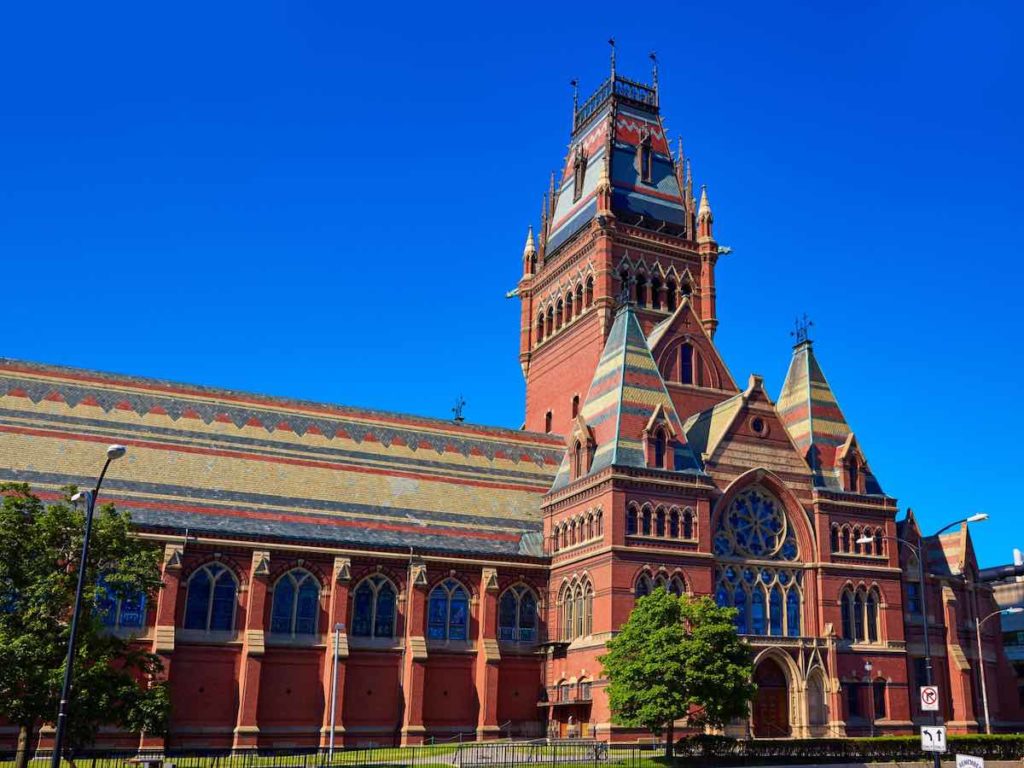 There are some programs at Harvard that require applicants to submit supplemental materials that allow admissions officers to recognize their exceptional talents that they want to share and leverage to their advantage in order to get in.
Supplemental materials can come in images, videos and audio recordings and can be submitted via Slideroom.
Harvard asks for these additional submissions because it wants aspirants to have the opportunity to best demonstrate their talents, which serves as a testament that being gifted is one of the keys to being a Harvard student.
And that is why being a celebrity may make it easier for you to get into the Ivy League.
Ashley Judd, Conan O'Brien, Elisabeth Shue, John Lithgow, Matt Damon, Mira Sorvino, Natalie Portman, Rashida Jones, Tom Morello, Tommy Lee Jones — these are some of the people in the entertainment industry that once attended Harvard.
Although their academic achievements may have helped them get in, their talents may have also served as role players.
Harvard wants to add talented individuals to its campus, and nothing can validate one's talent more than being in showbiz and getting recognized everywhere for their passion and success.
But keep in mind that having talent alone may not allow you to get your hands on an acceptance letter.
Even though talent is a non-academic admissions factor with a relative importance of "considered", more influential factors in the admissions decisions are various academic ones, which is why having a high GPA and test scores are still a plus.
Is Harvard University a Good School for You?
Harvard University is undeniably a good school.
However, refrain from assuming that it's automatically a good school for you.
While it can be a wonderful experience to attend an Ivy League school, it's not all the time that going to such a prestigious institution is the best way for you to have the college experience you want as well as academic and career goals you have.
That is why you should first determine whether or not you and the Cambridge, Massachusetts-based school are the best fit for one another before adding it to your college list, especially at the top.
It's a must to figure out if your preferences and interests can be best served by another postsecondary institution.
What Harvard University is Known For
There are many different things that Harvard University is known for.
Other than being a founding member of the Ivy League, it's also recognized for its high-achieving students, distinguished faculty members, prominent alumni members, rich traditions, large endowment, state-of-the-art facilities and, of course, academic excellence.
Some of the most highly-ranked undergraduate degree programs offered by Harvard include engineering (including biomedical, electrical and mechanical engineering) and computer science (especially data analytics, cybersecurity and AI).
Among the more than 50 majors available at Harvard, the following are some of the most popular:
Social sciences
Economics
Computer science
History
Mathematics
Political science and government
Neuroscience
Psychology
Biology
Harvard consists of different colleges and schools, including the undergraduate school Harvard College and 12 graduate and professional schools, including the Harvard Business School as well as Harvard Medical School (HMS).
Founded in 1636, it's also known as the oldest higher education institution in the US.
Schools Like Harvard, But Less Competitive
Because of its reputation, Harvard University is attractive to many college-bound students.
However, many find its low acceptance rate to be absolutely unattractive. It's a good thing that the extremely selective Ivy League is not the only school offering outstanding academics — there are many others, too, most of which have higher acceptance rates.
Here's a table listing 15 colleges and universities that are similar to Harvard but less selective, thus increasing your chances of obtaining access to top-notch education due to their higher acceptance rates year after year:
| Institution | Acceptance Rate | US News Ranking |
| --- | --- | --- |
| Amherst College | 9% | #2 in National Liberal Arts Colleges |
| Williams College | 9% | #1 in National Liberal Arts Colleges |
| Tufts University | 11% | #32 in National Universities |
| University of California, Los Angeles | 11% | #20 in National Universities |
| Georgetown University | 12% | #22 in National Universities |
| University of Southern California | 13% | #25 in National Universities |
| Carnegie Mellon University | 14% | #22 in National Universities |
| Hamilton College | 14% | #15 in National Liberal Arts Colleges |
| University of California, Berkeley | 15% | #20 in National Universities |
| University of Notre Dame | 15% | #18 in National Universities |
| Georgia Institute of Technology | 18% | #44 in National Universities |
| Boston University | 19% | #41 in National Universities |
| Wesleyan University | 19% | #18 in National Liberal Arts Colleges |
| Vassar College | 20% | #13 in National Liberal Arts Colleges |
| University of Virginia | 21% | #25 in National Universities |
Harvard Transfer Requirements
Harvard University accepts transferees.
But according to the prestigious university, on average, it admits only 12 transfer students per year.
The acceptance rate for transfer applicants at Harvard is less than 1% only.
Not everyone who has some college experience may apply to the Ivy League as a transferee.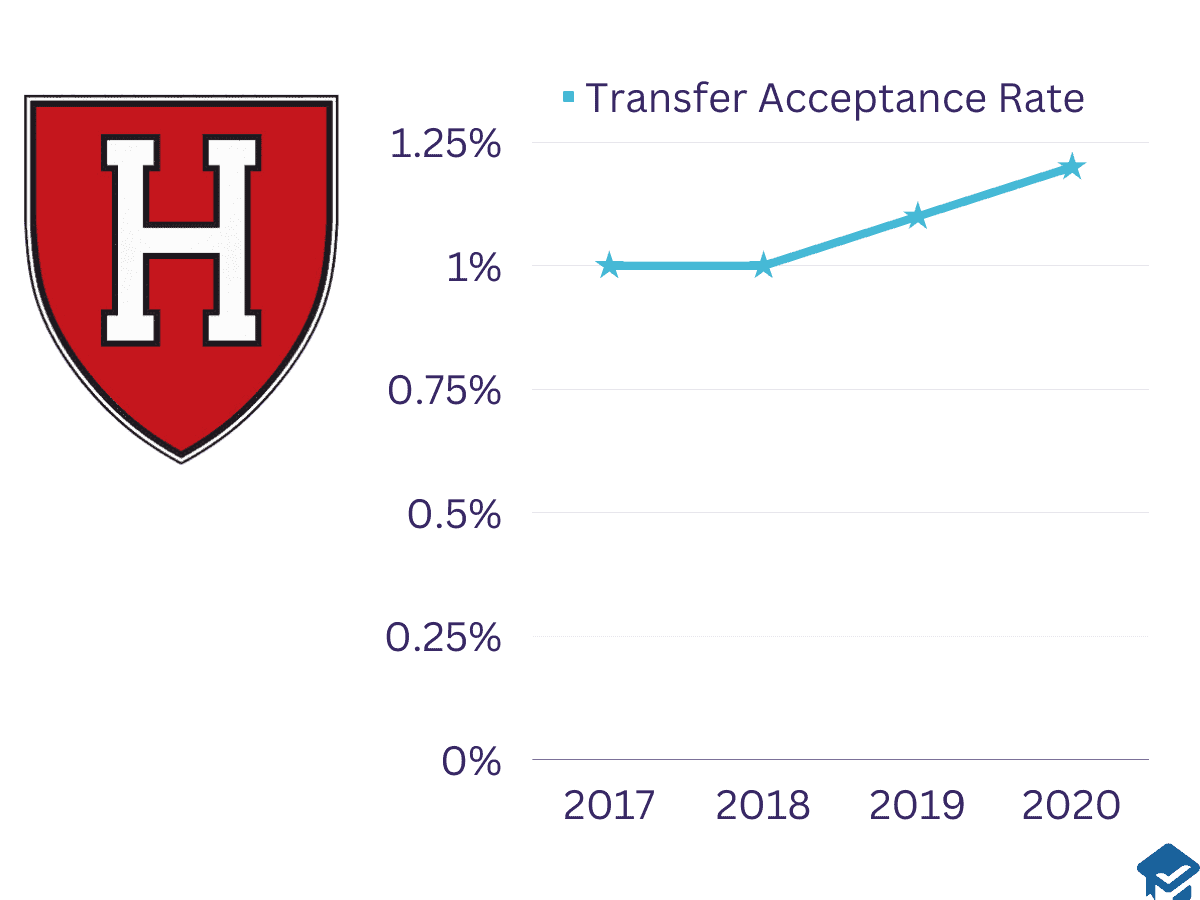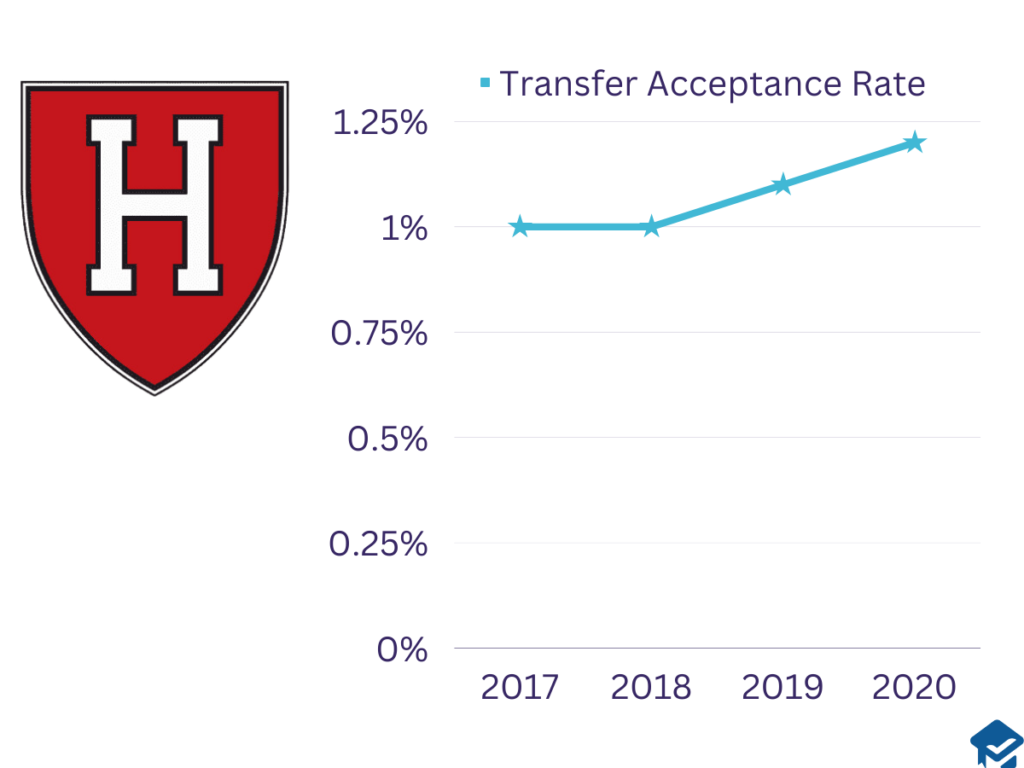 Individuals who have completed at least 1 academic year and not more than 2 academic years as full-time students are eligible to apply as transferees.
But it's important to note that they should be transferring from a liberal arts curriculum similar to what Harvard offers — vocational, technical, extension, online or another similar education type is not accepted.
These are the various requirements for transfer students applying to Harvard:
Application fee amounting to $85 or a fee waiver
Filled out Common App or Coalition App (with essay)
Harvard-specific questions and supplementals
Official high school transcript
Official college transcript
College report
Instructor recommendations (2)
SAT or ACT scores (optional)
The deadline for all transfer applications and financial aid materials is March 1. Transfer applicants are notified by Harvard's admissions officers of their decision in June.
Read Next: How to Get into Yale University