Yale University receives more than 50,000 applications per year. Among those hopefuls, unfortunately, only around 5% get an acceptance letter from the Ivy League school.
Needless to say, Yale is one of the most selective postsecondary institutions around, and those who wish to earn a bachelor's degree from it must have standout applications.
It's a good thing that there are many things that college-bound students can do to lower the risk of getting a rejection letter in the mail. In this post, you will learn how to be a step closer to being a Yalie.
The following are the 11 admissions tips we will talk about that can help boost your admissions chances:
Achieve a 3.95 GPA
Pass SAT with a 1560 or ACT with a 35 score
Take 7 to 12 AP classes in high school
Write your best Common App essay
Nail Yale-specific supplementals
Showcase your interests
Obtain 2 glowing recommendations
Demonstrate interest in Yale University
Ace interview
Apply early
Relax and wait for decision
Four Things That Yale Looks For
Yale University looks for students who are very much likely to make the most out of the elite school's resources as well as bring something significant to the Yale community.
In this part of the post, let's take a look at some of the things Yale's admissions officers consider.
1. High GPA in High School
Its website makes it very clear that Yale University does not set a minimum GPA. So, in other words, college-bound high school teens may consider applying to the Ivy League regardless of their GPAs.
Similarly, the elite school does not reweight GPAs to other standards other than what the high school uses.
Being a highly competitive institution of higher education, however, as one would expect, it's important for you to have an impressive GPA to get in.
Shortly, we will talk about the high school GPA you should aim for if you are looking to get your hands on an acceptance letter from Yale.
As a general rule of thumb, the closer your GPA is to 4, the higher your chances of getting into Yale. Since the GPA is the single most important admissions factor at most colleges, it can impact your application substantially.
Still, the fact that there are things checked out by admissions officers other than a GPA cannot be stated enough.
2. Academic Rigor
To put it briefly, academic rigor is the academic or intellectual challenge of an applicant's record.
According to the admissions officers at Yale University themselves, the high school transcript is almost always the most important inclusion in the college application of a student.
Very important — this is what the selective school's common data set (CDS) says as far as rigor of secondary school record is concerned.
So, in other words, the difficulty level of the schoolwork of the applicant has a massive impact on the review process.
The degree of rigor, moreover, must be sustained or improving until the senior year of high school.
Seeing how well you have engaged in high school allows admissions officers to have an idea of how you might engage in Yale — individuals who push themselves and excel, too, are the types of students that Yale wants.
What Classes Do I Need to Take in High School to Get Into Yale?
Unlike most other selective institutions, including the Ivy Leagues, Yale University does not require applicants to complete specific high school courses to be eligible to apply.
Furthermore, there are no specific high school courses those who are interested in certain Yale majors need to take.
Yale's admissions officers, however, recommend that applicants take courses in English, science, math, social sciences and foreign language every year.
They add that as they inspect transcripts, they do not check whether or not students have taken certain college-level classes in high school such as AP or IB classes.
Instead, they are far more interested to see that hopefuls have challenged themselves with whatever difficult coursework is available to them and, of course, have done well, too.
Does Yale Accept AP Credits?
Yale University accepts AP credits, allowing admitted students to earn anywhere from 1 to 2 credits, depending on the AP exam taken by applicants and, more importantly, the scores they obtained.
Generally speaking, colleges that accept AP exams award credit to AP scores of 3.
Since Yale is a competitive school, it requires students to have a 5 on a qualifying AP exam for them to earn college credit.
There is only 1 AP exam that allows for the earning of 1 credit even with a score of 4, and that's AP Calculus BC.
Otherwise, admits are unlikely to earn any credit with an AP exam score that's lower than 5.
Other than for awarding credit, Yale also uses AP exams for the purpose of placing students in advanced courses.
3. Exceptional SAT/ACT Scores
When it comes to standardized test scores, Yale University has no score cut-offs.
So, in other words, it will take into account any SAT or ACT scores reported by applicants.
As a matter of fact, it will still evaluate applicants even if they choose to keep their SAT or ACT scores to themselves, which will not put them at a disadvantage in the review process.
Does Yale Superscore SAT or ACT Scores?
Like many postsecondary institutions that accept standardized test scores, Yale University participates in superscoring SAT or ACT scores, which means that it takes into account only the highest subsections of the SAT and ACT during the admissions process, even if they come from different test dates.
So, in short, it's a good idea to submit all your test scores if you took the SAT or ACT multiple times.
Yale makes it clear, though, that it does not create new composite SAT or ACT scores from the highest subsection scores, although it will consider your full testing history, if available, to look for a pattern.
Is Yale Test-Optional?
Yale University, as of this writing, has a test-optional admissions policy. According to the Ivy League school itself, its admissions office is planning on announcing a long-term policy on standardized testing in late 2024.
First-time, first-year applicants may apply to Yale with or without submitting SAT or ACT scores.
In the academic year 2021 to 2022, among admitted freshmen students who enrolled, around 54% submitted their SAT scores.
On the other hand, about 35% submitted their ACT scores. As with many other colleges that are test-optional or test-required, one standardized test is not preferred over the other.
Before, Yale has always had a test-required admissions policy.
In 2020, however, it adopted a test-optional admissions policy for applicants who were seeking admission to the class of 2025.
Should You Submit Your Scores to Yale?
Applicants who believe that their SAT or ACT scores do not serve as an accurate reflection of their academic abilities and college should refrain from reporting their standardized test scores to Yale University.
The institution not only has zero preference between the SAT or ACT but also has no preference between those who choose to submit their test scores and those who choose not to.
So, in other words, deciding to keep your SAT or ACT scores to yourself will not disadvantage you in the review process.
Yale's admissions office says that it will not be able to assist applicants in deciding whether or not to include their standardized test scores in their applications as such is a purely personal decision.
4. Applications With Personality
Various non-academic requirements for college admissions allow applicants to show many different sides to themselves that their GPAs, standardized test scores, class rank and rigor of secondary school record cannot reveal.
For instance, Yale University says that it requires applicants to submit a number of supplementals (we will talk about this matter shortly, so read on!) to get their personal side.
The uniqueness and individuality of aspirants are considered by the prestigious school — so much so that, based on its CDS, character or personal qualities are very important admissions factors.
Yale adds that you should write your supplemental essays in your own voice. Similarly, it says that you should refrain from formalizing your written compositions to the point that it has no more personality and style.
While you're at it, remember to talk about experiences, interests and activities that are meaningful to you.
How Hard is It to Get Into Yale?
Being an Ivy League school, it isn't surprising that Yale University is one of the colleges that are the hardest to get into.
So much so that, for the past several years, it has had single-digit acceptance rates every admissions cycle.
In this part of the post, let's take a look at just how selective the Ivy League school is.
Yale's Acceptance Rate
Getting into Yale University isn't that easy.
The Ivy League typically accepts no more than 5% to 7% of all applicants for many years now.
In the past 10 years, the lowest acceptance rate that the prestigious school ever had was in the academic year 2022 to 2023, where around 5% of all hopefuls received acceptance letters.
Of all the said admitted students, only 68% enrolled.
Below is a table showing the acceptance rates at Yale from 2013 to 2023.
Do take note that the acceptance rates below take into account only first-time, first-year applicants, thus excluding transfer applicants.
| Academic Year | Applicants | Admits | Acceptance Rate |
| --- | --- | --- | --- |
| 2022 to 2023 | 50,060 | 2,289 | 4.57% |
| 2021 to 2022 | 47,240 | 2,509 | 5.31% |
| 2020 to 2021 | 35,220 | 2,299 | 6.52% |
| 2019 to 2020 | 36,844 | 2,241 | 6.08% |
| 2018 to 2019 | 35,307 | 2,241 | 6.34% |
| 2017 to 2018 | 32,914 | 2,285 | 6.94% |
| 2016 to 2017 | 31,445 | 1,988 | 6.32% |
| 2015 to 2016 | 30,236 | 2,034 | 6.72% |
| 2014 to 2015 | 30,932 | 1,950 | 6.30% |
| 2013 to 2014 | 29,610 | 2,031 | 6.85% |
Yale Acceptance Rate Changes
How to Get Into Yale
Just because Yale University has a very low acceptance rate doesn't mean that you should turn your back on your dream of earning a bachelor's degree from the prestigious school.
Per admissions cycle, it accepts around 5% of all first-time, first-year applicants, and you could be a part of that small percentage of admits.
In this part of the post, let's talk about 10 of the things that can help increase your admissions chances.
1. Achieve a 3.95 GPA
A college applicant's high school GPA is one of the most important factors in the admissions process, although it's important to point out that rarely it's the only factor taken into account during the review process.
Needless to say, the more selective the postsecondary institution, the higher the GPA of applicants should be.
According to Yale University itself, it does not have any minimum GPA requirement hopefuls must meet.
It adds that it also does not recompute GPAs to any other standard besides what a high school provides.
True enough, unlike many colleges, the CDS section (C11) where the percentage of admits according to various GPA ranges has been left blank by Yale.
Of course, since you will be competing for a slot at the Ivy League against some of the brightest students in the land and across the globe, too, the importance of having a very high GPA cannot be stated enough.
How high your GPA should be for increased admissions chances can vary from source to source.
CollegeSimply, for instance, says that you will need an average high school GPA of 3.95, according to the site's own algorithm.
On the other hand, College Essay Guy says that 4.0 is the recommended GPA.
2. Pass SAT With 1560 or ACT With 35 Score
SAT and ACT scores are used by test-required and test-optional (if submitted) schools in the review process as they help admissions officers determine the level of college readiness of applicants.
As of this writing, Yale University has a test-optional policy.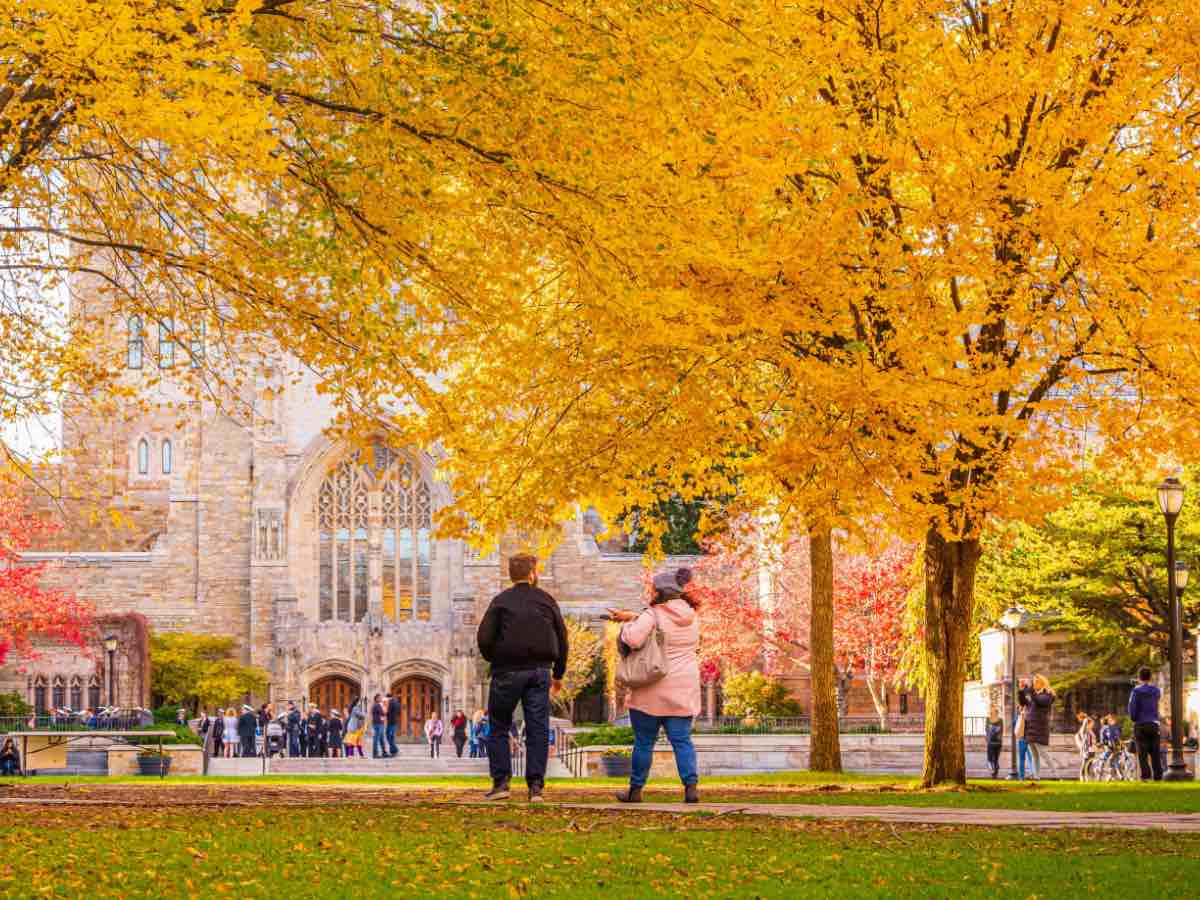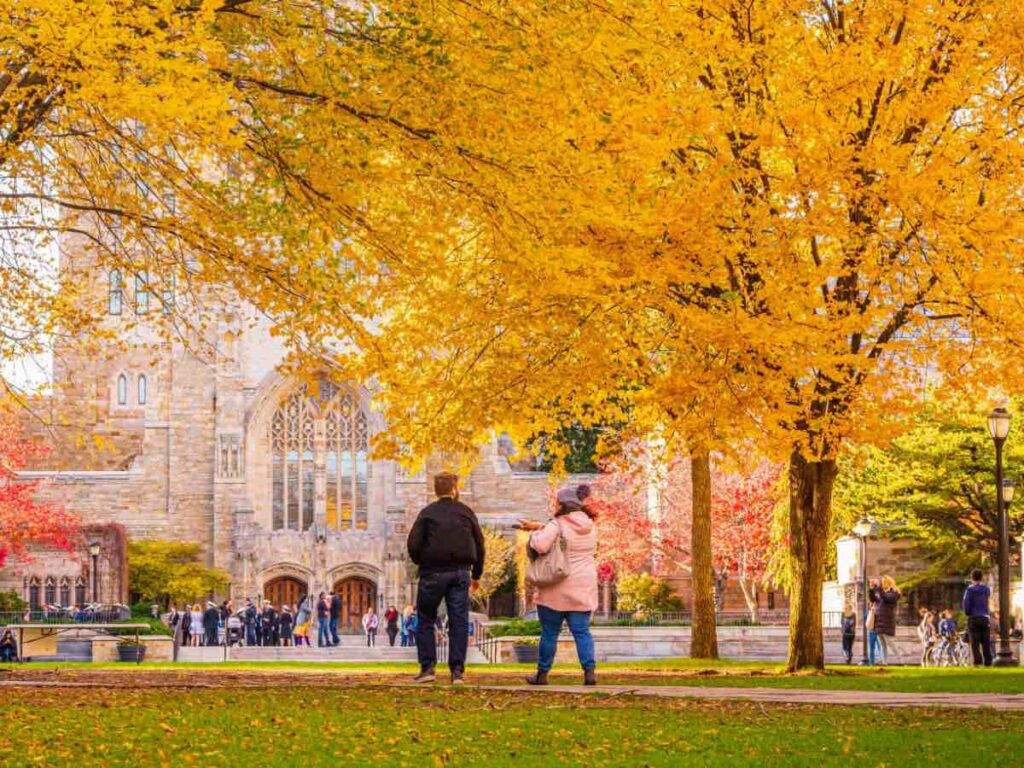 Admitted students who submitted their test scores to the Ivy League school have an SAT score range of 1480 to 1560 and an ACT score range of 33 to 35.
These scores represent the middle 50%, which is from the 25th percentile to the 75th percentile — having an SAT or ACT score of 1560 or 35 means that you outscored 75% of all test-takers.
You can submit your SAT or ACT scores if you choose to report them as Yale does not prefer one over the other.
3. Take 7 to 12 AP Classes in High School
Advanced Placement (AP) is a program by the College Board, and taking AP classes increases a high school student's academic rigor since these classes are college-level courses.
Yale University does not require applicants to have taken AP classes.
However, since the elite institution considers the rigor of secondary school record very important in the admissions process, a student who took AP classes in high school has better chances of getting in than someone who didn't, provided that they're both from high schools offering AP classes.
Being a competitive school, Yale expects to see 7 to 12 AP classes listed on the application.
However, fret not if your high school does not offer numerous AP course options — what's more important is that you make the most of what's available to you.
For instance, taking 2 AP classes is perfectly fine if they are the only ones available. Since IB classes are also accepted by Yale, you might want to look into them as well.
Other than making your application more appealing, AP classes can also win you college credit or placement in advanced Yale courses, although you will have to have AP scores of 4 to 5.
4. Write Your Best Common App Essay
The Common App essay is a writing sample carried out by students who are applying through the said platform. All colleges that accept the Common App read the Common App essay to get to know applicants more.
Similar to the Common App, the Coalition App has an essay component, too.
Yale University accepts both the Common App and Coalition App, which means that you will have to write the required college application essay no matter which platform you prefer.
Through it, the Ivy League school can get to know your personality, background, experience and potential that various parts of your application do not disclose.
Of course, other than the content of your Common App or Coalition App essay, college admissions officers at Yale will also consider your creativity as well as your writing and communication skills.
5. Nail Yale-Specific Supplementals
Unlike the primary college application essay the Common App or Coalition App requires, supplemental essays are additional pieces of writing whose prompts are provided by colleges themselves.
Due to this, supplementals are also sometimes referred to as college- or school-specific essays.
Although there could be many different possible supplemental essay prompts, the most common is "why us?" or "why this college?"
It doesn't really come as a surprise since they are required for college admissions officers to know applicants better.
Also, it can demonstrate how much the student knows about the institution as well as how he or she fits well into it.
When applying to Yale University, you will be asked to provide 8 supplementals, and they are the following:
7 short answer questions (200 words or fewer)
1 short essay (400 words or fewer)
6. Showcase Your Interests (EAs)
Simply put, extracurricular activities are programs or pursuits that are outside of the regular high school curriculum. Participating in them allows students to pursue their interests or accomplish goals.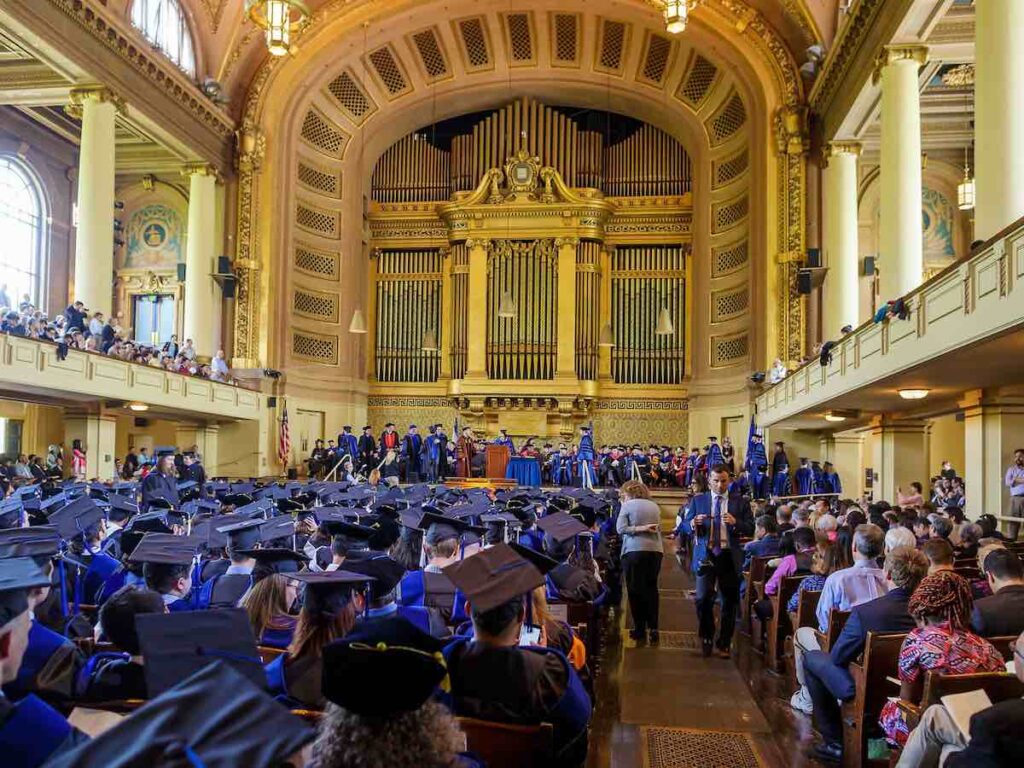 EAs are taken into account by many colleges in the application process because they allow admissions officers to see an applicant's passion and skills, thus giving them an idea of what the individual could contribute to the campus.
Depending on who you ask, participation in EAs accounts for about 20% to 30% of your college application.
Given that Yale University has a holistic admissions policy, it considers EAs very important.
Other than for admissions purposes, engaging in activities that you are interested in or passionate about also allows you to obtain proficiencies that you will need to succeed in college and beyond — EAs are not just for getting an acceptance letter.
What Extracurricular Activities Do I Need to Get Into Yale?
Certain high school EAs are simply more appealing in the eyes of college admissions officers, including those at competitive schools with a holistic admissions policy such as Yale University.
You should definitely highlight in your application to the prestigious institution leadership roles you took on in high school — student leaders are more likely to utilize what they learn in college into meaningful contributions to the community after graduation.
And speaking of which, Yale also wants to see volunteering and community service endeavors.
Don't forget the importance of partaking in EAs that have something to do with your preferred college major!
7. Obtain 2 Glowing Recommendations
Recommendation letters are statements that emphasize the strengths and achievements of college-bound students and explain why they would be successful as undergraduate students.
Around 80% of colleges consider recommendations important, and Yale University is one of them.
The highly-ranked school regards letters of recommendation as very important in the admissions process, as its CDS makes clear.
So much so that it requires first-time, first-year applicants to submit a total of 2 recommendations, both from teachers who have taught applicants in their core academic classes.
Also, even though not a requirement, Yale says that it prefers recommendation letters to come from teachers who have taught aspirants during their junior or senior year of high school.
But don't just pick any recommender — go for teachers who know you best and how promising you are.
8. Demonstrate Interest in Yale University
Demonstrating interest is the expression of the desire of a student to attend a particular college.
Many schools consider it in the admissions process because it's good for the yield rate — the percentage of accepted students who actually enroll.
You can show Yale University your commitment to matriculate if accepted in many different ways.
For instance, you can join its mailing list and open every email the Ivy League sends you as well as click on every link each email has.
You may also follow it on social media or by showing up (and registering, too!) at its booth at college fairs.
Visiting the campus, either in-person or virtually, is another example of demonstrated interest.
Before this particular section of this post comes to an end, we will discuss a couple of other forms of demonstrated interest, so keep reading if you want to increase your chances of getting into Yale.
9. Ace Interview
The college interview is a part of the application process at many colleges and universities.
However, in most instances, it's not mandatory — interview invitations are usually sent randomly to only a few applicants.
An interviewer could be someone from the admissions office or a current or former student at the college.
Yale University factors in interviews when making admissions decisions. Based on its CDS, it's a non-academic admissions criterion with a relative importance of "considered".
It goes without saying that an interview will allow the Ivy League to know you much better. Likewise, it will enable the institution to learn further why you'd make for a great addition to the campus.
The Office of Undergraduate Admissions of Yale says that it prioritizes interviews for aspirants for whom admissions officers need more information crucial for the proper evaluation of their applications.
Does Yale Require an Interview?
Yale University does not require applicants to undergo an interview. As a matter of fact, students may not request the Ivy League for an interview. Likewise, they may not schedule an interview as part of the campus tour.
According to the prestigious school itself, you will not be penalized for not being offered an interview.
It's perfectly fine for applicants who receive a review invitation to decline.
However, Yale encourages applicants to get in touch with an alumni or student interviewer if they do get invited.
While it may not necessarily make someone who says no to the offer less competitive in the eyes of admissions officers, it may make other applicants who accept the offer look more appealing.
10. Apply Early
Many institutions of higher education allow students to apply early through plans such as early decision and early action.
As a matter of fact, to accommodate early applicants, most of them have more than just a single round per plan.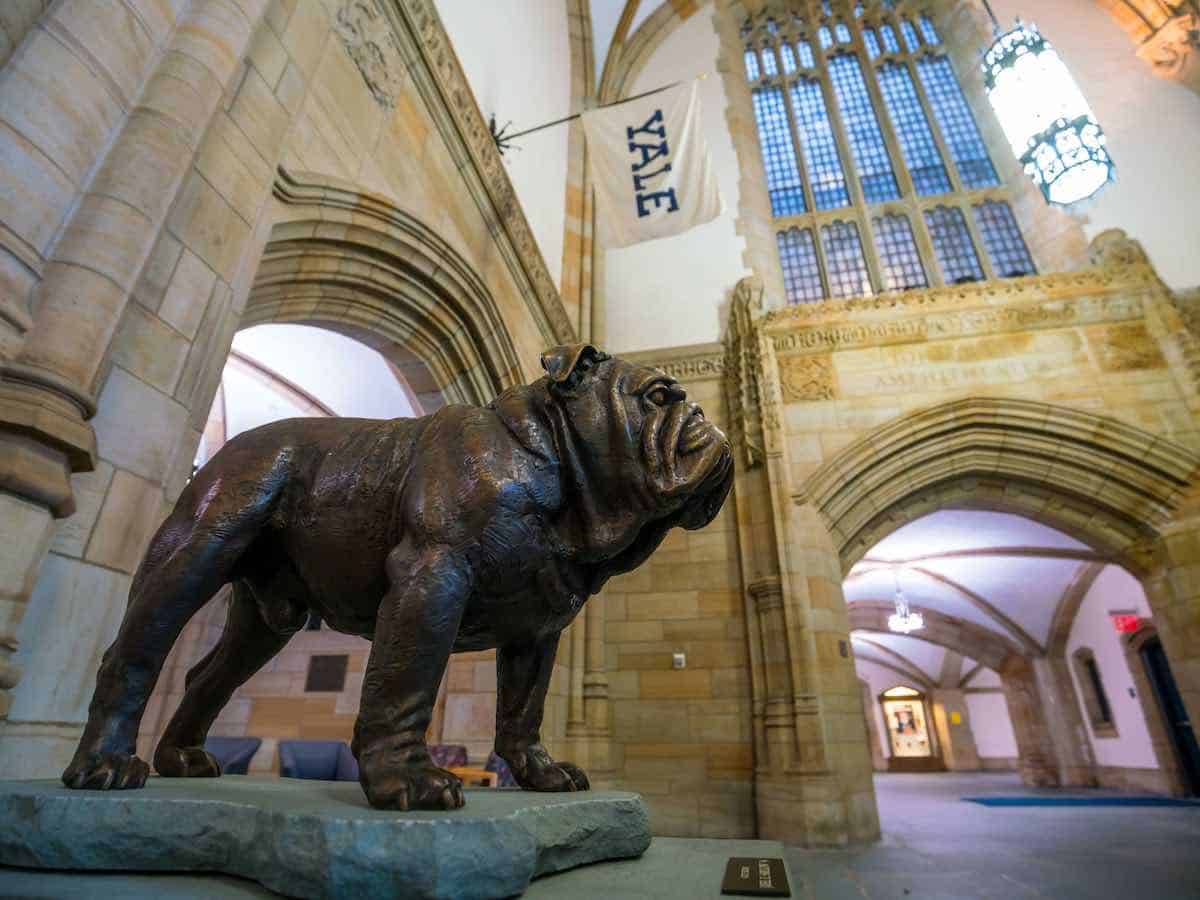 According to the College Board, around 450 colleges have early admission plans, including Yale University.
Early application is a form of demonstrated interest, which, as earlier discussed, is a way for you to express that you are willing to enroll if accepted.
Applying to Yale early, needless to say, may help improve your chances of getting in.
As a matter of fact, the acceptance rate for early applicants is 10% (versus 5% for regular decision applicants).
But it's important to note that handing in your application early alone simply won't do.
Most early applicants to the Ivy League are some of the most competitive applicants. Of course, they have better chances of getting accepted than others to begin with.
So, in other words, you also need to have a strong application.
What Are Yale's Application Deadlines?
Unlike most other institutions, including selective ones, Yale doesn't offer an early decision plan. Instead, it only has what's referred to as single-choice early action.
Also known as restrictive early action, the said early admission plan restricts applicants from simultaneously applying to other postsecondary institutions via early decision or early action.
They can, however, apply to other schools through early action 2 or any other non-binding plan.
Yale's single-choice early action is non-binding, which means that you are not required to matriculate if accepted.
As a result, you may compare financial aid offers and pick a school that has the most generous offer.
Here are the application deadlines at Yale University:
| | |
| --- | --- |
| Admission Plan | Deadline |
| Single-choice early action | 1-Nov |
| Regular decision | 2-Jan |
11. Relax and Wait for Decision
Students who just handed in their applications to Yale University should relax.
Waiting if they have been accepted or rejected or waitlisted can be just as stressful as the college application process itself, and it can take its toll on one's mental health and, more importantly, academic performance.
Yale University's admissions officers strongly warn aspirants against catching senioritis.
Prior to finalizing an offer to enroll, they will check on an applicant's senior year program and determine whether or not his or her performance has declined — having senioritis might cost you your acceptance letter!
Is Yale a Good School for You?
College-bound students should refrain from assuming that just because Yale University is high-status and popular means that it's the best school for them.
While there is no denying that it's one of the best institutions of higher education in the US and also across the globe, it doesn't necessarily mean that Yale is the best for all degree-seeking students.
It's important to consider what you are looking for in terms of academics and an overall college experience as well as your prospective career paths and then determine whether or not Yale is the right place for it.
What Yale is Known For
Yale University is primarily known for its top-notch drama and music programs, for which many clubs and organizations exist for students to join.
As a matter of fact, there are a total of 20 on-campus venues and world-class extracurricular facilities for productions that have something to do with the said programs.
The Ivy League is a research institution, too, and it takes pride in the fact that its classrooms and labs are producing the next generation of world-renowned innovators in various areas of research distinction.
Among its various undergraduate degree programs, computer science and engineering are some of the most highly ranked.
For instance, US News ranks Yale #33 in Best Undergraduate Engineering Programs, including biomedical engineering and environmental health engineering.
Some of the most popular among the Ivy League school's 80 majors include the following:
Economics
History
Biological and biomedical sciences
Political science and government
Liberal arts and humanities
Information science
Statistics
Psychology
International relations
Mathematics
Schools Like Yale, But Less Competitive
Yale University is a good school.
However, it's not the only good school out there. If you are after its top-notch academic programs but its incredibly low acceptance rate is in the way, fret not.
There are many different postsecondary institutions out there that can provide the college experience of your dreams but are not as selective as the Ivy League school.
The following are 15 colleges and universities that are like Yale but easier to get into:
| Institution | Acceptance Rate | US News Ranking |
| --- | --- | --- |
| Harvey Mudd College | 10% | #29 in National Liberal Arts Colleges |
| Tufts University | 11% | #32 in National Universities |
| Georgetown University | 12% | #22 in National Universities |
| New York University | 13% | #25 in National Universities |
| Washington University in St. Louis | 13% | #15 in National Universities |
| Carnegie Mellon University | 14% | #22 in National Universities |
| University of Notre Dame | 15% | #18 in National Universities |
| Wellesley College | 16% | #5 in National Liberal Arts Colleges |
| Boston College | 19% | #36 in National Universities |
| Washington and Lee University | 19% | #11 in National Liberal Arts Colleges |
| Wesleyan University | 19% | #18 in National Liberal Arts Colleges |
| University of Michigan – Ann Arbor | 20% | #25 in National Universities |
| Vassar College | 20% | #13 in National Liberal Arts Colleges |
| Wake Forest University | 25% | #29 in National Universities |
| Brandeis University | 39% | #44 in National Universities |
Yale Transfer Requirements
Transfer applications are accepted by the admissions office of Yale University.
However, it's so much harder for transfer students to get into the elite school than freshmen students — the acceptance rate for transfer applicants at Yale is less than 1%.
In the academic year 2021 to 2022, for instance, only 15 out of the 1,991 transfer applicants got an acceptance letter.
To be eligible to apply as transferees to Yale, students must have a year's worth of transferable college credit.
Applicants who will have fewer than 8 transferable college credits upon entering Yale must apply as first-year students.
Meanwhile, those with more than 2 years' worth of college credit will not be offered admission.
Here are Yale's requirements for transfer applicants:
Common App for transfer
Application fee of $80 or a fee waiver
Academic evaluations
College report
Transfer mid-term report
Official high school and college transcripts
SAT or ACT scores (optional)
Read Next: How to Get into Dartmouth