Is Howard University an Ivy League School?
Because it has more affordable tuition than most schools and is admired for being a leader in STEM fields, it can be tempting to apply to Howard University, a historically black college and university (HBCU). And now you may be wondering if it's one of the country's prestigious Ivy League schools.
Howard University is not one of the eight highly competitive schools in the Northeastern US, collectively known as the Ivy Leagues. However, it is considered as a Black Ivy League school, together with Spelman College, Hampton University, Tuskegee University, Morehouse College, Fisk University, etc.
Are you planning to move to Washington, DC to attend Howard or take one of its online programs at home?
Then don't stop reading now.
Below, you will come across just about every student has to know about Howard University, from the minimum GPA requirement an applicant should have to some of the most popular people who once attended it.
Upon reaching the end of this article, you will be able to determine if this is the school for you.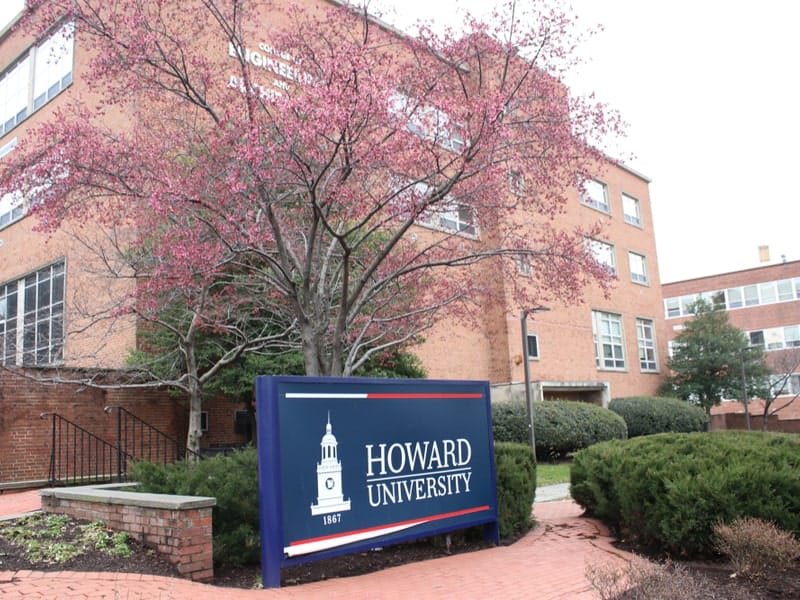 A Brief History of Howard University
In 1886, Howard University was established to become a training facility for African-American preachers.
The group who established it, which was composed of 10 members of the First Congregational Society of Washington, DC, decided to name the institution after a white man, General Oliver O. Howard, a Civil War hero who was serving as the Commissioner of the US Bureau of Refugees, Freedmen, and Abandoned Lands or Freedmen's Bureau.
After a year, the facility focused more than just training black preachers. It began to offer liberal arts courses and medical training, too, to African-American students trying to pursue higher education.
So, in 1867, Howard University held its very first few classes with five students, all of whom were whites and the daughters of the people who founded the institution. The school's president, by the way, was none other than General Oliver O. Howard himself. By 1972, it had educated around 150,000 freed slaves.
It was only in 1926 when the school had an African-American president, Dr. Mordecai Wyatt Johnson. During his term, Howard University expanded to eight colleges, despite the fact that it didn't have accreditation at the time.
Now that you are acquainted with the school's history, let's take a look at some quick facts about it:
Location: Washington, DC
Campus type: Urban
Size: 257 acres
Population: 9,399
Education system: Liberal
School type: Private, federally chartered research HBCU
Reputation: Party school
Motto: Veritas et utilitas (truth and service)
Tuition and fees: $28,440
Number of majors: 73
Best majors: Business, Management, Marketing, Communication, Journalism, Social Sciences, Fitness Studies
Selectivity: Highly selective
Average class size: Less than 20 in 52.1% of classes
Student-to-faculty ratio: 10:1
Retention rate: 85%
Graduation rate: 59.2%
Color: Blue and white
Mascot: Bison
Number of varsity teams: 21
Number of athletes: 500+
Sports: Basketball, volleyball, football, soccer, softball, lacrosse, tennis, golf, bowling, cross country, swimming, diving, track and field (indoor and outdoor)
What is the Acceptance Rate at Howard University?
The acceptance rate at Howard University is 36.1%. Compared to most other HBCUs, Howard is a highly selective school. Howard University is one of the HBCUs with the lowest acceptance rates. To be accepted, one must have a strong application.
Many students make it a habit to examine the acceptance rates of colleges and universities. This allows them to know which schools are likely to send them acceptance letters and which ones are likely to send them rejection letters.
It may not be one of the eight Ivy League schools, but Howard is one of the various Black Ivy League schools.
It's because of this why it has a high selectivity level, as evidenced by a 36.1% acceptance rate. Needless to say, you will have to impress the school's admissions officers with your application and supporting documents.
Howard University is so selective that the SAT scores of admitted students range from 1130 to 1280. On the other hand, the ACT scores of admitted students range from 22 to 27.
However, currently, the school has a test-optional admissions policy. This means that you may or may not submit your test scores. The choice is completely up to you.
If you choose to submit your SAT or ACT score, the admissions officers will consider it in making a decision. If you choose to keep it, they will base their decision on other factors.
What GPA Do You Need to Get Into Howard University?
To gain admission into Howard University, one should have a GPA of 3.55. This means that the applicant should be a higher than average student. Due to a holistic admissions process, the GPA is not the only consideration in the admissions process.
Most US colleges and universities accept students with a GPA of 3.0 at least. Some schools may also accept applicants with lower GPAs, depending on their selectivity level.
If you are planning to attend Howard, it's a must for you to be around average in your high school class.
Taking challenging AP or IB classes can make up for a less-than-impressive GPA, although the school won't hold it against you if your high school does not offer college-level courses to its students, which also allow for earning college credits.
However, refrain from assuming that a high GPA is a guarantee that you will get an acceptance letter. According to the school's admissions officers themselves, Howard University also checks out:
Educational objectives
Unique talents and skills
Leadership in school and community activities
So, in other words, it will take a lot to grab the admissions officers' attention than just a 3.55 GPA.
Related Post: Is Morehouse College a Good School?
What is Howard University Known For?
Howard University is known for being a leader in science, technology, engineering and mathematics (STEM) fields. As a matter of fact, it is ranked by the National Science Foundation as the top producer of African-American graduates who will later pursue doctoral degrees in science and engineering.
Students who check out college rankings know very well that Howard is number two in the Best HBCUs by US News for the year 2021. It also ranks high in other college rankings by various ranking sites.
But just because you are not interested in pursuing something in the STEM arena doesn't mean that you should send your application to another school. Earlier, we mentioned that the best, which is synonymous with the most popular, majors the school is offering include:
Business
Management
Marketing
Communication
Journalism
Social Sciences
Fitness Studies
Similarly, as also stated above, Howard University is considered as one of the Black Ivy League schools. Needless to say, it's one of the most prestigious and selective HBCUs in the nation.
How Much Does It Cost to Go to Howard University?
Based on the academic year 2021 to 2022, the cost of going to Howard University for one year amounts to $48,114. The cost is lower for a student who will live off-campus or take an online program. Because it's a private school, there is no such thing as in-state and out-of-state tuition at Howard.
There are various things that students look for in colleges and universities before they get shortlisted. The cost of attendance (COA) is one of the most important.
Many students, African-Americans and other races or ethnicities alike, apply to HBCUs because of the fact that it's generally cheaper to go to them. If you plan to go to Howard University, you will have to shell out almost $50,000 — slightly less if you will live off-campus and significantly less if you will study online (around $36,880).
Here's a breakdown of the estimated cost of attending Howard University for one academic year:
| FEES | COST |
| --- | --- |
| Tuition | $28,450 |
| Mandatory fees | $466 |
| Books/supplies | $1,360 |
| Housing | $9,300 |
| Meal plan | $5,378 |
| Transportation | $1,000 |
| Personal expenses | $2,160 |
| TOTAL | $48,114 |
Luckily, financial aid helps bring down the cost of going to Howard. Up to 87% of students at the HBCU receive need-based financial aid. First-year students who do are awarded around $5,438.
On the other hand, non-need-based financial aid awards amount to around $3,348 each.
Is Howard University a Racially Diverse School?
More than 70% students going to Howard University are African-Americans. However, as is the case with all HBCUs, students of any racial or ethnic background may apply to Howard, and they will receive acceptance letters if they meet the school's requirements.
It's not uncommon for a lot of HBCUs to have more black students than other students.
Similarly, it's not uncommon for some HBCUs to have more students of various races or ethnicities than African-Americans. In fact, a great deal of them has more whites than blacks these days.
For instance, at Kentucky State University, an HBCU in Frankfort, Kentucky, the proportion of non-black students went from 44% in 2007 to 52% in 2017.
At Howard University, since the majority of its students are African-Americans, as mentioned above, racial-ethnic diversity is considered as below-average.
Just take a look at this table that shows its demographics:
| RACE/ETHNICITY | PERCENTAGE |
| --- | --- |
| African American | 71.33% |
| Unknown | 6.83% |
| Hispanic | 6.10% |
| International | 5.96% |
| Multi-ethnic | 3.37% |
| Asian | 2.78% |
| White | 2.26% |
| Pacific Islander | 0.21% |
College Factual
What Famous People Went to Howard University?
Many well-known people once attended Howard University, including first African American and first Asian American vice president Kamala Harris. Howard alumni include other firsts, such as the first African-American to receive the Peace Prize and the first African American woman to serve as a US ambassador.
Sometimes, to have an idea of how good a school is, all you have to do is check out its graduates.
Knowing the names of some of Howard University's most famous alumni can give you a sense of where being its graduate can take you. With hard work and determination, you can also make a mark in the world, such as:
Kamala Devi Harris. The 49th vice president of the United States. She is also first female, as well as first Asian America and first African American vice president in history. Before becoming a vice president she served as US Senator from California from 2017 to 2021. Kamala Harries graduated from Howard University in 1986.
Ralph Bunche. An actor, diplomat and political scientist, Ralph Bunche was the first African-American to be awarded the Peace Prize. He received it for arranging a cease-fire between Arabs and Israelis in the late 1940s. Besides going to Howard, he also established the school's political science department.
Thurgood Marshall. From 1967 to 1991, Thurgood Marshall served as Associate Justice of the Supreme Court of the US. What's more, he was the first black Supreme Court Justice in the entire history of the country. He graduated magna cum laude from Howard University in 1933.
Elijah Cummings. Besides being a civil rights advocate, Elijah Cummings was also a political figure. As a matter of fact, he served in the US House of Representatives for the 7th congressional district of Maryland from 1996 to 2019, the year he died. He graduated from Howard in 1973 with a bachelor's degree in Political Science.
Patricia Bath. A professor and ophthalmologist, Patricia Bath was the inventor of laser cataract surgery. Also, she was the first African-American woman to have a residency in ophthalmology at New York University. After graduating from Howard University, she served as the school's ophthalmology professor.
Toni Morrison. A novelist and professor, Toni Morrison won the National Book Circle Critics Award for her 1977 novel, Song of Solomon. Her 1987 novel, Beloved, won the Pulitzer Prize in 1988. She was the recipient of the Nobel Prize in Literature in 1993. In 1953, she earned her bachelor's degree in English from Howard.
Andrew Young. Served as a close confidant to Martin Luther King Jr., Andrew Young was a US Congressman from Georgia, Atlanta mayor and ambassador to the United Nations (UN). He went to Dillard University for a year before transferring to Howard University, where he finished his secondary education.
Patricia Roberts Harris. A political figure, Patricia Roberts Harris was the first black woman to serve in the US Cabinet and also to represent the nation as an ambassador. In 1945, she graduated summa cum laude from Howard, which she picked from five colleges that offered her scholarships.
Amiri Baraka. Born Everett LeRoi Jones, Amiri Baraka received the PEN awards in 2008 for his book Tales of the Out and Gone, a collection of short stories. Besides being an author, he was also a professor at various colleges. He went to Howard University for a while, which helped establish the foundations for some of his writings.
Chadwick Boseman. A playwright and actor, Chadwick Boseman played Thurgood Marshall, another Howard alumni, in the 2017 movie entitled Marshall. But he rose to international fame for playing Black Panther. He earned his bachelor's degree in Fine Arts from Howard — the school named its College of Fine Arts after him.
Sean Combs. Also sometimes referred to as Puff Daddy or P. Diddy, Sean Combs is a singer, rapper, record producer, record executive and businessman. He attended Howard for two years as a Business major and returned to the school in 2014 to accept an Honorary Doctorate in Humanities.
How Does Howard University Compare With Other HBCUs?
As a high-ranking school (number two in Best HBCUs by US News), it doesn't come as a surprise why Howard University is better than most HBCUs and other colleges and universities when certain factors are considered. However, in some aspects, other schools, especially HBCUs, are better than Howard.
Students can only include as many schools on their list. That's because applying to colleges and universities consumes both time and money. This is when the importance of carefully comparing schools with each other comes in.
Let's check out how Howard University fares against some of the most well-known HBCUs:
Is Howard University better than Spelman College?
In terms of cost, Howard has slightly lower tuition than Spelman — $28,440 vs. $29,972. However, it's harder to gain admission into Howard University as it has a lower admission rate than Spelman. Ranking-wise, Howard is number two, and Spelman is number one.
Is Howard University better than Xavier University of Louisiana?
Both Howard and Xavier are in the top three Best HBCUs by US News. Howard University's campus is so much bigger than the campus of Xavier — 257 acres vs. 63 acres. Besides having a smaller campus, Xavier also has lower tuition than Howard.
Is Howard University better than Tuskegee University?
Howard offers nearly 90 undergraduate degrees, all of which are concentrated into 73 majors. On the other hand, Tuskegee offers only nearly undergraduate degrees, all of them concentrated into 43 majors. Cost-wise, Tuskegee University's tuition is way lower: $22,614.
Is Howard University better than Hampton University?
According to US News' Best HBCUs, both Howard and Hampton are in the top five — the former is number two, and the latter is number five. Other than their initials, Howard and Hampton University have pretty much the same acceptance rates and tuition.
Is Howard University better than Florida A&M University?
In terms of cost, Howard is several times more expensive than Florida A&M. Since it's a public school, Florida A&M University's tuition is cheaper for in-state students — $5,785 (in-state) vs. $17,725 (out-of-state). Howard's tuition is the same for all students.
Conclusion
There are only a little over 100 HBCUs in the country nowadays, with more than 228,000 students attending them. One of the historically black schools that tend to make its presence known most of the time when the best HBCUs are being talked about is Howard University, which is located in Washington, DC.
Above, we discussed some of the things about Howard that students planning to apply to it need to know about.
Now that you know the school's history, admissions requirements, cost, racial-ethnic diversity, most notable alumni and how it compares with other high-ranking HBCUs, you can decide better if that application should be sent to the school's admissions office or to another college or university.
Read Next: Best HBCU Colleges By Major

Disclaimer: The views and opinions expressed in this article are those of the authors and do not necessarily represent those of the College Reality Check.