Is Spelman College a Good School?
Atlanta, Georgia, is home to a historically black college and university (HBCU): Spelman College.
Founded in 1881, it's a private liberal arts institution that's open to women only.
Spelman College offers more than 30 majors, the most popular of which include English, biology, political science and psychology.
The average GPA of successful applicants is 3.8 and their SAT and ACT scores range from 1060 to 1240 and 20 to 26, respectively.
US News ranks it #1 in Historically Black Colleges and Universities and #51 in National Liberal Arts Colleges.
College-bound teens who would like to attend Spelman College apply via the Common App.
Read on before you fill out the said platform and submit it — I will discuss just about everything that you need to know about Spelman so that you can have a much better idea if it's the right school for you.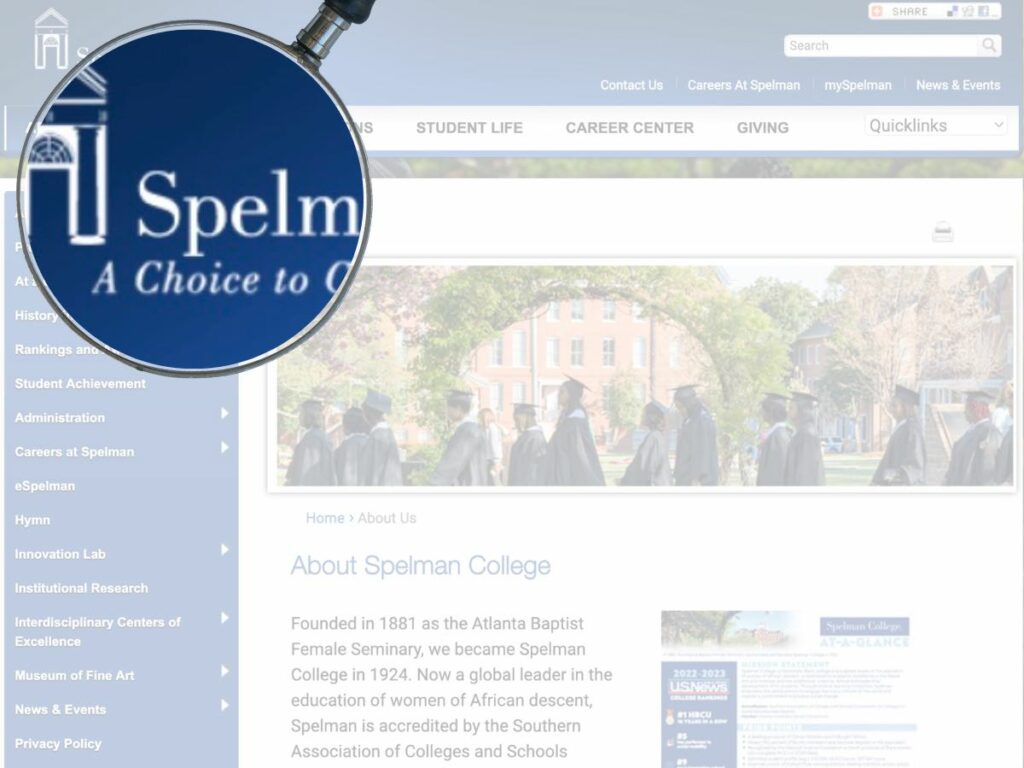 A Brief History of Spelman College
In 1881, Sophia Packers and Harriet Giles, both of whom were educators from Boston, Massachusetts, began to teach 11 African-American women in the basement of Atlanta Baptist Female Seminary, which is now called Friendship Baptist Church.
In early 1883, the seminary relocated to Fort McPherson, a Civil War military training site.
The school grew significantly in 1884, thanks to the generous donations from John D. Rockefeller, the founder of the Standard Oil Company and used to be one of the richest men on the face of the planet.
Eventually, the seminary was renamed Spelman Seminary in honor of Rockefeller's wife, Laura Spelman.
In 1886, Rockefeller Hall, consisting of dormitory rooms, administrative offices and a chapel was opened.
Then, in 1924, the seminary's campus grew from nine acres to more than 30 acres and was renamed Spelman College.
Now that you are familiar with the early beginnings of Spelman College, it's time to know some quick facts about it…
Location: Atlanta, Georgia
Campus type: Urban
Size: 39 acres
Population: 2,120
Education system: Liberal
School type: Private, historically black liberal arts college for women
Reputation: Non-party school
Tag line: A Choice to change the world
Tuition and fees: $29,972
Number of majors: 31
Best majors: Physical Science, Psychology, Social Sciences, Biological and Biomedical Sciences, English
Selectivity: Moderately selective
Average class size: 30 students (smaller class size in many upper-level courses)
Student-to-faculty ratio: 10:1
Retention rate: 91%
Graduation rate: 76%
Color: Columbia blue and white
Mascot: Jaguar
Sports: None since 2013 (only wellness programs)
Acceptance Rate at Spelman College
The acceptance rate at Spelman College is 43.4%. This makes the HBCU a moderately selective school. Its early acceptance rate, on the other hand, is 59.6%.
According to a College Simply ranking, Georgia Colleges Ranked by Lowest Acceptance Rate, Spelman College is the eighth hardest to get into.
Before sending an application to a school, most students check out the acceptance rate.
A low acceptance rate is synonymous with higher chances of receiving a rejection letter.
This is especially true if your application doesn't make you fully qualified to gain admission into Spelman College.
To grab the attention of the school's admissions officers, you have to be near the top of your class.
Spelman College is a member of the Atlanta University Center Consortium (AUCC).
One of the group's primary goals is to promote collaboration and involvement among the campuses, students and stakeholders.
Let's take a look at a table of the acceptance rates of the members of the consortium:
| SCHOOL | ACCEPTANCE RATE |
| --- | --- |
| Morehouse College | 99.80% |
| Clark Atlanta University | 54.80% |
| Spelman College | 43.40% |
| Morehouse School of Medicine | 1.58% |
As you can see, Spelman College is not the most selective of AUCC schools. It's not the easiest to get into either.
With the average acceptance rate of US colleges and universities at 68%, you must see to it that your application is strong enough to receive an acceptance letter from the school instead of the other that many students dread getting.
Is Spelman College Ivy League?
Spelman College is not a part of a group of eight highly competitive US colleges and universities called the Ivy Leagues. However, it's one of the ten HBCUs that make up the Black Ivy League schools.
These schools are referred to as such for acquiring the top African-American students in the US.
Before anything else, let's get one thing straight: there is no agreed-upon source for which HBCUs are members of the Black Ivy League colleges or universities.
However, there are ten schools that tend to be mentioned all the time when the group is being talked about:
Cheyney University of Pennsylvania
Dillard University
Howard University
Fisk University
Hampton University
Lincoln University
Morgan State University
Spelman College
Tuskegee University
Besides top-notch education and the prestige they exude, Ivy League schools are notorious for being expensive.
Well, this is when going to a Black Ivy League school becomes advantageous for smart students from low-income families.
What's more, there is no need for them to be blacks. These days, everyone is welcome to apply to an HBCU.
What is Spelman College Known For?
Spelman College is widely known for being one of the global leaders in educating women of African descent.
According to the liberal arts school itself, it's the leading producer of African-American females who complete doctoral degrees in the US. Spelman College is also the oldest all-women's HBCU.
It's for certain that Spelman College is one of the very first few schools that pops into people's minds when HBCUs are being talked about. So, in other words, it's a very well-known historically black school in the nation.
Many students check out college rankings when deciding which schools they should shortlist. It's true that college ranking isn't everything, especially because it can be subjective.
Every ranking site on its planet has its own formula and preconception of what the best schools should be.
Still, it cannot be denied that college rankings can make the task of selecting schools less stressful and time-consuming.
And when it comes to Spelman College's rankings, it's easy to see that the HBCU is one of the best.
For instance, the school is number six in Most Innovative Schools, 19 in Best Undergraduate Teaching, number 54 in National Liberal Arts Colleges, and number 100 in Best Value Schools.
More importantly, Spelman College is number one in Historically Black Colleges and Universities.
All rankings, by the way, are by US News.
Major-wise, Spelman College's most popular majors are, as mentioned earlier:
Physical Science
Psychology
Social Sciences
Biological and Biomedical Sciences
English
Spelman College has 31 majors and offers 35 undergraduate degrees.
What GPA Do You Need to Get Into Spelman College?
To gain admission into Spelman College, applicants should have a GPA of 3.76 at least. This means that they should be near or at the top of their class, having more A's than B's.
Besides GPAs, the school's admissions officers also consider many other factors before deciding an applicant's fate.
Having the minimum GPA requirement of Spelman College is difficult if you are already in your junior or senior year of high school.
This means that if you plan to attend the HBCU, you should start gearing up for it early in high school.
But just because you have a low GPA doesn't mean you should not apply to Spelman College.
Like many colleges and universities in the US, Spelman College has a holistic admissions process. This means that it takes into account other things than just an applicant's GPA.
For instance, if your GPA is low, you may still have increased chances of getting admitted if you took challenging AP or IB classes many students stay away from.
Here's a list of some of the stuff that the admissions officers of Spelman College consider in an applicant:
Academic achievement
Leadership development
Community service
Extracurricular activities
Personal essay
Is Spelman College Test-Optional?
Spelman College is a test-optional school. Needless to say, applicants can decide whether or not they will submit their SAT or ACT scores.
Submitted test scores will be considered in the decision process. Applicants who choose to keep their test scores will not be asked to provide an explanation.
According to the school itself, it doesn't have any absolute SAT or ACT score requirement.
However, based on statistics, the majority of students who gain admission into Spelman College have SAT scores that range anywhere from 1080 to 1230.
On the other hand, students who receive acceptance letters from the HBCU have ACT scores that range anywhere from 22 to 26.
For the academic year 2019 to 2020, 73% of admitted students submitted their SAT scores, and 51% of them submitted their ACT scores.
Despite being test-optional, the majority of applicants have chosen to submit their test scores.
It's a good idea to include your SAT or ACT score when applying to Spelman College even if you can keep it to yourself.
This is especially true if you are not that proud of your GPA or any other critical part of your application.
With a high test score, your chances of gaining admission into Spelman College may increase.
Is Spelman an All-Female College?
Spelman College is a private historically black (HBCU) women's college. As a matter of fact, up to 98.8% of its population are African-American students. Still, any female student of any racial or ethnic background is free to apply to Spelman College.
HBCUs like Spelman College are known to have lower sticker prices than most other schools.
If you want to earn a degree for less, you can send an application to Spelman College, no matter your color.
Still, it's important to note that the school is not the most diverse HBCU on the face of the planet. Many others have an impressively diverse pool of students race- or ethnicity-wise.
As a matter of fact, some of them have more white students than black ones.
For instance, Bluefield State College, an HBCU, is almost 90% Caucasian these days.
Check out this table that shows Spelman College's racial-ethnic diversity:
| RACE/ETHNICITY | PERCENTAGE |
| --- | --- |
| African American | 97.41% |
| White | 0.14% |
| Asian American | 0.05% |
| Multi-ethnic | 0.24% |
| International | 0.75% |
On the other hand, here's 10 of the most diverse HBCUs in the nation:
Bluefield State College
West Virginia State University
Kentucky State University
Fayetteville State University
Johnson C. Smith University
University of Maryland – Eastern Shore
Delaware State University
Elizabeth City State University
Tennessee State University
Xavier University of Louisiana
Famous People Who Went to Spelman College
Sometimes, it's a good idea to check out the alumni of a college to have an idea if the names of some of the people who attended or graduated from it ring a bell.
Let's take a quick look at some of Spelman College's most notable alumni:
Alice Walker. An activist, poet and novelist, Alice Walker wrote The Color Purple, a 1982 novel that caused her to win the Pulitzer Prize for Fiction and the National Book Award for hardcover fiction. She attended Spelman College in 1961 but transferred to Sarah Lawrence College in New York.
Marian Wright Edelman. Throughout her entire professional life, Marian Wright Edelman had been an advocate for underprivileged Americans. She even influenced prominent figures such as Martin Luther King Jr. and Hillary Clinton. She attended Spelman College after graduating from Marlboro Training High School in 1956.
Keshia Knight Pulliam. From 1984 to 1992, Keshia Knight Pulliam played Rudy Huxtable on the popular TV sitcom, The Cosby Show. As an adult, she played Miranda Lucas-Payne on Tyler Perry's House of Payne, another top-rating TV sitcom. In 2001, she earned her bachelor's degree in Sociology at Spelman College.
Tayari Jones. An author, Tayari Jones wrote a total of four novels. An American Marriage is one of them, which was Oprah's Book Club Selection for 2018. Currently, she teaches at Emory University. She graduated from Spelman College in 1991, after which she went to the University of Iowa and Arizona State University.
Marcelite J. Harris. Born in Houston, Texas, Marcelite J. Harris was the first African-American female general officer of the US Air Force. During the Carter administration, she served as a White House social aide. She earned a bachelor's degree in Speech and Drama from Spelman College before training at Lackland Air Force Base.
Leslie Sykes. A journalist and reporter, Leslie Sykes is the co-anchor of the Eyewitness News at KABC-TV. Her first big break was when she served as a reporter and the anchor of three shows at WDAM-TV in Hattiesburg, Mississippi. She has a degree from Spelman College.
Ruby Doris Smith Robinson. Civil rights leader Ruby Doris Smith Robinson worked with the Student Nonviolent Coordinating Committee (SNCC) no sooner than when it was founded. She gained admission into Spelman College in 1959, immediately after which she became involved with the Atlanta Student Movement (ASM).
Bernice King. A minister, Bernice King is the youngest child of Martin Luther King Jr. She was only five years of age when her father was assassinated. She was only 17 years old when she was asked to speak at the United Nations (UN). In 1985, she graduated from Spelman College with a degree in Psychology.
How Does Spelman College Compare With Other HBCUs?
There are only two all-women's HBCUs, and one of them is Spelman College.
For students wanting to go to single-sex historically black schools, Spelman College is a definite standout.
The school also tends to be better than most other HBCUs based on some factors, from the acceptance rate to the COA.
Without any more ado, let's see how Spelman College fares against some equally popular HBCUs:
Spelman College vs. Howard University
Spelman College has a slightly higher sticker price than Howard University. Despite this, Spelman College has a higher graduation rate — 76% vs. 59.2%. However, one has higher chances of gaining admission into Howard University as it has a higher acceptance rate.
Spelman College vs. Xavier University of Louisiana
Spelman College and Xavier University of Louisiana rank high on US News' Best HBCUs — both of them are in the top three. But because Spelman College is generally considered the best HBCU in the nation, it's more expensive than Xavier University of Louisiana.
Spelman College vs. Tuskegee University
Going to Spelman College is way more expensive than going to Tuskegee University. Despite this, Tuskegee University has more majors — 43 vs. 31. Tuskegee University has a larger campus size (5,000 acres) than Spelman College but only a slightly higher population.
Spelman College vs. Hampton University
Compared to Hampton University, Spelman College has a higher acceptance rate — 43.4% vs. 36. However, when it comes to the number of majors offered, Hampton University takes the cake as it has more than 50 majors.
Spelman College vs. Florida A&M University
Florida A&M University has a substantially bigger campus than Spelman College. Its campus is 422 acres and houses 156 buildings. It doesn't come as a surprise why it has more students than Spelman College — almost 10,000 students vs. a little over 2,000 students.
Is Spelman a Good School
Spelman College is a great school that often ranks first in rankings of the best HBCUs. A liberal arts college, it offers majors respected by employers, such as Physical Science, Social Sciences and Psychology.
Being selective, Spelman College is good for students with a 3.76 GPA and higher.
Above, we talked about some of the most important matters about the Atlanta-based school students planning to apply to it need to know about, and it's apparent that it's one of the best HBCUs in the country.
Read Next: Best HBCU Colleges By Major

Disclaimer: The views and opinions expressed in this article are those of the authors and do not necessarily represent those of the College Reality Check.