Is UNC at Chapel Hill a Good School?
The University of North Carolina at Chapel Hill is a good school for students who are after Ivy-like academics for a fraction of the cost. The public research institution, whose freshmen population consists of over 82% of state residents, is known to offer excellent undergraduate degree programs in business and engineering.
I visited the University of North Carolina at Chapel Hill last summer and was very impressed by the school. Below I share details from our tour and offer suggestions about completing their application.
Information Session
After we had a delicious Indian lunch at Duke, we took a quick 20-minute drive to UNC at Chapel Hill. The parking situation was insane. We had arrived at least 30 minutes earlier than the start of the tour, but we had to walk about a ½ mile to get to the building.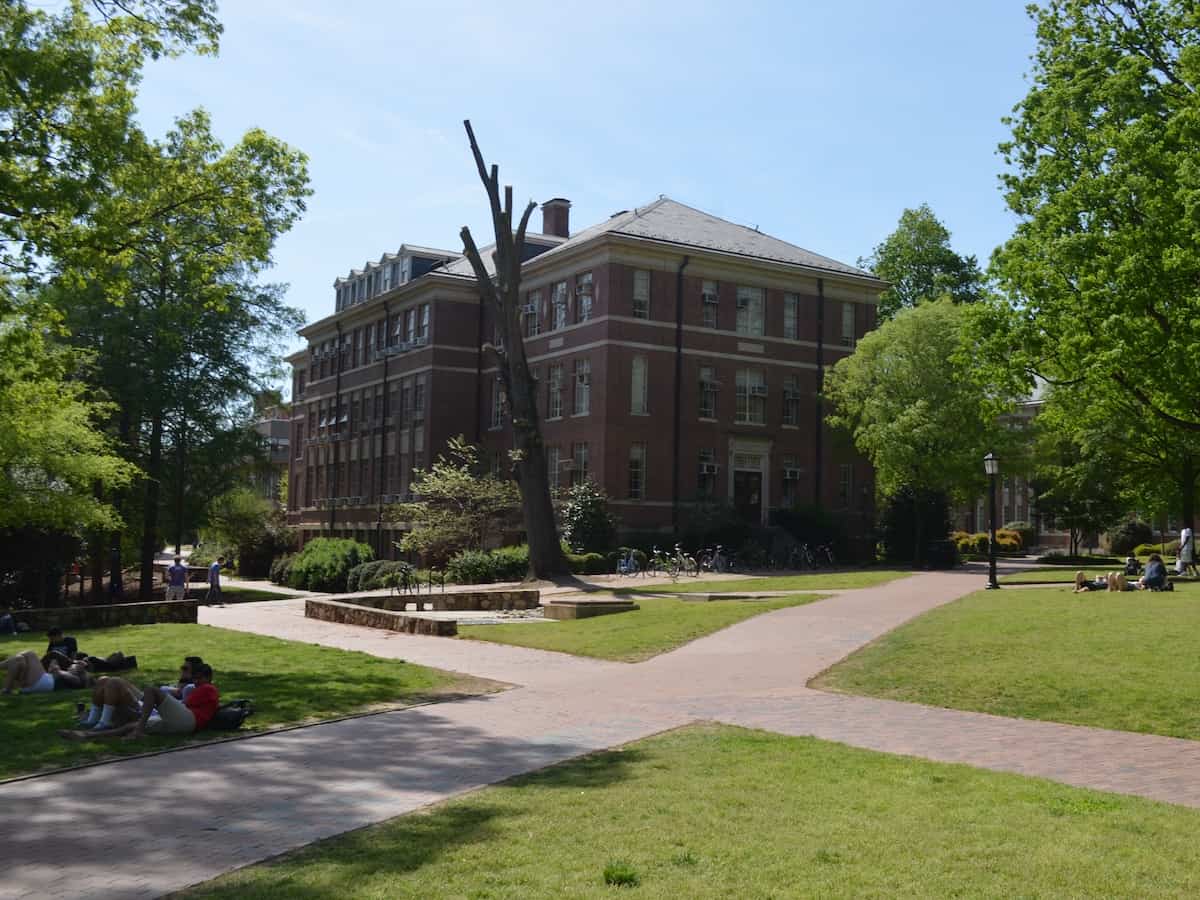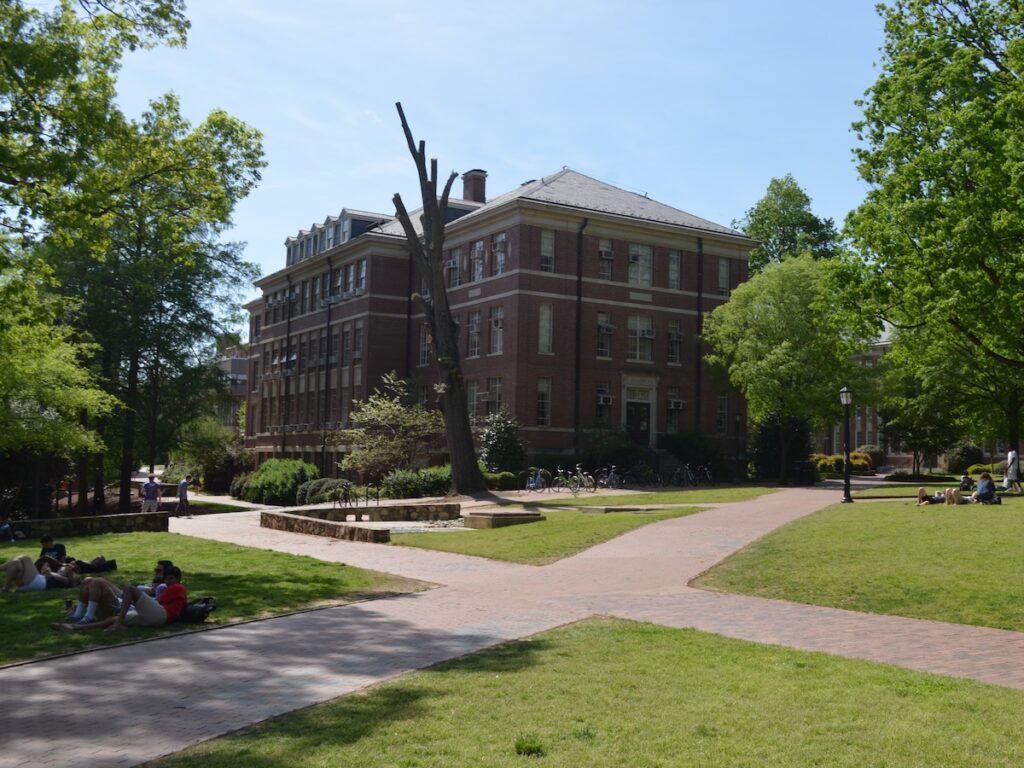 If you do go to UNC at Chapel Hill for your own tour, I recommend you park in the garage because it is connected to the building where the session was held, and the street parking around the campus is reserved for the staff.
The info session presentation included video clips of students saying why they loved UNC. I particularly remember a former UNC student mentioning how he felt he could freely express himself as a dancer.
He loved showing incoming freshmen how you can communicate emotion through dance. He believed that UNC allowed him to pursue what he had dreamt of.
Our admissions officer emphasized from the beginning that UNC doesn't look for the students with the highest standardized test score. They look for students who will take advantage of internships, research, and abroad opportunities.
In fact, 60% of UNC undergraduates do original research, and ⅓ study abroad. They also looked specifically at what you could bring to the community. Since NC residents are paying the university, only 18% of the students can be out-of-state.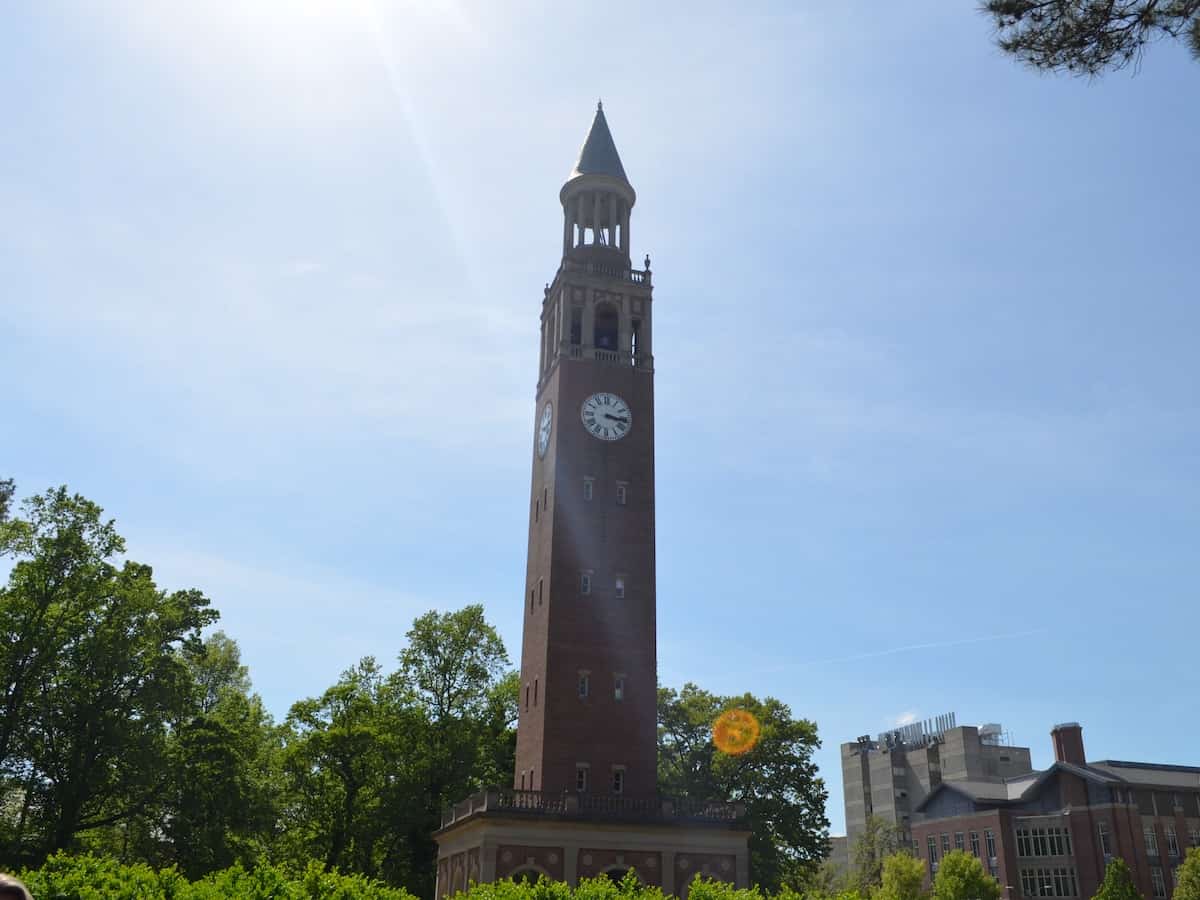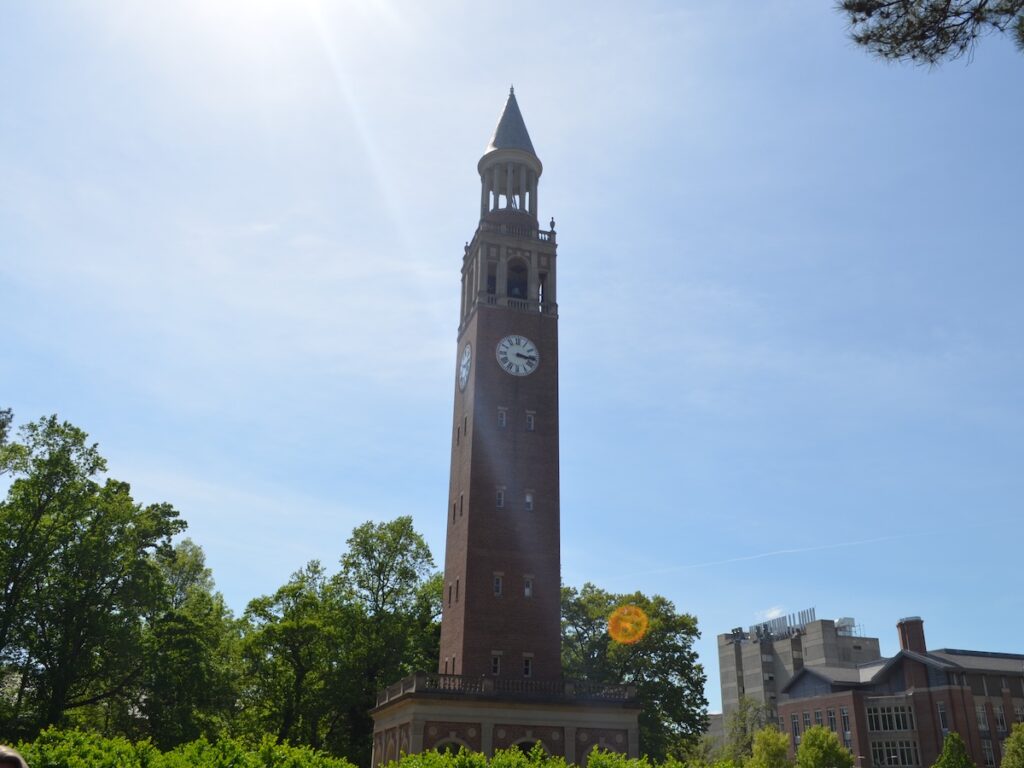 Walking Tour
A big tower named "Morehead Patterson Bell Tower" is lit up at the beginning of the year, and UNC students stand around and sing the college song. And that's where we started our tour.
After introducing herself, our tour guide dove into the topics of dorms and roommates. All first-year students live mainly in South Campus (I have no idea what that means regarding your class locations).
You have 2 options for a dorm room: 8 person suite or a hall, but everybody shares a common bathroom. Before you come to UNC, you fill out a survey asking questions about pet peeves, cleanliness, etc., but you are not able to pick or request roommates.
All dorm buildings have one dining room and one kitchen per floor, and each floor has either all boys or all girls. Our tour guide said that UNC provides a lot of accommodations which you should request in advance if you can.
For example, if you need a pan to cook dinner on February 15th, reserve it in advance. She also mentioned how she is able to do work-study this way, so if you need a pan, then she is the person you come to.
Next, we took a walk to "The Pit." It is an approximately 30 x 40-foot rectangle that is 2 feet deep, which is very disappointing. No, it is not some deep, long passage like the one which led to the "Chamber of Secrets" in Harry Potter.
When we stopped by it, there was some sort of construction project happening that involved actual students doing the building, which I thought was another example of how UNC students get involved in the community.
Though there is nothing special about The Pit itself, it is the center of the college with many surrounding buildings that students use every day. There is a type of convenience building that has printing stations and IT people to help fix electronics.
Our tour guide had actually spilled something all over her laptop during the week, which of course, was finals week. She left it to the IT people, and within a few hours, it was as if nothing had happened to the laptop.
There are also 8 story libraries that surround The Pit. Our tour guide jokingly said the higher you climb up the library, the quieter it gets, and she has never gotten even near the top. Needless to say, everybody passes through The Pit at least once a day.
She also mentioned that 800+ organizations take place on the UNC campus. Now, 800+ seems like a lot, and it is, but she said her friend made a bacon club where you meet monthly and cook something with bacon.
On the topic of food, you have various meal plans to choose from 100, 200, etc., unlimited. I am sure that these meal plans include kosher, vegan, and halal. She mentioned 2 dining halls: One serves your 3 main meals and closes at 8, and another serves breakfast food from 9 to 12 a.m.
Then, we took another short walk to a building where we could go inside one of the average classrooms you will find at UNC. While walking, I noted that many students like to sit on the lawn and work. There were a few patches of green grass left.
I am joking, but the students seemed to prefer working outside in the noise than the quiet, air-conditioned libraries. Anyways, the average classroom we saw fits 20-30 people.
This makes sense because 7% of the classrooms have 100 or more students, so professors can have a one-on-one with students and discussions rather than 2-hour lectures.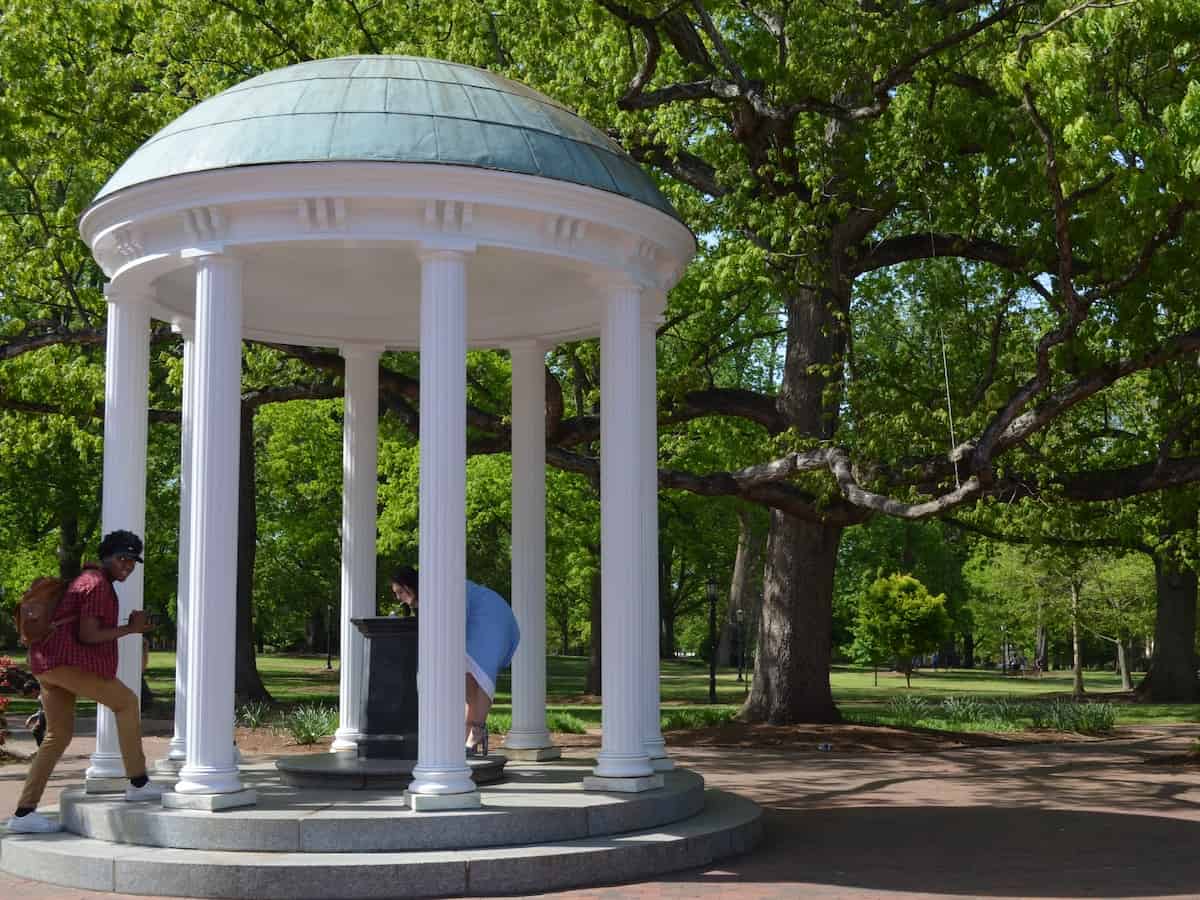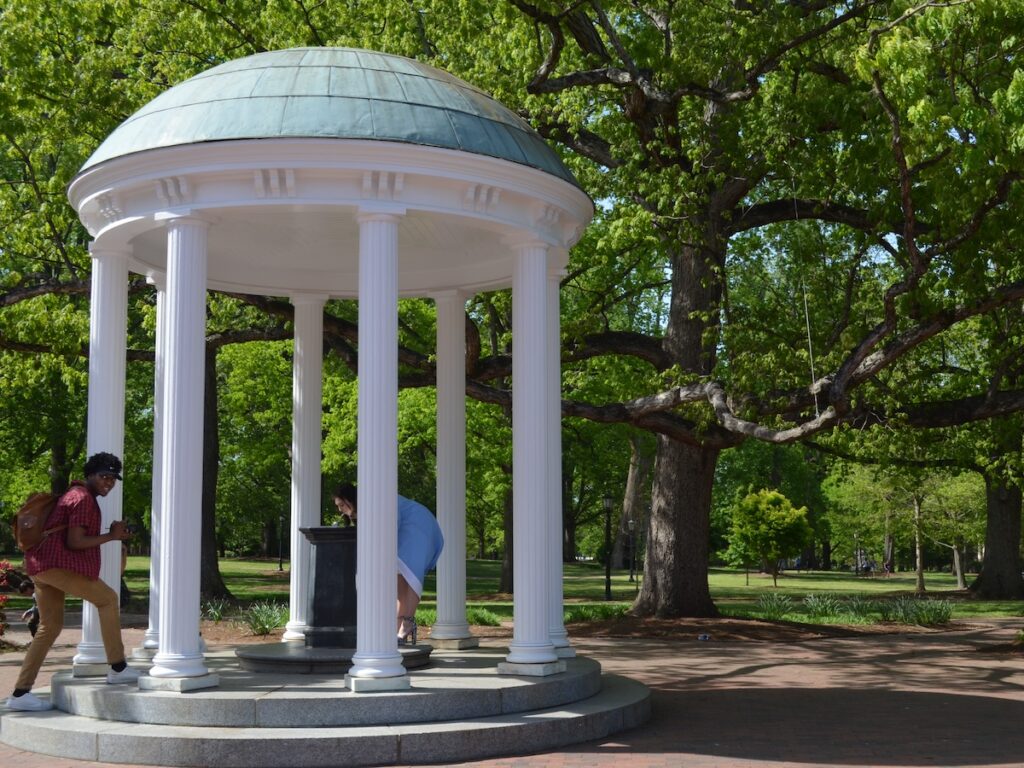 Our last stop was the old & famous Well. The Well is a place that has been standing for over a hundred years (Look at a picture of the original The Well).
UNC students line the street to drink from it every year because it apparently brings good luck.
What Does UNC Look for In A Student
To get admitted to it, one must shine academically. As a matter of fact, 94% of accepted students graduated in the top quarter of their high school class. On the other hand, up to 93% of them have a high school GPA of 4.0. Besides the academics, UNC looks for what you can bring to UNC, and they are absolutely willing to help you max out your full potential.
For example, a student studying journalism went to Rio to cover the Olympics.
Another UNC student who really took it to the top was a girl named Rachel from Newton, NC. Rachel came to UNC unsure of what she wanted to major in. She started with the intention of pursuing a medical career and changed her major 6 times until she came back to the medical field.
Rachel had volunteered at a hospital and helped patients with disabilities, including blind people. She was in biology class when she and her peers were saying how the illustrations in the book helped them a lot when it came to understanding body parts.
Rachel, along with two of her classmates, wondered how blind people learn about the inside of the human body.
They all shared deep care for helping the disabled and decided to do something for the blind. They started a non-profit to 3D print body organs to give blind people the opportunity to learn about the human body.
So, in other words, being a well-rounded student in high school is a huge advantage.
Here are the non-academic factors considered in the admissions process and their relative importance:
| | |
| --- | --- |
| Extracurricular activities | very important |
| Talent | very important |
| Abilities | very important |
| State residency | very important |
| Work experience | important |
| Volunteer work | important |
| First-generation | considered |
| Alumni relation | considered |
| Race/ethnicity | considered |
UNC admission factors
UNC-Chapel Hill Admissions Requirements
Students may apply to the University of North Carolina at Chapel Hill using the Common App. Materials they have to submit include high school transcript, school report, recommendation letter, and college courses if any. As of this writing, UNC-Chapel Hill has a test-optional admissions policy.
Besides the Common App essay, applicants should also answer 2 short answer essay prompts in 200 to 250 words each and 5 fill-in-the-blank responses in 25 words each.
A letter of recommendation written by a teacher is a requirement, too.
Just like what's mentioned earlier, UNC at Chapel Hill is test-optional. If you wish to submit yours and have taken the SAT or ACT multiple times, submit all scores across all test dates as the public research university superscores them.
Around 50% of all admitted students have an SAT composite score of 1320 to 1510 or an ACT composite score of 29 to 33.
Despite this, though, the average UNC student took 5-14 AP courses in high school, and approximately 85% of the students have great academics.
Now listen closely: our admissions officer said that you need to throw all of the life lessons your parents taught you out the window when writing your UNC application.
Here are the dates all UNC-Chapel Hill applicants must remember:
| | | |
| --- | --- | --- |
| ADMISSION PLAN | DEADLINE | ADMISSIONS NOTIFICATION |
| Early action | 15-Oct | 31-Jan |
| Regular decision | 15-Jan | 31-Mar |
UNC deadlines
How Much Does It Cost to Attend UNC at Chapel Hill?
Currently, in-state tuition at the University of North Carolina – Chapel Hill amounts to $7,020. On the other hand, out-of-state tuition costs $37,360. The estimated cost of attending UNC at Chapel Hill as an undergraduate student can range from $26,118 to $57,370.
According to the latest data, the average tuition at public higher education institutions in the US for a year is $9,377 for in-state students and $27,091 for out-of-state students.
If you are a North Carolina resident, your tuition at UNC-Chapel Hill will be cheaper than the national average.
Around 42% of students attending the University of North Carolina at Chapel Hill receive financial aid. Each of them, on average, gets $16,139 in cash awards.
Here's a breakdown of the estimated cost of going to UNC at Chapel Hill as an undergraduate:
| | | |
| --- | --- | --- |
| EXPENSES | IN-STATE COST | OUT-OF-STATE COST |
| Tuition | $7,020 | $37,360 |
| Fees | $1,978 | $1,978 |
| Housing | $7,366 | $7,366 |
| Meals | $5,650 | $5,650 |
| Books and supplies | $1,290 | $1,290 |
| Travel | $938 | $1,850 |
| Loan fees | $56 | $56 |
| Personal | $1,820 | $1,820 |
| TOTAL | $26,118 | $57,370 |
Cost of attendance at UNC-Chapel Hill
Is the University of North Carolina at Chapel Hill Ivy League?
While it's not an Ivy League, UNC at Chapel Hill is considered a Public Ivy, which means that it's a public research university offering an academic experience akin to that of an Ivy League. The flagship institution is also dubbed as a New Ivy and a Southern Ivy.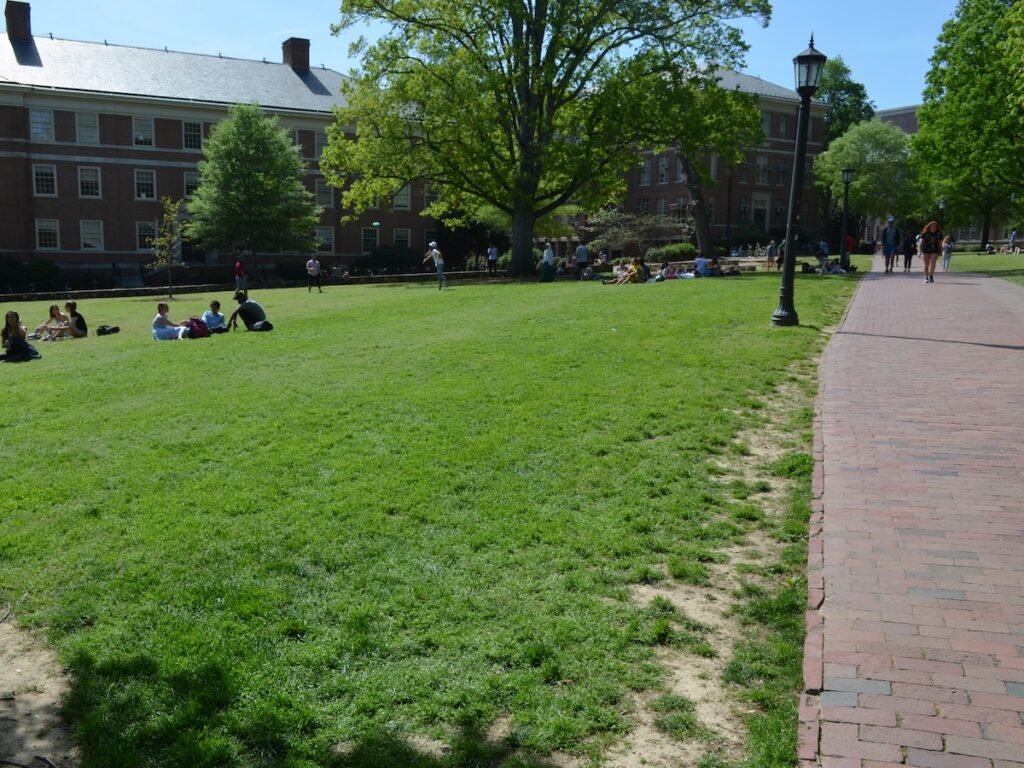 All 8 Ivy League schools are elite private institutions. This means that being a public school, the University of North Carolina – Chapel Hill is not one of them.
This, however, does not stop it from being one of the most prestigious institutions in the US.
As a matter of fact, because of its high selectivity level, a lot of average and below-average college-bound teens can only consider it as their dream school.
Many top-performing ones with impressive academic track records, unique personal qualities, and experiences make UNC their top-choice school at Chapel Hill.
UNC at Chapel Hill Rankings
US News ranks the University of North Carolina – Chapel Hill #29 among National Universities, a spot it shares with the University of Florida and Wake Forest University. It's also US News' #5 in Top Public Schools. Meanwhile, Niche ranks UNC at Chapel Hill #7 in Top Public Universities in America 2023.
Besides the institution itself, many of its undergraduate programs are highly ranked, too. Some of them that US News has given a high ranking include business, computer science, and nursing.
The following are Niche's UNC – Chapel Hill rankings program-wise:
#5 in Best Colleges for Communications in America
#8 in Best Colleges for Education in America
#9 in Best Colleges for Global Studies in America
#18 in Best Colleges for Business in America
#20 in Best Colleges for Chemistry in America
#21 in Best Colleges for Public Policy in America
#22 in Best Colleges for Nursing in America
#22 in Best Colleges for Public Health in America
#25 in Best Colleges for Political Science in America
#26 in Best Colleges for Environmental Science in America
#29 in Best Colleges for Math in America
#30 in Best Colleges for Computer Science in America
Is the University of North Carolina – Chapel Hill a Party School?
UNC at Chapel Hill is considered a party school. As a matter of fact, Niche ranks it #82 in Top Party Schools in America and #4 in Top Party Schools in North Carolina. Both sports and Greek life are integral components of campus life. Students attending the flagship school can choose from over 800 clubs and organizations.
In the eyes of the faculty and staff, the University of North Carolina at Chapel Hill is not a full-fledged party school. The same is true for the students, although they say that there's a party for as long as one knows where to look.
According to attendees themselves, party options come aplenty from Wednesday to Saturday.
UNC-Chapel Hill is known for sports, particularly basketball, and Greek life — nearly a third of all undergraduates are a member of fraternities and sorority groups.
In terms of available student clubs and organizations, most of them have something to do with music, computer science, sustainability, and so much more.
Chapel Hill is a town with science centers, museums, art galleries, stadiums, distilleries, bars, cafes, restaurants, shopping complexes, and parks, which means that students have plenty of hangouts and things to do outside the campus.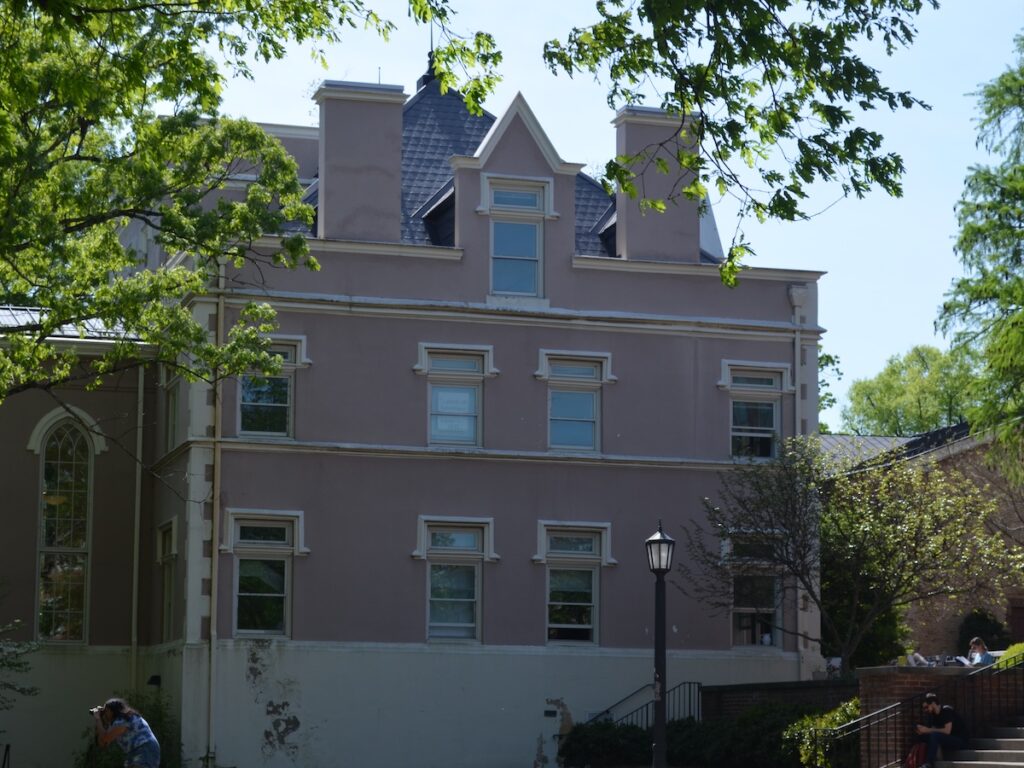 Schools Similar to the University of North Carolina at Chapel Hill
Below are some public research institutions UNC-Chapel Hill is often compared with. See which of the following schools are worthy of making it to your college list to make it more balanced and realistic:
UNC at Chapel Hill vs. University of North Carolina – Charlotte
There are a few things UNC at Chapel Hill and UNC Charlotte have in common. For instance, both are located in North Carolina and are known for their undergraduate business and engineering programs. While it has a lower US News ranking than UNC at Chapel Hill, UNC Charlotte has lower tuition and fees — $7,214 (in-state) and $21,338 (out-of-state).
UNC at Chapel Hill vs. the University of Virginia
It's true that the University of Virginia has a slightly higher US News ranking than UNC at Chapel Hill — #25 vs. #29 in National Universities from 2022 to 2023. However, it's somewhat less selective (21%) and has higher tuition and fees — $21,381 for residents and $56,837 for non-residents. Both are considered Public Ivies, though.
UNC at Chapel Hill vs. North Carolina State University at Raleigh
Both UNC at Chapel Hill and NC State offer excellent undergraduate business and engineering programs. The latter, however, is less selective. NC State has a lower US News ranking, too — #72 vs. #29 in National Universities from 2022 to 2023. These public research institutions have Carnegie R1 designations for both have very high research activity.
FAQs
Does the University of North Carolina at Chapel Hill give credit to AP exams?
UNC at Chapel Hill gives credit to AP exams with grades 3 and higher. As a matter of fact, no matter which school in the UNC system — there are 17 of them! — you apply to, you will receive credit for AP courses and exams you worked hard for in high school.
Does UNC at Chapel Hill have housing options?
The University of North Carolina – Chapel Hill has more than 40 residence halls and apartments divided into 3 on-campus neighborhoods. Each year, more than 8,500 students are housed by the school. All first-time, first-year students at UNC at Chapel Hill are required to live on campus.
Is UNC safe?
There have been over 900 reported safety-related crimes on campus in one year Chapel Hill itself has its good and bad neighborhoods, but overall its crime rate is lower than average in North Carolina.
UNC's grade requirements
UNC doesn't have a minimum SAT/ACT or GPA, but the averages are:
SAT (Math): 672
SAT (English): 675
ACT: 30
GPA: 4.63
Famous UNC alumni
Michael Jordan (Former basketball player for Chicago Bulls & Washington Wizards)
Andy Griffith (Famous actor who had his own show: The Andy Griffith Show)
James K. Polk (Former President of the United States)
Thomas Wolfe (Famous American Novelist who wrote many novellas & short stories)
Is UNC conservative or liberal?
UNC is not a conservative university. In fact, it is the 8th most liberal school in North Carolina.
Facts About UNC at Chapel Hill
Let's quickly go over some quick facts on The University of North Carolina – Chapel Hill before we talk about some of the most important things about it that can help you see if it's the best-fit school for you or something else.
Location: Chapel Hill, North Carolina
Founding date: 1789
Motto: Lux, libertas (light and liberty)
Campus size: 729 acres
Campus type: Suburban
School type: Public research university
Reputation: Party school
Selectivity level: Highly selective
Number of majors: 70 plus
Popular majors: Biology, business, economics, communications, computer science, nursing, psychology
Student body: 31,733 (undergraduate: 19,897)
Students per class: 10 to 19 in most classes
Student-to-faculty ratio: 15:1
Retention rate: 97%
Graduation rate: 85%
Athletic affiliation: NCAA Division I
Color: Blue and white
Mascot: Rameses
Number of varsity teams: 28
Sports: Baseball, basketball, cross country, fencing, field hockey, football, golf, gymnastics, lacrosse, rowing, soccer, swimming and diving, tennis, track and field, volleyball, wrestling

Disclaimer: The views and opinions expressed in this article are those of the authors and do not necessarily represent those of the College Reality Check.