Is Clemson University a Party School?
So, you are a firm believer that all work and no play can make you a dull person, which is why applying to Clemson University is probably brewing in your mind. However, you are wondering if being a Clemson student is as really fun as many of your party-loving high school classmates believe it to be.
According to Niche rankings, Clemson University is #106 in 2022 Top Party Schools in America and #3 in 2022 Top Party Schools in South Carolina. Rush blowouts are some of the biggest party events every year, given that almost a quarter of the students at Clemson are fraternity and sorority members.
But refrain from assuming that school is all about exhilarating college life.
Clemson University is a high-ranking public land-grant research university.
As a matter of fact, it is #30 in 2022 Top Public Schools and #75 in 2022 National Universities, both rankings by US News. So, in other words, the institution is also renowned for meeting a variety of indicators of excellence rankings sites use.
Read on if you are thinking about adding Clemson University to your college list. By the end of this article, you will have a better idea of whether or not you should apply to it.
Fun Facts About Clemson
When Thomas Green Clemson, a Philadelphia-born and European-educated engineer, statesman and artist, died in 1888 at the age of 80, he left his home and money to the state of South Carolina for the establishment of Clemson University. The school's founding came into fruition a year following his death.
Clemson University was the Clemson Agricultural College back then, especially since its founder was an advocate for an agricultural college for a very long time. As a matter of fact, he was US Superintendent of Agriculture.
The Clemson Agricultural College, at first, accepted white males only.
However, in 1955, it opened its doors to female applicants, signaling the start of its being a coeducational institution. In 1963, Harvey Gantt, an architect and a Democratic politician active in the state of North Carolina, as of this writing, became the very first African-American student admitted into the school.
It's because of this why the Clemson Agricultural College turned into the first traditionally white institution located in South Carolina to desegregate since Reconstruction. The following year, the school became Clemson University.
Now that you have an idea of Clemson's history, it's time to check out some quick facts about it:
Location: Clemson, South Carolina
Campus type: Suburban
Size: 1,400 acres
Population: 25,822
School type: Public university
Reputation: Party school
Motto: Who shall separate us now?
Number of majors: 67
Best majors: Business Management, Marketing, Accounting, Finance, Psychology, Nursing, Engineering
Selectivity: Moderately selective
Average class size: Fewer than 20 students in 38% of classes
Student-to-faculty ratio: 16:1
Retention rate: 93%
Graduation rate: 60%
Color: Orange
Athletic affiliation: NCAA Division I
Mascot: The Tiger
Number of varsity teams: 19
Sports: Basketball, volleyball, baseball, softball, tennis, lacrosse, golf, football, soccer, track and field, gymnastics, cross country, rowing
Acceptance Rate at Clemson
The acceptance rate at Clemson University, based on the school's latest Common Data Set, is 51%. This means that just a little over half of all applicants receive acceptance letters. Since the average acceptance rate at four-year institutions in the US is 66%, Clemson is a moderately selective school.
It's not uncommon for college-bound high school students to check out a college or university's acceptance rate before applying to it. This is especially true for those who are not too proud of their application's overall strength. If the number is too low and one's application is too weak, then applying to a less selective college would be a great idea.
Let's take a quick look at 10 of the most selective institutions in South Carolina:
| | |
| --- | --- |
| NAME | ACCEPTANCE RATE |
| Southern Wesleyan University | 35% |
| Lander University | 43% |
| Columbia International University | 48% |
| Charleston Southern University | 50% |
| Limestone College | 51% |
| Clemson University | 51% |
| Allen University | 53% |
| Claflin University | 55% |
| University of South Carolina Aiken | 56% |
| Furman University | 57% |
10 most selective colleges in SC
When evaluating applicants, Clemson's admissions officers consider an assortment of academic and non-academic factors, some of which you will learn about in a few — so keep on reading!
To have a better idea of whether or not your application is good enough for the school, consider using college calculator chances.
Does Clemson Offer Early Decision?
Clemson University does not offer Early Decision. However, the school offers priority notification to applicants who submit their applications on or before December 1. At Clemson, the fall semester application deadline is on May 1, and the spring semester application deadline is on December 15.
Is Clemson University at the top of your college list because it's your dream school?
Sad to say, you cannot exhibit demonstrated interest by applying ahead of everyone else.
That's because Clemson, unlike more than 400 colleges and universities in the US, doesn't have Early Decision. Needless to say, the institution doesn't have any other early decision plans, too, such as Early Action and Restrictive Early Action.
Whether Clemson University is your top-choice school or just a backup, you will have to meet the application deadline like everybody else: May 1 for the fall semester and December 15 for the spring semester.
But the good news is that you may hear from the public institution earlier than the rest. All you have to do is make sure you complete and submit your application on or before December 1. If you can beat the deadline, you will learn about the admissions officers' decision by February 15.
GPA You Need to Get Into Clemson Party
The majority of first-year students admitted into Clemson University have a 4.0 GPA. This means that applicants must be at the top of their high school class for increased admissions chances. According to the school's Common Data Set, only 12% of admitted students have GPAs between 3.75 and 3.99.
Unless the college or university has an open-admissions policy, which means that all you need to have is a high school diploma or GED certificate to get accepted, your GPA doesn't count. Since Clemson does not have that kind of admissions policy, an applicant's GPA is one of the most important admissions factors.
Here's the breakdown of the GPAs of admitted first-year students for the academic year 2019 to 2020:
| | |
| --- | --- |
| GPA | PERCENTAGE |
| 4 | 76% |
| 3.75 to 3.99 | 12% |
| 3.50 to 3.74 | 7% |
| 3.25 to 3.49 | 3% |
| 3.0 to 3.24 | 1% |
| 2.50 to 2.99 | 0.50% |
| 2.0 to 2.49 | 0.50% |
As you can see, just because your GPA is lower than 3.75 doesn't mean that you will surely receive a rejection letter. Because Clemson University has a holistic admissions process, your GPA is not the only one its admissions officers will take into account when deciding your fate.
Let's check out the various admissions factors that play a role in the admissions process:
ACADEMIC FACTORS:
Secondary school record rigor – very important
Class rank – very important
GPA – very important
Standardized test scores – very important
Application Essay – considered
Recommendation letters – considered
NON-ACADEMIC FACTORS:
State residency – very important
Extracurricular activities – considered
Talent or ability – considered
Alumni relation – considered
Because there are many different admissions factors involved, some of them being more important than the rest, having a strong overall application is a must. This is especially true since almost half of all applicants to Clemson University get rejected, unlike at some public or state institutions where the acceptance rate is 100%.
Is Clemson Test-Optional?
As of the academic year 2022 to 2023, Clemson University has adopted a test-optional policy. So, in other words, the public institution does not require applicants to submit their standardized test scores. However, submitted SAT or ACT scores will be considered in the admissions process.
Whether you are proud of or embarrassed by your test score, it is completely up to you to decide if you will include your SAT or ACT score in your application to Clemson.
Fret not that you will be disadvantaged if you choose not to provide your standardized test score. That's because Clemson's admissions officers will simply focus on other things on your application. What's more, they will not ask you to explain yourself for not letting them have a peek at your test score.
But if you are happy with your standardized test score, it's a good idea to submit it even if the school is test-optional.
This is especially true if your score is between 1400 and 1600 (SAT) or 30 and 36 (ACT), which are the score range of the majority of admitted first-year students back when Clemson still required everyone to submit test scores.
That's because it might increase your chances of gaining admission into the school.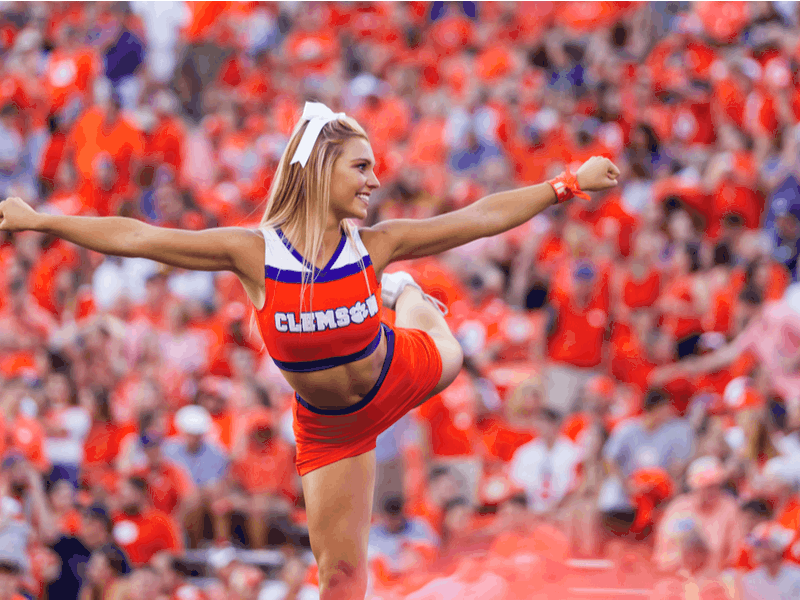 Earlier, we talked about the academic and non-academic admissions factors. Based on the Common Data Set for Clemson University, standardized test scores are "very important". Submitting your SAT or ACT score is an opportunity for you to show the school's admissions officers you would make for a wonderful addition to the campus.
How Much Does It Cost to Attend Clemson?
For the academic year 2021 to 2022, the in-state tuition at Clemson University is $14,118. This brings the estimated cost of attending the school for a year to $34,164. On the other hand, the out-of-state tuition is $37,110, which means that a non-South Carolina resident has to pay $57,156 a year.
In the US, the average in-state and out-of-state tuition costs are $9,212 and $26,382, respectively.
This means that the tuition you will have to pay if you wish to attend Clemson is higher than the national average, whether or not you live in the state of South Carolina.
As a matter of fact, the school is the twentieth most expensive college in the entire Palmetto State by in-state tuition, according to data by CollegeCalc.org.
Let's take a look at the breakdown of the estimated total cost of attending Clemson University for an incoming first-year, full-time student for one academic year:
| EXPENSES | IN-STATE COST | OUT-OF-STATE COST |
| --- | --- | --- |
| Tuition | $14,118 | $37,110 |
| Fees | $1,440 | $1,440 |
| Loan Fees | $68 | $68 |
| Books and Supplies | $1,248 | $1,248 |
| Room | $7,808 | $7,808 |
| Board | $4,426 | $4,426 |
| Transportation | $1,062 | $1,062 |
| Personal | $3,994 | $3,994 |
| TOTAL | $34,164 | $57,156 |
Clemson cost of attendance
The good news is that around 87% of Clemson University's students receive some form of financial assistance.
This includes federal, state, institutional, and those from external sources. Based on the most recent Common Data Set for the school, the total amount of need-based money awarded to enrolled undergraduates is $76,899,115.
Filling out the FAFSA form is the very first step you need to take to be eligible for financial aid.
As an incoming first-year student at the institution, you should complete and submit your FAFSA form before January 2. Submitting your FAFSA form as early as possible, starting October 1 when financial aid application starts, can increase your chances of receiving the highest possible award.
How Much Do Clemson Graduates Make?
About six years after entering Clemson University, graduates with jobs earn around $45,100 a year. After 10 years of being employed, graduates make an average annual salary of $57,100. Many factors can impact a Clemson graduate's annual salary, such as the major, experience, position and company.
Initially, due to a lack of job experience, it's not uncommon for your annual salary to be smaller than expected.
However, you can enjoy a big paycheck right away if you earn a degree from Clemson University that's known to pay initially high. One common example is Chemical Engineering, which has an average starting salary of $72,400 per year. Another one is Industrial Engineering, which will let you earn an average of $65,500 annually.
Many engineering degrees will make it possible for you to get your hands on impressive starting salaries. And, coincidentally, Clemson offers some of the best engineering programs in the nation. As a matter of fact, the school is #56 in 2022 Best Undergraduate Engineering Programs ranking by US News.
Here's a table of how much some Clemson University graduates make annually (starting salary) according to the degrees (bachelor's only) they have completed and/or the majors they have earned:
| | |
| --- | --- |
| BACHELOR'S DEGREES | ANNUAL EARNINGS |
| Chemical Engineering | $72,400 |
| Industrial Engineering | $65,500 |
| Electrical Engineering | $65,000 |
| Communications Engineering | $65,000 |
| Computer Engineering | $64,900 |
| Mechanical Engineering | $64,100 |
| Biomedical Engineering | $58,600 |
| Materials Engineering | $58,300 |
| Construction Management | $58,000 |
| Civil Engineering | $57,400 |
| Registered Nursing | $57,000 |
| Nursing Administration | $57,000 |
| Environmental Health Engineering | $50,600 |
| Finance | $46,000 |
| Accounting | $43,700 |
| Marketing | $42,900 |
| Mathematics | $42,700 |
| Design and Applied Arts | $41,100 |
| Landscape Architecture | $40,900 |
| Economics | $37,900 |
| Chemistry | $36,400 |
| Teacher Education | $33,300 |
| Sociology | $31,300 |
| History | $29,500 |
| Psychology | $27,900 |
| Biology | $25,900 |
Clemson University Rankings
Clemson University is #30 in 2022 Top Public Schools and #75 in 2022 National University, both by US News. Some of its programs are ranked by US News, too. On the other hand, Times Higher Education (THE) places Clemson at #801 in 2022 World University Rankings and #182 in 2022 US College Rankings.
It's true that college rankings should be taken with a grain of salt. However, by checking out rankings according to categories you find important, coming up with a college list can become easier.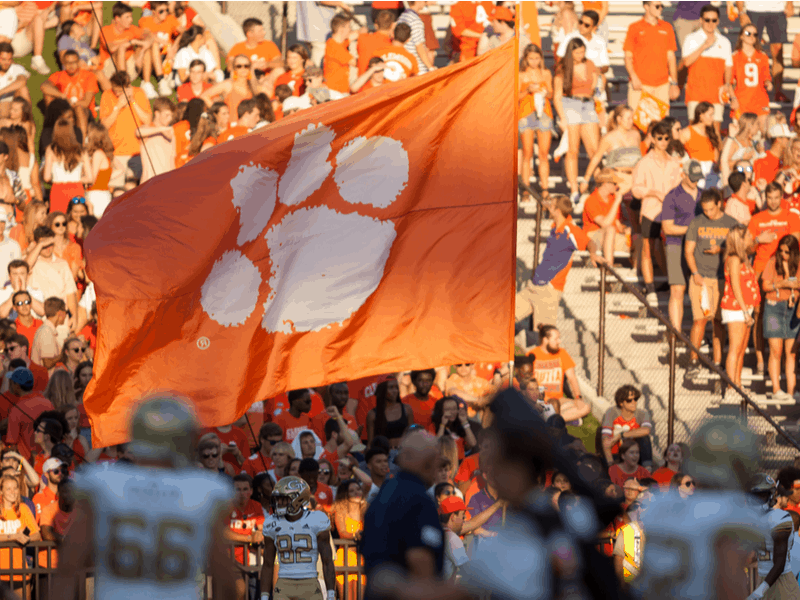 Besides the ones already mentioned above, here are the rest of Clemson's US News rankings:
#26 in Most Innovative Schools
#43 in Best Colleges for Veterans
#48 in Best Undergraduate Teaching
#54 in First-Year Experiences
#56 in Best Undergraduate Engineering Programs
#58 in Nursing
#183 in Best Value Schools
#365 in Top Performers on Social Mobility
Earlier, we talked about the fact that Niche ranked Clemson University #106 in 2022 Top Party Schools in America and #3 in 2022 Top Party Schools in South Carolina. Well, party-related rankings are not the only categories the school's name appeared in. The following are some of the other Clemson rankings by Niche:
#1 in Best Colleges in South Carolina
#2 in Best Value Colleges in South Carolina
#5 in Best College Campuses in South Carolina
#8 in Best College Food in South Carolina
#11 in Best College Athletics in America
#27 in Top Public Universities in America
#41 in Colleges With the Best Student Life in America
#100 in Best Colleges in America
#108 in Colleges With the Best Professors in America
Just Before You Apply to Clemson
It's true that Clemson University is a party school, which means that getting bored should be the least of your worries if you want a merry mix of academic and social life. But the South Carolina-based public institution can offer more than just cool parties — it also offers top-notch education, as evidenced by its high college ranking placements.
Above, we talked about an assortment of things every college-bound kid needs to know about Clemson, from its brief history, acceptance rate, cost of attendance to how much one could make after graduation.
Take your time when deciding whether or not you should include Clemson University in your college list. Since the school does not accept Early Decision applications or any other early decision plans anyway, you have until May 1 (fall semester) or December 15 (spring semester) to make up your mind.

Disclaimer: The views and opinions expressed in this article are those of the authors and do not necessarily represent those of the College Reality Check.