Is Duke as Good As an Ivy League?
Is Duke as good as an Ivy League school? According to the US News University Rankings Duke ranks (8) slightly lower than Princeton (1), Harvard (2), Columbia (3) and Yale (4). It's tied in rankings with UPenn, but higher than Dartmouth (12), Brown (14) and Cornell (16).
Did you know that I have a podcast where I interview current college students and ask them about their application process?
Check my podcast to learn about Katie's experience of getting into Duke:
Information Session
At 6:30 in the morning, we left our hotel in Winston Salem to drive 1 ½ hour directly to Duke University, Office of Undergraduate Admissions, 2138 Campus Dr, Durham, NC 27708-9940.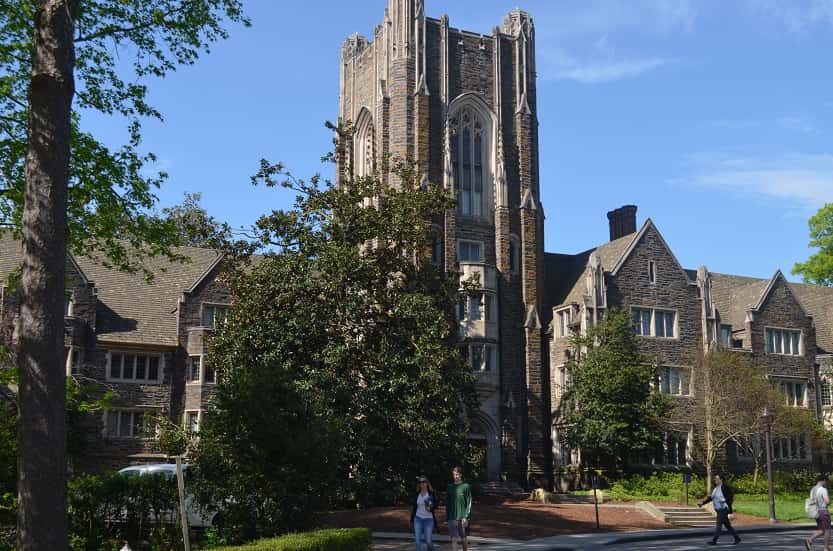 To our surprise, we were the first ones there at 8:00 am. The office was closed, but after a few minutes of wandering around, we stumbled upon a lady who happened to be working in the office. She kindly let us in and handed us a folder containing booklets and papers with facts about Duke.
She also gave us stickers proudly claiming that we already visited Duke so we would not need to stay in a line again. Since there was almost an hour left before the session started, we dragged ourselves back to the car and took a nap.
30 minutes later, half of the room for the session was already full (we still got a seat in the front). One thing I did notice was that about half the moms in the room had some sort of designer bags. The other half looked very put together and expensive.
The dads looked like they were part of an exclusive golf club. All their kids had the latest phone and looked just as polished. Now I am not saying the only kids at Duke are from rich families, and that you won't get in or fit in, but I am sure 90% of the parents could pay their child's entire education if they had gotten in.
Although our family looks like a typical middle class we didn't feel as we were out of place during the information session. In fact, we all looked horrible because we woke up around 5:30 and drove all the way from Winston-Salem.
Admissions Officer
Our admission officer was Alecia Mahato who is the admissions officer for certain counties in NC, Canada, and international students. She started the information session with the short presentation from which all I remember is the video "Kyle Gets Buckets".
They said that the video is old, but they still love it. And I make sense once you see Kyle shooting basketballs from various heights including the Sistine Chapel and diving board while jumping into the pool.

From the beginning, Alecia emphasized the spirit Duke students possess ranging from sports to abroad opportunities to trying out multiple classes to see your best fit.
What Colleges Are Offered At Duke?
Duke offers 2 colleges: Trinity School of Arts & Sciences and Pratt School of Engineering. When you apply during high school, you have to apply to one of them, even if you aren't 100% set on what you would like to pursue.
Luckily, Duke allows you to change your college (before you declare your major obviously), but it is harder to change from Trinity School of Arts & Sciences to Pratt School of Engineering.
This is because, in order to enroll in the Pratt School of Engineering, you need to take two required classes: Calculus & Physics (the types were not specified).
The Trinity School of Arts & Sciences offers a big buffet of selections to choose from. Did you think there was an actual buffet? The food, in this case, are the majors, minors, and certificates offered. There are 48 majors, 50 minors, and 20 certificates.
The Pratt School of Engineering offers a smaller, but just as delicious, buffet with 5 majors, 3 minors, and 7 certificates. Duke encourages you to declare your major at the end of sophomore year (it would suck if you ended up as an engineer if you wanted to be a surgeon).
But if you are absolutely 100% positively sure that you want to major in Biomedical Engineering and minor in German, then you can declare at the end of the freshman year.
What Does Duke Offer Outside The Classroom?
If you want a hands-on experience, then Duke may be the school for you. Approximately 90% of the students take advantage of these opportunities (internships included). Duke even decided to extend across the world!
If you want to get involved in your community, Duke has a program called Bass Connections. Bass Connections allows you to participate in research programs that take place outside of the classroom. You will be solving societal problems in various communities along with your peers and faculty.
Duke Focus is a program of seminars and out-of-class experience with topics in the Natural & Social Sciences; They take place in your first semester. The thing about Duke Focus is that not only do you study with your 30 some peers, but you also live with them (thank God it is only one semester).
DukeEngage (I know, we aren't done yet!) is a program funded by Duke where you travel internationally to a country where there is an issue that you believe needs to be solved. Some places you can travel to are Ecuador, Venice, NYC, Flanders, South Africa, Turkey, and Honduras.
Whether it is lack-of-equality, poverty, or educational reasons, you travel for a minimum of 8 weeks in the summer to solve the problem and change the community you will live in for the better.
Another program that is much like DukeEngage is called The Global Impact. It is a program for nurses to either use their skills for people or teach others about nursing. Like DukeEngage, you can travel outside of the country, but you can also travel within the United States.
A special language/history program Duke offers is very originally called Duke in China (Duke campus in Beijing). It is a summer program where you study for 8-10 weeks in Beijing. This program can actually count towards your credits (bonus!) and non-Duke students are free to apply.
However, you do need to have one year of Mandarin/Chinese, a 3.0 grade or above, and a B- or above in all Chinese classes.
Financial Aid At Duke
Duke provides over 100 merit-scholarships, and half of them go to students who require financial aid
• 65% of students graduate debt-free
• Duke meets 100% of demonstrated need
• November 15th is the deadline for financial aid application (Early Decision)
• February 1st is the deadline for financial aid application (Regular Decision)
Walking Tour
After our information session was over, 10 tour guides filed in and went in a row, introducing themselves. The unique thing was that we could choose the tour guide we wanted; We choose the tour guide that was from the same state as us. She was taking 4 credits (4 classes) that year.
It was about 10:30 when the information session ended, so it was warm outside with a slight breeze. I noticed how our tour guide seemed to have a lot of friends. Every corner that we turned on, there was somebody that called out her name and said good luck with the tour or see you in a couple of hours.
One guy even joked and yelled Happy Birthday, so we had to ask another person on the tour if it really was her birthday (it wasn't).
The campus architecture was absolutely unbelievable. The original buildings, including the Sistine Chapel & some of the dorm buildings, were of gothic style, but some of the newer buildings were typical modern structures with big windows and cement walls.
The gothic style of the East Campus could make you think that the college is as old as other Universities such as Yale or Harvard. But the truth is the main campus was built in 1924.
At the beginning of the tour, I asked our tour guide why she picked Duke. She told me that she loved the opportunities given at Duke and the people she met during the summer before her senior year were very welcoming and open-minded.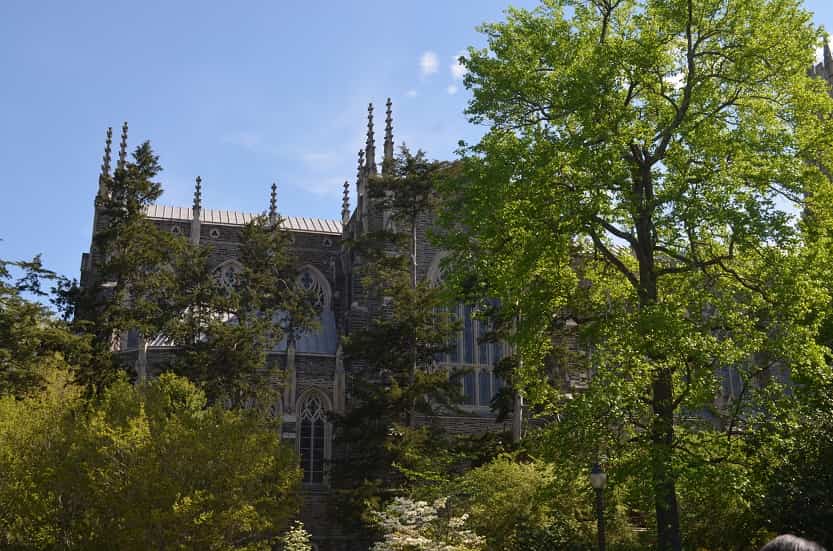 Duke Has Awesome Food
Durham is known as one of the foodiest cities so you bet that Duke has just as many delicious options. There was BBQ, Indian, Italian, Latin American, Country, Asian, a pub, and a garden market at the Brodhead Center which we ate at. Throughout the dining hall, they had Vegan, kosher, halal, etc… options.
We tried the Indian cuisine and it had chicken coated in all sorts of dressings & sauces, vegetables that were cooked perfectly and combined together in even more dressings, vegetable rice, fried boiled eggs (I did not know that was a thing), and a rich, delicious mango drink that somewhat resembles a smoothie.
You can use your food swipe/card to get meals from the dining halls or food trucks around Durham. The swipes contain a food plan you choose when you came to Duke. Additionally, you are given a certain amount of food points you can use at dining halls or around Durham.
During lunchtime, students set up booths outside the halls to advertise clubs foundations they have created.
After we had eaten, we saw a student walking around in a fuzzy Lemur costume (shoutout to him since it was over 80 degrees outside) who was spreading awareness for Lemurs in Madagascar.
Dorms, Dorms, Dorms
The situation with dorms at Duke is really no different than it is at any college except for the fact you live on campus for 3 years at a minimum. You can request a roommate, but not a hall.
Students from previous years take your stuff and move it to your dorm by the time you get there. Our tour guide talked about how the R.A. is always helpful, especially in your first year at Duke.
The students are assigned advisor in beginning of the year that is meant to be with you for just that year, but our tour guide became close with her advisor and asked if she could keep her for the rest of her years at Duke and whoever assigns the advisors said yes.
Duke Gardens
After the tour, we took a ten minute walk to Duke Gardens; We couldn't have chosen a better time. During the spring, the flowers are all bloom and everywhere you look, you see chunks for red, pink, white, yellow, and purple.
The gardens are split into 3 parts all which have a different theme; Asian, Native to Durham, and more exotic plants.
There was a beautiful fountain in one of the gardens and many students take advantage of the calm scenery and benches to study or spend the day. Also, if you like photography, it is the perfect place to get amazing shots of Mother Nature at her best.
Questions & Answers About Duke
What is Duke's acceptance rate?
Duke's acceptance rate is 11.4%
Deadlines: Regular Action, Early Action & Transfer?
Regular Action: January 2nd
Early Action: November 1st
Transfer: March 15th
What is Duke's annual tuition?
Cost of Tuition: $57,980
Cost of Housing: $8,494
When does Duke's decisions come out?
Early Action: December 15th
Regular Action: April 1st
Duke's major Rankings:
Biological Sciences: #10 (Tied with The Scripps Research Institute & Cornell University)
Business: #10 (Tied with University of Michigan)
Engineering: $24 (Tied with North Carolina State University & University of California – Santa Barbara)
Law: #10 (Tied with University of California – Berkeley & Northwestern University)
Medical (Research): #13 (Tied with University of Pittsburgh & Yale University)
Nursing: #2
What is Duke's graduation rate?
What are Duke's school colors and mascot?
Mascot: Blue Devil
School Colors: Dark Blue & White
Is Duke an Ivy League?
Does Duke offer common application?
Yes, the other option is to submit through Coalition Application
Does Duke offer online courses?
Yes, but the entire but the entire degree can not be done online
Does Duke accept AP credit?
Yes, but most of the time, your score needs to be a 5
What is Duke's acceptance rate for waitlisted students?
There is no definite percentage; There is a different amount of students admitted every year
Does Duke offer Merit Scholarships?
What is Duke's out-of-state tuition?
The tuition cost is the same regardless of where you live: $57,980
What is Duke's National Ranking?
#8 (Tied with University of Pennsylvania)
What is Duke's ethnic diversity?
Asian: 21.3%
Black or African American: 9.7%
Hispanic/Latino: 8.2%
International: 10.4%
What is the percentage of males and females at Duke?
Is Duke public or private?
Is Duke a conservative or liberal school?
Like many colleges, Duke consists of a combination of both conservative & liberal students, but the majority leans towards liberal
Is Duke need-blind?
Is Duke safe?
Duke has reported over 600 crimes on campus in which the majority have resulted in minor punishments
Durham itself is relatively safe place to live, but like any place, crimes do occur
Does Duke offer academic & athletic scholarships?
Yes, Duke offers merit-based scholarships
How many people are enrolled in Duke (As of 2018-2019)?
Undergraduate: 6,692 people
Graduate & Beyond: 8500
Total: 15.192 people
Can I apply regular decision at Duke if I got rejected from early decision?
What is Duke's early decision acceptance rate?
Is Duke's early decision binding?
How many people at Duke are from public schools?
Public Schools: 65%
Private Schools: 31%
What are Duke's grade requirements?
Duke doesn't have a minimum SAT/ACT or GPA but the averages are:
SAT (Math): 755
SAT (English): 730
ACT: 33
GPA: 4.08
Who are some famous Duke alumni?
Kyrie Irving (Basketball player for Boston Celtics)
Seth Curry (Basketball player for Trail Blazers)
Melinda Gates (Former manager at Microsoft & ranked as one of the most powerful women by Forbes)
Matthew Patrick (A famous youtuber also known as "MatPat")
Read Also: UNC at Chapel Hill

Disclaimer: The views and opinions expressed in this article are those of the authors and do not necessarily represent those of the College Reality Check.