Is Duke as Good As an Ivy League? A Comparison You Won't Want to Miss!
During our college tour, we spent some time in North Carolina, and of course, we visited the top college in the Research Triangle: Duke University.
I know that many high school students gearing up for college often believe that Duke University is an Ivy League school.
But upon prying a little deeper, they learn that it's not a part of the 8-member group composed of Harvard et al. Having high college rankings and a very low acceptance rate, you can't help but wonder if Duke is as good as an Ivy.
Duke University has a single-digit acceptance rate similar to Ivy League schools. Because of this, it's considered a Hidden Ivy, Ivy Plus and Southern Ivy. Duke is highly ranked, too, by numerous college ranking sites. In fact, it ranks higher than some Ivy League schools on US News' Best National University Rankings.
Planning on adding Duke to your college list?
Then make sure that you keep reading until you reach the end.
Throughout this post, I will also discuss some important matters about Duke that can help you figure out if it's the right fit for you.
But, first a few words about my information session and campus tour experience.
Information Session
At 6:30 in the morning, we left our hotel in Winston Salem to drive 1 ½ hours directly to Duke University, Office of Undergraduate Admissions, 2138 Campus Dr, Durham, NC 27708-9940.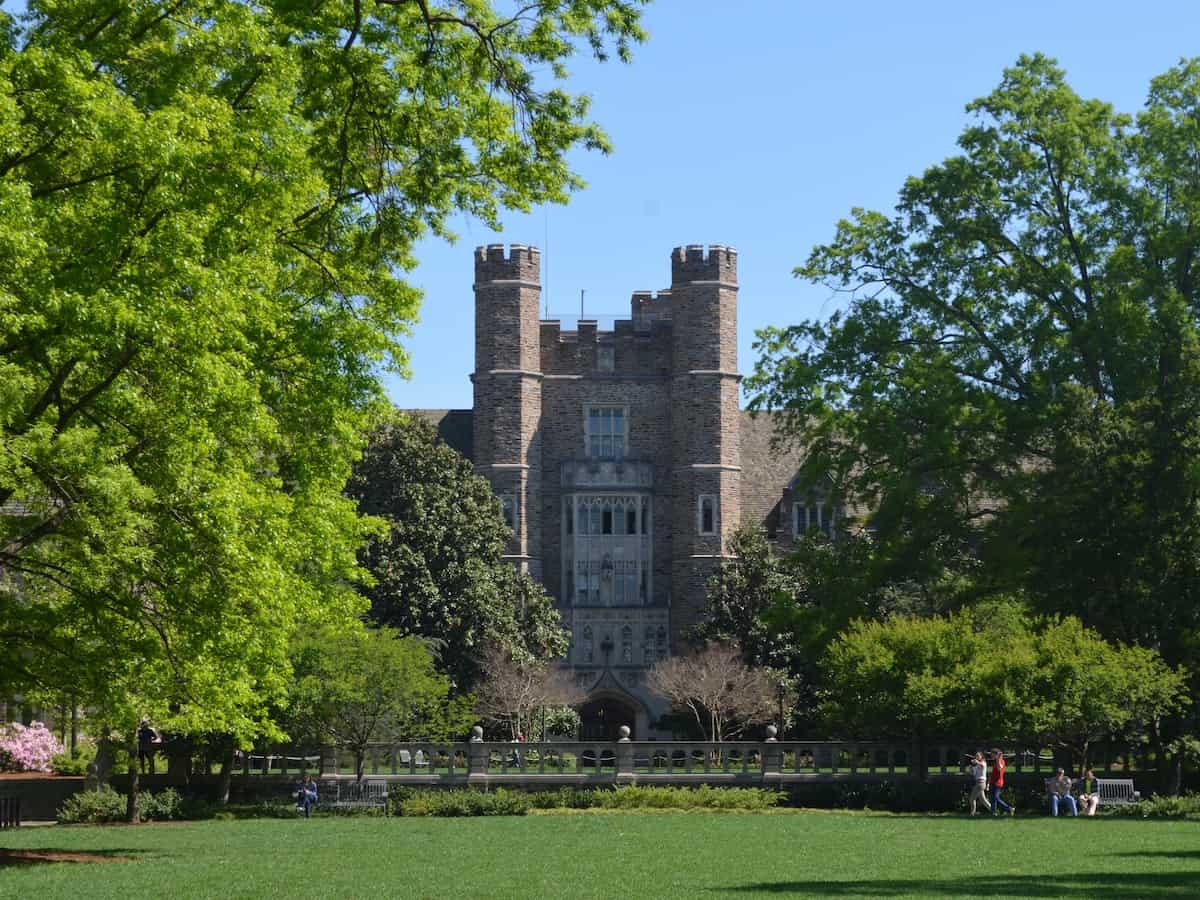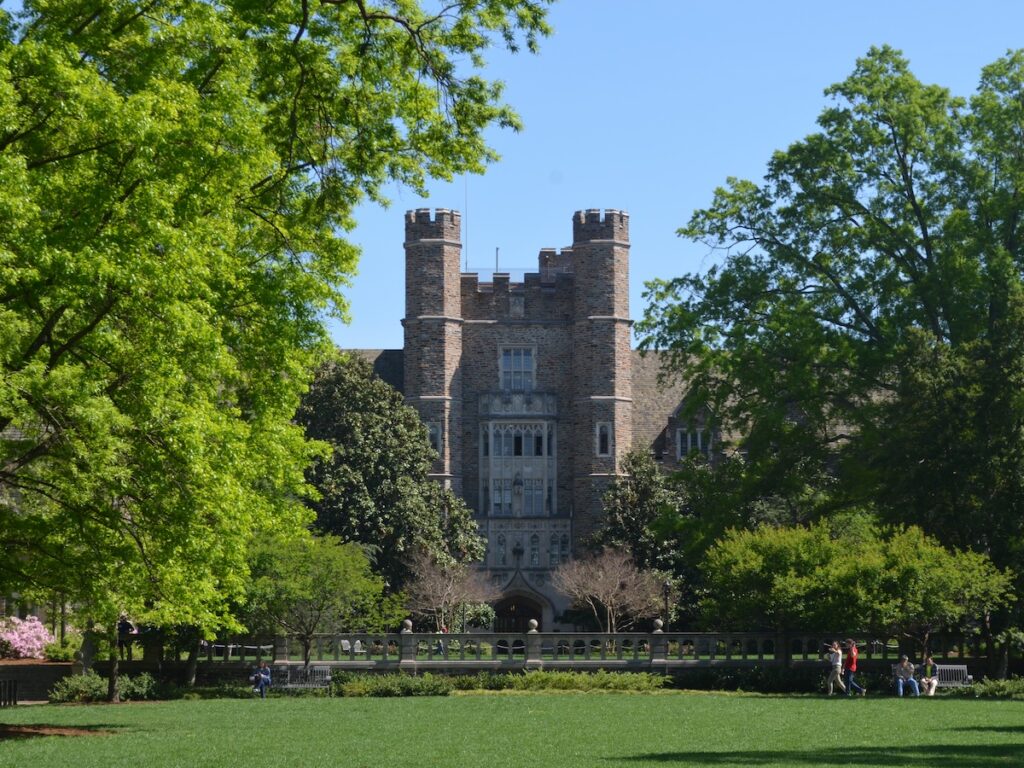 To our surprise, we were the first ones there at 8:00 am.
The office was closed, but after a few minutes of wandering around, we stumbled upon a lady who happened to be working in the office. She kindly let us in and handed us a folder containing booklets and papers with facts about Duke.
30 minutes later, half of the room for the session was already full (we still got a seat in the front).
One thing I did notice was that about half the moms in the room had some sort of designer bags. The other half looked very put together and expensive.
The dads looked like they were part of an exclusive golf club. All their kids had the latest phones and looked just as polished.
Now I am not saying the only kids at Duke are from rich families and that you won't get in or fit in, but I am sure 90% of the parents could pay for their child's entire education if they had gotten in.
Our admission officer was Alecia Mahato, who is the admissions officer for certain counties in NC, Canada, and international students.
From the beginning, Alecia emphasized the spirit Duke students possess, ranging from sports to abroad opportunities to try out multiple classes to see your best fit.
Duke offers two colleges: Trinity School of Arts & Sciences and Pratt School of Engineering.
When you apply during high school, you have to apply to one of them, even if you aren't 100% set on what you would like to pursue.
Luckily, Duke allows you to change your college (before you declare your major obviously), but it is harder to change from Trinity School of Arts & Sciences to Pratt School of Engineering.
This is because, in order to enroll in the Pratt School of Engineering, you need to take two required classes: Calculus & Physics (the types were not specified).
The Trinity School of Arts & Sciences offers a big buffet of selections to choose from. There are 48 majors, 50 minors, and 20 certificates.
The Pratt School of Engineering offers 5 majors, 3 minors, and 7 certificates. Duke encourages you to declare your major at the end of sophomore year (it would suck if you ended up as an engineer if you wanted to be a surgeon).
But if you are absolutely 100% positively sure that you want to major in Biomedical Engineering and minor in German, then you can declare at the end of the freshman year.
Financial Aid At Duke
Duke provides over 100 merit scholarships, and half of them go to students who require financial aid:
• 65% of students graduate debt-free
• Duke meets 100% of demonstrated need
• November 15th is the deadline for financial aid application (Early Decision)
• February 1st is the deadline for financial aid application (Regular Decision)
Walking Tour
The campus architecture was absolutely unbelievable.
The original buildings, including the Sistine Chapel & some of the dorm buildings, were of gothic style, but some of the newer buildings were typical modern structures with big windows and cement walls.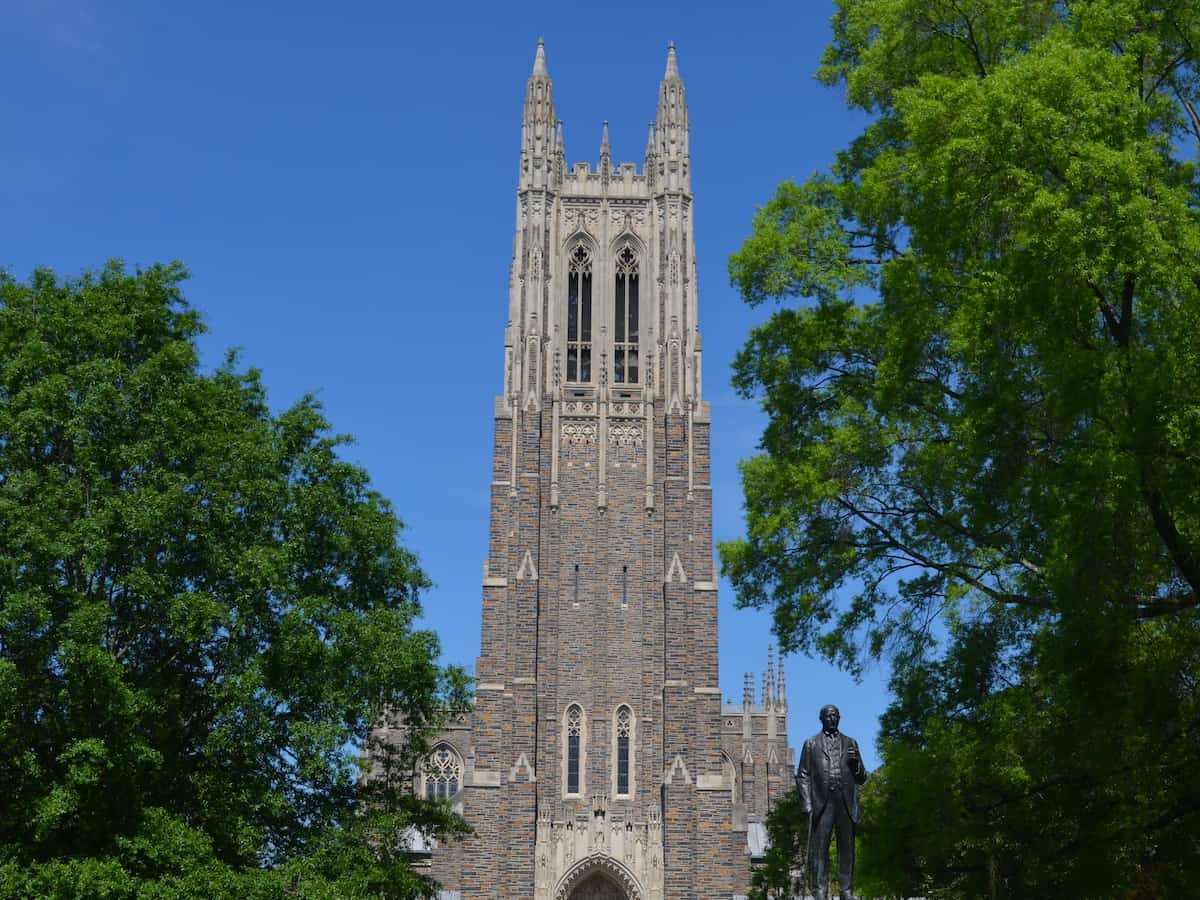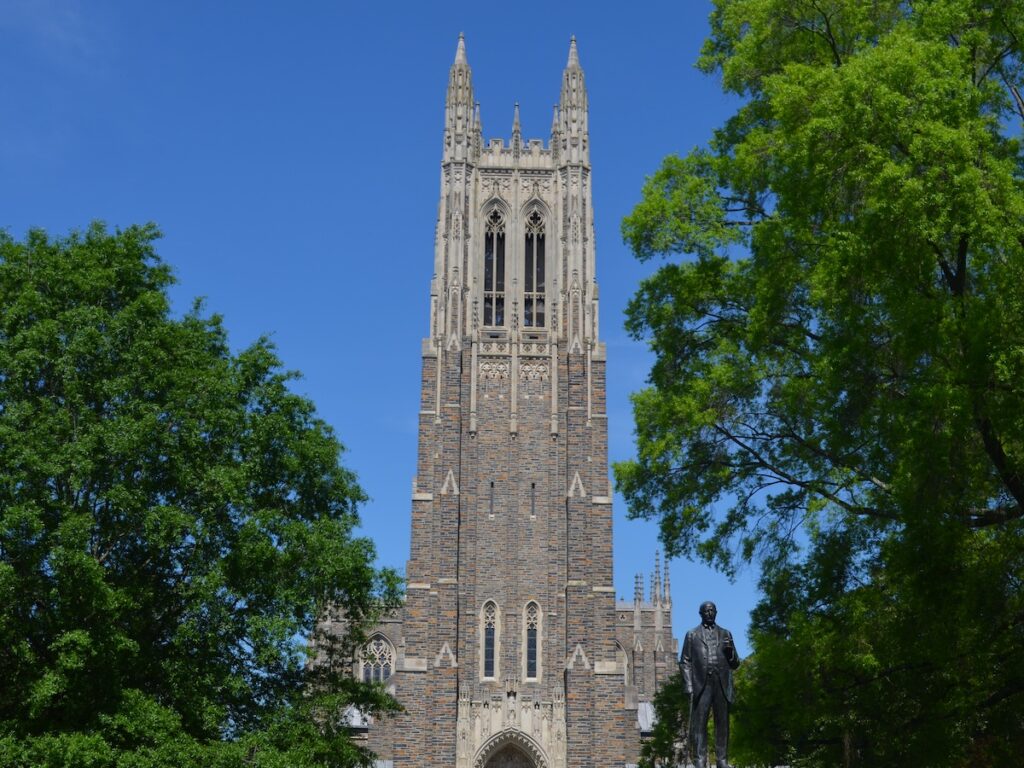 The gothic style of the East Campus could make you think that the college is as old as other Universities such as Yale or Harvard.
But the truth is the main campus was built in 1924.
Duke Has Awesome Food
Durham is known as one of the foodiest cities, so you bet that Duke has just as many delicious options.
There was BBQ, Indian, Italian, Latin American, Country, Asian, a pub, and a garden market at the Brodhead Center where we ate at. Throughout the dining hall, they had Vegan, kosher, halal, etc. options.
You can use your food swipe/card to get meals from the dining halls or food trucks around Durham.
The swipes contain a food plan you chose when you came to Duke. Additionally, you are given a certain amount of food points you can use at dining halls or around Durham.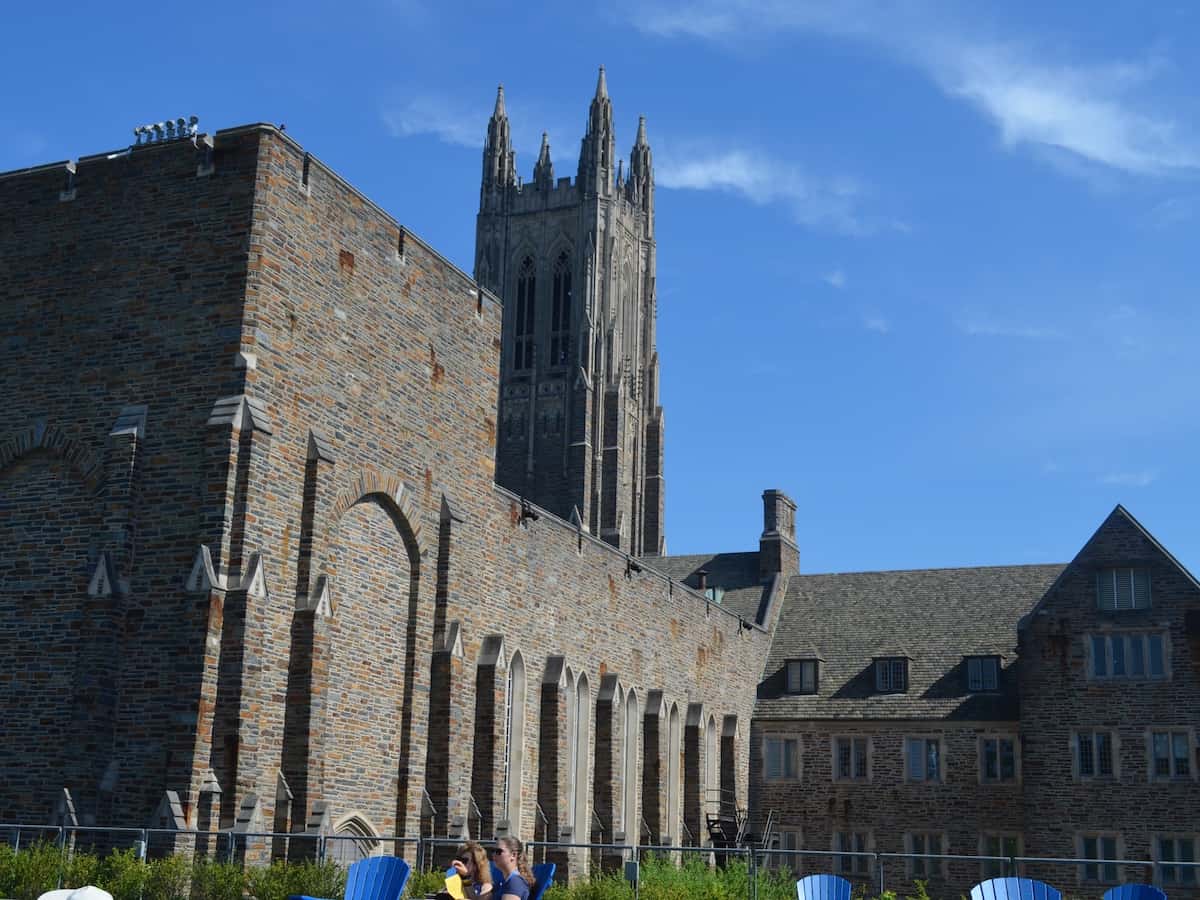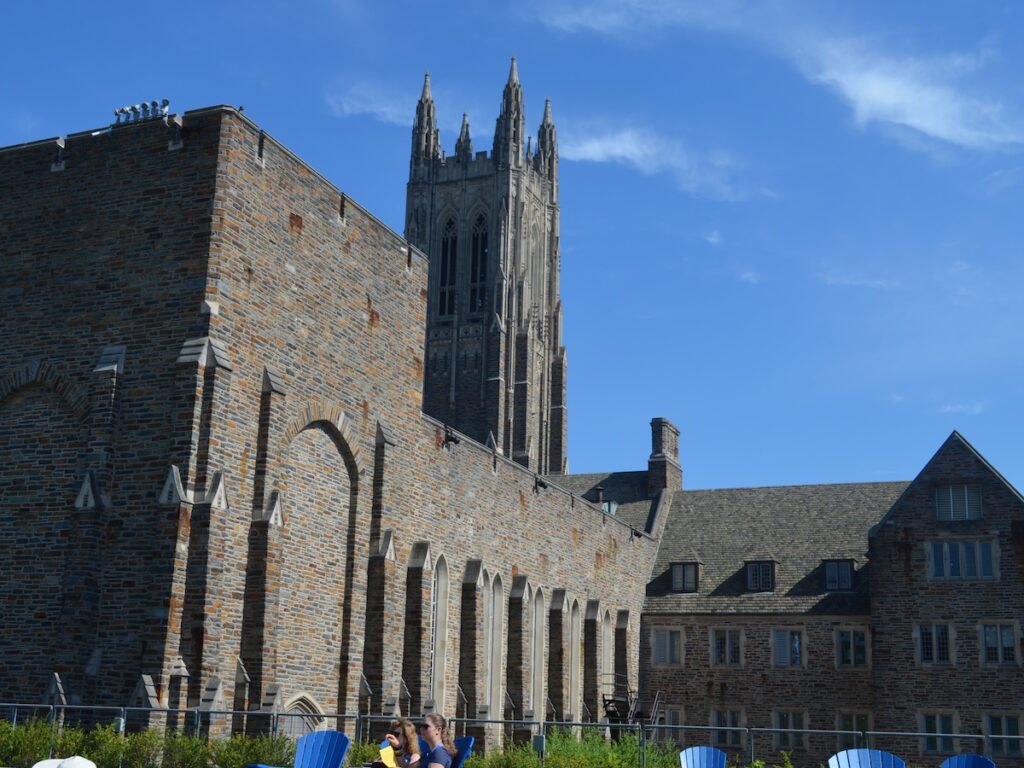 Dorms, Dorms, Dorms
The situation with dorms at Duke is really no different than it is at any college except for the fact you live on campus for 3 years at a minimum. You can request a roommate, but not a hall.
Students from previous years take your stuff and move it to your dorm by the time you get there. Our tour guide talked about how the R.A. is always helpful, especially in your first year at Duke.
The students are assigned advisor in beginning of the year that is meant to be with you for just that year, but our tour guide became close with her advisor and asked if she could keep her for the rest of her years at Duke and whoever assigns the advisors said yes.
The gardens are split into 3 parts all which have a different theme; Asian, Native to Durham, and more exotic plants.
There was a beautiful fountain in one of the gardens and many students take advantage of the calm scenery and benches to study or spend the day. Also, if you like photography, it is the perfect place to get amazing shots of Mother Nature at her best.
By the way, did you know that I have a podcast where I interview current college students and ask them about their application process?
Check my podcast to learn about Katie's experience of getting into Duke:
Questions & Answers About Duke
What is Duke University Known For?
Want to gear up for a global career?
You will be happy to learn that the school has a program referred to as DukeEngage.
Lasting for a minimum of 8 weeks, it places students in communities in the US and outside of the country in order to address critical social issues by means of an immersive community engagement.
Established in 2007, DukeEngage has already provided one-time funding to more than 4,800 undergraduates to 46 communities in the country and 84 countries on 6 continents.
Duke University Rankings
US News ranks Duke University #10 in National Universities. The well-known college ranking site also ranks it #13 in Most Innovative Schools and #16 in Best Value Schools.
On the other hand, the Ivy-like institution is ranked by Niche #8 in Top Private Universities in America and #1 in Best Colleges in North Carolina.
Many college-bound high schoolers often mistake Duke University for being an Ivy League school.
Clearly, its high rankings are a reason.
As a matter of fact, Duke ranks higher than Dartmouth College and Columbia University, both of which are Ivy Leagues, in US News' Best National University Rankings.
But it's not just the North Carolina-based institution that is highly ranked but also many of its undergraduate programs.
The university tends to attract a lot of students interested in STEM-related programs, particularly because computer science and engineering undergraduate programs are some of the best.
Here are the Niche rankings of some of Duke's top programs:
#1 in Best Colleges for Public Policy in America
#2 in Best Colleges for Nursing in America
#3 in Best Colleges for Religious Studies in America
#4 in Best Colleges for Biology in America
#4 in Best Colleges for Economics in America
#4 in Best Colleges for Political Science in America
#4 in Best Colleges for Public Health in America
#6 in Best Colleges for Anthropology and Sociology in America
#6 in Best Colleges for Environmental Science in America
#7 in Best Colleges for Psychology in America
#8 in Best Colleges for Chemistry in America
#9 in Best Colleges for Computer Science in America
#10 in Best Colleges for Performing Arts in America
#11 in Best Colleges for English in America
#12 in Best Colleges for Engineering in America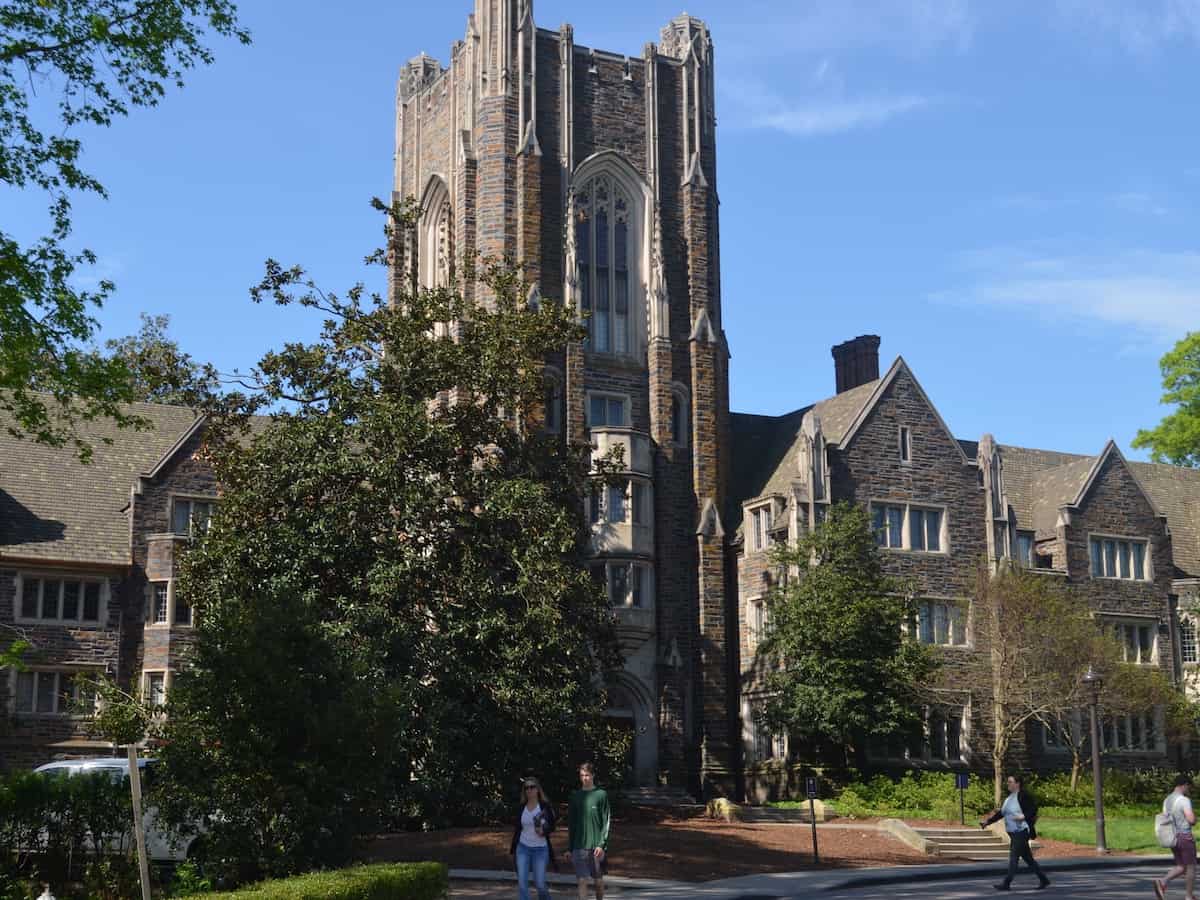 Is Duke University a Party School?
According to statistics, over 70% of Duke University's students are members of fraternities and sororities.
With 27 varsity teams and approximately 10% of undergraduates being athlete-students, Duke can feel like it's a small sports camp, especially during NCAA seasons. In addition, its athletic program has a budget that's roughly 30 times bigger than most any other modest academic department.
Despite being a non-party school, students at Duke still party from time to time. A Niche poll reveals that, according to students themselves, the biggest on-campus party event is LDOC — last day of classes.
Outside the campus, students have an assortment of hangout choices.
They range anywhere from restaurants, bars, art galleries, museums, conservatories, state parks to historical sites. Gardens are also big in Durham, including one located on the campus of Duke University itself: the Sarah P. Duke Gardens.
Major cities closest to the campus include:
Raleigh, North Carolina
Chapel Hill, North Carolina
Fayetteville, North Carolina
Chesapeake, Virginia
Norfolk, Virginia
Virginia Beach, Virginia
Washington, DC
Baltimore, Maryland
Pittsburgh, Pennsylvania
To ensure the safety of its attendees, Duke University offers various campus safety and security services.
Some of them include 24-hour foot and vehicle patrols, student patrols, 24-hour emergency telephones, lighted pathways/sidewalks and late-night transport/escort service.
Some of the most commonly reported on-campus criminal offenses in 2020 are the following:
Motor vehicle theft (27)
Burglary (13)
Rape (11)
Aggravated assault (5)
Fondling (4)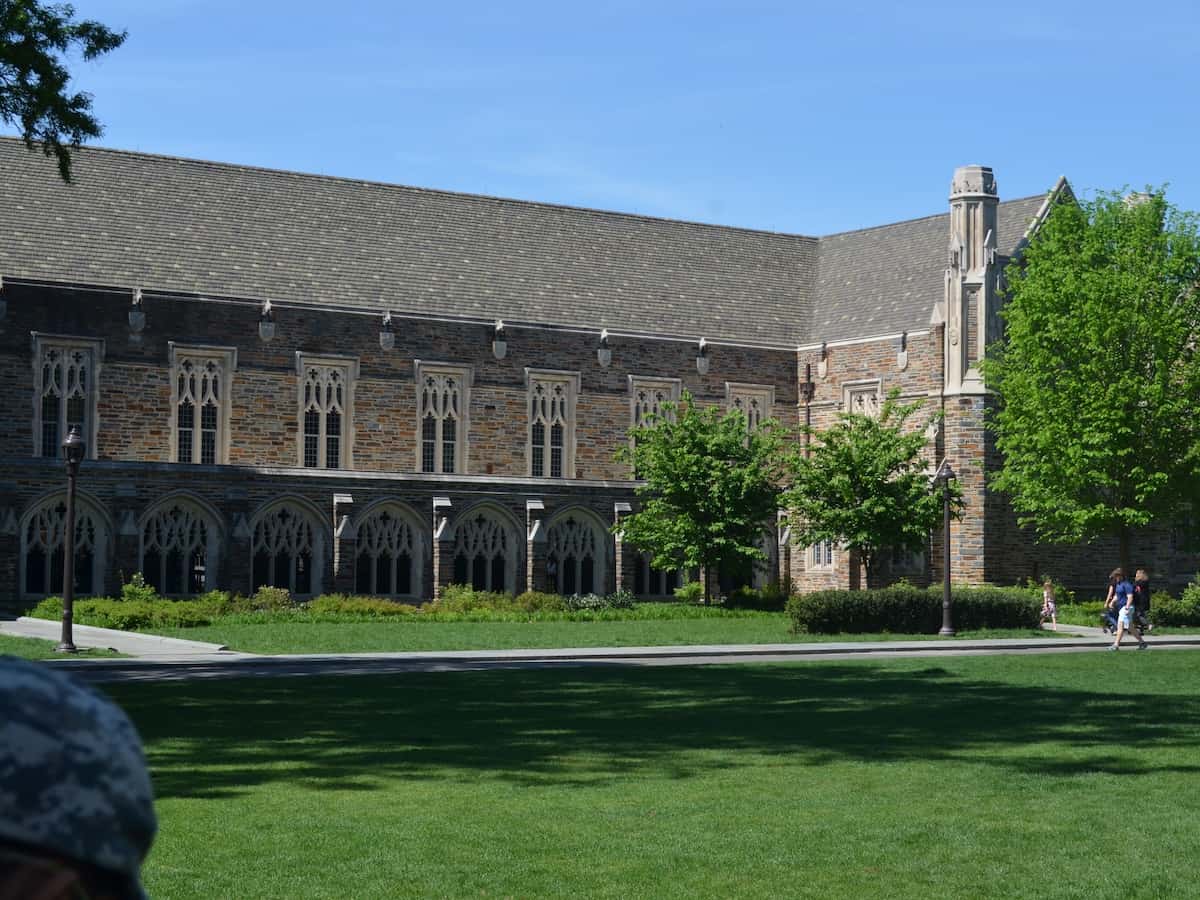 Is It Easy to Get Admitted to Duke University?
No one can blame a lot of students for thinking that Duke University is an Ivy League school. With a single-digit acceptance rate, it's hard to believe that it's not one of the 8 Ivy Leagues.
However, Duke is considered a Hidden Ivy, Ivy Plus and Southern Ivy.
With a low acceptance rate, you will have to be near or at the top of your graduating high school class.
As a matter of fact, around 95% of the first-time, first-year students at Duke graduated in the top 10% of their high school class. The institution's admissions officers, however, do not take class rank into account when reviewing applications.
Although it's true that the school does not require applicants to meet a minimum GPA requirement, various online sources say that the average GPA of students accepted to the elite university is 3.94.
Since Duke University uses a holistic admissions process, it considers not only a student's academic performance but also his or her unique personal experiences, perspectives and background.
So, in other words, the school is on the hunt for well-rounded, promising students who can shine inside and outside of the classroom.
Here are the academic factors considered by admissions officers are their relative importance:
| | |
| --- | --- |
| Rigor of high school class | Very important |
| High school GPA | Very important |
| Application essay | Very important |
| Recommendation letter | Important |
| SAT or ACT score | Considered if submitted |
These, meanwhile, are the non-academic factors considered and the relative importance of each:
| | |
| --- | --- |
| Personal qualities | Very important |
| Interview | Important |
| Extracurricular activities | Important |
| Talent | Important |
| First generation | Considered |
| Alumni relation | Considered |
| Geographical residence | Considered |
| State residency | Considered |
| Religious affiliation | Considered |
| Race/ethnicity | Considered |
| Volunteer work | Considered |
| Work experience | Considered |
| Demonstrated interest | Considered |
Duke University Admissions Requirements
When applying to Duke University, you can use either the Common App or Coalition App, which becomes available mid-August. The deadline will depend on the decision plan of your choice.
Here are important dates all applicants to Duke must keep in mind:
| | |
| --- | --- |
| ADMISSION PLAN | DEADLINE |
| Early decision | 1-Nov |
| Regular decision | 20-Dec |
Applying ED is recommended if Duke University is your top-choice school and you can get your hands on various application materials earlier than everybody else without compromising any of them.
What's nice about applying ED is that it can increase your chances of getting an acceptance letter — ED acceptance rate is 17%, while RD acceptance rate is 6%.
Still, it's important to have a strong application given that Duke is highly selective. Applying ED also allows you to hear back from the school earlier, usually in mid-December.
However, ED is binding, which means you will have to go to Duke University if it accepts you.
As an ED applicant, you can be rejected, accepted or deferred. A deferral means your application will be reviewed once again during the RD round. RD admissions decisions are released in late March or early April.
Just like what's mentioned earlier, you may or may not submit your SAT or ACT scores. It all depends on whether or not they can make your application even more competitive.
Should you choose to submit yours anyway, consider sending all of them across all test dates (if you took them multiple times) as Duke superscores standardized test scores.
Does Duke University Give Credit for AP Exams?
Duke University honors Advanced Placement (AP) programs by the College Board. As a matter of fact, it gives college credit for some advanced AP courses with examination scores of 4 or 5. All AP courses and exams recognized by Duke will appear on the undergraduate student's college transcript.
Taking difficult AP classes in high school can make your application stronger.
But other than enjoying increased chances of getting an acceptance letter from Duke University, taking AP classes may also earn you credits, which can make the amount of time and money you spend in college smaller.
However, you will have to take AP exams and score either a 4 or 5, too.
AP credits such as chemistry, computer science, math and physics may allow you to skip introductory courses and even fulfill requirements for a major in the said areas.
AP credits in the likes of biology, chemistry, physics and statistics, on the other hand, may fulfill some requirements of premed students.
Duke University recommends taking AP classes in areas that students might want to study at the institution.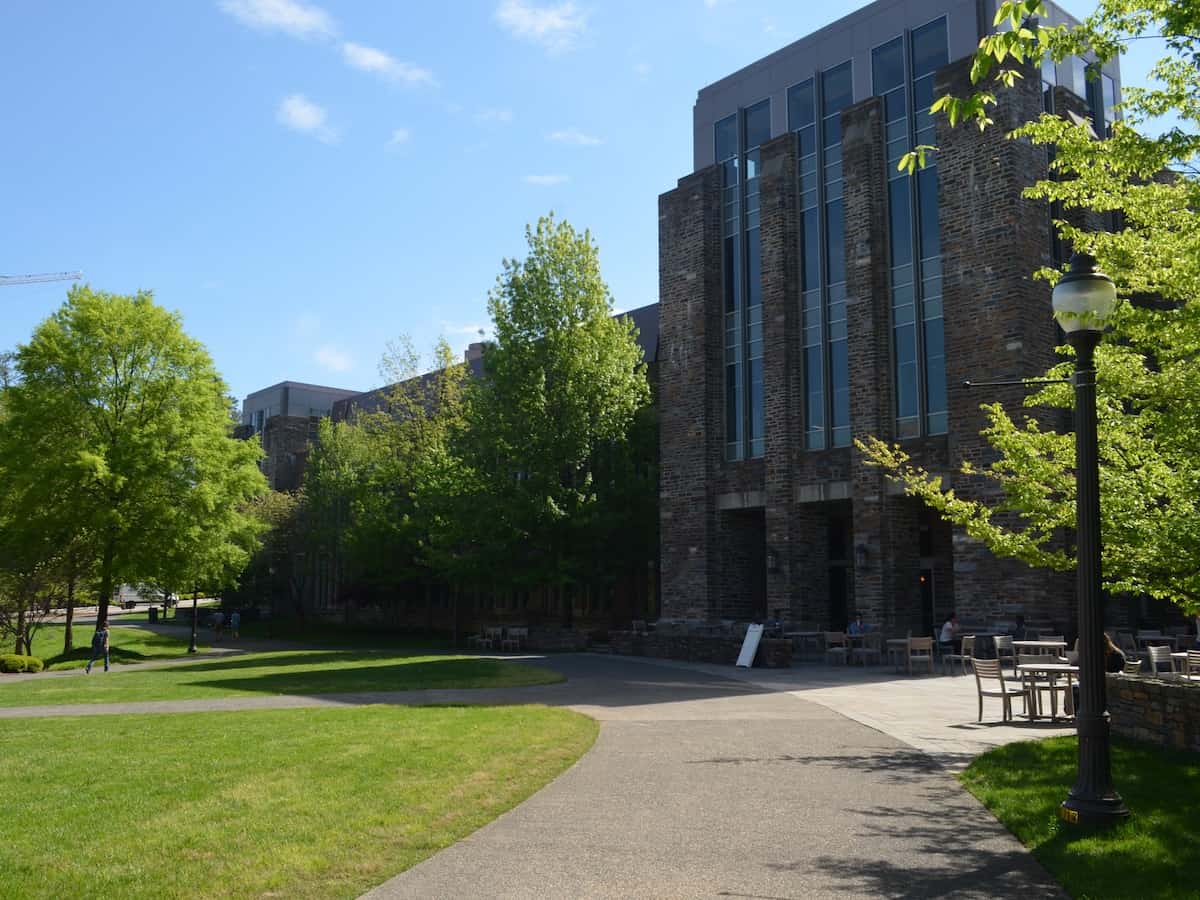 Schools Similar to Duke University
Here are some colleges and universities that are just as prestigious as Duke:
Duke vs. Vanderbilt University
Both Duke and Vanderbilt have high US News rankings — the former is #10 in National Universities, while the latter is #13 in National Universities. Vanderbilt, which is famous for its engineering and computer science programs, has a slightly higher acceptance rate of 7% and cheaper tuition and fees than Duke — $58,130.00 vs. $62,941.
Duke vs. Georgetown University
Georgetown, which is a private research university located in Washington, DC, may have double the acceptance rate of Duke (12%) alright. However, it doesn't make it any less selective. As a matter of fact, just like Duke, Georgetown is considered a Hidden Ivy. It has a smaller campus size than Duke but has a bigger population — 20,935 vs. 17,620.
Duke vs. Harvard University
One of the reasons why Duke is often compared with Harvard is that they both have small acceptance rates — 6% vs. 4%. Despite being slightly more selective than Duke, tuition and fees at Harvard are a lot cheaper — $52,659 vs. $62,941. These prestigious schools offer excellent engineering and computer science programs.
Duke University vs. University of North Carolina at Chapel Hill
Compared to Duke, UNC has a lower US News ranking (#29 in National Universities) and a higher acceptance rate (19%). Still, UNC is considered a top-tier school just like Duke. Attending it is cheaper, too, especially for residents as it's a public institution. Tuition and fees amount to $8,998 for in-state students and $37,558 for out-of-state students.
Duke University vs. Princeton University
Princeton may be an actual Ivy League school and more selective than Duke — 4% vs. 6% acceptance rate. However, tuition and fees at the school are cheaper — $57,410 vs. $62,941. It's exactly due to this why Princeton, which is located in Princeton, New Jersey, is ranked by US News #2 in Best Value Schools.
Read Next: UNC at Chapel Hill

Disclaimer: The views and opinions expressed in this article are those of the authors and do not necessarily represent those of the College Reality Check.