Is GWU a School for Rich Kids? Walking Tour & Information Session
I had a chance to interview a current GWU student about the admission process on my podcast. It's an hour-long chat, so go ahead and read the rest of the article and come back and listen to the podcast episode with April from GWU:
Information Session
Our info session was held in the Marvin Center. A super modern building. It is nothing different than other student centers. A bunch of services, study spaces, Panera Bread cafe, a welcome center, a bookstore, a clinic, mental health services, career services, study abroad, and blah blah blah blah blah.
I have to say this was one of the shortest information session that I have ever been to (a little bit more 30 min). The info session lady didn't stick too much to the facts of the university, but rather, the individual experiences of GWU, which was much more interesting than general facts you hear in other colleges.
You will find that this is a bit of a pattern. The girl who did ours is named Michaela, and she is a senior and an admissions officer.
I didn't know that you can be a student and admissions officer at the same time. I guess it makes sense. She's a senior and has probably met so many people in GWU that she knows what the university looks for.
Foggy Bottom Village
The admissions officer talked a lot about the GWU neighborhood and used a 3D virtual model of the campus. GWU is located in an area called the Foggy Bottom Village. What an unfortunate name.
The first building she pointed out was the JFK Center for Performing Arts. It's where many musicals such as Hamilton (I hear that's all the rage?) & Aladdin are held.
I'm not a theatre nerd, so I don't know if those are good shows or the JFK Center is a good stage, but there's something I do know. It's free for GWU students.
Who cares that I don't know anything about theatre. Free stuff, and I are like soulmates. Your faculty in residence (professor that lives near their dorm) takes you to such performances.
She then moved onto the Watergate Complex. Most important thing to know about this building is that there is a nail salon (you have "colonial cash" which you can use at places like a nail salon).
Michaela said that her roommate was getting her nails done over the summer, and this one lady pulled up swarmed with secret service. It turns out it was the one and only Ruth Bader Ginsburg!
Next, she talked about The School for Media and Public Affairs (conveniently located right across from Marvin). I didn't learn anything specific about this school.
Real World Opportunities
Michaela told us that her friend, who majors in this school, got a paper published front page of the Washington Post.
Apparently, her professor works for the Washington Post. The professor took her and a few others, and she was given credit for the paper she wrote.
That's the important part of choosing a college. Besides giving you the required knowledge, the good college provides good connections for future career.
Michaela herself had a professor for her Ethnic, Conflict, and Peace Building Seminar who researches ethnic violence in Myanmar. I think this is an essential factor to take in when you apply to college.
Washington is indeed the center of news and politics, so I have no doubt the abundance of "real-world" opportunities in these fields. What I do doubt is equally as great STEM opportunities.
So if you're an engineering student for example, there are for sure better opportunities in other colleges if "real-world" application is your main priority.
Integration of DC in GWU
On the topic of DC, Michaela said it is probably one of the best things about GWU.
From watching the 2016 elections in her freshman year to frequently visiting the Smithsonian's for her Bio Anthropology Class, she said it was cool that her local news was the world's news.
And she's not alone. My tour guide for Georgetown also stated how being close to DC is one of the best things about Georgetown, and is one of the primary reasons she chooses her college.
I, being a regular visitor of DC, can attest that DC is very grand. I've never received an internship (I mean, I'm only a highschooler), but DC has absolutely everything, whether you want to have fun with friends, eat good food by yourself, or visit the White House.
One quick thing I want to get out of the way before we continue: the required class all GWU students must take. Both Michaela and the tour guide mentioned it, sooooooo it's probably very important.
It's a writing class that makes sure you are ready to write on a college level. I'm sure none of you want to do this class, but it doesn't seem bad at all. You can write about any topic.
And when I say any topic, it isn't something boring like the administrative techniques of King someone 800 years ago. Apparently, somebody wrote about the Bachelor.
I have watched about 2 minutes of that show, and it is indeed the cringiest thing I've ever seen, but if that's what appeals to you, then you can write about it.
Internships (they're a big deal)
Ok, back to our regularly scheduled program. Internships. They are one of the "real-world" opportunities that you may partake in. They go by semester so that you could take 8 internships in total, but I think you should stick to 3-4.
This past summer, Michaela worked for an anti-corruption work non-profit. She looked into conflicts of interest in different departments. One of the spreadsheets she was doing was for the Department of Treasury.
One day, she headed to the movies after work and sitting next to her was Secretary of the Treasury Steven Mnuchin. From this, she was able to see that what she was doing mattered.
As for your application, you will submit letters of rec, transcripts/high school report, test scores (if you decide to give them because GWU is test-optional), and extracurriculars.
In conclusion, I would give this info session an 9/10. I liked the speaker, and even though this info session was the shortest I've been to, it still covered the same amount of information that other info sessions have.
It wasn't funny like Northwestern, but I appreciated how a current student who is also an admissions officer gave her experiences rather than just laying out the boring facts about university.
Walking Tour
I think I chose the coldest day of the year to visit GWU. I believe it was -8 degrees Celsius or 18 degrees Fahrenheit. My teeth were chattering even though I was wearing an Eskimo coat.
My brain wasn't functioning anymore. But don't worry, I still managed to listen. Our tour guide is named Jessica, and she was wearing what I would have worn in 50 degrees Fahrenheit weather.
Our first stop was this little monument, which is the unofficial mascot of GWU: the hippo.
If I remember correctly, the President of GWU was at a pawn shop in New England.
He thought this would be an ideal gift for his wife, so he had it shipped to his house. She didn't like it, so she sent it to his office, which he then shipped back, and this kept going until he decided to donate it to one of the classes.
You can rub her ears or tusks for good luck. Jessica said she was going to fail her math class freshman year, but with an intense rub, she got an A on the final and passed the class. Proof. It totally works.
Behind us was the Lisner Auditorium. Of the two largest performing spaces in DC, it was the first to desegregate. Here, book signings (ex. Hilary Clinton), performances, special guests (ex. RBG) take place. GWU students either get free tickets, reduced rates or first pick.
Across the street is the School of Media and Public Affairs. Jessica said that even though she doesn't major or minor in this school, she had two classes that had nothing to do with Media and Public Affairs.
I would find this a bit annoying because it could get confusing. I would be the person to assume one of my, let's say, engineering classes are in the engineering building, but it is actually in the School of Media and Public Affairs. Then I would be sprinting to make it to class on time.
U Quad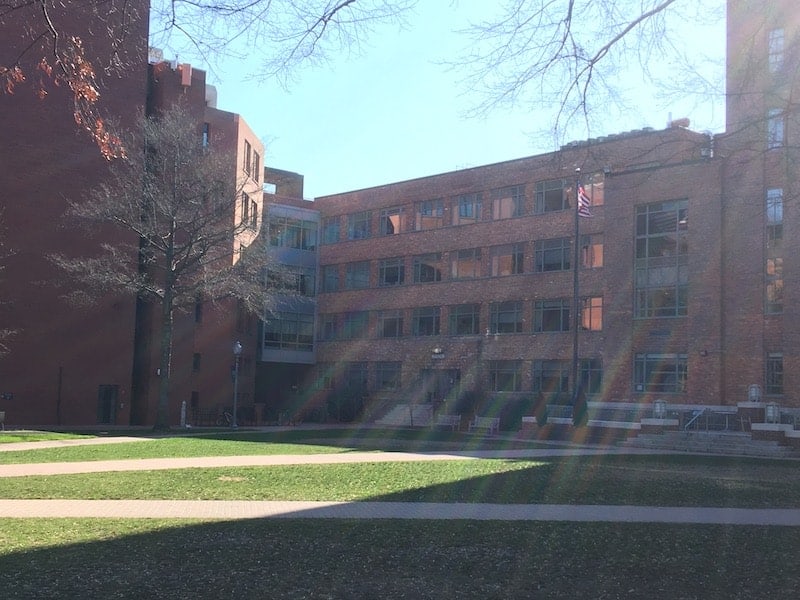 We then walked into University Quad (aka U Yard), and I noticed something very interesting. All the beautifully laid out brick had names and dates on them.
I asked Jessica if these were alumni, and she said yes. And not only famous alumni. Everybody up until the year 2015 had a brick, but unfortunately, they stopped the program, and now I will never get a brick.
U Yard was bare because the weather was disgusting, but Jessica says there is a club that just hangs hammocks on the trees and takes naps when the weather gets nicer. It's where a lot of the party like events occur.
For example, there is something called the First night. On your first night (duh), all the freshmen come together and get to know each other. I must say that it was a tiny quad with barely any green space, but GWU does have another campus called Mt. Vernon.
It is far enough from Foggy Bottom that you do have to take a shuttle to get there (kindly provided by GWU). This campus has 10x more green space.
It's where most first-year students live, and I think it's where that required writing class is. It also has most of the sporty stuff, such as a basketball and tennis court.
It does also have a women's society because it was initially a girl's college before GWU ate it.
Fun fact: They have a museum that is considered a Smithsonian Institute.

Excessive Safety
Jessica pointed out a blue light that is all over the campus. But GWU has developed an app called GWU Pow. It's a tracking system that allows you to keep walking while GWU police come to fetch you.
This is because you don't want to be standing there, practically asking to be kidnapped. They also have a free uber that works from 8 pm-4:30 am. And you know, it's DC.
They need everywhere to be safe, so they do have people from the CIA just casually patrolling the area. GWU has, by far, the most extensive safety measures out of any university I've visited.
Now we walked to Kogan Plaza, which seems to be the epicenter of GWU. When I got home, I looked it up to see what it would look like in the nicer seasons, and it is absolutely beautiful.
There are so many trees, flowers, and benches. It did look pretty decent in the winter, though. In the center is this sort of structure that seems oddly similar to the Old Well in UNC. Maybe they kidnapped it?
Anyways, I tried to concentrate on what Jessica was saying, but the combination of the rapidly decreasing weather and my astonishment when I saw an idiot wearing shorts while walking his dog took full command of my attention, so please bear with me.
Next to the Kogan Plaza is the Firehall on campus. There is a legend that says when President Taft got stuck in a bathtub; this is the Firehall that got him out.
Also next to Kogan Plaza is Gilman Library, which is the main library of the 3 at GWU. The library has a writing center that helps you with any stage of your paper.
Jessica has never gotten anything below an A on her papers with the help of the writing center. There is another center for STEM called STEM works that is like the writing center. It's just for STEM students.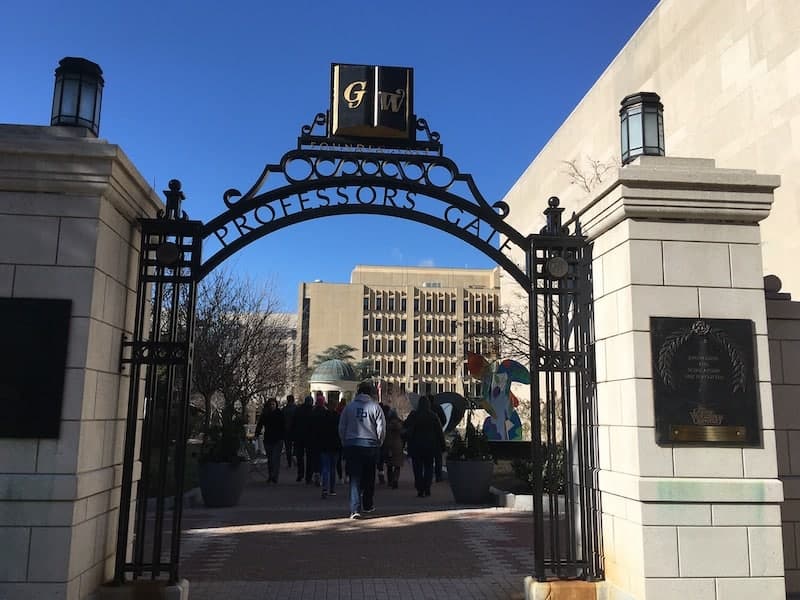 As we kept walking, I saw gates that looked very similar to the ones at Northwestern. In Northwestern, they had gates that you walked out of with your graduating class.
But the gates at GWU were for decorative purposes. They graduate on the national mall, which I'd say is much cooler than the gate idea at Northwestern.
Outstanding Service to DC
One year, GWU wanted Michelle Obama to be their commencement speaker. She said she would only agree if GWU students did at least 200,000 hours of community service.
They surpassed that, and I think last year they did over 700,000 hours of community services. Mind you, those are only hours that were logged into a computer.
We took a spot at Funger Hall which is the largest academic building. Jessica has had most of her classes her, and she took us in to look at one of the lecture halls.
I don't know why I have such high expectations for lecture halls, but I get disappointed every time. I need to stop because it's a lecture hall and it's not going to be pretty.
It was so dull and so blue (literally the color blue), but nothing can be as flat as a UChicago lecture hall, though. The one good thing was that I got to warm my whole body after it had turned to ice.
This is what a typical lecture hall looks like — nothing too special. You come for either 50 minutes or an hour and 15 minutes. The neat thing is that you can rent a laptop if you don't want to buy one for the entire school year (you can get this from the GWU store).
Another cool thing is that each lecture is paired off with a discussion section (these sections are mainly for the 50 min. classes though).
Your TA teaches this discussion, and they usually go over notes from previous lectures and take questions. Math classes have a similar thing with a different name I don't remember. And lastly, science classes have labs (I believe these are required).
Applying if you're interested
Then, we did a brief overview of the six colleges in GWU. There is the Columbia School of Arts of Sciences, which has basically every major. Then the School of Media & Public Affairs with journalism and stuff like that.
The School of Business that has *drumroll please* business. The Elliott School of International Affairs, the Corcoran School of Art & Design, and the School of Engineering & Applied Sciences.
Upon application, you do have to select a school, but you can change colleges when you come here (if you are undecided, then you just come in as undecided in the School of Columbia).
When you do come to GWU, you are assigned an advisor based on what college you're in. Your advisor helps you sort out your schedule, choose your classes, plan your study abroad, and, most importantly, listen to your complaints about college.
I then left the warm building to the malicious outdoors. We took a quick walk, and then, god bless, we walked into another building called Science and Engineering Building *so creative*.
The building used to be a parking lot, and they recently rebuilt it, so it is very new and clean and shiny. I personally don't like structures that are new and clean and shiny, so this building didn't really appeal to me, but if you like that kind of style, then GWU is for you in terms of looks.
It also had heavy doors that weighed more than our tour group, but Jessica said it was because they are environmentally friendly. It also has solar panels on the roof, and probably a bunch of other environmentally friendly features that I don't remember.
I noticed this trend in GWU. Jessica is part of an organization that tries to reduce the carbon footprint of the school.
Here I go again. We walked back outside, and this was the worst part. Jessica had intended to take another short walk to District, but the entrance that she intended to take was closed. Blessings do rain down upon me.
Michelin Star Worthy Dining
We had to walk for 5 minutes around the entire building to the other side. I was barely breathing when we got into the District. The District is the dining court on campus.
I don't know what genius invented the meal plan at GWU, but I think they deserve a Nobel Prize.
The only dining hall is on Mt. Vernon. That may seem inconvenient, but it's not. You have access to District, many restaurants in the Foggy Bottom area, grocery stores, and food trucks.
And you are not given a certain amount of meals per semester. Instead, in your freshman year, you get $2600 per semester on your ID card to just spend at any of the locations I just mentioned.
And if you don't spend all that money, it rolls to your next semester. I think this is awesome. Think about it. Let's say you went out for dinner at some new restaurant with your friends.
Portions can sometimes get big, so you can just take your food in a box and have it for lunch the next day. Once you become a sophomore, you only have $1525 per semester, but you are given a kitchen in your dorm, so you're expected to become an adult and cook for yourself.
It gives you a chance to explore with friends without fear of not having the money to do so.
Home Sweet Home
Lastly, we will talk about housing. For your freshman year, you need to put an Mt. Vernon option. There are ten dorms, and you will rank them, and usually, you get one of your first three picks.
As for the dorms themselves, you can have a double, quad, or 5-6 person (you also need to say the size of the dorm you want when you rank). Roommates are done by surveys, random, or picking a specific person.
Jessica chose a 6 person room in Thurston, and she loved it. They had an apartment-style dorm. When you walked in, there were three twin beds. Attached to that, there was a single with four closets and then a double with two wardrobes.
They had their own private bathroom, fridge, and microwave. Now, as a sophomore, she kidnapped 3 of her roommates, and now they live in a quad with a kitchen, living room, two doubles, and a private bathroom.
You do have to live in a dorm for three years, but you can get exceptions
Fun Fact: Shenkman Hall which is right next to Funger is ranked as one of the nicest dorms that look like a palace
Jessica chose GWU because her financial aid made GWU cheaper than her state school. Like Michaela, she wanted the opportunities you can only get in DC. She also says that she fell in love with her professors here.
Is GWU a school for rich kids? There are a lot of students whose parents paid the full tuition and they didn't need any financial aid. There are also a lot of international students who do not qualify for any aid either. However, you may be very surprised with a financial aid from GWU, so don't be discouraged and apply if the university is a good fit for you.
She talks about current events & class, and there will always be that one professor you will follow around everywhere. She is following the professor that inspired her to declare her major in Criminal Justice.
With that, our tour has ended. I would've loved it even more if it was warmer, but that's my fault. I give this tour 9/10. Unlike the info sessions, I like walking tours to be more personal, and I definitely got that from Jessica.

Disclaimer: The views and opinions expressed in this article are those of the authors and do not necessarily represent those of the College Reality Check.