Is Georgetown University a Good School?
Before Info Session
I live in the DMV area, so I didn't do much exploring, but I can tell you that DC is a city where you will always have something to do. If you would rather be busy than bored, then that's already a reason you should choose Georgetown.
It is the place to be if you want to be in Congress or sit in the White House yourself. There are numerous Federal buildings you can visit or even intern as a student. There are 3 billion museums to visit, and most of them are free.
My favorite is the Smithsonian National Museum of Natural History; I love seeing the stuffed animals. There is a sports arena. The Cherry Blossoms. The Lincoln Memorial. The Vietnam Veterans Memorial and so on.
DC also has the food trucks which are never there on the days you are in DC. But don't worry, if you are a Georgetown student, you will be living in DC. Roosevelt Island has hiking, biking, and kayaking along the Potomac for Georgetown students.
The intersection at Wisconsin Avenue and Em Street is the hub for Georgetown students. There is a lot of food on that street, and I hear the cupcakes are especially good.
We drove to DC and took the Metro, but we were still a 40 min walk from the Georgetown campus. Somehow, we ended up on P Street, which has so many restaurants ranging from expensive anniversary quality places to a Subway.
I walked up and down the street indecisive about what I wanted to eat and finally picked a restaurant — just kidding. Again, I changed my mind last second to go to this taco place, which is the new love of my life. Our wedding is going to happen very soon.
When you first look at it, you would never expect anything from this restaurant. I mean, it's located underneath that Subway. DO NOT BE FOOLED. It is small and seats a maximum of about 12 people, but it served the best tacos I've had in my life.
They are a Hawaiian Restaurant with poke, wings, salad, and of course, my new favorite tacos. I got the poke, which was also delicious, but it's the first poke I've ever had, so I can't compare it to anything.
I wanted a bite of my dad's tacos without any expectations. I bit into the chicken one and was blown away. They had the best cooked meat and so many spices and flavors. I could talk all day about these tacos.
The sauce they top it off was the cherry on top of this already perfect taco. I could write paragraphs about how good these tacos are. Or maybe a blog post. Perhaps I will….
We took a 40-minute walk to the Georgetown campus, and it was both heaven and hell. I think we went on the hottest day of the year. I was sweating profusely. I don't think sweating is disgusting because we are all human, and we all sweat, but I was disgusted by my sweat.
It was humid; it was cloudless, it was 2 million degrees. But I would much rather be hot than cold, so I tried to remember that the whole time I was walking (It didn't work). The view I had was utterly worth it, though.
My entire life, I've stuck with The National Mall area of DC. This is the wealthier neighborhood area, and it is gorgeous. The town homes are all vintage looking with the cream facade and black iron railings. It's a spotless area. If you are a runner, it is the ideal place to run because it is so beautiful and not completely flat.
We were rushing to our info session because we didn't know if we would make it on time. Therefore, we couldn't stroll through the area, but we enjoyed it nevertheless. I'm most definitely coming back to this area of DC.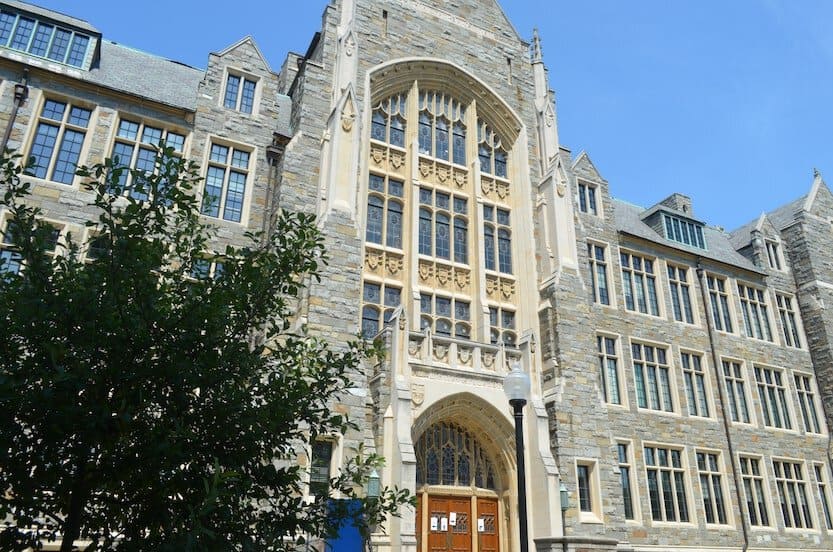 Now what you came for: the Info Session
We finally arrived at the Hilltop. This was quite literally the most boring information session I've ever been to. After going to the Northwestern information session, my standards are high.
This information session sunk well below my lowest standards. This didn't ruin my image of Georgetown as a college, but I was going to fall asleep, so bear with me as I relive this perpetual nightmare.
Little Bit of Georgetown History
Georgetown is the oldest Catholic Jesuit school in the country. This doesn't mean that you have to be Catholic to be in this school. I will go further into the religious aspect of Georgetown later on the walking tour. It is also the only school that is permitted to use the Federal Eagle on their school seal.
4 Undergraduate Schools of Georgetown
Our info session lady dove straight into the four undergraduate schools & law center of Georgetown. The first and largest college is called Georgetown College. It houses the humanities, sciences, social sciences, and languages.
Specific majors include English, government, history, economics. Can you guess the most popular major when students apply? Undeclared. I believe this shows that Georgetown won't turn you down just because you don't have your major figured out.
The sciences include biology, chemistry, and they do have a pre-med track. They do have an early assurance program in which you don't take the MCAT in sophomore year. But this is only if you apply to the Georgetown School of Medicine.
They do have the same program for aspiring law majors with LCAT's.

Next comes the School of Nursing and Health Studies. The majors include nursing (duh), human science, global health, and health care management and policy. I find this last one very interesting because of the recent discussions about the health care we've had between candidates.
It's located near the Georgetown hospital, which has thousands of resources, including GUS. GUS stands for Georgetown University Simulator; He can replicate over 65,000 human ailments so students can practice on him. GUS is tough; he could be in heart failure, having a terrible allergic reaction, and delivering triplets all in the same day.
The last two colleges are the Walsh School of Foreign Service & McDonough School of Business. To have a degree in the Walsh School of Foreign Service, you need to be proficient in at least one language. Latin is not an option.
Fun Fact: Bill Clinton was in this school.

We didn't talk much about the McDonough School of Business, but there are 8 majors in this school. Upon application, you must select one of the 4 schools, but you don't have to stick with that school.
As usual, you must declare a major by the end of your 2nd year. What's different about Georgetown is that you can double major in the same college, but only minor and/or certificate across the schools.
Classes & Faculty
Most classes are 15-25 students, especially language classes. We saw a slide from the powerpoint that showed a professor teaching Arabic to his class. It's good that they're teaching one-on-one because that's the best way to learn a language.
Our info lady recommended that we get to know the faculty and create relationships with them because they will be a resource for internships & job opportunities. They are also required to hold office hours twice a week, and most hold hours most days of the week.
Related Article: Harvard vs. Georgetown: Detailed Comparison
All da opportunities at Georgetown
Internships
ABC Nightline provides 2 journalism spots exclusively for Georgetown students each year. Yes, it's competitive, obviously, but … it's also a paid internship, so why wouldn't you try? Most students end up doing 2-3 internships throughout their 4 undergraduate years.
Study Abroad
Like most schools, Georgetown has abroad opportunities in many countries: 60 countries and 140 programs. Service opportunities are also given in study abroad, but in DC as well. 60% of students do study abroad and the credits transfer…. blah blah blah.
The part of this that was different from other colleges was the villa. It's located in Florence, Italy and is sooooooo beautiful. The downside is that it's only for majors such as languages, art history, and renaissance.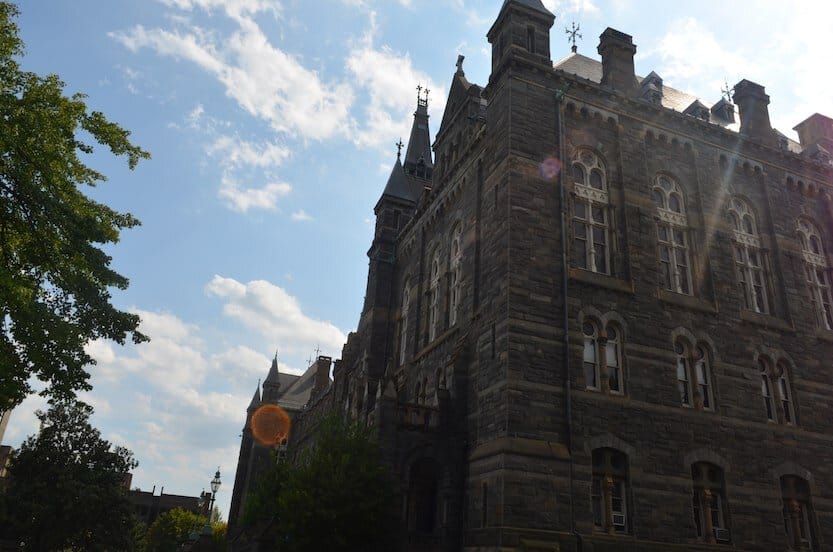 Lecture Fund
The lecture fund is something I love about Georgetown. I will go into more detail during the walking tour, but I will give the basics now. It's this program that allows students to reach out to alumni they want to talk to in Georgetown.
If the person can come, then they will speak to hundreds of students in the theatre. People such as Supreme Court Justice Sonia Sotomayor, Warren Buffet, and Bradley Cooper have spoken at Georgetown.
I hear that Bradley Cooper likes to make surprise appearances on campus too. When he came, he showed a pre-screening of "A Star is Born" to Georgetown students.
Georgetown Grilling Society: 2 guys who missed grilling backyard, so they started this society that grills on Fridays

College Application
They claim that they don't have the common app because they want students to apply in the most thoughtful way possible. That's kind of dumb. Why? Because you're too busy applying to other colleges and their supplemental essays to worry about this thoughtful application.
Even if you dream of going to Georgetown, it's still so much more work. These essays include one the classical "Why Georgetown?" question. The second is about one of the 4 undergraduate schools.
You also need 2 recommendation letters: one from a counselor and one from a teacher. They require your high school transcript(s), extracurriculars, an alumni interview (about 30-60 min and always with someone who lives in your hometown), and they strongly recommend 3 SAT subject tests.
Of course, there is your SAT or ACT score, but they are not a score choice school. If you failed the first time you took the SAT, they will see.
Walking Tour
The unfortunate info session was followed up by the best walking tour I've had. The girl, Julia, who did our tour was part of the "Blue and Grey Walking Tour society" which is a volunteer base, so they aren't being paid to lie to us about Georgetown.
More background on Georgetown
We stepped out into nature to begin our tour. The building we were in for the info session was the White Gravenor Building. In front of it, there are 2 shields and below each shield is a date.
The one on the left is 1634 when Father White and Father Gravenor came to St. Mary's Maryland to start an educational system. Historians argue that this was the founding of Georgetown. If this is true, then Georgetown would be the oldest school, but they gave it to Harvard instead.
Instead they go by the date on the right: 1789 (official date).
The extent of my American football knowledge
We then walked by the gates, and Julia told us to guess what this big piece of land was used for. An intellectual yelled out a football field, and she was surprised because they were correct.
That intellectual was me, and I was handed my Georgetown acceptance letter. There is a stone wall surrounding this piece of land. During football games, the students would sit on this stone wall and throw stones at the opposing side.
The refs would tell them they couldn't do that, and another intellectual came up with a solution. During that time, Georgetown taught Latin & Greek (they don't anymore), so he took the Greek word "Hoya" which means "what" and the Latin word "Saxa" which means rocks and combined them to get "Hoya Saxa".
So whenever the ref's told them to stop, they would yell, "Hoya Saxa!" This chant stayed and is now a sort of motto for Georgetown students.
Across the road outside the gates is a turquoise house. It's where their mascot Jack the Bulldog lives. A new Jack the Bulldog arrived the night before the tour, and he is currently in training.
The students of Jack's Crew pamper him, and rumor has it that he has his own car he rides around during games. Weird. I love it. Unfortunately, it's harder to get into Jack's Crew than Georgetown.
How big is religion at Georgetown?
Now I will talk about the religious aspect of Georgetown. They have their Christian Chaplains, but I believe they are the first to have a Hindu, Jewish, and Muslim Chaplain as well. All students are required to take 2 semesters of theology.
One of your first semesters should be the problem of god or biblical literature. The second can be pretty much anything. Julia took Intro to Islam, and it ended up being her favorite course.
Moving back to the tour…
We then walked pass Healy Hall, which we will revisit near the end. Then we walked past Lauinger Library, which has a student-run coffee shop on the second floor. I mean, it's not college if you don't have a coffee shop in the library and are grinding on a paper due the next day… totally can't relate, ahem, moving on.
The library also has a state of the art 3D printer.

Julia went on to talk about the many things you can do in DC and around Georgetown when she mentioned something I had never known. Martin's Tavern is an ideal place for a lovely brunch, and that's why JFK proposed to Jackie in booth 3. She also interned for the senate the year prior, and now she majors in gov. Julia, for Congress!
Fun Fact: Intramural Club called Battleships were you sink others Kayaks in the pool (once a year)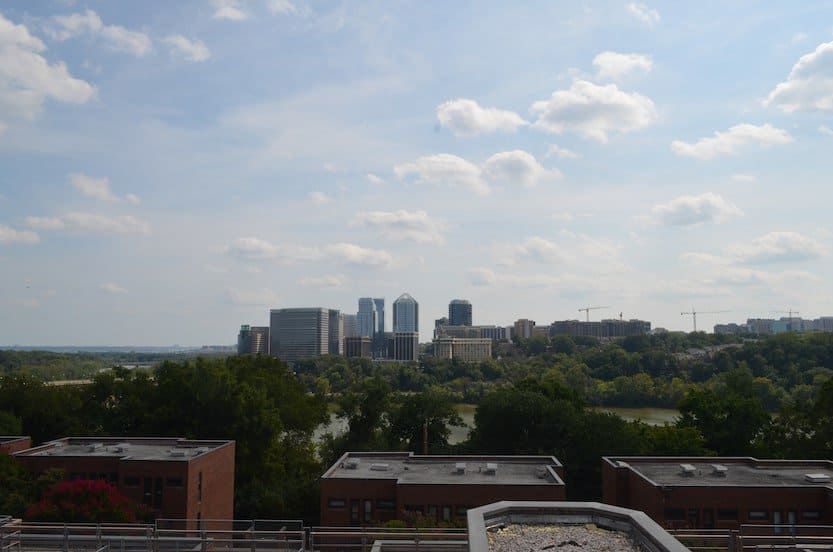 Upperclassman Housing
We came to these buildings, which the students call "Vil A" (stands for Village Apartments, I believe). They are apartments with a full kitchen, bathroom, living area, and 2 double rooms. We climbed up a set of iron staircases that looked straight down to the cement, not ideal if you are afraid of heights.
The view was totally worth it. We saw the Lincoln Memorial, Washington Monument, Kennedy Center for performing arts, and a bunch of other DC things. The thing is, there was massive floor to ceiling windows, so there is always the possibility that someone could break the windows.
Other than that, these apartments are highly coveted but are mainly given to upperclassmen. Few lucky sophomores will get one of these apartments.
Also, when we were walking through the rich neighborhood to get to Georgetown, we saw some very brightly colored homes which we later learned are for upperclassman!
Freshman & Sophomore Housing
Then we passed the HFSC (try figuring out what that stands for), which is equipped with a full theatre, 2 dance studios, a salad shop, and a Bulldog Tavern. I think the Corp owns one of these.
The Corp. is a student-run profit (every single person is a student) that makes 5 million dollars in annual revenue. It's a good thing to have on your resume: that you run a 5 million dollar company in your early 20's.
We walked a little downhill to a dining hall called Leos. Its actual name is O'Donovan, but I want to save you from being an uncultured citizen and laughed at. We took a sharp right as we were approaching O'Donovan. Oops, I meant Leos.
There was the South West Quad. This quad is 3 dorm buildings configured into a U shape. VCW (I don't remember what it stands for) is the best dorm of the 3 solely because every room gets their own bathroom; it's a sophomore dorm building.
Before I talk about the other dorms, let's talk about safety on campus. They have the iconic blue light system, which notifies GUPD and they get to where you are at in 100 seconds or less.
Only 1 person used the blue lights, and that was a skeptical mom on a tour, and she was fined hundreds of dollars. Haha, sucks for her. At least we know that they do work. There is also the Hoya Alert System.
Last year, there was a small fire in the chem lab, and Julia immediately got a notification about what happened, places to avoid, and what was being done to resolve this conflict. Her mom also got the notification because parents can also opt to be alerted.
The Georgetown Emergency Response Medical Service with the ironic acronym GERMS is a student run EMT. They have their own ambulance, usually parked near Leos, which has the fastest ambulatory response rate.
They are a free service that will give you a full medical check-up and send you to the hospital if necessary. DO NOT BE FOOLED; The hospital is not free. They also have something which Julia emphasized: an anonymous policy.
If you don't want it, nobody will be notified if something has happened to you. This is important because you "don't want to discourage anyone from seeking medical attention."
We walked up the steps to Dahlgren Quad, and Julia said that an alumni donates 3 million each year to the university only if 1 million is used for Tulips. It is stunning in the springtime. Harbin Hall is the second dorm building that has a cluster system.
It means an area of a dorm shares a common room with the people in that area. The only exciting thing about this dorm is that Bill Clinton lived in it, and he is quite an iconic Hoya. Darnell is the last dorm in this area. It isn't located in the center of campus, but it sits on a 24-hour dining hall, so there could be days you don't have to go outside.
Georgetown has 3 ways to choose your roommate: CHARMS (Campus Housing And Roommate Service), random, and Facebook. CHARMS is a 50 questionnaire that you fill out and are given a few matches.
You'll call these people and facetime then, and one of you will pop the question, and you'll live happily ever after. Random is self-explanatory. On Facebook, you post a bio of yourself and hope that somebody takes interest and asks to be roomies.

Fun Fact: Rumor 70% of Hoyas marry each other (only 7%) and can get married in Dahlgren Chapel in Dahlgren Quad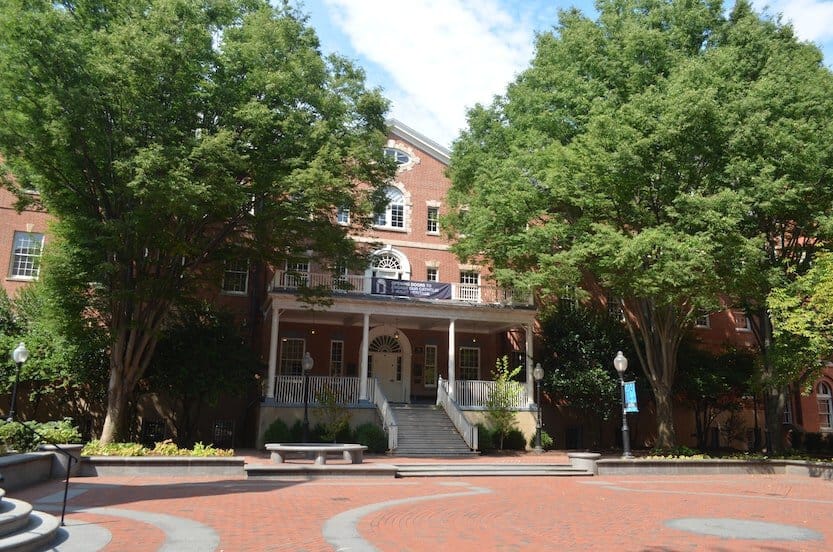 My favorite spot: Dahlgren Quad
Located in Dahlgren Quad is a regular looking home named "Old North". It was built in 1795 for a whopping $400 (approximately $40,500 in today's currency) and was used as a Union Soldier Hospital.
It was used as a hospital because the Georgetown population plummeted to 17 students. The priests began freaking out, so they decided to involve themselves in the war. That's where Georgetown got its school colors blue from the Union and grey from the Confederacy.
If you look closely, you will see the top step of the Old North is different from the others. It looks old and bruised. This is because that step has not been renovated like the rest of the building.
14 US presidents have stood on that top step to give speeches. They include George Washington, Abraham Lincoln, Barack Obama, and of course, Bill Clinton. If you were looking directly at "Old North" and turned 90 degrees clockwise, you would see the Clock Tower.
The graduating senior year has to steal both clock hands and mail them to someone they want to visit the campus. Seniors have sent them to Pope John Paul II, but he wasn't able to come.
He did bless the hands, though, so students like to say that their time at Georgetown is blessed. Hahahahahahaha. They also sent the hands to Clinton, and he also didn't come, but he did sign them.
Back to Healy Hall…
We passed by a fountain on our way back to Healy Hall. You're supposed to jump into that fountain sometime before graduation *insert grimacing emoji*.
At Healy Hall, we talked about random stuff because it was mainly us asking questions:
Healy houses Gaston Hall which is where the lecture funds take place. People will sleep outside of Healy Hall to make it into the lecture fund.
Julia's roommate was eagerly waiting to meet Bradley Cooper, but she was 5 people short. It was a very dark time for her dorm room. Julia was lucky, though, and ended up shaking Bill Clinton's hand.
Other musical performances take place in Gaston, and although they cost money to go to, all the proceeds go to charity. An important office in Healy is the GSP: Georgetown Scholars Program. It provides aid for 1st generation or low-income students.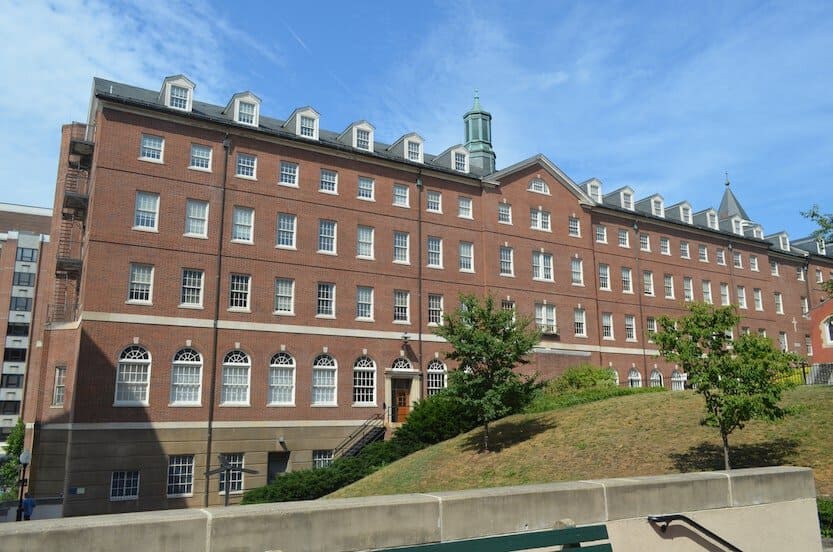 They receive a student, faculty, and alumni mentor. They also get a free flight to and from home freshman year. If they are from the South, Georgetown provides winter gear because I will tell you from experience, DC weather, in my opinion, is horrendous. I don't like the cold.
Food
Out of all the colleges I've toured, Georgetown has the worst food game. They took away the all you can get grilled cheese. Leo's closes at 8 o'clock, and some classes get out at 8 or later. Julia also said that they stop serving fresh food at 7:15.
The 24/7 dining hall doesn't allow you to use your meal swipes. Instead, you have to use flex swipes, which you can also use around the neighborhood. Meal Plans are required in freshman year, but other than that, it's quite standard: 21 meal swipes a week gives you unlimited access to the downstairs buffet.
There are also 18, 14, and 8 swipes a week. The variety is also quite standard with halal, kosher, gluten-free, and vegan options.

Fun Fact: Georgetown makes up for their limited dining options with a special $5 a month Hulu & Spotify premium deal exclusively for students.

We walked out of Healy Hall to head to our last stop when Julia told us a funny story. The statue of John Carroll depicts him sitting on a chair, thinking with a bunch of books underneath the chair.
The books weren't originally there. Somebody, I don't remember who, thought it would be funny to place a toilet under the chair. It took 2 days to remove it, and after that, they installed those books. We ended in Red Square, which is not so obviously a huge red square.
The Men's Ultimate Frisbee team hands out $1 donuts every Monday. Grilling Society gives $3 burgers on Fridays, and there is a Farmer's market every Wednesday.

Julia ended the tour like all tour guides should: Why did I choose Georgetown? She had 3 reasons: the faculty is super excellent with deep connections, and they want to get to know you.
The second reason is that Julia loved the ethnic diversity of Georgetown. She grew up in a 95% white high school. Everyone there thought, spoke, and dressed like her. Julia wanted people to teach her how to think differently, and she believes she has become more open-minded because of Georgetown.
The 3rd reason was DC. It has so much to offer and so much to do that she couldn't resist.
That concludes possibly my favorite walking tour! We raced through the neighborhoods and back to the Metro because we were yet again on a time crunch. Thanks for reading if you have made it this far!
What is Georgetown's acceptance rate?
Georgetown's acceptance rate is 16%
When are Georgetown's early, regular, and transfer applications due?
Regular Decision: January 10th
Early Action/Decision: November 1st
Transfer: March 1st (As of 2019)
What is the cost of attending Georgetown (As of 2019)?
Tuition: $56,557
Housing: $10,158
Other Expenses: $8,352
Total (On average): $72,614
When do Georgetown decisions come out?
Regular: April 1st
Early: December 15th
Transfer: June 1st
What is Georgetown's ethnic diversity (As of 2019)?
International: 13.8%
Asian: 9.2%
Black/African American: 6.2%
Hispanic: 10%
What is the percentage of females & males at Georgetown (As of 2019)?
What is Georgetown's graduation rate (As of 2019)?
Gerogetown's graduation rate is 94-95%
Who is Georgetown's mascot?
Jack the Bulldog (who lives in a blue house on campus)
Does Georgetown offer merit scholarships?
No, Georgetown only offers scholarships based on demonstrated need
What is Georgetown's out-of-state tuition?
The tuition is the same regardless of your home state: $56,557 (As of 2019)
What is Georgetown's overall ranking?
Georgetown is ranked #22 in National Universities
What are Georgetown's major rankings?
Medical (Research): #48 (tie with Indiana University)
Business (Overall): #24
Law (Overall): #14
Political Science: #33 (tie with PSU, Rice University, & University of Washington)
What is Georgetown's transfer acceptance rate?
Georgetown's transfer acceptance rate is 16%
What grades do I need to have to get into Georgetown?
Average GPA: 3.99
Average SAT Math: 715
Average SAT EBRW: 720
Average SAT Composite: 1435
Average ACT: 32
Is Georgetown need blind?
Is Georgetown an Ivy League?
Is Georgetown a public or private school?
Is Georgetown a catholic school?
Yes, but you don't need to practice Catholicism if you go to Georgetown; You do need to take a required theology course, but it can be about anything
Is Georgetown a conservate or liberal school?
Georgetown is a mix of liberal & conservative, but it leans more on the liberal side
Is Georgetown a liberal arts school?
Georgetown is located in a very upscale neighborhood, and therefore, is very safe
Does Georgetown accept the common app?
No, they have their own special application
Does Georgetown accept AP credit?
Yes, but only certain scores (Only 4's & 5's I think)
What are Georgetown's school colors?
Does Georgetown offer online courses?
What is the acceptance rate of waitlisted students at Georgetown?
The acceptance rate varies with each school, but the rates are not very high overall
What is Georgetown's undergraduate enrollment?
Georgetown has an undergraduate enrollment of 7,463 students
Who are some Georgetown alumni?
Bill Clinton (42nd US President), Bradley Cooper (American Actor nominated for several Academy, Tony, Grammy, & BAFTA awards), Antonin Scalia (Former US Supreme Court Justice), Greta Van Susteren (American Commentator for CNN, Fox News, & NBC News)
Related Article: GWU Walking Tour

Disclaimer: The views and opinions expressed in this article are those of the authors and do not necessarily represent those of the College Reality Check.