Why Is Bowdoin a Good College: Facts and Road Trip
Bowdoin College (Bowdoin) is a private liberal arts school that's located in Brunswick, Maine. Established in 1794, it's considered a New Ivy.
US News ranks Bowdoin #6 in National Liberal Arts Colleges and #7 in Best Value Schools.

There are 45 majors available at Bowdoin College, some of the most popular of which include political science, economics, mathematics, and biology.
Computer science is a highly-ranked undergraduate program.
Attended by 1,951 students, all of whom are undergraduates, tuition and fees at Bowdoin cost $61,528.

Still undecided as to whether or not you should add Bowdoin College to your list based on what you have read so far?
This year, our family made a road trip to Maine, and after visiting Portland, we decided to check out this college in Brunswick.
I will share my impressions about the college at the end of the article, but first, I want to present some of the most important things you need to know about it, ranging anywhere from its accreditation, minimum GPA requirement, cost of attendance (COA) to campus safety.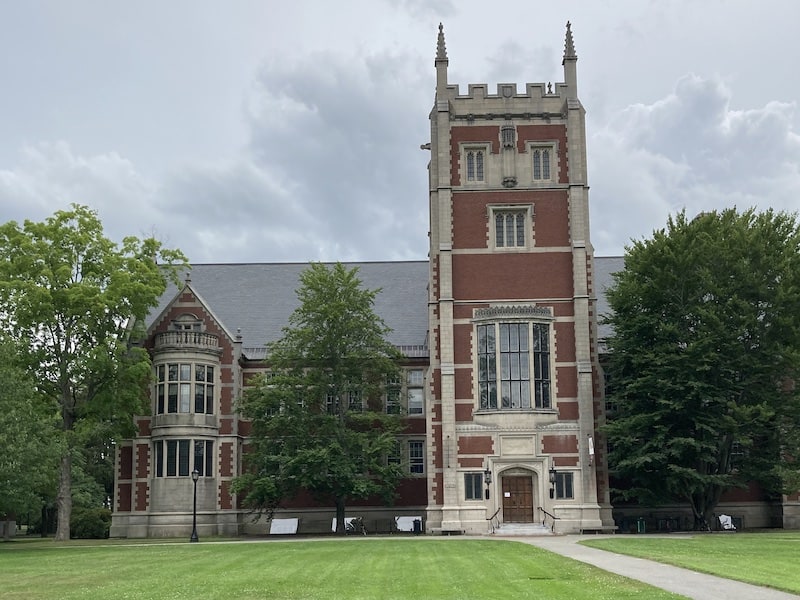 What Is Bowdoin College Known For
Bowdoin College is the oldest college in the state of Maine. It was founded in 1794, although classes were not held until 1802. The institution was named after the first president of the American Academy of Arts and Sciences, whose purpose is to cultivate every art and science, James Bowdoin.
Initially, Bowdoin College admitted men only. However, in 1971, almost 200 years since its first classes happened, the school opened its doors to women.
Some of Bowdoin College's most notable alumni include US President Franklin Pierce, Union Army soldier Joshua Chamberlain, explorer Robert Peary, poet Henry Wadsworth Longfellow, American Civil Rights Activist DeRay Mckesson, and Netflix co-founder Reed Hastings.
Here are some quick facts about Bowdoin College you need to know about…
Location: Brunswick, Maine
Campus type: Suburban
Size: 207 acres
Population: 1,776
Education system: Non-profit
School type: Private liberal arts college
Reputation: Non-party school
Number of majors/minors: 43 majors & 45 minors
Best majors: Economics, Political Science, History, Mathematics, Computer Science
Selectivity: Highly selective
Average class size: Less than 20 students in 68% of classes
Student-to-faculty ratio: 9:1
Retention rate: 96%
Graduation rate: 94.5%
Color: Black and white
Athletic affiliation: NCAA Division III
Mascot: Polar bear
Varsity teams: 30
Sports: Basketball, volleyball, softball, baseball, lacrosse, tennis, squash, ice hockey, field hockey, golf, football, soccer, rugby, track and field, Nordic skiing, sailing, swimming and diving.
Is Bowdoin College Ivy League?
Bowdoin College is not one of the eight Ivy League schools. However, it is considered one of the Little Ivies, which consists of highly selective schools with much smaller student bodies and large financial endowments.
As a matter of fact, in 2020, Bowdoin College was valued at $1.8 billion.
Many college-bound kids dream of becoming Ivy League students. Nothing can open doors for them more than earning a college degree from an elite institution.
It's true that Bowdoin College is not one of the eight Ivy League schools.
Still, it's just as highly selective and prestigious as Harvard University, Columbia University, the University of Pennsylvania, Cornell, and the rest.
Because of this, Bowdoin College appeared in an article on Bloomberg Businessweek about the Little Ivies.
The following colleges and universities were also a part of the said article:
Amherst College
Bates College
Colby College
Connecticut College
Hamilton College
Haverford College
Lafayette College
Middlebury College
Swarthmore College
Trinity College
Tufts University
Wesleyan University
Williams College
Related Article: Best Non-Ivy League Schools Along The East Coast
Bowdoin College Ranking
US News placed Bowdoin College in its Best National Liberal Arts Colleges at number six and number twelve in the Best Value Schools.
Niche placed Bowdoin College in its Best Liberal Arts Colleges in America at number two and number three in the Best Small Colleges in America.
To give you a much better idea, here are the different rankings of Bowdoin College in various US News rankings:
Best Undergraduate teaching – number 11
First-Year Experience – number 11
Most Innovative Schools – number 29 (tie with Amherst College, Barnard College, Centre College, etc.)
Top Performers on Social Mobility – number 145 (tie with Bryn Mawr College, Bridgewater College, etc.)
When choosing which schools to apply to, refrain from making a decision based on college rankings by US News and other popular college ranking sites alone.
That's because college rankings tend to be subjective — ranking sites can choose to exclude certain colleges and universities and criteria when coming up with listings.
Is Bowdoin College an Accredited School?
Bowdoin College is an accredited school. The accrediting agency responsible for its accreditation is the New England Commission of Higher Education (NECHE).
Both the US Department of Education (USDE) and the Council for Higher Education Accreditation (CHEA) recognize NECHE.
Making sure that the college or university you are about to apply to is accredited is a must.
It's not just any accreditation that Bowdoin College has. What it has is the regional kind, which is widely regarded as more prestigious than national accreditation.
Going to a regionally accredited school such as Bowdoin College lets you transfer credits from one regionally accredited college to another without much trouble.
It also allows you to be eligible for better financial aid. More importantly, attending a regionally accredited school enables you to earn a degree that potential employers will accept.
The accrediting agency that gave Bowdoin College its accreditation, NECHE, is rooted in the New England Association of Schools and Colleges (NEASC). Founded in 1885, NEASC is the country's oldest regional accrediting body.
Acceptance Rate at Bowdoin College
The acceptance rate at Bowdoin College is 9% only. This makes it a highly selective institution.
With a single-digit acceptance rate, it's just as competitive as the Ivy Leagues and various elite schools such as Brown University, Duke University, Vanderbilt University, Swarthmore College, and MIT.
Gaining acceptance to a highly selective school such as Bowdoin College requires you to have earned high GPA and test scores, taken difficult college-level courses and impressive extracurriculars.
To give you a better idea, the following are US colleges and universities with the lowest acceptance rates:
| UNIVERSITY | ACCEPTANCE RATE |
| --- | --- |
| Stanford University | 4% |
| Columbia University | 5% |
| Curtis Institute of Music | 5% |
| Harvard University | 5% |
| California Institute of Technology | 6% |
| Princeton University | 6% |
| University of Chicago | 6% |
| Yale University | 6% |
| Alice Lloyd College | 7% |
| Brown University | 7% |
| MIT | 7% |
| Pomona College | 7% |
| Dartmouth College | 8% |
| Duke University | 8% |
| Juilliard School | 8% |
| United States Naval Academy | 8% |
| University of Pennsylvania | 8% |
| College of the Ozarks | 9% |
| Northwestern University | 9% |
| Rice University | 9% |
| Swarthmore College | 9% |
| Vanderbilt University | 9% |
| Claremont McKenna College | 10% |
| Colby College | 10% |
| Johns Hopkins University | 10% |
| United States Military Academy | 10% |
Related Article: Easiest and Hardest Ivy League Colleges to Get Into
Bowdoin College GPA Requirements
To met the academic expectations of Bowdoin College, applicants want to maintain a GPA of about 3.9. This means that the school, for the most part, accepts those who were at the top of their high school class and got nearly all A's in their classes.
Most of the time, applicants who receive acceptance letters from the school are bright as well as engaged inside and outside the classroom.
The majority of them are students who exhibit curiosity and are not afraid to take risks. Bowdoin College also looks for those who respect different views, opinions, and backgrounds.
It is true that grades and test scores are not everything, but for many prestigious colleges, having a high GPA and SAT/ACT score is a given; think of a high GPA & SAT/ACT score as a benchmark you are expected to meet.
Related Article: Getting Into Harvard With a 3.0 GPA
Like all schools that use holistic admissions approach, they pay attention to the following:
Academic success
Level of college-level course challenge
Recommendation letters from counselor and teachers
Personal essays
Overall academic potential
Involvement with the school and community
Character and personality traits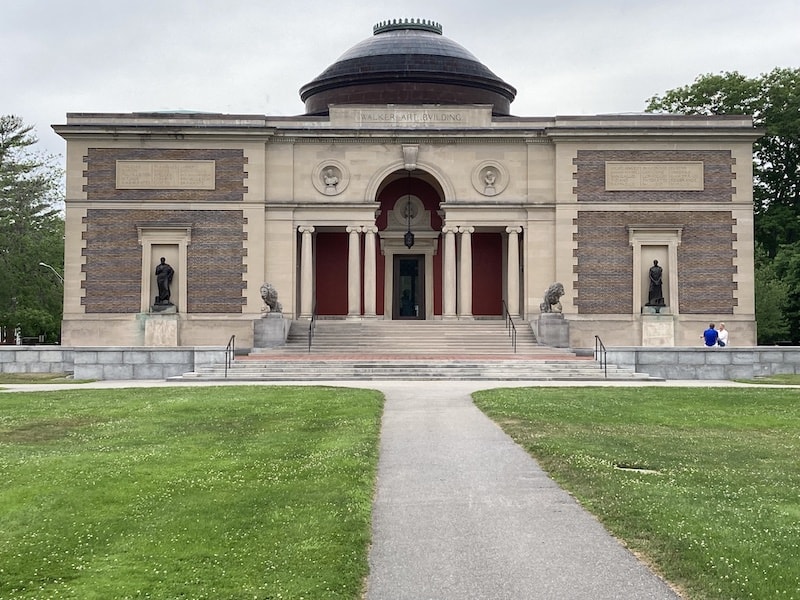 Does Bowdoin College Offer Early Decision?
Bowdoin College offers early decision (ED). As a matter of fact, it offers both ED I and ED II. The same set of criteria are used for both decision plans.
Both ED I and ED II are binding, too, which means that students who get accepted are expected to enroll. The only difference is the deadline.
One of the nicest things about applying to the school earlier than everybody else is that you may enjoy higher chances of gaining admission into it as there are still plenty of slots to fill.
Also, it shows the admissions officers that Bowdoin College is your top choice as you are willing to forget your application to other colleges and universities.
Speaking of which, whether you prefer ED I or ED II, there is one very important matter you need to know: ED is binding.
This means that you must go to Bowdoin College if you get accepted into it.
You should also know the deadlines for various decision plans for your application to be taken into account:
| DECISION PLAN | APPLICATION DEADLINE | NOTIFICATION DATE |
| --- | --- | --- |
| ED I | 15-Nov | Mid-December |
| ED II | 5-Jan | Mid-February |
| RD | 5-Jan | Early April |
| Transfer | 1-Mar | Early May |
Related Article: Early Decision Strategy for Getting Admitted to Best College
Is Bowdoin College Test-Optional?
Bowdoin College is a test-optional school.
As a matter of fact, it is the first US school to go from requiring test scores to having a test-optional admissions policy.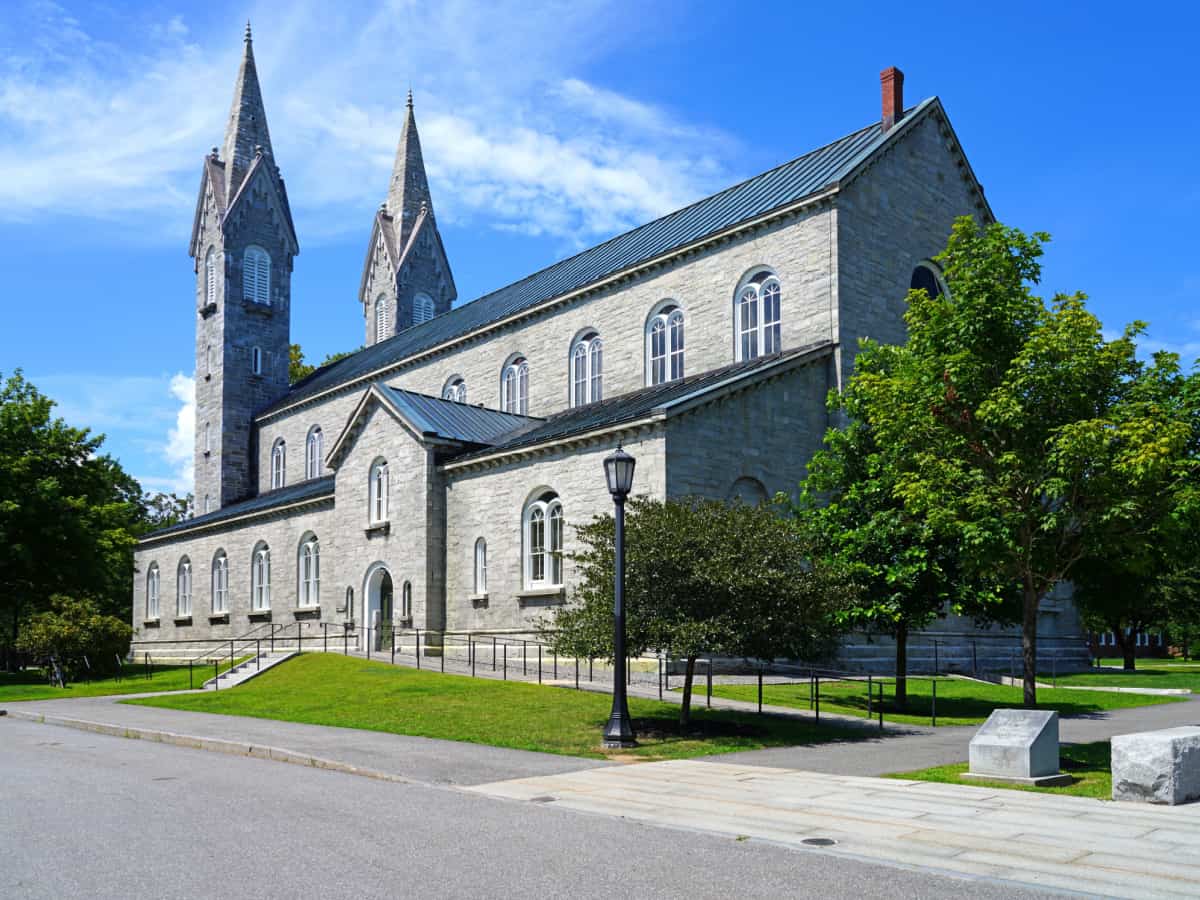 Since 1969, applicants, including homeschooled and international ones, may or may not submit their SAT or ACT scores when applying.
As mentioned earlier, Bowdoin College's test-optional admissions policy applies to all students applying to it.
This means that homeschooled and international students are included.
Those who choose not to submit have to provide additional documents as substitutes for test scores.
Here are some of the things homeschooled students may submit:
Transcripts from courses taken in a community college, summer program, or online school.
Supplemental curriculum documentation or descriptions.
Graded paper or lab assignment.
Letters of recommendation from a teacher, coach, counselor, community member or employer.
On the other hand, the following are some of the things international applicants may provide:
Transcript of academic work.
Results of university entrance exams from countries that have them.
Test of English as a Foreign Language (TOEFL), International English Language Testing System (IELTS), Duolingo English Test (DET) or Cambridge English Assessment (CEA) results if English is not the first language.
How Much Does It Cost to Go to Bowdoin College
The cost of tuition at Bowdoin College amounts to $61,528. Since it is a private school, there are no in-state and out-of-state tuition costs — everyone pays the same amount.
To make college accessible, Bowdoin College offers grants and loan-free aid packages.
According to US News, the average tuition at public schools amounts to $11,171 (in-state students) and $26,809 (out-of-state students). On the other hand, the average tuition at private institutions costs $41,411.
Based on the figures above, the tuition at Bowdoin College is considerably higher.
The good news is that the school is committed to making higher education affordable. For instance, it has a need-blind admissions policy, which means that the ability to pay is not a factor in the admissions process.
Bowdoin College also waives the $65 application fee for students applying for financial aid or first-generation students.
Around 52% of first-year Bowdoin College students receive some financial aid.
The school offers grants that range anywhere from $1,090 to $75,000.
Here's a breakdown of the estimated cost of going to Bowdoin College for the academic:
| EXPENSES | AMOUNT |
| --- | --- |
| Tuition | $61,528 |
| Fees | $546 |
| Room | $7,630 |
| Board | $8,268 |
| Books and Supplies | $840 |
| Personal Expenses | $1,250 |
| TOTAL | $80,062 |
Bowdoin Cost of Attendance
Is the Bowdoin College Campus Safe?
In the Safest College Campuses in Maine ranking by Niche, Bowdoin College is number six.
US News says that Maine is the safest state for college students.
According to Alarms.org, Maine, where Bowdoin College is located, is one of the safest cities in the US.
As a matter of fact, the violent crime rate in the state is less than one-third of the national average. What's more, the crime rate in the Polar Star State has decreased for seven years straight.
However, it doesn't mean that the Bowdoin College campus is crime-free.
Based on data from the Campus Safety and Security (CSS) by the US Department of Education, the leading on-campus crime committed at the school is rape.
In 2019, there were a total of 29 reported rape cases. There were only two reported rape cases in 2018 and three reported rape cases in 2017.
It's a good thing that Bowdoin College offers resources on preventing sexual and gender-based violence. The school also encourages its students to report suspicious activity and care for the well-being of others.
Bowdoin vs. Amherst, Swarthmore, Vassar, etc.
Earlier, we mentioned that Bowdoin College is one of the Little Ivies.
However, it doesn't mean that you should no longer consider sending applications to other colleges and universities.
To help you make smarter choices, let's check out how Bowdoin College fares against others:
Bowdoin vs. Amherst College. Based on US News' 2021 National Liberal Arts Colleges ranking, Amherst is better than Bowdoin. That's because the Massachusetts-based school is number two, while Bowdoin is number six. Amherst also has a slightly higher acceptance rate (11%) and much lower tuition ($30,350).
Bowdoin vs. Harvey Mudd College. It's slightly cheaper to go to Bowdoin because of its lower tuition — $57,776 vs. 58,660. However, you are more likely to get an acceptance letter from Harvey Mudd (13.7% acceptance rate). The graduation rates at Bowdoin and Harvey Mudd are almost the same — 94.5% vs. 93.3%.
Bowdoin vs. Lafayette College. Both Bowdoin and Lafayette are considered Little Ivies because they are highly selective schools. However, the acceptance rate at Lafayette (31.5%) is considerably higher than the acceptance rate at Bowdoin (9%). Also, more students attend Lafayette (2,662) than Bowdoin (1,777).
Bowdoin vs. Pomona College. In the 2021 National Liberal Arts Colleges ranking by US News, Pomona is number four. On the other hand, Bowdoin is number six. However, Bowdoin has a higher acceptance rate — 9% vs. 7.4%. The number of majors they offer is almost the same — Bowdoin has 43, while Pomona has 45.
Bowdoin vs. Swarthmore College. You can assume that more first-year students are happier with their experience at Swarthmore than at Bowdoin. That's because the retention rate at Swarthmore is 98%. On the other hand, the retention rate at Bowdoin is only 96%, although that's still an undeniably impressive number.
Bowdoin vs. Tufts University. In many college ranking sites, Bowdoin tends to outrank Tufts. For instance, Bowdoin is number six in US News' 2021 National Liberal Arts Colleges ranking. Tufts, in contrast, is number 30. But Tufts has a slightly higher acceptance rate (15%) and slightly lower tuition ($54,196) than Bowdoin.
Bowdoin vs. Vassar College. Slightly more students graduate from Bowdoin than Vassar per year, according to their graduation rates — 94.5% vs. 91.1%. Satisfaction-wise, the two schools share the same retention rate: 96%. However, Bowdoin applicants can choose from among more majors — 41 vs. 43.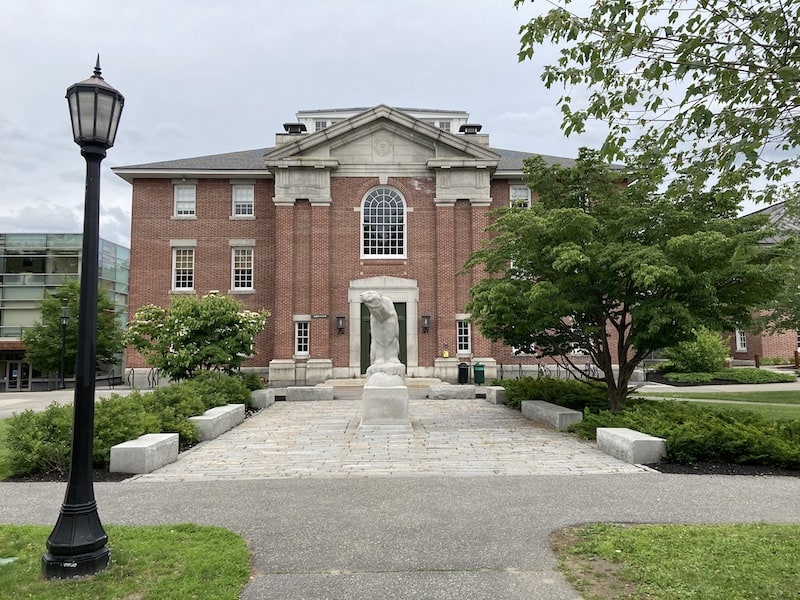 My Impressions After Roadtrip
I have not visited many liberal arts schools nor interviewed those who do attend liberal arts schools.
Bowdoin was actually my first visit to a liberal arts college, and I have to say it looked like any other college campus (as seen by the pictures I took). Because of that, I usually determine whether I like the look of a college based on its surroundings.
However, Bowdoin's surroundings are quite bland, and there is nothing to do around there. We walked down Main Street and had some ice cream, but there was nothing much else to do there.
The city of Portland is a 20-minute driver away, but Portland itself is probably the smallest city I have ever seen. Point is, there is not much to do, and you will get bored quite quickly (if you're the type to venture out of campus for enjoyment).
Because it was summer (not many students on campus), and there were no info sessions nor walking tours, I can not attest much to the values, school curriculum, or type of people at Bowdoin.
But I did find a few students walking around campus and asked them a few questions about their college:
What Students Say About Bowdoin
| | | |
| --- | --- | --- |
| Why did you choose Bowdoin? | Favorite thing about Bowdoin | Least favorite thing about Bowdoin |
| 75% said because of rankings (one guy was actually an international student who said that ranking was the only thing he was looking at) | 2/3 said everyone including faculty is nice | 75% said there is nothing to do in and around campus (not just me!) |
| 25% said recruitment | 1/3 said the food is actually good (you don't hear that too often with colleges, haha) | 25% said there are some accessibility issues for those who are disabled |
Again, this is my impression, and of course, it's biased because I like urban colleges like NYU that are either in or around the city.
However, if you like a more peaceful, suburban setting, then Bowdoin's location should be fine for you.
Is Bowdoin Prestigious College
Bowdoin College is a prestigious high-ranking school — just ask some of the most popular and trusted college ranking sites out there. With an acceptance rate of only 9%, it's one of the most selective colleges and universities.
A lot of students find applying to it intimidating because of its low acceptance rate and tuition that's considerably higher than the national average.
In my opinion, the college is good for those who like academics and are not afraid of spending four years in a very small town with few attractions.

Disclaimer: The views and opinions expressed in this article are those of the authors and do not necessarily represent those of the College Reality Check.