Is Northwestern an Ivy League school?
Is Northwestern an Ivy League School? Although Northwestern is not an Ivy League school, it is ranked #10 in national universities. Ivy League Schools include Harvard, Yale, Princeton, Columbia, Brown, Dartmouth, Cornell, and UPenn.
To learn more about Ivy League, Little Ivies, Public Ivies, and other elite schools read my article: Is Stanford, MIT, Duke an Ivy League School? Ivies Facts.
Before you continue reading, make sure to also take time to check out my podcast episode with Sohae, a student at Northwestern!
Introduction To Evanston
We drove through Evanston's big beautiful neighborhoods on our way to the Segal Visitors Center. The neighborhoods were very calm and serene with plenty of trees and bushes. Many different types of houses were displayed in these neighborhoods.
There was a modern, geometric style house with many rectangular prisms sticking out of it, square windows, and solid neutral colors. Right next to that house was an older, more gothic style house.
It had grey stones as an exterior, arched windows, and a lawn with many bushes and flowers. It seemed like a reduced version of a castle. To the side of that house was a house that looked like it came from some sort of fairy garden.
Vines were crawling up the walls so you could barely see what the actual house was made up of. This town contrasted with the city of Chicago which has buildings tightly packed together and people walking left and right to get to their destinations.
This is already one benefit of being a Northwestern student. You don't have to live in the bustle of the city but can enjoy the thousands of things Chicago has to offer 15 miles away.
We arrived 30 minutes early to when our info session would begin, so we decided to take a walk along the beach right behind the visitor's center. The sky was grey and cloudless, so it was the perfect weather (though this wasn't so good for the walking tour!).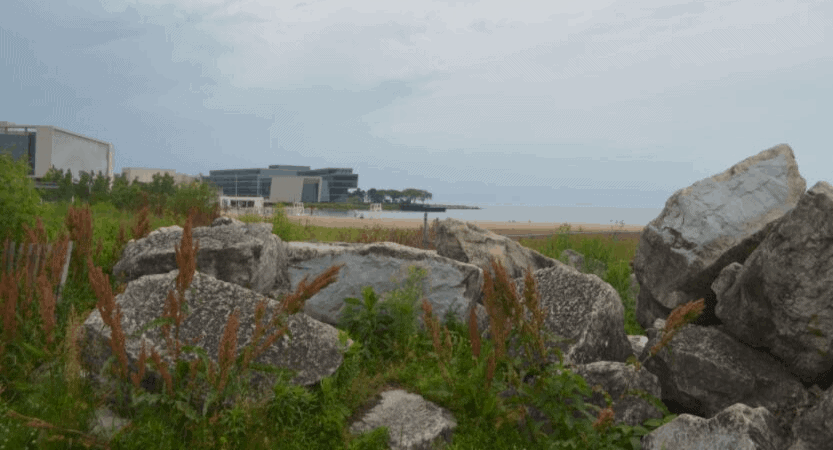 I don't know why, but Evanston seemed to have a lot of bike riders because I heard "on your left" a hundred times; ok fine, maybe not that many times, but close enough.
There was a small patch of grass, about 40 x 80 feet between two roads that some people decided would make a good place to have a BBQ. I felt bad for them later on because of the incoming weather; I prayed that their food wouldn't fly away for them.
After aimlessly wandering back and forth for a while, we headed back only to discover a million people had decided to book the same info session and walking tour as us. Fabulous.
I love getting stuck in the middle of a 20 some people group while walking around a town I don't know. Just kidding. I walk right next to the tour guide at all times to absorb very word they utter for this article.
Let me tell you right now that this was the funniest information session I have been to so far. No offense, but in other info sessions, it seems as if a high-tech robot is speaking to us. This session had the whole room laugh, and I was the loudest of all.
The unique thing about this session was that a student who had just graduated was assisting the admissions officer and gave his perspective of the school since he was a more recent student.
I got cozy in the squishy, purple seats and dropped by sunglasses which made the lenses pop out. The clatter of the lense was so loud it could have matched the noise of Chicago itself.
The Hilarious Information Session
Our official speaker was Aaron Zdawcyzk. He is an admissions officer who also travels to Asia & Europe to speak of how fabulous Northwestern is. I believe he had just come back from India and is planning to visit Europe & another part of Asia this fall.
He used to be a rowing coach at Northwestern, but being an admissions officer & parent took up a lot of time, so he, unfortunately, had to stop. He confirmed that football games are the best and you should totally go since all home games are free for Northwestern students!
By the way, they are the only top 10 school that does that so you can add that to your pro list for Northwestern.
The just-graduated student who was assisting with the information session was Daniel Wu. He looked so dashing with his blazer and bowtie (ready to impress those job recruiters I see). He is a neuroscience and philosophy double major on the PreMed track.
He started by saying that Northwestern allows you to explore because he came in as a biology major for some reason, even though his biology classes were taught by the physics teacher.
But the faculty recommended he take a neuroscience class and he loved it and now he is on the PreMed track. Also, he had a B in the gym during high school but ran the Chicago marathon this past fall which I think no gym class could prepare you enough for.
For the next year, he will be going to Malaysia for a year to teach English. I thought that was cool, but I am not sure if that is sponsored by Northwestern or not.
Now let's talk about academics because that should be a primary reason why you want to go to Northwestern in the first place. Northwestern is different than most universities because they run on the quarter system rather than the semester system.
If you are a newbie and don't know what that means, then go get yourself a dictionary or refer to the fact sheet at the end of this article. Students can take a minimum of 48 classes rather than the average of 40 you take at a semester school.
A typical major has 18-20 classes, a minor has 8-11, and a certificate has 4-6 classes. This leaves you room for a lot of flexibility. You can do a double major and a minor or a major a minor and a certificate or a triple major and two certificates if you like a lot of homework.
The options are limitless, but I recommend you don't quadruple major (I don't even think that is possible). These majors can be all over the different schools.
6 Colleges in NW
Hold up, what are the different schools? Well, Mr. Aaron clicked a button and a fancy slide on their huge projector came up. Random lines were intersecting to make 6 odd shapes where 6 colleges stood tall and proud.
First, right smack in the middle was the Weinberg College of Arts & Sciences. This is Northwestern's biggest school and also their liberal arts school. Both of Daniel's majors are housed in this school: neuroscience & philosophy.
Next in a triangular shape was the McCormick College of Engineering. I think this is the second biggest school because it was the second one mentioned so… Mr. Aaron said that they aren't looking for completely logical engineers, but rather, engineers who think creatively and want to design different things.
Northwestern has a literal garage that you can go and test out new ideas and get funding to make sure you can bring those ideas to life. This garage isn't solely for engineering, but the video we saw that included a bit of the garage showed a bunch of wires and robots and switches and engineering.
Daniel was taking a CompSci class at this college.

Then, in a shape, I don't remember, was the School of Communication. This school houses theater & film majors and of course the study of actual communication. Many, I mean many, famous people have gone through this school.
They even made a wall of fame which a lot of the people on that wall have studied in the School of Communication. People like Stephen Colbert, Seth Meyers, David Schwimmer, and Julia Louis-Dreyfus. Número cuatro is the Medill School of Journalism.
It is considered to be the greatest journalism school ever in history. Since dinosaurs have ventured along with this earth, there has not been a better school to study journalism. That is a pretty high reputation to hold up, but Medill has existed for almost 100 years and it is keeping that streak.
All students who major in Medill are obligated to have one internship throughout their 4 years of study. One of Daniel's friends went to Pyeongchang to cover the Olympics with NBC, and they all got parkas with the NBC logo on them.
Daniel said he attempted to buy the one from his friend, but they refused which Daniel understood because one of those is priceless. But with a creepy look of determination, he said he would get it somehow.
Then is the School of Education & Social Policy. This school is like Medill in which you need to complete an internship before you graduate. This internship is called a Practicum and takes place in your junior year; you can go to DC, San Francisco, or stay in Chicago.
Daniel's brother is majoring in Social Policy and is working this summer in the Government Accountability Office in DC.
Lastly, it is the Bienen School of Music. This school requires an audition to be part of it, so make sure you are not missing your banjo practices, young lady.
Daniel took 4 classes in his last quarter among 3 schools. He is taking his philosophy & neuroscience in Weinberg, a CompSci class in McCormick, and a Marriage 101 class in Education & Social Policy.
Yes, a marriage class. It is exactly what it sounds like. You are paired with someone and go through as a married couple encountering problems and such. If I ever go to Northwestern, this is a class I would take. Daniel said he started the quarter off single.
He is still single. The entire audience started laughing and Daniel retained a joyous expression on his face.
Faculty & Advisors At NW
With all of these colleges intertwining to make up your degree, Northwestern has advisors whose job it is to help you manage your schedule & understand what you are learning.
Because of his professors and advisors, he was able to change from being a bio to a neuroscience major. Just think how miserable he would be studying and working as something he didn't love for his entire life.
That would suck. Professors have office hours from 8 am to 8 pm so even in your bigger classes, you can still have one-on-ones with your professors.
This shouldn't be too likely though because the majority of Northwestern classes are seminar-based so you have one-on-ones in class.
What Internships & Study Abroad Experiences Will You Have In NW?
Besides the required internships for Medill & the School of Education & Social Policy, what other opportunities are there? Daniel had been doing cardiology research in the medical school in Chicago.
He gets a free ride from the Northwestern shuttle and it is about a 45-minute drive/a 45-minute nap. He was able to collaborate with researchers in the UK and China and was listed as the first author of a paper which he is waiting to get published.
That's awesome. He just got out of college and he wrote some smart paper that will get published! He is a humble boy though and said all this with modesty. As for studying abroad, he spent a month in London interviewing doctors about health care ethics.
The Buffett Institute of Global Affairs funds money for students to study abroad, but sometimes, they give a tad bit too much. Daniel was able to use the extra money he had leftover and spend a few days in Morocco with his friends for complete fun.
Even after, he had some money left over so he gave us the valuable advice that studying abroad is something you should do as part of your Northwestern experience. You can earn academic credit through Chicago Field studies during the school year.
Extracurriculars At Northwestern
Northwestern is a top 10 school, but they also remember that you have a life as well. You don't want to be spending 8 hours a day at the library. So instead, spend your time at the Trash Talking Chess Players Club.
If you've been having a rough day, then this club is just for you. Insult your opponent before making a move. Or if that isn't for you, join one of the 15 some acapella groups, which in Daniel's humble opinion is 14 too many. Or maybe the ukulele club.
None of the members are music majors, so Daniel, with a strained face, said the quality of the music is …very fine. They also sing around a fire. What an extraordinary club made up of no music majors and a fire hazard as well.
There is even a happiness club that brings in therapy horses during finals! If none of those clubs are to your fancy, then there are 500 more you can choose from.
This expressive musician created a non-profit organization that allows access to classical guitar and claims he couldn't have done it without Northwestern.
Transportation For Northwestern Students
In my humble opinion, being 15 miles away from the greatest city in America, you will want some way to get there for a low cost. Your Northwestern ID gives you free access to CTA transportation: the metro and the L (train line).
There is also the free shuttle bus solely for Northwestern students which will drop you off at Chicago. Your Northwestern ID can also get you discounts at coffee shops & movie theaters around Evanston. This will not be a waste because Evanston is a foodie town.
A few years ago, students were taken to Hamilton for free and had a discussion about democracy and liberty, and government

What Do I Need To Add To My Northwestern Application?
How do you spend your time? What do you value? Write a couple of essays which answer these question true to who you are. The chess club is no better than the Cricket Club. How do you see yourself in the Northwestern community? Why do you want to be a Northwestern student?
Mr. Aaron said if you dropped your essays without your name on them, would someone be able to read this essay and say, "Oh this is blank's (insert your name) essay".
Northwestern also needs your high school transcript, your grades, 2 recommendations (counselor & teacher, can submit from another teacher if you don't have a counselor at your school), and your SAT or ACT (Northwestern superscores SAT but not ACT).
Just as the last word escaped from Mr. Aaron's mouth, a bunch of students who would be our tour guides ran in screaming "GO WILDCATS!!!!!!!!!!!!"
A Rainy Walking Tour
We walked out of the Segal Visitors Center and I felt something fall on my left cheek. It was small. It made my face wet. It rolled down my cheek. It was a raindrop. Then another plopped on my right cheek.
Was our walking tour canceled? Would we have to seek shelter? Would our Northwestern experience end here? Fear not, we bravely traversed through the 10 drops of rain that fell through our entire walking tour.
I picked the sanest person of the tour guides and her name is Katie. Katie is a rising senior with a double major in history & international studies, a minor in Spanish, and a certificate in marketing I believe. Showing her determination, Katie said, "It's ok, it may be raining, but that's fine."
Katie first pointed out the blue light system that is located everywhere on campus. If have a problem, a police officer will be there in 60 seconds or less. For extra safety measures, Northwestern has something called Saferide.
It is only for Northwestern students and it operates from 7 pm to 3 am in and out of campus. Many people use it as a ride when they have been studying until very late, but Katie greedily uses it as an Uber when she doesn't feel like walking.
The mascot was originally Fighting Methodists; Katie said, "I wonder why that didn't stick."

Katie's friends have been on a mission to eat at all Evanston restaurants, and they are not even close to finishing which shows the abundant number of restaurants at Evanston or her friend's willpower she said.
But I think it is an abundant number of restaurants because when we looked for food after the tour, we saw at least 10 restaurants in one street alone.
Katie takes many field trips to Chicago along with her professors doing a bunch of random stuff at Chicago. That random stuff includes free trips to the Art Institute of Chicago which I'd say is not too shabby.
Residential Life At Northwestern
We walked into what looked like a street with random houses, but it was actually a Northwestern neighborhood. Northwestern tries to group residential buildings into so-called neighborhoods.
You will have access to whatever resources any building has in your neighborhood. These neighborhoods are residential buildings which are the biggest living situations in terms of the number of students. Other options for living include:

Number 1: a residential college. A residential college has a theme, for example, a PreMed or PreLaw residential college.
Number 2: A residential community. You live with students and guest speakers are brought in which anybody in the neighborhood can attend.
And finally number 3: You can live off of campus after your sophomore year. Katie said she lives off of campus and she is across the street from a Whole Foods. As a college student, I don't know if you want to be living next to a Whole Foods when you have a couple of hundred dollars to pay off if you know what I mean.
We asked Katie if living off campus was cheaper than living on campus and she said she doesn't know because her mom pays her rent. Though I did hear someone from a previous tour saying it was slightly cheaper living off campus.
As for roommates, you have three options. O, How generous! You can fill out and submit a survey with your likings and dislikings and pray that Northwestern faculty know how to pair up students. Secondly, you can meet people on a bio and pick your roommate from there.
Or you can just take a big leap of faith and go random as Katie did. She ended up hating her roommate. They fought all the time and had no common interests. Just kidding… She loved her roommate and they have grown to be the best of friends.
Other Random Northwestern Stuff
We then headed to look at a rock. But before I talk about that, let me tell you a few quick things about Northwestern. You get free, unlimited swipes with your card for food. So basically you can eat whenever you want.
Katie has dropped into the dining halls for a banana & coffee and she has also stayed there for 3 hours talking with her friends and eating a bunch of food. There are also free exercise classes such as Zumba and spin for students.
We don't need anybody gaining the Freshman 15. They also have an Olympic size swimming pool so you can become Michael Philips as well.
We passed through this arch called the Northwestern Gates and Katie told us that you march through here with your class on your first day and march out with them on your last. Katie said it is super cute and she is excited to march out with her class the incoming year.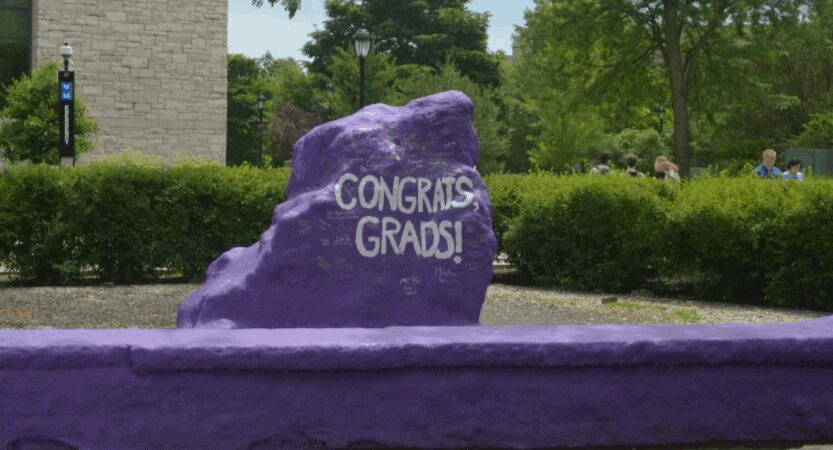 Now we arrived at the rock. That's its name. The Rock. It is not a special shape. It is not made of some rare material. It is just a rock that according to Katie is painted approximately 4 times a week. There are two rules of The Rock: Guard it for 24 hours & paint it at night.
We then walked into a very cold building and entered a classroom that sits about 20 students. Katie said this is an average classroom. She sat on top of the teacher's desk and we proceeded to fill the student seats. This gave me a scare.
I set my stuff on the desk and moved my feet just slightly and the entire based did a 180 turn. I warn you, the seats do move. Katie said she likes to spin on them during class and her professors yell at her.
She proceeded to talk about how it is very easy to add a major and graduate on time. The only exception is if you do two separate degrees, you are part of a five-year program. Katie added a major in her junior year and is still going to graduate in her senior year.
I believe this major was International Studies because, in the fall quarter of her freshman year, one of Katie's advisors advised her to take a history class and now she majors in it.
So Northwestern asks that you declare something by sophomore year, but you can add on or change in Junior year. I asked Katie if she finds time for social life and she said she definitely spends a few hours a day at the library write many a paper there, but she has time to join clubs and get involved in Evanston.
We then hopped out of our seats and headed to Deering Library. This library is Northwestern's Hogwarts. It is an old library designed by the same architect that designed a building that Hogwarts was based on, so it is there own Hogwarts!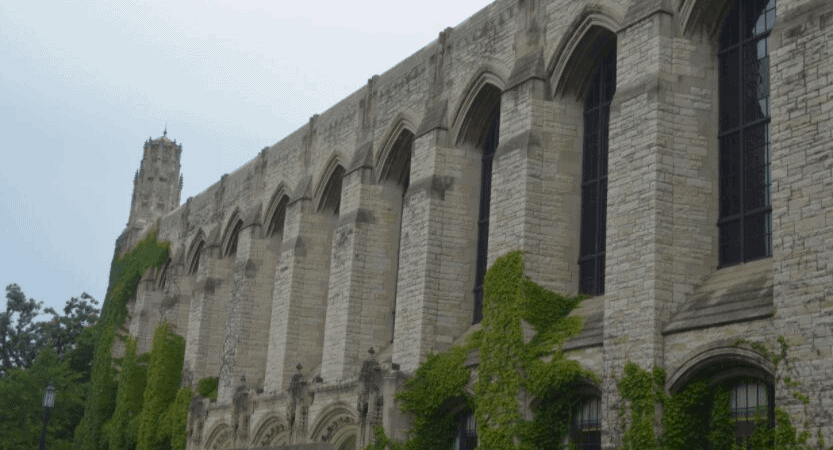 Across from Deering library is Deering meadow which used to be Northwestern's football field, but it is on a hill so you can guess why the football has been relocated now.
One alumni bused 4,000 Northwestern students out to Indianapolis for a football game

As we continued walking, Katie and I began fangirling over those youtube videos of people getting accepted into their dream college. We both agreed that when they start crying of happiness is the best. We bonded on a very deep love for college admissions videos.
We then passed by Core Library which is supposed to look like books being pulled from a shelf, but they are all angled in weird ways, so not really. Then the weather had a drastic change.
This is why I said earlier that I felt sorry for the people who decided to have a BBQ in the middle of two roads. I began unwillingly eating my hair. The wind threatened to dump my hat into Fake lake Michigan.
When the city said that Northwestern couldn't expand North, South, or West, they decided to expand into the west which is Lake Michigan. The result of that was their new Fake Lake Michigan.
Anyways, back to the wind. We walked past Fake Lake Michigan and through the tiny slit my hair had left in front of my eyes, I saw a phenomenal view. The Chicago skyline.
It was a cloudy day, and the lake was covered in fog, so it looked like Chicago was floating on clouds. Everyone rushed to take a picture because it was truly very beautiful. If we had continued to walk along the dock, we would have arrived at the rocks.
No, these rocks are not the same rock that is painted 4 times a week, but these rocks are still painted. Somebody even painted one of the rocks as a shark, and I can imagine it gave at least one person a scare!
When there is nice weather, Katie said you can rent canoes and boats, and those are only for Northwestern students. As we headed back to our starting destination, Katie told us that she is part of a 30-hour dance marathon at Northwestern.
It happens in March and students have to dance for 30 hours straight. It is for a good cause though. Each year, the committee picks a primary beneficiary and raises money for them.
This year was putting money into low-income schools of Chicago, and they raised over a million dollars. Go, Katie! She started as a dancer and is now on the executive team.
Sadly, our tour ended with Katie telling us why she chose Northwestern. She said, "I scoured far and wide for the place that felt like home and that was Northwestern." She loved the stellar academics, the school spirit & Northwestern's pride in the color purple, their value of your social life, it is close to Chicago, and it just felt like home.
After our tour, we asked Katie for lunch recommendations and she gave us 1,000 options. We chose to go for tacos at "La Cocinita". It was super delicious, and I would recommend you go there if you visit Northwestern.
That concludes the end of our tour, the next on the list is the University of Chicago.

Disclaimer: The views and opinions expressed in this article are those of the authors and do not necessarily represent those of the College Reality Check.