Is Wake Forest a Good School? Walking Tour, Info Session and Facts
I heard a lot about Wake Forest, and last summer, we visited the campus as part of my senior year college tour.
Below is my opinion about the college and some hard facts you need to know if you planning to apply.
Wake Forest University is good for students who wish to work on high-quality undergraduate business and computer science programs at an Ivy-caliber institution. Wake Forest ranks in the top 30 National Universities according to US News and top 40 according to Niche college rankings.
The college is also a good fit for those who are willing to work hard on their degrees while enjoying a robust social life, as Wake Forest is a party school.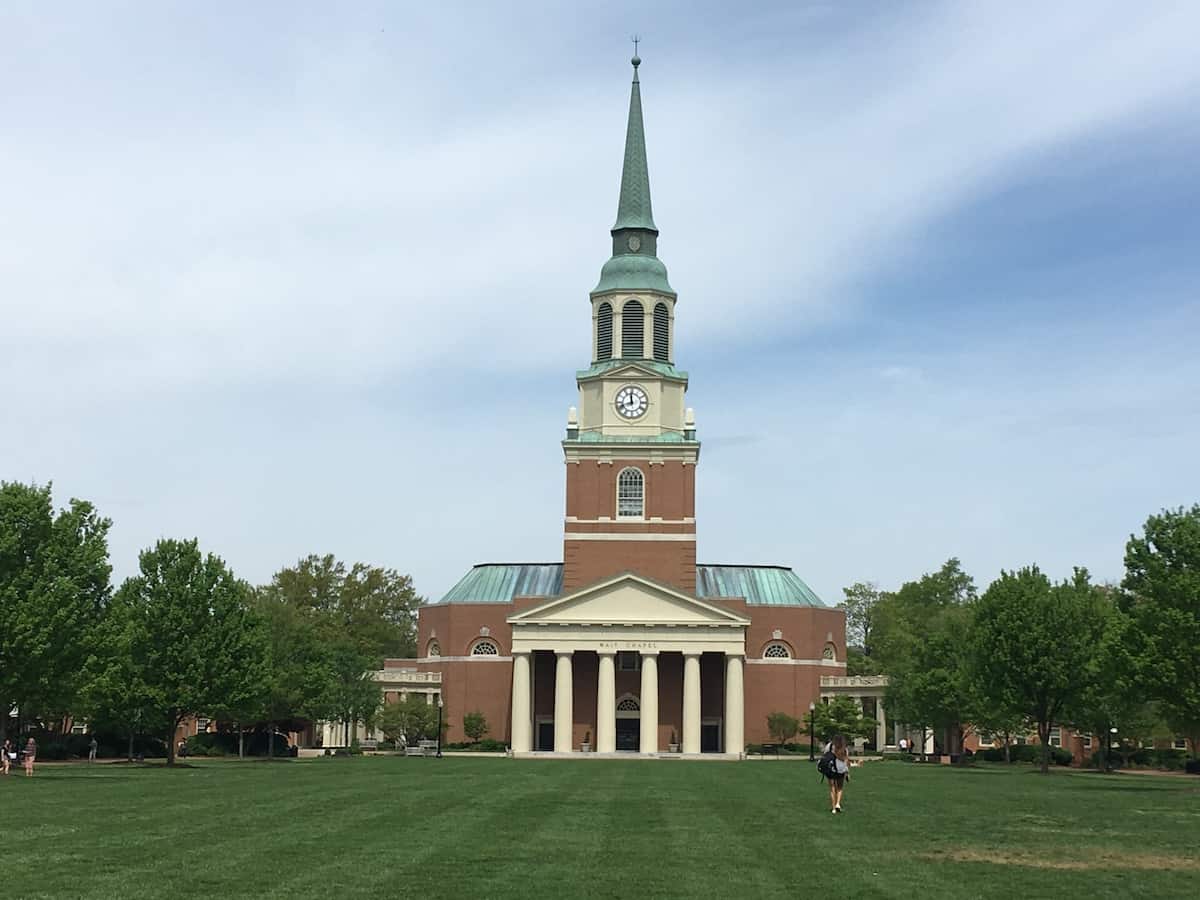 Facts on Wake Forest University
Before we talk in-depth about some of the most important things you need to know about Wake Forest, from its admissions requirements to the cost of attendance, let's take a look at some quick facts about it:
Location: Winston-Salem, North Carolina
Founding date: 1834
Motto: Pro humanitate (for humanity)
Campus size: 340 acres
Campus type: Suburban
School type: Private research university
Reputation: Party school
Selectivity level: Most selective
Number of majors: 45
Popular majors: Business, communications, computer science, finance, political science and government
Student body: 8,947 (undergraduates: 5,472)
Students per class: 10 to 19 in most classes
Student-to-faculty ratio: 10.6:1
Retention rate: 93.8%
Graduation rate: 86%
Athletic affiliation: NCAA Division I
Color: Gold and black
Mascot: Demon Deacon
Number of varsity teams: 16
Sports: Baseball, basketball, cross country, field hockey, football, golf, soccer, tennis, track and field, volleyball
Some of the major cities closest to Wake Forest University include:
Greensboro, North Carolina
Charlotte, North Carolina
Durham, North Carolina
Raleigh, North Carolina
Chesapeake, Virginia
Norfolk, Virginia
Virginia Beach, Virginia
Washington, DC
Lexington-Fayette, Kentucky
Atlanta, Georgia
Is Wake Forest University Ivy League?
Wake Forest University is not an Ivy League school.
However, the private research university is considered a Hidden Ivy together with other more than 60 selective institutions, most of which are offering top-notch liberal arts education. Wake Forest is also on the list of schools dubbed as Southern Ivies.
High schoolers who are on the hunt for some reach schools to add to their college list to make it more balanced often consider Ivy League schools or those with Ivy-like reputations.
It may not be one of the 8 Ivy League schools but Wake Forest University is almost as elite as those.
The North Carolina-based institution, as a matter of fact, is known as a Hidden Ivy.
Simply put, Hidden Ivies are regarded as prestigious schools but are not a part of the original Ivy Leagues. They range anywhere from small colleges to large universities, many of which, needless to say, are highly selective.
Wake Forest University is also considered a Southern Ivy. In the past, a number of Southern Universities banded and formed the Magnolia Conference, which aimed to compete with the 8 Ivy Leagues.
Sadly, the consortium didn't take off, and the members are now sometimes referred to as Southern Ivies.
Despite not being officially an Ivy League, Wake Forest can easily be a college-bound high school student's reach school as its acceptance rate is within the range of 20% to 30%.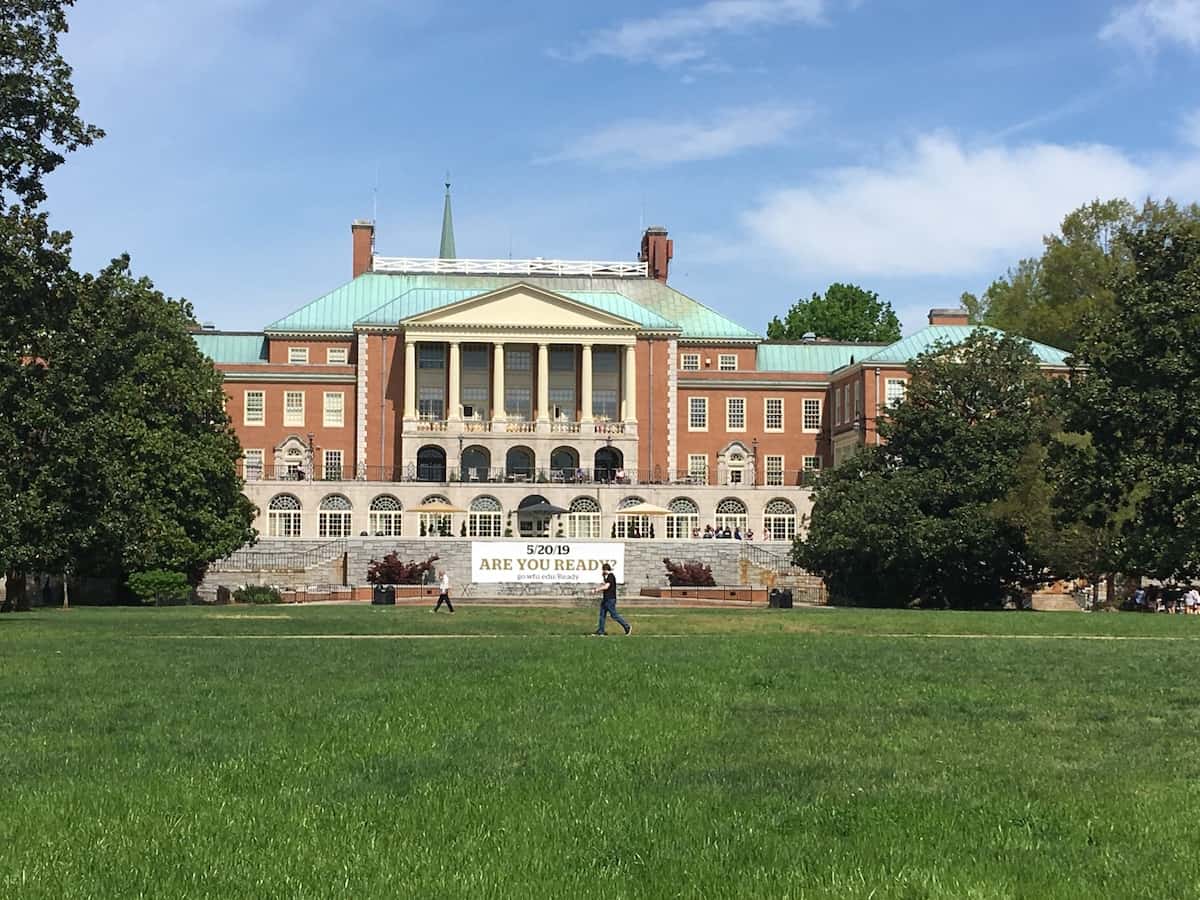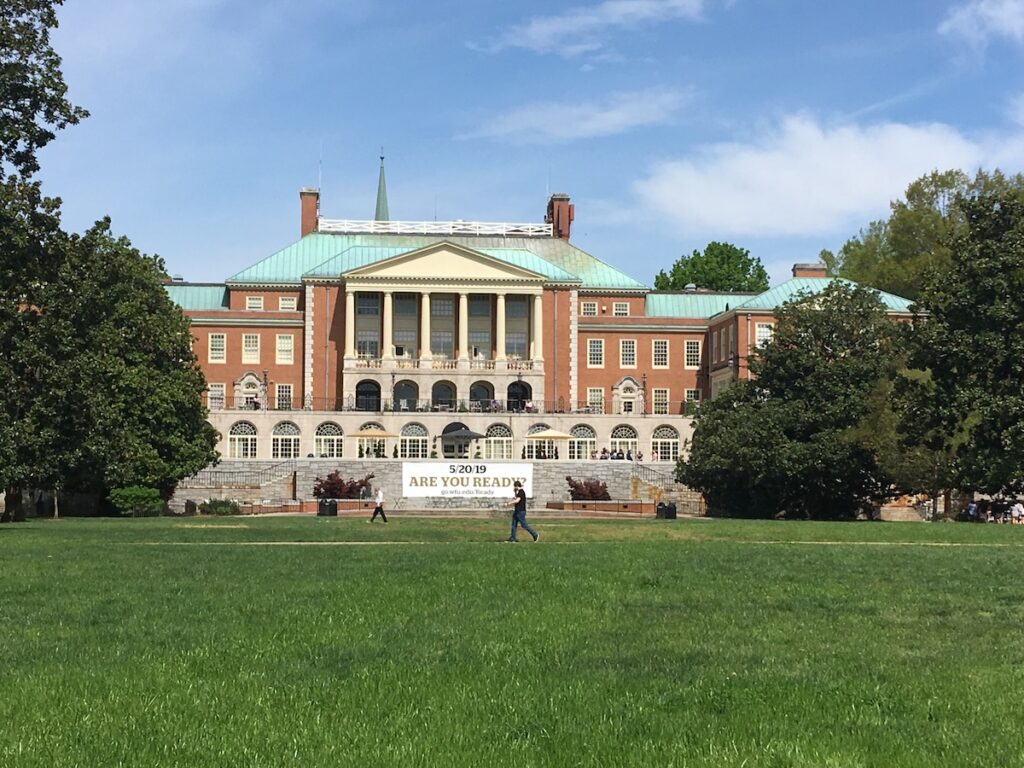 Wake Forest University Rankings
US News ranks Wake Forest University #29 among National Universities for 2022-2023. It also ranks #23 in Best Value Schools and #59 in Most Innovative Schools. Niche, on the other hand, ranks Wake Forest #40 in Top Universities in America and #3 in Top Private Universities in North Carolina.
It's common for many high-performing students to consider attending highly-ranked colleges after high school.
Want to earn nothing but an undergraduate degree from one of the top institutions in the country? If your academic profile is good enough for Wake Forest University, feel free to shortlist it.
Practically all of the most trusted college ranking sites give the private research university a high ranking. But it's not just the school itself that's making heads turn but also its various programs. US News, for instance, gives Wake Forest's accounting, finance and computer science programs excellent rankings.
Let's take a look at some of the institution's rankings by Niche program-wise:
#8 in Best Colleges for Communications in America
#20 in Best Colleges for Business in America
#23 in Best Colleges for Accounting and Finance in America
#31 in Best Colleges for Philosophy in America
#36 in Best Colleges for Anthropology and Sociology in America
#36 in Best Colleges for Chemistry in America
#44 in Best Colleges for History in America
#44 in Best Colleges for Performing Arts in America
Many of the programs offered by Wake Forest are also regarded by Niche as some of the best in North Carolina. And this is exactly why the school has the following rankings:
#1 in Best Colleges for Accounting and Finance in North Carolina
#2 in Best Colleges for Business in North Carolina
#2 in Best Colleges for Communications in North Carolina
#3 in Best Colleges for Economics in North Carolina
#3 in Best Colleges for History in North Carolina
#4 in Best Colleges for Biology in North Carolina
#4 in Best Colleges for Computer Science in North Carolina
But don't pick a college based solely on its ranking given by some college ranking site — consider your personal ranking, too, to make it easier to find the perfect fit school for you.
Is Wake Forest University a Party School?
Wake Forest University is one of the top party schools not only in South Carolina but also in the US. As a matter of fact, it has consistently appeared on various party schools listings in the past years. For instance, Niche ranks it #7 in Top Party Schools in North Carolina.
Students who are confident that they will be able to balance a rigorous college curriculum and a robust social life will be glad to learn that Wake Forest is a highly-ranked party school.
Based on a survey, 63% of its attendees say that "work hard, play hard" is a phrase that best describes it.
It's no wonder why, in 2021, Wake Forest was #10 in the Top 10 US Party Colleges by Financial Advisor.
A few years before that, in 2016, an article on The Tab, which is a tabloid-style youth news website, said that the private research university was the 14th top party school in the nation as well as the 12th for having lots of liquor.
One of the things that make the institution a party school is the fact that Greek life there is pretty big. So much so that almost half of the entire student body is a part of fraternity and sorority groups.
Also partly responsible for the school's humming party scene is the fact that athletics is also a huge part of campus life.
To date, Wake Forest University has won a total of 9 NCAA team national championships — 3 for men's golf and 3 for women's field hockey as well as 1 each for baseball, soccer and tennis.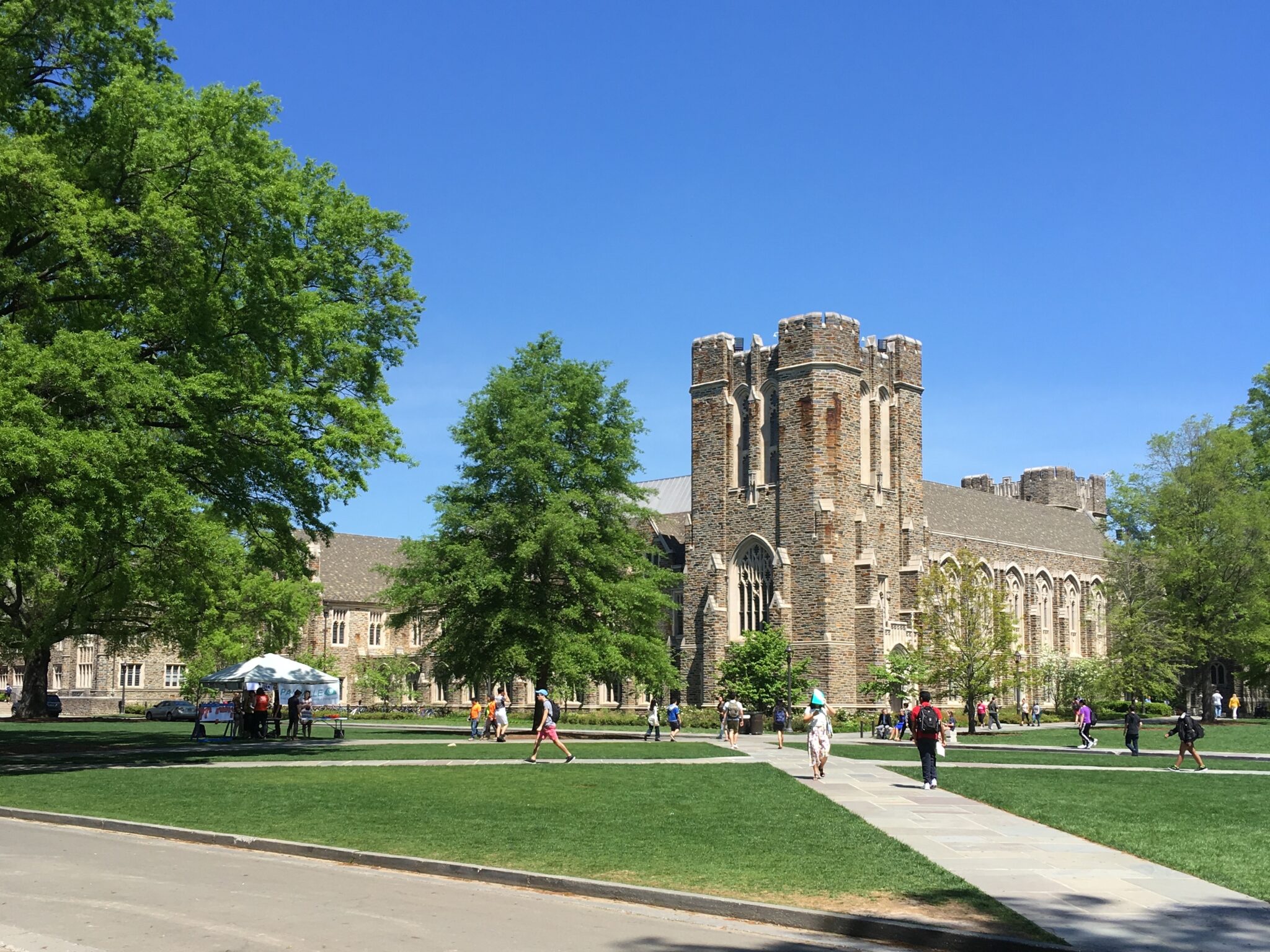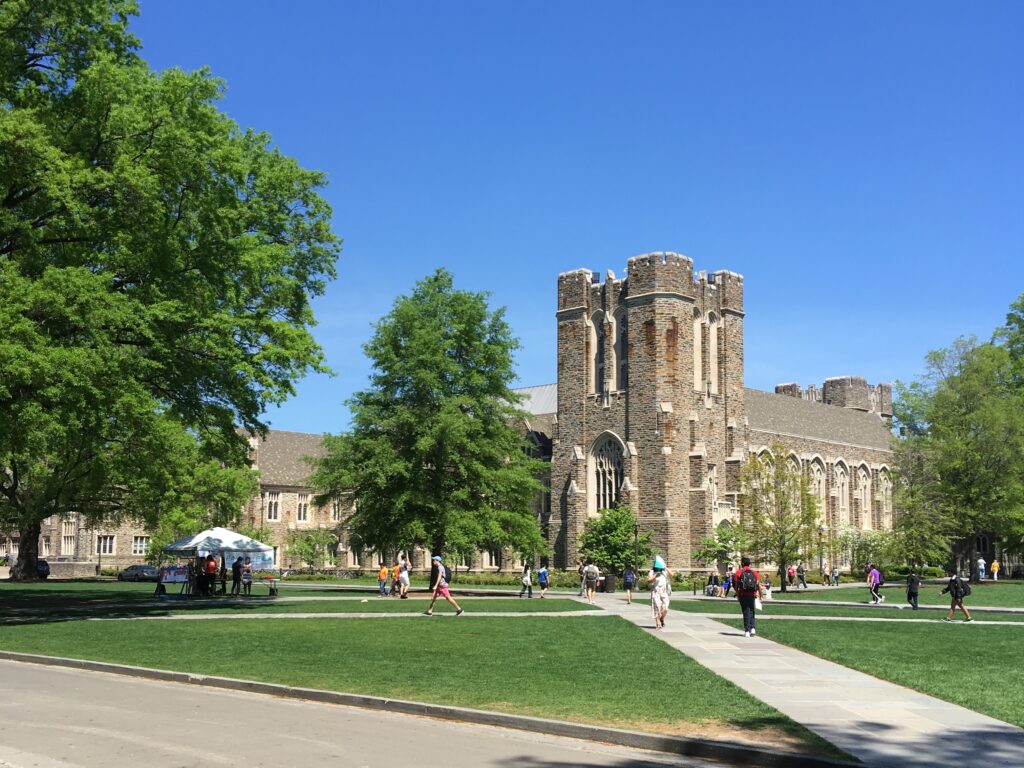 Is It Easy to Get Admitted to Wake Forest University?
The acceptance rate at Wake Forest University is 25%. With only about a quarter of all applicants getting admitted, the school is most selective. Wake Forest has a holistic admissions policy. This means that an assortment of academic and non-academic factors are considered in the admissions process.
According to Niche, Wake Forest University is the 4th hardest college to get into in North Carolina — taking the 1st place is Duke University, which, just like Wake Forest, is considered a Hidden Ivy.
In order to get accepted to Wake Forest, you will have to be at or near the top of your high school class.
True enough, 91% of all admitted first-time, first-year students to the North Carolina-based institution graduated in the top 25% of their high school class.
Meanwhile, 69% of them were in the top 10% of their graduating high school class. While not required, the test scores of 50% of admitted students range from 1350 and 1500 (SAT) and 30 and 33 (ACT).
No minimum high school GPA is required by Wake Forest for applicants to meet. However, based on various online sources, the average GPA of accepted undergraduate students is 3.9.
Here are the academic factors considered by Wake Forest and the relative importance of each:
| | |
| --- | --- |
| Rigor of high school class | Very important |
| Class rank | Very important |
| Application essay | Very important |
| Recommendation letter | Important |
| SAT or ACT score | Considered if submitted |
Wake Forest Admission Academic Factors
The following, meanwhile, are the considered non-academic factors and their relative importance:
| | |
| --- | --- |
| Personal qualities | Very important |
| Interview | Important |
| Extracurricular activities | Important |
| Talent | Important |
| First generation | Considered |
| Alumni relation | Considered |
| Geographical residence | Considered |
| State residency | Considered |
| Religious affiliation | Considered |
| Race/ethnicity | Considered |
| Volunteer work | Considered |
| Demonstrated interest | Considered |
Wake Forest Admission non-academic Factors
Wake Forest University Admissions Requirements
Students can apply to Wake Forest University through the Common App, Coalition App or the school's proprietary application portal. Incoming first-time, first-year students are required to submit their official high school transcripts, secondary school reports, recommendation letters and supplementals.
When planning on applying to Wake Forest, there are 3 important application dates to remember:
| | |
| --- | --- |
| ADMISSION PLAN | DEADLINE |
| Early decision I | 15-Nov |
| Early decision II | 1-Jan |
| Regular decision | 1-Jan |
Needless to say, applying ED1 is for college-bound teens who consider Wake Forest University as their top-choice school.
Since it's a binding admission plan, those who get accepted ED1 will have to withdraw their applications to other institutions and enroll at Wake Forest.
ED2 is just like ED1 in that it's also binding — you will have to attend the school if accepted.
However, it has a later deadline, which makes it ideal for those who will miss the ED1 deadline.
ED2 may have the same deadline as RD, but ED2 admissions notifications come out around February 15. RD applicants hear back from Wake Forest around April 1. On the other hand, ED1 admissions notifications are on a rolling basis.
Read Also: Best ED2 Schools
To avoid unnecessary problems during the admissions process, it's a good idea to make sure that your application is complete. Otherwise, it will only be reviewed when the remaining components are submitted.
Here's a checklist of the things you will have to submit to Wake Forest:
Official high school transcript
Secondary school report
Mid-year school report
Letter of recommendation (written by a teacher)
Supplemental essays (1 required essay and 3 optional Wake Forest essay prompts)
Like many colleges and universities in the US, Wake Forest University is a test-optional school. This means that you can choose to submit those SAT or ACT scores of yours only if you want them considered by the admissions officers.
If you think that your test scores aren't a reflection of your capabilities, don't submit them.
Just a reminder from Wake Forest: if you took the SAT or ACT multiple times, include all test scores at all test dates on your application.
That's because the private research university superscores standardized test scores — it considers only the highest scores you obtained across all test dates, which can work to your advantage.
Application to Wake Forest University, as of this writing, costs $85.
How Much Does It Cost to Attend Wake Forest University?
The estimated total cost of attending Wake Forest University for a year amounts to $83,324. Almost 75% of the said figure consists of both tuition and fees ($62,128). Around 27% of full-time undergraduate students at Wake Forest receive some form of aid.
The following is the breakdown of the cost of attendance at Wake Forest:
| | |
| --- | --- |
| EXPENSES | COST |
| Tuition and fees | $62,128 |
| Housing | $10,448 |
| Meals | $6,204 |
| Books and supplies | $1,500 |
| Other expenses | $3,044 |
| TOTAL | $83,324 |
Cost of attendance
When applying to Wake Forest University, it's important to note that, should you get accepted, you will have to live on campus for 3 years.
The only time the institution will allow you to live off campus is if you have a parent or guardian who is residing in the Winston-Salem area.
As mentioned earlier, a little more than a quarter of all undergraduate students attending Wake Forest full-time receive some type of aid. The average need-based award each one gets amounts to $56,342.
Besides various federal student aid programs such as the Pell Grant, TEACH Grant and work-study program, there are all kinds of merit-based institutional scholarship programs available at Wake Forest. Since each one has different eligibility requirements, it's a good idea to get in touch with the Office of Undergraduate Admissions for inquiries.
But take note that merit-based scholarships are so competitive that only 3% of first-year applicants get them.
My Walking Tour and Information Session Experience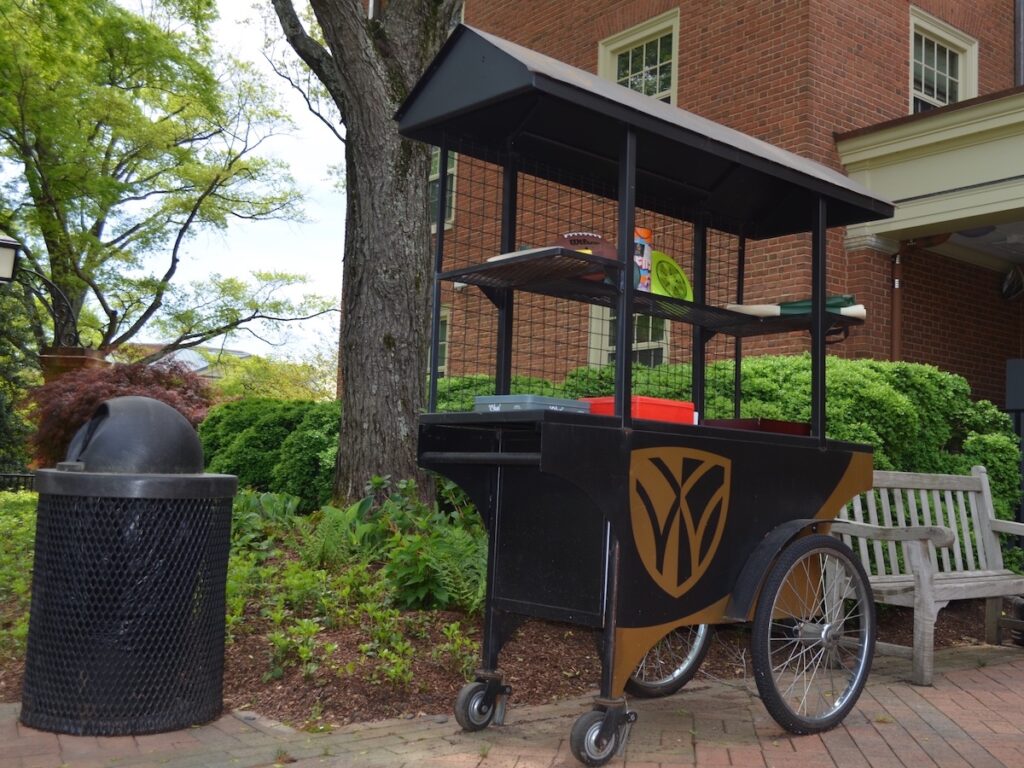 Old Salem
The birthplace of Krispy Kreme; You can actually visit the original Krispy Kreme along Stratford Rd. Beside doughnuts and all, I visited Old Salem. Old Salem is an area of Winston Salem which the Moravians settled in the mid-1700's.
All the buildings there (many have been restored due to their age, but the style and looks are all the same) are from the period itself.
It includes a bakery, a gun shop, a pottery shop, a single brothers house, and much more! There are many ticket options, but I took the 2-ticket option.
I was given 2 tickets which I could use to tour 2 buildings. Some of the buildings, such as the bakery, you could get in without a ticket which I suggest you should take advantage of.
The staff who impersonate the Moravians from the era are friendly and knowledgeable. The Single Brothers House allowed you to sit on the original beds & stools/chairs (they were so creaky I thought I would break them!) and the man in the house described the day-to-day life of the young men.
The gun shop still creates beautiful rifles that cost no less than a thousand dollars. The way they create them now is the way that the rifles were created back when the gun shops were founded.
The process looked too complicated for an amateur to understand, but we were shown two types of rifles. After the shape & trigger were created, the rifle would be polished, and the silver would be placed in whatever pattern or symbol the buyer had chosen.
Related Article: 18 Best Colleges in the Southeast
Information Session
Admission Officers
From the very beginning, our admissions officer Mallory stressed the importance of Wake-Forest's faculty-student interaction within the classrooms.
The average class size is 24 students, so it allows the professors to talk directly with the students rather than lecturing to a group of a couple hundred.
In some of the classes, they sit in discussion circles so everyone would be part of the conversation. Some of the classes literally did not take place in a classroom. They went outside to different sites so they could actually get their hands dirty (quite literally in some cases).
For example, if you were taking some sort of anthropology class, teachers may take you to different places in North Carolina to study artifacts.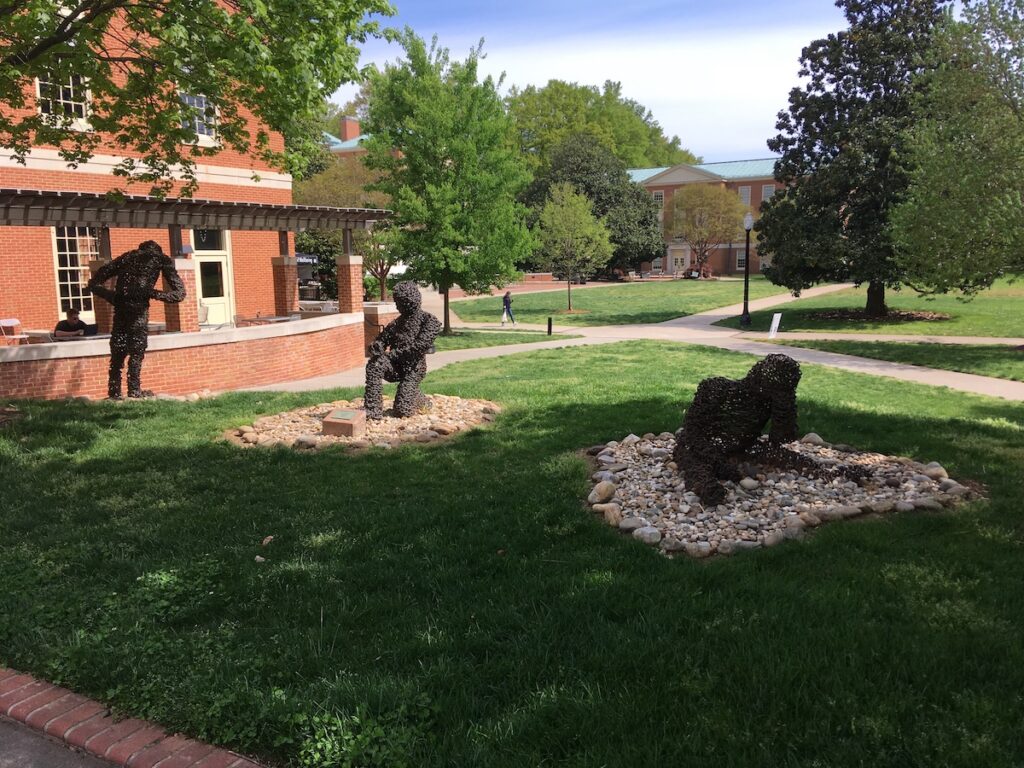 What Does Wake Forest Look For In Your Application?
This is the first school I have been to where they do not require your standardized test scores.
Yes, you read that right.
Wake Forest does not require your standardized test scores on your application. If you would like to send them, you can, but they believe one test shouldn't decide whether you get in or not.
To further show that they want to know you as the person behind your grades, Wake Forest highly encourages you to take an interview and there are many available within your area.
Wake Forest offers 3 types of application: common, coalition, or Wake Forest Application. The Wake Forest Application is a creative application Wake Forest offers that has a series of questions that relate to Wake Forest. Each question has a word minimum-maximum.
The current requirements to submit the application are three lists, six short answer questions, and one essay.
The other important piece which Wake Forest's wants in a student is their involvement in the community. Their motto is "Pro Humanitate" which translates to "For Humanity".
How have you gotten involved in your community? What difference have you made? One of the questions on the Wake Forest Application actually asks what you have done in your community and how it has benefited others.
Wake Forest offers 15 summer immersion programs which allow students to use their studies and knowledge outside of the classroom.
Mock Class
Something unique to Wake Forest is that they offer a mock class.
This mock class comes after the information session solely for the students. You are split into groups and are assigned a professor from Wake Forest. There, you learn the basics of that professor's area of expertise.
The professor I was assigned to talked about the importance of being global. How are you open-minded to others around you?
Are you bias towards people because of their religion or race?
She talked about the importance of being empathetic to others around you regardless of their differences and how by doing this, we can make a change in the world and move forward.
Your mock class was different based on the professor you were assigned, but it displayed how Wake Forest uses discussion-based classes.
Walking Tour
Transportation On Campus
Freshmen are allowed to bring a car, but only upperclassmen are allowed to park on campus. Since you do have to live on campus for 3 of the 4 years, about 50% of freshmen bring a car.
Clubs/Events On Campus
One of the highlights in a year at Wake Forest is the "Wake & Shake" Event. It is a 12-hour danceathon where students participate in dance activities for 12 hours straight to raise money for Cancer Research. This year, they were able to raise over $370,000 dollars!
Another event to help raise money for cancer research is "Hit The Bricks". Students with a backpack take laps around the quad with a brick inside; These events last nearly all day.
As for clubs, during orientation, you can swipe your student card for any clubs you are interested in and they will send you emails with club meetings and times. If you find that you are not interested or don't have time, you can unsubscribe.
Will High School Credits Get Me Out Of Class?
Credits earned in high school will 99% of the time not get you out of class, but they will add onto general credits for graduation. Since Wake forest is a liberal arts school, you will have to take liberal arts classes no matter your major.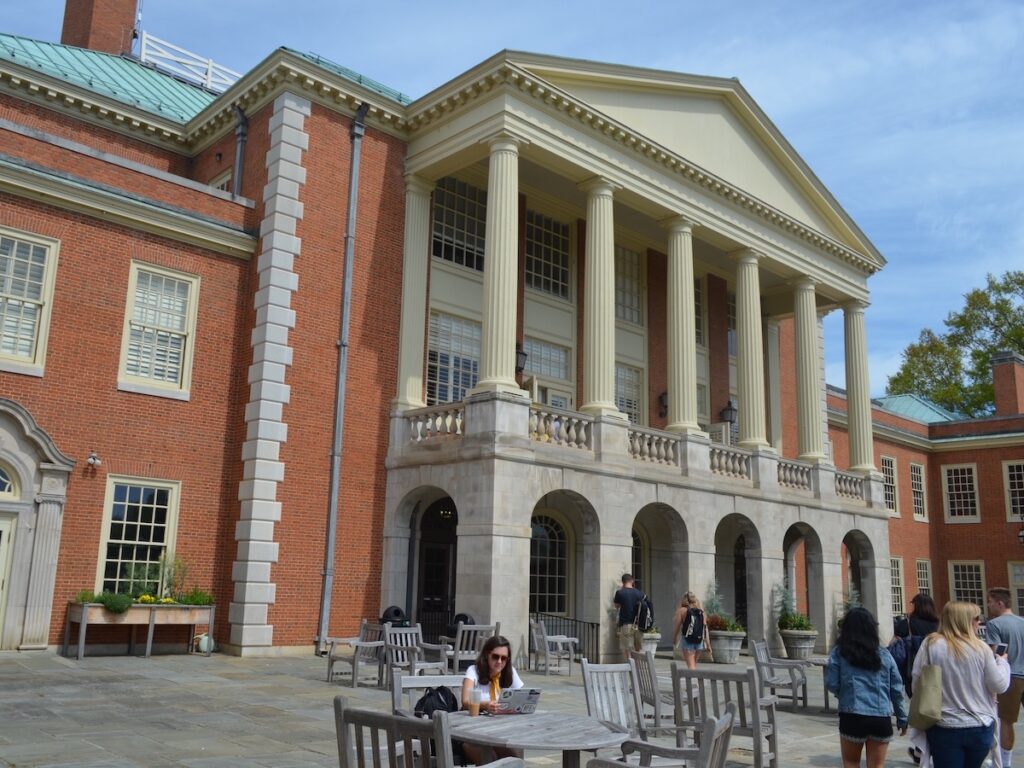 Dorms, Dorms, Dorms
One of the good things about Wake Forest freshman dorms is that they are right next to many of the classrooms, so if you wake up at 7:55 and have a class at 8:00, you can make it on time.
In your freshman year, you take a survey to pair yourself with a roommate, but you can not choose your own roommate. If your friend is going to Wake Forest with you, all you can do is pray!
But if you end up not getting along with your roommate, you can request a roommate change. Our tour guide also helped with organizing roommates, and he received 22 requests for change and 15 were granted.
Traveling Abroad In Wake Forest
There are TONS of travel abroad options: Copenhagen, Venice, London, Vienna, and Ireland just to name a few
You can go for any period of time during the year except for the whole 4 years (For obvious reasons I hope)
Schools Similar to Wake Forest University
Let's quickly compare Wake Forest University to some other schools you might also want to consider applying to:
Wake Forest vs. College of the Holy Cross
College of the Holy Cross is ranked by US News #33 in National Liberal Arts Colleges. Located in Worcester, Massachusetts, it's a private, Jesuit liberal arts college with an acceptance rate of 43%, making it easier to get into than Wake Forest. Attending College of the Holy Cross is cheaper, too — $74,980 vs. $83,324 per academic year.
Wake Forest vs. Wesleyan University
Located in Middletown, Connecticut, Wesleyan University is a private liberal arts university founded in 1831 as a men's college. It was in 1970 when it became co-educational. Like Wake Forest, Wesleyan University is known for its computer science program. However, with an acceptance rate of 19%, it's more selective than Wake Forest.
Wake Forest vs. Franklin and Marshall College
Another good liberal arts college often compared to Wake Forest is Franklin and Marshall College. Located in Lancaster, Pennsylvania, F&M is ranked #39 in National Liberal Arts Colleges by US News. While it has a smaller campus than Wake Forest, F&M has a bigger student body — 13,204 vs. 8,947. It has a 38% acceptance rate.
Wake Forest vs. Winston-Salem State University
Both Wake Forest and Winston-Salem State University are located in Winston-Salem, North Carolina. The cost of attending WSSU, given that it's a public institution is cheaper: tuition and fees amount to $5,937.16 for in-state students and $16,593.60 for out-of-state students. It has an acceptance rate of 73%.
Wake Forest vs. East Carolina University
One of the things that make Wake Forest and East Carolina University considered at the same time by some high schoolers gearing up for higher education is that both of them offer excellent computer science programs. Also located in North Carolina like Wake Forest, ECU is a public school whose in-state tuition and fees amount to $7,297.

Disclaimer: The views and opinions expressed in this article are those of the authors and do not necessarily represent those of the College Reality Check.