If you are a current high school senior or junior, it is time to plan and apply to colleges. Proper college planning impacts both college acceptance chances and financial aid award opportunities.
If the goal is to get into a competitive university, it's a great idea to start having summer jobs, joining clubs, picking challenging classes, and, most of all, getting good grades.
Below we will talk about 15 steps to take in high school to prepare for college.
Start with creating a college prep plan
Take college prep classes in high school
Maintain a high GPA
Record all extracurricular activities
Get to know your high school guidance counselor
Build relationships with school teachers
Develop a standardized testing plan
Clean social media accounts
Begin college research
Attend college tours
Research possible college majors
Use your summer strategically
Apply for scholarships
Submit your college application
Build college readiness life skills
1. Start With Creating a College Plan
It's never too early to start the roadmap that helps secondary school teens gear up for college admissions — starting a solid and effective college plan can be done in the freshman year of high school.
However, it's also never too late for upperclassmen to come up with a plan of action, either.
Customized to meet a student's individual goals as well as strengths and weaknesses, a college preparation plan can vary from one high schooler to the other. Similarly, it can differ for each high school year level.
Although it's true that there are more college-related activities in the junior and senior years, there are critical ones, too, in the freshman and sophomore years.
There are also steps high school kids should take across all year levels of their secondary education careers for consistency and increased admissions chances, such as keeping their grades up and engaging in meaningful extracurriculars.
Read more about getting ready for college below in the "How to Prepare for College in High School" section.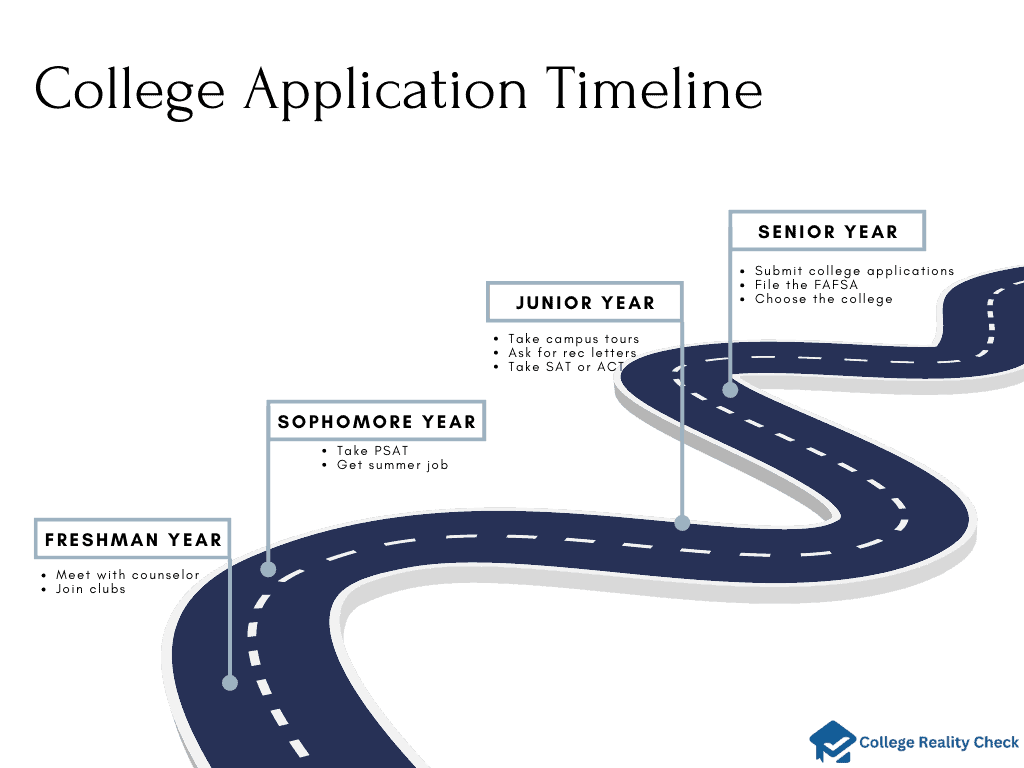 2. Take College Prep Classes in High School
College prep courses are high school classes designed to prepare students for a more rigorous standard postsecondary curriculum. While they may slightly vary from one secondary school to the other, these courses usually include:
Math
Science
English
Foreign language
Social studies
It's not enough for high schoolers to take them — they should also take them for a certain number of years.
When it comes to college admissions, most institutions of higher education want applicants to take at least 3 years of each of the said college prep courses.
Some of the most competitive colleges and universities, as expected, usually require students to take the vast majority of college prep courses for more than 3 years.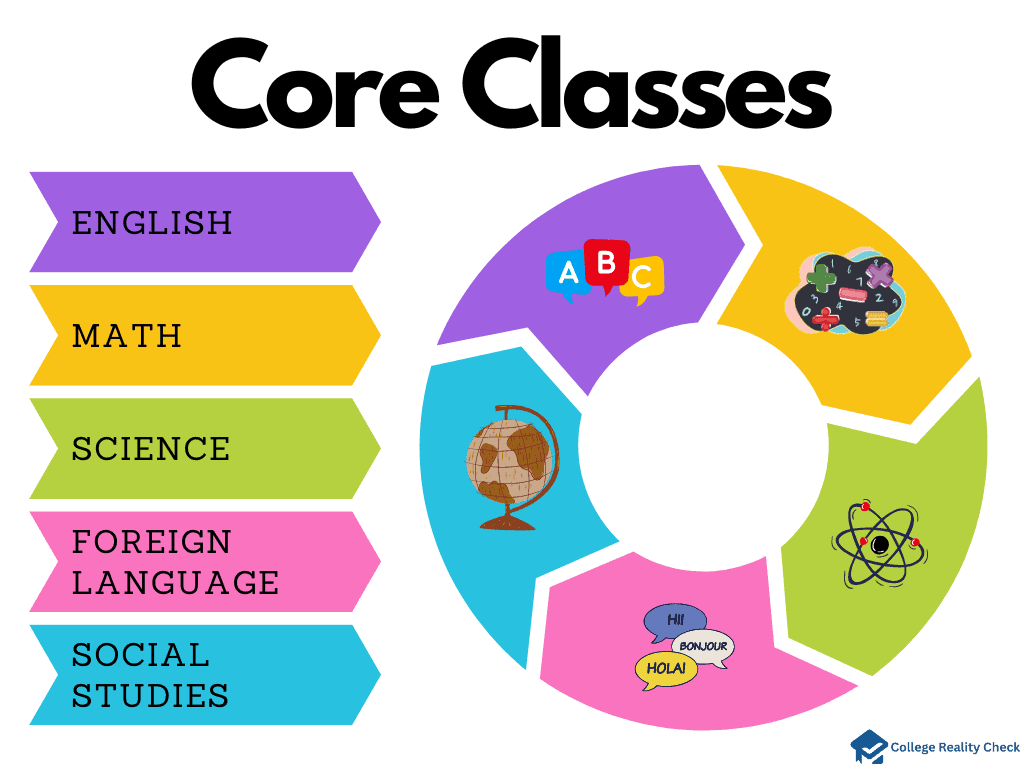 The following is what the college prep course requirement looks like at Harvard University:
Math – 4 years
Science – 4 years
English – 4 years
Foreign language – 4 years of a single foreign language
Social studies – 3 years
3. Maintain a High GPA
The GPA is the sum of all course grades throughout one's high school career divided by the total number of courses.
It's the single most important academic factor considered by admissions officers, with the exception of those at open enrollment colleges where the only requirement to get in is a high school diploma or an equivalent.
The more selective the postsecondary institution, generally speaking, the higher the GPAs of admits.
A high GPA demonstrates the ability of an applicant to excel academically. Needless to say, it's commonly used in the admissions process as a gauge of a hopeful's likelihood to achieve college success.
There are 2 types of high school GPAs considered, depending on the institution, and they are as follows:
An unweighted GPA disregards how easy or difficult the classes taken by the high schooler are, and it comes in the 4.0 scale.
On the other hand, a weighted GPA takes into account the rigor of the curriculum, such as whether or not there are AP classes taken, which is why it's usually on a 5.0 scale or, at times, even higher.
Commonly, selective colleges and universities prefer a weighted GPA, particularly those that consider the difficulty level of an applicant's high school record, in most instances recalculating what students submit.
4. Record All Extracurricular Activities
Keeping a record of all extracurricular activities high schoolers participate in allows for trouble-free filling out of the Common App or Coalition App when it's time for them to apply to colleges.
There are 3 important things students must include when recording EAs in secondary school:
Name of the activity
Duration of participation
Any positions held and recognitions received
Participating in extracurriculars allows high school teens to obtain and hone various skills, which allow them to become well-rounded students.
The abilities they gain through EAs also help in the attainment of academic success and also a more meaningful and balanced education among students.
"Extracurricular activities provide a channel for reinforcing the lessons learned in the classroom, offering students the opportunity to apply academic skills in a real-world context, and are thus considered part of a well-rounded education" (NCES, 1995).
Various types of EAs are available for high school students to choose from, some of which are as follows:
Academic clubs
Arts
Athletics
Community service
Employment
Hobbies
Student government
Admissions officers at many colleges and universities consider extracurricular activities when reviewing applications because they speak volumes about applicants in terms of their interests and passions as well as how committed they can be.
A sense of responsibility, initiative and, more importantly, leadership roles help make a college applicant stand out.
5. Get to Know Your High School Guidance Counselor
A high school guidance counselor is a professional who is trained to provide students with, as the job title suggests, guidance and support throughout their secondary school career.
There are 4 main roles of a guidance counselor, and they are listed below:
Provide academic and emotional support
Help with behavioral and social issues
Assist with career exploration and college selection process
Work with administrators, teachers and parents for a better school environment
While a high school guidance counselor is busy all year round, it's during the college application season when he or she usually has a more hectic schedule, what with all the school reports and recommendations to prepare and send out.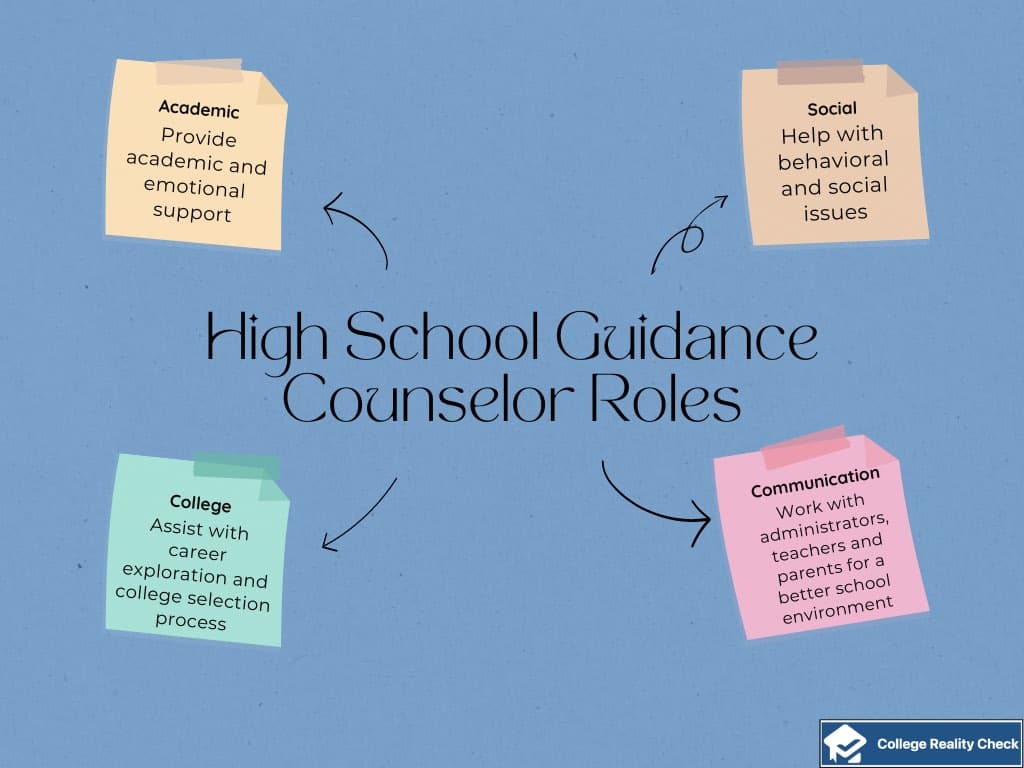 It's also helping teens navigate the college application process as well as assisting them in choosing majors, career paths and degree-granting institutions that make counselors particularly occupied when students in their senior and junior high school years prepare for their transition to higher education.
6. Build Relationships With School Teachers
Most colleges require applicants to submit letters of recommendation, which is why it's important for high school kids to build a relationship with those who will write theirs come college application season: their teachers.
Recommendation letters provide insight into students that their high school GPAs and standardized test scores cannot directly divulge, including their character, work ethic, achievements and potentials.
Because of this, it's a must for any college-bound teen to choose wisely which of their teachers they would ask to write their recommendations.
Usually, college admissions officers want letters of recommendation to come from these individuals:
Teachers who have taught applicants in core classes
Teachers who have taught applicants in the final 2 years of high school
Besides keeping in mind specifications of colleges as far as recommenders go, high schoolers should also choose teachers who know them very well and can vouch for their strengths and their ability to achieve academic success.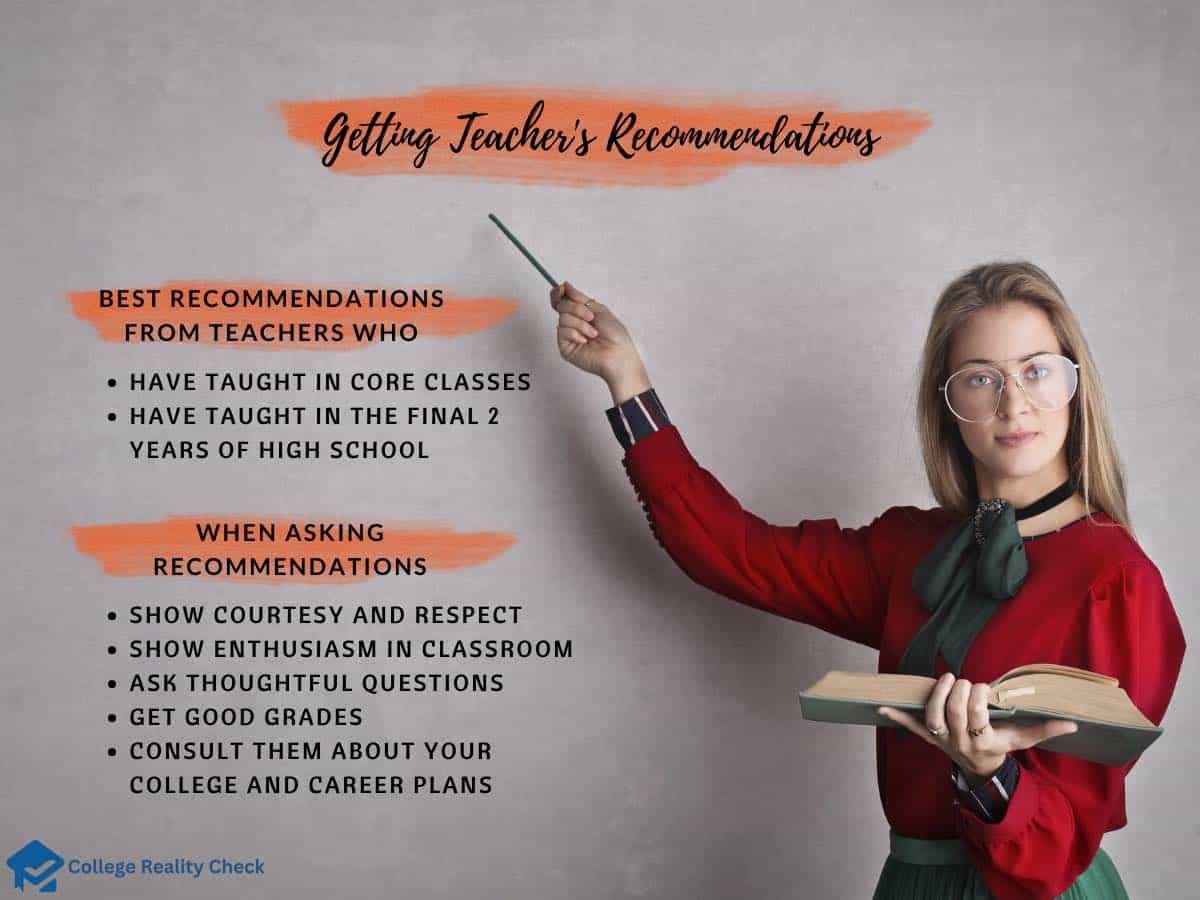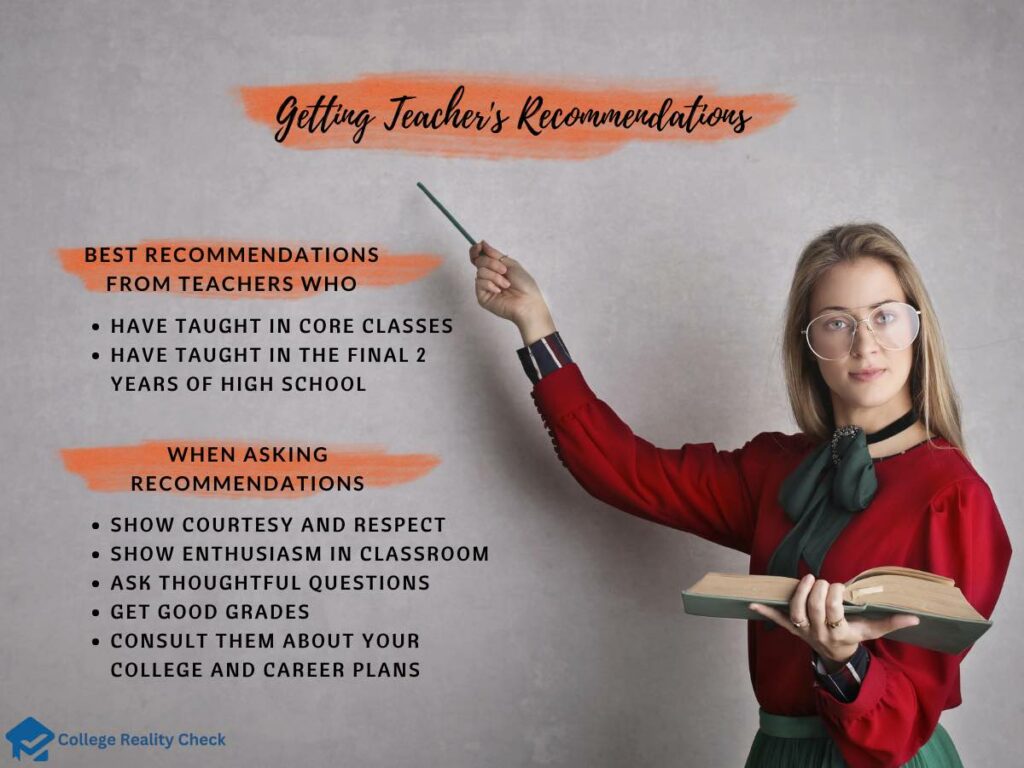 For strong recommendations, students should build a relationship with their teachers such as through the following:
Showing courtesy and respect
Demonstrating enthusiasm in classes
Asking thoughtful questions
Requesting feedback on their performance
Getting good grades
Consulting them about their college and career plans
7. Develop a Standardized Testing Plan
Coming up with a standardized testing plan is important in the college admissions process in that it allows students to meet application requirements, apply for certain scholarships and earn college credits, depending on the exam.
The PSAT and PreACT are some of the earliest tests high schoolers take.
Other than serving as a practice test for the SAT, the PSAT is also used by the National Merit Scholarship Corporation (NMSC) to determine a high school teenager's eligibility for the National Merit Scholarship Program, particularly if taken during the junior year of high school.
Meanwhile, the PreACT is taken solely in preparation for the ACT.
Because many colleges and universities use them in the admissions process, whether as a compulsory requirement or an optional submission, the SAT and the ACT are some of the most popular standardized tests among American high schoolers.
Students who are planning on applying to test-optional schools may or may not take the SAT or ACT — or they may take it and decide whether or not their scores can help strengthen their applications.
Generally speaking, it's also a good idea to provide one's SAT or ACT scores if a test-optional college says that submitting them is highly encouraged.
While the SAT and the ACT do not allow test-takers to earn college credits, AP and CLEP exams do.
Both AP exams and CLEP exams are by the College Board.
According to the College Board, nearly all American institutions of higher education give award credit for some of the most popular AP exams, although students will have to score at least a 3 on each.
On the other hand, up to 2,900 US colleges give 3 or more credits to passing CLEP exam scores.
Which standardized test to sit for will depend on the high school student's goal. Taking the PSAT, for instance, is for someone who would like to apply for the National Merit Scholarship Program and to score better on the SAT.
Taking AP or CLEP exams, on the other hand, is for a college-bound teen who would like to earn credit.
8. Clean Up Your Social Media Accounts
Ridding one's social media accounts of inappropriate photos and rude captions and comments is a very important step college-bound high school students should take before applying to their top-choice schools.
This is especially true for those who are applying to selective institutions where only a few get in.
Colleges that look into the social media activities of applicants investigate through the following methods:
Searching for the applicant's name on Google
Reviewing social media profiles
Using proprietary software tools to scan digital footprint
College admissions officers are not the only ones who check the social media accounts and the online pursuits of applicants but also committee members of groups or foundations that provide third-party or outside college scholarships.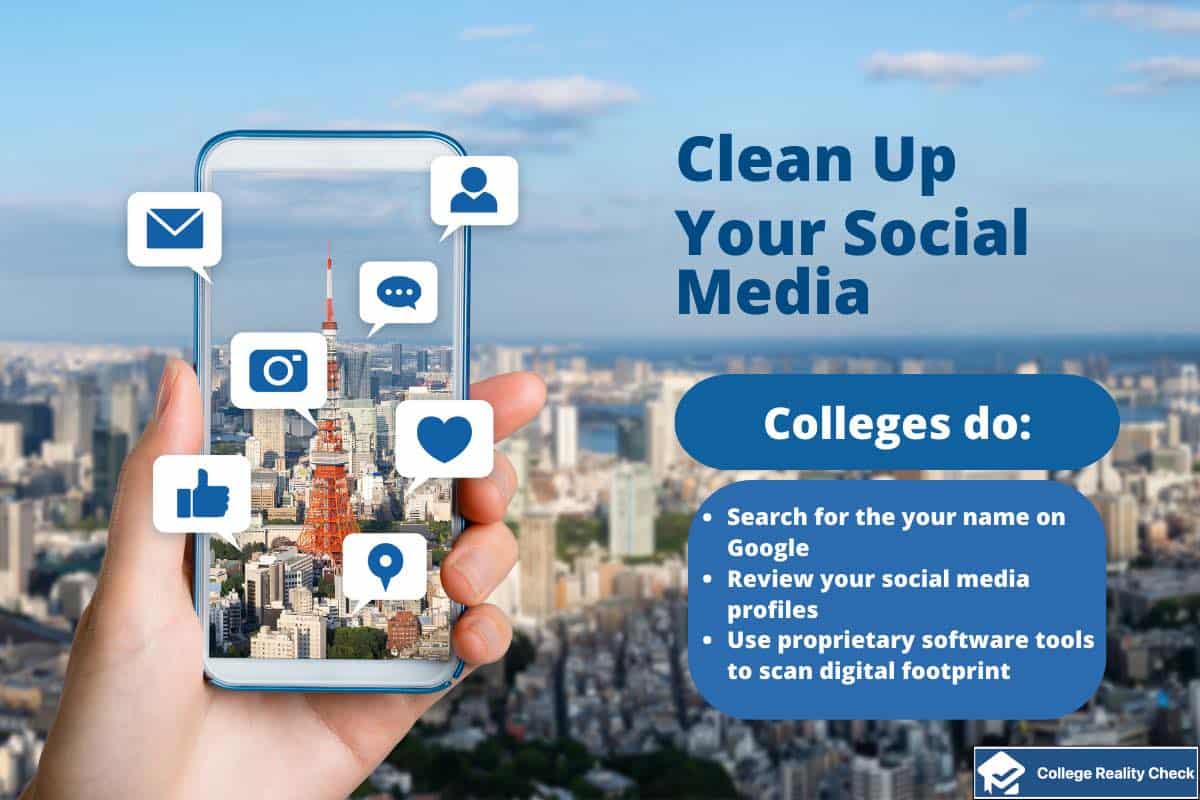 Academic performance or demonstrated need or both are the primary factors scholarship committees take into account when reviewing applicants, depending on whether the scholarship program is merit-based or need-based.
Some providers may choose to disqualify students whose character and behavior do not align with their mission and vision statement.
A social media comment saying skipping classes is fun, for instance, can be off-putting for scholarship committees.
9. Begin College Research
Carefully researching institutions of higher education is the key to coming up with a balanced college list.
There are several different important factors college-bound teens should consider, depending on their needs and preferences, which means that the factors that one high school student deems essential may not be regarded as vital by the other.
The following are some of the things that a teen researching colleges may want to take into account:
Cost of attendance
Financial aid options
Academic programs
Majors
Extracurriculars
Faculty and staff
Student-to-faculty ratio
Class size
Facilities
Housing options
Location
Campus size
Campus type
Total enrollment
Retention rate
Graduation rate
Career outcomes
Reputation
College ranking
Speaking of college ranking, it's not uncommon for many high schoolers who are getting ready for their college careers to pay the website of US News, Niche, The Princeton Review, QS World University Rankings, Times Higher Education and others a visit to have an idea of which institutions they could include on their college lists.
While it's true that the process of selecting colleges can be simplified by comparing institutions through benchmarks used by college ranking sites, it should not be decided by what a trusted college ranker says.
Different ranking sites have different ranking systems, thus making the results subjective rather than objective.
Instead, high schoolers should come up with their own college ranking system by enumerating the most important factors to them and giving the most significant ones more weight in getting each institution's overall score.
10. Attend College Tours
Attending college tours allows high school students to have a firsthand experience of the campus environment and facilities as well as obtain from college administrators themselves answers to important questions, ranging from academic programs, financial aid, extracurricular activities, housing options to campus safety.
Paying a campus a visit is also a form of demonstrated interest, which, in many instances, can help increase a student's admissions chances because it shows commitment to attend the institution if given the offer to enroll.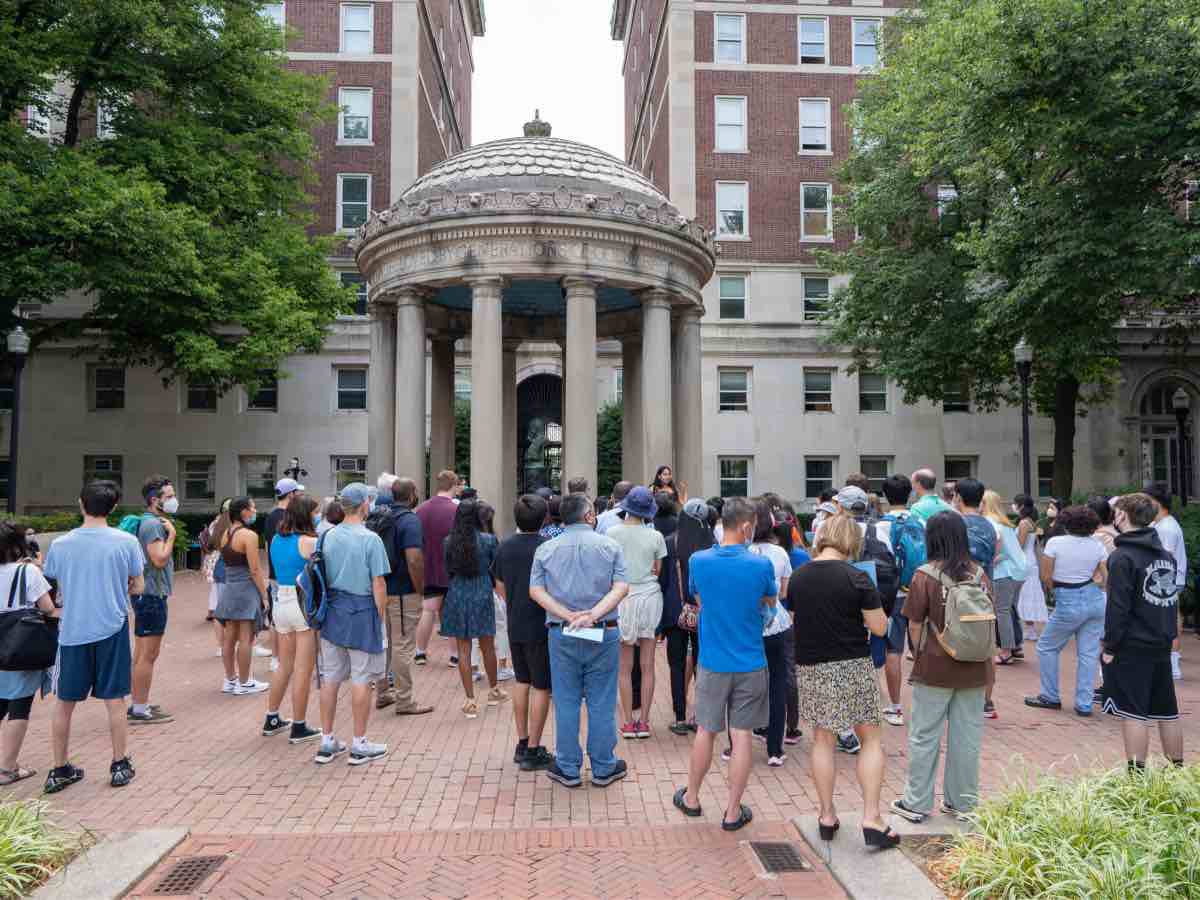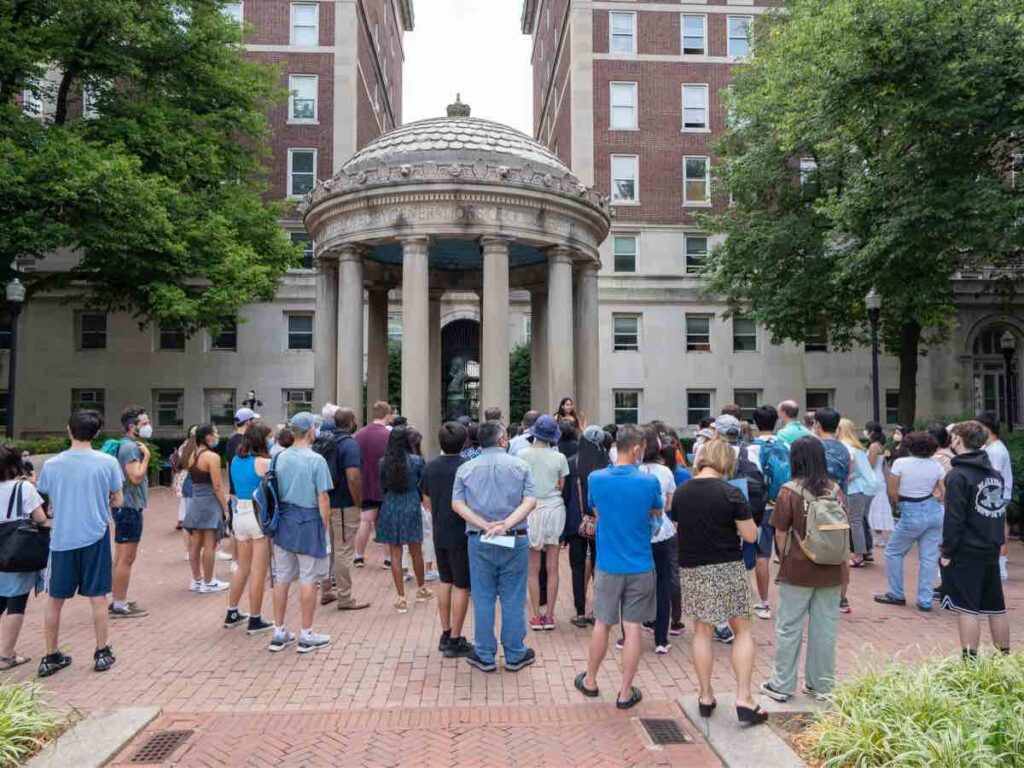 When taking a college tour, high schoolers should remember to do the following things:
Check out the building where the department of one's chosen major is housed
Observe the class size and the student-to-faculty ratio
Survey the diversity of the student body as well as the activities available to them
Inquire about official clubs and organizations
Explore facilities such as the library, cafeteria, gym and others
Step food inside the residence hall and examine the rooms and common or shared areas
Ask about the campus health center and available mental health services
Look into campus transportation options, especially if the campus is massive
Examine the immediate surrounding area and community
Generally speaking, if a visiting high school student can imagine himself or herself spending the next 4 to 6 years there, there's a good chance that the college is the best-fit school.
11. Research Possible College Majors
Researching prospective majors is something that can make the college selection process even more nerve-racking.
Having an idea of what sort of career a high school teen wants to hold someday can help facilitate choosing a major, which can then make it easier to shortlist colleges — by adding to the list only those that offer the preferred major, a student can avoid applying to more institutions than necessary, thus helping to save both time and money.
It's perfectly normal, though, for some students to enter college with no idea as to what major to take. What's more, it's quite common for around 20% to 50% of teens to apply to college undecided.
"Students are likely to change their minds multiple times, perhaps even after they enter the workforce. And some of tomorrow's careers might not exist today" (Torpey, 2015).
Those who would like to enter college with a major or career in mind may use the following guide:
Explore interests and look into careers that align with them
Obtain firsthand experience by having a job or pursuing an internship opportunity
Interviewing relatives about their academic and career choices
Visiting the Occupational Outlook Handbook by the BLS
High school students who are clueless as to which major to declare and career path to take as well as those who just want to ensure that they are about to make the right choice may approach their high school counselors, teachers and even mentors and ask about taking certain career assessment tests for high schoolers such as:
Gallup
Career Explorer Career Test
Holland Code Career Aptitude Test
Motivational Appraisal of Personal Potential (MAPP) Career Aptitude Test
Myers-Briggs Type Indicator (MBTI) Career Aptitude Test
The Princeton Review Career Quiz
12. Use Your Summer Strategically
High school students should consider using their summer breaks wisely, especially for those who would like to attend colleges and increase their chances of getting accepted to their top-choice institutions.
College admissions officers prefer applicants who are committed to extracurriculars throughout the school year.
They also have a predilection for those who demonstrate commitment, passion, initiative and the desire to obtain additional knowledge and skills over summer vacation.
In some instances, how high schoolers spend their summer can serve as a tie-breaker when colleges cannot choose between them and applicants with similar academic profiles.
Although it's important for high schoolers to chill and relax during summer break, they should not lose sight of the intention to boost their admissions chances, especially if they would like to attend a competitive college.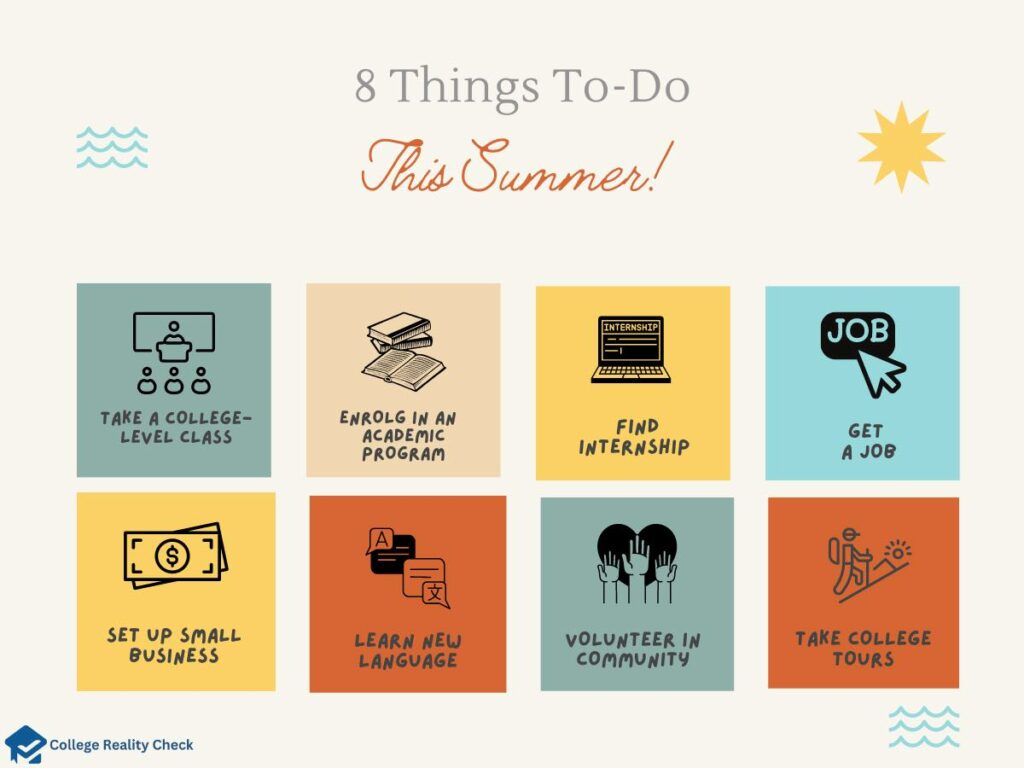 Some of the most strategic summer activities that can strengthen college applications include:
Taking a college-level class
Enrolling in a specialized academic program
Participating in an internship opportunity
Getting a job
Setting up a small business
Pursuing interests such as learning a new language
Volunteering in the community
Taking college tours
A few months before summer break strikes, college-bound teeners should carefully plan how they could make the most out of the vacation that would allow them to acquire new skills as well as have the time to relax to prevent burnout.
13. Apply for Scholarships
It's possible for high school teens to apply for college scholarships as early as their freshman year.
Doing so allows them to learn in advance what they will need to do to be eligible as well as to win a generous amount of aid, such as maintaining a high GPA, participating in certain extracurricular activities or getting involved in the community in specific ways, depending on the requirements and the vision and mission of the foundation or organization.
A need-based scholarship helps eliminate a student's hesitation to apply to a postsecondary institution due to the cost. On the other hand, a merit-based scholarship is an academic feat that may help increase admissions chances.
"Earning a merit-based scholarship is a prestigious accomplishment. It shows that you stood out from all the other applicants. This is an achievement you should be proud of" (Honor Society, 2021).
High schoolers, however, should not apply to every single scholarship they come across when searching.
It's generally a good idea for college-bound students to look for scholarship programs that match not only their qualifications but also their interests, which can make it more likely for them to meet requirements and qualify, too.
14. Submit Your College Application
The submission of the college application, whether by means of the Common App or Coalition App or via an institution's own platform, is the culmination of the entire college selection process.
When high schoolers should submit their applications will depend on the admission program of their choosing.
Early admission plans, such as early decision and early action, usually have a November 1 or November 15 deadline, while regular decision plans have deadlines anywhere from January to February.
Meanwhile, there are some colleges that have later deadlines as well as those that have no hard deadlines, particularly schools with rolling admissions.
Needless to say, it's important for college-bound teens to look into and remember application deadlines. They should also keep in mind the following general steps for filling out and submitting their applications:
Provide personal information
Enumerate extracurriculars
Submit college essay and/or supplementals
Self-report SAT or ACT scores (if allowed and required by the college or preferred by the student)
Request school reports and transcripts from the high school counselor
Request recommendation letter/s from teacher/s
Pay the application fee (or submit the application fee waiver)
15. Build College Readiness Life Skills
College readiness life skills, simply put, are skills high school students must acquire as well as hone while getting ready for their postsecondary careers in order to succeed, especially in terms of academics.
Many skills are helpful throughout college, but some are more significant.
For instance, since there are so many things college students need to do in a limited amount of time, it's crucial that they manage their schedules wisely and know which tasks to prioritize.
Naturally, to get good grades, they must increase their active listening skills and also their comprehension and retention of topics and important details.
Learn How to Take Notes
Note-taking allows students to actively engage with subjects and concepts, which helps them understand them better as well as remember them later, according to the Princeton Review.
To master the art of taking notes in college, high school teens should practice by writing phrases in their own words instead of full sentences and with the help of proper structuring (using headings, subheadings, bullet points, etc.).
Learn Time Management
Managing time is easier now more than ever for students because of the various tools available at their disposal, such as calendars, alarms, planners, and note-taking apps they can install on their phones.
It's also important that they personalize their schedules to make adhering to them trouble-free, as well as to know their priorities and set some time for fun and relaxation.
Learn How to be Organized
Being organized helps college students increase their academic performance and reduce their stress levels.
For high schoolers to improve their organizing skills before college, it's a good idea for them to practice breaking down large tasks into smaller ones and carry out first the most important.
They should also keep their areas and everyday essentials neat and tidy.
How to Prepare for College in High School
Every year of high school provides college-bound teens with new opportunities to get closer and closer to becoming undergraduate degree holders.
Especially if the goal is to get an acceptance letter from a competitive institution of higher education, taking the necessary steps as one progresses through secondary school is of utmost importance.
There are simply so many things high schoolers need to do when the college application season comes.
Due to this, getting admitted to one's top-choice institution requires preparation not only during the junior and senior years of high school but during the freshmen and sophomore years, too.
Freshman Year
Transitioning from middle school to high school should not keep a student's eyes from staying on the prize: admission to the college of his or her choosing after 4 years.
It's because of this exactly why gearing up for college should start as soon as the individual becomes a freshman.
Read Also: How to prepare for college as a freshman
Some of the most important things to do include the following:
Planning which challenging courses to take
Exploring extracurricular options
Getting to know the high school counselor
Identifying college majors and careers that go with one's interest
Looking for colleges that exhibit the characteristics of a best-fit school
Preparing for college can be done as early as before the 9th grade — the middle school — and here's a post about it.
Sophomore Year
The 10th grade may be closer to middle school than college, but second-year high school students who dream of admission to competitive postsecondary institutions should continue keeping their grades up and staying involved in meaningful EAs.
They should also consider the things listed below to increase their admissions chances in the 10th grade:
Attending college fairs
Signing up for and taking AP classes
Exploring scholarship opportunities
Taking campus tours
Planning summer activities
Junior Year
Being only 2 years away from college, 11th graders should take additional smart steps to turn their dream of being attendees at their top-choice college into a reality.
The last couple of years of high school are some of the busiest among college-bound teeners, and here are some of their most important undertakings when preparing for college as an 11th grader:
Taking the PSAT
Taking the SAT or ACT
Taking AP exams
Exploring major and career options
Narrowing down the college list
Visiting college campuses
Spending summer wisely
Senior Year
It may be the last year of their high school careers alright, but senior year students should waste no time in getting ready for college the following year.
The culmination of the entire preparation for college from the 9th grade or even in middle school takes place in the 12th grade.
Some of the most crucial activities 12th grade students should do to prepare for their college careers:
Registering with the Common App or Coalition App
Requesting recommendations, transcripts and school reports
Writing college essays and supplementals
Retaking the SAT or ACT, if preferred or necessary
Taking AP exams
Filling out the FAFSA form
Comparing financial aid offers
How to Prepare for College as a Future Freshman
After all the stress, anxiety and excitement the college application process brings comes the fruit of a late teen's hard work: heading to a college campus to work on an undergraduate degree.
The summer just before college-bound students begin to embark on their new educational journey can be busy, too, though not as frenzied as in secondary school — there are forms to complete, things to shop for, items to pack and people to say goodbye to.
Definitely, it's important for any degree-seeking teen to kick off his or her college life right.
Below are some of the things to do while getting ready for college as a first-time, first-year student:
Commit to the College of Choice
Needless to say, students should make up their minds as to which among colleges that accepted them they want to attend.
They need to let the institutions of their choosing know about their decision by sending them an email saying they will be there in the fall as well as by putting down an enrollment deposit and filing all the necessary forms.
Mingle With Other Students
Some college students are able to visit home every weekend or every holiday. There are also those who are able to do so only on rare occasions or none at all.
No matter the case, students should spend as much time as they can with their loved ones before heading to college. Similarly, they should consider interacting with their future roommates and classmates online.
Practice College Readiness Skills
Earlier, we talked about the importance of college readiness life skills and how to build some of them.
It's during the summer before they go to college that teens can brush up on all kinds of valuable skills to make sure they will survive their independence and also keep their personal and academic lives as postsecondary education students as stress-free as possible.
Pack Dorm Stuff
Generally speaking, it's a good idea for new college students to move into their dorms as early as their schools allow — most institutions host a move-in day in August, usually less than a week before the start of classes.
Students should remember to pack all essentials, from school supplies to first aid must-haves. They may also obtain a checklist from their colleges.
References
NCES (1995, June). Extracurricular Participation and Student Engagement. The National Center for Education Statistics (NCES).
Torpey, E. (2015, January 1). Career Planning for High Schoolers. Career Outlook.
Honor Society, d (2021, April 13). The Rewarding Benefits of Applying to Scholarships. Honor Society.