Is a Harvard Degree Worth It? Educated Opinion
Most senior high school students have a common dream. It's none other than to have a Harvard degree one day.
They are well-aware of the fact that Harvard University is one of the most prestigious schools in the US as well as the entire planet. This is why many graduating high school students apply to the Ivy League school.
Unfortunately, only a handful of them will be welcomed to the campus. The challenge of getting admitted to Harvard and the prestige of going to it can make you want to get a degree from the school.
This is especially because you, like many others, know that being a Harvard University alum can open a lot of doors, each one of them leading to success.
So, is a Harvard degree worth it? A Harvard degree is worth the money. This is especially true if your goal is to get a high-paying job from one of the top companies on the planet. Getting to Harvard University isn't easy because of the low admission rate. Getting a degree from it, however, can make it easy to get your dream job because of the high job placement rates.
Having a degree from Harvard can give you the edge that you need to outshine other applicants for the job of your wildest dreams.
As a matter of fact, being a Harvard University alum alone can cause multiple job offers to come pouring in rather than you applying for one job at a time.
However, you will still need to work hard and stay committed if you want to stay employed. You will have to be just like everyone else with a degree from a different school.
It's also important to note that life is not all about having a high-paying job and a hefty bank account. There are many life goals that can be achieved even without having the best job and the highest salary possible.
If you can achieve your ultimate life goal even without an impressive job title and pay, then a degree from any other school is worth it.
Continue reading to have a better idea of why a Harvard degree is worth it, as well as why its absence does not have to make you feel inferior compared to someone who has one.
Graduating From a Top-Ranking School Makes You a Top Choice
One of the main reasons why a Harvard degree is worth it is that you earned it from one of the most celebrated schools not only in the US but globally, too.
It's none other than Harvard University, which is one of the Ivy League schools. Because it was established back in the early 1600s, it's also one of the oldest schools in the US.
Since it came into being, Harvard has been consistently one of the finest schools there are. As a matter of fact, in the 2020 Best National University Rankings, Harvard University ranks number two.
It may only be second to Princeton University, which is another Ivy League school just like Harvard. However, it's still way ahead of the rest of the Ivy Leagues as well as many other schools in the US in the 2020 rankings of national universities.
Knowing that you have a degree from the number two national university in the US, employers will have to be crazy to pick another job applicant.
As a matter of fact, 86.1% of Harvard University graduates are employed within a year of graduation. In other words, being unemployed should be the least of your worries if you have a Harvard degree.
However, it's important to note that there are schools in the US that outrank Harvard University when it comes to job placement rates. Just take a look at this table:
| Name of School | Students Employed Within a Year of Gradation |
| --- | --- |
| University of Chicago | 93.9% |
| University of Pennsylvania | 93.2% |
| University of California, Los Angeles | 92.8% |
| Princeton University | 89.8% |
| University of California, Berkeley | 89.2% |
| Arizona State University | 88.4% |
| New York University | 87.5% |
As you can see, it's not just a Harvard degree that can help you get a job as soon as possible after graduating.
You have a higher chance of getting employed if you finish your college at another school, even one that is not a part of the Ivy Leagues.
It will definitely help you get the job of your dreams if your resume has "Harvard University" in it. However, you can also get hired if you are a graduate of a different school.
The Steep Cost of Attending Harvard University is a Contributing Factor
Many senior high school students ask if it's worth it to have a Harvard degree because of the steep cost associated with attending Harvard University.
Being one of the most prestigious schools in the US and most likely all over the world, too, it doesn't come as a big surprise why it's not cheap to go to Harvard.
This is why a lot of people believe that all Harvard students are rich. Well, they are not wrong for thinking so. As a matter of fact, 70.3% of all Harvard University students come from wealthy families. Needless to say, the campus is filled with affluent students.
To give you an idea of just how expensive it is to attend Harvard University, you will have to pay roughly $46,340 every year. Unfortunately, that's not all that your parents will have to shoulder.
If you include your room and board, that amount will jump to a whopping $67,580!
However, it doesn't necessarily mean that being from a low-income family should keep you from wanting to become a certified Harvard University student.
What's so nice about the elite school is that, although its tuition fees are sky-high, it offers an assortment of financial aid packages.
If you are proven eligible to receive one of those because your family doesn't make a lot of money, you can attend Harvard School at a fraction of the cost. Sometimes even for free.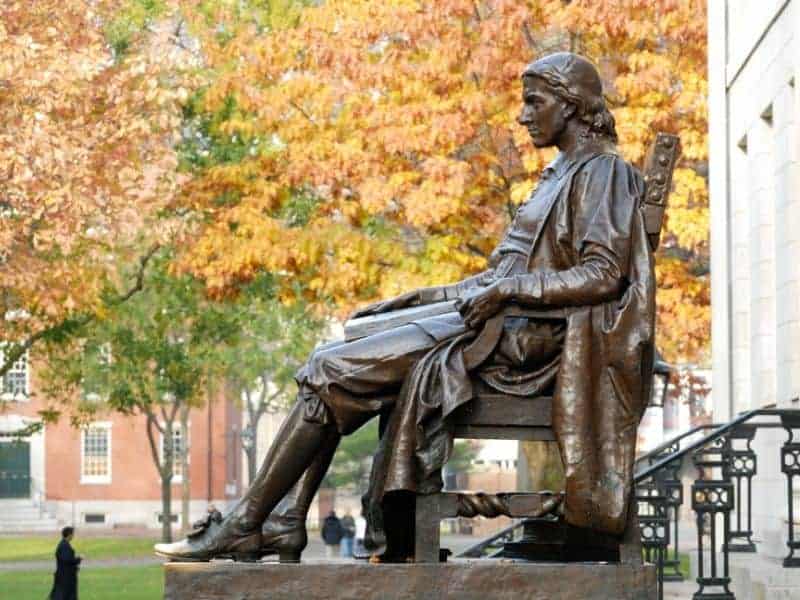 Yes, you read that right: it's possible to go to the Ivy League school at no cost. Harvard University said that a lot of its 2018-2019 students who were from families making less than $65,000 per year attended the school without paying anything.
Such is made possible by the school's endowment amounting to nearly $40 billion. Harvard University is a rich school because many of its highly successful graduates return the favor in the form of big bucks.
A Harvard Degree or a Degree From Another School: Identify Your Goal
It's true that going to Harvard University isn't cheap unless you qualify for the likes or grants and scholarships.
However, the very high chance of getting employed after a year of graduation can take you on your way to recoup the expenses.
Many employers find Harvard University graduates irresistible. Due to this, your chance of getting your dream high-paying job is higher compared to graduating from another school.
Plenty of doors tend to open for anyone who graduated from Harvard University. Such is due to different factors. One of them is the world-class education that the school is known to provide.
Another is the fact that some of the brightest minds ever in the history of mankind were Harvard graduates. So don't be surprised why it seems like a Harvard degree can give you endless opportunities.
However, not all people want to have the best jobs and all the money in the world. If it's your ultimate life goal to make lots of cash by having a fantastic job, go ahead and invest in a Harvard degree.
Otherwise, you may get a degree elsewhere. There are lots of schools that offer high-quality education, just like Harvard University. However, they have higher admission rates as well as cheaper tuition fees.
Besides, a Harvard degree is not enough to be successful. You will still need to have hard work, diligence, passion, and commitment.
Related Questions
Is it difficult to earn a Harvard degree?
It's hard to get to Harvard. However, graduating from Harvard is easy. As a matter of fact, 98% of Harvard students graduate from the school.
Does Harvard University accept average students?
No, the school only accepts extraordinary students. Admission is based on GPA and test scores, as well as extracurricular activities.
Related Article: How Many People Get Into Harvard?

Disclaimer: The views and opinions expressed in this article are those of the authors and do not necessarily represent those of the College Reality Check.