Is Vanderbilt a Good School?
I had a chance to tour Nashville and Vanderbilt University this spring and I believe I can answer the following question.
Is Vanderbilt University a good school? Vanderbilt University is ranked in the top 20 of National Universities according to US News. Vanderbilt is known for its medical, law and engineering schools. At the same time, Vanderbilt ranked at 3rd place for happiest students and 12th for campus food.
By the way, not everyone goes to Vanderbilt even when admitted. For instance, I interviewed a student who chose UMBC (University of Maryland Baltimore County) over Vanderbilt.
If you want to know why he did so, check my podcast episode:
Tour of Nashville
What an unbelievable start to the day. A street musician was impersonating Paul Armstrong "What a wonderful world". A big storm had just passed the day before so there were tons of winds. Thankfully, it warmed throughout the day.
We took a bus tour and took one big loop around the city, and let me tell you, it is really a music city. There were a few stops solely dedicated to different recording studios where big names such as Sinatra, Elvis, Taylor Swift, and Dolly Parton herself have recorded.
Our tour guide had an identity crisis because first, he said he was Shannon and then he admitted he was Martin. He had a bunch of not funny jokes. The other bus driver tried to encourage us to try wine slushies. I know, I guarantee this stuff only happens in Nashville. Our last guide kept teasing a guy named Jim from Massachusetts who was touring Nashville and was a fan of the Gators (Florida). Jim really had an identity crisis.
One of my favorite parts of the tour was Belmont mansion (which belongs to Belmont University). A lady by the name of Adelicia married 3, almost 4 times, and increased her net worth by double or triple with every husband. Now that is one smart lady. Though 6 of her 10 kids died.
This lady was rich, filthy rich. She was the wealthiest woman in Tennessee. She had over 40 panes of the stained-glass window made from gold. She took a nearly $26 million tour of Europe with her children. Most of us will never see that much money in our life.
Another favorite of mine was Centennial Park. The main attraction was the life-size replica of the Parthenon. It is in much better condition than the actual one because it was made a couple of centuries ago rather than a couple of thousand years.
Centennial Park also used to house many other famous world buildings, but The Parthenon is the only one at the park today. Unfortunately, the day we went to The Parthenon was the day that the inside was closed. But if we had gone inside, we would have seen a 42-foot-tall Athena staring at us.
Fun fact: to measure the size of the statue one guy used a balloon tied to his hand. He let the balloon to rise and stopped it when it reached the top and then he measured the string.
Since we were not able to get inside, the park made it up to us by having a row of electric scooters at our disposal (just kidding, the scooters are always there but it was still nice). I rode around for 30 minutes, and let me tell you, it was a blast.
You can adjust the speed and go suuuupppppppeeeeerrrrrrr fast or suuuupppppppeeeeerrrrrrr slow, all to your fancy. There were many different brands such as Lyft and Bird (we chose Lyft) all in which you need the companies app in order to activate the scooter. It cost about $7.50 for a thirty-minute ride and after you are done you can leave it on the side of the street and deactivate it.
There are many scooters belonging to the same brands across the Vanderbilt campus. Since freshman are not allowed to have cars, many students take advantage of this fun mode of transportation.
Food in Nashville
I think I have failed as a tourist in truly indulging in the Nashville experience. I did not try the Fried Chicken. I know. I apologize to any Nashvillians who are staring shocked at the screen. All the bus guides told us about numerous places in which we could treat ourselves to either regular or spicy fried chicken.
There was Hattie B's restaurant but we did not try any. The story goes that the restaurant owner wanted to poison her husband by putting way too many spices in her chicken, but it backfired because her husband loved the dish.
Information Session at Vanderbilt
Admissions Officers
Our information session at Vanderbilt was very lively and funny with our advisor being Juliana. She started off by making a joke about how the room, being brick-walled, dimly light, and her holding a microphone, was giving a stand-up comedy feeling.
She is the admissions officer of Arizona, Hawaii, Indiana (Indianapolis and Central Indiana), and New Mexico, so if you live in any of those areas, get to know her here. Though if you live in North Dakota, you may be out of luck because they submitted only one student this year.
Other than her, there are 31 other admissions officers in charge of checking applications from the rest of the states and countries (find them here).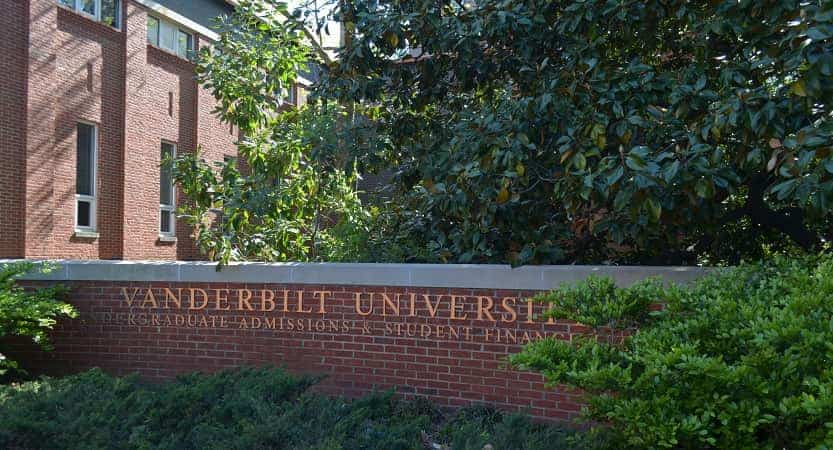 On average, the states in which the most applicants are accepted are (In order from greatest to least), Tennessee, N.Y., California, Florida, & Texas. I have no idea why, but it probably has to do with population.
What Does Vanderbilt Look for in Your Application?
Vanderbilt evaluates Academic Achievement, Test Scores, Letters of recommendation, Personal Essay, & extracurriculars. Academic Achievement is at the top of their list in importance, but the other 4 don't have much importance over each other.
Academic Achievement
Though despite them having high SAT & ACT score requirements, Vanderbilt stresses the significance of being involved in your school and challenging yourself.
What opportunities your school has to offer did you take advantage of? Did you try to take some AP courses where you think you want to major? Did you join clubs or create them? Did you compete on a National level?
Admissions officers have access to the AP courses offered at your school. This information helps them know if you are going to participate in the 430+ clubs/organizations offered at Vanderbilt, or will you add on to that number?
Test Score Requirement at Vanderbilt
On average, the E.B.R.W. S.A.T. range in students is 700-760 whereas the average Math S.A.T. is 750-800. For the A.C.T., the average score goes from 33-35. Vanderbilt does superscore, so Julianna suggested that you take the standardized test 3 times. One SAT test. One ACT test. And the last test you take should be the one you got the best score on.
Letters of Recommendation
Vanderbilt requires 3 total letters of recommendation: two from teachers and one from your guidance counselor. The teachers whom you get your letters of rec. shouldn't just be teachers who think you're a nice student. They should be the teachers who know you as the person behind your grades.
What kind of student are you? Are you the most determined? Are you the most honest? Are you a leader among your peers? Are you competitive? Did you write one awesome essay which blew your teacher away?
Find the teacher who is going to bring out the characteristics you are too shy to say yourself or you may not know about. As for your guidance counselor, they don't have to know everything about you because you most likely see them less than your teachers, but she or he should know your name and maybe your areas of interest.
Personal Essay
If your essay uses words such as whereas, admissions officers know your parents wrote it for you. Whereas I use this word in my essays along with henceforth and therefore. This is my everyday language, alas, I will never be accepted into Vanderbilt.
Extracurriculars
I didn't get an impression that the choice of extracurriculars is important as long as you are involved in your community. And I hope your involvement was positive.
Financial Aid at Vanderbilt
Parents, you can breathe a sigh of relief because Vanderbilt has been ranked the #1 Best in Financial Aid. They meet 100% of your need. The annual cost of attending Vanderbilt is $71,000. Of that $71,000, $48,000 is the cost of tuition.
The average financial aid package is $49,000. Holy smokes, that's more than the tuition, whoopie! Another wonderful thing about Vanderbilt financial aid is that loans are NOT included in your financial aid.
Lastly, if you want to work on campus for some reason (work-study), it will count towards your financial aid!
The Four Colleges Offered At Vanderbilt
The four colleges at Vanderbilt are (in order of greatest to least amount of students): Colleges of Arts & Sciences, School of Engineering, Peabody College & The Blair School of Music. In all of those colleges combined, there is a grand total of 2,500 courses offered every semester, so you've got plenty of choices.
The College of Arts & Sciences has approximately 4600 students and 50 majors. The School of Engineering offers 8 majors and contains a little less than 2000 students. The Peabody college has less than a thousand students and 8 majors. Lastly, the smallest, The Blair School of Music with an outstanding 4 majors and 500 some students.
If you are enrolled in The College of Arts & Sciences, you declare your major at the end of sophomore year and if you are in the College of Engineering, you declare your major at the end of freshman year. Another option Vanderbilt provides is having a double major in which 50% of the students take advantage of.
Fun Facts & Opportunities Offered At Vanderbilt
• #12 in best campus food
• There are 2 hospitals on campus
• 34% of women in engineering (while national is 18%)
• School ends before May!!
• Since Nashville is Music City, concerts are cheaper or free for students
• All students have immersion experience (stuff outside campus) starting 2019
• #3 happiest students
• 92% of classes are 50 or fewer students
Walking Tour
Faculty-Student Interaction
Andres, a freshman, who led our campus tour talked a lot about how he felt very welcome by all of the students. Vanderbilt's academics are rigorous (it wouldn't be a top school if there wasn't any pressure), but the environment is very collaborative.
Students freely exchange ideas to gain new perspectives on different situations/problems rather than trying to be at the top. I had asked Andres if he had suddenly felt average when coming to Vanderbilt because most of the students were in the top 10% of their high schools, but he said it didn't feel that way at all.
Rather than bragging about your GPA or your latest "A" on a test, people talked about the different clubs they had joined or what internship opportunities they were taking.
The collaborative & friendly environment was also evident in faculty and student relationships. The week before I had done the walking tour, the Dean of Andres' common had baked cookies for the entire common. Andres emphasized how they really cared about the students and that he felt comfortable going to them if he had any questions.
The professors were absolutely willing to stay past office hours to help review an essay or discuss what he may not have understood during the class before. Andres said that many students took advantage of this opportunity, so typically, you would want to schedule an appointment with the professors so you are guaranteed time.
How Roommates Assigned at Vanderbilt
Roommates at Vanderbilt assigned randomly based on the survey students complete before school starts. Or they can choose a roommate.
If you like to go to bed at 9:30, you definitely would not want a roommate who likes to do their homework in the dorm until 4 in the morning. If you like classical music, you don't want someone to jam out to metal on full blast. If you are a clean freak (like me), you wouldn't want someone to leave their stinky clothes everywhere.
This will most likely not be the case at Vanderbilt. Students are given a survey asking basic questions about what time you go to sleep, if you study in your dorm or not, if you are a hygienic & clean person or not, etc.
Andres has rarely heard of students switching dorms or complaining that they did not get an ideal roommate. Sometimes, if you do decide to go random (with the survey), you could be assigned into a triple dorm room.
But if you already have somebody in mind, you can request them (as long he or she requests you too). If you do request a roommate, you will be assigned into a double (extra bonus!). Most students are able to find their roommate through Vanderbilt's Facebook page. You can talk to different people and see who you get along with.
This is how Andres found his roommate. He chatted with a few people on the Facebook page until he found his roommate who he vibed with immediately. They then requested each other, and voilá, they are best friends.
In total, there are 10 commons for freshmen and they are all located in the same area, but you can not choose the common room you live in, that is random. Andres said this was good because he was able to meet a lot of his friends and became very connected with his class.
All of the common rooms offer something special. In the dorm we went to, they had super duper tall ceilings, while Andres dorm offers wood floors and walk-in-closets (yes, girls & boys, you can bring all your clothes).
All of the commons offer adjustable iron bed frames and furniture (drawers, nightstands, desks).
After freshman year, you can still request a roommate or live in an apartment style dorm which requires you to live with more than one person.
Another cool thing about the dorms is your first day at Vanderbilt. Upperclassmen who had lived in your dorm in previous years crowd around your car and take all of your belongings to deliver to your dorm. All you have to do is acquire your room key.
Everyone's Favorite Topic: Food
Vanderbilt offers numerous meal plans to choose from. You can get up to 1 entree and 3 sides from the dining halls, or go to the convenience store within the dining hall for some late night snacks (this option counts as a meal). The dining hall offers halal, kosher, gluten-free, vegan, you name it.
Fun Facts: 1) There is a huge pizza oven; 2) In the food court for freshman, there is a flag for every country that has a student currently studying at Vanderbilt.
Your student card which you use as a meal swipe also gives you discounts at places around Nashville. As a freshman, your card also contains $200 worth of money to spend on food, so no matter how much cash you have on yourself, you can go out with friends.
Greek Life
There isn't much to say about Greek Life because many of you already know what it is about. In Vanderbilt, you are given until the spring of your freshman year to decide whether you want to be part of a sorority or fraternity. About 50% of women & 30% of men join Greek Life.
The One You Have All Been Dreading, But for No Reason –Homework
Andres says the homework situation at Vanderbilt is much better than it was at his high school. Now, depending on how many AP courses you took in high-school, the homework load will seem either the same or less. He said now he spends about a few hours on homework, and it is not busy-work.
Busy-work is basically homework teachers give you that is work you didn't finish in class or work that has no meaning to it. Andres is usually given a reading to do that will prepare him for the next class, and it is not something he hates or doesn't want to do.
Safety At Vanderbilt
Everywhere you go, there is an emergency blue stand you can see that you push if there is an emergency and help comes in 60-90 seconds (rarely used)
There are 1-2 VUPD officers at every building (during parties as well)
VUPD is a second best police force in Nashville
One of Andres friends works at the food court until late at night and she has a VUPD officer drive her back to her room every night
Clubs & Extracurricular Activities
At orientation, you can swipe your card for any clubs you may want to join and you will receive emails from them. The emails include meetings the club is having and the times they are having them. If you are not interested in a club, or you don't have the time for it, you can just unsubscribe.
Why Should I Choose Vanderbilt?
Students chose Vanderbilt University for various reasons: affordability, sense of community, and the wealth of opportunities that the name provides to alumni. Additionally, Vanderbilt has a very diverse student population.
Andres is from Florida and practically everyone in his family went to a University in Florida such as the University of Florida, Florida State University, and the University of Miami. He thought he would take the same path until he visited Vanderbilt. He fell in love with the community and the collaborative environment which led him to chose Vanderbilt.
Is Vanderbilt an Ivy League?
No, it is not. The Ivy League consists of 8 colleges in North East. Although Vanderbilt ranks higher than Cornell and ties with Brown it is not a part of actual Ivy League. However, it is often called Southern Ivy.
Read more about different Ivy League like rankings here.
What is Vanderbilt's Acceptance Rate?
Vanderbilt's acceptance rate is 11.7%
Vanderbilt's Major Rankings:
Engineering: #39
Law: #17
Biomedical: #25
Medical: #16 (Tied with University of Michigan-Ann Arbor & University of Chicago)
Business: #29 (Tied with Georgia Institute of Technology)
Education: #6
Nursing: #8 (Tied with Rush University & Ohio State University & University of Chicago-Ann Arbor)
Deadlines: Regular Action, Early Action, & Transfer?
Early Action Application Deadline (As of 2018-2019): November 1st
Regular Deadline (As of 2018-2019): January 1st
Transfer Application Deadline (As of 2018-2019): March 15th
What is Vanderbilt's Graduation Rate?
Vanderbilt's Graduation is 92.9%
What is Vanderbilt's Mascot & School Colors?
Mascot: Mr. Commodore (Referred to as Mr. C)
School Colors: Black & Gold
What is Vanderbilt's annual tuition?
$49,816 (As of 2018-2019)
$16,234 (Cost of housing)
What is Vanderbilt's graduation rate?
What is the ethnic diversity of Vanderbilt (As of 2018)?
Asian or Hawaiian/Pacific Islander: 14.2%
Black or African American: 10.8%
Hispanic: 9.9%
International: 8.8%
American Indian or Alaskan Native: .5%
What is the percentage of women and men enrolled (As of 2018-2019)?
What is the acceptance rate of waitlisted students?
How many students are enrolled in Vanderbilt?
Undergraduate: 6,861 students
Graduate & Beyond: 5,963 students
Total: 12,824 students
Is Vanderbilt an Ivy League?
Is Vanderbilt public or private?
Does Vanderbilt offer any academic or athletic scholarships?
Yes, Vanderbilt offers merit-based scholarships
Does Vanderbilt offer online courses?
Yes, but the entire degree can not be done online
Does Vanderbilt accept AP credit?
Yes, but the needed score for an exam depends on the exam taken
Is Vanderbilt common application?
What is Vanderbilt's out-of-state tuition?
The tuition cost is the same regardless of where you live: $49,816
Is Vanderbilt conservative?
Vanderbilt is both conservative and liberal and it really depends on what schools you compare it to
Is Vanderbilt a religious school?
Vanderbilt did have a Catholic group consisting of 500 students, but due to the non-discrimination policy, they have detached themselves from the school
Is Vanderbilt a need blind school?
Is Vanderbilt a safe school?
Vanderbilt is surrounded by many upscale neighborhoods and doesn't have a very high crime rate; Most crimes occur between students
Is Vanderbilt early decision binding?
How many people who apply early decision to Vanderbilt get accepted?
What are Vanderbilt's grade requirements?
Vanderbilt doesn't have a minimum SAT/ACT or GPA but the averages are:
SAT (Math): 745
SAT (English): 730
ACT: 34
GPA: 3.8
Who are some famous Vanderbilt alumni?
Al Gore (Former Vice President of U.S.)
James Patterson (Author)
Jay Cutler (Quarterback for Chicago Bears)
Muhammad Yunus (Social Entrepreneur awarded Nobel Peace prize)

Disclaimer: The views and opinions expressed in this article are those of the authors and do not necessarily represent those of the College Reality Check.