Is Vanderbilt a Good School? Secrets Revealed in Information Session
It's not uncommon for you to hear about Vanderbilt University from the mouths of a lot of college-bound teeners. Often, it's the top-choice school of numerous top-performing students.
I had a chance to tour Nashville and Vanderbilt University this spring, and I believe I can answer the following question: Is Vanderbilt University a good school?
Vanderbilt University is ranked in the top 20 National Universities according to US News. Vanderbilt is known for its medical, law and engineering schools. At the same time, Vanderbilt ranked at 3rd place for happiest students and 12th for campus food.
Make sure that you check out the entirety of this post if you are considering applying to Vanderbilt. I will first share my experience visiting it and then answer some commonly asked questions about college rankings.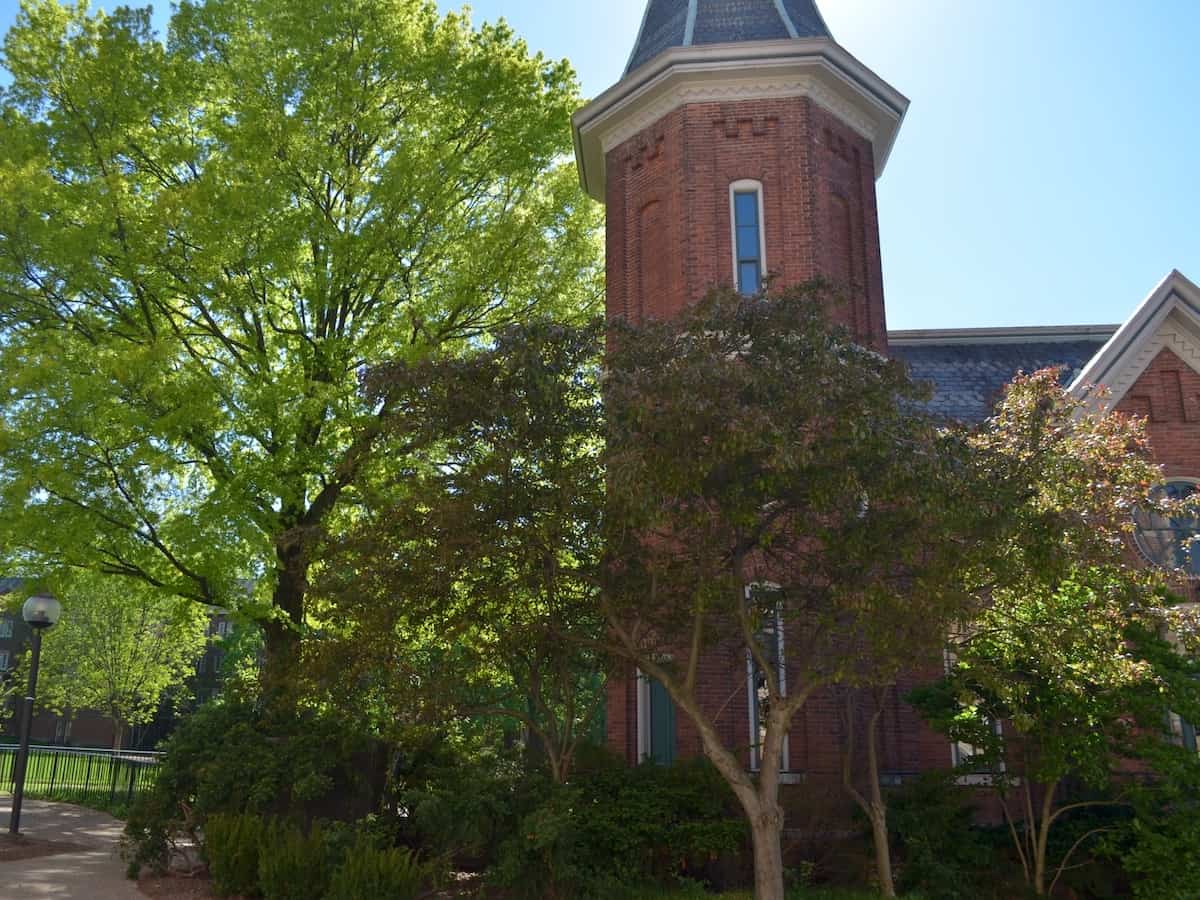 Information Session at Vanderbilt
Admissions Officers
Our information session at Vanderbilt was very lively and funny, with our advisor being Juliana.
She was the admissions officer of Arizona, Hawaii, Indiana (Indianapolis and Central Indiana), and New Mexico.
Other than her, there are 31 other admissions officers in charge of checking applications from the rest of the states and countries (find them here).
On average, the states in which the most applicants are accepted are (in order from greatest to least) Tennessee, NY, California, Florida, & Texas. I have no idea why, but it probably has to do with population.
Things that Vanderbilt Looks for in Your Application
Vanderbilt evaluates Academic Achievement, Test Scores, Letters of recommendation, Personal Essay, & extracurriculars in the admissions process. Academic Achievement is at the top of their list in importance, but the other four don't have much importance over each other.
1. Academic Achievement
Though despite them having high SAT & ACT score requirements, Vanderbilt stresses the significance of being involved in your school and challenging yourself.
What opportunities your school has to offer did you take advantage of?
Did you try to take some AP courses where you think you want to major?
Did you join clubs or create them?
Did you compete on a National level?
Admissions officers have access to the AP courses offered at your school. This information helps them know if you are going to participate in the 430+ clubs/organizations offered at Vanderbilt or if you will add on to that number.
2. SAT/ACT Test Scores (optional)
On average, the E.B.R.W. S.A.T. range in students is 700-760, whereas the average Math S.A.T. is 750-800. For the A.C.T., the average score goes from 33-35.
Vanderbilt does superscore, so Julianna suggested that you take the standardized test 3 times. One SAT test. One ACT test. And the last test you take should be the one you got the best score on.
For now, the university is test-optional, so if your test scores do not represent your achievements, it's better not to submit them.
If you are unsure, here are the guidelines on when submitting standardized scores advantage in college admissions.
3. Three Letters of Recommendation
Vanderbilt requires three total letters of recommendation: two from teachers and one from your guidance counselor.
The teachers from whom you get your rec letters shouldn't just be teachers who think you're a nice student. They should be the teachers who know you as the person behind your grades.
What kind of student are you?
Are you the most determined? Are you the most honest?
Are you a leader among your peers? Are you competitive?
Did you write one awesome essay which blew your teacher away?
Find the teacher who is going to bring out the characteristics you are too shy to say yourself or you may not know about.
As for your guidance counselor, they don't have to know everything about you because you most likely see them less than your teachers, but she or he should know your name and maybe your areas of interest.
4. Personal Essay
If your essay uses words such as whereas, admissions officers know your parents wrote it for you. Whereas I use this word in my essays along with henceforth and therefore.
This is my everyday language, alas, I will never be accepted into Vanderbilt.
5. Extracurriculars
I didn't get the impression that the choice of extracurriculars is important as long as you are involved in your community.
And I hope your involvement was positive.
Financial Aid at Vanderbilt
Parents, you can breathe a sigh of relief because Vanderbilt has been ranked the #1 Best in Financial Aid.
They meet 100% of your need. The annual cost of attending Vanderbilt is $71,000. Of that $71,000, $48,000 is the cost of tuition.
The average financial aid package is $49,000.
Another wonderful thing about Vanderbilt's financial aid is that loans are NOT included in your financial aid.
Lastly, if you want to work on campus for some reason (work-study), it will count towards your financial aid!
The Four Colleges Offered At Vanderbilt
The four colleges at Vanderbilt are (in order of greatest to least amount of students):
The colleges of Arts & Sciences, School of Engineering, Peabody College & The Blair School of Music.
In all of those colleges combined, there is a grand total of 2,500 courses offered every semester, so you've got plenty of choices.
The College of Arts & Sciences has approximately 4600 students and 50 majors. The School of Engineering offers 8 majors and contains a little less than 2000 students.
Peabody college has less than a thousand students and eight majors. Lastly, the smallest, The Blair School of Music with an outstanding 4 majors and 500 some students.
If you are enrolled in The College of Arts & Sciences, you declare your major at the end of sophomore year, and if you are in the College of Engineering, you declare your major at the end of freshman year.
Another option Vanderbilt provides is having a double major in which 50% of the students take advantage of.
Walking Tour
Faculty-Student Interaction
Andres, a freshman who led our campus tour talked a lot about how he felt very welcome by all of the students. Vanderbilt's academics are rigorous (it wouldn't be a top school if there wasn't any pressure), but the environment is very collaborative.
Students freely exchange ideas to gain new perspectives on different situations/problems rather than trying to be at the top.
I had asked Andres if he had suddenly felt average when coming to Vanderbilt because most of the students were in the top 10% of their high schools, but he said it didn't feel that way at all.
Rather than bragging about their GPA or their latest "A" on a test, people talked about the different clubs they had joined or what internship opportunities they were taking.
The collaborative & friendly environment was also evident in faculty and student relationships.
The week before I had done the walking tour, the Dean of Andres' common had baked cookies for the entire common. Andres emphasized how they really cared about the students and that he felt comfortable going to them if he had any questions.
The professors were absolutely willing to stay past office hours to help review an essay or discuss what he may not have understood during the class before.
Andres said that many students took advantage of this opportunity, so typically, you would want to schedule an appointment with the professors, so you are guaranteed time.
How Roommates Assigned at Vanderbilt
Roommates at Vanderbilt are assigned randomly based on the survey students complete before school starts. Or they can choose a roommate.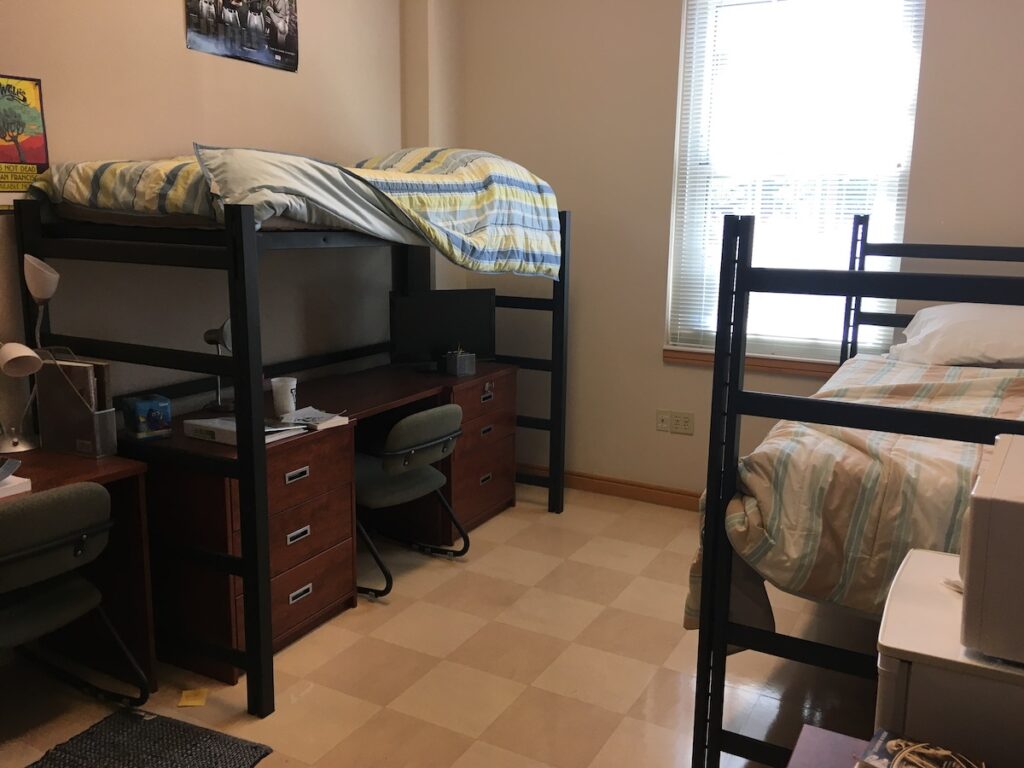 If you like to go to bed at 9:30, you definitely would not want a roommate who likes to do their homework in the dorm until 4 in the morning.
This will most likely not be the case at Vanderbilt.
Students are given a survey asking basic questions about what time they go to sleep, if they study in their dorm or not, if they are hygienic & clean people or not, etc.
But if you already have somebody in mind, you can request them. If you do request a roommate, you will be assigned to a double (extra bonus!).
Most students are able to find their roommate through Vanderbilt's Facebook page. You can talk to different people and see who you get along with.
This is how Andres found his roommate. He chatted with a few people on the Facebook page until he found his roommate, who he vibed with immediately. They then requested each other, and voilá, they were best friends.
After freshman year, you can still request a roommate or live in an apartment-style dorm which requires you to live with more than one person.
Another cool thing about the dorms is your first day at Vanderbilt. Upperclassmen who had lived in your dorm in previous years crowd around your car and take all of your belongings to deliver to your dorm. All you have to do is acquire your room key.
Everyone's Favorite Topic: Food
Vanderbilt offers numerous meal plans to choose from.
You can get up to 1 entree and 3 sides from the dining halls or go to the convenience store within the dining hall for some late-night snacks (this option counts as a meal). The dining hall offers halal, kosher, gluten-free, vegan, you name it.
Your student card which you use as a meal swipe also gives you discounts at places around Nashville. As a freshman, your card also contains $200 worth of money to spend on food, so no matter how much cash you have on yourself, you can go out with friends.
Greek Life
At Vanderbilt, you are given until the spring of your freshman year to decide whether you want to be part of a sorority or fraternity. About 50% of women & 30% of men join Greek Life.
Safety At Vanderbilt
Everywhere you go, there is an emergency blue stand you can see that you push if there is an emergency, and help comes in 60-90 seconds (rarely used)
There are 1-2 VUPD officers at every building (during parties as well)
VUPD is a second best police force in Nashville
One of Andres's friends works at the food court until late at night, and she has a VUPD officer drive her back to her room every night.
Why Vanderbilt?
Students chose Vanderbilt University for various reasons: affordability, sense of community, and the wealth of opportunities that the name provides to alumni. Additionally, Vanderbilt has a very diverse student population.
Andres is from Florida, and practically everyone in his family went to a University in Florida, such as the University of Florida, Florida State University, and the University of Miami.
He thought he would take the same path until he visited Vanderbilt. He fell in love with the community and the collaborative environment, which led him to choose Vanderbilt.
By the way, not everyone goes to Vanderbilt, even when admitted. For instance, I interviewed a student who chose UMBC (the University of Maryland Baltimore County) over Vanderbilt.
If you want to know why he did so, check my podcast episode:
FAQ
Is Vanderbilt University Ivy League?
Vanderbilt University has the characteristics of an Ivy League school. For instance, it has a very low acceptance rate and tuition that's higher than the national average. Despite this, it's not a member of the Ivy League. Vanderbilt, however, is considered a Hidden Ivy, New Ivy, and Southern Ivy.
Vanderbilt University Rankings
US News ranks Vanderbilt University #13 among National Universities, a spot it shares with Brown University, which is an Ivy League. The popular college ranking site also ranks it #8 in Best Value Schools. Vanderbilt is also #13 in Top Private Universities in America 2023 by Niche.
The fact is that Vanderbilt outshines many schools in various higher education aspects.
Engineering and computer science are some of the most highly ranked undergraduate programs it has. The same is true for education, psychology, political science, public policy, economics, history and biology.
Is Vanderbilt University a Party School?
Students attending Vanderbilt University like to party. However, it's not enough to put the institution on any of those top 10 party schools in the US rankings. Still, Niche ranks Vanderbilt #31 in Top Party Schools in America.
Also, greek life is pretty big at the school.
Some of the biggest party events of the year at Vanderbilt include rites of spring and football tailgates.
Besides partying, the school's attendees have other socializing options. For instance, there are more than 500 student clubs and organizations registered at Vanderbilt, thus making sure that each student can be a part of something.
Outside of the campus, students have plenty of options for dining and shopping.
And because Vanderbilt is located in Nashville, Tennessee, which is dubbed the Music City, it goes without saying that there are lots of music and entertainment selections available to Vanderbilt's attendees after classes.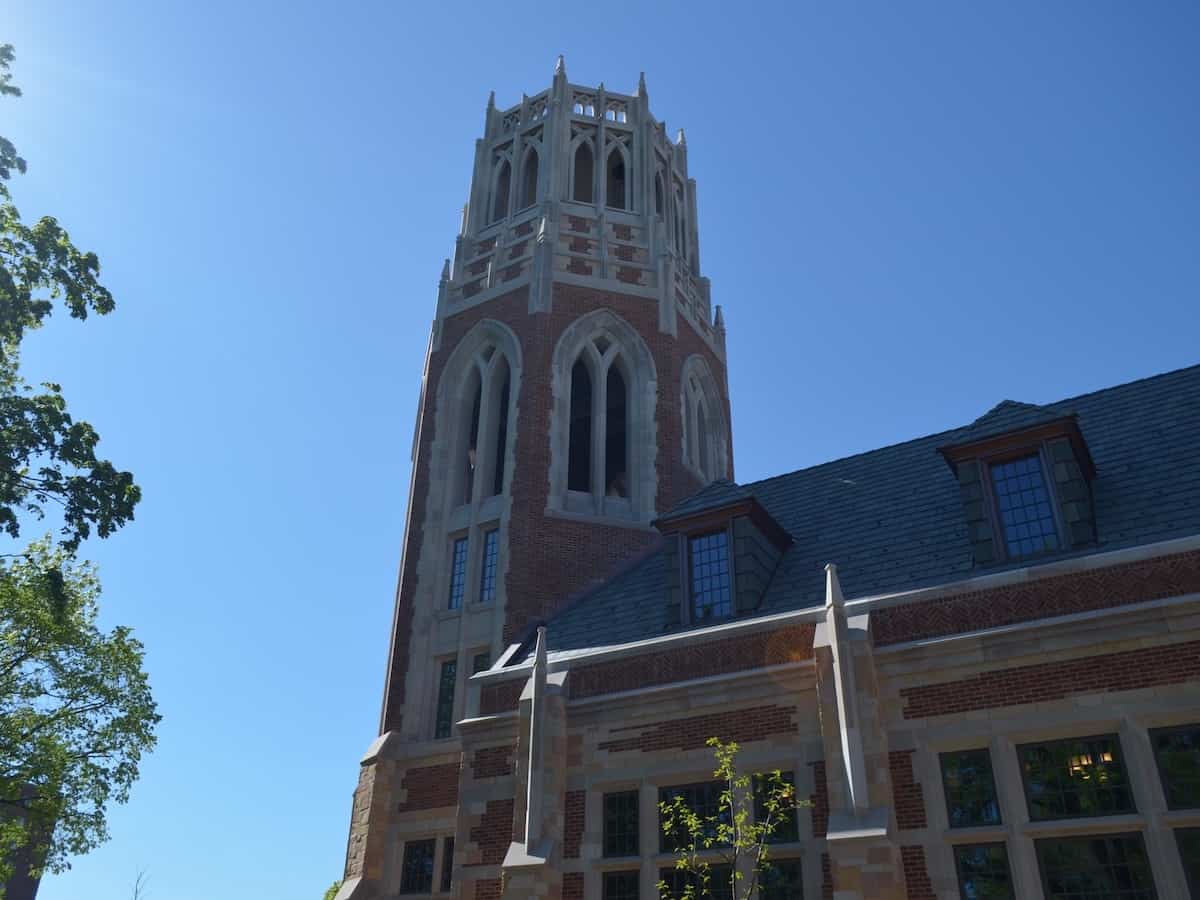 Is It Easy to Get Into Vanderbilt University?
Getting admitted to Vanderbilt University isn't easy.
With an acceptance rate of 7%, it's a highly selective institution. Up to 41% of accepted students have GPAs of 4.0. Meanwhile, 45% have GPAs between 3.75 and 3.99. As much as 91% of Vanderbilt's admits graduated in the top tenth of their high school class.
One of the main reasons why Vanderbilt is often mistaken as an Ivy League is that it has a single-digit acceptance rate. Simply put, only 7 out of 100 applicants get accepted to it per admissions cycle.
Refrain from assuming that having a high GPA and test scores is enough for you to get your hands on an acceptance letter from Vanderbilt.
Because it has a holistic admissions policy, the school will also take a look at your unique personal characteristics, experiences and background.
Let's take a look at the non-academic factors considered and their relative importance:
| | |
| --- | --- |
| Extracurricular activities | Very important |
| Personal qualities | Very important |
| Talent | Important |
| Interview | Considered |
| First-generation | Considered |
| Alumni relation | Considered |
| Geographical residence | Considered |
| State residency | Considered |
| Race/ethnicity | Considered |
| Work experience | Considered |
| Volunteer work | Considered |
Vanderbilt University Admissions Requirements
Students can apply to Vanderbilt University using 3 platforms: Common App, Coalition App and QuestBridge. There are 3 application deadlines: early decision I, early decision II and regular decision. Admission requirements include high school transcript, recommendation letters and a supplemental essay.
If Vanderbilt is your top-choice school, you can apply ED1 or ED2 — deadlines are November 1 and January 1, respectively. It's important to note that while they have different deadlines, both admission plans are binding.
The deadline for RD applications, on the other hand, is January 1.
Even though it's highly selective, Vanderbilt does not require aspirants to submit a lot of materials.
For instance, it only requires a single supplemental essay. However, applicants must submit three different letters of recommendation — one is from the high school counselor, and the rest are from teachers.
Earlier, it was discussed that Vanderbilt has a holistic admissions process. What wasn't mentioned, though, is that it also has a need-blind policy, which means that a student's ability to pay for his or her education is not considered by admissions officers.
Also, the school guarantees that it will meet 100% of a student's demonstrated financial need.
Does Vanderbilt University give credit for AP exams?
Because Vanderbilt participates in College Board's Advanced Placement (AP) program, it gives credit to some AP exams with grades of 4 or 5. The institution requires applicants to have the College Board submit their AP exam grades directly to the highly selective private research university.
Schools Similar to Vanderbilt
Below, you will come across schools with which Vanderbilt University is often compared. Knowing them can help you determine what your other options are if you have an academic profile that's a good match for Vanderbilt.
Vanderbilt vs. Duke University
Located in Durham, North Carolina, Duke, which has an acceptance rate of 6%, is practically as selective as Vanderbilt. It has a higher US News ranking, though — #10 vs. #13 in National Universities.
Vanderbilt vs. Washington University in St. Louis
It's true that WashU, which is named after George Washington, has a slightly higher acceptance rate than Vanderbilt (13% vs. 7%). However, it has practically the same tuition and fees as Vanderbilt ($60,590 vs. $60,348).
Vanderbilt vs. Emory University
Emory is known for its undergraduate business and nursing programs. Meanwhile, Vanderbilt is popular for its engineering and computer science programs. Emory's acceptance rate (13%) is almost twice that of Vanderbilt.
Vanderbilt vs. Rice University
Attending Rice is cheaper than going to Vanderbilt because of lower tuition and fees ($54,960 vs. $60,348). Like Vanderbilt, Rice, which is located in Houston, Texas, is popular for its undergraduate engineering programs.

Disclaimer: The views and opinions expressed in this article are those of the authors and do not necessarily represent those of the College Reality Check.