11 Stats to Know About Texas State University
Currently building your college list and thinking about adding Texas State University (TXST) to it? Keep reading. In this post, I will tell you some very important things you need to know about the public research university in Lone Star State. After checking this out, hopefully, you will have a much better idea of whether or not TXST is for you.
Having the Carnegie R2 designation, Texas State University is good for degree-seeking students seeking research-based programs. It's also suited for undergraduates who consider a good social life an important aspect of well-rounded college life since TXST is a party school with a great Greek life.
Here's an amazing fact: TXST is the only university in Texas, which is the second-largest state in the US land area- and population-wise, to have graduated a US president, who is none other than Lyndon B. Johnson.
The following are some quick facts on TXST you might also want to know about:
Location: San Marcos, Texas
Founding date: 1899
Campus size: 457 acres
Campus type: Suburban
School type: Public research
Reputation: Party school
Selectivity level: Least selective
Number of majors: 73
Popular majors: Biology, business, computer science, kinesiology, liberal arts, marketing, psychology
Student body: 37,864 (as per Common Data Set 2021 to 2022)
Students per class: 20 to 29 in most classes
Student-to-faculty ratio: 21:1
Retention rate: 77%
Graduation rate: 54%
Athletic affiliation: NCAA Division I
Color: Maroon and gold
Mascot: Boko the Bobcat
Number of varsity teams: 16
Sports: Baseball, basketball, cross country, football, golf, soccer, softball, tennis, track and field, volleyball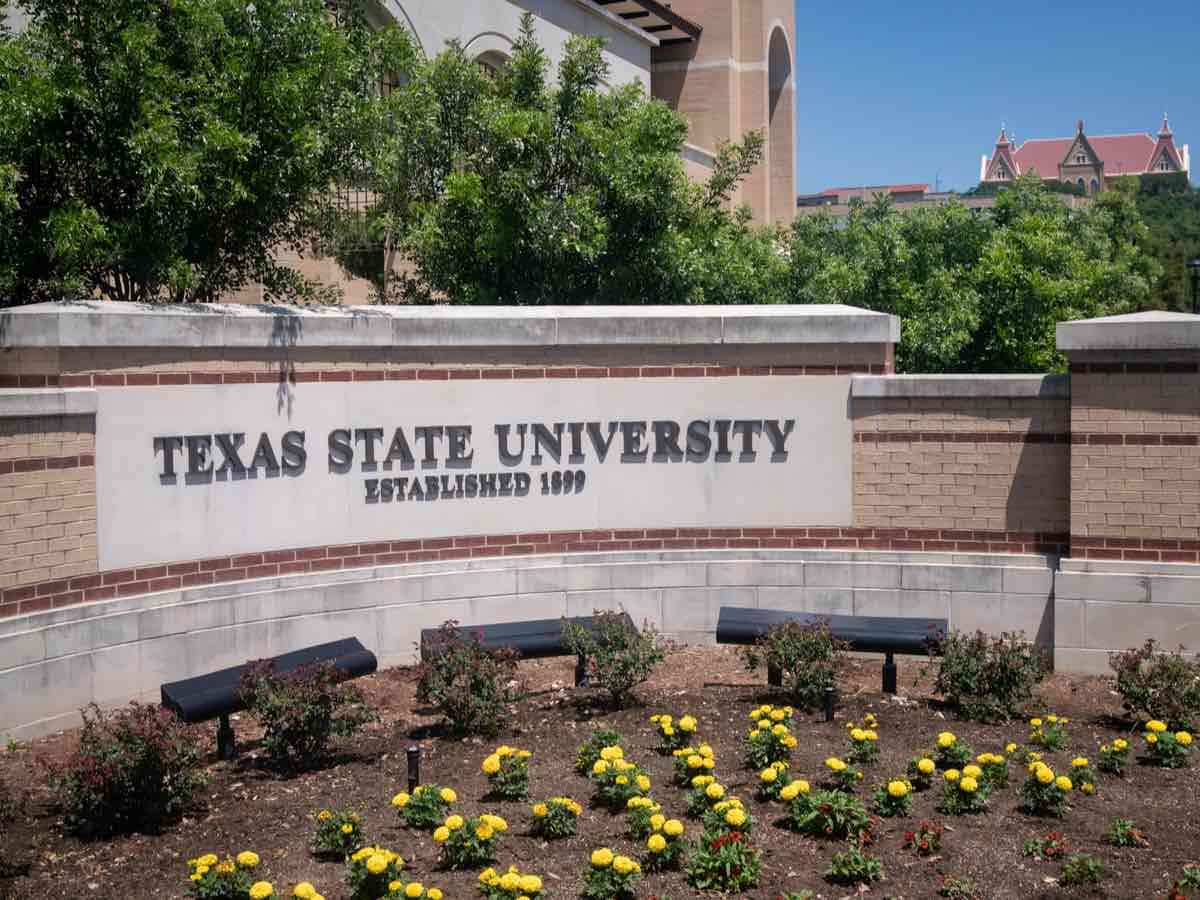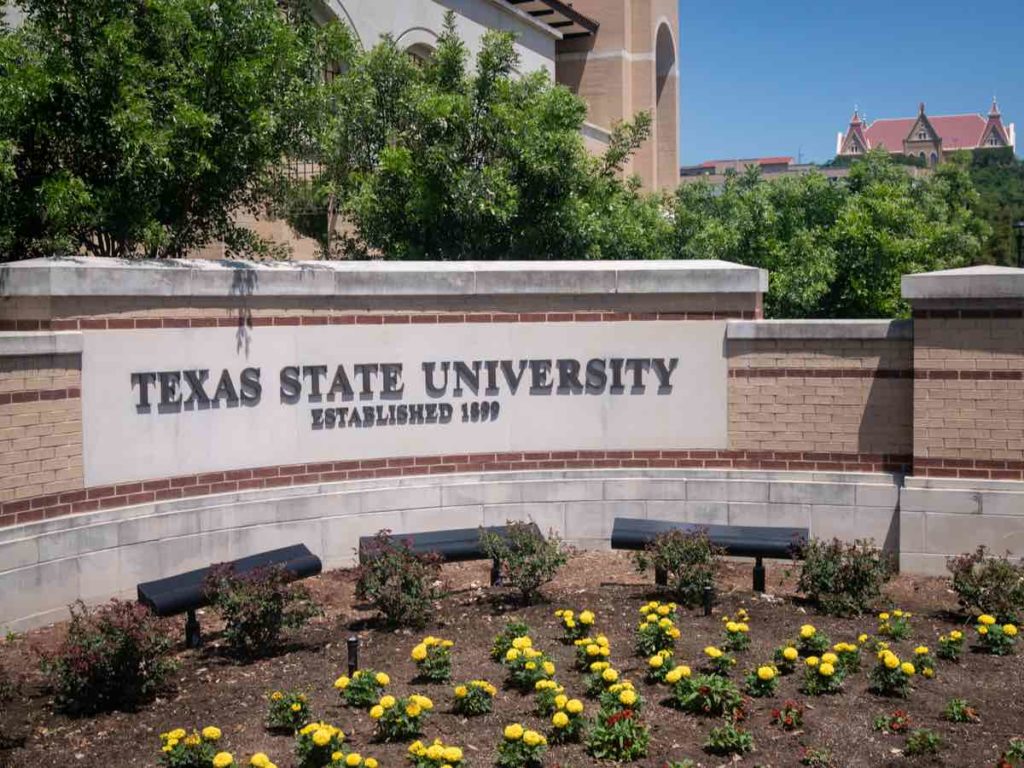 Rankings
Although Texas State University is ranked by US News, the ranking is not as impressive — it falls within #299 to 391 in National Universities. Meanwhile, institutions considered the flagships of Texas, which are Texas University and Texas A&M University, are ranked #38 and #68 in National Universities, respectively.
It's been said many times before that college-bound kids should take college rankings with a grain of salt.
But if you are unhappy with the US News ranking of Texas State University, just keep in mind that US News is not the only reliable college ranking site, although we can all agree that it's one of the most popular.
Niche, for instance, ranks TXST #101 in Best Big Colleges in America and #194 in Top Public Universities in America. Among various ranked colleges and universities in Texas, it's #8 in Best College Campuses in Texas, #8 in Best Big Colleges in Texas and #10 in Top Public Universities in Texas.
On the other hand, College Simply ranks TXST #7 in Best Public Colleges in Texas.
What is Texas State University Known For?
According to Texas State University itself, its nearly 38,000 students share the same purpose of making a positive impact in the world. The public research university has the Carnegie R2 designation, which signifies high research activity. TXST is the 4th largest public university in Texas and the 30th in the US.
If research is your thing, look no further than Texas State University.
Over the last five years alone, the increase in total research and development expenditures of TXST amounts to 64%. Based on the latest data, the institution has held more than 550 independent sponsored research projects. And speaking of which, TXST has a total of 33 research centers and institutes.
TXST is home to a total of four libraries, the most prestigious of which is the Albert B. Alkek Library. It is also considered the architectural centerpiece of the campus and the intellectual hub of the students.
Is Texas State University a Party School?
There are many party schools in Texas, and Texas State University is one of them. The public research university is #5 in Top Party Schools in Texas ranking by Niche. Similarly, the same college ranking site ranks TXST #64 in Top Party Schools in America and #70 in Best Greek Life Colleges in America.
Based on a report by the University Star, which is a student-run newspaper for Texas State University, the school's students are commonly associated with late-night rage parties and binge drinking, too.
It adds that TXST has a reputation of being the second choice of students turned down by other institutions.
Although it's true that it's a party school, TXST has more to offer to students who consider social life a top priority. For instance, there are over 400 student organizations and clubs available. There are also numerous school events to partake in that do not involve dancing and drinking, such as the Bobcat Build, which is a community clean-up project.
This does not mean, however, that you should steer clear of TXST if you think that partying can keep you from successfully completing a bachelor's degree program. It may be a party school alright, but partying is not mandatory.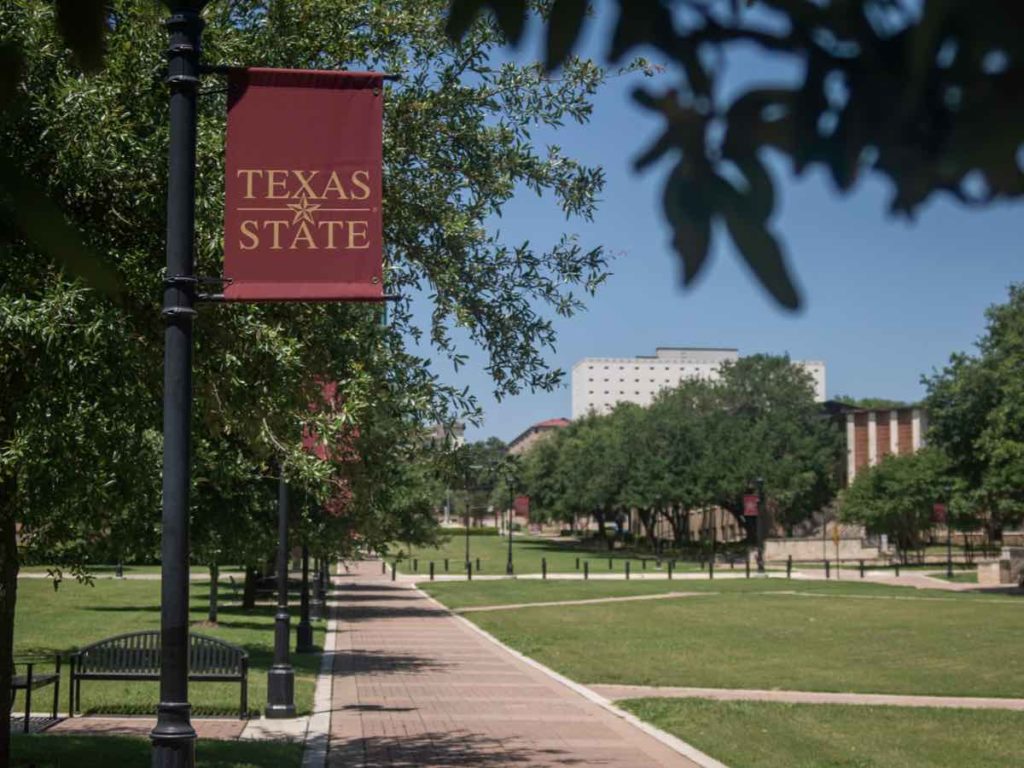 What is the Texas State University Campus Like?
Texas State University has a hilly campus that measures 457 acres plus nearly 5,000 acres of land for instructional, recreational, farming and ranching purposes. TXST's campus is suburban, which is located in a city with an urban-suburban mix and in close proximity to San Diego, California's downtown.
According to Niche, Texas State University is #122 in the 2022 Best College Campuses in America. Meanwhile, it's #8 in the 2022 Best College Campuses in Texas by the same college ranker.
Let's take a look at the top 10 entries of the said ranking in order to put that into context:
| | | |
| --- | --- | --- |
| RANKING | INSTITUTION | LOCATION |
| #1 | Rice University | Houston |
| #2 | Texas Christian University | Fort Worth |
| #3 | Lubbock Christian University | Lubbock |
| #4 | Southern Methodist University | Dallas |
| #5 | Texas Tech University | Lubbock |
| #6 | Dallas Baptist University | Dallas |
| #7 | St. Edward's University | Austin |
| #8 | Texas State University | San Marcos |
| #9 | University of the Incarnate World | San Antonio |
| #10 | University of Texas – El Paso | El Paso |
There are more than 200 buildings on the TXST campus, some of which are as old as the school itself.
Acceptance Rate
The acceptance rate at Texas State University is 85%. With way over half of all applicants getting accepted, it's obvious that the public research university is a least-selective institution. Provided that the minimum admissions requirements are met, there is a big chance that applicants will get acceptance letters.
Before shortlisting a college or university, it's important to take note of its acceptance rate.
Knowing the percentage of students that gain admission to it will allow you to learn if it's a reach, match or safety school. One of the things that make an institution a safety school is that it has an acceptance rate of at least 80%
Since Texas State University has an acceptance rate of 85%, it can easily be a safety school for the majority of college-bound teens. As a matter of fact, among all colleges and universities in Texas, which amount to more than 200, TXST is one of those with the highest rate of acceptance.
For reference, let's take a look at the top 10 most selective institutions in the state:
| | |
| --- | --- |
| INSTITUTION | ACCEPTANCE RATE |
| Rice University | 11% |
| Dallas Christian College | 24% |
| University of Texas at Austin | 32% |
| Trinity University | 34% |
| Baptist Missionary Association Theological Seminary | 44% |
| McMurry University | 47% |
| Texas Wesleyan University | 47% |
| Texas Christian University | 48% |
| Austin College | 49% |
| Howard Payne University | 49% |
Diversity Stats
Texas is one of the most diverse states in the US, second only to California. Because of this, it isn't surprising that Texas State University is also a diverse institution. As a matter of fact, among all undergraduates at TXST, as per CDS 2021 to 2022, 42% are Hispanics or Latinos. Meanwhile, only 41% are whites.
Numerous studies have proven that attending diverse colleges and universities comes with a number of perks for the students to enjoy. Some of them include:
Increased intellectual and cultural engagement
Improved academic skills such as critical thinking and problem-solving
Raised sense of belongingness and safety and protection
Going to a diverse institution, in a nutshell, helps with academic performance and preparation for the workforce.
You will be happy to learn that the general consensus is that Texas State University is a racially diverse school. Just check out the table below showing undergraduate enrollment by racial or ethnic category:
| | |
| --- | --- |
| RACE OR ETHNICITY | NUMBER OF UNDERGRADUATES |
| Hispanic/Latino | 13,768 |
| White | 13,591 |
| Black or African American | 3,184 |
| Two or more races | 1,278 |
| Asian | 858 |
| Race and/or ethnicity unknown | 221 |
| Non-resident aliens | 160 |
| American Indian or Alaska Native | 76 |
| Native Hawaiian or other Pacific Islander | 39 |
| TOTAL | 33,175 |
TXST Diversity Stats
GPA Stats
Like most colleges and universities, Texas State University does not have a published minimum GPA requirement for freshman applicants. Even the school's CDS does not have any information about the GPAs of admitted students. However, TXST encourages applicants to have a GPA of 2.50 at least.
Since TXST does not have an open admissions policy, you can increase your chances of getting an acceptance letter from it by having a good high school GPA.
Although the public research university's CDS does not specify the GPAs of accepted first-time, first-year students, it does provide information on their high school class rank. As of the academic year 2021 to 2022, the immense majority of freshman students accepted to TXST (80.7%) are in the top half of their high school class.
Fret not if you're from a high school that doesn't have a class rank. The admissions officers at TXST will not penalize you for it. Instead, they will simply look at other parts of your application in order to get to know you better.
Needless to say, make sure that you have a strong overall application.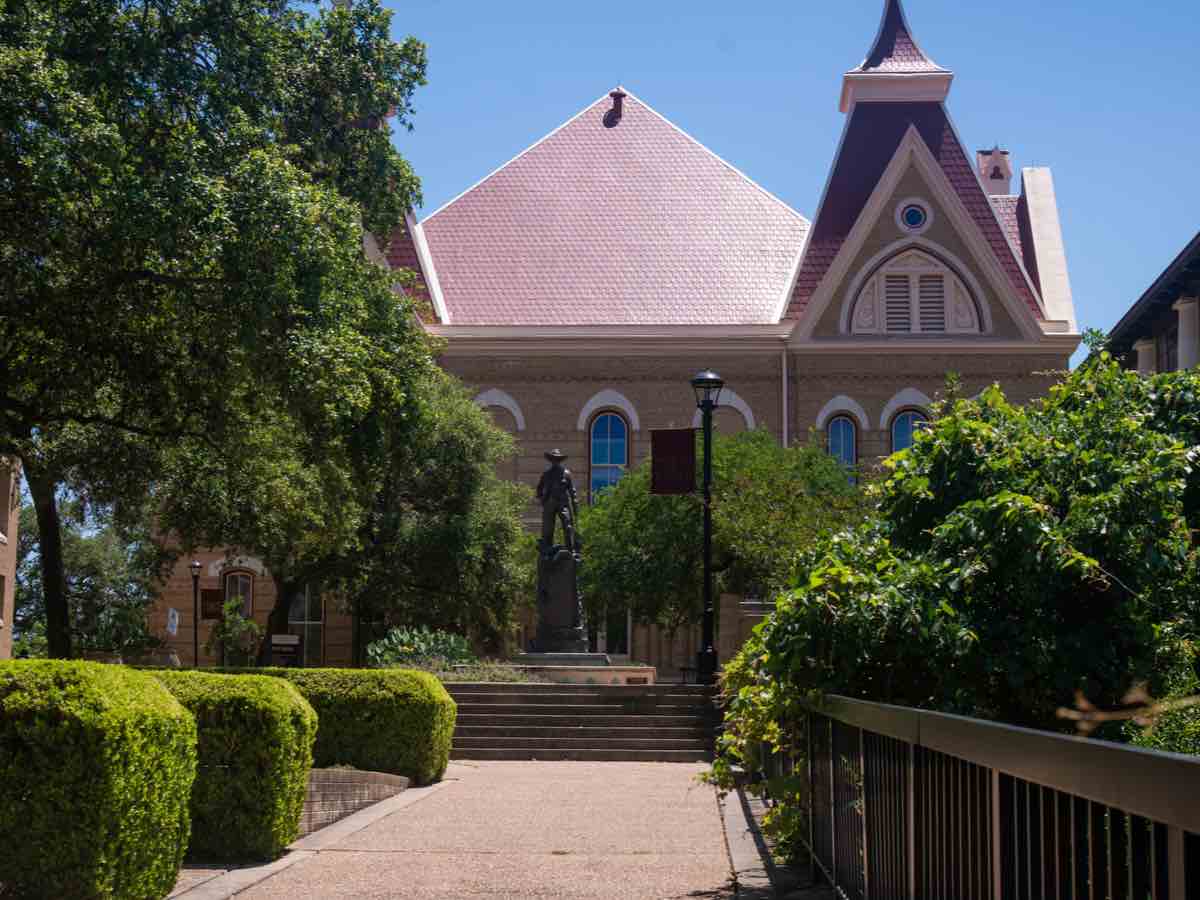 Applying Early
Texas State University does not offer an early decision admission plan for high-performing students who consider TXST their top-choice school. However, it has a priority application, whose deadline is on November 1. The school also offers the Early Admission Program for local high school students.
When applying early to Texas State University, there is no need to indicate that you intend to apply via priority application — all you have to do is make sure that you submit your application before the deadline.
Are you a Texas resident attending a high school in the Lone Star State?
Then you may take advantage of TXST's Early Admission Program. Simply put, it involves local junior and senior high school students taking college-level courses at the university itself. However, the said program is exclusive for those who meet or even exceed the institution's freshman assured admission requirements, which include:
Graduating with the HB5 or UAP diploma type
Meeting the class rank requirement
Meeting the minimum SAT or ACT score requirement
Which Factors Do Admissions Officers at Texas State University Consider?
The admissions officers at Texas State University consider both academic and non-academic factors when reviewing applications. Among academic factors, two very important ones are the class rank and SAT or ACT score. Many admissions factors other colleges and universities consider are not considered at TXST.
Earlier, we talked about the fact that you have high chances of receiving an acceptance letter from Texas State University because it has a high acceptance rate of 85%.
You can further determine if you will get accepted to TXST by knowing the school's basis for selection.
Among the different academic factors, class rank and standardized test scores are deemed very important by TXST's admissions officers. The rigor of the high school curriculum and admissions essays are considered, too, but not as important as the others. The high school GPA and recommendation letters are not taken into account.
When it comes to the non-academic factors, the admissions officers at TXST do not consider a lot of things. What they look at, though, are extracurricular activities, talents, work experience and whether or not students are first-generation college students. Needless to say, the following are not required at all:
Interview
Alumnae member relation
Geographical location
State residency
Religious affiliation
Demonstrated interest
Cost of Attendance Stats
According to the latest numbers, the estimated cost of attendance (COA) at Texas State University amounts to $27,720 for Texas residents and $39,960 for non-Texas residents. The tuition and fees alone at TXST cost $11,860 for in-state students and $24,100 for out-of-state students.
Especially for students from low-income backgrounds, the COA is an important consideration when building a college list. That's because the figure they see determines whether or not the school should be added to it.
It goes without saying that the COA at TXST for Texas residents is cheaper for non-residents.
Filling out the FAFSA may help bring down the cost of going to Texas State University for both in-state and out-of-state. It's also a good idea for incoming freshman students at TXST to apply for the various competitive institutional scholarships available for them, although there are eligibility requirements to meet.
Let's take a look at the breakdown of the estimated COA for first-time, first-year undergraduates at TXST for both in-state and out-of-state students for the academic year 2022 to 2023:
| | | |
| --- | --- | --- |
| EXPENSES | COST (IN-STATE) | COST (OUT-OF-STATE) |
| Tuition and fees | $11,860 | $24,100 |
| Books and supplies | $790 | $790 |
| Room and board | $11,460 | $11,460 |
| Travel | $1,340 | $1,340 |
| Personal/miscellaneous | $2,270 | $2,270 |
| TOTAL | $27,720 | $39,960 |
TXST Cost of Attendance
Online Programs
Like many traditional colleges and universities, Texas State University offers online degree programs for non-traditional students. Some of them are undergraduate degrees, while others are graduate degrees. As a matter of fact, some of the online degree programs offered by TXST can be completed 100% online.
One of the nicest things about working on an online degree program at Texas State University is that both in-state and out-of-state students pay the same tuition cost: $952.08 per three-credit-hour course.
Degree-seeking working adults or parents will love the fact that some online degree programs at TXST are self-paced or fully online, although some courses may require brief face-to-face sessions, such as those with lab components. There are also hybrid online degree programs that consist of both online and on-campus classes.
Unfortunately, there are not a lot of online undergraduate degree programs available at TXST. They include:
Health information management
Registered nursing
Respiratory therapy
Social work
But the good news for those who like to earn a master's degree online is that there are numerous online graduate degree programs TXST offers. Some of them are:
Accounting and information technology
Computer science
Construction management
Data analytics and information systems
Developmental education
Educational technology
Family nurse practitioner
Health administration
Interdisciplinary studies
Public health education and promotion
Respiratory care
Secondary education
Social work
Software engineering
Technical communication
Just Before You Apply to Texas State University
Texas State University is just one of the more than 260 colleges and universities in Texas, some of which are members of the state's six university systems. This means that TXST is just one of your many, many options!
Above, we talked about an assortment of important matters about TXST, ranging from its college rankings, campus size, cost of attendance to student life and diversity. Take your time when deciding if you should apply to TXST or whether or not you should enroll in it after getting an acceptance letter for the most fulfilling and rewarding college education.

Disclaimer: The views and opinions expressed in this article are those of the authors and do not necessarily represent those of the College Reality Check.