Being an Ivy League school, Cornell University accepts only a small fraction of applicants. Since it's your dream to hold a degree from a prestigious school, you may be wondering how you could get into it.
To get into Cornell University, one must have a high GPA, test scores, college-level class grades, and class rank. Having a winning school report, recommendation letters, and Common App and supplemental essays are also recommended to get into Cornell University.
Confused as to whether or not you should put Cornell University on your college list? Keep reading.
In this article, we will talk about the things that could increase your chances of gaining admission into this elite institution with a massive campus that's located in Ithaca, New York.
After reading this, you will find it easier to determine if applying to Cornell University is a sensible and realistic step to take.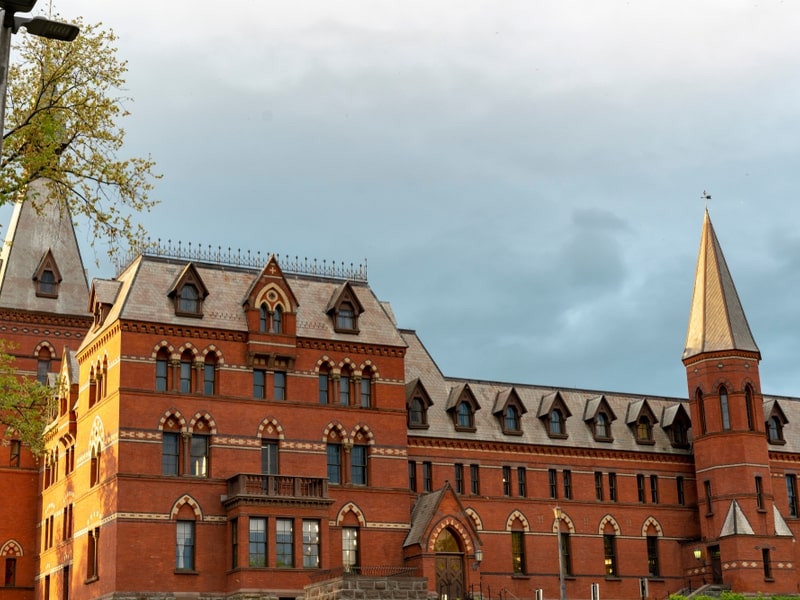 Is Cornell University Prestigious?
Many things make Cornell University a prestigious school. For instance, it has a low acceptance rate and challenging academics, which causes it to attract some of the brightest students. Being one of the eight Ivy Leagues and a high-ranking school, Cornell University is the dream school of many.
It's not all the time that Cornell University is seen on a college list. That's because everyone knows that gaining admission into it is limited to those who can impress the admissions officers with their application.
However, it doesn't mean that you should not consider applying to Cornell University. If you have a strong application, your admissions chances are good. And if you are not that confident with your application, Cornell University would make for a wonderful reach school, which is vital for attaining a balanced college list.
Cornell University Rankings
Cornell University is #17 in 2022 Best National Universities by US News, which is the lowest ranking among the eight Ivy League schools. Meanwhile, it is #2 in 2022 Top Private Universities in America by Niche. Cornell University is #21 in 2022 QS World University Rankings by TopUniversities.com.
Since it is one of the most elite institutions in the US, it doesn't come as a surprise why you may come across Cornell University in just about every college ranking you check out.
But just like what's mentioned above, Cornell University is usually the lowest-ranked Ivy League. It's true not just for US News rankings but others, too, by various college rankers.
However, it doesn't mean that the Ithaca, New York-based school is easy to get in. Keep in mind that, no matter what the rankings say, Cornell University is still one of the best.
The following are some other Cornell University rankings by US News:
#21 in Most Innovative Schools
#22 in Best Undergraduate Teaching
#22 in Best Value Schools
#52 in Best Colleges for Veterans
On the other hand, here are a few other Cornell University rankings by Niche:
#2 in Best Big Colleges in America
#2 in Best Colleges in New York
#3 in Best Value Colleges in New York
#17 in Colleges With the Best Academics in America
And here are some of Cornell University's rankings by Forbes:
#8 in The Northeast
#11 in Private Colleges
#13 in Top Colleges
#13 in Research Universities
What is Cornell University Known For?
Cornell University is known as the Ivy League with the highest acceptance rate. It is the youngest, too, founded in 1865. Cornell University is renowned for its various graduate schools. The institution is also home to the esteemed College of Veterinary Medicine and School of Hotel Administration.
With a campus size of 2,300 acres that houses more than 260 major buildings, it's no wonder why Cornell University is the largest institution among all eight Ivy League schools.
It also has one of the largest populations. As a matter of fact, as of 2020, the school has 23,620 students.
The motto of Cornell University is "I would found an institution where any person can find instruction in any study", which was once said by its founder, Ezra Cornell. True enough, to date, you can choose from nearly 80 majors and over 120 minors. There are also various dual-degree programs available.
Here are some of the most popular disciplines students at Cornell University major in:
Agricultural Sciences
Architecture
Biology
Business
Computer Science
Economics
Engineering
Environmental Science
Information Technology
Physics
Sociology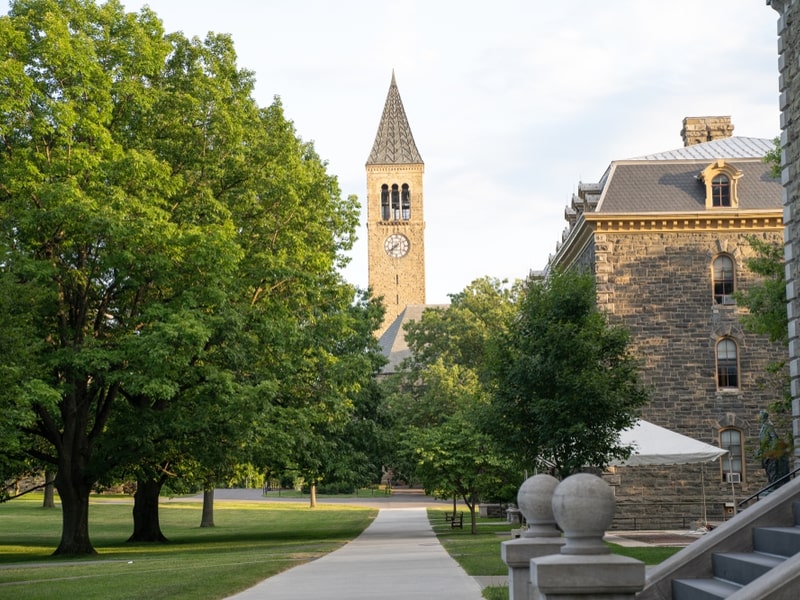 How Much Does Cornell University Cost?
The total cost of attending Cornell University for the academic year 2021 to 2022 will depend on which college a student attends. The tuition for endowed colleges costs $60,286. On the other hand, the tuition for state contract colleges costs $40,382 (in-state) and $60,286 (out-of-state).
Since Cornell University is a private institution, just like the rest of the Ivy Leagues, one would assume that all students, whether residing in New York or not, pay the same amount of tuition.
But just like public colleges and institutions, Cornell University has in-state and out-of-state tuition.
How much money you have to shell out as a student at the prestigious school will depend on which of its various colleges you are enrolled in. The tuition is higher for endowed colleges, which are privately funded. Meanwhile, because state contract colleges receive funding from the state of New York, the tuition for enrolling in them is lower.
The following are Cornell University's endowed colleges:
College of Architecture, Art and Planning
College of Arts and Sciences
College of Engineering
Cornell SC Johnson College of Business – School of Hotel Administration
And here are the various state contract colleges at the institution:
College of Agriculture and Life Sciences
College of Human Ecology
Cornell SC Johnson College of Business – Charles H. Dyson School of Applied Economics and Management
School of Industrial and Labor Relations
When building a realistic college list, one of the most important considerations is the cost of attendance.
To have an idea of whether or not Cornell University would make for a good addition to yours, take a look at the following breakdown of the estimated cost of attendance for the academic year 2021 to 2022:
| EXPENSES | ENDOWED COLLEGE | OUT-OF-STATE | IN-STATE |
| --- | --- | --- | --- |
| Tuition | $60,286 | $60,286 | $40,382 |
| Student activity fee | $309 | $309 | $309 |
| Health fee | $420 | $420 | $420 |
| Room and board | $16,396 | $16,396 | $16,396 |
| Books and supplies | $1,000 | $1,000 | $1,000 |
| Personal | $1,876 | $1,876 | $1,876 |
| TOTAL | $80,287 | $80,287 | $60,383 |
Cornell in-state vs. out-of-state
Acceptance Rate at Cornell University
The acceptance rate at Cornell University is 10.9%. Among the Ivy Leagues of which the school is a part, Cornell University has the highest acceptance rate. Still, its acceptance rate is so much lower than the national average of 66%, says the National Association for College Admissions Counseling.
Refrain from assuming that just because Cornell University accepts more applicants than other Ivy League schools means that you are not going to have a challenge gaining admission into the prestigious institution.
If your application is not what's in the minds of its admissions officers, rejection is very much likely.
Some colleges and universities in the US have an acceptance rate of 100%. This is especially true for those with an open-admissions policy where a high school diploma or an equivalent, such as a GED certificate, is all that is needed to get accepted into them. In contrast, those with an acceptance rate of less than 100% are selective to some degree.
With an acceptance rate of 10.9% only, there is no denying that Cornell University is one of the most selective institutions for higher education in the country and the globe, too.
Here are the academic factors that play a role in the admissions process and their relative importance:
Academic rigor – very important
GPA – very important
Standardized test scores – very important
Recommendation letters – very important
Application essay – very important
Class rank – important
And now, the following are the non-academic factors considered and their relative importance:
Extracurricular activities – very important
Talent or ability – very important
Personal qualities – very important
Interview – considered
First-generation – considered
Alumni member relation – considered
Geographical residency – considered
State residency – considered
Race or ethnicity – considered
Volunteer work – considered
Work experience – considered
What are the Requirements to Get Into Cornell University
Being highly selective, Cornell University accepts very few students and requires applicants to submit a lot of things. They include school reports, transcripts, recommendations, Cornell questions, additional essays, test scores, and interviews. In some instances, additional submissions are a must.
Many teens bound for college dream of earning a degree from Cornell University. And if you are one of them, expect that you will have to meet all kinds of requirements and submit all sorts of essentials.
It's not enough that you complete your Common App and submit it on time — Cornell University is NOT one of the a little less than 200 US colleges and universities that accept the Coalition App. It's also a must that the following things are received by the admissions office of the school in order to be considered:
School report. Simply put, your school report is a form that is completed by your high school counselor. It contains information essential for college application. Some of them are your transcript and details on the school's academic program in general — at Cornell University, academic rigor is an admissions factor.
Counselor recommendation. The contribution of your high school counselor in your college application process does not end with the filling out and submission of your school report. He or she will also need to create a written statement about you. Needless to say, a counselor recommendation is an important requirement.
Teacher evaluations. Cornell University requires applicants to submit not one but two teacher evaluations. It's a good idea to approach those who know you very well. Cornell's admissions officers say that your name and date of birth should appear on all pages if the evaluations will be sent through mail.
Questions and writing supplement. For the admissions officers to know whether or not an applicant's intellectual goals will match the college or school to which he or she is applying, Cornell University-specific questions will have to be answered, and a handful of essays will have to be written.
Related Article: How Important are Supplemental Essays?
Standardized test score. The average SAT score of students accepted into Cornell University is 1400 to 1560. On the other hand, the average ACT score is 32 to 35. However, it's important to note that, as of this writing, Cornell University is test-blind. This means that test scores are not considered even if they are submitted.
Related Article: Is It Harder to Get 36 on ACT or 1600 on SAT?
Interview. Many applicants ask Cornell University for an interview. This is especially true for those who wish to show demonstrated interest. However, demonstrated interest is not considered an admissions factor. Only certain programs require applicants to undergo an interview, like architecture.
Additional submissions. Sometimes, applicants will have to also submit portfolios and others. It all depends on the majors they choose. Expect to meet additional requirements if you will declare architecture, design and environmental analysis, art, or fashion design and management as your major.
Now that you know the different academic and non-academic admissions factors, which we discussed earlier, and the various requirements to meet, you will find it easier to determine your chances of getting accepted into Cornell University, especially with the help of a college chances calculator.
The following is the academic profile of a student whose admissions chances are pretty good:
GPA: 3.9
Class rank: Top 10%
SAT: 1550
ACT: N/A
APs: World History – 5, English Literature – 5, Chemistry – 4, Physics – 4
State: New York
Legacy: Grandfather attended Cornell University
EAs: Founder of the Soup Kitchen Volunteer Club, vice president of the Art History Club, member of the Chemistry Club, columnist for the high school newspaper, water polo varsity player
Awards/honors: GPA Award, Super Scientist Award, Technology Whiz Award, MVP of the water polo team for two consecutive years
Recommendations: Guidance counselor – 10/10, teacher #1 – 10/10, teacher #2 – 9/10
Essays: Common App essay – 8/10, Cornell University essay – 8/10
Famous People That Went to Cornell
There are many notable Cornell University former students or graduates. Well-known alumni members range from botanists, astronauts, physicians, politicians, judges, lawyers, writers, academic administrators, businesspersons, CEOs, social media founders, musicians, to movie and TV personalities.
Some students take a look at factors such as cost of attendance, acceptance rate, minimum GPA and test score requirement when creating a college list. But then there are also those that check out the names of famous graduates.
It's nice to apply to a college or university attended by some people whose names ring a bell. That's because it can give you an idea of what you could become one day by earning your degree from the institution. In the case of Cornell University, there is not a shortage of popular individuals who went to it.
Some of the most notable Cornell University alumni members include:
Mae Jimson – First African-American woman in space
Vera Rubin – Astronomer
Gabrielle Giffords – US House of Representatives member from 2007 to 2012
Ruth Bader Ginsburg – Second female justice of the US Supreme Court
Janet Reno – US Attorney General from 1993 to 2001
Sandy Berger – US National Security Advisor from 1997 to 2001
Abraham Maslow – Academic and psychologist
Toni Morrison – Novelist
E.B. White – Writer
Pearl Buck – Writer
Ratan Tata – Chairman Emeritus of Tata Sons
Gillian Anderson – Actress
Jane Lynch – Actress
How Does Cornell University Fare Against Others?
Because Cornell University is one of the Ivy Leagues, it is often compared with other schools included in the group. The institution is a standout because it has the highest acceptance rate and the largest campus (2,300 acres). Despite being a private institution, Cornell University has in-state tuition.
It's not uncommon for a college-bound high schooler who plans to attend an Ivy League to apply to another Ivy League school or one that has an Ivy League status.
When shortlisting institutions and you are planning to include Cornell University, make sure that you compare it with other schools, preferably those with pretty much the same status. This allows you to know which one should be at the top and which one should be removed from the list, especially because applying to colleges isn't free.
Here's how Cornell University compares with other schools that you would probably add to your college list:
Cornell University vs. Cornell College. These schools are entirely different from each other. One is an Ivy League in New York, and the other is a small liberal arts college in Iowa.
Cornell University vs. Columbia University. Fewer students share Cornell's campus, which is larger than that of Columbia. Despite this, Columbia's student-to-faculty ratio is better — 6:1 vs. 9:1.
Cornell University vs. Harvard University. Ranking-wise, Harvard is usually higher than Cornell. However, Cornell has more majors to offer and a higher acceptance rate, too.
Cornell University vs. Brown University. Attending Cornell is cheaper than attending Brown, which is considered the most expensive Ivy League. The tuition at Cornell is cheaper for New York residents.
Cornell University vs. NYU. Unlike Cornell, NYU isn't an Ivy League. Still, it is one of the most prestigious schools in the US. NYU is cheaper and has more majors to offer than Cornell.
Cornell University vs. Barnard College. The acceptance rates at Cornell and Barnard are less than 1% apart from each other — 10.9% vs. 11.8%. This makes them equally very selective schools.
Read Next: What Makes Cornell Unique?
Just Before You Apply to Cornell University
Not everyone has the guts to put Cornell University on the college list. This is especially true for those who are unhappy with their academic profile and, ultimately, application.
If you have a solid application that can wow the admissions officers of some of the most revered US colleges and universities, there is nothing wrong with applying to Cornell University.
Feel free to apply to it, too, if your application isn't that remarkable, but you feel that the Ivy League would make for a wonderful reach school.
Read Next: How to Get into Columbia University