Columbia University is an academic institution that many college-bound students add to their list of dream schools.
Located in New York City, the elite school is highly selective, with a single-digit acceptance rate.

Getting into Columbia requires you to be an above-average student, preferably graduating in the top 10% of your high school class. A GPA of 3.95 and an SAT or ACT score of 1580 or 35, respectively, can strengthen your college application to the Ivy League, which is one of the top colleges in the US and all over the globe, too.

Still considering applying to Columbia University after what you've just read? Then keep reading!
Is Columbia Prestigious?
Being one of the eight Ivy Leagues, there is no denying that Columbia University is a prestigious institution. It is also home to the Pulitzer Prize, an award regarded as the highest national honor for outstanding achievement in print journalism, literature, and musical composition within the US.
Various college ranking sites won't seem complete without mentioning Columbia at least once. The fact that it is an Ivy League is proof enough that it is one of the most prominent schools in the land.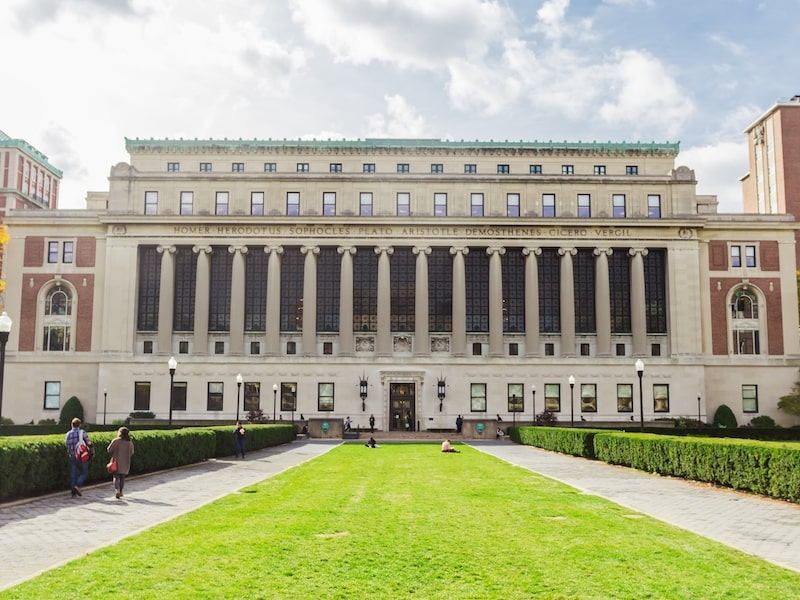 A private institution founded in 1754, Columbia University has a 36-acre urban campus.
Columbia has a total of twenty schools, four of which are graduate schools. The Ivy League, which is located in New York City, New York, offers 70 majors and 90 undergraduate degrees.
Some of the best majors at Columbia University are Architecture, Engineering, Computer Science, Philosophy, Political Science, Math, English, and History.
By the way, Columbia is one of the most racially diverse universities in New York state.
Columbia University Rankings
Columbia University is #2 in National Universities by US News. The school is #1 in Best Colleges in New York, #1 in Colleges With the Best Academics in New York, and #11 in Best Colleges in America, all by Niche. Meanwhile, Columbia is #19 in the QS World University Rankings by TopUniversities.com.
Like other Ivy League schools, Columbia University tends to dominate the world of college rankings.
It's true that college rankings are subjective. So, in other words, just because a particular institution is at the top of a college ranker's list doesn't mean that it should also be at the top of your college list. When building a college list, consider factors that are important for you — college rankers take into account factors that are important for them.
However, checking out college lists can, in fact, help make it easier for any college-bound teen to know which institutions are known best for which particular categories, thus facilitating college list building.
Let's take a look at some other Columbia rankings by US News:
#7 in Best Value Schools
#33 in Best Undergraduate Teaching
#54 in First-Year Experiences
#57 in Most Innovative Schools
The following are a few other Niche rankings for Columbia University:
#1 in Colleges With the Best Professors in New York
#8 in Hardest Colleges to Get Into in America
#11 in Top Private Universities in America
#12 in Most Diverse Colleges in America
#21 in Best Greek Life Colleges in New York
#40 in Best Value Colleges in America
Lastly, here are the various Columbia rankings by Forbes:
#3 in the Northeast
#4 in Private Colleges
#5 in Research Universities
#5 in Top Colleges
#48 in America's Best Value Colleges
How Much Does Columbia Cost?
For the academic year 2021 to 2022, the total cost of attending Columbia University is $82,584. The tuition and fees alone, which are the same for in-state and out-of-state students, amount to $63,530. Up to 50% of Columbia's students receive grants, while 16% of its students receive the Pell Grant.
There are some things that make adding Ivy League schools to one's college list unrealistic for some sophomore and junior high school students. One of them is that these elite schools tend to have steep sticker prices.
Based on data from the College Board, the average tuition and fees at private non-profit four-year institutions are $38,070.
On the other hand, as of this writing, the Ivy League with the lowest tuition and fees is Harvard University, which equals $51,143. So, in other words, the tuition and fees at Ivy League schools are higher than average.
Wondering which Ivy League has the highest tuition and fees? Columbia, the one we're discussing!
Since the cost is one of the most important factors that need to be taken into account when building a college list, let's take a look at the breakdown of the estimated cost of going to Columbia University for one academic year:
| EXPENSES | COST |
| --- | --- |
| Tuition and fees | $63,530 |
| Room and Board | $15,450 |
| Books and Personal | $3,604 |
| TOTAL | $82,584 |
Columbia University Cost of Attendance
For 50% of all students attending Columbia, the cost of attendance is lower because of grants coming from the New York City-based institution.
Each recipient receives an average of $52,073. While the amount is substantial, unfortunately, it's not enough to cover the steep tuition and fees for undergraduate students at Columbia University.
Columbia itself says that it awards over $150 million per year in scholarships and grants from various sources.
Requirements to Get Into Columbia
Leading the list of requirements for first-year applicants to Columbia University is a completed Common App or Coalition App. There are also essays to write and Columbia-specific questions to answer. School reports, test scores (optional), and recommendation letters are application requirements, too.
No matter if you are thinking of applying to Columbia Regular Decision or Early Decision, which we will talk about in a few, submitting all of the requirements is of utmost importance for your application to be considered.
Make sure that you will be able to submit everything necessary by checking out the following checklist:
Application. Unlike some US colleges and universities, Columbia accepts both the Common App and Coalition App. It's completely up to you to choose which one you will use to apply to the prestigious school. Columbia University also accepts the QuestBridge Application from QuestBridge finalists.
Application fee or a fee waiver. When applying to Columbia, you will have to pay a non-refundable fee of $85. Requesting an automatic fee waiver is also possible, although eligibility requirements must be met.
Extracurriculars and personal essay. Providing a listing of your EAs and coming up with a winning personal essay is a great way to allow the admissions officers of Columbia to know more things about you, in particular the kinds that your GPA, standardized test score and class rank won't be able to reveal.
Columbia-specific questions. There are also various questions that you will have to answer when sending an application to Columbia University. The required word count tends to vary from one question to the other — some should not be more than 75 words, while others should not exceed 200 words.
Transcript and school report. Columbia University will need to get your hands on your official high school transcript and mid-year report. It's your high school counselor who will be tasked with providing them.
Recommendation letters. You will have to obtain a total of three letters of recommendation to meet all the application requirements at Columbia. One will have to come from your high school counselor, and the other two will have to come from teachers who taught you subjects in core academic areas.
SAT or ACT score. As of this writing, like many institutions for higher education in the US, Columbia is test-optional. Needless to say, it is up to you whether or not you will submit either your test score.
Interview. Some first-year applicants will be interviewed by Columbia's volunteer alumni members. Fret not if you will not be asked to undergo an interview as it will not disadvantage you in the admissions process.
Columbia University Acceptance Rate
Only a very small fraction of applicants to Columbia University gets accepted because of the school's very low acceptance rate of 5.1%. As a result, it is one of the most selective schools in the country. A CBS News ranking says that Columbia is the eighth hardest college in the US to get into.
Some of the colleges and universities with the lowest acceptance rates are the Ivy League. And since Columbia is one of them, it isn't surprising why receiving an offer from its admissions office can be very rare.
To give you a better idea of Columbia's selectivity, only 51 out of every 1,000 applicants get accepted into it!
Among the various Ivy Leagues, Columbia University has the second-lowest acceptance rate — Harvard University has the lowest acceptance rate of 4.5%.
Whether you are thinking about applying to Columbia or any other Ivy League school, having an academic profile and overall application that can impress is a must.
Like most colleges and universities in the US, Columbia has a holistic admissions policy. This means that its admissions officers evaluate applicants by considering many things other than just their GPAs and test scores.
In addition, the school has a committee-based approach. Simply put, before an applicant is admitted, multiple members of the admissions office will carry out an examination and discussion. This means that your application will have to look extraordinary in the eyes of different committee members.
Here are some of the things that the admissions officers check out in an application:
Academic rigor
GPA
SAT or ACT score
Family circumstances
Access to resources
Community
Personality or character
Extracurriculars
Recommendations
After knowing what Columbia looks for in applicants as well as the things they require to be submitted, which we discussed earlier, you can have a much better idea of your chances of getting accepted into the Ivy League school in New York City. Using your preferred college chances calculator can help speed up the process.
Still on the fence as to whether or not your application can make the heads of Columbia's admissions officers turn toward it?
You can compare yours with the following profile of an applicant who is very much likely to get accepted:
GPA: 3.95
Class rank: Top 5%
SAT: 1580
ACT: 35
APs: French Language and Culture – 5, European History – 5, Statistics – 5, Microeconomics – 4, Calculus AB – 4
State: New York
Legacy: Both parents graduated from Columbia University
EAs: Co-founder of History Club, French Club and Western Arts Club, vice president of the Literature Club, contributing editor for the high school newspaper and yearbook, varsity player for the lacrosse and soccer team, volunteer for the local chapters of the American Red Cross and the Humane Society
Work experience: Tour guide at a local museum and art gallery
Awards/honors: GPA Award, Perfect Attendance Award, National Student Volunteer Award, National Student Volunteer Award, Model UN Award (2nd place), National Geographic Bee (3rd place)
Recommendations: High school counsellor recommendation – 9/10, teacher recommendations – 10/10
Essays: Personal essay – 9/10, Columbia-specific questions – 8/10
Is Early Decision at Columbia Worth It?
Applying early to Columbia University is one of the best ways to show demonstrated interest. Applicants who wish to apply through this decision plan have until November 1 to send their applications and all the requirements. On the other hand, the Early Decision financial aid applications deadline is November 15.
Out of the eight Ivy Leagues, only five schools offer Early Decision, and Columbia is one of them. The rest offer other decision plans that enable interested students to apply earlier than everybody else.
There are some perks that come with applying Early Decision to one's top-choice school.
Hearing from the admissions officers early is one. Through Early Decision, college-bound kids need not suffer from unnecessary stress and anxiety longer.
Applying Early Decision may increase an applicant's chances of getting an offer, too. Generally speaking, Early Decision acceptance rates are higher than Regular Decision acceptance rates.
We mentioned earlier that the acceptance rate at Columbia University is 5.1% only. But it's a different story when it comes to the Early Decision acceptance rate. That's because the figure climbs up to 15.1%.
Additionally, almost 50% of the incoming class at the Ivy League school are Early Decision applicants.
Many US colleges and universities consider demonstrated interest as one of the various non-academic admissions factors. So, in other words, their admissions officers have a penchant for applicants who exhibit their willingness to attend if accepted, such as taking campus tours, attending events and applying Early Decision.
The Ivy Leagues, on the other hand, do not care about demonstrated interest at all. That's because they are aware of the fact that high schoolers who apply to them have placed them on the very top of their college lists. According to Columbia itself, its Early Decision acceptance rate is higher because of stronger applications.
Check out this table to make sure that you won't miss any application deadline:
| DECISION PLAN | DEADLINE | DECISION NOTIFICATION |
| --- | --- | --- |
| Early Decision | 1-Nov | Mid-December |
| Regular Decision | 1-Jan | Early April |
Famous People That Went to Columbia
One of the things that make Columbia University popular is its list of notable alumni members. Some of them are political figures, including some of the nation's Founding Fathers. Many scientists, chairpersons, CEOs, and writers went to Columbia, too. Other alumni members are in sports and show business.
Some students check out minimum GPAs and test scores, cost of attendance, and available majors when building a college list. But then there are also those who investigate a school's well-known graduates or former students.
There are numerous individuals whose names might or certainly ring a bell that once went to Columbia University. Having an idea of who they are can give you hope and confidence that earning a degree from an Ivy League school could also make you somebody that a lot of people recognize.
Here are some of the most notable alumni members of Columbia:
Alexander Hamilton – One of the Founding Fathers of the US
John Jay – One of the Founding Fathers of the US and the first Chief Justice of the US
Barack Obama – The 44th president of the US
Madeleine Albright – First female US Secretary of State (1997 to 2001)
Chelsea Clinton – Daughter of former US President Bill Clinton and former US Secretary of State Hillary Clinton
Alan Greenspan – Former chair of the Board of Governors of the Federal Reserve (1987 to 2006)
Warren Buffett – Chairman and CEO of Berkshire Hathaway
David Rockefeller – Banker who served as chairman and CEO of Chase Manhattan Corporation
Amelia Earhart – First female aviator to fly solo across the Atlantic Ocean
Abraham Maslow – Psychologist best known for creating Maslow's hierarchy of needs
Isaac Asimov – Biochemist and instrumental in the Golden Age of science fiction
Allen Ginsberg – Poet considered one of the most significant products of the Beat movement
Dr. Ruth Westheimer – German-American sex therapist, media personality and talk show host
Hunter S. Thompson – Writer of "Fear and Loathing in Las Vegas" and creator of the Gonzo Journalism
Lou Gehrig – Professional baseball player nicknamed the "Iron Horse"
Kathryn Bigelow – First woman to win the Saturn Award for Best Director (1995)
Gene Roddenberry – Creator and executive producer of the TV series Star Trek
Jake Gyllenhaal – Award-winning actor
Art Garfunkel – Member of the folk-rock duo Simon & Garfunkel
Alicia Keys – Multiple Grammy Award-winning singer and songwriter
Just Before You Apply to Columbia
Many students never attempt to include Columbia University on their college lists. This is especially true for those who are not that confident with their academic profile and thus refrain from wasting money on the application fee.
But if you know that you have a solid application, feel free to apply to Columbia.
Above, we discussed some of the most important matters you need to know about the Ivy League school, including admissions-related ones.
Even if Columbia University has a very low acceptance rate and high academic profile requirement, getting accepted into it is very much possible if you are able to wow its admissions officers.
Read Next: How to get into Harvard