What Does Liberal Arts College Mean? Pros and Cons
Liberal arts colleges are 4-year academic institutions that are smaller in enrollment than large universities.
They specialize in teaching students with a broad knowledge that prepares them for various career options after earning their bachelor's degree.
In the United States, it's estimated that there are 200 liberal arts colleges, most of which are privately-run schools.

Instead of allowing students to focus on specific careers such as accounting, business, computer science, or engineering, liberal arts colleges encourage their students to become well-rounded and broadly educated learners through disciplines including the arts, humanities, social sciences, and the sciences.
As such, they can become a part of the workforce as some of the most versatile people.

Got a few liberal arts schools on your college list?

In this post, we will talk about some of the most important matters you need to know about liberal arts institutions, from how they came into being and common misconceptions about them to the pros and cons of being a liberal arts student.
A Brief History of a Liberal Arts Education
Perhaps one of the oldest fields of study in the academic sphere is liberal arts.
After all, it is rooted in Ancient Greece when men had to be prepared in order to be able to make crucial political, economic and cultural decisions for the city-state — training in philosophy, grammar, rhetoric and arithmetic was a requirement for civic engagement.
It didn't take long for this scholastic model fabricated by the Ancient Greeks to be adopted by the Ancient Romans, albeit adding a personal touch to it by referring to it as humanitas (human nature or civilization).
The Dark Ages struck, and the changing times caused the liberal arts to fall into two groups.
First, there was trivium, which was considered an introductory curriculum at medieval universities. It involved the study of grammar, logic and rhetoric.
And then there was quadrivium, which was a higher-level curriculum taught at medieval institutions.
It involved the study of the so-called mathematical arts (arithmetic, astronomy and geometry) and music.
More difficult than trivium, quadrivium was administered to students in order to prepare them for more advanced studies of theology and philosophy.
Prominent European schools, including the University of Oxford and the University of Cambridge, which are the oldest and second-oldest universities in the English-speaking world, respectively, taught a liberal arts curriculum.
As expected, American institutions patterned after them, including Harvard University and Yale University, adopted the same curriculum, asserting that a comprehensive education must have a broad and deep groundwork.
Since then, a liberal arts focus has become a staple in Ivy League training.
Washington College, which is considered the oldest liberal arts college in the US, was founded in 1782 — it was the 10th oldest college in the US and also the first college chartered after the birth of American independence.
3 Common Liberal Arts Education Misconceptions
Because liberal arts is both old and broad, it isn't surprising why there are many misconceptions about it, most of which can keep students who could benefit tremendously from attending liberal arts colleges or taking liberal arts degrees from enjoying the best possible college experience and career opportunities.
It goes without saying that busting some of the myths surrounding liberal arts can encourage many college-bound teens to consider it sans any doubts or hesitations that false impressions can foster.
A liberal arts education is politically liberal
These days, liberal is something that is strongly tied to a particular political leaning.
It is associated with left individuals and groups that have liberal views — they support progressive reforms, including most especially the kinds that seek greater economic and social equality.
But a liberal arts education has very little to no association with any political meaning.
As a matter of fact, even before things such as liberals and conservatives in politics came into being, liberal arts was already referred to as such — liberal, just like liberty, comes from the Latin word "liber", which means free or unrestricted.
Simply put, liberal arts aims to liberate people through education.
As a liberal arts degree or college graduate, you can think of yourself as someone who is free to think for yourself because you have been trained and educated on how to think and not simply what is deemed right for you to think.
In the US, there are even conservative liberal arts colleges.
Some of the most conservative among all liberal arts schools in the country include Brigham Young University, Regent University and Liberty University.
A liberal arts education is for Christians only
Earlier, it was mentioned that liberal arts have their roots in Ancient Greece, which emerged around 1,000 years before Christianity came into being. This only means that it is not tied to any religion.
A liberal arts education, above all, has its foundations in the teachings of ancient Greek philosophers, including Aristotle and Plato, both of whom have existed long before Jesus Christ was born.
What's more, liberal arts itself appears in the writings of Cicero, a Roman philosopher, so many, many years before the Holy Bible was written.
However, it's true that some liberal arts colleges use a liberal arts education in order to provide their students with critical thinking skills, job preparation and a more profound relationship with God.
Some of the top Christian liberal arts colleges in the US include:
Ave Maria University
College of the Holy Cross
Davidson College
Dillard University
Drew University
Earlham College
Eckerd College
Hanover College
Huntingdon College
Macalester College
Rhodes College
Saint Anselm College
St. Mary's University – San Antonio, Texas
Westminster College
Wheaton College
A liberal arts education is all about humanities
Humanities, which is a multidisciplinary area that includes human society, history, and culture, is one of the many building blocks of a liberal arts education.
So, in other words, while it puts emphasis on humanities, liberal arts focus on numerous other disciplines, too, ranging anywhere from grammar, logic, and arithmetic to astronomy.
Math and the sciences are integral components of a liberal arts education.
So much so that they are some of the most robust academic programs or majors offered at many liberal arts colleges.
It's for this reason that some liberal arts degrees are referred to as Liberal Arts and Sciences.
Because of the fact that a liberal arts education includes many different subjects, it isn't surprising why students who are liberally educated are well-rounded undergraduates, which makes them primed and equipped to take on the challenges of an assortment of graduate degrees or career paths.
Nowadays, the general consensus is that the liberal arts sphere consists of the following fields:
Humanities – includes art, literature, philosophy, music, theater, classical and modern languages.
Social sciences – includes psychology, politics, law, history, psychology, sociology, gender studies.
Formal sciences – includes mathematics, statistics, logistics.
Natural sciences – includes chemistry, physics, biology, astronomy, archaeology, zoology, earth sciences.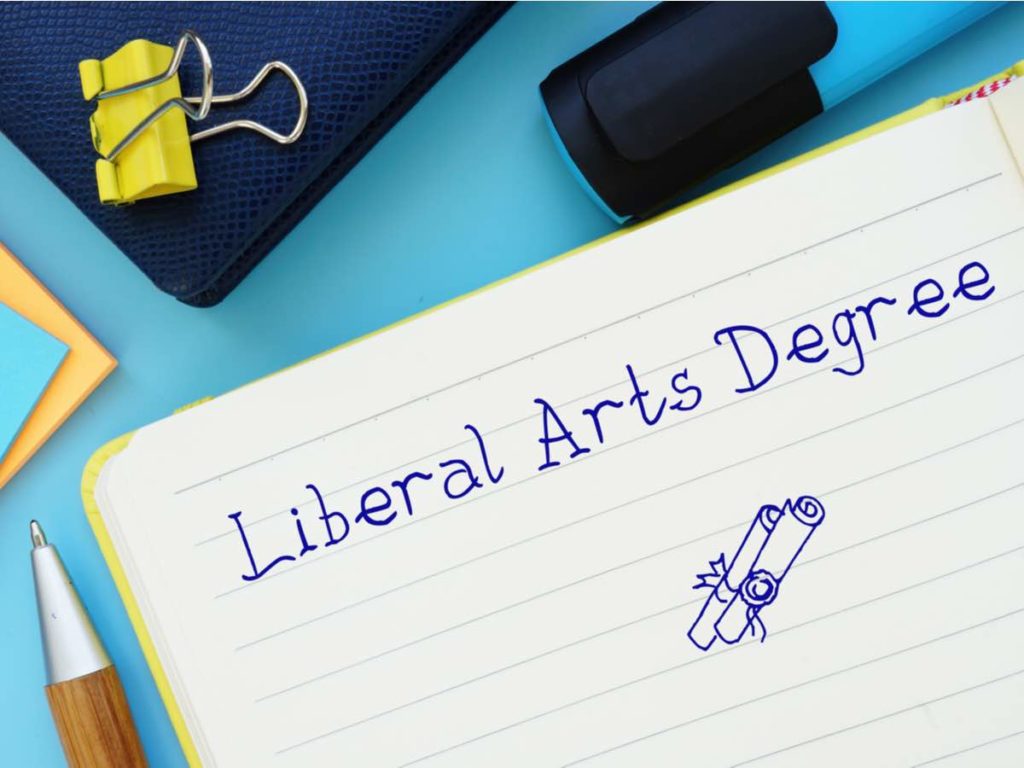 Pros and Cons of Liberal Arts College
Just like attending any university, you can rest assured that there are some advantages and disadvantages that come with going to a liberal arts college.
Similarly, just like obtaining any bachelor's program, there are some advantages and disadvantages that accompany earning a liberal arts degree.
On the fence as to whether or not you should go to a liberal arts college or earn a liberal arts degree?
Below, you will come across some of the pros and cons of being a liberal arts college or liberal arts program student.
By weighing them against one another carefully, you will be able to make a smarter choice.
| Pros | Cons |
| --- | --- |
| Smaller classes | Lack of focus on a specific discipline |
| Strong alumni network | Lower starting salaries |
| Transferable skills development | Lack of diversity |
| Job opportunities and graduate degrees | |
Attending liberal arts college: pros and cons
Pro #1: Smaller classes
Because the majority of liberal arts colleges offer a limited number of undergraduate programs, it isn't surprising why many of them in the US are small.
And because they are small and have a smaller studentry than large universities, classes at liberal arts colleges are smaller than usual, with some having as few as eight students.
As a result, every liberal arts college student can have the best possible college experience.
Hands-on learning opportunities, timely and useful feedback, closer associations with classmates — these are just some of the perks that come with small classes, which can lead to better grades and better-looking transcripts.
Pro #2: Strong alumni network
Thanks to the small classes held at liberal arts colleges, students can spend more quality time not only with their professors but also with their classmates.
And it's for this reason exactly why liberal arts students, especially at small liberal arts colleges, can create stronger and lasting friendships and more robust and far-reaching alumni networks.
According to a Forbes article written by a former university president, when it comes to applying for a job, knowing the right people may prove to be more important than knowing the right stuff.
It's not uncommon for liberal arts colleges to take pride in having solid alumni bodies.
As a matter of fact, in order to attract more students to apply, many colleges and universities consider having a strong alumni group as one of their assets, which can help their graduates land their dream jobs after earning their degrees.
Ask any career expert about a job search strategy that tends to deliver the best, and you will be told networking.
Pro #3: Transferable skills development
Earlier, we mentioned the fact that liberal arts students are well-rounded students because of the many different courses included in the program.
And grooming them to become versatile and multi-faceted individuals enables them to develop and master transferable skills that recruiters and employers want in candidates.
Critical thinking, creativity, problem-solving and effective communication are some of the core skills liberal arts studies help form, which allows those who possess them to enjoy a more holistic approach to take varying career paths.
Team-playing and collaboration are developed, too, courtesy of smaller classes discussed above.
While it's true that a liberal arts degree, whether from a liberal arts college or a large university, does not prepare students for a more focused career, it does groom them to earn a wide variety of skills, in particular transferrable ones, which they can leverage to their advantage to take on a wide variety of careers.
Pro #4: Job opportunities and graduate degrees
Besides allowing you to gear up for various career paths and employment opportunities, a liberal arts degree also lets you prepare for a graduate degree necessary for you to be able to become the professional you want to be.
Whether you already have a clear-cut career plan or are still on the fence as to which career goal to pursue, going to a liberal arts college or completing a liberal arts program at a university will allow you to get ready for the future, whether well-defined or yet unclear, while making the most out of your present time.
Many recruiters and employers are interested in liberal arts graduates as they are well-rounded individuals.
It's for the same reason why many elite graduate schools have a penchant for liberal arts degree holders — they are known to be balanced, creative and self-motivated people.
And there are many graduate program studies ideal for them, ranging from business education, computer science to engineering and even from medicine to law!
Con #1: Lack of focus on a specific discipline
When on the hunt for the negatives of attending a liberal arts college, you will learn that the general consensus is that a liberal arts education does not provide enough preparation for future employment.
It's true that liberal arts students learn many skills, a fact that we have established above.
Unfortunately, many of those skills lack technicality and real-world experience, which could lead to a couple of things.
First, graduates may have to learn hands-on skills after college in order to increase their job market value.
Second, fresh from college, employers who are looking for candidates with a more focused skill set may turn them down.
But on the flipside, liberal arts colleges or liberal arts degrees prepare students for jobs that are yet to come into existence! With all the skills liberal arts graduates possess, it's not unlikely for them to land those.
A World Economic Forum report says that 65% of today's students will ultimately end up having jobs that are still to be created.
Con #2: Lower starting salaries
In general, the estimated median starting salary for liberal arts majors equals $50,000.
In the survey, the said median starting salary is among the lowest.
Humanities majors such as English language and literature, foreign language and literature, history, philosophy, visual arts and gender studies all have a $50,000 estimated median starting salary, too.
Meanwhile, some of the highest earners immediately after college are the following:
| | |
| --- | --- |
| MAJORS | MEDIAN STARTING SALARY |
| Chemical engineering | $72,000 |
| Electrical engineering | $71,000 |
| Computer engineering | $70,750 |
| Materials engineering | $69,750 |
| Mechanical engineering | $69,000 |
| Physics | $67,700 |
| Biomedical engineering | $67,500 |
| Computer science | $67,500 |
| Nuclear engineering | $67,500 |
| Software applications | $66,800 |
| Environmental engineering | $65,500 |
| Information sciences and systems | $65,500 |
| Mathematics | $65,000 |
| Chemistry | $64,000 |
| Management Information Systems | $64,000 |
| Actuarial science | $62,400 |
| Advertising | $60,000 |
| Logistics | $60,000 |
| Food science | $59,000 |
| Business administration | $58,250 |
| Finance | $58,000 |
Con #3: Lack of diversity
At large universities, attendees become well-rounded by coming into contact with students of various races, ethnicities, cultures, religions, sexual orientations and many others.
One of the nicest things about attending a diverse school is that it helps to improve self-awareness, intellectual engagement, cultural engagement and a bunch of important skills, such as communication, problem-solving and critical thinking, during and beyond college.
Unfortunately for liberal arts colleges, they are notorious for lacking diversity.
Making matters worse is the fact that the vast majority of them have rural or suburban locations, a significantly limited number of undergraduate degrees conferred, and steep costs.
Because of the many downsides to attending liberal arts colleges, including the ones we have discussed thus far, the number of students attending them dwindles.
As a matter of fact, many small liberal arts colleges have decided to close up shop, such as St. Gregory's University, Trinity Lutheran College, Atlantic Union College and Mount Ida College.
During the last 50 years, of the 500 small private colleges in the land that focused on the liberal arts, nearly 30% of them have closed or merged with other institutions.
Still, there are some liberal colleges that are known to be diverse, and they include:
Agnes Scott College
Amherst College
Pacific Union College
Pine Manor College
Soka University of America
SUNY – Old Westbury
Swarthmore College
University of Hawaii – Hilo
Wellesley College
Whittier College
Are Liberal Arts Colleges Bad?
Liberal arts colleges are often criticized for being too expensive, too elitist, or too irrelevant in the modern economy.
However, these complaints are not entirely fair or accurate.
Liberal arts colleges offer a unique educational experience that can benefit students in many ways.
Here are some of the advantages of attending a liberal arts college:
Liberal arts colleges foster critical thinking, creativity, and communication skills that are essential for any career path.
Liberal arts colleges typically have smaller classes, more accessible faculty, and an emphasis on undergraduate education.
Liberal arts colleges provide a close-knit community of faculty and peers who can support and challenge students academically and personally.
Liberal arts colleges offer a more focused liberal arts education, which centers on the arts, humanities, and sciences, as opposed to schools that confer liberal arts degrees.
So, liberal arts colleges are not bad but rather viable path for students who seek a well-rounded and enriching education.

Disclaimer: The views and opinions expressed in this article are those of the authors and do not necessarily represent those of the College Reality Check.