Are Micro-Credentials Worth Getting In 2023
In the past, several businesses and organizations were on the hunt for short courses that their employees could take in order to obtain knowledge and skills specific to their workplace roles.
To make the long story short, micro-credentials, which are also known as micro-certifications, mini-degrees or nano-degrees, came into being.
Some people also call them web badges or digital badges as completion results in a digital certification or badge.
As of this writing, it is estimated that there are more than a couple of thousand micro-badges out there, each of them focusing on smaller elements of learning compared to traditional qualifications.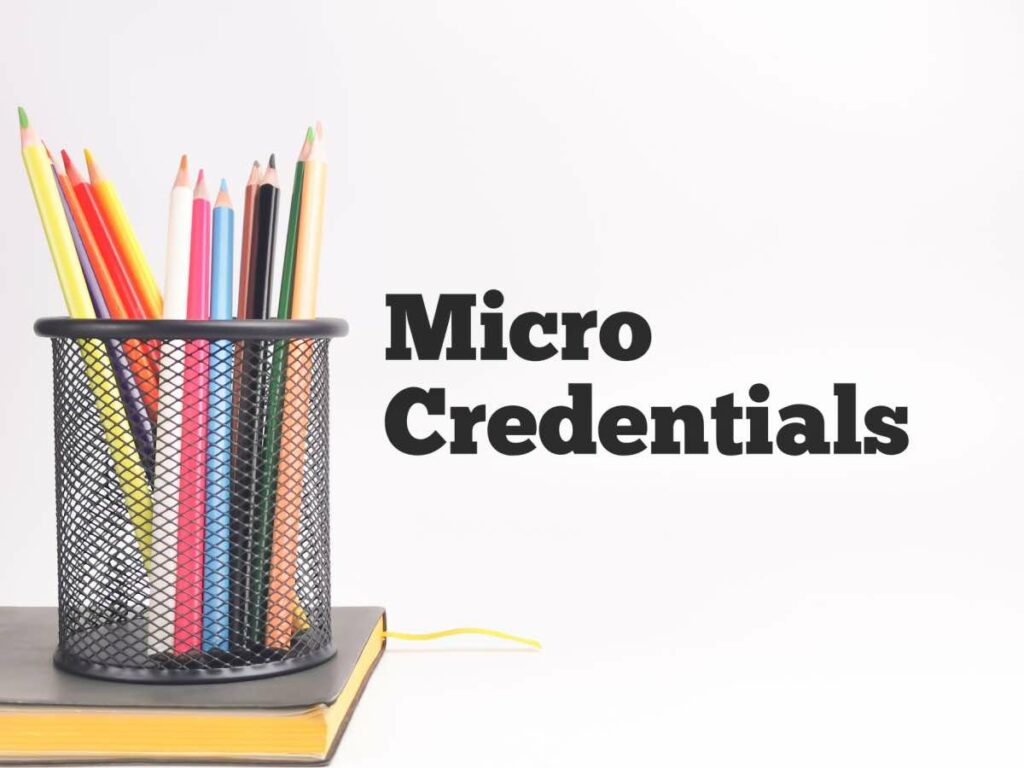 Top Benefits of Micro-Credentials
Micro-credentials are undeniably popular and sought-after these days.
As a matter of fact, up to 86% of employers in the US agree that micro-credentialing strengthens a candidate's resume, and around 39% of them have hired at least one candidate who has completed a micro-credential program.
Downsizing and shortening longer learning programs, as mentioned earlier, is the primary benefit of micro-credentialing — it allows participants to take on small and individual learning units, which may then be combined into broader and cohesive qualifications, depending on the courses.
It benefits not only employees but their employers, too, in many ways.
The following are some other perks that come with micro-credentialing:
Great Personalization Level of Micro-Credentials
Employees or team members, in most instances, have the opportunity to choose an area they find interesting or necessary to improve their knowledge and skill set.
So, in other words, they can have personalized micro-credentialing.
No matter if the business or organization is large or small scale, individuals can each be provided with a different micro-credential program with ease.
That's because other than simply giving departments or teams a uniform program, employers or heads can choose to give each one a program tailor-made to his or her duties and responsibilities or career goals.
Needless to say, the same group of people can each complete a different micro-credential program.
Different companies or organizations, as expected, have varying work practices and goals.
Employers can choose to work with the micro-credential provider to come up with a program that addresses the need for a modified learning journey in accordance with the specific needs of employees or skill set gaps in the workplace.
The delivery of the micro-credentialing program can be tweaked in that it can serve as an add-on or a precursor to a traditional qualification, or as a standalone qualification in a field of study traditional learning institutions have yet to offer.
Flexible Delivery Mechanisms
At the onset, it can be easy for practically anyone to fail to tell apart online courses and micro-credentials.
That's because micro-credentials, like online courses provided by traditional colleges and universities and various learning platforms operating on the web, are popularly administered through online methods.
However, as established earlier, micro-credentials tend to be narrower in range than traditional qualifications, including those that can be obtained through the internet, among a bunch of other key differences.
But similar to traditional courses as we know them these days, micro-credentialing can be delivered in other ways, too.
While it's true that the vast majority of micro-credentials are administered online, they can also be offered face-to-face just like how qualifications were originally intended to be earned.
And other than completing micro-credential programs fully via the net, it's possible for participants to accomplish the requirements blended — both in-person and over the internet.
So, in other words, micro-credentials can also be completed in a hybrid manner, which means that courses can be taken and competency assessments can be administered in accordance with the preferences of the employees or employers.
Scalability and Ease of Deployment
One of the things that separate micro-credentialing and earning traditional qualifications is that it's highly scalable — instead of committing to a large, single program, businesses and organizations can choose to have their employees undertake programs on an incremental basis so that certain actions may be immediately taken as necessary.
After the completion of one small program, for instance, assessment may be conducted in order to determine the micro-credential's effectiveness, thus allowing the employer to decide whether or not improvements are warranted.
As a result of this incremental delivery, immediate costs and time investments can be put to a minimum.
The delivery of micro-credential programs can also be done on a per-demand basis. For instance, the learning process can be worked around the schedules of the employees or the business or organization.
It's also possible to administer micro-credentialing only each time when a major project or change is being pursued or implemented.
Because of the ability of programs to be delivered on demand, employees can undergo training only when it's suitable and convenient for them, while employers can direct their resources only when it's most appropriate.
Focus on Degree-seeking Students
At some colleges and universities, high school students may complete micro-credentials that may allow them to earn college credits for elective courses, depending on the program.
For instance, St. Lawrence College, which is an applied arts and technology school located in Eastern Ontario, Canada, has invested in the so-called Mobile Training Labs that offer micro-credentialing for high schoolers, allowing them to earn college-level digital certificates and badges to help them have their college and/or professional careers started out.
It's also not uncommon for many postsecondary institutions to use micro-credentials in order to bridge complementary courses, such as by allowing undergraduates to take them for the attainment of specializations.
Micro-credentialing helps with student retention, too, by keeping attendees engaged and motivated to work on a degree.
Read Also: College Minor vs. Certificate
5 Best Micro-Credentials To Supercharge Your Career
The best micro-credential programs are those that learners warrant for increased job marketability or companies or organizations require for upskilling. Programs recommended by professional bodies, industry trends and provider reliability are all vital considerations in choosing micro-credentials that offer true value.
It is said that there were more than 1,500 micro-credential programs available by the end of 2021. And in 2022, it is estimated that around 2,500 micro-credentials were available for learners and employers to choose from.
Specialization courses offered by Coursera alone, as a matter of fact, make up nearly a third of all of them!
Because different employers and the people they work for have different needs, the subject of which micro-credentialing options are the best can be a relative matter.
Of course, it's a must to choose a program that suits the upskilling requirement and one from a reputable traditional learning institution or online platform for a digital certificate or badge worth something.
In any case, assessing and identifying which areas should be updated, expanded or included in one's roster of knowledge and skills allows for the selection of the most suitable and appropriate program.
Here are some of today's popular micro-credentials and what they entail:
1. Business
The vast majority of micro-credential programs in business essentials are commonly designed for and made available to business leaders who wish to further and expand their business expertise but do not have the means to enter graduate school or are unsure as to whether or not getting their hands on an MBA is the right fit for them.
Depending on the program of one's choosing, micro-credentialing in business adds skills in:
Accounting
Business law
Finance
Management
Many business essentials micro-credentials are non-degree although credit-bearing — we will talk about this matter later in the FAQs section near the end of the post, so don't stop reading now!
But then there are also those that are specifically designed for undergraduates who plan to pursue graduate studies.
Some micro-credential programs in business essentials touch on specific areas of the business realm only.
Others are made to be more comprehensive than the rest, usually providing a multi-course learning experience in order to cover a wide variety of important aspects of business such as:
Business ethics
Conflict resolution
Communication
Financial statement analysis
Human resource management
Managerial accounting
Negotiation
Performance management
Strategic marketing
Training and development
Visual analytics
2. Computer science
K-12 teachers in the US are on the lookout for alternative certification pathways to get their hands on computer science teaching credentials.
It's a good thing that many state education departments and associations of elementary and secondary school teachers have come up with sets of computer science micro-credential programs for today's educators.
However, it's not just among school teachers that micro-credentialing in computer science can be beneficial.
Due to the fact that computers and other related peripherals and devices are relied upon for so many different critical tasks at modern companies and organizations, computer science knowledge is pivotal in the health of just about any business.
Computer science micro-credentials are usually available in the following distinct levels:
Foundational
Intermediate
Advanced
Expert
Which computer science program a person should consider micro-credentialing in, of course, will depend on the goal, be it to update one's resume or to ensure having sufficient skills for interdisciplinary roles in the workplace.
Some of the most common topics covered by foundational computer science programs include computing systems, network and the internet, data and analysis and applied programming.
Soft skills usually earned in the process are attention to detail, communication, time management, organization and analytical thinking.
Meanwhile, advanced- or expert-level micro-credentialing is more suited for those with traditional credentials in computer science, whose programs can range anywhere from incident and analysis response to flutter mobile app development.
Read Also: Is C++ Worth Learning
3. Data science in engineering
The curriculum may consist of introductory data science concepts, data science communications and visualization concepts alright.
However, the data science in engineering micro-credential program utilizes project-based, experiential and integrative learning, adding a solid data science specialization to one's resume and helps develop an attractive portfolio.
Common soft skills learners can obtain include:
Collaboration
Communication
Critical thinking
Problem-solving
Professionalism
Teamwork
Given the nature of the concepts to learn in micro-credentialing in data science in engineering, it goes without saying that the program is designed for those who majored or are majoring in engineering.
4. EHR and billing and coding
Simply put, electronic health records (EHR) micro-credentialing introduces participants to the concepts and fundamentals of EHR, the electronic version of a patient's medical history, including all important administrative and clinical data (age, gender, health history, medications, lab test results, etc.) relevant to the individual's care under a particular provider.
Students learn how to troubleshoot and implement EHR in a medical setting through a micro-credential program.
On the other hand, a billing and coding micro-credential introduces students to various software tools and their respective functions, including billing and coding, patient registry, scheduling and others.
Most EHR and billing and coding programs combine theoretical and practical hands-on software use from administrative and clinical perspectives.
As such, participants gain comprehensive knowledge and skills in various pertinent areas, including anywhere from selecting an EHR vendor to transitioning from paper charts to digitized information.
In most instances, minimum entry requirements include basic knowledge of:
Computers
Internet
Software installation
Most EHR and billing and coding micro-credential programs have a preference for individuals who have a strong understanding and grasp of medical terminologies and the medical industry itself.
5. Marketing
Customer needs, company's offerings, technology, the competition — all of these are constantly changing.
It's therefore important for professionals who are in the marketing realm as well as team leaders to continually improve their marketing skills and stratagems as necessary in order to stay at the top of the game.
The importance of such is recognized by numerous online learning providers and platforms, which is why marketing-related micro-credentials come aplenty, each one offering the development of up-to-date digital marketing skills.
Some of the most sought-after programs in marketing these days include:
Content marketing
Digital marketing strategy
Marketing automation
Mobile marketing
Search engine optimization
Social media marketing
Web analytics
With around 72% of the overall marketing budgets of companies put towards digital marketing avenues, the ability to utilize digital marketing efficaciously and profitably is vital to success and customer satisfaction, too.
Micro-Credentials FAQs
Before we wrap things up, let's answer any remaining burning questions about micro-credentialing that you may have in your mind so that you can have a much better idea of what you are about to get yourself into.
Do micro-credentials appear on a traditional college or university transcript?
Whether or not micro-credentials are transcriptable (or could appear on the learner's transcript) will depend on whether micro-credentials earned are credit-bearing or not-for-credit.
Individuals who successfully complete credit-bearing micro-credential programs will obtain notations on their respective academic transcripts as well as digital certificates or badges.
Can you earn college credits by completing micro-credential programs?
Some micro-credentials are stackable and can be used in for-credit programs, such as those offered via the web or in the traditional manner.
For instance, at Athabasca University, the Leadership and Management Development program can be stacked to create a certificate, earning someone pursuing an MBA degree at the institution credits.
Are high school students allowed to take micro-credentials?
Some colleges and universities and learning platforms offer micro-credentials designed to enable high school students to take bachelor's degree subjects to obtain higher education experience and, in some instances, allow them to complete electives, whose credits can then be used toward an undergraduate degree for them to complete a higher qualification faster.
Do learners need to fulfill any minimum entry requirements to pursue micro-credentials?
Some micro-credential programs, particularly the kinds that enable them to obtain knowledge or hard or soft skills in certain areas, do not require learners to meet minimum eligibility requirements to pursue them.
However, micro-credentialing in order to gain academic qualification usually requires learners to meet the program's minimum entry requirements.
What is the difference between traditional certificates and digital certificates or badges?
Traditional certificates resulting from traditional certificate programs are signed documentations serving as proof that participants have completed the requirements.
On the other hand, digital certificates or badges resulting from micro-credentialing are digital images embedded with information such as the name and date of the program as well as the name of the participants.
Can someone copy or fake digital certificates or badges resulting from micro-credentialing?
Digital certificates and badges participants earn after completing micro-credential programs are secure and tamper-proof icons. In addition, they are linked to data hosted by the providers.
As a result of this, digital certificates or badges are more reliable and secure than their paper-based counterparts, thus eliminating the possibility of them being copied or faked.
Read Next: Jobs That Cannot Be Replaced by AI

Disclaimer: The views and opinions expressed in this article are those of the authors and do not necessarily represent those of the College Reality Check.