Is a Degree From Strayer University Respected by Employers?
Strayer University is a for-profit school that conducts the majority of its classes online. Due to this, one cannot help but wonder whether it's a diploma mill or not. Is a degree from it legit and thus respected by employers?
Most employers respect a degree from Strayer University as it's a regionally accredited school. This means that it offers high-quality education and legitimate programs. Strayer University is ideal for working adults who would like to further their education for career improvements.
I understand your concern about spending time and money on a degree that won't get you a good job, so let me share a recent encounter I had.
Last month I went to my friend's birthday and met some new people. We talked about higher education and online colleges, and one woman shared her story.
She graduated from Strayer University with a BA degree in Accounting and found an accountant job. She then realized that accounting is not her passion and she went back to Strayer again to get her Master's in Computer Science.
She recently graduated and received two job offers as a QA (Quality Assurance) Engineer within a month after graduation.
Obviously, you ability to find a good job greatly depends on your communication skills and ability to network, but one thing is clear: Strayer diploma will only help you in a job hunting process.
Keep reading to learn more about the university and some interesting facts.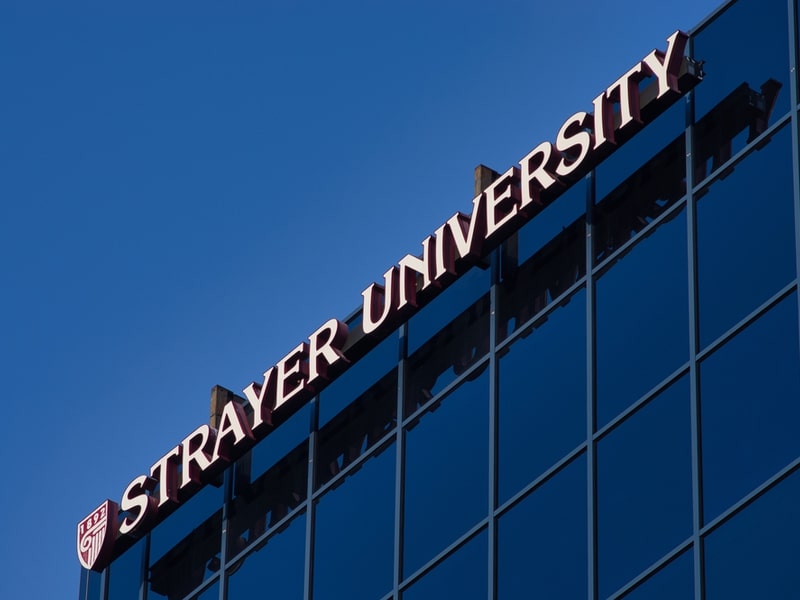 Strayer University an Accredited School
Strayer University is an accredited school. It's accredited by the Middle States Commission on Higher Education (MSCHE), recognized by the US Department of Education and the Council for Higher Education Accreditation, and one of the six regional higher education accrediting agencies in the US.
Before applying to a school, online or traditional, there are many things you have to check. One of the most important of them is determining whether it is accredited or not.
The good news is that Strayer University is accredited. More importantly, it is regionally accredited.
What's nice about going to a regionally accredited school is that the credits earned by a student from it are more widely accepted. So, in other words, they are easily transferable to other schools, especially regionally accredited ones, too.
As mentioned earlier, the accrediting agency responsible for the regional accreditation of Strayer University is MSCHE. The accrediting agency is also the one that accredits many other US colleges and universities, including prestigious ones such as Columbia University, Cornell University, and the University of Pennsylvania.
Since Strayer University is regionally accredited, you can have peace of mind that the program or degree you are planning to take at the school is legitimate.
More importantly, employers that you will apply to after graduating will accept and respect it.
Being regionally accredited also means that some of Strayer University's students may receive financial aid.
We will talk more about this very important matter in a few, so don't stop reading now.
Is Strayer University a Diploma Mill?
Strayer University is not a diploma mill. Proof to this is the fact that it is regionally accredited by MSCHE, the same accrediting agency that accredits numerous US schools, including high-ranking and premier ones. Besides, many Strayer University graduates are notable, too.
Diploma mills are the reason why many parents and students are wary of degrees being offered online. Similarly, they make many employers turn down applicants who attended online colleges.
So, in other words, diploma mills make legitimate schools operating online look bad.
Like the name suggests, diploma mills sell degrees that you don't have to work hard for — as long as you have the money, they can turn you into a college degree holder. Diploma mills provide falsified transcripts and academic references, too. However, the majority of employers do not respect them.
It's easy for diploma mills to make themselves appear legit. Most of the time, they do it by claiming to be accredited. Don't be fooled by this. That's because many of them are accredited by accrediting agencies that they themselves made up.
Needless to say, enrolling at a diploma mill will only flush your money down the drain.
Because Strayer University is not a diploma mill, you can be certain that the program or degree you will earn is the real deal. Also, employers will not turn you down right away, especially if you are what they are looking for.
How Long It Takes to Graduate From Strayer University
Many students attending Strayer University are working adults who prefer to earn their degrees at their own pace. It's because of this why many of them tend to earn their bachelor's degrees in six years, master's degrees in four and a half years, and associate degrees in three and a half years.
One of the main reasons why some students prefer to go to online schools rather than traditional ones is that they could earn their degrees without the need to wait for two or four years.
As a matter of fact, on the internet, it's possible to get an associate degree in less than a year and a bachelor's degree in less than two years. In the conventional manner, you will have to study full-time for two years to complete an associate degree and four years to complete a bachelor's degree.
Still, the time it will take to earn a college degree online will depend on the student's course of study.
Not many people realize that most students who apply to online schools are working adults who are too busy to step foot inside classrooms for 12 to 16 hours every week. They find getting a degree via the internet appealing because they can go to school without resigning from their respective jobs.
It's because of this why, typically, students attending Strayer University classes online take a while to complete their degrees. In many instances, they earn their degrees longer than they would when studying at brick-and-mortar schools. However, that's okay for them because it makes getting a college degree possible and convenient, too.
Let's take a look at some Strayer University online programs and the time it usually takes to complete them:
| PROGRAM | TIME TO COMPLETE |
| --- | --- |
| Bachelor of Business Administration | 6 years |
| Bachelor of Applied Science in Management | 6 years |
| Bachelor of Science in Economics | 6 years |
| Bachelor of Science in Criminal Justice | 6 years |
| Bachelor of Science in Information Systems | 6 years |
| Master of Education | 4.5 years |
| Master of Public Administration | 4.5 years |
| Master of Business Administration | 4.5 years |
| Master of Health Services Administration | 4.5 years |
| Master of Science in Nursing | 4.5 years |
| Associate in Arts in Marketing | 3.5 years |
| Associate in Arts in Accounting | 3.5 years |
| Associate in Arts in Economics | 3.5 years |
| Associate in Arts in Business Administration | 3.5 years |
| Associate in Arts in Information Technology | 3.5 years |
Besides the degrees mentioned above as examples, Strayer University also offers an assortment of graduate certificates that students can complete in just 33 weeks.
Some common examples include Graduate Certificate in Digital Entrepreneurship, Graduate Certificate in Marketing and Branding, and Graduate Certificate in Performance Management.
When you enroll at Strayer University, the length of time it will take to earn your degree will depend on how often and how long you can take your classes online. If you are a part-time student, it will take you a while to graduate from college.
On the other hand, if you can go online several hours a day, you can breeze through college.
Take 3 Courses or More to be Considered Full-Time Student
Taking three or more courses in one term at Strayer University is considered full-time. On the other hand, taking one or two courses only in one term is considered part-time. Being a full-time student at Strayer University makes it possible for a student to earn his or her college degree faster.
As mentioned earlier, you can get your hands on an associate degree or bachelor's degree without the need to wait for two or four years respectively when attending an online school.
Especially if you are not employed and can devote plenty of your time to studying online daily, you can complete a degree so much faster than earning it in the traditional fashion. This means that you can earn your degree, show it to an employer and get your dream job in no time.
To become a full-time student at Strayer University to earn a degree faster, you will need to take no less than three courses per term. The school operates on a quarter system, offering four terms of classes every academic year. They are fall, winter, spring, and summer. By the way, each term is about eleven weeks long.
However, to carry more than 18 hours in one term, you should have a minimum of 2.5 cumulative GPA. It's possible to carry over 27 hours in one term, provided that the dean permits it.
Cost of Attendance at Strayer University
The cost of attending Strayer University will depend on different factors. They include the program, number of courses per term and number of terms per year. Basically, a bachelor's degree from Strayer University costs $1,480 per course. An associate degree costs $1,480 per course, too.
On Strayer University's website, a personalized education plan calculator is available. Basically, it's what other sites refer to as a Cost of Attendance (COA) calculator.
Suppose you would like to earn a bachelor's degree in Business Administration and take a total of three courses and attend all four terms as a full-time student. Using the COA calculator the school offers, you will get the following:
| | |
| --- | --- |
| Tuition: | $58,000 |
| Books: | $6,000 |
| Fees: | $910 |
| Total cost: | $64,910 |
What's so nice about Strayer University is that, as mentioned earlier, it is an accredited school. It means that it will accept some or all credits earned from other schools, particularly regionally accredited ones, too.
Because of this, if you have earned some credits from another college or university, online or traditional alike, you will no longer retake them after transferring to Strayer University. Needless to say, your COA will be lower than the COA of students entering Strayer University as freshmen college students.
However, for a credit to be accepted by Strayer University, it should be equivalent to its own coursework.
The good news is that credits earned from an allied partner school of Strayer University (there are almost 500 of them) can be applied toward a related Strayer University degree program.
Besides credits earned from a regionally accredited school or an allied partner school, Strayer University also accepts life learning and converts them into credits. Some examples include previous education, work experience, US military involvement, and proven knowledge and skill set.
Strayer University and Financial Aid
Strayer University participates in financial aid programs to help its students in paying for their college. The different grant and loan programs from the US government can be used to pay for tuition, fees, textbooks and even living expenses. Strayer University also offers all kinds of scholarships.
To apply for financial aid, you will have to get an FSA ID to gain access to the federal student aid online system. Then, you will have to fill out the Free Application for Federal Student Aid (FAFSA). In some instances, you will have to go through entrance counselling to ensure that you will be acquainted with the responsibilities of getting financial aid.
Like mentioned above, Strayer University has a number of scholarships to offer, all of which can help make getting secondary education affordable, especially to working adults.
Some of the scholarships that the for-profit school offers include:
Graduation fund
Bachelor's transfer tuition cap
Alumni scholarship
Strayer referral scholarship
What's more, Strayer University offers special programs to make going back to school so much easier for certain types of people.
Some of them are active-duty service members, veterans, law enforcement professionals, national service participants, and corporate partnerships — over 400 companies offer scholarships via Strayer University.
SAT Score Required for Strayer University
To date, Strayer University has not provided any policy regarding SAT and ACT requirements. Similarly, the school has not published average SAT and ACT scores. It's either Strayer University does not require the applicants to submit SAT or ACT scores, or it's one of those test-optional schools.
Currently, there is a growing number of test-optional schools in the US. So, in other words, it's completely up to the applicants if they would like to submit their SAT or ACT scores or not.
Because Strayer University has never announced the SAT or ACT scores students need to have to gain admission into it, many can't help but assume that it's a test-optional school.
If you are not happy with your SAT or ACT scores, there's no need to submit them to Strayer University.
When applying to Strayer University, it's not just SAT and ACT scores that you may skip submitting. You may also apply without a high school diploma, although you will have to submit the GED or anything equivalent to it. That's because Strayer University is an open-access university.
Famous People That Went to Strayer University
Many notable people attended Strayer University and earned their undergraduate and graduate programs. Some of them are currently serving as politicians, while others are authors, speakers, business owners, athletes, etc. Some were former court justices and high-ranking US Marine Corps officials.
Besides being regionally accredited, another thing that makes Strayer University legit is the fact that many people, including those whose names may ring a bell, used to go to the school.
Here are some of the most well-known people that were once Strayer University students:
John Richard King. Since 2009, John Richard King has been a member of the South Carolina House of Representatives from the 49th district. Also a professor at Clinton College in Rock Hill, South Carolina, he earned his master's in Education from Strayer University in 2006.
Charles Mann. It was in 2015 when Charles Mann, a businessman and former NFL athlete, earned his bachelor's degree in Business Administration from Strayer University. But before that, he attended the University of Nevada, where he played college football from 1979 to 1982.
Carolyn Wright. From 1995 to 2018, Carolyn Wright was a justice on the Texas Fifth District Court of Appeals. She was the first-ever black judge as chief of any of the state's intermediate appellate courts. Before going to law school, Carolyn Wright took a paralegal program from Strayer University.
Robert Magnus. A four-star general for the US Marine Corps, Robert Magnus retired from active duty in 2008 after being of service for nearly 40 years. A recipient of various accolades such as Vietnam Service Medal and Legion of Merit, he earned a master's degree in Business Administration from Strayer University in 1993.
Don Watkins. An American writer, Don Watkins was a fellow at the Ayn Rand Institute (from 2006 to 2017) and a Forbes.com columnist (from 2010 to 2013). Speaking regularly at conferences and universities, he graduated from Strayer University with a bachelor's degree in business administration.
Strayer University Alternatives
Because Strayer University is a for-profit school that offers online courses and in-person classes, too, it's often compared to similar schools. In the 2021 Best Colleges Rankings by the US News and World Report, Strayer University ranked number 148 in the Top Performers on Social Mobility category.
In some instances, comparing the college or university you are planning to apply to with other schools can make it clear whether or not it's the one for you.
One of the best things about Strayer University is that it also offers traditional classes, unlike Purdue Global, an online school that offers its programs via the internet exclusively. As a matter of fact, Strayer University also offers hybrid learning, which is a combination of online and in-person classes.
Another school that offers hybrid classes in University of Maryland Global Campus.
Strayer University is known for its degrees in business administration, accounting, education, and health services administration.
Here are some of the top Strayer University alternatives:
University of Phoenix. Like Strayer University, the University of Phoenix has several campuses across the US. Both schools, however, have the majority of their students participating in online classes.
Purdue Global. Similar to the University of Phoenix, Purdue Global offers its classes via the internet only. It doesn't have any hybrid learning that Strayer University and many other online schools offer.
Walden University. Both Strayer University and Walden University appeal primarily to working adults. But, unlike Strayer University, Walden University offers all of its classes exclusively online.
DeVry University. Like Strayer University, DeVry University is a for-profit school. However, Strayer University is known for its business programs, while DeVry University is known for its technology programs.
Southern New Hampshire University (SNHU). Two things make Strayer University and SNHU alike: they are both online schools, and they are known for their business programs.
Liberty University. While Strayer University has many scholarships available to make getting a degree easier on the pocket, some Liberty University students say that there are not a lot of scholarships for them.
Ball State University. While both Strayer University and Ball State University offer online classes, Ball State University is more selective, requiring the applicants to have an above-average GPA.
Takeway
Is a degree from Strayer University respected by employers?
Employers who are familiar with Strayer University respect any degree from it. Those who are not familiar with the school simply have to do a little research to know that it is a regionally accredited school, which means that the programs and degrees it offers are legit.
Because Strayer University is a for-profit school, it doesn't come as a surprise why earning a degree from it is on the expensive side. But with the help of financial aid, attending the school can become more affordable.
Warning
In October 2021, Federal Trade Commission (FTC) sent notices to 70 for-profit schools seeking civil penalties. While the notice claims that this is "NOT an indication that it has done anything wrong", the FTC's goal is to prevent using illegal or deceptive tactics that leave students with high debt and poor career outcomes.
Strayer University was on the list.
There are also the University of Phoenix, Grand Canyon, Capella, and Devry.

Disclaimer: The views and opinions expressed in this article are those of the authors and do not necessarily represent those of the College Reality Check.