Is the University of Tennessee a Good School?
The University of Tennessee (UT) is a public research university whose main campus is located in Knoxville, Tennessee.
It came into being in 1794 even before Tennessee became a state.
UT has an R1 designation for its very high research activity, and it's ranked by US News the following: #115 in National Universities and #53 in Top Public Schools.

More than 25,000 undergraduate students are attending the University of Tennessee, where there are over 360 programs available.
Among the various majors at UT, some of the most popular are business, management and marketing.
It has a 75% acceptance rate and a rolling admissions policy, and the average high school GPA of freshmen who get into UT is 3.7.
Let's take a deeper dive into some of the overall numbers and specific characteristics that make Tennessee an enticing option.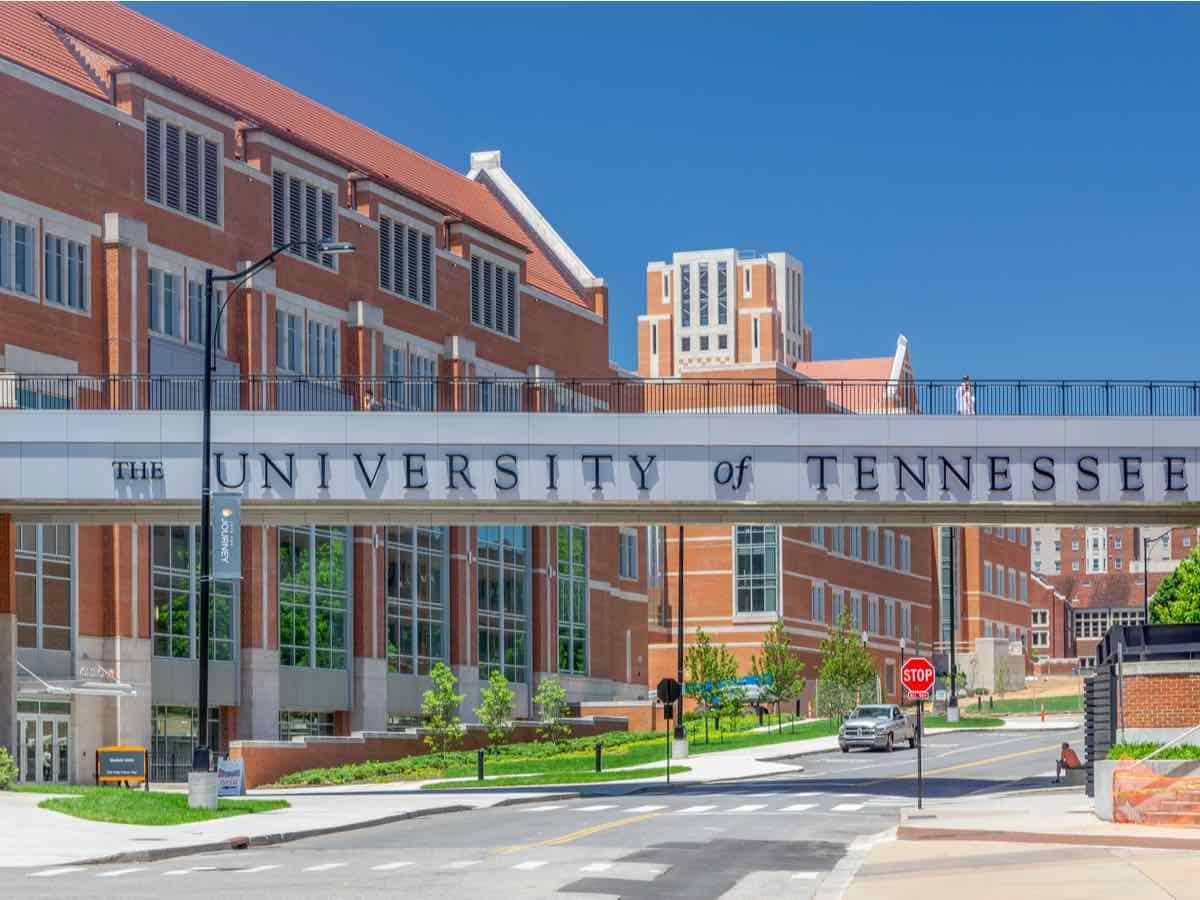 Where Is University of Tennessee Ranked?
Tennessee is ranked #115 in the national rankings according to U.S. News and World Report's annual ratings.
It is tied in this spot with 13 other institutions, including a few public universities that offer good comparisons with Tennessee:
| | | | | | |
| --- | --- | --- | --- | --- | --- |
| | Enrollment (undergrad) | Tuition (undergrad) | Acceptance Rate | Graduation Rate | Student/Faculty Ratio |
| University of Tennessee | 24,254 | $13,244 (in-state) $31,434 (out) | 78% | 51% | 17:1 |
| University of Arizona | 36,503 | $12,384 $34,667 | 85% | 49% | 15:1 |
| University of Illinois-Chicago | 21,921 | $17,437 $31,787 | 73% | 37% | 18:1 |
| University of South Florida | 38,579 | $6,410 $17,324 | 49% | 59% | 22:1 |
Tennessee offers a relatively small enrollment within this percentile comparison, especially for a flagship state school.
South Florida's tuition is clearly much lower, but Florida state schools, in general, are competitive across the board in both in-state and out-of-state tuition.
However, UTK's tuition is strong in comparison with the other schools.
In addition, Tennessee's acceptance is selective but not impossible for students with good GPAs and test scores.
The school also offers a strong 4-year graduation rate and student/faculty ratio for a public university.
For in-state prospects, these numbers provide a great value for the relatively modest tuition.
How Does the University of Tennessee Compare with Other Regional Schools?
The University of Tennessee belongs athletically within the SEC.
In addition to the intense sports rivalries, many SEC schools often compete for undergraduate enrollment.
With the exception of Vanderbilt, all the universities in the SEC are major public universities.
Because of its unique geographic shape by which it borders eight states, the state of Tennessee is rich fodder for many of the neighboring state schools listed below.
This wide-ranging set of universities provides good comparative data against which U.T. may be measured.
In addition, two major public universities not affiliated with the U.T. system also are fitting comparisons based on their in-state tuition costs and the fact that they are popular regional alternatives to UT:
| | | | | | | |
| --- | --- | --- | --- | --- | --- | --- |
| | U.S. News Ranking | Enrollment (undergrad) | Tuition (undergrad) | Acceptance Rate | Graduation Rate | Student/Faculty Ratio |
| University of Tennessee | 103 (tied) | 24,254 | $13,244 (in-state) $31,434 (out) | 78% | 51% | 17:1 |
| University of Alabama | 148 (tied) | 31,670 | $11,620 $31,090 | 80% | 52% | 20:1 |
| Auburn University | 99 (tied) | 24,505 | $11.796 $31,956 | 85% | 51% | 20:1 |
| East Tennessee State University | 288 (tied) | 10,705 | $9.259 $27,406 | 78% | 32% | 16:1 |
| Mississippi State University | 196 (tied) | 18,803 | $9,220 $24,900 | 80% | 40% | 16:1 |
| University of Florida | 28 (tied) | 34,931 | $6,380 $28,658 | 31% | 67% | 17:1 |
| University of Georgia | 48 | 29,765 | $12,080 $31,120 | 48% | 68% | 17:1 |
| University of Kentucky | 127 (tied) | 22,227 | $12,610 $31,608 | 96% | 47% | 16:1 |
| University of Memphis | 249 (tied) | 17,383 | $9,912 $16,674 | 85% | 28% | 16:1 |
| University of Mississippi | 148 (tied) | 16.179 | $9,034 $25,876 | 88% | 48% | 16:1 |
| University of South Carolina | 117 (tied) | 27,270 | $12,688 $33,928 | 68% | 65% | 18:1 |
For the SEC schools, Florida and Georgia have a decisive advantage in the U.S. News rankings.
These schools do possess a higher degree of academic rigor that sets them apart from the rest of the pack.
However, part of these rankings is that both schools – especially Florida – benefit greatly from state budget support and scholarships.
When you take those two schools out, Tennessee is near the top in rankings as well as acceptance and graduation rates. Tennessee's in-state tuition is the costliest on this board.
However, the breadth of Tennessee's programs and its expanding emphasis on outside-the-classroom learning provide it with unique features that are well worth the investment.
Compared to the other two major state schools (Memphis and ETSU), Tennessee certainly is far more expensive for a student to attend.
But Tennessee's larger size enables it simply to provide greater quantity and quality of education than its top in-state rivals.
What Is the University of Tennessee Known For
Tennessee possesses a large, sprawling campus that encompasses over 900 acres in the center of Knoxville. Knoxville is a mid-sized city of 190,000 known for its vibrant downtown life, the arts community, and a variety of historical landmarks.
But the greatest asset of the area is the incredible scenic beauty.
The Tennessee River runs along the edge of the campus.
The university has prioritized adding green spaces on campus, and many are available near the downtown area, a short drive off-campus.
Knoxville is nestled between the Cumberland Plateau to the north and west and the Great Smoky Mountains to the south and east, both within an hour of campus.
So a tremendous perk of attending Tennessee is the gorgeous landscape. But what are some other unique characteristics of U.T.?
Cultivating a Volunteer Experience
The University of Tennessee sports teams are called the Volunteers, referring to the official state nickname "The Volunteer State."
This title originates back to the War of 1812 when Tennessee sent over 1,500 soldiers to fight in response to the federal government's desperate call for fresh troops.
It also carried over into the Texan War for Independence and later the Mexican War, as Tennessee developed a reputation for having citizens always ready to volunteer to fight.
This theme of serving is less belligerent nowadays. But the university has officially adopted the "volunteer experience" as one of the core components of its strategic mission.
The university gives students the ability to adapt their curricula and learning experience into numerous opportunities out of the classroom. For example, students in the education program are encouraged to spend as much time as possible in schools.
UTK has developed relationships with particular at-risk schools in the Knoxville area to help provide both trainings for its students and opportunities to help meet the needs in the local schools.
According to their strategic plan, one of the university's most significant achievements is "promoting innovative interdisciplinary curricula responsive to workforce needs."
In layman's terms, the university seeks to develop deep ties in the local and state community to determine where the greatest labor needs are.
As part of their volunteer ethos, they will adapt their programs to train students with specific skills relevant to their needs. This provides students with a higher potential for employment after graduation, bringing needed skills into a given area.
UT-Battelle and Oak Ridge National Laboratory
The university's premier "volunteer" community engagement is the partnership between U.T. and Battelle Memorial Institute.
Known as UT-Battelle and, in conjunction with the U.S. Department of Energy, it is the managing contractor of Oak Ridge National Laboratory (ORNL).
ORNL is one of the leading scientific research facilities in the world and is located in Oak Ridge, less than 20 miles from campus.
Science, medical, and engineering students at U.T. have the opportunity to do hands-on research at the lab.
This work can lead to internships and potential permanent placement at ORNL. Many students also have the opportunity to find placement within other federally-funded research facilities.
But the partnership does far more than benefit the university. Since its incorporation in 2000, UT-Battelle has invested over $8 million in science education, much of which is in local East Tennessee communities.
This unique relationship between science, education, and the government has given U.T. the ability to create innovative and adaptable scientific programs to offer its students.
"Body Farm"
Tennessee offers another interesting area of scientific study – the "Body Farm."
Officially known as the Forensic Anthropology Center (FAC), the "farm" started in 1987 out of the need for forensic investigators to gain greater knowledge of the process of decomposition in criminal investigations.
To be blunt, the farm is a place where human corpses go to rot. Some are laid out in the open; others are buried at varying depths. The FAC has become a popular place for people to donate their bodies after death.
Students from various disciplines can conduct research at the FAC. Because of its distinctive mission, the FAC partners with multiple universities, hospitals, and research agencies across the country.
This gives students opportunities to engage on numerous learning fronts, in addition to the recognition of having worked with the FAC on their resume.
Honors Programs
Tennessee has eight colleges that have their own distinctive honors programs. Each of these programs rewards students for high academic achievement and gives them increased opportunities for self-study or integrated learning opportunities.
The university also has four overarching honors programs:
1794 Scholars Program – Named after the university's founding year, this program gives students across virtually any major opportunities to experience learning in Knoxville or their home communities. Qualified students enroll in the program upon acceptance. The program requires 25 community service hours each year within the selected community.
Chancellor's Honors Program – This program gives students opportunities to experience a complete liberal-arts approach to their education with select classes, opportunities for studies abroad, and interdisciplinary research.
Haslam Scholars Program – Named after a current trustee and prominent alumni, this program's emphasis is on leadership development within the classroom, study abroad, and internships with local firms or businesses.
Honors Leadership Program – This is another leadership-based program that emphasizes classroom leadership training and intensive community involvement.
Who Is a Good Fit for the University of Tennessee?
After reading about the university's strengths, you may still be wondering if you are a right fit for the University of Tennessee.
While no one but you can definitively say it is good for you or not, here are some characteristics of the university that are important for you to keep in mind as you consider it:
Strong Business and Engineering Schools
The university boasts 11 colleges and 370 undergraduate programs of study. You will be hard-pressed NOT to find a major that interests you.
However, every university has a few programs that they herald as their flagships due to numbers, GPA, or job placement. The two that stand out clearly at Tennessee are the Business and Engineering schools.
The Haslam College of Business ranks 44th nationally (and 28th among public universities), while the Tickle College of Engineering ranks 63rd nationally (and 34th among public universities).
These are also two of the most well-endowed colleges on campus.
If you are considering a career connected to these two fields in any way, Tennessee will be a great place for you to study.
Is UTK a Party School?
Niche has Tennessee ranked as the 65th best party school in the country.
But don't let a ranking fool you.
Tennessee students themselves brag (or warn, depending on your perspective) that Tennessee is a lively party atmosphere.
The school possesses a strong athletics culture, an active Greek scene, and a lively nightlife scene both on-campus and just off of it in downtown Knoxville.
In fact, the defining characteristic students give of someone who would NOT like Tennessee is someone who prefers doing things alone or actively avoids social scenes. Extreme introverts may find life at Tennessee difficult.
Tennessee gives ample opportunities to make friends in a vast array of interactive events. Whether you like to party or simply have opportunities for meeting up in relaxed settings with others, Tennessee will be a good fit.
How Big Is the University of Tennessee
Tennessee is certainly not the largest enrollment of any public institution across the country.
But it functions much like a big school. You may be an extrovert, but the challenge at Tennessee is to find the right organization or fit for you.
The classroom size is not overly large, but you are more likely to meet people in the plethora of social events at U.T.
Big Orange Football and Other Athletics
Did we mention that Tennessee loves its sports?
Be prepared for a hyperactive and intense mob of people descending on campus, particularly for home football games at Neyland Stadium.
But Tennessee boasts of a proud athletic history across numerous sports.
Perhaps the biggest shock is learning the significant number of athletic traditions that have become part of campus culture.
You can avoid going to sporting events, but you won't evade the customs that come with them!
If you are a sports aficionado, it is a tremendous place to watch sports and even participate in various intramural programs.
Is UTK a Good School: Final Thoughts
The University of Tennessee is an outstanding option for in-state applicants.
It also provides a variety of colleges, activities, and extracurricular opportunities that are enticing for out-of-state prospects.
Its tuition, academic standards, and overall rankings are competitive with comparable public universities.
The University of Tennessee possesses all the tools for your college experience to be academically, culturally and socially fulfilling. It is a great school in that it also meets the needs of a variety of students.
If you are looking for a school (especially those in the state of Tennessee), make sure you check it out!

Disclaimer: The views and opinions expressed in this article are those of the authors and do not necessarily represent those of the College Reality Check.