Does It Matter Where You Go to College for Engineering?
I interviewed and hired dozens of software engineers, domestic and offshore. When people find out what I do for a living, they often ask me which college they have to go to in order to become an engineer. They think that particular colleges guarantee jobs in top companies, such as Google or Apple. However, the reality is much more simple.
In general, it doesn't matter much where one goes to college for an engineering degree. What matters more is what job an engineering degree holder gets after college. The first job will serve as some kind of a barometer for subsequent jobs as an engineer climbs his or her way up the career ladder.
Are you about to apply to a college or university that has an engineering program but isn't considered the best in the land simply because of its accessibility financially and physically? Read on.
Below, you will come across the fact that, eventually, where you earn an engineering degree will no longer matter.
By the time you reach the end of this article, you will realize that you can study engineering at practically any accredited institution and still wind up being employed at your dream company, holding your dream post as an engineer.
The Job Right After College Matters
Engineering falls under the STEM field, and some colleges and universities in the US are known to specialize in it.
Similarly, many college ranking sites recognize them as some of the best for those who wish to get their hands on an engineering degree and, ultimately, the best engineering job ever.
These schools can be found on the list of most college-bound kids thinking about becoming engineers:
Engineering schools rankings
Refrain from assuming that a degree from an institution admired for its engineering programs can help you get hired at your subsequent dream jobs.
Related Article: Best HBCU Colleges By Major
If truth be told, your diploma (and sometimes the name of the college or university you graduated from) only matters during your very first job interview. Beyond that, it's practically powerless.
It's for the fact that, when applying for a second, third or fourth job and beyond, what hiring managers will focus more on is your professional experience and achievements in your previous work as an engineer.
Being asked about why you decided to earn your engineering degree from your college ten or 15 years ago is unlikely.
And this is why your very first job after college is more important than where you graduated from. The initial role you have at a certain company post-college will serve as a gauge for future jobs.
So, in other words, it will act as a point of comparison or reference as you seek different engineering posts or jobs for career growth.
Needless to say, you have to be careful which job offer you accept immediately after earning your engineering degree. Failure to make the right choice could be a step backward rather than forward.
Because of the many different skills that engineering graduates have, ranging from problem-solving, critical thinking to number mastery, they can be an assortment of things other than engineers. Some of them are on the outskirts of the industry, while others are in entirely different fields.
Some career examples of what you can do with your engineering degree besides being an engineer are:
Academia
Intellectual property
Logistics
Operations management
Procurement
Patent Law
Sales
Supply chain management
Technical consulting
Because of your STEM degree, your chances of getting hired applying to any of the posts mentioned above are higher than most other applicants with different degrees.
There is no denying that it's a good thing.
However, if you are planning to make the most out of your engineering degree, which you worked hard for back in college, consider going for an initial job that's directly associated with your higher education.
Otherwise, you might get stuck in that position after many years, and make less than your peers, too.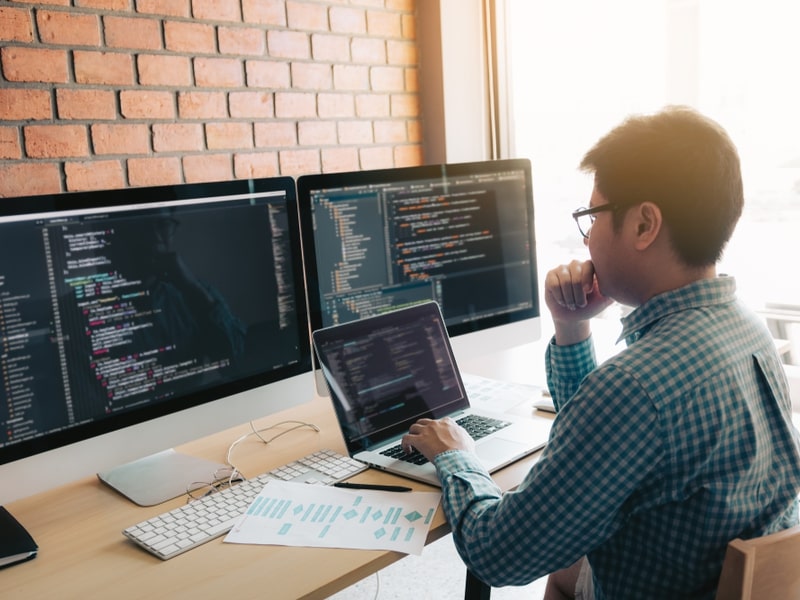 Google: An Engineering Company at Heart
It's no secret that Google is one of the biggest tech companies in the nation.
Although it is more commonly known as a search engine, the corporate giant is also in cloud computing, software, and hardware. It's because of this why many of the people Google hires are all sorts of engineers.
And it's also because of Google's status why many with engineering degrees dream of working for it.
Just because you earned your engineering degree from a college or university that's not that known for its engineering programs doesn't mean that you have no shot at being a Google employee.
And just because you don't have an engineering degree doesn't mean right away that Google's hiring managers won't consider your resume when they get their hands on it. Believe it or not, it's possible for someone who didn't go to a giant engineering institution to get hired by a tech giant.
Here's what some current and former Google engineers have to share about this matter:
A former Security Engineering Manager at Google for four years said that he worked with three people who didn't have college degrees — they simply made their way up the career ladder by installing hard drives.
One ex-Site Reliability Engineer at Google for six years who didn't have an engineering degree disclosed that he knew many software engineers and site reliability engineers at the company that didn't have engineering degrees, either. He shared that what got him hired was the fact that Google, during the interview, learned that he could do the things Google's Site Reliability Engineer can.
Another one who worked at Google, who didn't say for what position and for how long, shared that he met two Google employees who didn't have college degrees but have plenty of experience in information system while they were serving in the Israeli military — indeed, experience is the best teacher!
Then, a person who got rejected many times but got an offer from Google (and Microsoft, too) revealed that one person who interviewed him on-site was a self-taught computer programmer.
Related Article: Why are Software Engineers Paid So Much?
Just Before You Apply to an Engineering School
The best time to plan your future career is just before you graduate from high school.
That's because your chosen program and major will have a massive impact on your professional life after college. Your chosen college or university is a role player, too, but not as much as most people assume — it will count, in a way, only when applying for your first job.
After your initial job post-engineering school, it is your work experience that will take you where you want to go.
Some institutions specialize in engineering programs. As a result, many of its engineering graduates also tend to make the most, albeit initially only.
In the end, it's not where you graduate from or what your college GPA is. A few years after college, your previous work experience as an engineer is all that will matter when applying to your dream company.
Related Questions
Which type of engineering is the easiest to study in college?
The easiest types of engineering to study in college are Computer Science Engineering (CSE) and Information Science Engineering (ISE). What's more, they are some of the most in-demand engineering types in various industries where computers are used, from education, health care to banking.
What are the different major branches of engineering?
Before, there were only four major branches of engineering. These days, however, engineering can be divided into six major branches. They are Mechanical, Chemical, Civil, Electrical, Management, and Geotechnical. Under each branch, there are many different subcategories.

Disclaimer: The views and opinions expressed in this article are those of the authors and do not necessarily represent those of the College Reality Check.