Is an Online College Degree Worth It?
These days, you can have a college degree without ever stepping foot on a campus. But because it's generally cheaper and faster to obtain than a traditional degree, you can't help but wonder if you can use it as a stepping stone to land your dream job or obtain a much-desired job promotion.
An online college degree is worth it for non-traditional students who wish to further their careers or educational attainments. It's also ideal for those who do not have access to their preferred academic programs or the means to pay the costs associated with traditional degrees.
Before you apply to an online college, continue reading.
This article will tell you some of the most important matters you need to know about earning a college degree via the web.
By the time you reach the concluding paragraph, you will have a much better idea of whether or not an online college degree is worth it after spending months in front of your laptop.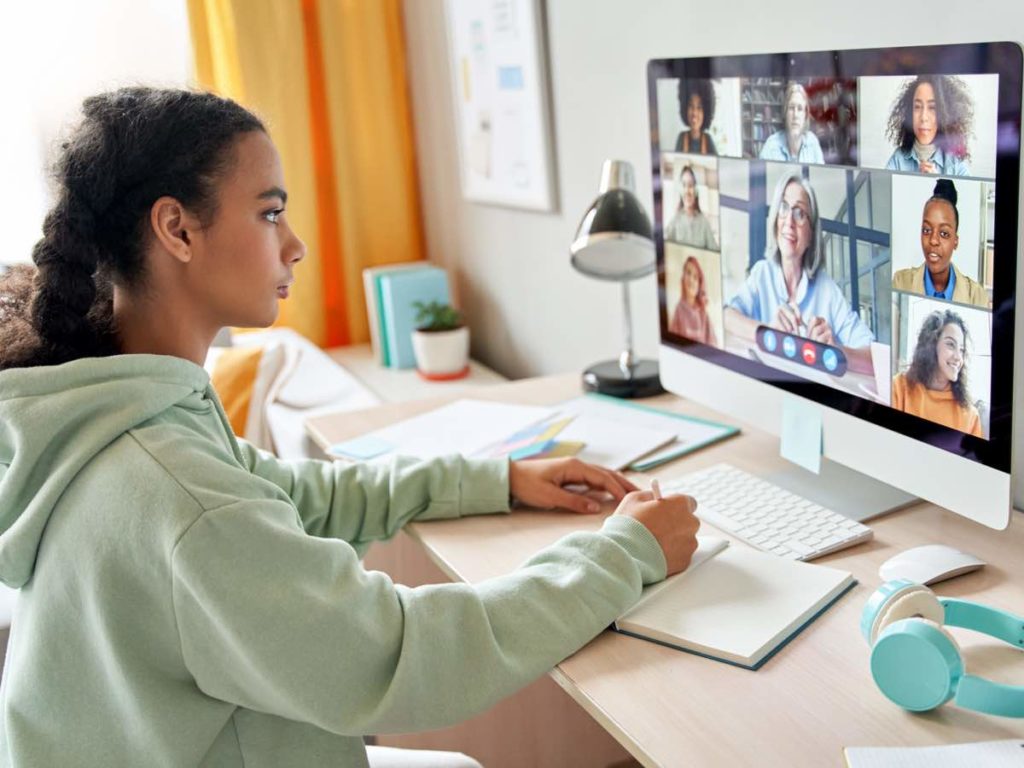 Is Getting Into an Online College Easier?
In many instances, an online college is easier to get into than a traditional institution. However, it's usually because online degrees and on-campus degrees have different application pools. If the applicant is not eligible, he or she is likely to be denied admission into the online institution.
There are many misconceptions about earning a college degree via the internet.
One common example is that an online degree is not as good as a traditional degree. Another is that earning a degree from an online school is not as hard as earning a degree from a physical college or university. And then there is also the false impression that anyone can have an online degree as anybody can get into an online school.
According to a US News report, at most schools offering both online and traditional degrees, the acceptance rate for their online programs is just around 2.4% higher than the acceptance rate for their on-campus programs.
In fact, some online programs have lower acceptance rates than their traditional counterparts!
Generally speaking, however, the acceptance rates for online programs and on-campus ones are different because they have different application pools.
It's more likely for non-traditional students applying online to get an acceptance letter than traditional students because of various reasons, such as:
Having some college credits and experience
Enjoying financial independence
Possessing better time-management skills
Knowing exactly what they want in life
The following table compares the acceptance rates for online programs and traditional programs at colleges and universities offering both, proving that it's not all the time that getting into an online school is always easier:
| | | |
| --- | --- | --- |
| NAME | TRADITIONAL | ONLINE |
| Arizona State University | 83% | 88% |
| California Baptist University | 65% | 62% |
| California University of Pennsylvania | 83% | 72% |
| Embry-Riddle Aeronautical University – Worldwide | 69% | 65% |
| Fort Hays State University | 86% | 94% |
| Ohio State University – Columbus | 50% | 77% |
| Oregon State University | 78% | 52% |
| Pennsylvania State University – World Campus | 51% | 88% |
| Temple University | 56% | 74% |
| University of Florida | 48% | 60% |
| University of Illinois – Chicago | 77% | 84% |
| University of Oklahoma | 78% | 89% |
| Utah State University | 97% | 100% |
| Washington State University | 80% | 71% |
| West Texas A&M University | 67% | 78% |
| Western Kentucky University | 93% | 73% |
It's true that it's not always that getting accepted into an online college or an online degree offered by an institution with a physical campus is easier.
However, in most instances, it's usually faster and easier to apply to it than applying to a traditional school as either a first-time, first-year student or transferee.
Related Article: Is Online or Traditional College Harder and Why
And this brings us to this pressing question…
Is Applying to an Online School Faster?
Applying to an online school, more often than not, requires applying directly to the institution through its online portal. Without the need to use the Common App or Coalition App, some requirements are bypassed. Some examples are writing admissions essays and enumerating extracurricular activities.
There is no denying that one of the most stressful moments in the lives of high school students is the college application season. It's not just applying itself that's nerve-racking itself but also waiting for admissions decisions.
Luckily for non-traditional students, they no longer have to go through the same ordeal.
To have a much better idea of how much easier it is to apply to an online school, check out the following steps on applying for an online bachelor's degree offered by Strayer University, a private for-profit university offering both online and traditional degrees, all of which are fully accredited:
Fill out the application form. The form is practically barebones — you will have to provide basic details such as your name, address, birthday, citizenship and highest level of education. Without any essay to write, short answer questions to respond to, or extracurriculars to enumerate, you can complete the form in just a few minutes.
Log in to the admissions portal. After completing the application form, you will be given access to the admissions portal where you will have to log in to verify your identity, pick the online degree program you are interested in, and choose your preferred payment method.
Submit requirements. It's also via the admissions portal where you will submit the few admissions requirements. As an applicant to Strayer University's online bachelor's degree, you will have to submit the official transcripts from all colleges or universities attended or a high school diploma or an equivalent — that's it!
However, keep in mind that different colleges and universities have different admissions requirements.
This is also true for those operating in cyberspace or offering both online and traditional degrees. It's exactly because of this why some online schools may require applicants to provide more details or submit more documents.
Different online degrees from the same institution may also have different requirements.
If it's easier to apply to an online school than a traditional one, it's so much easier to apply to a diploma mill. In most instances, an applicant's credit card number is all that's needed by the provider.
However, as everyone knows, any degree from a diploma mill has no value.
And this is why it's of utmost importance to do your homework before applying to a school operating online.
Check that it's accredited by a legitimate accrediting agency, such as one that is recognized by the US Department of Education or the Council for Higher Education Accreditation (CHEA).
Are Online Degrees Easier to Earn?
Online degrees are easier to earn than traditional degrees in that they are usually self-paced and held virtually. However, they are the same as their on-campus counterparts in terms of the courses and evaluation of results, which means they also necessitate hard work, discipline and commitment.
Some people believe that online degrees are not as valuable as traditional degrees as they are easy to earn.
Well, they are correct to some extent — working on a college degree available online is trouble-free for most, especially non-traditional students who are working or have families to look after, because classes happen virtually.
Nothing can be easier than earning a degree in the comfort of one's home, logging online to read materials, watch videos or, in some instances, attend virtual classes.
Some students enrolled in hybrid courses have to spend just 50% of their time in a physical classroom and 50% of their time on the web.
In that aspect, everyone can agree that online degrees are easier to earn than their on-campus counterparts. But on other levels, college degrees are pretty much the same whether online or on-campus.
For instance, an online degree being offered by an institution with a physical campus is likely to be using the same program and curriculum as its traditional degree.
In fact, chances are that it's also using the same faculty members to administer classes conducted virtually and physically.
In order to graduate, online students need to have the same set of traits as traditional students. Otherwise, the challenges may cause them to drop out or fail to get grades high enough to graduate.
According to Arizona State University, the following traits are essential to college success:
Ability to follow directions
Responsibility
Self-management skills
Communication skills
Independent-work skills
Critical-thinking skills
Study skills
Technological skills
Creative thinking
Having personal goals
Being engaged
Tolerance for ambiguity
Assertiveness
Collaboration skills
Ease with diversity
Okay, the last few traits are not that important when it comes to attending an online college or university.
Some of them, however, have to be honed and utilized more in order to succeed in earning a degree via the internet. They include ability to follow directions, self-management skills, being engaged and technological skills. Without those must-haves, online learning can prove to be more challenging than traditional learning.
It's for this reason why getting a college degree online is not for all — some types of learners are simply more likely to succeed in college in an on-campus setting.
Because of the many similarities between an online degree and a traditional one, the diploma you will receive after completing your online program will not include the word "online".
It will appear as though you went to college just like traditional students, unless the institution operates purely via the internet.
And this takes us to a question many feel too shy to ask…
How Long Does It Take to Complete an Online Program?
An online bachelor's degree program can be completed anywhere from a little over a year to six years. The length of time it will take to graduate depends on various factors. Some of them are the number of credits earned from previous colleges or whether the student is enrolled part-time or full-time.
Some people enroll online to get employed faster, while others study online to further their careers.
In any case, generally speaking, it's possible to complete online programs at a much faster rate than traditional programs, thus making it possible for non-traditional students to get their hands on their degrees in less time and be able to use them for different purposes, such as:
Job application
Career advancement
Economic stability
Business creation
Networking opportunities
Further education
Personal growth
Accelerated online bachelor's degrees are some of the undergraduate degrees available on the web that you can finish the quickest.
In fact, in some countries, they are known as two-year or three-year degrees even though they are full bachelor's degrees that can otherwise be completed in four to six years.
Refrain from assuming that accelerated bachelor's degrees on the web have easier courses, which is why one can complete them in no time. As earlier mentioned, course-wise, online degrees and traditional degrees are the same.
More materials in shorter sessions — this is what makes accelerated online programs brisk.
This means that you will have to spend more time reading materials, watching videos and doing projects and less time having coffee breaks, naps and vacations.
So, in other words, you will have to make sacrifices. However, in exchange, you will be able to reap the rewards of having a college degree in no time.
Ready to take on the challenges of completing an accelerated online bachelor's degree? The following are some schools that allow you to graduate in as short as a little over a year:
| | |
| --- | --- |
| NAME | NUMBER OF ACCELERATED PROGRAMS |
| Albertus Magnus College | 8 |
| American InterContinental University-Online | 25 |
| Arizona State University | 40 |
| Bay Path University | 16 |
| Capella University | 17 |
| Colorado State University – Global Campus | 13 |
| Colorado Technical University | 41 |
| Concordia University – Chicago | 7 |
| Indiana Wesleyan University | 8 |
| LeTourneau University | 12 |
| Liberty University | 121 |
| Northeastern University | 10 |
| Regis University | 4 |
| Southern New Hampshire University | 11 |
| Trine University | 10 |
| University of Louisiana at Monroe | 14 |
| Western Governors University | 28 |
Not all online colleges and universities offer accelerated programs. Similarly, not all online programs come in accelerated forms.
But fret not if you are in a hurry to earn your online degree but the school of your preference does not offer the accelerated kind. That's because, in general, an online program can be completed faster than an on-campus one.
The following are some of the tips on how to graduate online at a faster rate:
Taking asynchronous classes where you can go online whenever possible.
Enrolling full-time, which means taking 12 to 18 credits per semester — or more, if the school permits.
Going for an online program that will accept all previous college credits earned.
Opting for an online college or university that grants college credits for life and work experience.
Eliminating as many distractions and unnecessary breaks as possible.
Can Fresh High School Graduates Attend Online Colleges?
Online degrees are not only suited for working adults and full-time parents. They are also ideal for some teens fresh from high school. While there are advantages to skipping a traditional college or university, there are also some disadvantages to studying online right after finishing high school.
It's true that institutions operating on the internet tend to attract non-traditional students because they make earning a degree not only possible but also convenient for individuals who are too busy to go to a physical campus.
However, teenagers who have just finished high school may choose to obtain an online college degree, too.
Students usually finish high school between 17 to 18 years of age. Age-wise, they are still traditional students as they will enter college before their 23rd birthday — non-traditional students are usually 24 years old and older.
However, the minute they get accepted into an online college or university, they become non-traditional students themselves.
Non-traditional students are considered such not only because they are still in college despite being already in the working or family age group. The following are things that make students non-traditional:
Not immediately pursuing postsecondary education after high school.
Financially independent from parents.
Having children or dependents other than a spouse.
Attending college on a part-time basis (taking less than 12 credits per semester).
Received an equivalent to a high school diploma, such as a GED certificate.
Having a part-time or full-time job while attending college.
It's not uncommon for non-traditional students to have multiple characteristics that make them fit the profile.
Based on online data, 80% of non-traditional students with over three non-traditional characteristics have dependents.
On the other hand, among those with only a single non-traditional characteristic, 23% are employed full-time, 23% didn't attend college right after high school, and 36% are part-time students.
Attending a college or university online is common among high school graduates taking a gap year — it allows them to earn college credits while traveling, volunteering, working or pursuing other interests.
It's also suited for high school graduates who cannot stand the thought of leaving their family and friends behind in order to become out-of-state students or have no easy access to their desired academic program.
And those who are still on the fence as to whether or not college is for them may give online learning a try before applying to a traditional school.
Needless to say, online degrees are also ideal for students who cannot afford on-campus degrees.
While there are many good reasons why some high school graduates attend an online school instead of a physical one, a few downsides come with it, too.
For instance, since attending an online college or university keeps them from being a part of a traditional student body, including especially a diverse one, they may fail to acquire certain lessons, experiences and skills that could come in handy when it's time to apply for a job or maintain a good performance in the workplace such as:
Self-awareness
Exposure to different cultures
Good social skills
Collaborative skills
Wider knowledge base
Thinking from a global perspective
Establishing a network
Related Article: Consider These 11 Factors When Choosing an Online College
Just Before You Enroll at an Online College
An online college degree is worth it for any non-traditional student. It comes with the kind of convenience and affordability that a traditional degree doesn't offer.
And because the resulting diploma does not usually indicate that your degree was earned via the internet, it's unlikely for a potential or current employer to know the difference.
However, just see to it that the provider of the online degree is a legitimate institution, as evidenced by an accreditation. It also pays to check if your target company or industry welcomes online degrees.
Read Also: Top 12 Online Schools for Psychology

Disclaimer: The views and opinions expressed in this article are those of the authors and do not necessarily represent those of the College Reality Check.